Just like summer, another Nordstrom Anniversary Sale has come and *almost* gone and I absolutely cannot believe it! This is the very last weekend to shop one of my favorite sales of the year. It's your last chance to get brand new items in next season's styles from all the nicest brands for prices you will ONLY see once a year!! Have I convinced you yet?!
Over the last few weeks, we have covered EVERYTHING from baby favorites to beauty must-haves to all the VERY cutest shoes of the Nordstrom Anniversary Sale! To help you shop the last weekend of the Anniversary Sale, we're giving you one FINAL roundup of all the very best buys that won't go on sale again for another YEAR.
Welland Bootie
These booties may just be THE booties of the Nordstrom Anniversary Sale this year, and it's clear to see why! The chunky heel, the V-cut topline, and the pointy toe are almost too cute to be true. If you're looking to grab a bootie that will be your staple all throughout fall & winter, the Welland Bootie is IT!
To top it all off, these gorgeous booties come in SIX colors! Plus, they're 33% OFF at only $99.90 (reg $150)!
SIZING: these run TTS!
Natori Rose Dream Bra
This highly-rated Natori Rose Dream bra is EVEN more comfortable than the Feathers bra (my former fave). During the Anniversary Sale, this dreamy bra rings in at just $47.90 (reg $72). It is crazy, crazy buttery soft, and if you're worried about the lace on the Feathers (which again, PINKY PROMISE isn't visible through clothes or itchy!), this one might be better because the cup is smooth all around.
It does have a thicker strap, but I LOVE IT! It feels even more comfy to me than a traditional strap. But if you're not digging it, check out this post for my top 4 bra picks from the sale!
Charlotte Tilbury Face & Eye Palette
If you're into an all-in-one (I'm talking eyes, cheeks, bronze, AND contour shades) palette for only $75 (value of $286), RUN DON'T WALK!! These high quality shades are universally flattering, the perfect mix of mattes and shimmers, and can be used day to night over and over! It's the most perfect "commuter palette," fool-proof and totally user-friendly!
They don't call it the "5 minute makeup palette" for nothing!
Just to give you an idea of how good of a deal this palette is, in order to buy 3 eyeshadows, two blushes, a bronzer and a highlight from Charlotte Tilbury you're looking at spending $286!! Although the sizes are different, you're getting the same variety of colors in ONE easy palette AND full-size mascara for only $75. This is an INSANE deal.
Amazing Crewneck Sweatshirt
This sweatshirt is the BEST sweatshirt I've ever put on my body. Strong words? Maybe. But TRUE nonetheless!!
You know when you first get a new sweatshirt and you don't want to wash it because the inside is SO incredibly soft? This sweatshirt STAYS THAT WAY. Forever. It's so plush and soft, cozy, and beyond anything I've ever worn. AND it's the perfect length in front and back, which is super important to me when wearing leggings!
This sweatshirt fits TTS (maybe even a little roomy), so keep that in mind when you're choosing! A sweatshirt and leggings is my favorite no-brainer outfit that I pretty much live in for school drop-offs and pickups and alllll the other things. Get it in grey, black, blue, or pink for only $44.90 (reg. $69)!
Barefoot Dreams In the Wild Throw Blanket
These Barefoot Dreams blankets are $40 off during the Anniversary Sale, and can we get a round of applause for the gorgeous leopard prints?! Perfect for dorm rooms, your office, your bedroom, ANYWHERE. These are ALWAYS, every year, so popular. Only $119.90 during the sale ($180 after!).
Dancing in the Moonlight (Pajamas)
OBSESSED is a total understatement when talking about these Nordstrom Moonlight Pajamas – I talk about them ALL the time! They're included in my Nordstrom Anniversary coverage EVERY year, they're featured on almost all of my gift guides, and they're even included in my BEST baby registry list. They're next level good. Buttery soft, lightweight and oh so comfortable for sleeping! Every time my mom comes to visit me, she asks to borrow a pair – no joke!
During the Nordstrom Anniversary Sale these cozy jams are $42.90, but they'll be $65 after this weekend when the Anniversary Sale is over. If you don't own a pair yet or you're just looking to add to your collection, NOW is the time to buy!
I've paid full price for these pajamas in the past and would 100% pay it again, because they're that amazing! But why not get them for under $50? Total no brainer!
YSL Rouge Volupte Shine Lip Set
The YSL lip combo includes my signature color 44 so I was STOKED to see that!!! You get to try 3 colors for the price of 1, just know they are mini sizes, but they'll last a long time! It also comes with both shades 45 (bright cherry red) and shade 131 (deep chili red). Both so beautiful on!!
This lipstick is the very prettiest lipstick I own, and EVERY time I wear it in my stories, I get quizzed about what it is! It's sooo creamy and hydrating and has the best color payoff. This whole set has a value of $56, but with this sale, you can get it for only $38 which is 32% off its value! SO excited that this was restocked!!
Best High Impact Wireless Sports Bra
Let's talk about having a good quality sports bra. Once you invest in one, you can never go back! Having the perfect amount of comfort, support, and coverage during a workout will change your activewear mentality forever. I was so excited to try this sports bra after seeing the high reviews it was getting!
This bra has no floating pads (hallelujah), no underwire (comfort-city), but it does give a really nice shape (no uniboob!), and it supports like nobody's business! Get it for only $40.90 during the Nordstrom Anniversary Sale, regularly $69!
Riki Makeup Mirror
I've been using a Riki mirror for YEARS so I was so excited to see this included in the sale again this year!
It's so great to take on trips to combat bad bathroom lighting. It's lightweight and folds down super compact, perfect for travel or lack of bathroom counter space.
And best of all, it's $130 for a $210 value! That's $80 off!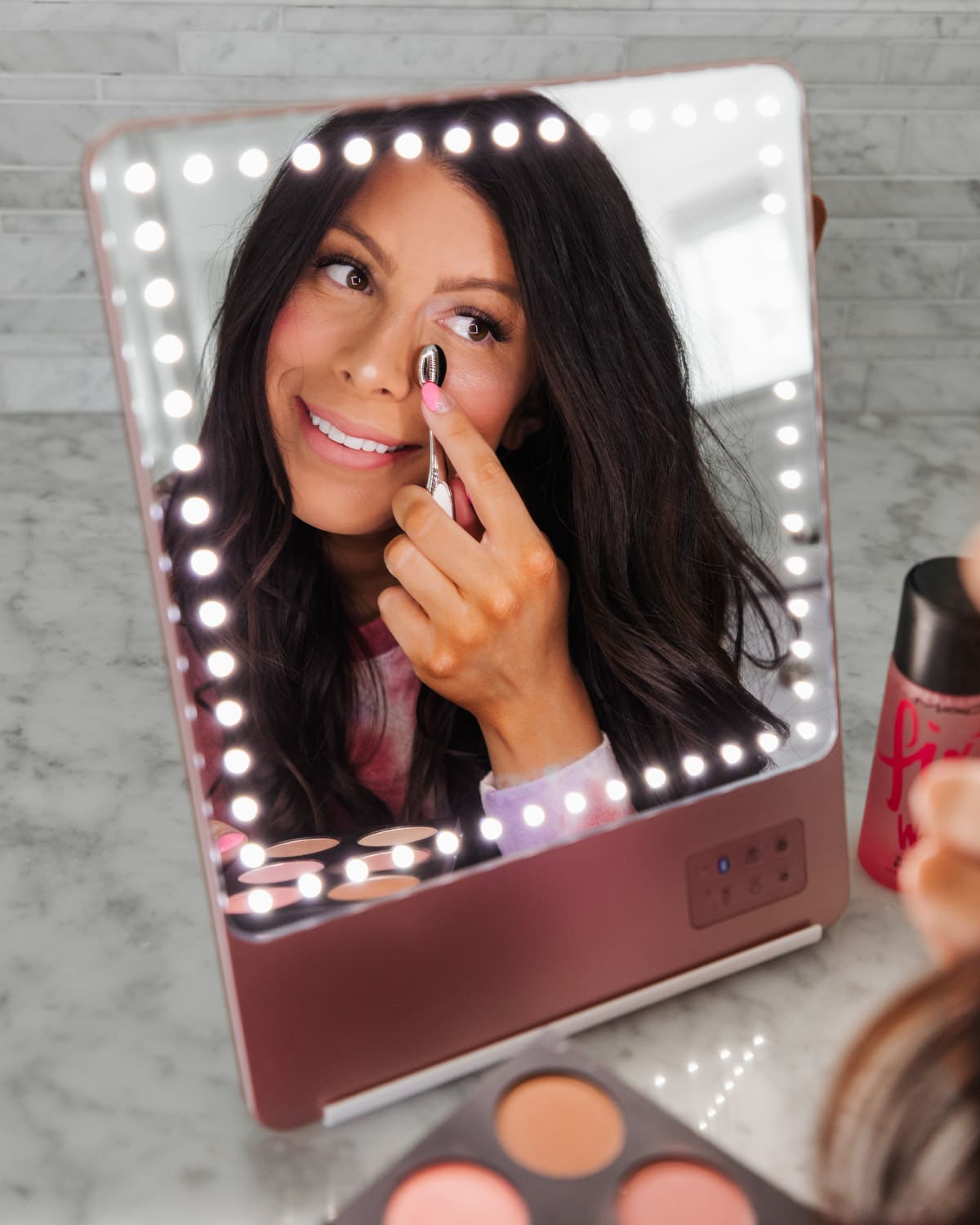 Steve Madden Pointed Toe Mule
These pointed toe mules come in SIX colors, and honestly, it was hard to choose which one to buy! I am just SO HERE for the mule trend: easy, chic, comfy, done. These are currently only $59.90, but will be back up to their retail price of $90 after the sale!
*PRO TIP: I tried all of these on and the suede options were definitely way more comfy in my opinion.
Sizing: my heel was hanging off the back in my normal size, but they were perfect 1/2 size up!
Restore Soft Pocket Leggings
Zella, Zella, Zella (all linked to evidence that…) we love ALL things ZELLA at this house!! And these soft pocket leggings are one of my favorite finds, and they sold out VERY fast in last year's Nordstrom Anniversary Sale.
They're extremely highly-rated, the best quality, and I promise you'll wear them all year round, multiple times a week (so maybe stock up?). Only $39 during the sale, $65 after!
Wit & Wisdom Ab-Solution Skinny Ankle Jeans
The price of these Ab-Solution Black Skinny Ankle Jeans are a WIN already, ($44.90, reg $68!) but they're also crazy soft and comfortable and flattering! They're actually made with a "slimming technology" so that they suck you in, in all the right places. But not in like an "I can't breathe these are so uncomfortable" way. In a "wow these are slimming AND comfy" kind of way!!
These are also the best jeans for tucking into boots for the fall and winter because they're so perfectly snug around your ankles. They don't fit quite as tight as a legging, but they're as close as you're gonna get in jean-form.
Year after year I try these on in the other washes available, and the other washes are (funny enough?!) never as good. So this is the only pair of jeans that I really think that black is the best color you can get! Seriously – for some weird magical reason, these black jeans are more flattering and more comfortable than the other washes. I don't know why, but they're the very best!
SIZING: Runs large, size down one size.
Madewell Printed Calf Hair Tote & Clutch
Honestly, this year the bag selection is a little underwhelming to me. But I do really LOVE this calf hair tote bag and this clutch for the value and the look and the function and ALL the things. You can grab the tote for $132.90 (reg $198) and the clutch for $39.90 (reg $59.50) this weekend.
SO happy this most affordable bag of the sale was restocked just in time for you to still get it!
T3 Compact Hair Dryer
I never travel without my T3 because it's just SO good. One reviewer said, "It dries my hair in minutes with NO frizz!" It might seem like a splurge for a travel-size dryer, but since I know I'll use it for YEARS and it will keep my hair protected, it's 100% worth the investment to me.
If you're someone who normally air dries your hair and uses a hair dryer only occasionally, then this would be a GREAT one to get as your rare backup, and/or for travel! Definitely, a travel hair dryer that is worth every penny. On sale for 33% off making it only $99.99, and normally is $149.99!!
Natori Bliss Perfection
Like I mentioned, Natori is such an amazing brand, I was so excited to try out this bra this year! Turns out, it's the prettiest and nicest "t-shirt bra" ever, and it's definitely going to be on repeat in my bra rotation. Can't stop, won't stop with the comfy bras – and you gotta love when the comfiest bras are actually pretty, too!
If you aren't into the lacy straps and would rather have a bra with traditional skinny straps, THIS is your perfect bra.
Tons of reviewers rave about how cozy and flattering this bra is, and the price is even better during the Nordstrom Anniversary Sale! Get it for only $44.90 while you can – after the sale, the price goes back up to $68.
Miller Water Resistant Chelsea Boot
Your classic Chelsea Boot got an upgraaaade! I absolutely LOVE these Chelsea Boots that are part of the sale this year! I know I'll wear these ALL. THE. TIME. And the fact that they're water-resistant makes them even more appealing for women in all climates for fall and winter.
These particular Chelsea Boots have earned 175 nearly ALL perfect reviews! Here's what other women had to say about these Chelsea boots:
These boots are so awesome; soft leather, super comfortable, easy to get on and off and they will never go out of style. Size runs true I wear an 8 order an 8 and they fit perfectly. Highly recommend!!
Very expensive looking boot for great price. More comfortable than the frye chelsea boot.

I have worn these boots nearly every day this winter! I originally bought a very similar pair from Sam Edelman and it was like sticking my foot in a hollowed out rock. So happy I found these because they're WAY more comfortable. Pros: stylish, easy to wipe off, keeps your feet warm & dry, super comfortable, platform keeps the leather upper from getting dirty. Cons: None. Buy them!
Boots like these are so easy to slip on & off during the winter months unlike other heavy duty boots, and they're such good quality that they stand the test of time (and the test of bad weather!).
The fact that these boots are only $59.90 is blowing my mind, too!

Sizing: these run TTS.
5 Star Leggings
Over 7000+ near perfect reviews can't be wrong! These high-waisted Zella Live In Leggings are a loooooong time favorite of mine. They have been a wardrobe go-to for me for YEARS that I can't ever stop wearing! With graphic tees and tunic tops-they are just the BEST! Zella leggings are super duper comfortable and for $38.90 during the sale, they're also a steal! (after sale: $59)
The basic black is my very favorite because they are not see-through even a little bit and they're great for wearing everywhere and with everything. Major wardrobe staple goodness.
Last chance!
Don't forget, the Nordstrom Anniversary Sale ends on August 8, so this is your last chance to score some amazing things at the LOWEST prices! Here's a roundup of all our favorites from the Nordstrom sale that are still available for a few more days! These items will go back to FULL PRICE right after the sale, so don't miss out!
Best 2021 Nordstrom Anniversary Sale deals
What to buy first: Top 20 items that will sell out fast
The four bras worth buying during the Nordstrom Anniversary Sale!
Nordstrom Anniversary Sale beauty top picks!
Best Nordstrom shoes in this year's Anniversary Sale, with sizing info!
ALL the jeans from the Nordstrom Anniversary Sale – these are my top 5
Nordstrom Anniversary Sale BABY DEALS!
Guide to shopping Teens/Tweens – TOP FAVES from the Anniversary Sale
TOP Nordstrom Men's Items from the Anniversary Sale – Neil's POV
Nordstrom Anniversary Sale: Cutest women's clothes + a bonus list of items under $100!
1 very BEST pajamas from Nordstrom Anniversary Sale!
Top Nordstrom KIDS picks of the Anniversary Sale!
Your fall wardrobe checklist from the Nordstrom Anniversary Sale
How to "spice" up your HOME guilt-free! – Nordstrom Anniversary Sale
LAST CHANCE: Nordstrom Anniversary Sale items that won't go on sale for another year!