It's crazy how a pregnancy can feel SO long, then just like that your baby could come any day! In my opinion, it's never too early to get everything ready — it's exciting, keeps you busy, aaaand it helps relieve stress! So today I'm addressing one of the most frequently asked questions of any pregnant woman: what to pack in a hospital bag?
In a hurry? Shop my picks below:
2 is better than 1
For starters, all 4 times I've decided what to pack in a hospital bag, I've split it up into TWO bags, which I've really loved. One bag for mama and one bag for baby. It's so much easier to decide what to pack in a hospital bag for myself, like toiletries and things that will make me feel calm and comfortable and at home for a few days.
What to pack in a hospital bag for a baby is TOTALLY different in my eyes, like a few outfits to wear and some swaddles and whatever pacifier you want to try to get your babe to use if you're going to do that, etc. And I love having the two separated just to keep everything organized.
Hospital bag for mom
So let's start with what to pack in a hospital bag for MOM:
I loved my big duffel bag so much with Lyla — I've used it to death since her birth almost six years ago! I decided to buy the same bag in another print when I had Millie. With Harry, I used this duffel that I love, and I feel like I've really got some good use out of it. It's not available anymore, but really any duffel bag will work like this cute one that's really similar to mine!
Pack all your toiletries
Make sure you pack all your toiletries!! I don't care if you're super extra or super basic about what you pack in a hospital bag – you WILL want your own toothbrush and probably face wash or moisturizer.
If you have c-sections like me, you'll be so happy to have some dry shampoo (this and this are some of my faves) and some facial wipes for the first couple days you're in bed recovering, along with travel shampoo and conditioner, a razor (seriously this is the ONLY one I'll use now!), shaving cream, floss, deodorant, and your makeup bag if you feel like freshening up a little before visitors or for pictures.
You'll also want some good scrunchies or hair ties (these hair ties are my current fave!). And after having a baby I just want some good chapstick (this is my all-time favorite).
Disposable underwear
Disposable underwear was one of THE most helpful things I bought for my 3rd and 4th recovery. It's just really nice to wear these instead of worrying about bleeding onto your bed or whatever you're wearing. I bought these with Millie and these with Harry (waaaaay less $$!).
Frida Mom Kit
I bought this kit for myself and then gifted my sis one when she had her baby and we both LOVED IT!!!
In her words, "it's everything the hospital will give you for recovery, but BETTER." I couldn't agree more, and I only used half of it because I had a c-section! She had vaginal deliveries and said she would buy this for herself, but bring it to the hospital next time. And she's a minimalist, so that's saying a lot!
Extra long iPhone cord
I love having an extra long iPhone cord too because you never know how far away you'll be from an outlet, along with a laptop and cord if you want to be able to look anything up or maybe record your thoughts and feelings about the birth, or just a journal if that's more your style.
Most hospitals will have a TV and at least some local network television, if not cable stations too to keep you occupied, but if you want to be able to watch favorite Netflix or Hulu shows, a laptop or iPad can be nice!
Now for some extra stuff that I love to pack in my hospital bag, but aren't necessarily requisite!
Your own robes and clothes
With Millie, I packed a striped robe similar to this one that's a little shorter which, usually I prefer a longer robe, but with how often I know I'll get checked for my c-section scar and I'll basically just sit with the blankets over me in bed, this is the perfect length. With Harry I used a blue robe (similar here) and a satin robe (similar here)!
I bought myself some striped short sleeve jammies too that are sold out now, but here are some cute similar ones!
I also packed this house dress that I love and LIVED in while I was recovering! It's just really nice to have your OWN clothes to recover in once you're done with the whole birthing or surgery experience and you're just hanging in your room.
Nursing bra
One thing you'll for sure want to pack in a hospital bag if you're planning to try out nursing at all is a nursing bra!
This is the bra I've recommended in the past, in my best baby registry list ever post, but with Harry I loved these nursing bras, this nursing bra, this nursing bra, and this one. You can also check my post here on these four favorite nursing bras and why I love each of them.
Cozy favorites
For my feet
I also packed a pair of cozy slippers along with my own towel – probably not necessary but REALLY nice since the towels at the hospital are a little rough! Other footwear I packed: cozy socks, and some flip flops since hospital shower floors can be a little sketchy! Haha.
For my head
And definitely a necessity for MY happiness: my own pillow.
And since I know I'll be spending a lot of time with my hair against that pillow and I don't want to have the world's worst bed head, I'm bringing my beloved silk pillowcase, too. If you're buying one of these brand new, I highly recommend getting a color or a print so you don't accidentally leave a white one at the hospital, or on some future trip at an Airbnb or a relative's house who will never tell you that you left it there HA.
Also if you want a less expensive version, I think this is a pretty good amazon dupe!
Letter board
I also brought a letter board along to announce Millie and Harry's birth! Such a cute way to share baby's name and some stats.
Comfy dress
And last but not least, don't forget to pack yourself something comfy to wear home! Don't make the mistake of thinking you'll be able to fit into a pair of pre-pregnancy skinnies because unless you're a straight-up unicorn, that's just not happening haha. I bought this loose button-down dress (here's a similar one) since it's very roomy and perfect for months of nursing!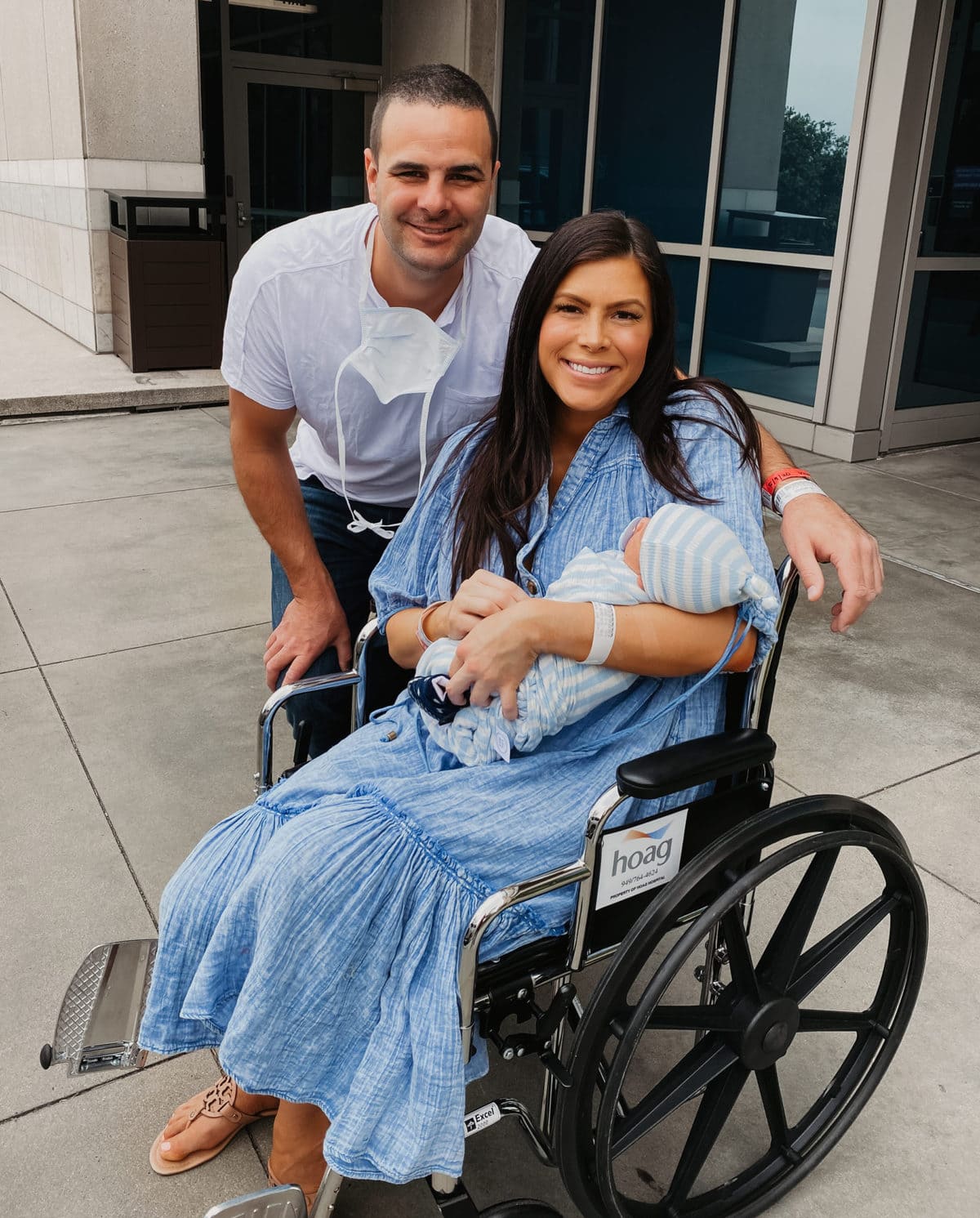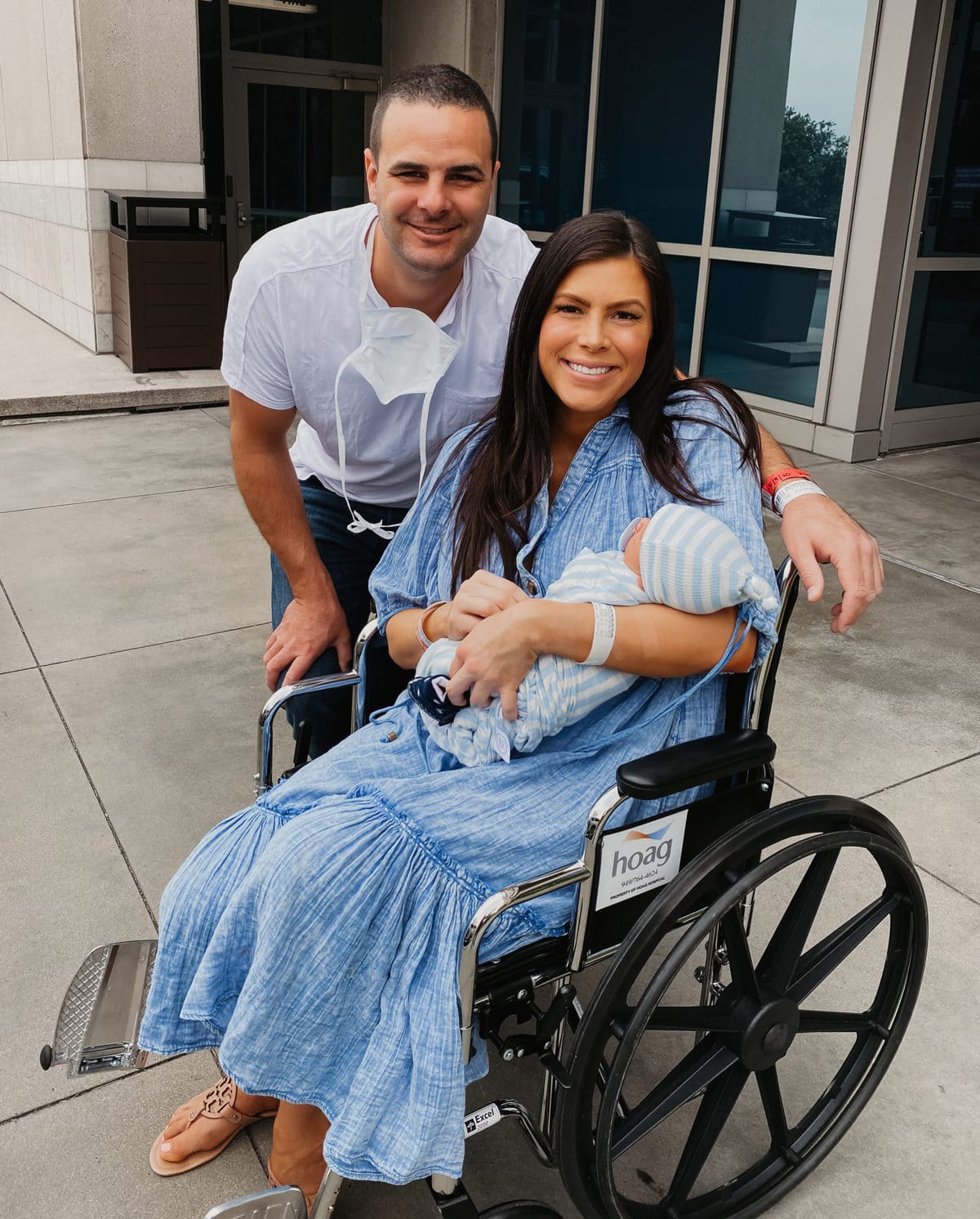 Hospital bag for baby
Now for what to pack in a hospital bag for BABY:
I always start with a few cute outfits and some swaddles that I've washed at home in this HEAVENLY smelling baby detergent and are cute enough for some pictures on baby's first few days in the hospital. Totally not necessary, but I really really love playing dress up and feeling like my baby is all wrapped up in clothes that feel and smell like home.
Here's a roundup of my favorite baby boy clothing brands!
Hospital hats
Right when the baby is born, before they even give him a bath, they'll stick a hospital hat on their cute little head to keep them warm. I bought a couple of these super soft hats to go with these little outfits for Harry.
When I had Millie, I always wondered how some people ended up with the adorable little bow hospital hats and then I finally did some research and found them here for cheap if you're having a little girl.
Baby wash
Smells are one of the most memory triggering senses in the body and I absolutely LOVE the smell of Noodle & Boo because it reminds me of all my babies and the first day I met them, right after their first baths, and in their first few days of being alive.
We're also huge Tubby Todd fans in this family, so you could either bring Noodle & Boo or Tubby Todd (use this link for 15% off!) or just use the baby wash the hospital has if you're not particular about smells.
Pacifiers
My two older girls were total stinkers about taking a pacifier, but Millie did take this binky and this binky really well, so I took the same ones to the hospital for Harry.
I packed all of baby's hospital bag in a Grey Freshly Picked Bag that I love so much! It's just the right size for bringing along all the tiny things baby will need, structured, but not too heavy.
Baby's car seat
And lastly, although it's not really part of what to pack in a hospital bag, make sure you bring along the baby's car seat with you to the hospital! It's the ONE thing you can't leave home without because unless you can walk home, they won't let you leave the hospital without a car seat.
This car seat is the newer version of what we had and LOVED with our first two babies. But now the newer version is one of the VERY lightest seats on the market. We gave away our older version so I had to buy something new for Millie, and even after extensive research, I still didn't find anything I loved as much as this one, so I used it again for Harry.
You're ready!
After four babies and four hospital bags, I like to think I have it down by now! But I'd love to hear if you have anything else that you would add to YOUR hospital bag. And if you want to know about all my other faves for baby and mama, make sure to check out my freshly updated Best Baby Registry List Ever!
Quick Links

Latest Posts