This baby registry list was originally written in 2013, a few months after I had my first baby girl, Anabelle. Now that I've had FOUR babies: Anabelle in 2012, Lyla in 2015, Millie in 2018 and Harry in 2020, I've updated this post to its 5th edition with new AND tried-and-true favorites. This post has been pinned on Pinterest tens of thousands of times and even led to a feature in Pregnancy & Newborn Magazine in April 2015, a month before my second baby was born.
This post is 100% unsponsored (although I ONLY work with brands I absolutely love in other sponsored posts, which are ALWAYS clearly disclosed at the top of sponsored posts). I've given my honest and most heartfelt opinion on everything, and I gave this exact same list and exact same advice to my own sister when she had her first. I feel honored so many of you have trusted me to help you find baby gear you'll love and I hope this helps make everything from the blowouts to the late night feeds to the many "firsts" just a little easier.
With love,
Corrine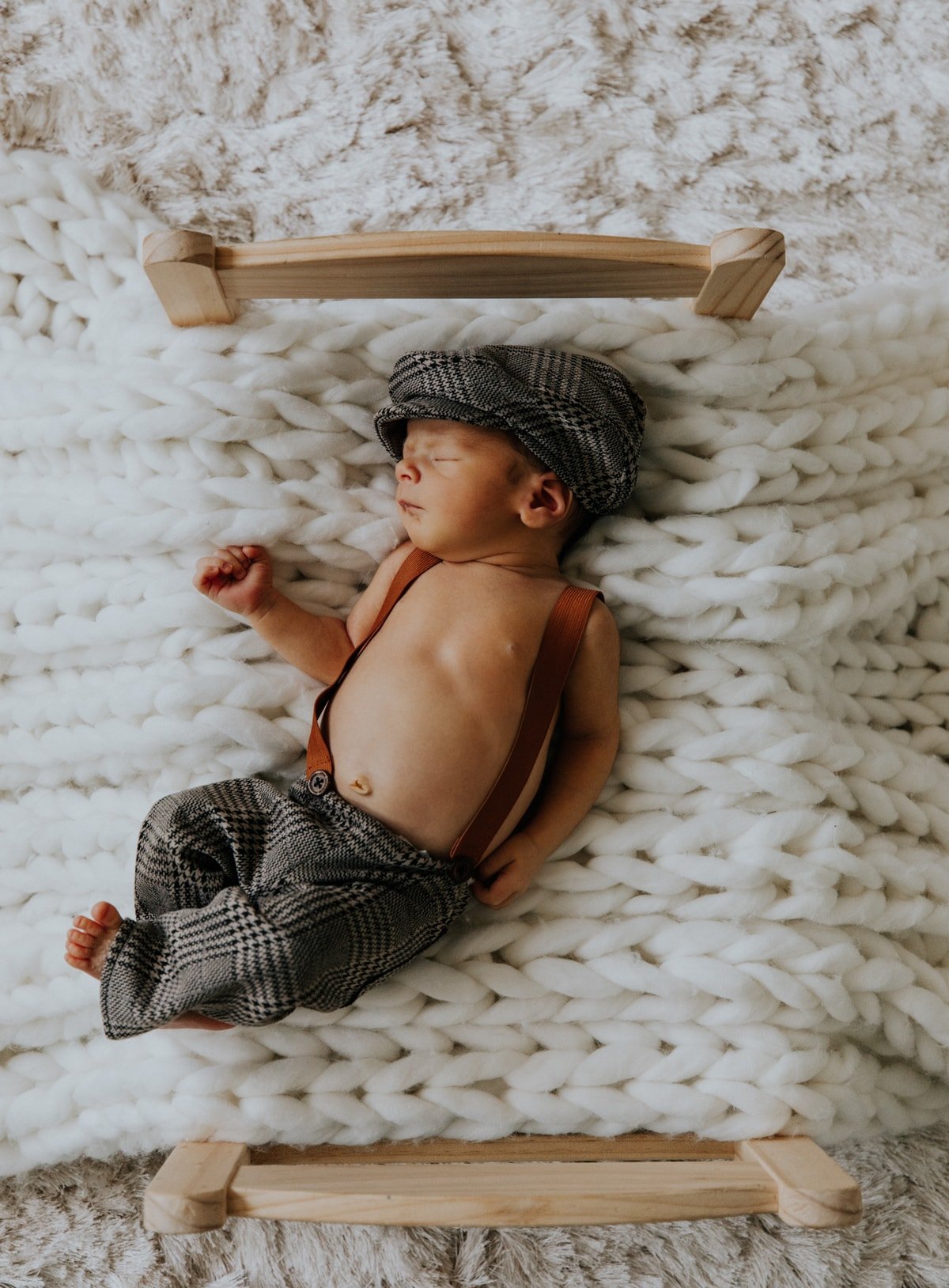 I'm so excited to finally bring you a post that has been a staple for years in this community. It has been edited and re-edited, added to, deleted, and perfected. It's really been a labor of love. This is my ultimate best baby registry list of ALL the things you will need for your baby.
When I got prego the first time in 2012, I made it my business to know about all the hottest products and researched the heck out of every baby gadget out there. I interviewed interrogated best friends, co-workers, my sister in law, neighbors, even complete strangers in public on their favorite baby everything. I joined online mom forums. I religiously followed (stalked) baby guru experts. I think I read everything on the internet ever published about every stroller, carrier, diaper, binky, and onesie out there. I'm only slightly exaggerating, but not much. Before I even had my kid, my friends were referring their friends to me for baby gear questions. If you want to nerd out on a convo about strollers or car seats, come sit by me!
As you can imagine, when I actually HAD my first baby, and then my second and third and fourth, I discovered even more what I actually like, don't like, LOVE, can't live without, etc. And that's what I'm going to share with you today.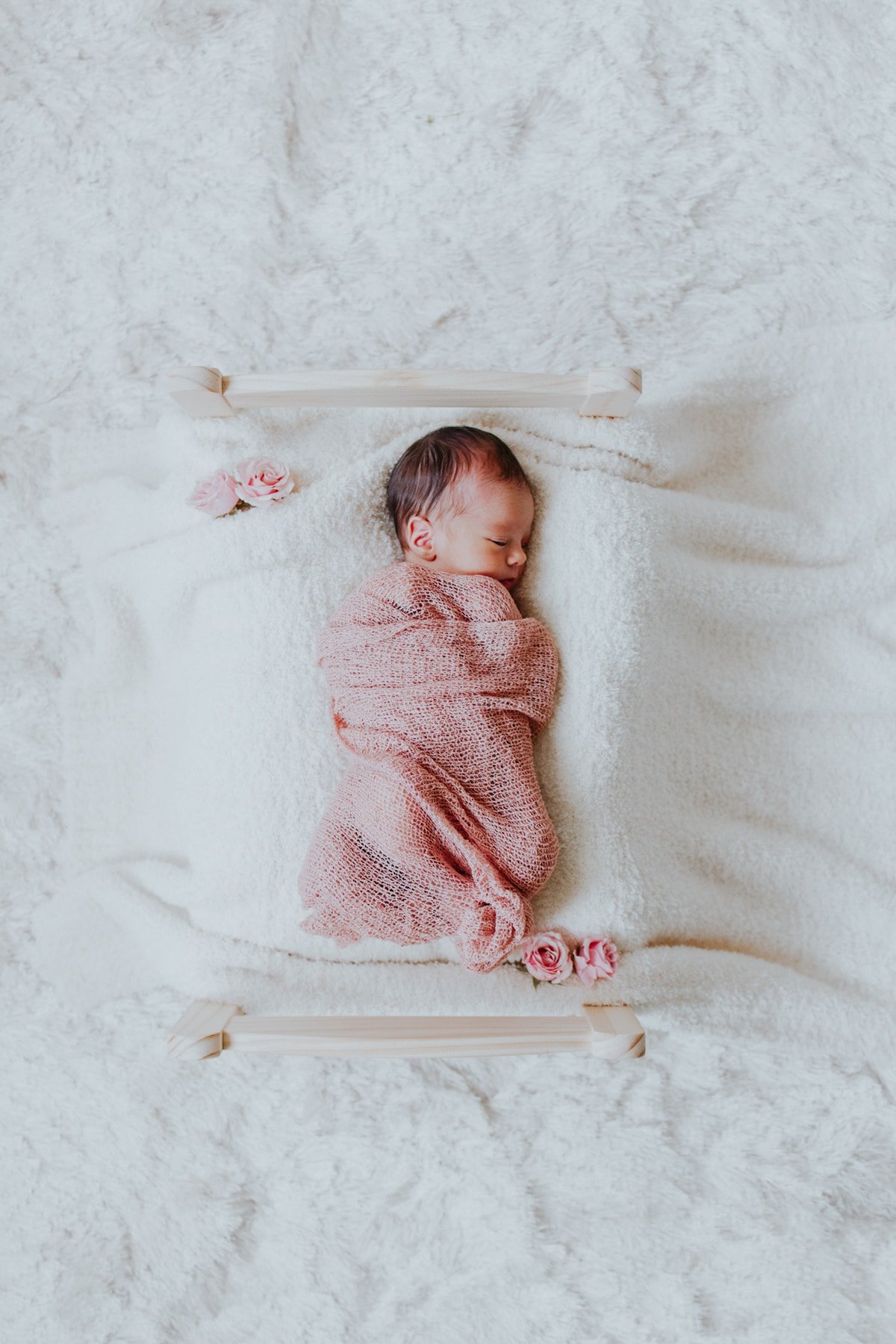 Where should I create my baby registry?
My favorite place to create a registry? Amazon baby registry because they have a generous completion program (15% off everything on your registry after your baby is born if you're a member of Amazon prime), free returns for 90 days – no questions asked, you can add things from ANY other website (not just amazon) to your amazon registry. It's SO easy for people who shop Amazon anyway to buy things off your registry, AND they have an amazing thank-you note organizer that automatically saves the mailing addresses of anyone who sends you a gift so you can easily send them a thank you note. Need I say more?!
Deals deals deals
Lastly, because my blog Mint Arrow is dedicated to deals, I promise that anytime I find a deal on any of these baby favorites and must-haves, I'll post them on my blog! So if you're liking what you see below, make sure you sign up for my newsletter to get updates on the best deals I find on baby gear plus fashion, beauty, kid stuff, home decor, etc.
And if you're more of a text message kind of parent and not as much of a check-your-email-10x-a-day-er, you'll want to text BABY to 949-506-2558 and I'll text you ONLY when I find the most insanely good baby gear deals.
So, without further ado, here are my absolute MUST HAVE favorite baby items.
Pregnancy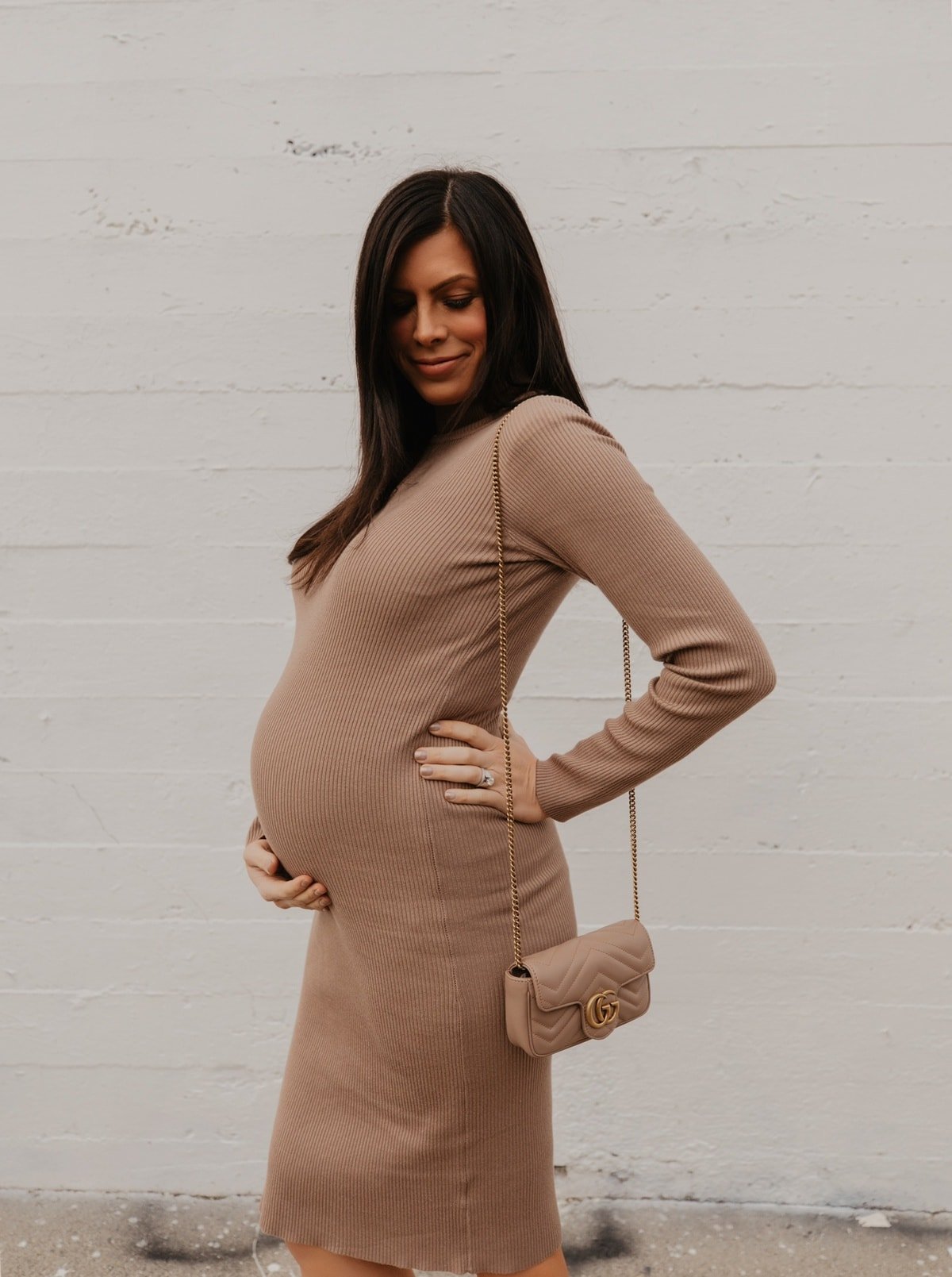 Stretch Mark Oil
I have stretch marks all over my body from growing fast as a kid, but I didn't get a SINGLE stretch mark on my belly during ANY of my 4 pregnancies and I believe it's because I used this Mother's Special Blend All Natural Skin Toning Oil daily. It smells good, helps with itching, and doesn't stain your clothes or bedding.
*Used this with my first, second, third AND fourth pregnancy and STILL not a single stretch mark on my belly! I LOVE THIS STUFF!!!
Maternity Tank
I lived in these Maternity camis while I was pregnant. SO great for underneath any shirt that won't button, a cardi that doesn't quite fit anymore, or to cover your cleave with your new sprouting boobies. Because if you're like me, they've already grown two sizes. Oh don't worry, they aren't done growing. Just you wait till your milk comes in!
Belly Support Belt
Speaking of maternity, this Bellaband is fantastic for that weird in-between stage where you aren't quite ready for maternity pants but you can't button yours either. Of the brands I tried, these were my fave and (bonus!) least expensive.
For my second pregnancy I tried out this belly band and I hate to say it but it worked WAY better! It's just stronger, sturdier, better made, will keep your pants up all day. Third and fourth pregnancy – didn't use any type of belly/bella band for very long because the third time around especially, I knew JUST how amazing maternity jeans were and didn't want to wait one day longer than necessary to jump right into maternity jeans.
Maternity Clothes
Let me be crystal clear: THERE IS NO SHAME IN WEARING MATERNITY CLOTHES. They are awesome. AWESOME. Comfy. Cute. Not frumpy like they were, um, a few years back. A million times better than uncomfortably trying to make your regular clothes work. Just do it. You'll wonder why you waited so long.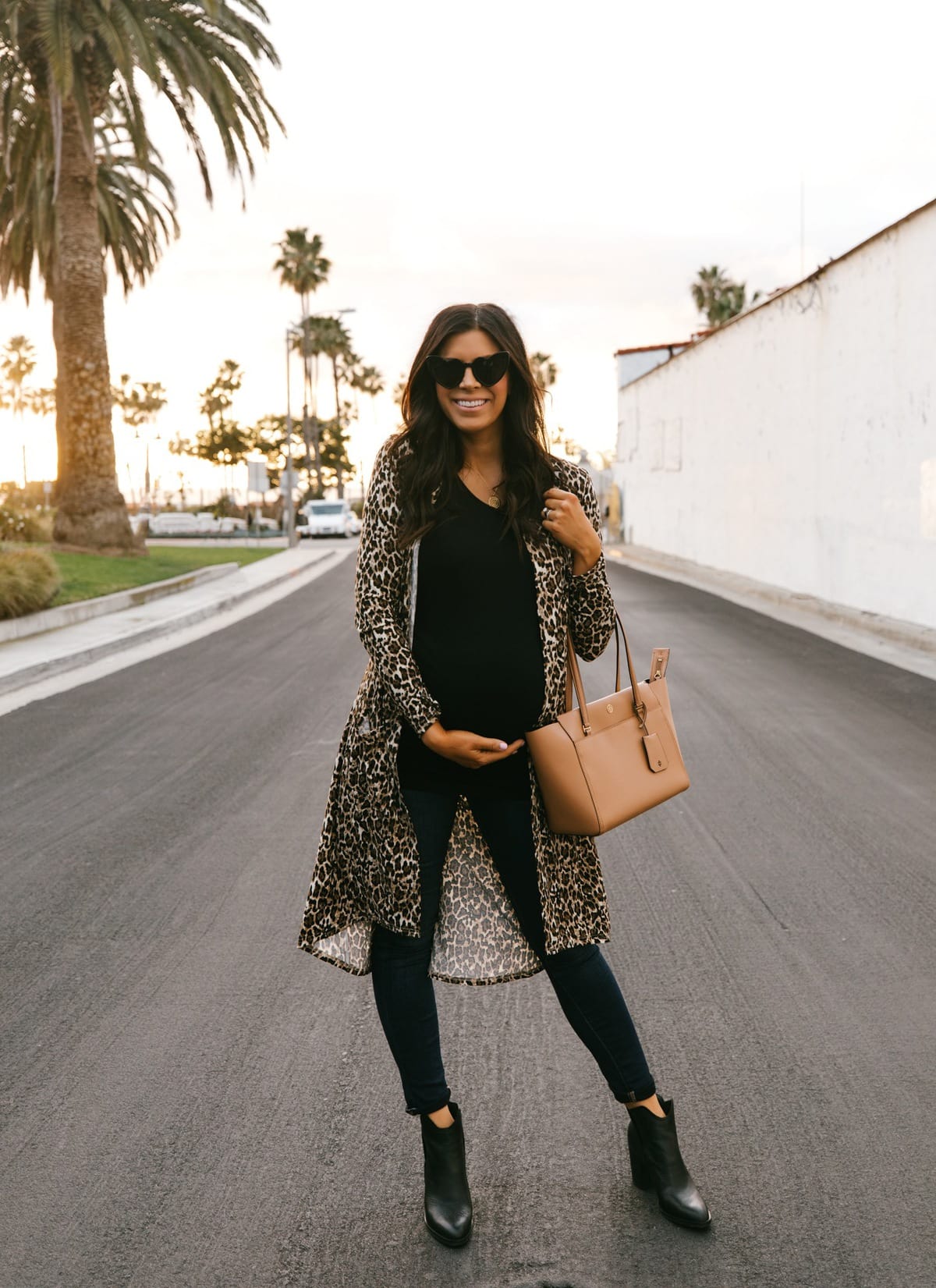 Jeans
Over the course of three pregnancies, I've tried everything from the cheapest to most expensive, and THESE Paige Ultra Skinny Maternity Jeans (pictured above) are the pair I would wear every single day if I had to choose just one! So comfy and cute and flattering. 1000% worth every penny. One of my ONLY regrets from my first pregnancy was waiting so dang long to just buy maternity clothes.
If you've moved on from skinny jeans (I don't know if I ever will!) and you're looking for an alternative that will fit as well, these are the same brand, just a different shape.
Dresses
This Ruched dress (pictured below) is so stretchy and SOFT and comfy and pretty and it comes in a zillion colors so you can match it with a bunch of different kimonos or cardigans – one of my favorite FLATTERING ways to dress up a bump!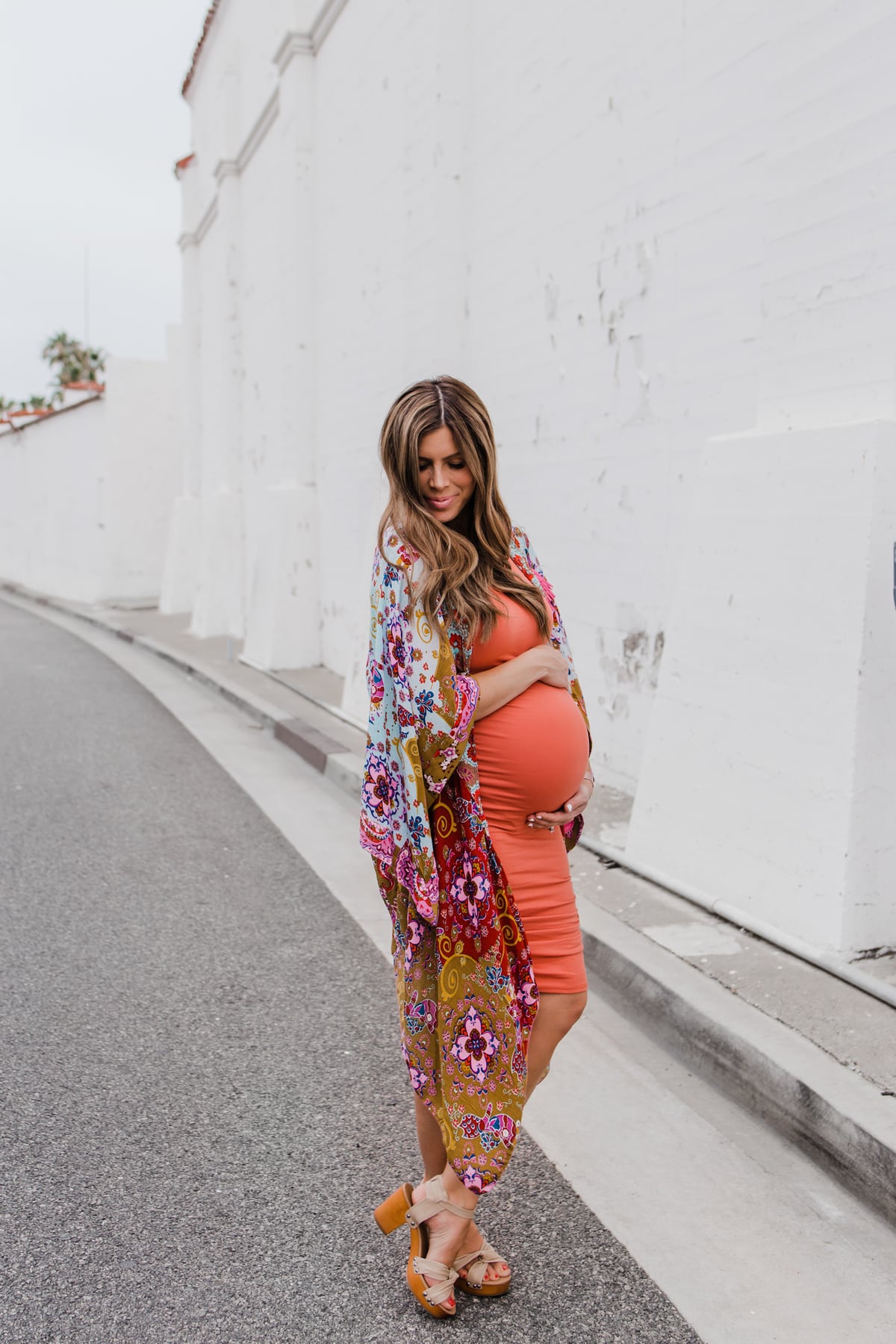 ASOS is my favorite source for maternity dresses! You can find something for the most casual settings to the fanciest. The dress I'm wearing below came from them. It's sold out completely now, but they're constantly adding new cute ones so check back frequently throughout your pregnancy.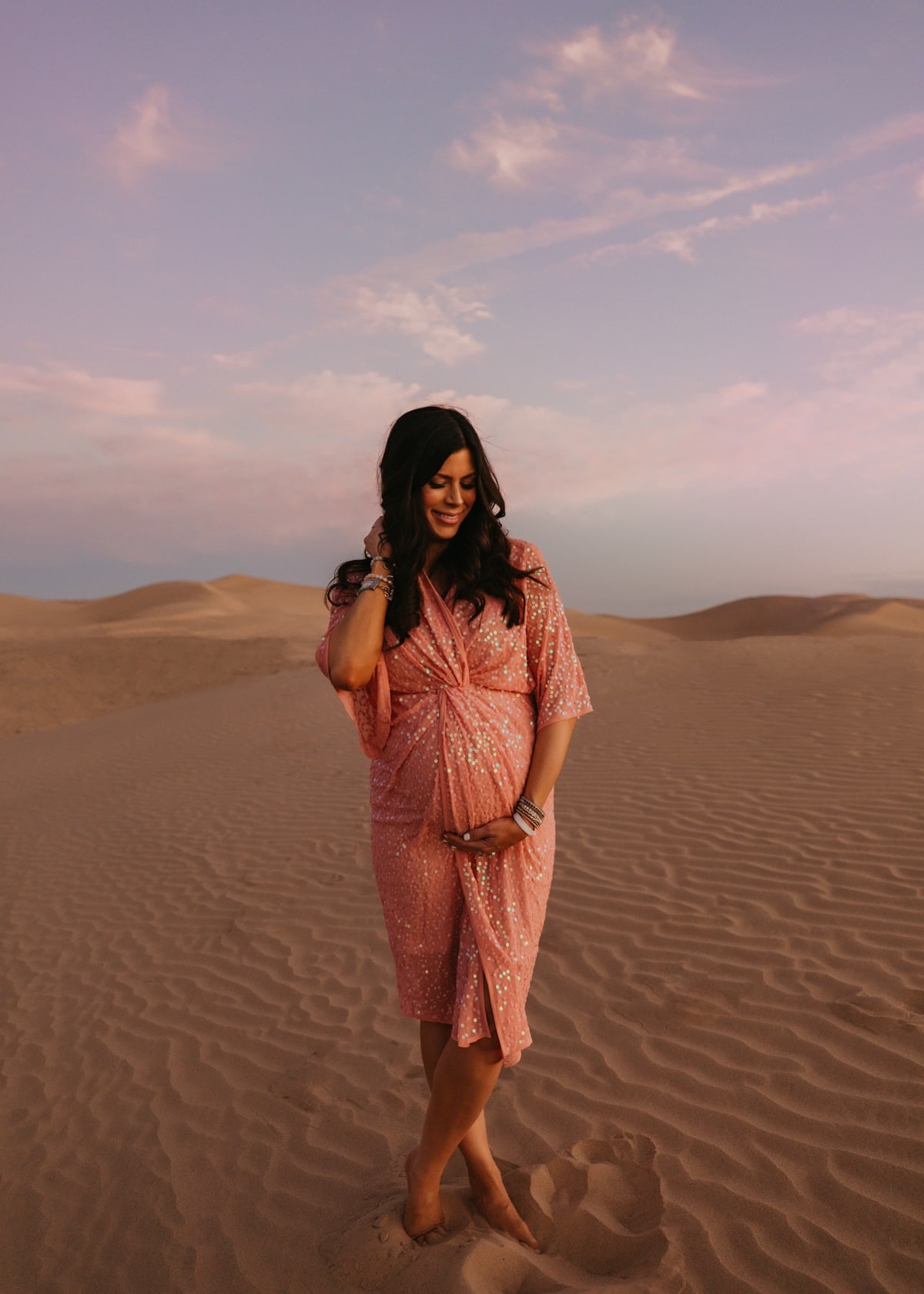 Free People is another place I love to shop at for beautiful maternity shoot dresses, blousey tops, and roomy outfits for once baby comes (more on that in this post!).
And one of my very favorite finds of my last pregnancy was Boohoo – where I found the dress I wore to my little brother's wedding while I was 6 months pregnant but looked like I was 8.5 (that's the 4th child!).
Hospital & going home must-haves
Swaddles
The first time I had a baby, everyone told me to NOT bring my own swaddle blankets into the hospital for my baby. But I went with my gut and threw them in my bag anyway. And I'm SO GLAD I DID. I absolutely loved having my own swaddle blankets.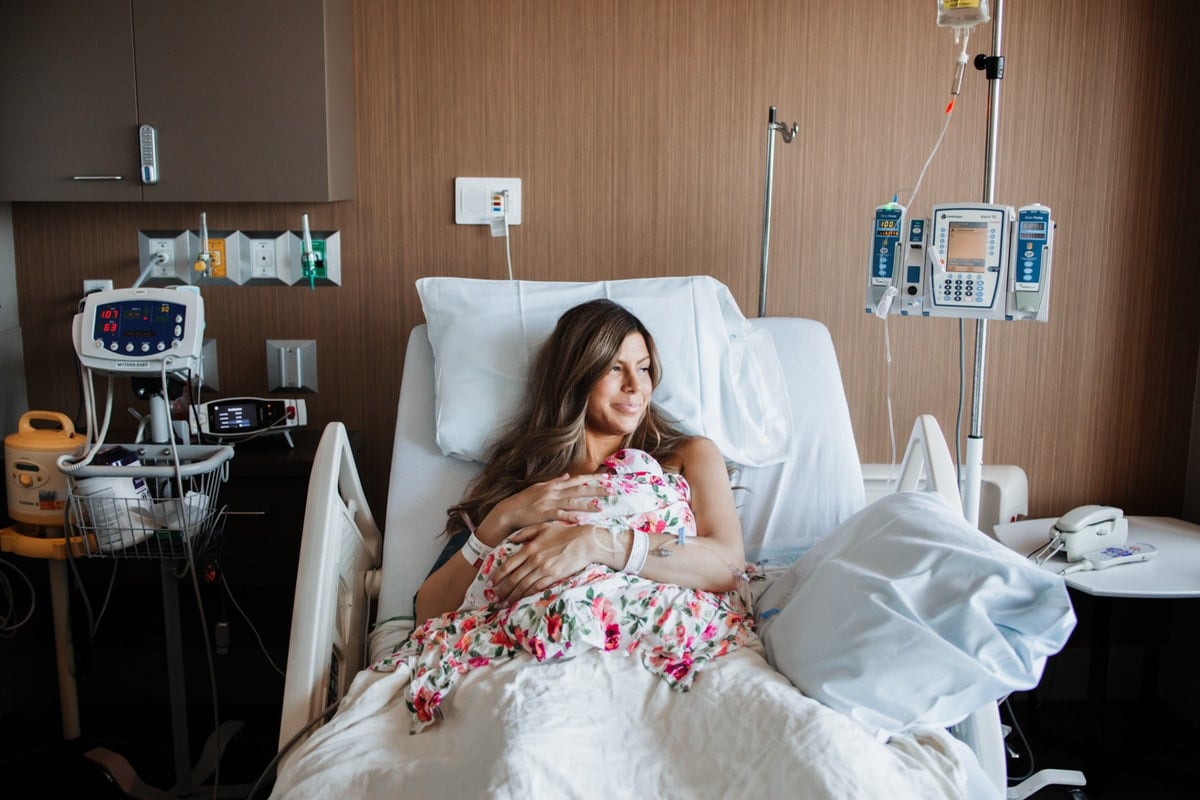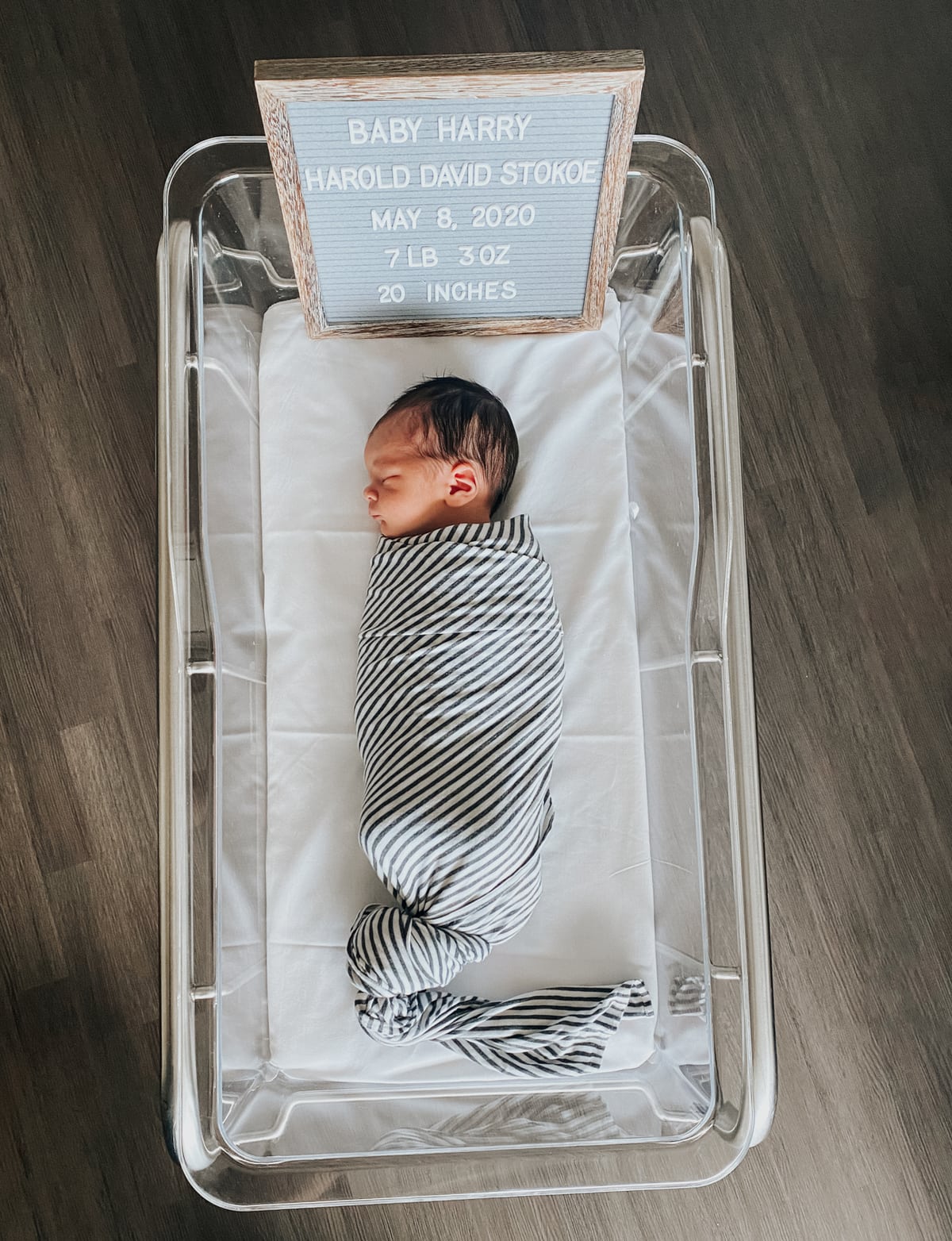 We've loved aden + anais swaddle blankets through all four of our baby's births, but my VERY favorite swaddles with my past three babies were from Solly Baby and Saranoni. Solly Baby's swaddles are ultra crazy soft and stretchy, made from the same material as their heavenly wraps (more on those later!).
Saranoni swaddle blankets are some of our FAVES, and we're even more obsessed with their comfy lush blankets (not for swaddling but just for snuggling). They're the very softest receiving blankets in the entire world.
My family thought this Miracle blanket was so mean, they even called it the straight jacket. But, this thing really is incredible! It makes swaddling so easy (and idiot-proof) and helps your baby to get all cozy-swaddled for the perfect sleepy time.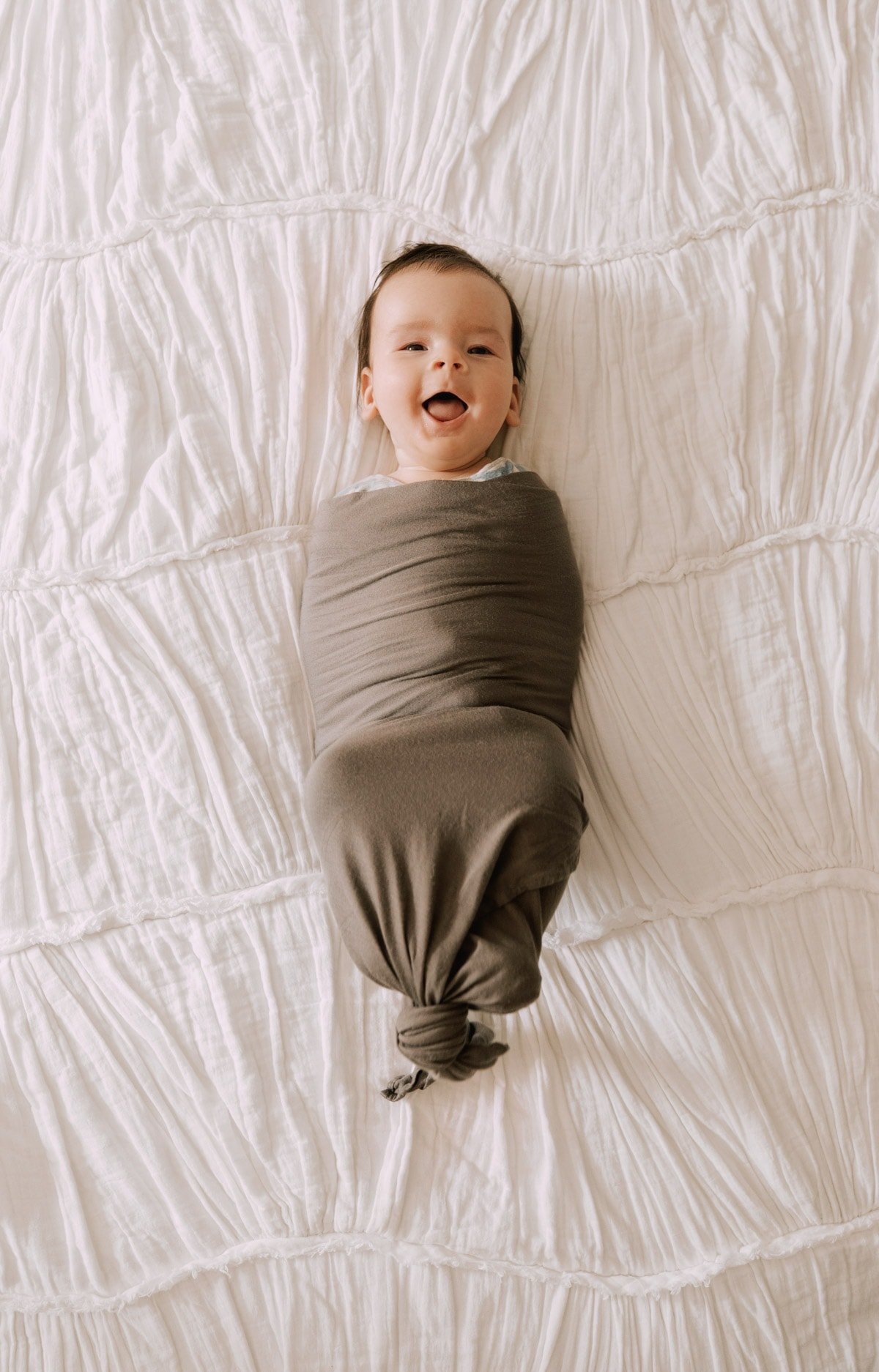 How many swaddles?
I was told you should have at least 12 swaddle blankets. I'm sort of embarrassed to say we had 20 something, BUT we used all of them! Think about it, they spit up all day, have blow outs, etc, and you swaddle them in those constantly. If you want to not do laundry daily, I honestly suggest getting at least 10. That's not even 2 per day for a whole week!
I bought a couple of VERY expensive swaddles that swore to be the best because of velcro etc but my favorites were just the plain old straight up swaddle blankets that I used with this swaddle technique!
View this post on Instagram
Clothes
I was also told to not bring my own baby clothes into the hospital. Whatever. I'm SO glad I didn't follow that advice! There was nothing better than dressing up my brand new baby in cuddly clothes that I picked out just for them. That's just me though!
We love GAP's first favorites collection! Just remember that your little one will need to be in an outfit with legs (not a footless bundler) to ride home in his/her car seat from the hospital. Also, you'll want to wash the clothes in baby detergent before you bring them to the hospital.
Pictured below are L'oved baby organic jammies which we've loved!
The hospital will have some, but you'll want some basic onesies for when you get home. These were our favorite for Harry that we got asked about a lot! 5,200+ ratings and 85% give them 5-stars, like I do!
Accessories
I also took with us the bow hats you see below. I had always seen SO many babies with the cutest little bow hats in the hospital and wondered if just maybe some hospitals stocked those, until I finally asked my friend and L&D nurse, Heidi, about them and she told me the nurses MAKE these bows out of a regular hospital baby hats – who knew! I was so happy I had bought my own though for $12 because the hospital I delivered at didn't make one for me.
For Mom
iPhone Cord: If you own an iPhone, you will be SO HAPPY you ordered one of these extra long iPhone cords. You won't be able to get up out of bed very easily, but will probably want to be able to use your phone a lot, and who knows how close the nearest outlet will be. I was sooooo glad I had this!
Hair Ties: These are my new faves but obviously any will do! You'll just be so glad you have one.
Toiletries: Bring your makeup, your favorite shampoo and conditioner, favorite lotion, deodorant, some dry shampoo (this dry shampoo is my very favorite), facial cleansing wipes, your toothbrush, etc. You will want to freshen up a little, I promise! It will make you feel so much better, especially if you're in the hospital for more than a day. See my full hospital bag in this post.
Hospital Gown: Make sure they give you one of those hospital gowns. Being funny, but really. People made the biggest deal out of getting great/cute/comfy/stylish button-downs and jammies and sweats and runway gowns (kidding) to wear in the hospital. And you know what? I wore the hospital gown the whole time with my first. Easy access for the nurses who need to check you every couple hours, easy access for nursing, baggy enough to comfortably cover everything you need and want covered while you're recovering from just birthing a human.
Sleep Shirts: With Lyla and Millie and Harry I did take a couple sleep shirts, a cute robe and a pajama set (this is my all time fave!) that buttoned to hang out in and I'm glad I did! It was nice for pictures and if visitors came.
Cozies: Bring your own robe, slippers, and flip flops.
Nursing Bras: These are my new favorite nursing bras because they're ultra-affordable (3 for $29.99!), comfy enough to sleep in, but have a removable cup liner so they hide your nips and nursing pads and you feel like you can wear them out and about with real clothes! They're also the very best for the Willow Pump (more on that in a minute). Find my full post of nursing bra favorites right here!
If someone's staying with you
Husband/partner's bag: Tell your hubs/partner or support person to pack a change of clothes, and if they plan on staying at the hospital with you, their own pillow, maybe even sheets or a blanket they like, snacks and any medication they might need, a laptop to do work from the hospital during down-time, and toiletries if they don't plan on leaving until you do!
Our last baby was born during the pandemic and Neil was not allowed to leave the hospital at all once we checked in, so he stayed overnight with me the whole time. He used this mattress topper (tiny when it's deflated so you don't feel foolish walking in with it!) and said it made a HUGE difference.
Going home outfit
You'll want something comfy to go home in too! Not to burst your bubble, but there's basically no chance in h. you're going to fit into your pre-pregnancy pants. So plan on wearing something very comfortable, stretchy (think drawstring or dress) and what you comfortably wore 6-months preggo. With Anabelle I wore a velour sweatsuit home and Uggs since it was winter in Utah…nice and comfy. With Lyla, Millie, and Harry, since we're in California now, I wore a Free People dress home from the hospital that I knew I'd feel totally comfortable in. Flowy, comfy, easy.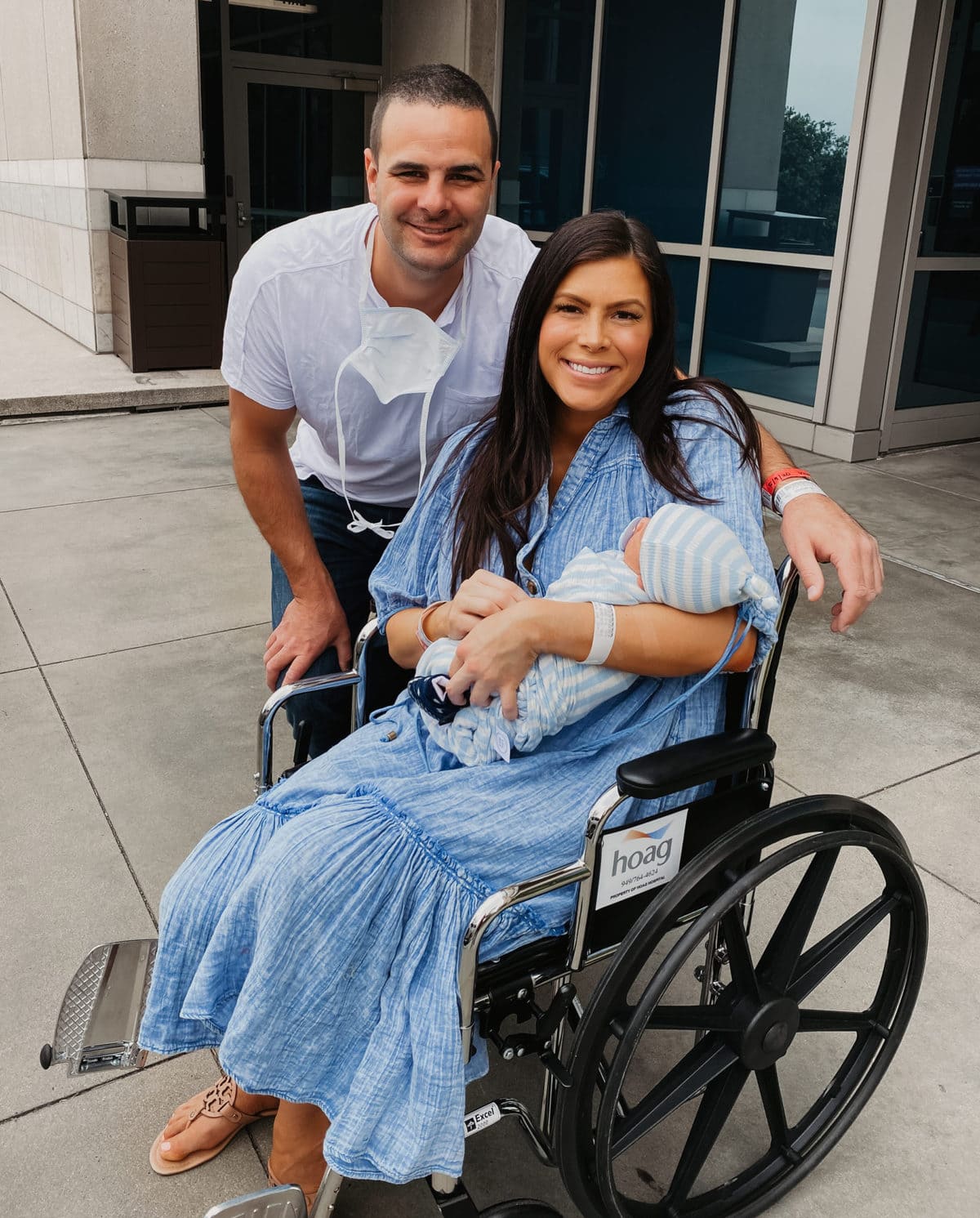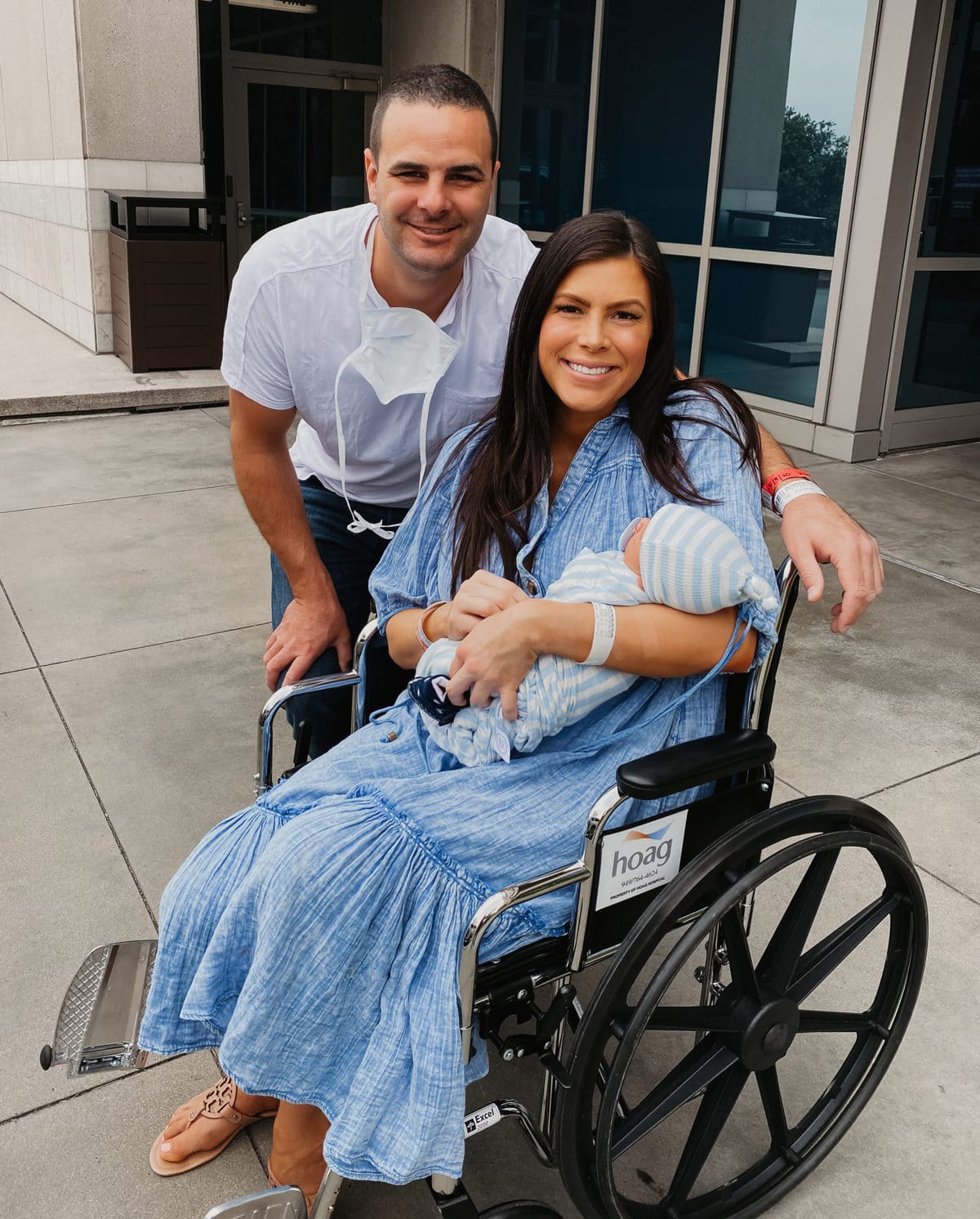 Get a babysitter
If you already have a kid at home, things will be a little different this time! This is how we did things with baby #2: since I had a scheduled c-section, we had a planned babysitter for the day of Lyla's delivery. A babysitter brought Anabelle to the hospital to meet Lyla a few hours after she was born, then Neil took Anabelle home and I stayed in the hospital with Lyla. Each day after that we had a sitter in the morning come to the house and stay with Ani while Neil came for 3-4 hours to hang out and bond with Lyla, then he went home around lunch time and after Ani's afternoon nap, early evening(ish) they both came back to the hospital for a short visit and to bring me dinner 🙂 that worked out really well for us!
We did basically the same with baby #3, except only one visit with all the kids the day the baby was born. After that, it was so chaotic for Neil to try to bring the older girls that we kept them home after that first initial visit. With baby #4, the kids met Harry the day we were discharged and honestly it was kind of nice! Way less stress coming out of surgery and having all my kids climb all over me a few hours later, bless their little sweet innocent wild hearts!
Then the day you are discharged, you for sure want to leave older sibling(s) at home with a sitter or at a neighbor's house for a bit while dad helps you gather all your stuff and takes you and baby home.
Car Seats
Car Seat SPLURGE option
Okay let's talk CAR SEATS! We used this Nuna Pipa car seat & base for Lyla and Millie and LOVE it! The newest version, the Nuna Pipa Lite is one of the lightest on the market (5.7 lbs), and the privacy screen is so great! No need for a car seat canopy. It's also extremely easy to install into a car. We use it with our City Select stroller and it clicks right into the stroller base with this adapter kit. I also LOVE it in the UppaBaby Vista with this adapter!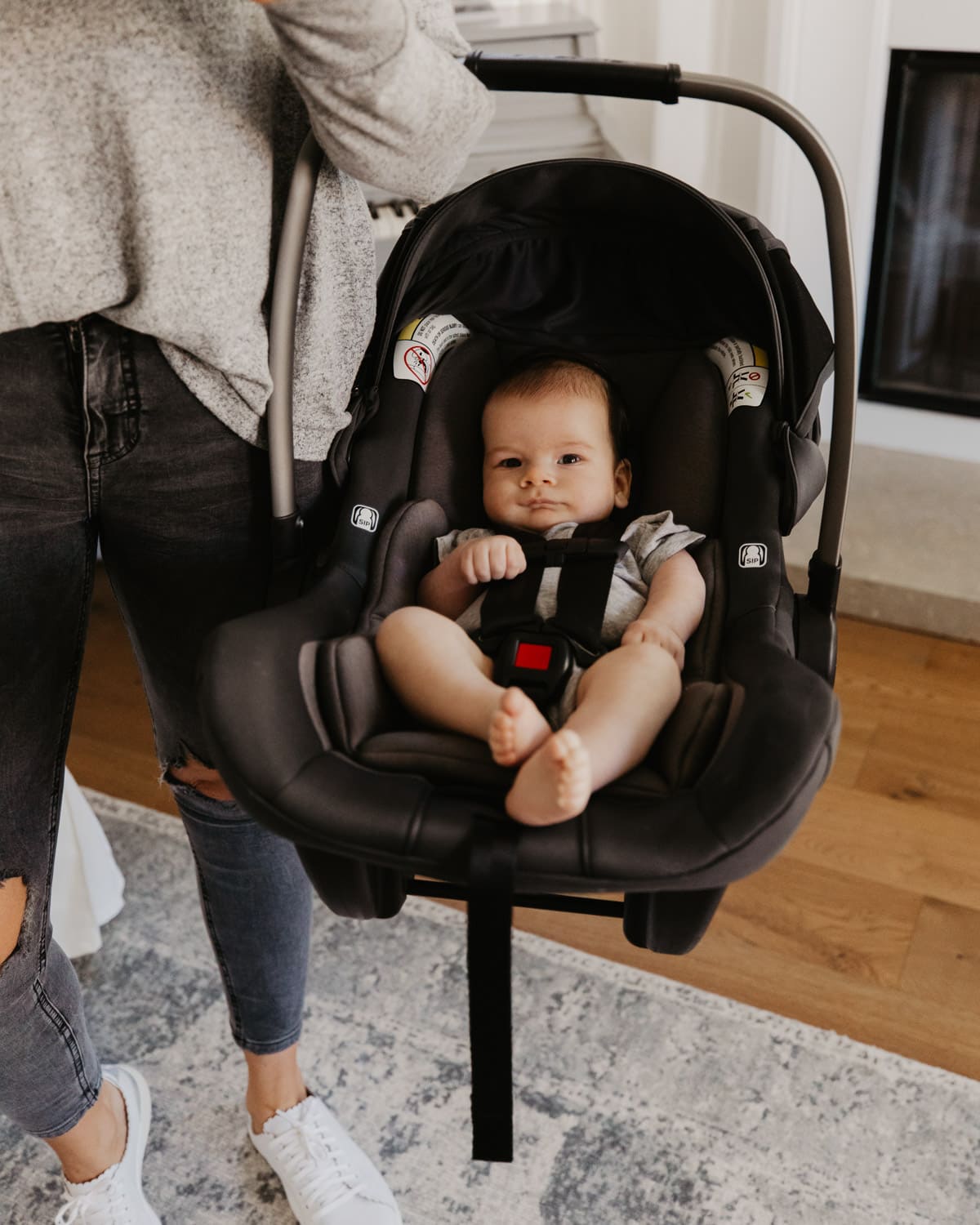 Car Seat SAVE option
This City Go Car Seat is my #1 pick for a car seat that's budget-friendly AND has amazing reviews!! This is the one I had my mom get for my sister and she loves it, and we bought it too just so we could have a car seat with the seatbelt path for traveling, since the Nuna Pipa Lite doesn't have one! It's actually very cozy for baby to sit and sleep in too!
Mama Recovery
I have c-sections, so these are my recommendations based off a c-section recovery. By the way, motherhood is amazing and beautiful no matter what way you become a mother, be that a c-section, unmedicated birth, birth with drugs, or adoption. Just had to throw that in there!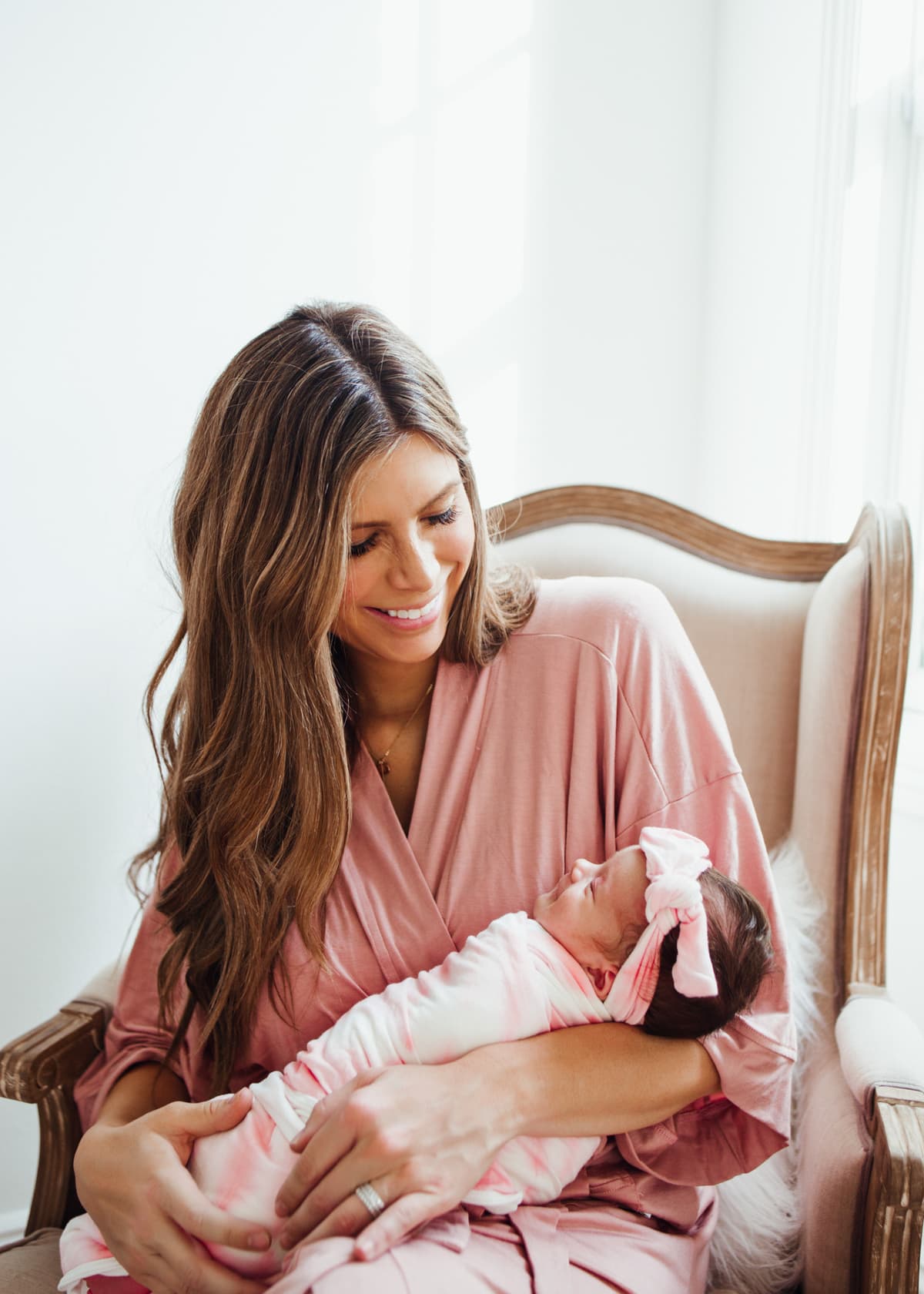 Mesh Undies: Hoard these! Take as many homes as you can. You will be glad you did, just trust me on this.
Disposable Underwear: These were some of THE most helpful things I bought for my 3rd and 4th recovery. It's just really nice to wear these instead of worrying about bleeding onto your bed or whatever you're wearing. I bought these with Millie and these with Harry (waaaaay less $$!).
Pads: You are gonna need these. For a while. Way longer than you expect (probably) if you are a first-time mom. These are the ones I liked best.
Fridababy Momwasher: This is 100000x better than the squirt bottle that the hospital gives you! I think it's my most favorite postpartum discovery of this pregnancy and I want to hand one to every woman who has a new baby. It's THAT GOOD.
Frida Mom Kit: I bought this for myself and then gifted it to my sis when she had her baby and we both LOVED IT!!! In her words, "it's everything the hospital will give you for recovery, but BETTER." I couldn't agree more, and I only used half of it because I had a c-section! She had vaginal deliveries and said she would buy this for herself, but bring it to the hospital next time. And she's a minimalist so that's saying a lot!
Colace: Take Colace religiously! Do not forget. Do not skip it. Do not cheat. Do not run out. Do not forget to buy it. Do not collect $200 and go directly to jail (ha!). No but really, just trust me on this one.
Belly Bandit: I was SO GLAD I bought this Belly Bandit. More on this below because I have a lot to say!
House Dresses: Let's be honest, you're gonna feel a little like you just got hit by a semi-truck, yet you still look 6 months pregnant, and combining that with the sleeplessness it's kind of hard to feel human after having a baby! I have LOVED the house dress trend with babies 3 and 4 (where was this when I had my other two babies?!?!!!) and one of the BEST house dresses I've found was from Nesting Olive (pictured below) that I wore throughout my pregnancies too! I love that the sleeves are a little more tailored, the body is at a flattering a-line, and it has convenient snaps for nursing! It's cute enough to wear on your first couple ventures out of the house but comfy enough to sleep in.
Belly Bandit
The Belly Bandit kind of helps feel like you have something supporting/holding everything in while your c-section scar heals. If you didn't have a c-section, it will still help with pulling everything in and moving your hips back into place while your body still has relaxin in its system – the chemical that helps your hips spread to prepare for baby to come out (ha thanks a lot right!) stays in your system anywhere from at least 6 weeks to a year.
Take advantage of when your hips will move easily and wear this thing every day for the first 6 weeks to help your hips go back to normal. With my second and third postpartum experiences, I tried out a few post-pregnancy girdles to see if I liked anything better. I tried cheaper, more expensive, etc., and I still love Belly Bandit the best!
Read ALL my tips for postpartum recovery in this post!
Diapering, laundering, bath time & first aid
If you're die-hard into name-brand diapers and wipes, Amazon family is the best way to go. You can sign up here and it will give you a free welcome gift and a 15% registry completion discount on diapers and wipes, and other special promotions throughout the year that I'll always post about on my blog when they pop up! Like special discount events where tons of gear and baby products are offered at a huge discount!
How many diapers do I need?
Okay, the hospital will give you diapers. But you'll (obviously) need some when you go home. And unless you have a really big baby, your babe will most likely be in newborn size diapers for a few weeks.
I stressed and STRESSED about how many diapers to buy in what sizes and here's my advice: take a deep breath and don't worry about it. Buy ONE jumbo package of newborn size diapers and then just wait and see how fast your baby grows. I swear my babies were only in size 2 for a few weeks, but in size 3 for months! Kids are all different and it's a little unpredictable what sizes they'll be in at which ages and for how long.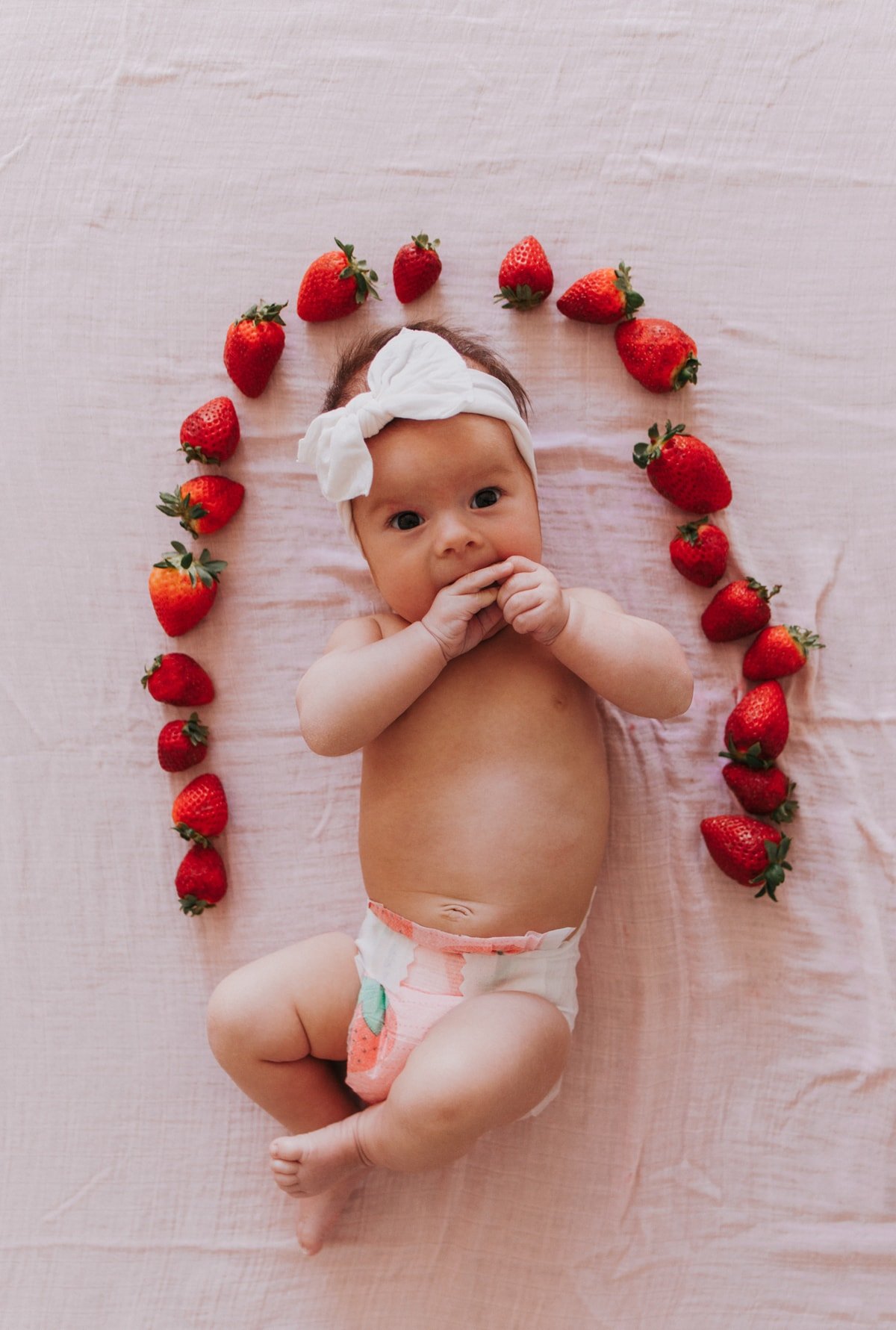 Diaper Tip
I like to buy up a size and put my baby in those at night with a little diaper cream. They are the "nighttime" diapers and then when I realize the baby is suddenly grown out of their current diapers, I already have the next size up on-hand. So for example, when our babies were in newborn diapers, they slept in a size 1 diaper at night.
Favorite Diapers
I used to SWEAR by Target diapers but you guys – I am so sad – they totally changed them and they're terrible now! At first I thought it was a fluke, but a few blowouts and leaks later, I've sworn them off now 🙁
But one brand that's gotten even BETTER is Honest diapers. I used to talk some heat on these diapers saying they were a silly luxury, buying "cute" diapers for your kid to pee and poop in but YOU GUYS. They changed the overall construction of their diaper and they are BY FAR the most absorbent, blowout-proof, leak-proof diaper I've used and Neil agrees. Honest diapers are just superior, which is nice when you're spending more!
If you want a more budget-friendly option, I think Amazon basics diapers are pretty good too!
Wipes
I have tried LOTS of wipes and my favorite for inexpensive are Costco hands down! The Honest Company has some really great plant-based wipes that come in super cute packaging to match your cute diapers that we've loved for being gentle and effective. If you're interested in water wipes, I tried both the water wipes brand and Pamper's version and I like Pampers water wipes the best!
Healing Ointment
Aquaphor baby healing ointment has been the most amazing butt cream I've ever used, better than butt paste, better than Desitin, better than everything I've tried. I put a layer of this on Millie's bum before bed every single night before I put her down for the night and it's like a protective layer that prevents diaper rash. I LOVE IT.
This BabyBum Diaper cream brush is for sure the most ridiculous looking baby gear item I've ever seen, but also the most underrated by far! I thought these were just straight-up stupid when I first saw them, but they're ACTUALLY PRETTY COOL. It allows you to spread the cream or ointment on their bum way more evenly and then you just wipe it off with your wipe after and your fingers aren't covered in baby bum cream while you try to not get it on your baby as you set him/her down before you go wash your hands. You're laughing if you've done this before because you know it's true!
Smart Changing Pad
This smart changing pad/scale is a bit of a splurge, but I love that it has helped me track my baby's growth and development in between doctor's appointments. It's both a changing pad and a scale, and it automatically syncs with an app on my phone to log baby's weight at every changing.
A smart changing pad is the kind of thing I totally rolled my eyes at when I first heard about it, but Millie was underweight and needed extra check-ups in her first few days home so this actually provided me with a LOT of peace of mind and I felt like it was totally worth easing my mind. After she moved past being underweight, I loved that it gave all kinds of insights into weight, feedings, and diaper changes through the app and it's actually all really fascinating to follow along with!
Diaper Pail & Dispenser
Many people recommended this Munchkin Diaper Pail over the Diaper Genie and we love it. It's way less expensive and the Arm & Hammer baking soda helps take care of the smell! I've heard a lot of people say they just use a regular trash can and that's great too.
This Munchkin diaper bag dispenser has been a lifesaver more than once! Changing a stinky diaper with nowhere to dispose of it? No problem, this little bag dispenser will keep it from stinking up your car or someone else's house until you can get to a proper trash! I've also used one of these for a blowout on an outfit that you don't want to throw away if you're out and about, but you can't wash it right on the spot.
Changing Mat
I LOVE this Gathre micro mat to throw in all my diaper bags! It makes changing baby on any surface, whether it's one of those sketchy pull-down things in a public restroom or your friend's sofa or an airport waiting area feel a whole lot safer because there's a buffer between baby's cute bum and the surface you're changing them on. We LOVE Gathre mats for our big girls too for all their crafting adventures, we take one on every single beach trip, and Neil is a stickler about ALWAYS having one in the trunk of our cars to protect the upholstery from stroller rash haha. Yes I just made that up.
Baby Laundry Detergent
I love that Dreft is gentle enough to not irritate that beautiful new baby skin, and it smells amazing! But my new fave with Harry for baby detergent is this stuff – it smells AMAZE.
Stain Remover
This Oxiclean Versatile Stain Remover is an absolute must for getting all those baby spit up stains out. There will be a lot of them. Get ready.
One of my sweet neighbors came to meet Lyla when she was just a couple days old and brought me a bar of this Fels-naptha soap and told me it was the BEST for getting out baby blowout stains. She was right! It's good stuff. Immediately wash any of those blowouts out in cold water and scrub with this bar of soap, then throw in the wash and they'll come out completely unscathed.
Cleansing Cloths
Noodle & Boo Ultimate Cleansing Cloths are so nice for when they're a few days old and you can't get their little umbilical cord wet. Also great if you've just bathed them and then they spit up and you don't want the poor thing to smell like spit-up all day. These smell like heaven.
Baby Baths
Eurobath (discontinued): This was my favorite baby bath with babies 1 and 2, but it's discontinued now! A ton of other moms recommended this to me and it was a million times easier to use than the tummy tub (the baby bathtub I originally bought with Anabelle, which was basically a glorified bucket). It also converted nicely to a sitting-up tub once they were at that stage.
Puj tub: this one is so nice for when they're teeny tiny, and it folds up so small and travels really easily too! Ideal if you live in a smaller space and don't have a lot of storage. Just know they grow out of these pretty fast so you'll need something else by 6 months at least.
Skiphop tub: this is our newest fave because it's really easy for giving even tiny babies baths, but it also supported Harry nicely when Millie wanted to get in the tub too so they BOTH could be in the big bathtub at the same time.
Body Wash & Lotion
This Noodle & Boo Soothing Body Wash and Super Soft Lotion set is still one of my favorite baby smells. Every single time anyone picks up one of my babies after I used this wash or lotion, they say "oooh the baby smells so good!" I've switched all my babies over to Tubby Todd pretty quickly because it's way better for their skin, but for nostalgic reasons, I've had all of my babies take their first bath in Noodle & Boo and I have a feeling it's a scent that will make me cry someday when I want to remember what it was like having a brand new baby.
Tubby Todd is the MOST AMAZING baby soap and lotion of all time. If you have a baby with skin issues, this will change your life! With Anabelle, we didn't have much of an issue with eczema, but Lyla had it pretty bad at first. We started using Tubby Todd and it cleared up OVERNIGHT. Millie had a little bit of baby acne and cradle cap and it would vanish within 24 hours every time I applied the all over ointment. Washing my babies in Tubby Todd and applying all-over ointment has given them the most beautiful flawless baby skin. This is a MUST in my opinion.
You can use this link anytime for a 15% off discount to Tubby Todd!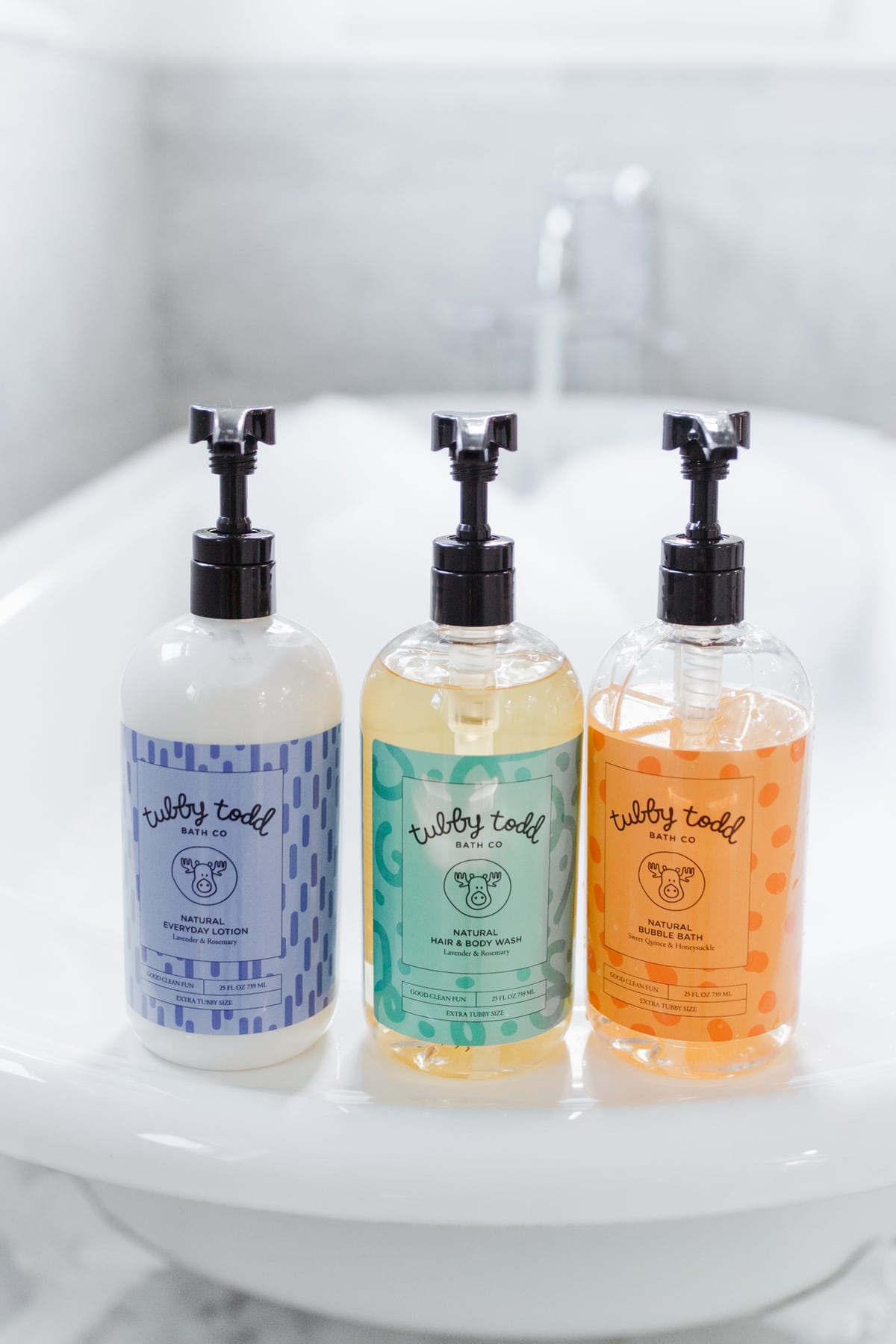 Towels
These baby washcloths are ultra soft and inexpensive and perfect for baby bath time.
I've gotten one of these Little giraffe hooded towels for Lyla and for Millie because they are THE softest towels I've ever felt in my life. It was a splurge (on sale during the Nordstrom Anniversary Sale) but one of my favorite baby items. Definitely, more of a fun luxury than a must-have, but a great gift idea if you're giving to someone who's having their second or third or tenth baby 🙂 Just don't put it in the dryer, it will lose its softness!! Hang dry only.
Nails
Cutting baby fingernails is the worst part of being a mommy. There's no way of getting around it and you will feel like the worst person to walk this earth when you cut your baby's fingers for the first time. But it's also terrible when they scratch themselves so it's a necessary evil. Sorry. Good luck. These FridaBaby NailFrida nail clippers are the best clippers I've found for babies though!
Thermometer
We started Anabelle out with an anal thermometer and hated it. It was so hard to get an accurate reading, so I finally spent $30 and ordered this Braun baby Thermometer instead. Love it. So comforting to know your baby's true temp by just putting this in their ear when they're sick! This is the best seller for baby thermometers on Amazon.
Snotsucker
This Nosefrida The Snotsucker Nasal Aspirator is truly one of the most genius inventions ever. You will be so glad you bought this. Trust me.
Nursing & Bottle Feeding
I've nursed, pumped and formula fed my babies, so these are my recommendations based off my personal experience with all of those different stages. You can read ALL my tips on breastfeeding in this post!
Nursing Pads
You will need A LOT OF THESE Ultra thin nursing pads. I tried washable ones because I loved the idea of being a little green, but they leaked because I over-produced like mad. These get the job done. And you are going to need LOTS. Don't ever leave the house without an extra pair until you're really confident you understand how much milk your body produces.
I SWEAR by this brand – they're ultra-thin and yet they're a thousand times more absorbent than any others I've ever tried. My lansinoh ones used to leak if I forgot to change them between every feeding. I can wear these all day long with zero problems.
Nursing Cover
This nursing cover completely changed my life! I went from being nervous and uncomfortable to completely confident and not worried one bit about nursing anytime, anywhere. The best part about this cover is it covers your front and back! It's soft, stretchy, machine washable, and can be used as a car seat canopy in a pinch, too. I've used and loved my Covered Goods cover and Milksnob covers too and they're both awesome!
Burp Cloths
Gerber Birdseye Flatfold Cloth Diapers are great for using as burp cloths around the house. A splurge that's well worth it IMO are the aden + anais burpy bibs. They are the nicest and we use them a TON. Love that they double as bibs. Great for on-the-go. With my last two babies I've loved these organic burp cloths too.
Breast Pumps
I'm pretty passionate about pumping because I did it almost every day for the first year of my first baby's life, I pumped for six months for Lyla, and I pumped every day for about 3 months straight with Millie since girlfriend would ONLY take her dream feed from a bottle. She knew what she liked and how she wanted it! I pumped a good amount with Harry too for 6 months.
Spectra Pump is my #1 choice now for an affordable, portable and hospital grade pump! I've tried Medela, Ameda and now the Spectra and by far my fave of a traditional pump is the Spectra. I love that it's reasonably priced, love that it has a tiny night light, love that it's not too gigantic or heavy. My only complaint is that it has a single bottle holder spot in the back, which is nice because it keeps it small but weird that there's just one! It's hospital grade and it was one of the top recommended new baby items that other moms told me about before I had Millie.
Willow Pump is perfect for the mom on-the-go, especially working moms or even if you just see yourself traveling or needing to pump on the go while you run kids to different appointments or anywhere where you don't want to have to plug into a wall or have huge bottles hanging off your body and tubes coming out everywhere. The Willow Pump will turn your world upside down!!
This pump has literally been a complete and total GAME CHANGER for me. I can pump virtually anywhere, very discreetly, without having to worry about plugging in or tubes or hiding gigantic pump bottles.
Willow vs. Elvie Pump
I tried both the Willow and Elvie pump with Harry and while I think they're both good pumps, I have to say that I used my Willow pump way more. I found it easier to use, but that could be because I was already used to it from having used it so much with Millie? If the special bags are a concern to you, you can now buy reusable milk containers that can be drained right into a storage bag OR a bottle. I liked their bags personally! But this helps cut down cost and waste, and also solves the problem of having to use exactly the amount in the bag since they're not resealable.
Bottles
Comotomo bottles feel like a boob! My girls have loved these, they feel the most like a boob and real nipple so they're supposed to cut down on nipple confusion if you're worried about that! They also are designed so you don't need a bottle brush to clean them out which is SO NICE. They have vents as well to help with proper digestion and to avoid colic or gassiness by reducing the amount of air they're gulping.
NUK First Essentials Bottles: When my babies are about a year old we start using these bottles. Lyla carried these around for EVER! You can get them for less than $2 a piece and I never stressed about Lyla leaving one somewhere or having to throw one away if it was gross after not being cleaned out once she switched to formula at 6 months.
Formula
Baby Brezza Formula Pro: Speaking of formula, I switched Lyla to formula feeding at 6 months (more on that here) and we absolutely LOVED this formula bottle maker!!! It warms, mixes and dispenses the perfect amount of formula FOR YOU. One of those things I thought might be silly and unnecessary that turned out to be something we used SO MUCH that it felt like it was worth every single penny.
We gave it away after Lyla since there were 3 years between her and Millie and, funny enough, I haven't missed it too much! Not enough to buy it with two more babies who were formula-fed after 8 months (Millie) and 6 months (Harry). So, maybe not that much of a "must" after all?!
Storage Bags
Dr. Brown's Breastmilk Storage Bags are a little more expensive than the most popular milk storage bags, but they're more sturdy and less likely to tip over and spill! I felt like the extra couple dollars was well worth it and bought these over and over. I also love these bags for the same reason!
Bottle Cleaner & Stand
OXO Tot Bottle Brush with Nipple Cleaner and Stand: The best bottle brush ever. I read up on my reviews and this one lives up to the hype. I bought it in pink because I'm obnoxious like that. Gender neutral, what's that? ha.
*And then our 4th was a boy, and the joke was on me. Literally.
Bottle Warmer
We bought a bottle warmer and hated it. If you're going to breast feed and pump, I suggest just running the pumped milk under hot water (refrigerated or frozen). It's easy, quick, and will never be too hot for your baby.
I even tried ANOTHER with Harry thinking surely they've gotten so much better. I bought the highest rated one and hated it too. Go figure.
Pacifiers & Clips
Philips 2 Pack AVENT Soothie Pacifier: These are the pacifiers most hospitals use, but my babies have never taken them super well. My advice with pacifiers, if you're hoping your baby will take one, is to buy a bunch of different kinds and just see what they like!
BIBS Pacifiers: these were hands-down Harry's favorites. He wouldn't take any other but these for the first 4-5 months, and they were a MUST for every nap and nighttime sleep. We actually JUST took them away at about 20 months. I dreaded taking away his beloved paci but we gave him a teddy bear to sleep with instead and he was over it in a couple days!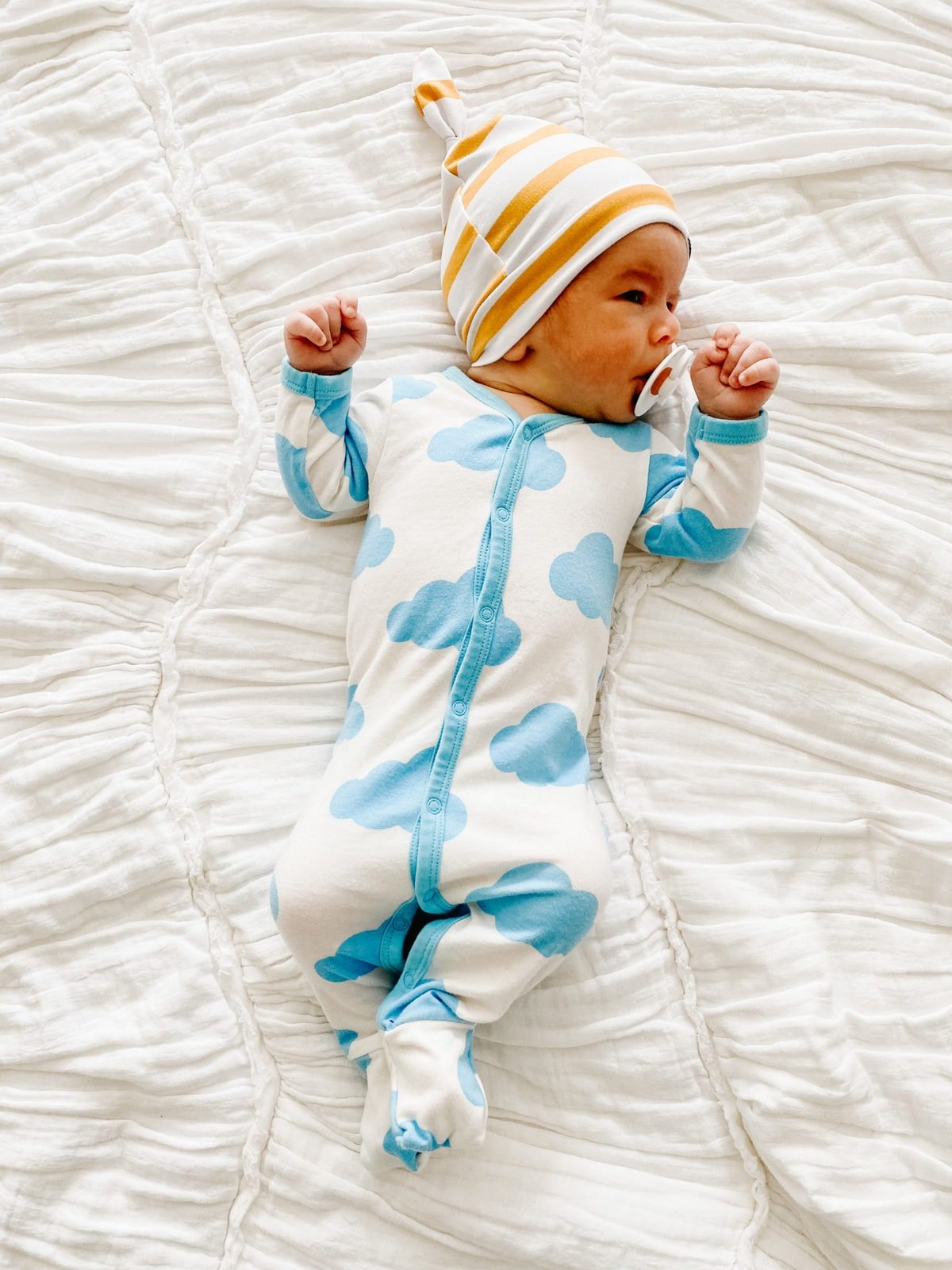 POP pacifier: This was Millie's very favorite binky by far, and I think it's because the silicone is SO SOFT. It feels most like a real nipple! We also love that if these fall on the floor, the nipple POPS back so it doesn't get dirty. This paci was even featured on Shark Tank for being so smart!!
Wubbanub: I remember seeing people whose kids had these in their mouths and thinking "those things are hideous and my kid will never use one of those." Yeah, I ate my words. They are the bomb when your baby can't keep the bink in their mouth. The little stuffed animal has just enough weight to help hold the binkie in, and it will help them with grabbing onto something to get it back in their mouth on their own, too.
Nursing Pillow
Boppy Best Latch Pillow: I've been a huge fan of Boppy brand nursing pillows since having my first, but I tried out this best latch version with Harry and it is FAR superior to all the other nursing pillows out there. I've tried ALL the top rated brands, shapes and sizes. This one is my fave.
Read ALL MY TIPS on breasfeeding, pumping, and bottle feeding in this post!
Baby Food Feeding
Highchairs
Just keep in mind, you will not use this until your baby is at least 4-6 months old, and most babies are closer to 5 or 6 months before you start feeding them solids and need a high chair!
Boon Flair Pedestal Highchair used to be our #1 but it's since been discontinued, boo. You can sometimes find it on Facebook Marketplace though! Original retail was $275 and when I was pregnant with Anabelle, anything under $200 was a steal. A good price on FB marketplace would be anything under $100 unless it's brand new, never used.
Lalo The Chair: This is our newest fave! It looks pretty, wipes down perfectly clean just like the Boon did, and baby can comfortably sit up right really easily for meal times. Millie (2.5) and Harry both love this high chair! And it comes with shorter legs so that you can actually convert it into a shorter chair once they're done with the high chair!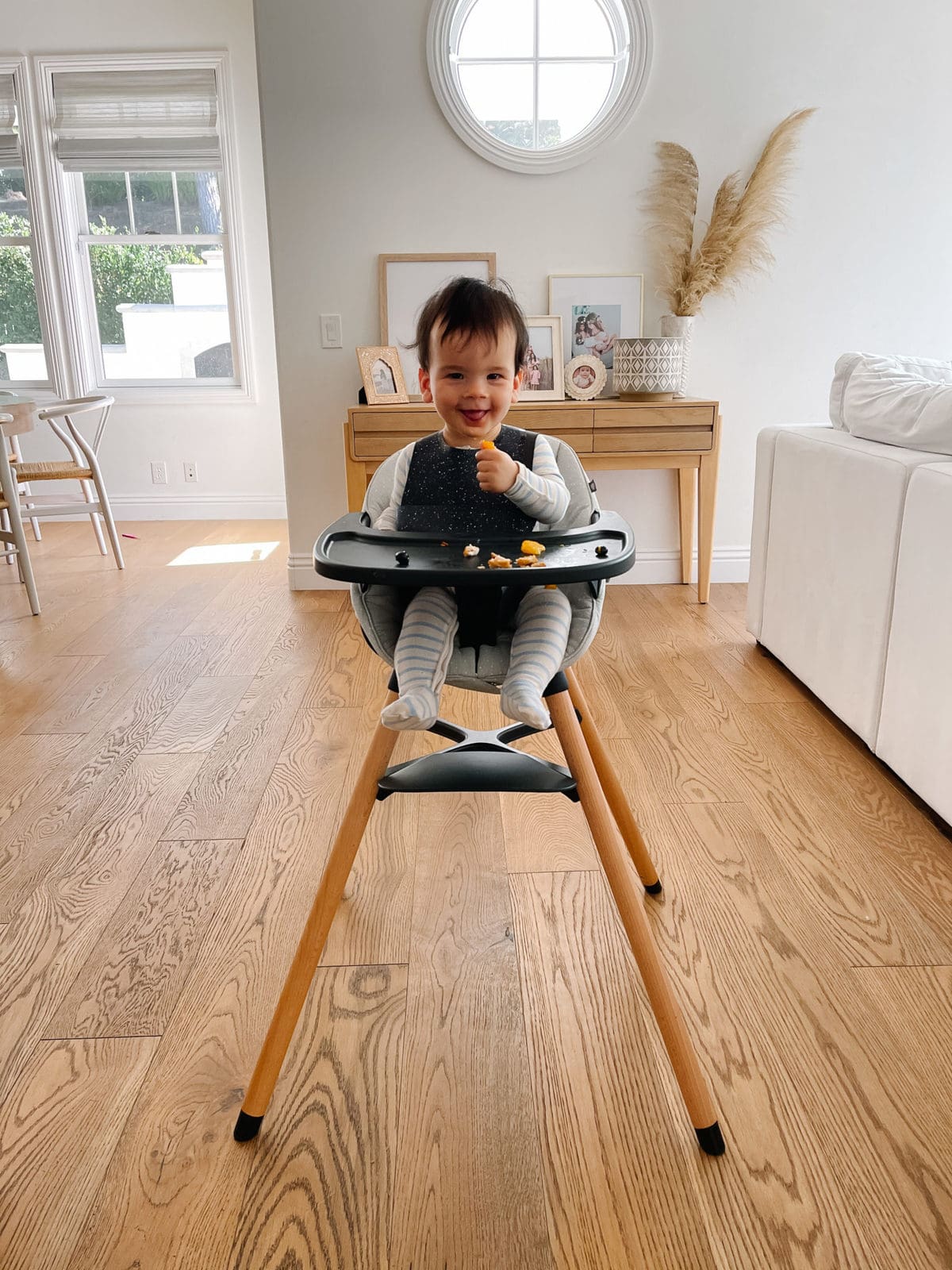 Utensils
NUK Gerber Graduates Rest Easy Spoons: Our favorite baby spoons. Love the built-in support that makes putting the spoon down without having it touch the counter super easy.
Bumkins Waterproof SuperBib: These have been faves of ours since Anabelle, but now we mostly use…
Silicone Bibs: these are SO awesome because they're sturdy and clean up well and catch the food that babies inevitably drop while they're eating. We LOVE THESE!
Nursery
SNOO Bassinet
Okay the SNOO is by far the COOLEST new baby invention since we had Lyla. I actually met Dr. Harvey Karp at a baby event in LA almost 5 years ago and I remember him telling me about how they were developing a smart crib that would rock your baby back to sleep for you, but they were going through crazy testing to make sure it was safe. I was SO excited to see it finally come out and try it!
The SNOO bassinet is practically like having a mother's helper around the clock in your house…FOR REAL! It's a smart sleeper that actually responds to your baby's fussing and movement. So if it senses them tossing and turning or crying out, it will respond with increased rocking and white noise to soothe them! It comes with tracking capabilities on your phone, including how long their longest stretch of sleep is by the day. You can also set it to a more gentle mode if you have a preemie baby, and a weaning mode when you're ready to wean them and move them to the crib.
It comes with swaddles that attach to the bed and keep baby on their back, so it claims to be the safest bassinet on the market. AND let's talk about how beautiful it is! The minimalist and chic design of the SNOO looks good in every nursery.
The price is definitely up there and I don't think for a minute it's a necessity to getting your baby to sleep. My first two girls slept through the night JUST fine without the SNOO, so I would never want any new mom to feel like their baby isn't going to sleep if they can't afford the SNOO. But it is for sure REALLY nice to have, and when people ask me (all the time) whether it's worth the splurge I always say, "YES! It totally is." Because if you're the type of person who's considering splurging on it, and it's reasonably within your budget, I think it's an AMAZING help to mom and dad who could use more sleep at night.
However, if you're just like "no way I can't spend that much!" then the same company actually makes those same magic swaddle sacs that you can buy for $26, and add some white noise from an app on an iPad or a big box fan (from any hardware store) or a white noise maker and you'll have something similar to the SNOO, minus the rocking that responds to your baby's cries.
Sleep Books
Speaking of sleep, I'm pretty passionate about this topic too and I should probably just write a separate post all about this! In the meantime, if you're a new mom or a mom who's had "bad sleepers" in the past and you want to try something new with a new baby, I highly HIGHLY recommend reading Baby Wise. I've followed these principles with all 4 of my babies and had amazing sleepers. Hint: it's ALL about the daytime schedule. And no, I haven't had to make any of them "cry it out." Just read the book! 🙂
I also really like Happiest Baby on the Block, written by Dr. Karp who invented the SNOO.
Here's my post all about baby sleep tricks if you're interested in a deeper dive on that convo!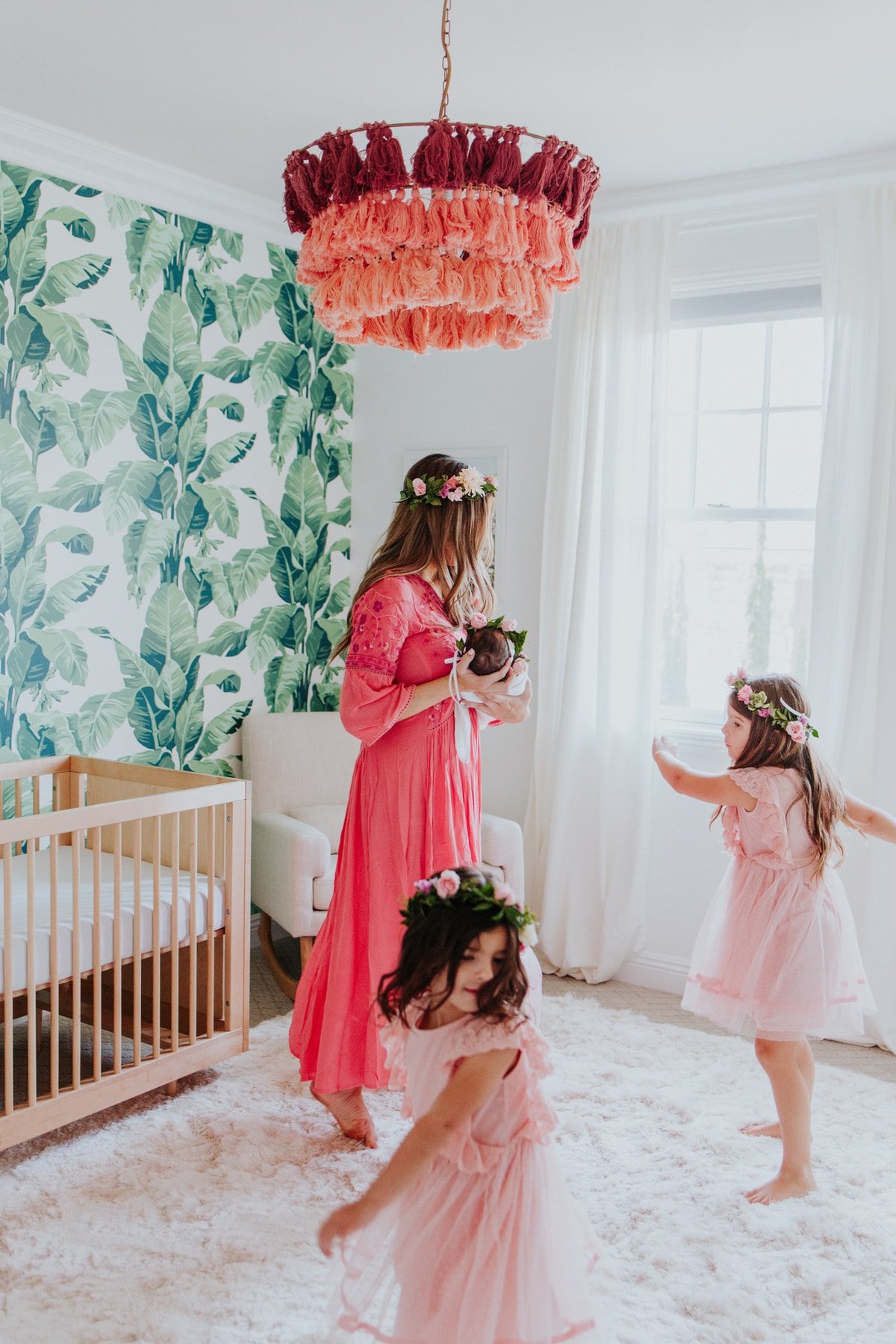 Cribs
Here are a few of my favorite cribs!
Jenny Lind Crib: Charming and timeless.
Stokke Sleepi Crib: This is such high quality and I love that you can change up the size and even make it into a toddler bed when the time comes. It goes from a bassinet to a crib to a toddler bed. Pretty sweet! This is what Harry's in now (pictured below).
IKEA also carries very affordable cribs that are super popular and perfect if you are planning a clean, modern design for your nursery.
We wanted something a little more modern for Lyla and Millie's nurseries so we got Lyla this crib and we used it again for Millie. See Lyla's nursery here, and Millie's nursery here. Currently out of stock but back in April!
I also really love these Babyletto cribs from Target! Most of them are very affordable, modern, and so cute!
Crib Mattress
Milliard Crib Mattress: A top rated crib mattress on Amazon that we got for Millie's nursery. It's affordable and had amazing reviews!
DockATot
The DockATot is for sure one of my top 3 favorite new things we got for Millie and have continued to use it a ton with Harry (and our other kids haha). You guys. This thing is incredible! We use it for everything from lounging to naps to tummy time and I honestly don't know how we'd live without it. It's the perfect place for babies to snuggle up after they eat and I loved it during recovery from my c-section because I could set the baby right next to me. We've brought it from room to room in the house and even to the beach! It also creates the perfect "safe zone" for the baby when big sisters are playing or wanting to snuggle on the bed. Baby is just as cozy as can be in this comfy little bed, and I love that it's lightweight enough that I can move it around the house.
If you end up buying the DockATot and loving it as much as we have, I also highly recommend buying the DockATot getaway sport bag. We had to shove the DockATot in a suitcase for a couple of trips and I was so worried about ruining it. The travel bag is so nice because it fits perfectly and you have room to put a few other smaller things inside the bag too!
Changing Table
Changing table: We actually bought a used changing table that had been refinished from a local craigslist-like site (KSL) for Anabelle, but you can use any dresser that you have or find one at a thrift store and paint it, put a changing pad and cover on top, and voila. You have a changing table.
I was going for a more modern look for Lyla's nursery so I bought a West Elm dresser that I knew we could transition into a big girl room eventually or use in almost any room in our house later if we needed to switch things up! We got this pretty one for Millie's room, which we now use in Harry's room.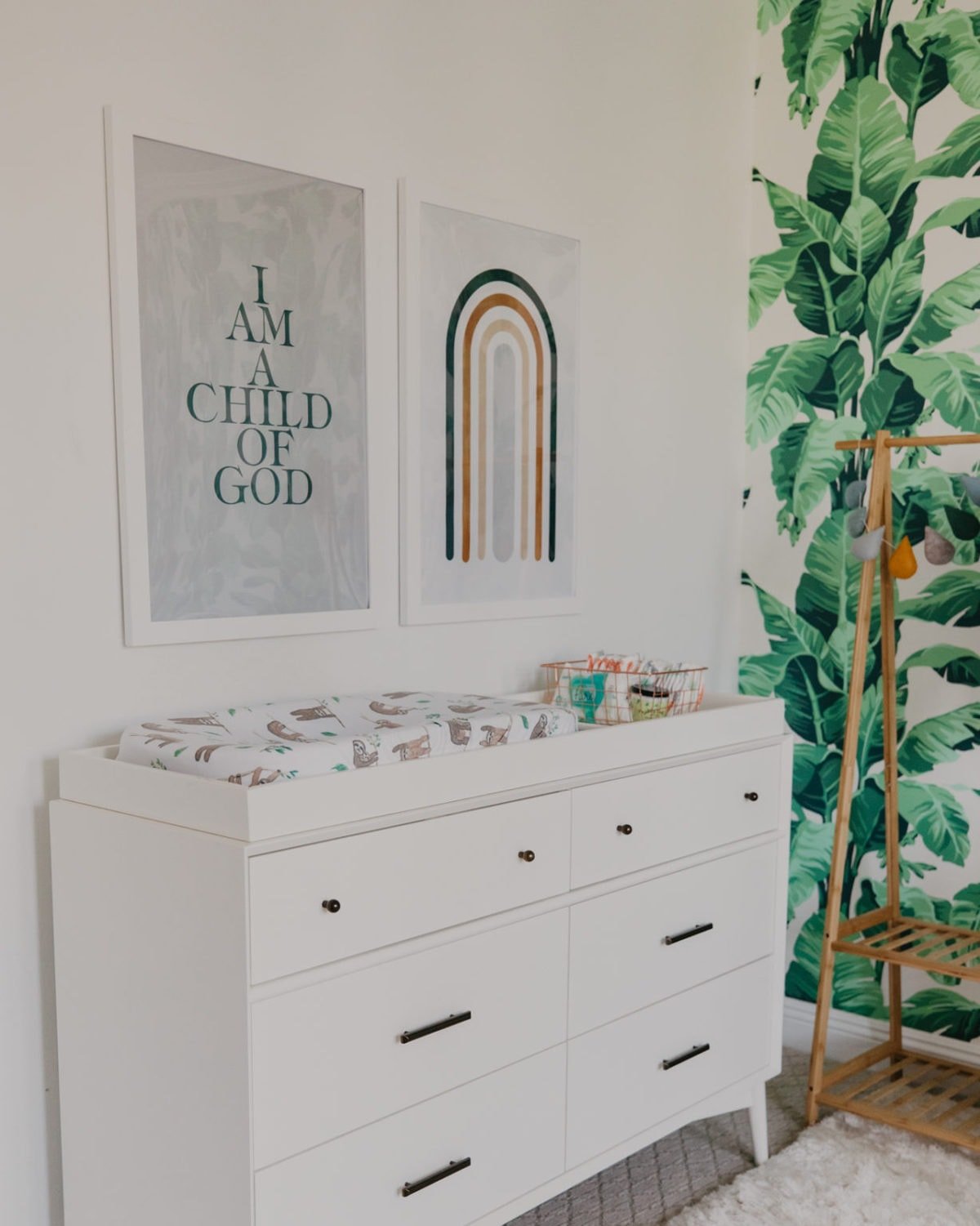 Rocking Chair
Pottery Barn Kids Comfort Swivel Glider: This glider is one of my favorite purchases because I spent so many hours nursing our baby in it, and it's so comfy I could fall asleep in it. I actually still use these three babies later, in our bedroom, for early morning, late night, and every hour in between feedings!
I dreamed about getting a Nurseryworks Rocker with all 3 of my girls and finally got one for Millie's (and now Harry's) nursery! It's actually made ergonomically to be SO comfy and I loved the hours I've spent nursing my babies, and reading stories to them, in it.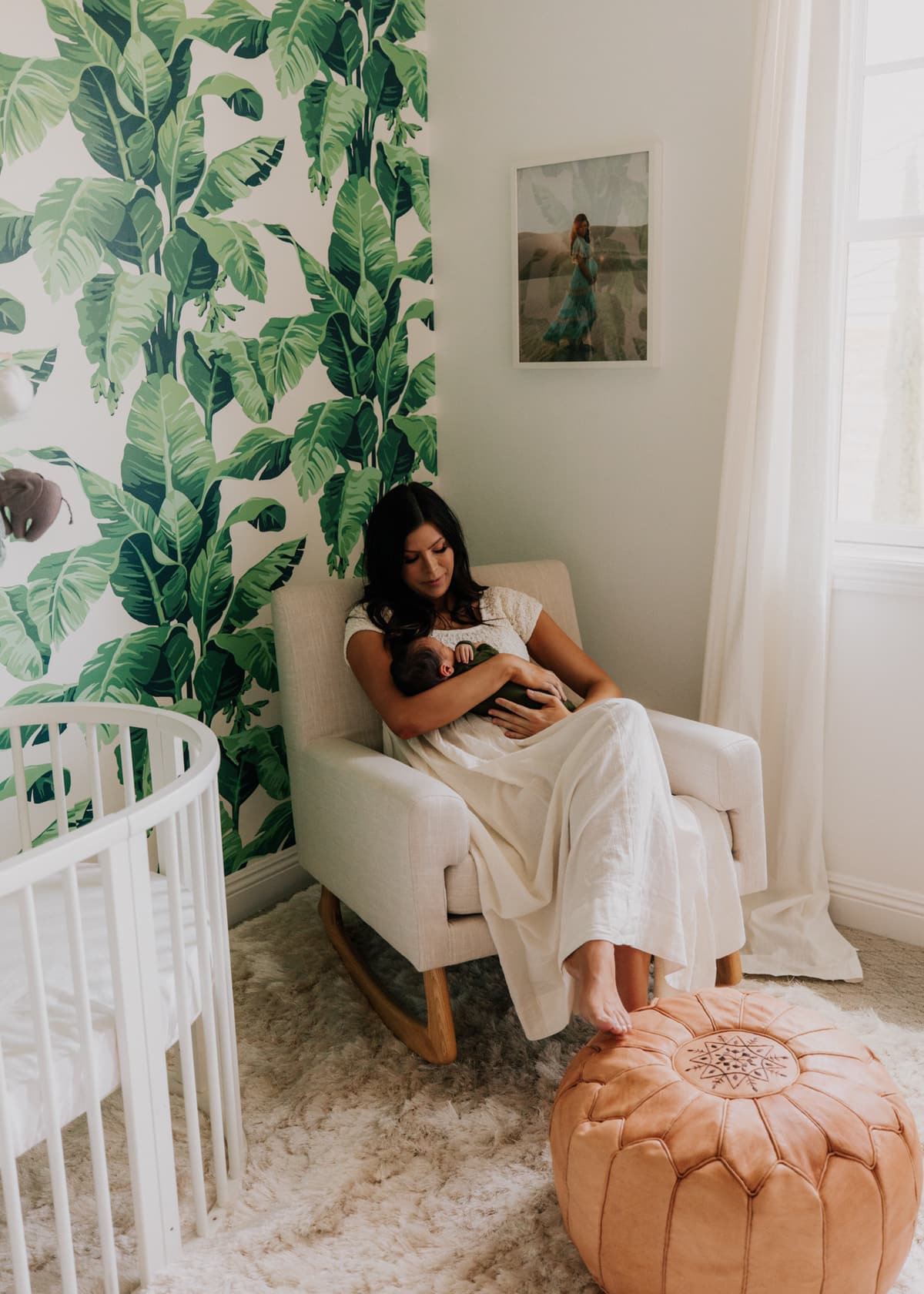 Bedding
My favorite place for baby bedding now is the same place I find my favorite grownup bedding too – Anthropologie. Their stuff is beautiful, soft, well-made, and not cheesy or tacky and I feel like not a lot of people know they sell baby bedding! Also, Target has some cute crib sheets that are super budget-friendly.
Baby Monitor
This Hello Baby monitor is one of the highest-rated AND one of the most affordable baby monitors! I tried it out just so I could know if it was good enough to recommend and my answer is YES 1000%. It has amazing range, clear picture and sound, and I can keep an eye on the baby when I'm outside or on the other side of the house while they are napping.
We love our Vivint system cameras too as baby monitors and I LOVE that when I'm out and about I can still check on my baby from an app on my phone, anywhere.
I know a ton of people who SWEAR by the Wyze cam, which I would probably get if we didn't have Vivint cams!
White Noise
You can use a box fan or a white noise maker (we love this one!) but most baby sleep experts agree that white noise is essential to getting babies good naps and to sleep through the night!
Since Harry was born, this is my new fave white noise maker. Works so well, so many options, controllable by your smartphone. The reviews didn't lie when they raved and so now I guess I'm gushing too.
Travel cribs
Sometimes referred to as "pack n plays" (kind of like all tissues are now kleenex) a travel crib is a GREAT thing to have if you plan to leave home before your kid is, oh, 3? Ha. Or if they're going to take a nap at someone else's house. A lot of places do have travel cribs for you, hotels and a lot of Airbnbs! But we get a ton of use out of ours. Here are our faves:
Strollers & Carriers
Best double strollers
We have this City Select Stroller and LOVE IT. Single that converts into a double, babies can face 16 different ways, travel system, best stroller on the planet. It glides like a dream and grows with your family from a single to a double and back to a single if your older kiddo grows out of sitting in a stroller, and you can even add a kickboard for an older child to stand on. GENIUS! I have recommended this stroller more than ANY other stroller and it really is probably my favorite of all time, and it's one of my favorites to find AMAZING deals on for my readers so make sure you're following the blog for ALL the stroller deals I find!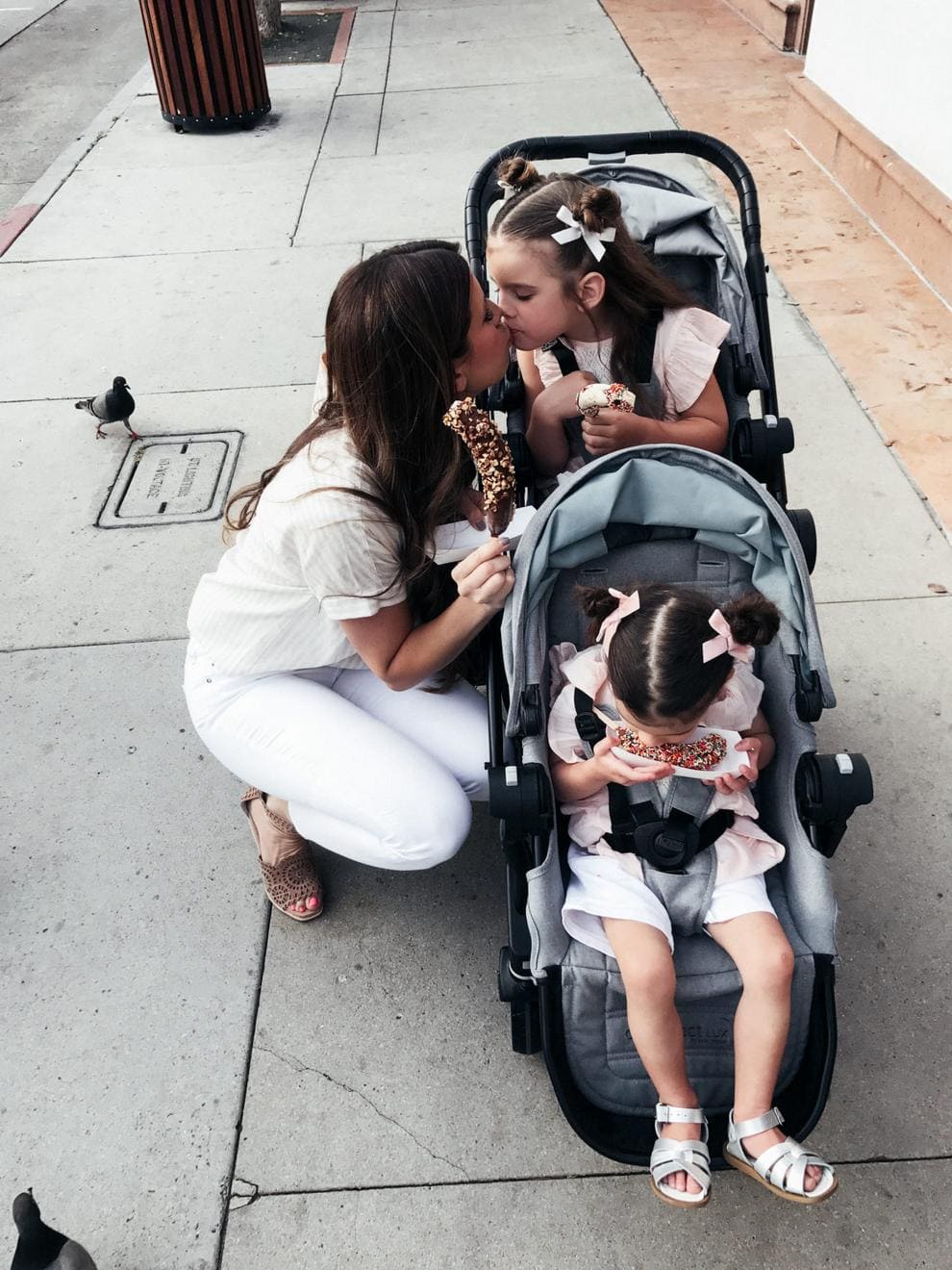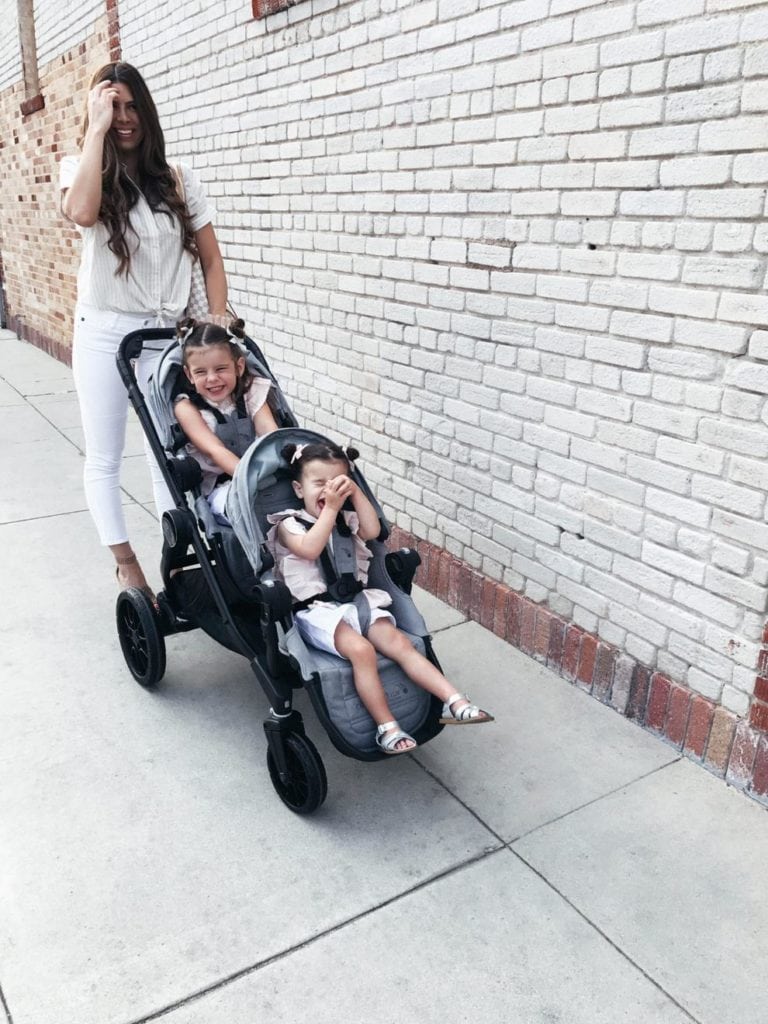 We have this UppaBaby Vista stroller too, after many many years of people asking me to compare it to the City Select and I have to say I do REALLY love it. It's very similar in my opinion to the City Select, and a lot harder to find on sale, whereas I'm pretty confident I can find my reader a killer deal on a City Select if she's reading my blog during her entire pregnancy.
The heftier price tag on the UppaBaby though, if you're up for it, really is worth the extra pennies. Now that we've had 4 kids and our last 2 were the closest together we've had any of them, we've used our Vista more than any other. I love that the undercarriage basket is GINORMOUS!! The bassinet is SO nice when you have a newborn who needs a nap while you're at an older sibling's sporting event, or walking around at Disneyland, or on a long walk. And I love using the Nuna Pipa Lite in this stroller with this adapter. It just glides in like butter.
Best jogging stroller
The BOB Revolution Jogging Stroller is the very most popular jogging stroller on the market. If you are a jogger, this is a must-have. We own this and lovelovelove it too. Neil has taken our girls out on so many beach trail runs in the BOB and now in our Double BOB. They're so durable and great for families that are active or parents who want to be able to run with their babies.
Best lightweight or travel strollers
In my opinion, this Baby Jogger City Mini Single Stroller is the very best budget-friendly single stroller out there. Lightweight, patented one-hand quick fold, huge canopy, huge undercarriage basket, sometimes called the cadillac of umbrella strollers (even though it's not truly an umbrella, it's cooler). If you can spring for the City Mini GT version (in a single or double, whatever you need) DO IT because the wheels and weight, and overall experience of the GT is amazing.
Our most favorite option after 4 kids for a lightweight travel stroller is the BabyZen Yoyo. It's insanely compact and lightweight and handles hairpin turns like a champ. Neil and I both LOVE this stroller. The price tag isn't awesome but if you're going to use it a ton it's worth it!
The Baby Jogger City Tour is an even less expensive option. This stroller is amazing for travel!! We have taken this on so many trips and it folds the smallest of any stroller we own, it's incredibly lightweight, and unfolds with just one hand. If you're going to do a lot of traveling I highly recommend this one!
Baby Jogger City Select 2
Baby Jogger JUST released the City Select 2 – an absolutely amazing upgrade from all the previous City Select models. Literally the best I've seen in the 10 years I've been watching these strollers! Some are describing it as an "uppa baby dupe." But it actually folds 20% SLIMMER than the UppaBaby now! It also has (FINALLY!) adapted the one-hand quick fold of almost all the other sister strollers in the Baby Jogger brand. And lastly, the biggest hangup I had between my City Select in the past and UppaBaby, the undercarriage basket is now just as big and deep as the UppaBaby. They also added a competitive feature to the UppaBaby – a belly bar – which actually my kids have loved in our UppaBaby. They've absolutely nailed this upgrade and I'm so happy for all the mamas who will get to enjoy it!
Diono Buggy Buddy Stroller Organizer
Diono Buggy Buddy Stroller Organizer: The very best stroller organizer on the planet. $10.99 and works with EVERY stroller out there.
Ergobaby Carrier
Ergobaby Carrier: I love my ergo SOOOO MUCH. If you ever run into me at Target or Costco, chances are my baby is riding in my ergo while I push the cart. Need your hands for something? Making dinner? Getting ready? You will want one of these.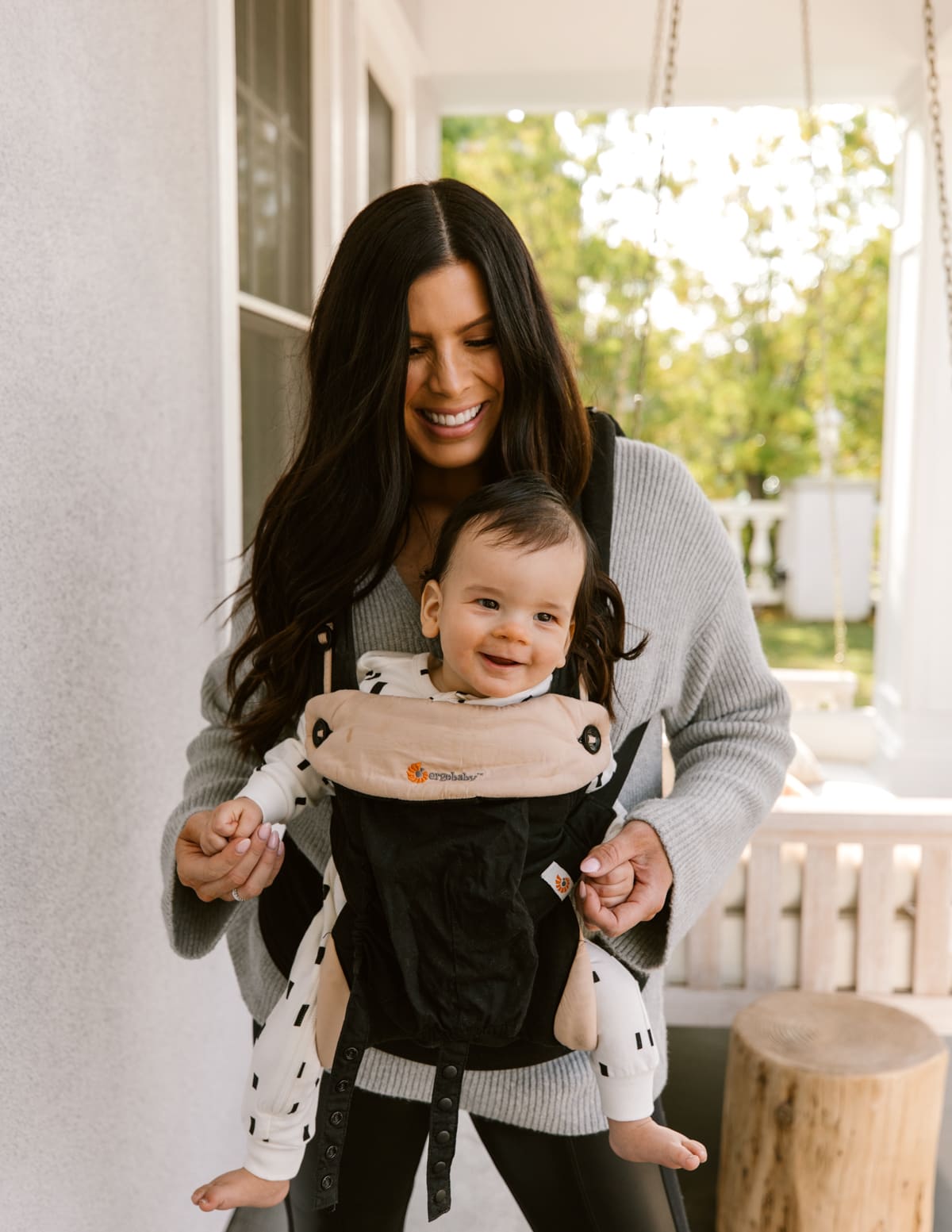 Solly Baby Wrap
Solly Baby Wrap: I didn't have this with Anabelle and it's for sure the #1 item I wish I could've gone back and given myself as a new mom. Now that I've had it for my second, third, and fourth babies, I can't imagine doing the newborn stage without the Solly baby wrap! It's an absolute MUST HAVE for infants and mamas who need to be hands-free. I love it for airplane travel, trips to the beach, walking around the mall, doing housework (on the rare occasion that I get around to that!), walks around our neighborhood, and just about everything else. Really.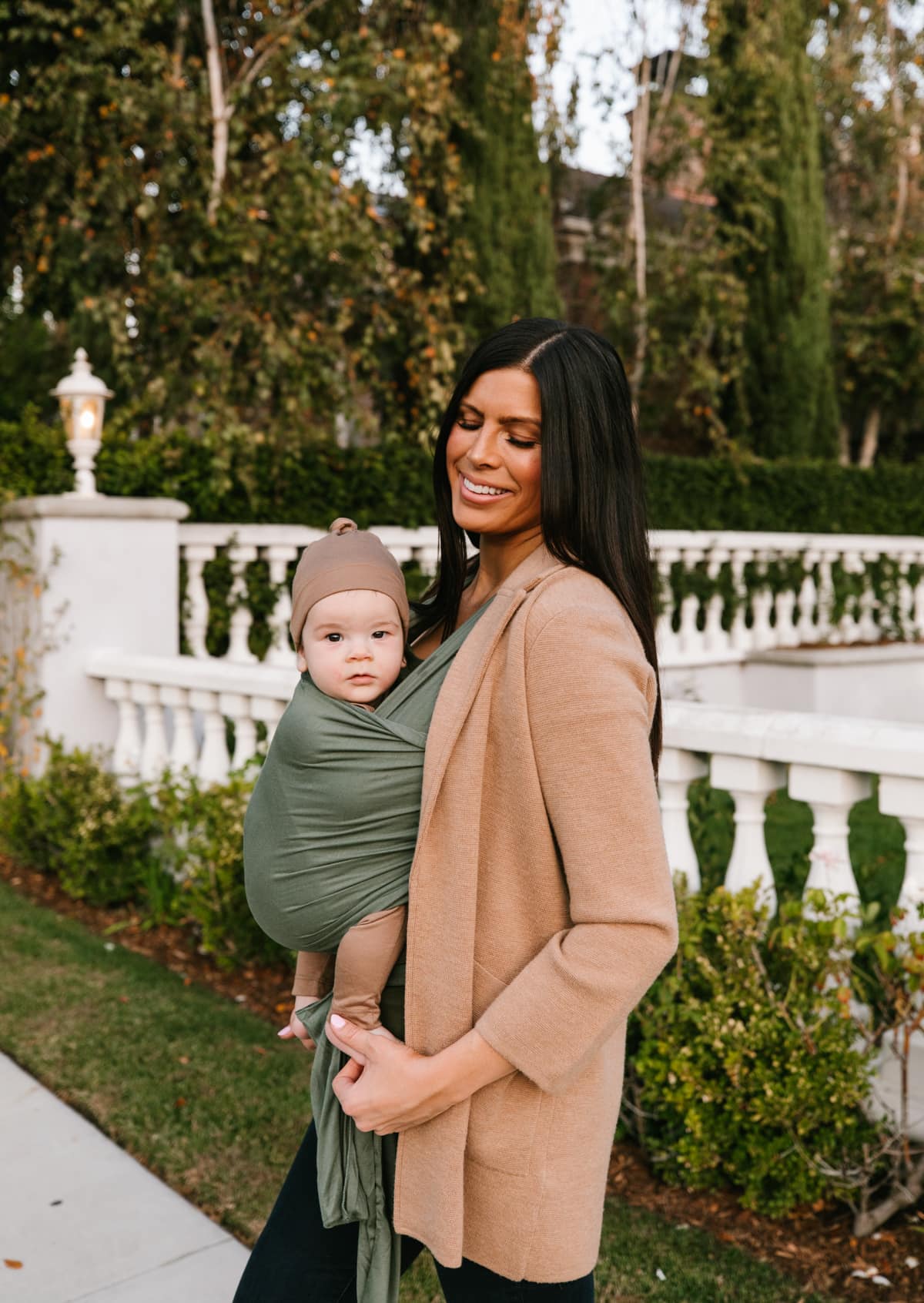 Diaper Bag
Since this original post was written, I've tried out many, many diaper bags and have found that my very favorite ones, especially for several kids/babies now, are my Fawn Design bag and my Freshly Picked bag.
Both are huge enough to fit everything I need, anywhere I go, with four kids. It's nice enough to go with me to a nice dinner or to a casual park date and cleans up like a dream. Neil loves both of these bags too and never leaves the house with a kid without one of them locked and loaded! Ha. I love that they wipe clean so easily too since they're both faux leather. And they now come with a laptop sleeve!!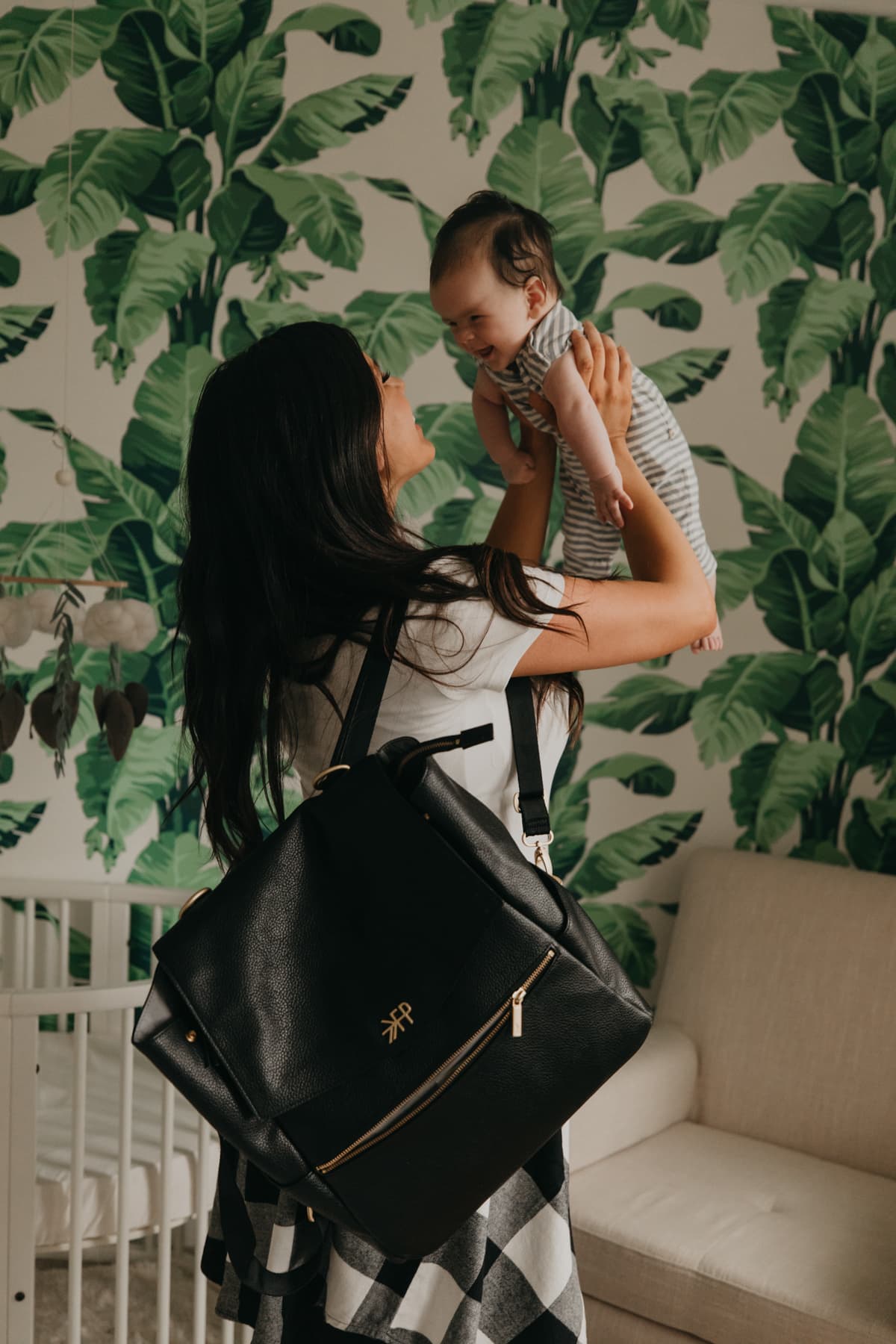 Other Baby Gear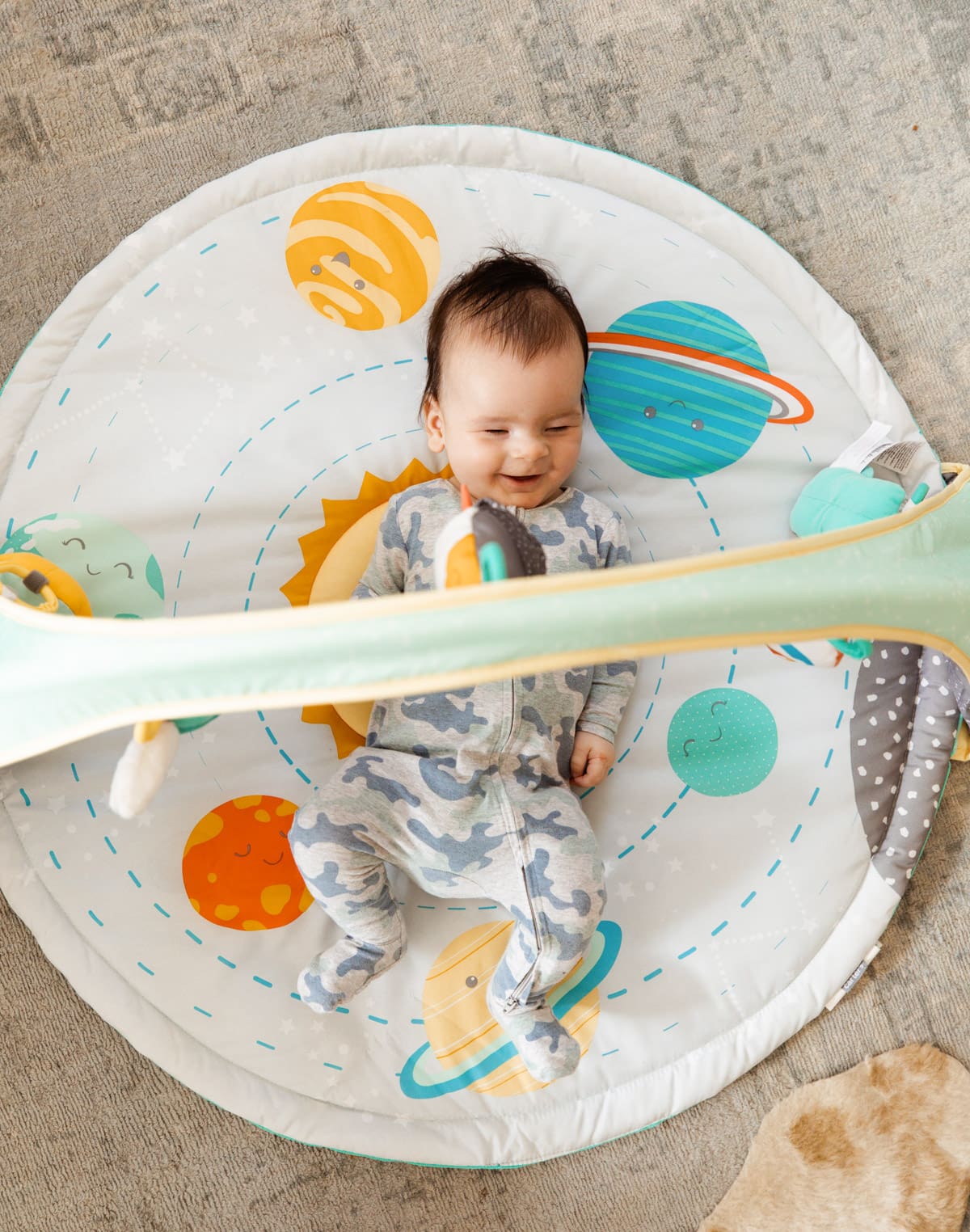 New Mom FAQ
Is a swing worth it? Okay listen – all you NEED is diapers and wipes, a car seat, some onesies and a safe place for baby to sleep. But will you love having something to rock baby to sleep while you _____ (shower, wash dishes, make dinner or just give your arms a break)? The answer is YES.
Best baby bouncer? My kids loved the 4MOMS Mamaroo. All 4 loved it! I've read in some reviews and mom forums that their babies didn't though, and the next thing I would've gone to if my babies didn't like it would've been this top-rated swing. Definitely not as cute, but it does have crazy good ratings.
What will babies ACTUALLY wear? How many sizes of each should I get? Babies grow FAST, but they also go through TONS of clothes per day and week. My babies averaged 3-4 outfits a day the first 2-3 months. Then it slows down, their growth and need for different outfits based on blowouts and barf. Footie pajamas, especially those that zip from both the top and bottom, like these, are your friend. Start with a few newborn size outfits and a good handful (12 at least) of outfits and jammies and onesies (depending on the season) in 0-3 and just see how fast your baby grows. Mine are out of newborn by 4-5 weeks old, then they stay pretty consistent with the sizes marked on the clothes for the first year!
Sleep Sack vs. Swaddle? Swaddles are (in my opinion!) a must for that first 4 months! Your baby will sleep soooooo much better swaddled. Then when they start rolling on their own, it's time to switch to a sleep sack. These are good budget buys, and this one is my very fave.
Best dresser drawer organizers? Something soft like this works great!!
How to sleep train your baby? That's a whole separate blog post, my friend, which you can read here. But the basics are swaddling, white noise, blackout curtains, and the daytime schedule sets up the nighttime schedule. Consistency is everything.
Are blackout curtains necessary? YES. For me, yes. Some people say no because they want their baby to sleep "anywhere." I say I'd rather have an amazing sleeper at home than worry about the 7% of the time we're not putting them to bed at home!
Snacks to have on hand Postpartum? My faves were these trail mix small bags, Boom Chicka Pop, CSE Protein Shakes, Trader Joe's Mini Cheese Sandwich Crackers, G2G bars (they taste like cookie dough!), and CSE protein bites – my sis Brooke came into town and made some of these and it was the gift that literally kept on giving for weeks after she left, and I felt so loved every time I ate one out of the freezer!
DockATot vs. SnuggleMe Organic? I've only used the DockATot but I know tons of people love the SnuggleMe!
How do you swaddle a baby? Ohhh I love this question! I have a reel here that shows my favorite way to swaddle – even the strongest babies can't break out of this swaddle!
View this post on Instagram
Best brand of diapers and wipes? See the above section on diapers, but our fave are Honest diapers! For wipes, my fave are Pampers Pure and I always order extra to have around because we can never keep wipes stocked here it seems!
Newborn baby toiletry must-haves? Diapers, wipes, Aquaphor baby, Tubby Todd wash, Tubby Todd all over ointment. That's really it!
Should I get a single stroller if I plan on having more kids? I knew we wanted more than one, which is why the City Select was at the top of my wishlist. If you're in the same boat, a City Select or Uppa Baby Vista is a SUPER smart choice, and, BONUS! They hold their resale value really well too!

Are you still with me?
I know this was a LONG LIST, but I hope it helps some people out there who are planning for a baby and are confused by all the options! Like I said at the beginning, I'll continue to update this post as we find things we love (and change our minds about things we don't love as much, anymore).
If you're craving more baby gear/ pregnancy/new mom advice, you can find WAY more in my baby archives.
And I'll ALWAYS keep you in the know with the best baby gear deals! Make sure you sign up for my newsletter so you never miss a deal or text BABY to 949-506-2558 to receive a text very first about only the hottest deals!
I'm so SO very excited for you to have your new baby join your family! It's truly the most magical thing that I've ever experienced and it feels that way EVERY time. I can't wait for you to have that joyful event in your life and I hope this list helps you feel as prepared as possible so you can spend your time snuggling and loving that little one.