It's been a few years since we posted about our real life love story of finding hope and healing in addiction recovery. We had plans to post something else today, but when I woke up I felt so strongly that this message needed to be re-shared, and Neil felt the same way too. If it helps even one person who's struggling with addiction to find hope and healing, it will be worth it.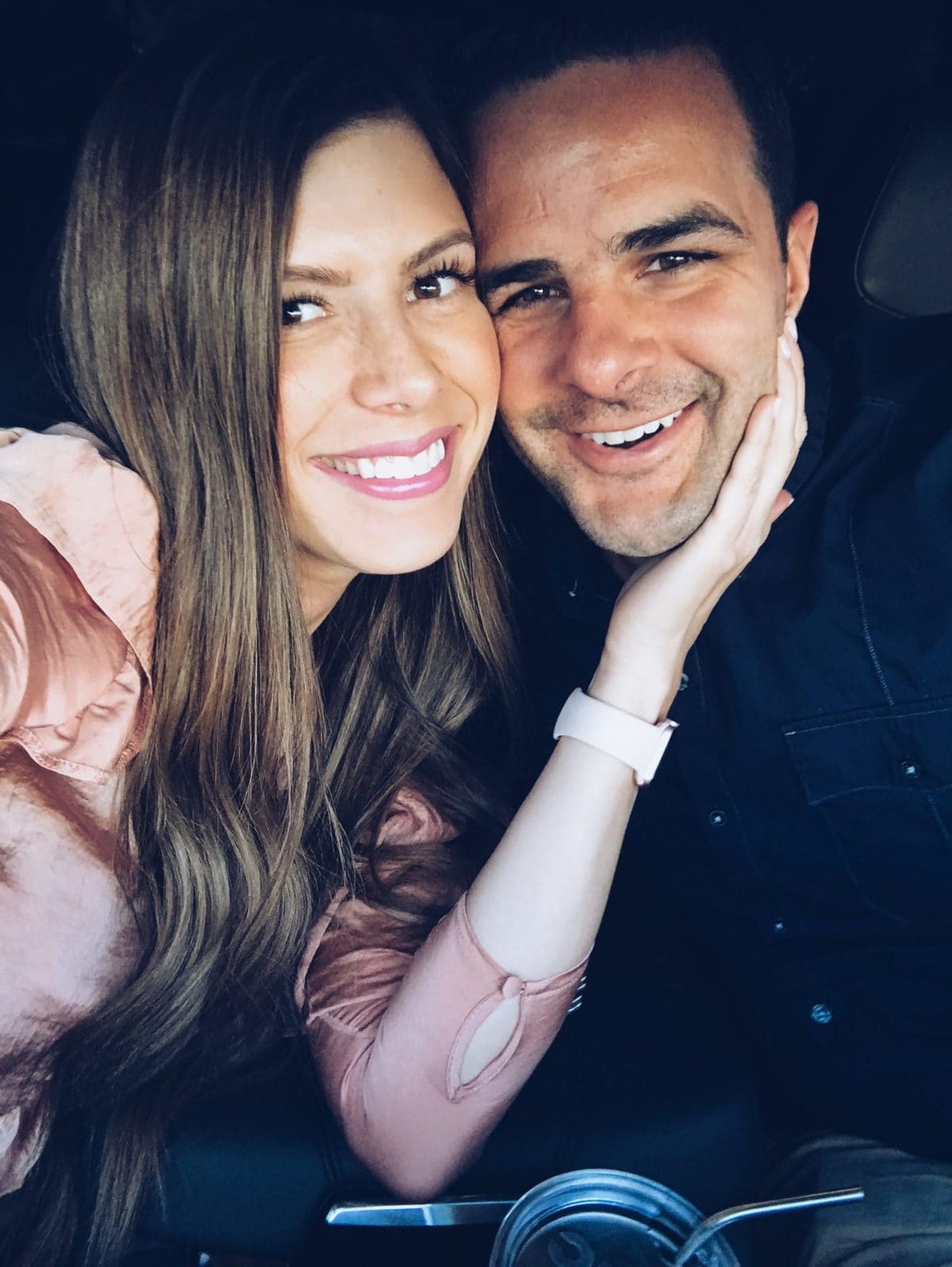 A little bit of back story
A few years ago I took the time to write up our "love story," where I shared our ups and downs of meeting, courtship, engagement, un-engagement and finally marriage and a "happily ever after." I alluded to some of the struggles we worked through but for anonymity and privacy, left out some gaping holes in the story. And at the time that was the right thing to do.
For a long time now, Neil and I have had strong feelings about sharing our story of addiction recovery and healing from the aftermath, but we've waited until the time felt right. We had said, let's get through all 12 steps, and then talk. We both completed the 12 steps (patterned after Alcoholics Anonymous), and continued to pray to know when it was the right time.
The right time to share
We didn't plan for this to all come out on Valentine's Day, but on Feb. 13 a few years ago, on our way home from our 12-step meeting, the Addiction Recovery Program (that I'll refer to as ARP) hosted at our church, Neil and I called each other since we had driven separately and after hearing some really raw and real shares, we finally decided it was time. It's time.
This story was told with Neil's permission and support. He read through and approved the entire post before it was published.
I'm going to take a page from my sponsor Mandi's story and say this: if you know us personally, or if you feel like you've known us from the years of reading my blog, I hope you can read this story with an open heart and that you will love us (and especially Neil) even more after opening up about our struggles. But if not, that's okay too.
We're sharing this because someone else shared before we did, and that brought us hope. That brought us to a meeting where we found hope and healing. And so I hope that by sharing this story, we can inspire hope in others too.
The beginning of our real life love story
When I met Neil I fell and I fell hard. He was kind and fun to be around and charming (he actually CALLED to ask me out on each date instead of text!!) and most of all, he openly talked about his belief in the gospel of Jesus Christ. His openness about religious beliefs attracted me to him more than anything.
We dated for a few months and I kept falling for him until he dumped me, just like he had every other girlfriend before me, right on cue around the 3 month mark – also 3 days before Christmas. I was devastated.
I honestly felt completely blindsided – everything was going SO perfectly. He even admitted I was the first girl he had said the big 3 words "I LOVE YOU" to (well, since high school) so I really felt like this was it! I couldn't stand that it seemed so out of left-field so I finally called him and said, "I think you owe me an explanation." And for some crazy reason he agreed with me and said, "you know what, I do. Let's go on a drive tonight."
A turning point
He picked me up to go on a drive on a night when huge white snowflakes were softly falling, and I'll never forget him telling me these words as we sat in his car: "I have a problem with pornography."
It turned out I was one of maybe 3 people in his entire life he had ever opened up to about this, other than bishops (his ecclesiastical leaders). And I remember feeling a little surprised by his admission, but even more surprised that I wasn't immediately scared off. It was weird but I had this calming peace come over me that almost made me feel like "don't freak out. Just listen." We talked for quite a while after that and he opened up about how he had struggled with this since he was a young kid, but had recently started going to 12-step non-denominational meetings.
That was the beginning of a LONG road of various attempts towards finding addiction recovery.
Let's talk pornography addiction
Now I know that pornography is, to some people, a normal part of life. In our faith, we believe very strongly that having a pure mind and clean thoughts is a vital component of staying connected to God, and that fidelity in marriage includes your thoughts and what you consume, just like Matthew 5:28 says, "whosoever looketh on a woman to lust after her hath committed adultery with her already in his heart."
I'm not here to debate whether pornography is a good or bad thing, whether it's healthy or damaging, in your personal belief system, but there are many scientific sources and studies out there that provide evidence that when people are addicted to pornography, it's as harmful to the brain (or more) than drugs like cocaine and heroin. I just want to point out that whether or not you believe pornography is good, bad or you're indifferent, someone struggling with a pornography addiction is struggling just like someone who is addicted to alcohol or any other controlling substance.
Our first steps toward addiction recovery
So anyway, Neil was fighting to overcome his addiction, which included continuing to attend a non-denominational 12-step meeting and eventually, after hearing good things about a paid outpatient program for pornography addicts, he invited me to go check out this outpatient recovery program. I won't say too much about this because I honestly don't have great feelings about this recovery program in particular. I know people who have had good experiences in rehab programs, and Neil still feels like he learned some good things from this experience, but I don't have warm fuzzy feelings overall about this outpatient rehab program. Mostly because we spent a few years of very, very expensive monthly payments for us to be part of this program, that ultimately didn't work for us. I can only speak from personal experience though.
I remember a neighbor from my hometown, who was running an ARP meeting, telling me of a girl who had been through that very same outpatient program with her husband, before they found ARP. But in ARP they had finally found the solution, they finally found real recovery, and that she believed you shouldn't have to pay to find recovery. Something about that rang true with me, but I still wasn't ready to believe just another church meeting was going to be enough.
Highs and lows
Well again if you go back to our love story, you'll read that we got engaged, and unengaged. That's because with ANY addiction comes lies, and Neil had lied to me about being "sober" (not actively participating in his addiction) when he really was not, and I caught him in a lie. The heartbreak of what I knew I needed to do, break off our engagement, was unlike anything I had ever experienced. I loved him so much and that breakup was utter devastation for me.
Some clarity and hope
After an excruciating engagement break-up, and a few weeks of not talking to each other, we began speaking again, and dating, and eventually talking about maybe getting back together. I knew I loved him, and I knew that I had received a CLEAR answer from God that I was supposed to marry Neil. How in the world that was going to work out with all the obstacles we faced with his addiction, I didn't know. But I knew I had received a very clear "YES" when I prayed about marrying him. So I followed that feeling and took my time to trust him again. In the meantime Neil worked really, really hard to get clean and be ready for us to be married.
I remember so vividly the day we got married that I felt 1 million percent right about it, I knew God was happy, and I knew he was totally worthy to be in the temple with me that day. I knew it in my heart and in my gut and right down to my bones.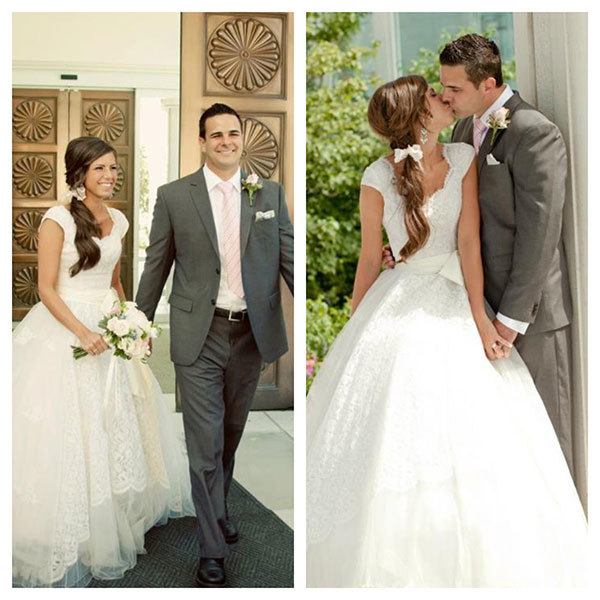 Relapse
Unfortunately, that wasn't the end of it. As addiction likes to do, when you haven't gone through a thorough recovery process, it creeps back in because, well, life happens. And when an addict has had a lifetime of "numbing out" anytime life is hard or challenging, anytime they're depressed or anxious or bored or lonely or feeling fear, if an addict has been used to numbing out those uncomfortable feelings with any type of addiction – drinking, drugs, sex, porn, over eating, gambling, you name it, that's most likely what they're going to turn to, because that's what they've been doing for so long.
It didn't take long before we were struggling in our marriage. Neil was trying, but he was slipping a lot. Lapsing, relapsing, sometimes lying, and hurting me over and over and over. I started to emotionally detach myself from him, and it was easy in Utah to do that because I had all the support I needed. I had my family, I had friends from high school and college and before marriage and after marriage and we had a baby who became my whole entire world and I just found a way to not "need" Neil.
How we found ARP meetings
That unhealthy behavior on both our ends led us to when Anabelle was 18 months old and we had been married for almost three years, and I wasn't sure we were going to make it. Around this time, I was sick and tired of all the failed attempts at addiction recovery and reached out to my blogger friend Mandi, who had published her story of recovery through ARP, and asked some questions about how to find our first ARP meeting (hint: right here!). They were free and open to addicts and family members supporting the addict, and she highly encouraged me to go with Neil to one of these general ARP meetings. So we did. And it was awkward.
The first ARP meeting Neil and I attended was just an older couple who had volunteered to run the meeting, and Neil, and me. That's it. We read through the 12 steps, read through that week's step, and "shared." Awkward actually doesn't even begin to cover how uncomfortable it was at first.
BUT.
I remember feeling "the spirit." I felt something. I knew there was something special about these meetings.
Inspired changes
About the same time, while in the temple one evening, I had a strong impression we needed to move to California (which was so out of the blue) and soon after, Neil got a job offer that took us right to Southern California. That move was the beginning of some changes that ultimately saved our marriage.
Things weren't perfect right away though. Not even close.
We moved here and Neil pretty quickly found his way to the local ARP meeting and started attending weekly.
Addiction is pain management
I want to make something really, really clear: Neil always had a desire to overcome his addiction, at least from the moment I met him. He has such a good heart and a desire to do good and be good.
In one of the best books I've ever read, Melody Beattie says in Codependent No More,"We don't have to take things so personally. We take things to heart that we have no business taking to heart. For instance, saying "If you loved me you wouldn't drink" to an alcoholic makes as much sense as saying "If you loved me, you wouldn't cough" to someone who has pneumonia. Pneumonia victims will cough until they get appropriate treatment for their illness. Alcoholics will drink until they get the same. When people with a compulsive disorder do whatever it is they are compelled to do, they are not saying they don't love you—they are saying they don't love themselves."
And although it sure felt like all those years of lapsing and relapsing were so personal, and designed to hurt me, they really weren't. Addiction is pain management. And when someone gives in to their addiction so many times, they lose the ability to choose anymore. This loss of ability is called "powerlessness." I used to resent this term so viciously. I hated that addicts labeled themselves as powerless, like it was an excuse for them to play out as much of their damaging, hurtful behavior as they wanted without any accountability.
ARP started changing me
It wasn't until Neil had invited me over and over for weeks and months, and I finally agreed to attend the local ARP meeting in Southern California, and not even until I had attended for a long time, that I finally started to feel compassion and love and understanding toward other addicts, and eventually, toward him.
It was by hearing the raw and vulnerable struggles of other addicts, from hearing people I was getting to know and love, say "I'm so tired of hurting the people I love and I want to stop so bad but I just don't know how," that my icy heart started to melt a little and I began to feel true charity toward the addicts in the ARP meeting rooms we attended.
But Neil continued to struggle, up and down, all while I thought he was doing okay because he just covered up his addiction with lies. I remember I was at September Fashion Week a few years ago, and upon my return, I caught him in one more lie and I didn't know if I could do it anymore. I completely fell apart and had an emotional breakdown, crying for several days. I finally called Mandi and said "I literally can't do this anymore." And she said to me, "well, are you ready to do the steps?" And that's when I finally gave in, because I was tired of my life being out of control.
The 12-step journey
Step 1 of the 12 steps says "Admit that you, of yourself, are powerless to overcome your addictions and that your life has become unmanageable." I realized that although I didn't have an addiction, I could no longer control Neil's. I couldn't control whether he was going to stay clean or keep acting out! I had to get hope and healing myself, as I had heard people share their experiences of finding after doing the 12 steps over and over and over in these meetings we had attended for a couple of years at that point.
I dove in head-first and started working the steps. And in those ARP 12 steps, I found the most thorough repentance and healing process I've ever found in my life. I found out how to not fear the actions or even the events of life anymore. I found how to have hope in a Savior. I found the action steps to REALLY trusting God, that He knew me individually and had a plan for ME. I found that peace and happiness was something I was entitled to, regardless of Neil's choices.
Codependent no more
The funny thing about me finally not worrying about Neil's recovery or trying to "help" him or be codependent about his addiction recovery (trying to control all the circumstances in our lives to make everything just right so he could get better), he was finally free to do whatever he wanted. Go all-in on his addiction, or go all-in on recovery.
He chose to go all-in on recovery.
Neil got serious about doing the 12 steps too and for the first time in our marriage, I saw a real change in him, while I was seeing that same change within myself. In our own separate recovery processes, we found hope, we found healing, we found the REALITY of the atonement of Jesus Christ and its complete ability to actually heal a person from a lifelong paralyzing addiction, its ability to heal a family, to heal a marriage.
The change
I used to walk into the ARP meetings feeling so much resentment. I resented addiction and the ugly, awful, terrible way it ripped families apart and ruined lives. I resented the people who were supposedly in recovery who came into the meetings laughing and joking with each other, seemingly so happy. I resented my husband for putting me through so much.
Now? I feel more love for the people in ARP than anyone I ever have other than my own family members. I feel deep compassion for the struggle they're facing, and an overflowing gratitude for the people who attended and shared their stories of hope that gave me the tiniest flicker of light at the end of what felt like an eternal tunnel of darkness in the shadow of addiction.
ARP is for everyone
I want to make it clear that although our ARP meetings are held in LDS chapels, where we talk about God and Jesus saving us, these meetings are open to ANYONE, of any faith, and the only requirement is to have a desire to stop participating in the addiction. They're held in strict confidentiality and are a safe place to be open about what you're struggling with, and a place where you'll be inspired by other people who have found hope and healing from addiction.
You might be thinking…
How do I know Neil will never relapse again? I don't. But I know that I've never seen him happier, or felt more trust and love in our relationship as we have after doing the 12 steps.
How do I know he's not lying to me anymore? I know because I can feel it in our interactions, and I know that God will confirm to me what's right and the truth of all things. And most of all, I know that Neil is ultimately only in charge of his addiction recovery and it's no longer my job to make sure I keep tabs on him. He gets to determine his happiness in life, and by freeing myself from obsessing over whether he's okay, I can be okay. And most of all, it's not my job to save Neil, I can only save myself.
The 12th step in ARP says, "Having had a spiritual awakening as a result of the Atonement of Jesus Christ, share this message with others and practice these principles in all you do."
Why do we share?
At the risk of alienating friends or people in our community, or receiving criticism or even backlash for sharing this very personal story, I hope that we help at least one person. I hope that by opening up, some other wife out there doesn't feel like she's terribly alone and that no one in the world could ever understand the endless hell she's living in by suffering in the silence of her husband's addiction that she's keeping a secret from everyone around her. I know what that's like. And I know that every story doesn't end as happily as ours does. But this I know for sure: there is hope, and happiness, and peace available to ANYONE who wants to find it. And I found it in these meetings.
HOPE & healing
To anyone whose heart is broken today because of addiction, or feels like it's never going to be better, and it's never going to end, if you need someone else's hope to lean on, you can lean on ours. Change is possible, even in the gripping plague of addiction. The Savior can help you, and His atonement can heal the worst pain and the most broken hearts. The miracle of addiction recovery is available to anyone who has a desire.
I know that we have a Heavenly Father who loves each of us more than we can possibly imagine, and I always said to Neil through the 7 years he struggled constantly to break his cycle of living in his addiction, that there's no way a loving Heavenly Father would allow so many of His children to suffer with addiction without a way out. I am so grateful we found the steps that showed us the way, and so grateful for Mandi for bravely sharing her story that ended up changing our lives completely. And I hope that by sharing this, we can bring even one person hope.
Part Two
Read part two of our addiction recovery story here, including our podcast interviews that go more in depth from each of our perspectives and some helpful tips and resources for those struggling with addiction in their marriage or family.