Sunny days by the pool, vacationing with the kids, and long, warm summer nights are right around the corner. One of the BEST times of year! And one of my very very favorite items to wear for all those summer things are Birkenstock sandals. My whole family and I have loved Birkenstocks for years and years – they're just beyond comfortable and timeless!
I've actually already gotten so much use out of my Birkenstocks this spring. We just had the BEST time on one of our favorite vacations – a Disney Cruise! Seriously, we've been dying to go back for five years and we finally got to take our two older girls recently. Naturally, I packed two different pairs of Birkenstock sandals that I wore a TON. Almost everyday I wore one pair or the other (or both)! So today I'm sharing why I love them so much & how I styled my two newest pairs.
Why shop at Zappos
Before we really dig into why I looooove Birkenstocks so much, my fave styles, etc, we need to chat Zappos. They're the perfect one-stop shop to grab all the things you need. (All of these items I'm wearing are from Zappos!)
If you're a new shopper to Zappos or a long-time loyal fan, they don't just sell shoes anymore, they sell EVERYTHING else, too. Clothing, bags, accessories – all of it!
And the #1 reason to shop Zappos IMO? They have the BEST customer service ever – 365-day return policy, 24/7 customer service, become a Zappos VIP member for free, and expedited shipping! It's all amazing.
Classic and comfy Birkenstock sandals (with a pop of gold)
These classic-styled Birkenstocks are loved by many because the more you wear them, the more comfortable they get. They provide reallyyy good support for your feet – perfect if you have any foot issues where you need extremely supportive sandals.
Also, how cute are these these gold Birkenstocks?! I love that they're super neutral but still fun and different (and not everyone has them!). You can style these gold Birkenstocks like I did, with an all-black outfit and some gold jewelry (like these Madewell hoops!) for any summer outing.
P.S. Can we talk about these black Bermuda shorts?! They're seriously the BEST fitting Bermuda shorts I've EVER tried on.
They're long enough for my liking, have some stretch, fit like biker shorts but look like denim shorts – they're absolutely magical.
And I really loved this black blouse I paired with them! Who doesn't love an all-black outfit? Always a go-to! You could pair these shorts with a white t-shirt or really any top you'd normally wear with black jeans. But if you're looking for Bermuda shorts for the summer THESE are the best!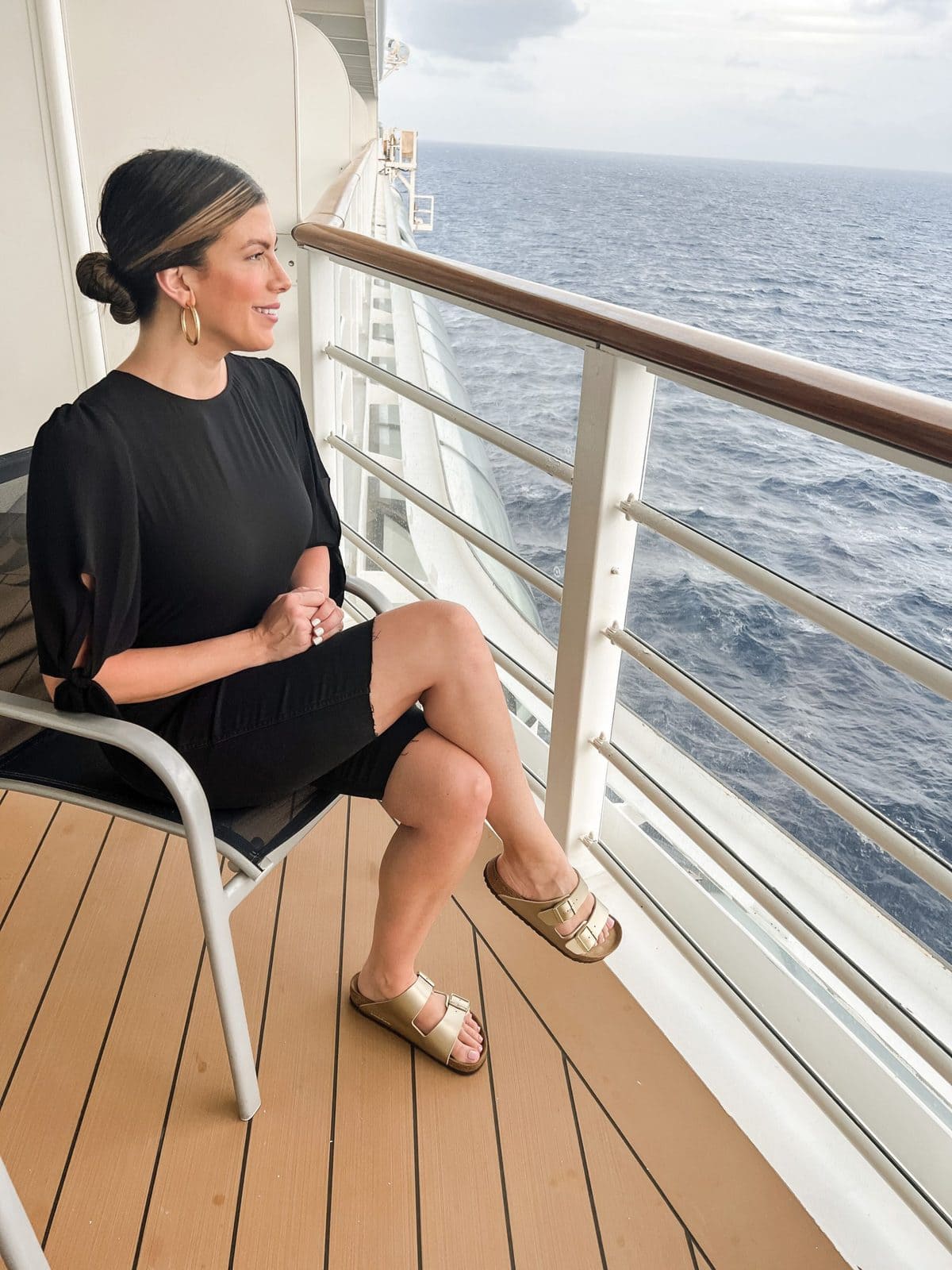 Birkenstock sandals are timeless and will last for years
For years now, my parents have been known for getting Birkenstock tan lines on their feet each summer because they wear nothing but Birkenstocks, especially my dad! And why not when they last years and years?
Seriously, the very first pair of Birkenstocks I bought EIGHT YEARS AGO still look brand new and I STILL wear them. Even that original pair of Birkenstocks that I wear the very most still look PERFECT. Buy one pair, and they'll last you such a long time. Unless you literally wear them to death like my dad does, you might need to buy a new pair every few years!
Waterproof, flexible and peachy keen
What I might love even more than the classic sandals are these durable, waterproof Arizona Birkenstocks! Truly the unicorn of all shoes. So flexible and comfortable! These Birkenstocks are perfect for a trip to the pool or beach in the summer because if you get sand in them you can wash them off SUPER easily – totally waterproof! Plus, they're way less expensive than the original kind.
I have these in a few colors but recently got the peach right before our Disney Cruise and wore them a TON.
One of my very favorite places in the whole world is Serenity Bay on Disney's island Castaway Cay. It's the adults only part of the island, so Neil and I spent some time there while the girls went to the kids' club. I wore these peach Birkenstocks, and they were the perfect shoes for the island: flexible, comfortable, waterproof, summery – nothing better for a day at the beach!
Dressed for the pool AND the day!
My VERY favorite item from this Zappos order though might have to be this cover up. I saw it and had to get it – I mean look how cute the pom-poms are!
Everything about this cover up just screams summer vacation. But my favorite thing about it is how the sleeves make it feel more like an actual dress rather than an obvious cover up meant for the pool. So, when we went to get lunch or were getting off/on the boat, I felt clothed and ready for the day rather than feeling like I'm wearing just a pool cover up out and about.
If you're looking for something like that where you can easily transition to lunch and back to the pool or beach, this is perfect! AND it gathers in the middle for such a flattering look with some shape without it being too tight. All around I just LOVED this piece!
Birkenstocks, cover ups, and more – oh my!
Some of these items I could only find on Zappos and haven't seen them anywhere else. There's so much to find on Zappos in addition to shoes – jewelry, clothes, and more. So, if you haven't tried Birkenstocks yet, go grab a pair and pick up some more summer essentials!