My love for drugstore makeup isn't something I'm shy about. I've dedicated more than one post to my favorite drugstore products and drugstore dupes. There's nothing like walking into Walgreens and coming out with everything you need for a perfectly curated makeup look for less than you would spend at a high end retailer! Shopping at Walgreens is also super easy because everything is SO accessible and it's piece of cake to mix and match brands! Plus they carry TONS of products that are really great dupes for super popular department store items! Read on to see which ones I'll definitely be adding to my cart again!
Best makeup from Walgreens
FOUNDATION: L'Oreal Foundation Infalliable Fresh Wear I've been using this foundation for a while and it is truly BETTER than some of the department store foundations I've tried. It really does last ALL DAY and I LOVE that it has SPF 25, enough protection but not too much that I'll miss out on that summer glow! Bonus: it's inexpensive enough for me to rationalize having two bottles, one for when I'm tan and one for when I'm not
BRONZER: Shop No7 Match Made Bronzer in Caramel. This bronzer gives beautiful, noticeable warmth to my skin without the muddy side effect that some bronzers bring to the party! It reminds me of a department store product that is suuuper expensive, so I was stoked to find this one for MUCH cheaper!
SETTING POWDER: Vichy Dermafinish Loose White Translucent Setting Powder. I didn't know what to expect from this powder but it lives up to the hype! Sometimes it feels a little intimidating brushing white powder on your face, BUT I love this to set my foundation and concealer with! It locks in my makeup without adding bulk or coverage, which is exactly what I'm looking for in the summer!
HIGHLIGHTER: L'Oreal Paris True Match Lumi Powder Glow Illuminator Blush and Highlight (Warm Undertone): To use this product, I mixed the colors and applied it where I would normally use a highlighter.
The L'Oreal Paris True Match Lumi Glow Boosting Drops were an unexpected surprise! Put one or two drops into your foundation for an amazing lit-from-within look.
BLUSH: L'Oreal Paris Paradise Enchanted Fruit-Scented Blush This blush is a really subtle peachy pink that's perfect if you're looking for a very subdued blush. And it has 44 perfect 5-star reviews!
EYESHADOW PALETTE: Honest Everything Eyeshadow Palette This neutral palette is a one-stop-shop! I focused the shimmer on the inner parts of my eye and used the darker matte shades to add depth and contrast to the outer corners! I also used the black shadow to line underneath my eyes with an angled liner brush.
CREAMY EYESHADOW: L'Oreal Paris Infallible 24HR Shadow, Endless Pearl (iced latte) I concentrated this creamy shadow from the corner of my eyelid to the middle as a primer for the Honest eyeshadow palette. It's crazy shimmery, which I LOVE for summer! It also lasts all day, has amazing reviews, and comes in 11 shades!
LIP CRAYON: Honest Beauty Lip Crayon-Lush This muted pink is ultra moisturizing thanks to the trifecta of coconut oil, murumuru butter and shea butter! It's an upscale version of a lip balm, and I LOVE that it is formulated without harsh ingredients!
LIPSTICK: No7 Stay Perfect Lipstick I didn't wear this lippie for this look, BUT I've tried it out since and it's an AMAZING long wear lipstick! I feel like it lasts hours and the price point is amazing. Also I love that it's NOT drying, which is super hard to find in a long wear lipstick!
EYEBROW PENCIL: L'Oreal Waterproof Eyebrow Pencil Dare I say that this is better than the Anastasia version?! It's a dupe to the creamier, thicker pencil and I'm excited to use it in Brunette now that I've gone back to my roots!
MASCARA: L'oreal Paris Lash Paradise This MASCARA YOU GUYS. First of all, Beyonce's makeup artist uses this on her. Need I say more? Okay, I will. It's volumizing, blacker than coal, and gentle enough that I've actually used it over my lash extensions!
SETTING SPRAY: L'oreal Paris Shaken Glow Dew Mist Setting Spray This is a great finishing touch to my makeup routine, with a touch of shimmer to round the look off perfectly!
Best beauty products from Walgreens
BEAUTY BLENDER: L'oreal Paris beauty blender this is easy to hold and does exactly what a beauty blender should! I like that it has different edges to fit into the different contours of my face!
MAKEUP REMOVER WIPES: Honest Beauty Makeup Remover Wipes The best makeup remover wipes I've EVER used. They don't leave a residue, they boast all natural ingredients, and feel amazing on my skin!
Walgreens coupon codes
As if it's not amazing enough to have all of this makeup at killer prices, we've also got TWO (yes two!) coupon codes to share with you guys to save even MORE on these drugstore makeup finds!
8/11-8/17: Extra 15% OFF $40 Beauty & Personal Care w/ code GLAM
8/18-8/24: 25% OFF Reg-Priced Items Sitewide w/ code ONLINE25
You can find all of Walgreens' current beauty deals here, and see all of their luxury beauty products here.
Drugstore makeup success!
I was so thrilled with my drugstore makeup selections! I'm still so impressed with the ease with which I can shop all these amazing beauty products in one place thanks to Walgreens. You can shop all of the products I tried below, or head to your local Walgreens!!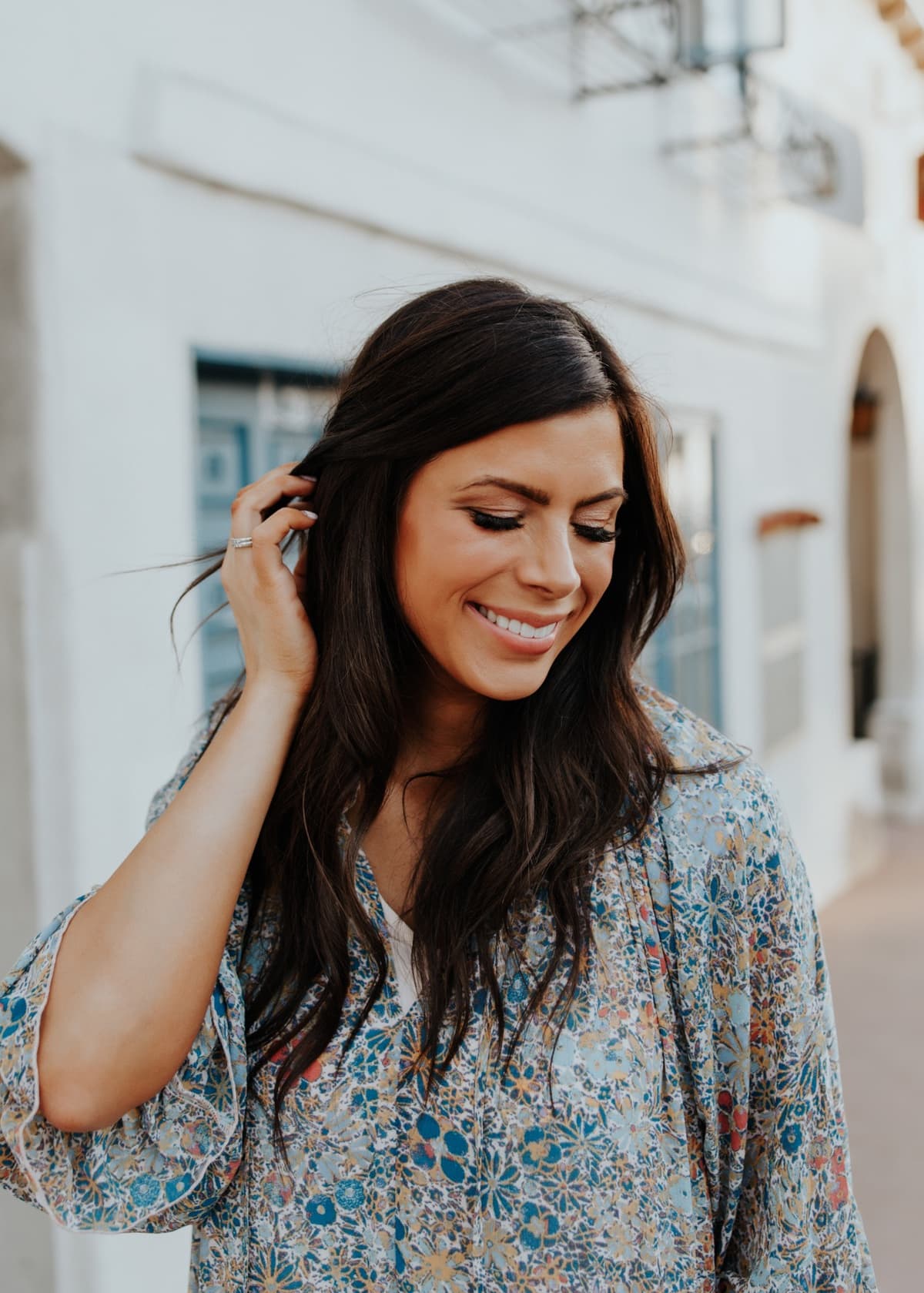 Ruffle pajama dress
Neverfull Tote
Maxi Dress
Photos by Arielle Levy