If there's ONE gift I could give every parent of a new baby, it would for sure be sleep. And if you have had a baby, or if you are about to have one, chances are you've heard of the magic SNOO bassinet. You may be wondering, are the rumors true? Is the SNOO worth the pennies? Is it a necessity?
Just keep reading, and I'll answer ALL your questions. This is my very honest, unbiased review of the SNOO, after using it with 2 of my 4 babies, and I hope it helps you decide whether or not it should be an addition to your nursery too!
What is the SNOO?
The SNOO bassinet is practically like having a mother's helper around the clock in your house…FOR REAL! It's a smart sleeper that actually responds to your baby's fussing. So if it senses them crying out, it will respond with increased rocking and white noise to soothe them! It comes with tracking capabilities on your phone, including how long the baby's longest stretch of sleep is by the day. You can also set it to a more gentle mode if you have a preemie baby, and a weaning mode when you're ready to wean them and move them to the crib.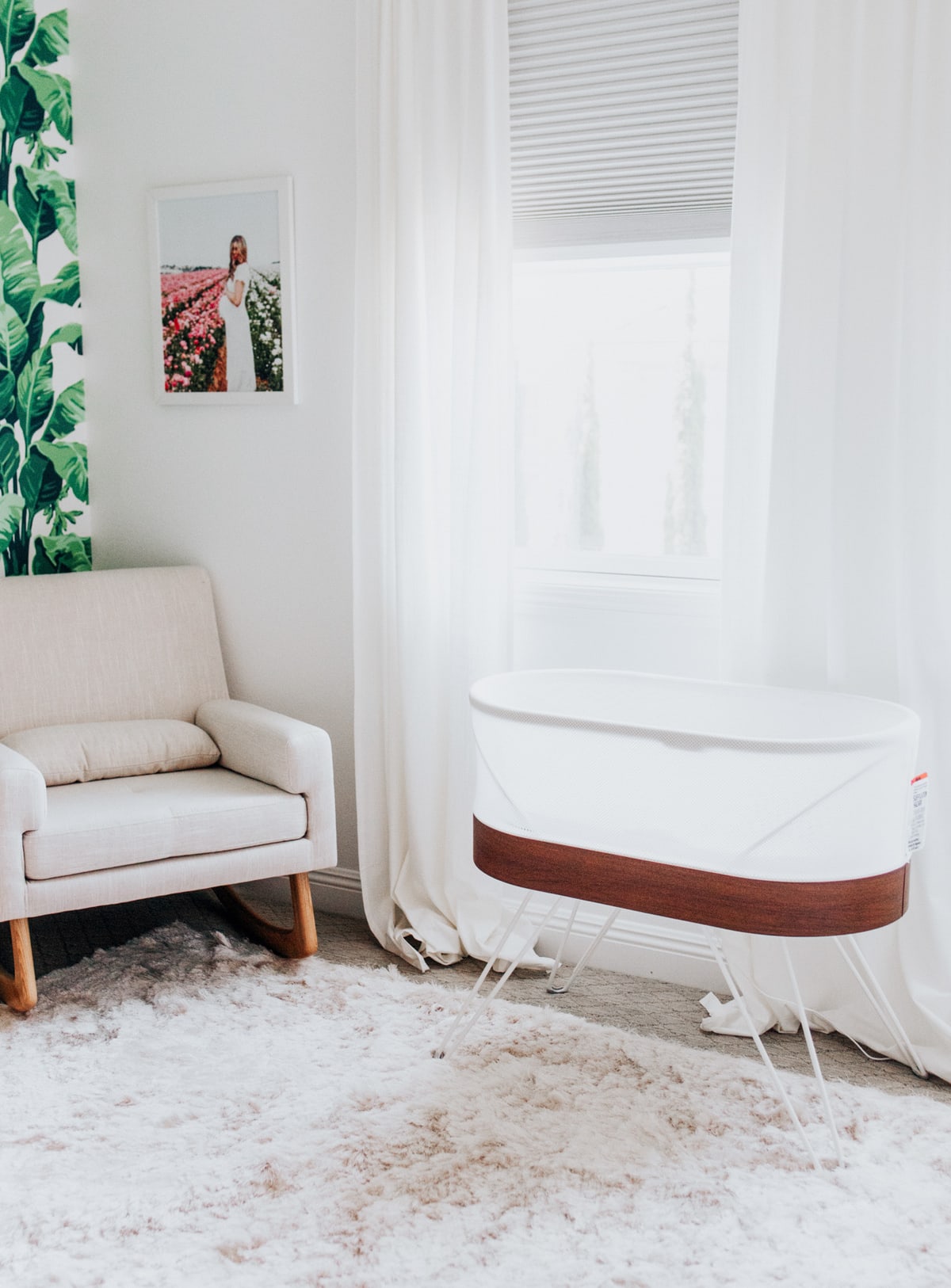 Is the SNOO bassinet worth the price?
The price on the SNOO bassinet is definitely up there, and I don't think for a minute it's a necessity to getting your baby to sleep. But it is for sure REALLY nice and when people ask me (all the time) whether it's worth the splurge I always say, "YES! It totally is." Because if you're the type of person who's considering splurging on it, and it's reasonably within your budget, I think it's an AMAZING help to mom and dad who could use more sleep at night.
How to create a Faux-SNOO for $30
However, if you're just like, "no way I can't spend that much!" then the same company actually makes those same magic swaddle sacks here that you can buy for $32 or here for $30. Add some white noise from an app on an iPad or a big box fan (from any hardware store) or a white noise maker, and you'll have something similar to the SNOO bassinet, minus the rocking that responds to your baby's cries.
Is the SNOO bassinet safe?
The SNOO bassinet comes with swaddles that attach to the bed and keep baby on their back, so it claims to be the safest bassinet on the market!
How do you clean it?
Okay first of all, let's talk about how beautiful it is! The minimalistic and chic design of the SNOO looks good in every nursery.
I was worried about how easy/difficult it might be to clean, but it's actually VERY easy. You pop off the zippered sleep sack part, and the mattress sheet, and they go directly into the washer and the dryer. So simple! Also, they come in multiple colors and patterns so if the white makes you nervous, you can choose other colors to swap them out. That's helpful if your baby is anything like ours were and they spit up a lot.
Does the SNOO ever go on sale?
YES! I can never guarantee a sale that I don't know about, but I have seen the SNOO go on sale at least a couple times a year, most notably right around Black Friday.
Should I rent or buy the SNOO?
This is totally personal preference and there are a few factors to consider!
Are you having more babies? If the answer is yes, you might be happy you invested in a SNOO! Also, the resale or rental value of these is SUPER good! So if you buy it and then want to sell it and make a lot of your investment back, you may spend less than you would have (overall) than renting.
Are you weird about using a bassinet someone else has used? If the answer is yes, you probably want to buy one yourself and then recoup some of your cost after by renting it out or selling when you're done!
Having said all this, I think renting is a GREAT way to save money if you don't want the upfront cost of a SNOO and/or don't want to commit in case you're not sure if you'll love it (but I'm guessing you will!!!).
Sweet dreams for everyone!
So, the short answer — do you NEED the SNOO in your life when you welcome that sweet new baby? No. But it definitely is an amazing helper, and I am really, really happy we added it to our nursery. If you decide to add it to yours, I know you will be super happy with it! If not, check out our baby sleep podcast episode to find the best tips that will give you huge success, even without the pricey investment. Sweet dreams for all!