Makeup lovers get excited, because I'm telling you about an UNBELIEVABLE deal on my favorite IT Cosmetics CC Cream today! This is the perfect opportunity to stock up on makeup if you're already a longtime IT Cosmetics lover like I am.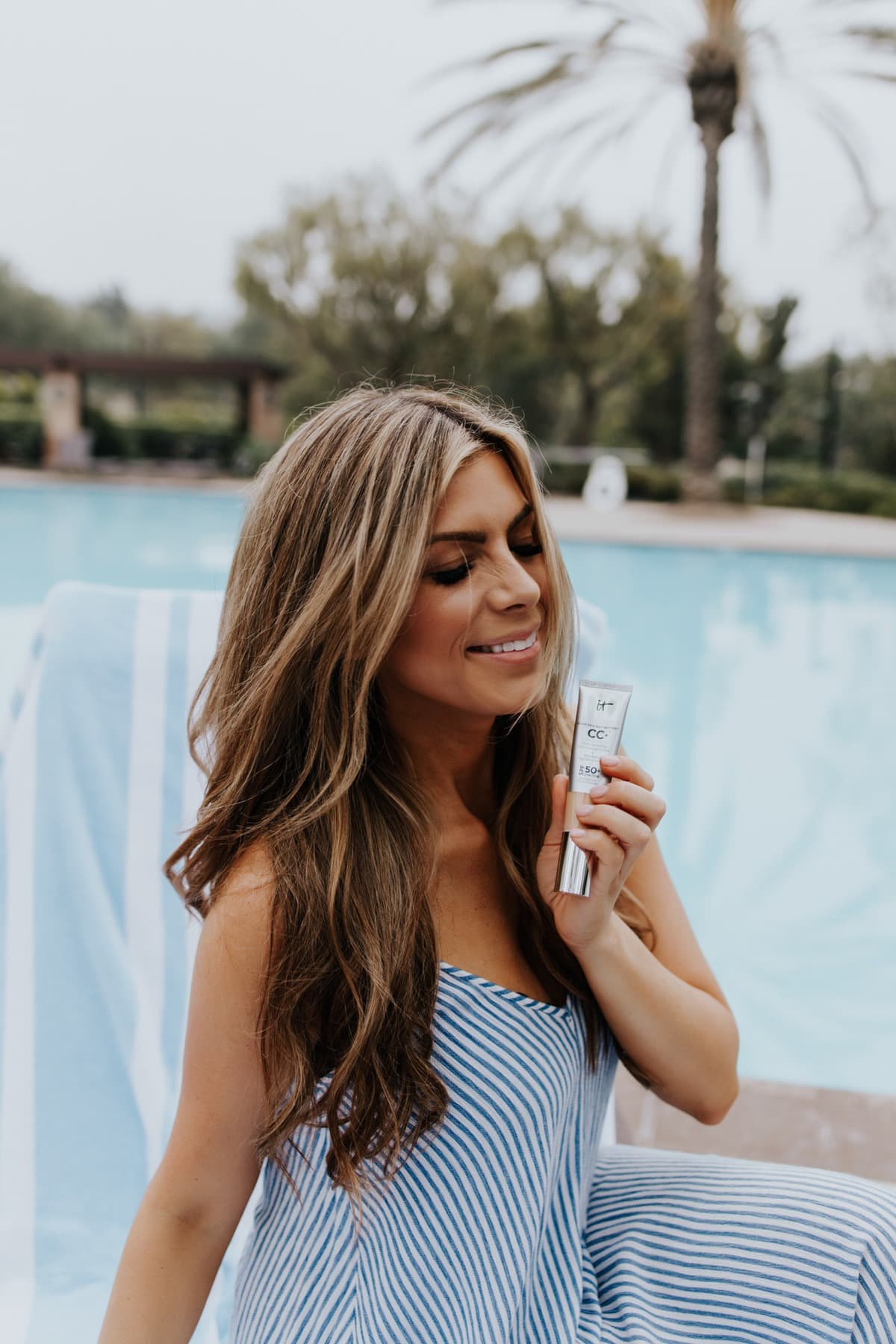 Deal Details
TODAY ONLY you can get 62% off TWO supersize tubes of my favorite IT Cosmetics CC Cream! With the 62% discount, this supersize SPF 50 duo rings up for UNDER $70 (sold separately for $185)! And you only need about one pump of product for your whole face, which means it lasts forever!
My favorite CC cream EVER
IT Cosmetics' CC cream has long been one of my very favorite foundations. It's basically skincare with a side of amazing coverage! It has seven amazing benefits, including a physical sunscreen, anti-aging serum, and buildable coverage.
TIP: The foundation really is so much better with the IT Cosmetics brush. The first time I tried the IT Cosmetics CC Cream I wasn't sure if I loved it. But then I saw someone with FLAWLESS skin and asked her what she uses! She told me the IT Cosmetics CC cream, but with a hitch–you HAVE to use their brush! Ever since I took her advice I've been a firm believer. If you've been wanting to try it out, now is the time to buy while you can save BIG!
Picking the right shade
Warm, neutral, cool undertones, what does it all mean and HOW do I find out what my skin is?! IT Cosmetics' website gives a really informative tutorial on how to choose your foundation color, based on undertones! You can also head to Ulta's site and take their test on how to choose a foundation shade. Simply enter the brand shade you've been using and it'll suggest what shade to get!
Don't miss out!
Remember, this deal is TODAY only and you can get TWO supersize tubes of IT Cosmetics CC cream for 62% off! Be sure to stock up ASAP though, because this could sell out fast!
IT Cosmetics CC Cream live demo
Check out my live demo HERE using the IT Cosmetics CC Cream! Below are all the products I used:
IT Cosmetics CC Cream in medium tan
IT Cosmetics brush
Artis makeup brushes – use code CORRINE30 for 30% off
Milani Baked Blush
Wet N Wild Highlighter in Golden Flower Crown (I also love Blossom Glow)
IT Cosmetics Brow Power Eyebrow Pencil