I've been called a lot of things in my life, and one title that I'm not one bit ashamed to take on is a robe lady. I seriously wear a bathrobe every single morning, have been known to accidentally get on really important zoom calls in a robe (oops!) and even dropped off my kids at school in a robe (HA) but life really just is A LOT better in loungewear. I am a very serious robe connoisseur and consider robes to be the #1 loungewear staple in my life.
Because I make frequent appearances on social sporting a robe, I often get DMs about my extensive collection, mostly asking, "so really which robe is THE BEST robe?" So I thought it would be fun to round-up ALL the robes in one neat and tidy little post. Keep reading for all my favorites and why I love each one!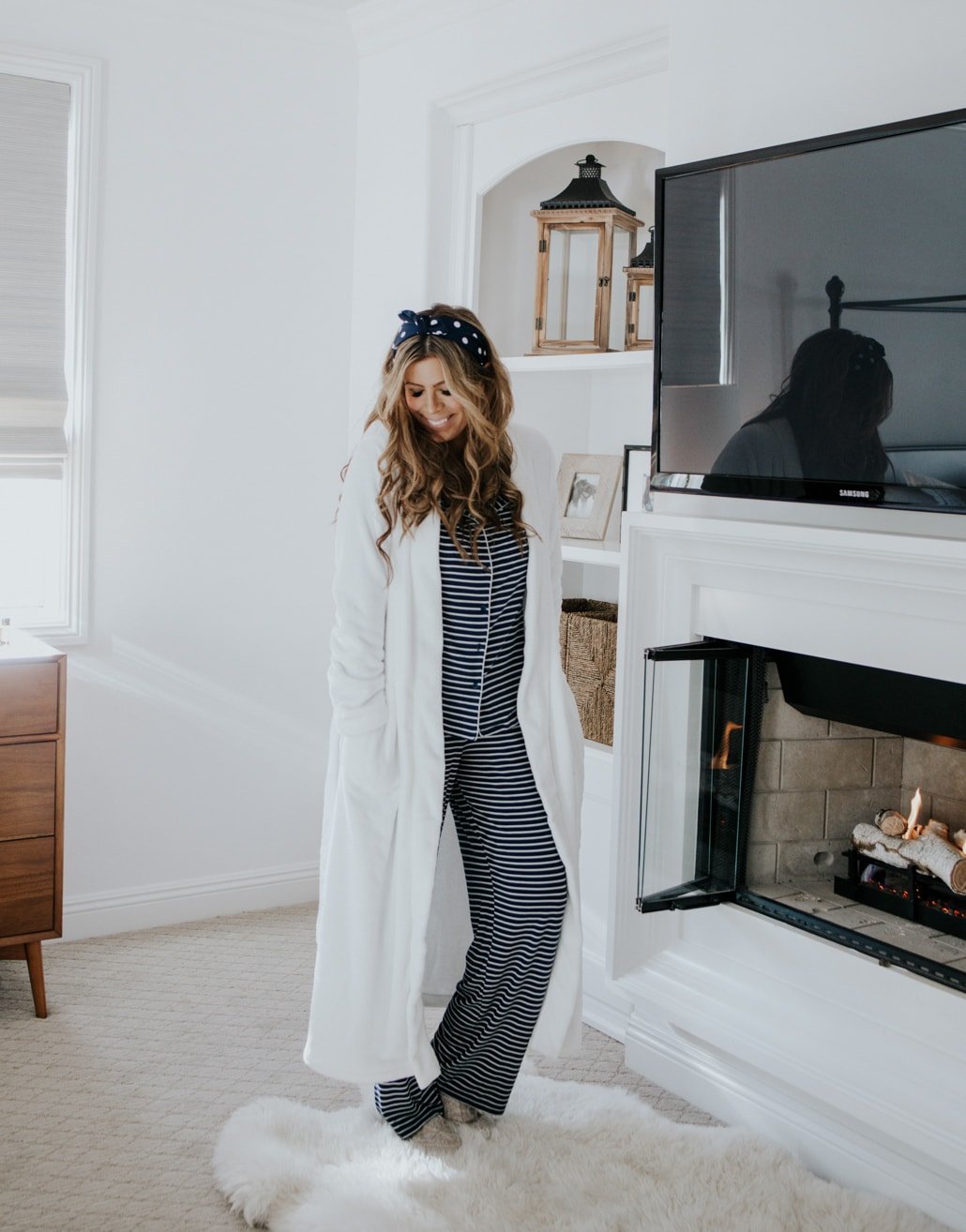 PERFECTION: Saranoni robe
This Saranoni robe is my absolute #1 very favorite robe of them ALL. It feels exactly like you are WEARING a Saranoni blanket and hello, can you imagine anything better? It's so stretchy and soft and comfortable and so.freaking.dreamy. It is thick enough to provide substantial coverage and achieve optimal snuggleability, but not so thick that you get hot.
I have washed this a zillion times and it's still perfectly brand new soft. It is an absolutely incredible option and I love love love love LOVE it. One of my favorite features has got to be the extra long sleeves. I can easily roll them up if I need to, but they're so dreamy to me. Use code: MINTARROW for 15% off your order at Saranoni!
Dreamy Ugg robe
This UGG robe is straight-up magic. Unicorn level magic. It's extremely soft, but not heavy. So it's basically the perfect choice 365 days a year!! I totally love that, because sometimes you buy one but it's too light and can only be used in the summer or vice versa.
This robe is my mom's favorite and the one she prefers to steal when she's visiting.
I absolutely love this robe and it's one of Ugg's most highly rated options, so TONS of other people love it too! I sized up for length and sleeve length and have ZERO regrets. I let this one hang dry after washing and it still feels as soft as it did brand new, which is the quality you're paying for! No pilling or losing softness over any period of time.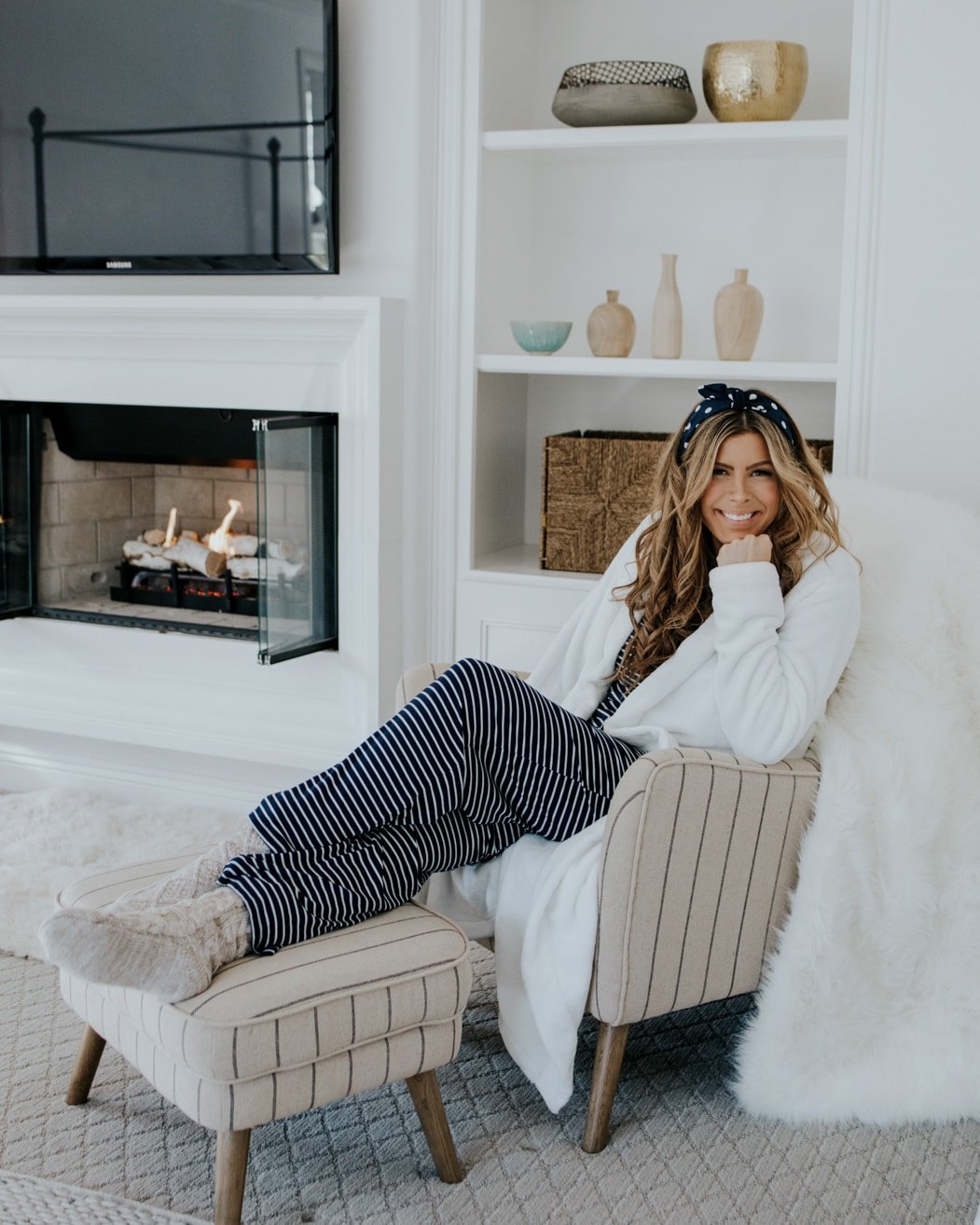 Barefoot Dreams heavy robe
I get A LOT of questions about this barefoot dreams one. "Is it the wind beneath your wings? Did it change your life? Is it worth the money? Does it make dinner and put your kids to bed?" Questions like that. I do very very much like it. However, if I had to choose between this robe and the Saranoni, I would choose the Saranoni. Over time, the Saranoni has stayed true to the softness of the day I got it, and this one is maybe an 8/10 in softness versus the 10/10 it was the day I got it.
That being said, it IS Barefoot Dreams. It's wonderful and amazing and cozy and I love it. The pockets are very generously sized, it's long, it's comfy, it's a dream. This is a heavier robe, like I might even categorize it as a winter robe. So if you live in a colder climate, THIS might be the one to go with!
Natori Luxe lightweight robe
This is the MOST lightweight robe in my collection. To the point that it's even a little bit see-through (ooh la la), so beware! HA. It is perfect for the warmer summer months. It's very pretty and has the most gorgeous lace detailing. I love to get ready in this one because it makes me feel so glamorous and pretty, and it's a lifesaver in the hotter months when I want to be covered up, but don't want to sweat while I get ready.
Disney Cruise Line spa robe
Take me back! I absolutely love this ultra plush Disney Cruise Line one. It feels like the most amazing luxe spa robe. The inside is the softest, most plush terry lining. Perfect for lounging, RIGHT out of the shower when you're still drying off, or at home spa treatments. And I'd imagine if we ever own an outdoor hot tub, this would be the robe I'd take outside with me to wrap up in when I'm ready to go in!
Tip: If you ever go on a cruise or vacation where you absolutely fall in love with the robe, BUY IT! This was my only souvenir from our Disney Cruise and I am obsessed with it. It is such a great souvenir to take home. Don't steal it because they'll charge it for you anyway! Go to the gift shop and get yourself a brand spanking new one.
Inexpensive Amazon Floral robes
I love this satin Amazon find so much I bought it TWICE. At $38 it's a very affordable and pretty choice. It's very lightweight and the perfect robe for getting ready in when you just can't with clothes. This is my very favorite one to wear in the summer when it's hot, but it's also the ideal lightweight layer to throw on after a shower when you're trying to be cool, but not nude. It has over 800 perfect or nearly perfect reviews on Amazon so you're pretty much guaranteed to love it.
JCPenney steals and deals robes
JCPenney has served up some serious gems in this arena for the last few years. The pretty pink ruffle one you guys went bananas over originally is one I have loved for YEARS. You all went so crazy when I found it for $16 that you sold it out within an hour, and it's sadly NEVER come back. But here's the closest similar pink ruffle robe option we could find that also earns good reviews.
JCPenney made my dreams come true again with this leopard number that kept selling out and is unfortunately sold out again, but here's a similar option. Both are super soft and cozy and I have absolutely worn them to death!
Robe lady certified
Maybe I have a problem, but if loving robes is wrong I don't want to be right! Shop all my favorites below and get ready to live YOUR best lounge life.