One of the MOST frequently asked questions I've gotten since we all went into quarantine is WHAT are you doing about lash extensions?! I've been a lash extension addict for the last TEN years (YES! 10 years) and so when we all went on a lock-down and all the salons closed I knew I was gonna have to get creative with my lash extension habit. I've tried about a dozen different DIY lash extension solutions – everything from magnetic lashes to strip lashes to DIY lash extensions.
Today I've got a roundup of only THE BEST magnetic lashes and DIY lash extensions, along with a discount for you! These are the cream of the crop, easiest to use, very best and most natural looking. Only a few made the cut, so keep reading to see which ones I love and recommend most!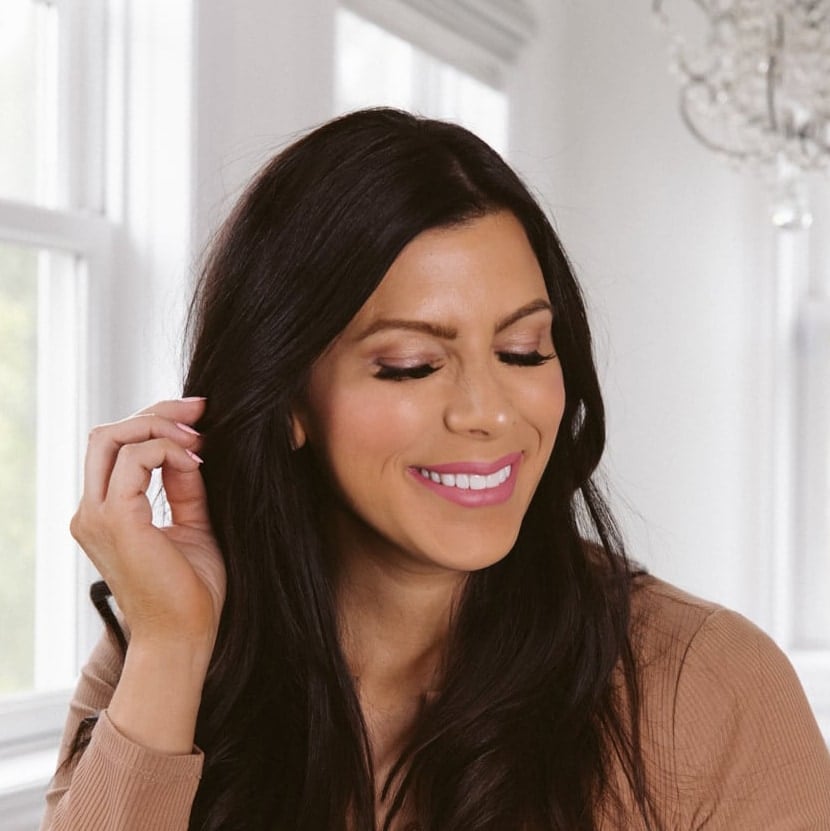 How to remove old lash extensions
The first question I know a lot of you have (because you asked me on DMs over and over!) is how to remove the stragglers, if you have any, of lash extensions. I used a gel remover like this one from Amazon, and they came off after 2 applications of Neil applying it and then gently using q-tips to slide them off (like you can see in the pic below).
My only regret is that I didn't buy some gel pads to protect my under eye area, just like the kind they put on you when you're getting lash extensions. My under eye area was so irritated after taking off the lashes that I was mad at myself for not thinking of this step! These are only $5 and I wish I would've gotten them. Otherwise, the old lash extensions were pretty easy to remove.
Best magnetic lashes
If you're looking for magnetic lashes, so was I. Trust me! Ha. I tried out about a dozen different magnetic lashes, all the highest-rated and most talked about on the internet, and I narrowed it down to two types I love and think are MOST user-friendly. And they cost about $11-12 each!
These magnetic lashes are, in my opinion, the very easiest to use because they DO NOT require the use of a magnetic lash liner, which I found super difficult to apply and have the magnetic strip lashes actually lie down perfectly on top.
These magnetic lashes have magnets on the top and bottom lash, and I promise they are SUPER easy to use. Put a coat of mascara on before, and then lay the top lash on top of your lash line, placed just slightly in from the edge of your eye. And then line up the bottom lash with where that top magnetic strip is and they'll pop right together! It might take you a couple tries to get it, but this method takes me about 1-2 minutes and I had it down after maybe 2 tries!
They are also really affordable at only $11-12 and they can be reused over and over. I've used both sets that I bought about 5-6 times already and they still look great! You can use a little rubbing alcohol or isopryl alcohol to clean them off if they have a lot of mascara buildup.
These are the more natural look (more like individual lash extensions) pictured above, and these are the more bold look (more like volume lash extensions) pictured below. Both are easy to apply, both DO NOT require any trimming because they're already cut down. You can get one of each and try them out and see which you like best!
Magnetic lashes with magnetic liner
If you ARE going to go the route of magnetic liner and magnetic strip lashes, these are the ones I think are pretty good, fairly affordable, and can be reused. These would be ideal if you want a more FULL LOOK of traditional strip lashes and want to do full eye makeup with black eyeliner over eyeshadow.
You MUST cut the strip lashes to fit your eye – that was my biggest mistake in starting out with these! If the lashes are too big for your eye shape they'll poke you in the corners of your eye, not stay on, and feel basically miserable. ALSO, make sure your magnetic eyeliner is TOTALLY dry before you try putting the magnetic strip lash on!
Best DIY lash extensions (my #1 choice!)
If you don't want to have to put magnetic lashes on daily (ME!) and you're used to the convenience of lash extensions, but you can't get into your regular lash extension salon because of Covid-19. Or even if they have opened back up near you, but you want to be cautious, or you just want to have a 3 minute weekly solution instead of a 1-hour appointment every few weeks, this is my FAVORITE solution by far of everything I tried!
For the cost of ONE lash fill, you can get the starter kit for these DIY lash extensions and they can be re-used if you just use rubbing alcohol to clean them in between uses! They stay on for 7-10 days and look JUST like my lash extensions did.
These at-home lash extensions are SO EASY to put on. Truly. I struggled with getting the hang of ALL the magnetic lashes above to some degree, but these at-home lash extensions were crazy easy to apply. I got them on in about 3 minutes and they last 7-10 days!! They look so pretty, so natural, but you can also double up with some of their add-ons and make them look fuller like volume lashes too!
You can use this link and a $20 off code for your starter kit will pop up! I got the starter kit with BOLD lashes to start with and I'm so happy with how they look! I was so thrilled with how easy they were to apply, how good they looked and how little time it took me that I went ahead and ordered all the other types of lashes they sell so I could try each of them out. I'll get back to you soon on more recommendations!! But for now, I say go with the BOLD – that's what I got and loved!
Lashes for days
I hope this helps you guys find a solution that works for you while we're all staying home and can't get to our regular lash appointments, or if you've just wanted to try out some falsies or magnetic lashes for special occasions here and there! Let me know if you have any questions and I'll do my best to help you out 🙂