Is anyone else shocked that Harry is ONE?! Fastest year ever, even considering the fact he was born in a pandemic. This birthday feels even more fun than usual because: WE HAVE A BOY. We will never get over the fact that, after three daughters, we have a son. Buying him toys and clothes has been such a different experience, but I have loved it. And it's been so fun watching how Harry immediately loved balls and trucks (things I haven't bought much before now!). Such a BOY, from day one.
Anyway, buying gifts for 1 year old babies can be harder than it seems, and that's why I wanted to create a killer gift guide for any baby-turning-toddler in your life!
Oh, and don't worry! If you're looking for 1 year old baby girl gifts, we have toys for both genders in this gift guide! Trust me – I've had my fair share of girl toys in this house over the years, too!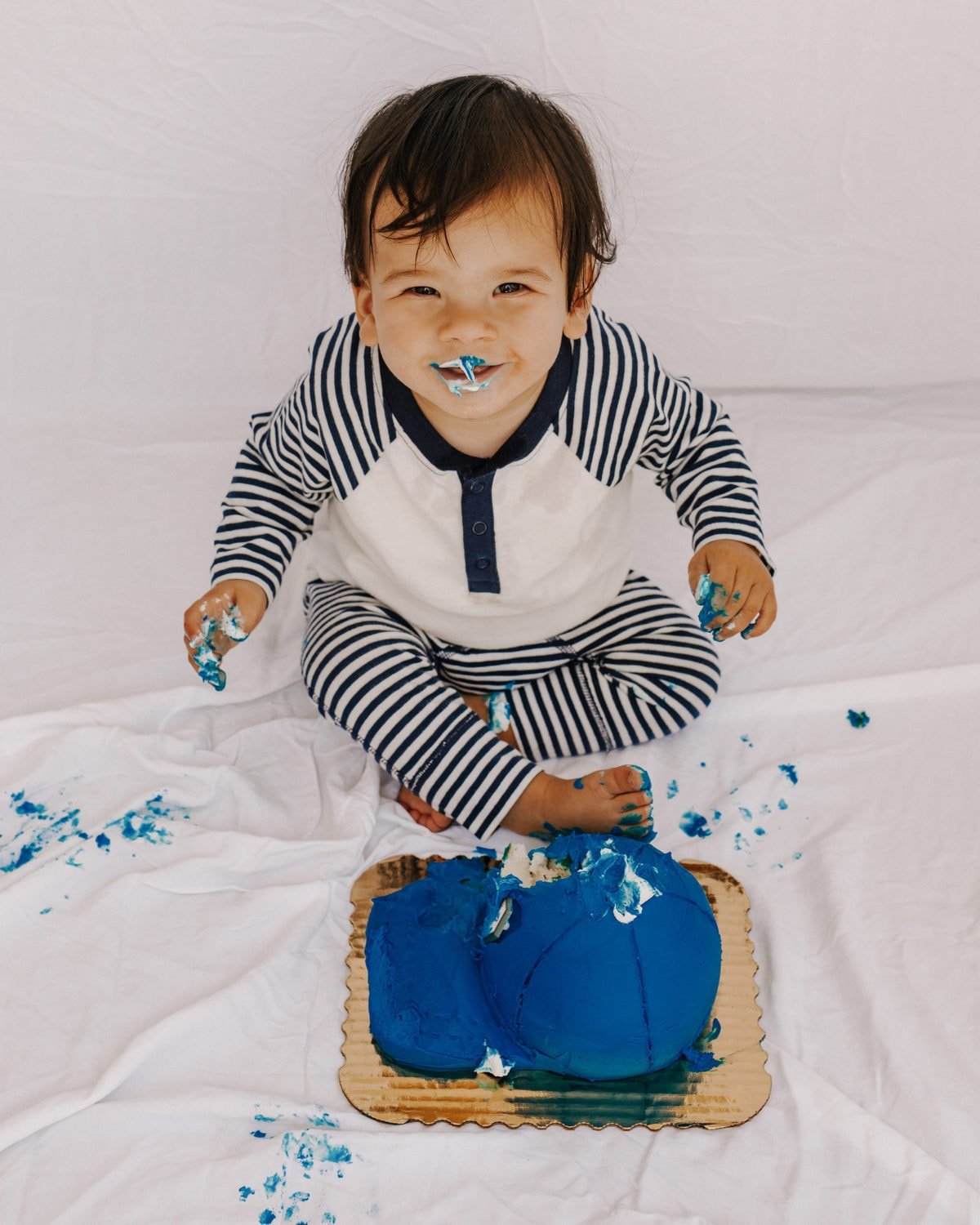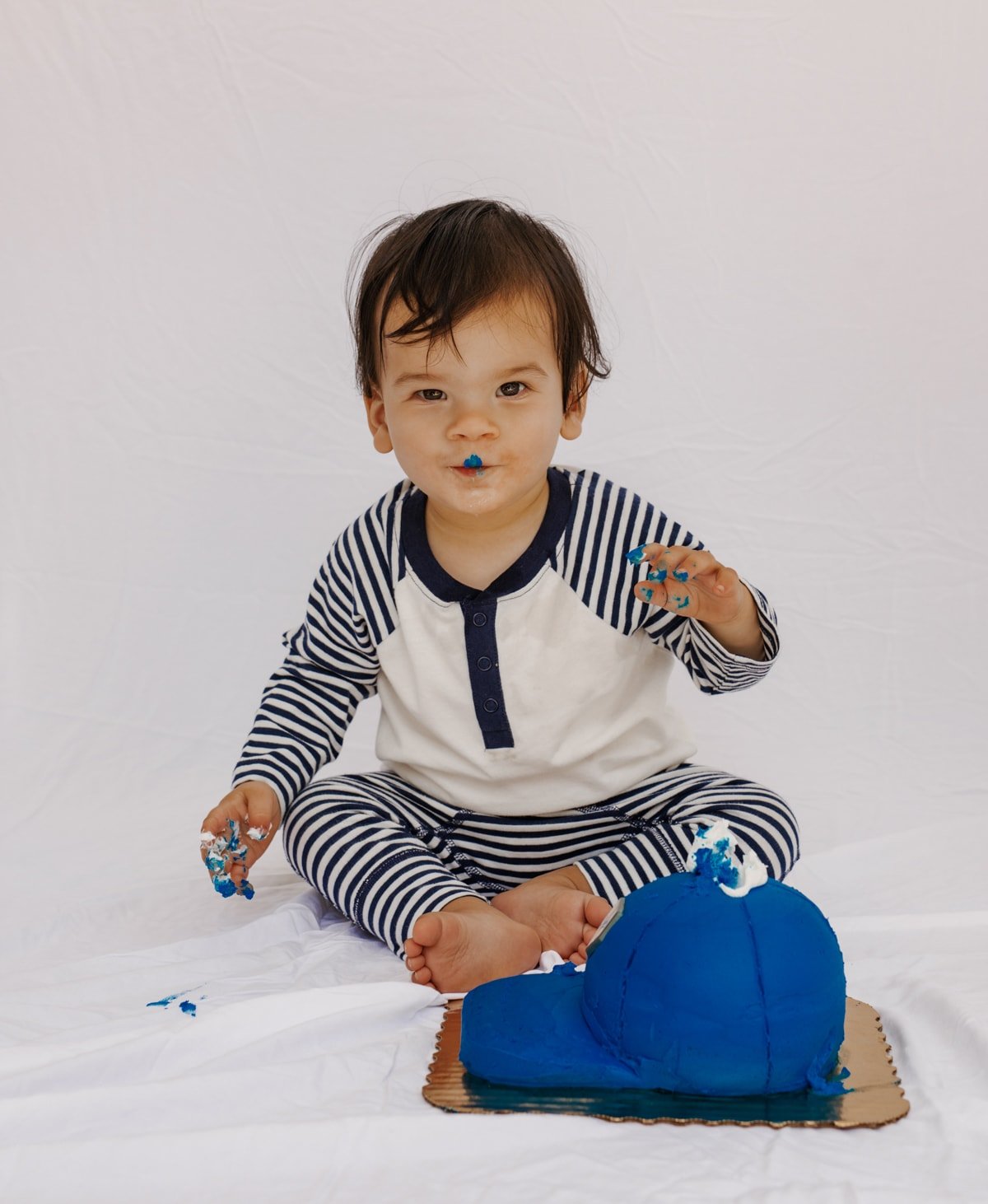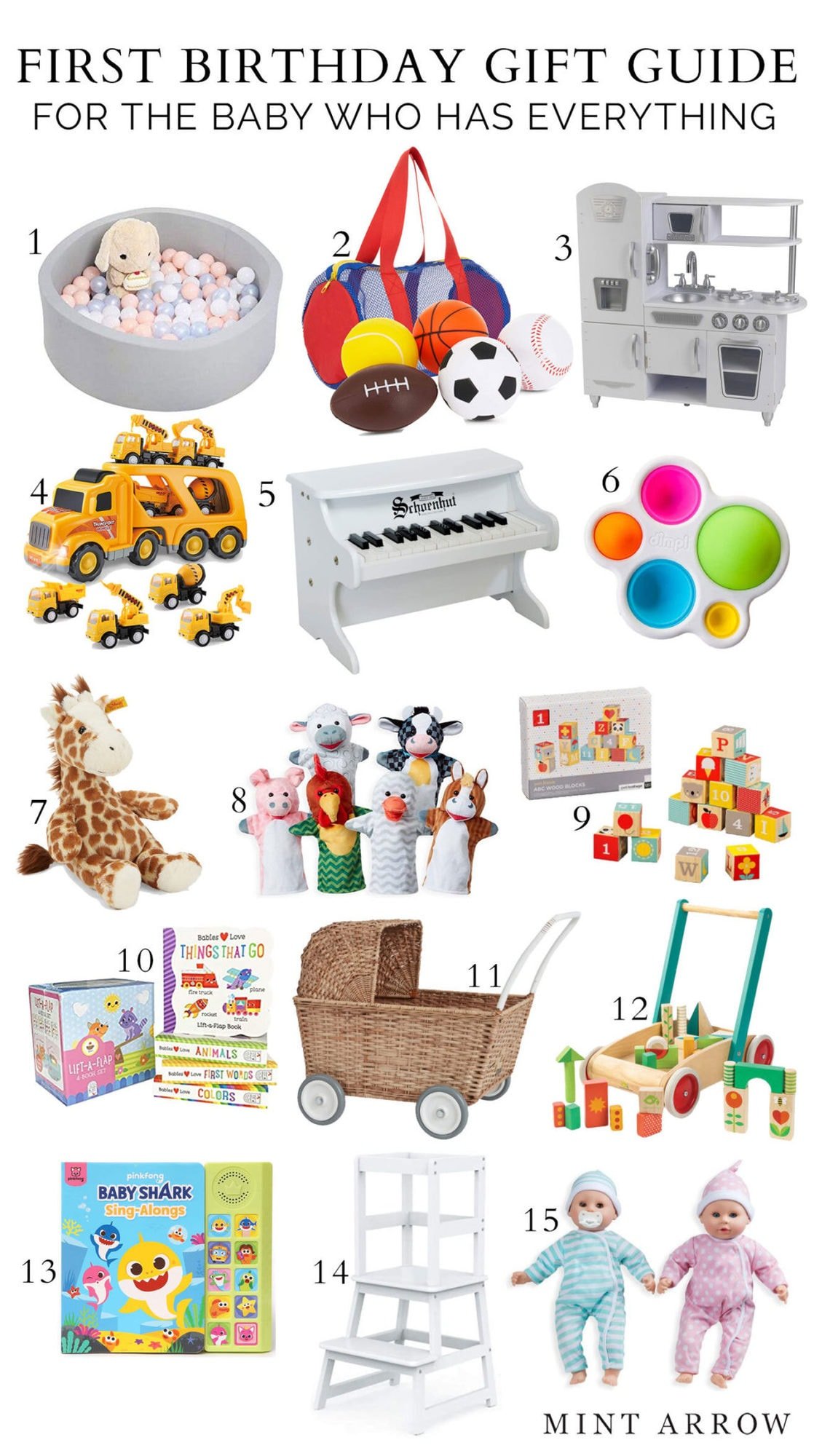 Gifts for 1 year old babies
The thing that I love about this all-inclusive list is that it can be used for birthdays or holidays and anything in between! It's curated for that sweet spot of ages 12-18 months, right when kids start to really love playing with toys and exploring their capabilities. We've always tried to get interactive toys like a piano or a kitchen for our babies' first birthdays (these still get played with constantly!), and this year was no different for our Harry!

1. Memory Foam Ball Pit & Crush-Proof Plastic Balls – This ball pit fits your babe plus 500 balls (!!) and is actually aesthetically pleasing! No obnoxious colors or patterns, this pit fits with your nursery or play room decor and is sure to be a crowd pleaser. Add these super cute-colored balls in your new foam pit and watch your child be entertained for hours. Plus, they are crush-proof!
2. Foam Sports Ball – These 3.5″ sports balls are soft and cushy and the perfect size for little hands! It also comes with a carrying case and (bonus) won't hurt when your kid chucks it at you and their siblings. You have to think about those things when buying gifts for 1 year olds, am I right?!
3. KidKraft Vintage Wooden Play Kitchen– This play kitchen is precious and at such a great price, your little will have so much fun cooking things up! I love that it even includes a faux ice maker and phone, this is for sure one of those gifts that will get so much use. My girls completely LOVE this kitchen, and now Harry's at the stage where he can really get into too!
4. Construction Truck Toy – Harry is so into trucks right now, and I love that this one comes with a large carrier truck plus four little ones! It makes super realistic sounds and is perfect for a little boy learning all about different trucks.
5. My First Piano – I love how realistic this darling piano is! Your 1 year old Mozart will love playing (banging) on this tiny piano and making music. We bought this in pink for Ani's first birthday, but I love that it comes in a gender neutral red or white, too! It held up for YEARS of play time with all 3 of our girls.
6. Motor Skills Toy – Pop toys are all the rage right now, and this one has 16,500+ AMAZING reviews! Your babe will love to push and pop the brightly colored circles while tuning their motor skills.
7. Plush Stuffed Giraffe – You can never go wrong with a classic stuffy! Giraffes are perfect for any gender and this one is super soft and ready to be carried around everywhere by your little one.
8. 6-Piece Barn Buddies Plush Puppet Toys – These barn buddies puppets are SO stinking cute for story time or bed time songs. I also love that older kids can play imagination with the baby and it's entertaining for them both.
9. ABC Wood Blocks – Updated wooden blocks with cute colors and pictures? Yes, please! Stack, play, learn!
10. 4-Pack Lift a Flap Book Set – What baby doesn't love books? These are perfect for chubby little hands to grasp, and chalk full of their favorite topics: animals, colors, and things that go! Plus, the fact that the flaps CANNOT RIP makes this book set one of the best gifts for 1 year olds you can buy right now.
11. Rattan Basket Toy Stroller – I DIE over this adorable rattan stroller! It transforms from stroller to trolley with a flip of the lid. It's the perfect toy for beginning imaginative play!
12. Baby Block Walker – This is a fun alternative to a traditional walker, but it's still super sturdy and doubles as a toy.
13. Baby Shark Sing-Along Book – Is this book annoying? Yes. Will it entertain for hours? Also, yes.
14. Kitchen Helper Stool – This is such a unique gift for your little one to grow into! Every kid loves to help in the kitchen, and this is a safe and durable and super easy to clean! I've heard from TONS of parents that they absolutely love this
15. 2-Piece Mine To Love Luke & Lucy Doll Set – Dolls are such a sweet way to teach kids nurturing skills! This two-pack is perfect for playing house and sharing with siblings.
Tiny gifting, made easy!
The first birthday might be the most celebrated, and you gotta have the gifts to match the occasion! These gifts for 1 year olds are toys that your baby-now-toddler can continue to play with for the next few years, too. It always feels good knowing that you are giving your little one a toy that isn't going to be forgotten about after a month or so.
I hope this gift guide takes the stress away from shopping so that you can have more time to focus on your sweet baby! You got this gifting in the bag!