In the years that have passed since I started having babies, gifts for nurses have become a thing. I really wanted to do something nice for my nurses and I totally loved the idea of bringing some small tokens of appreciation to all the people who helped us welcome baby Millie into the world! Lucky for me, one of my team members, Heidi, is the perfect resource! We've been friends for SO long and we work together on Mint Arrow, but you may remember from the Meet the Team post that Heidi is also a Labor and Delivery nurse so she knows exactly what gifts nurses really like!
Today I'm sharing some of the BEST gift ideas for nurses to say thanks to the amazing professionals that help bring babies into the world every day.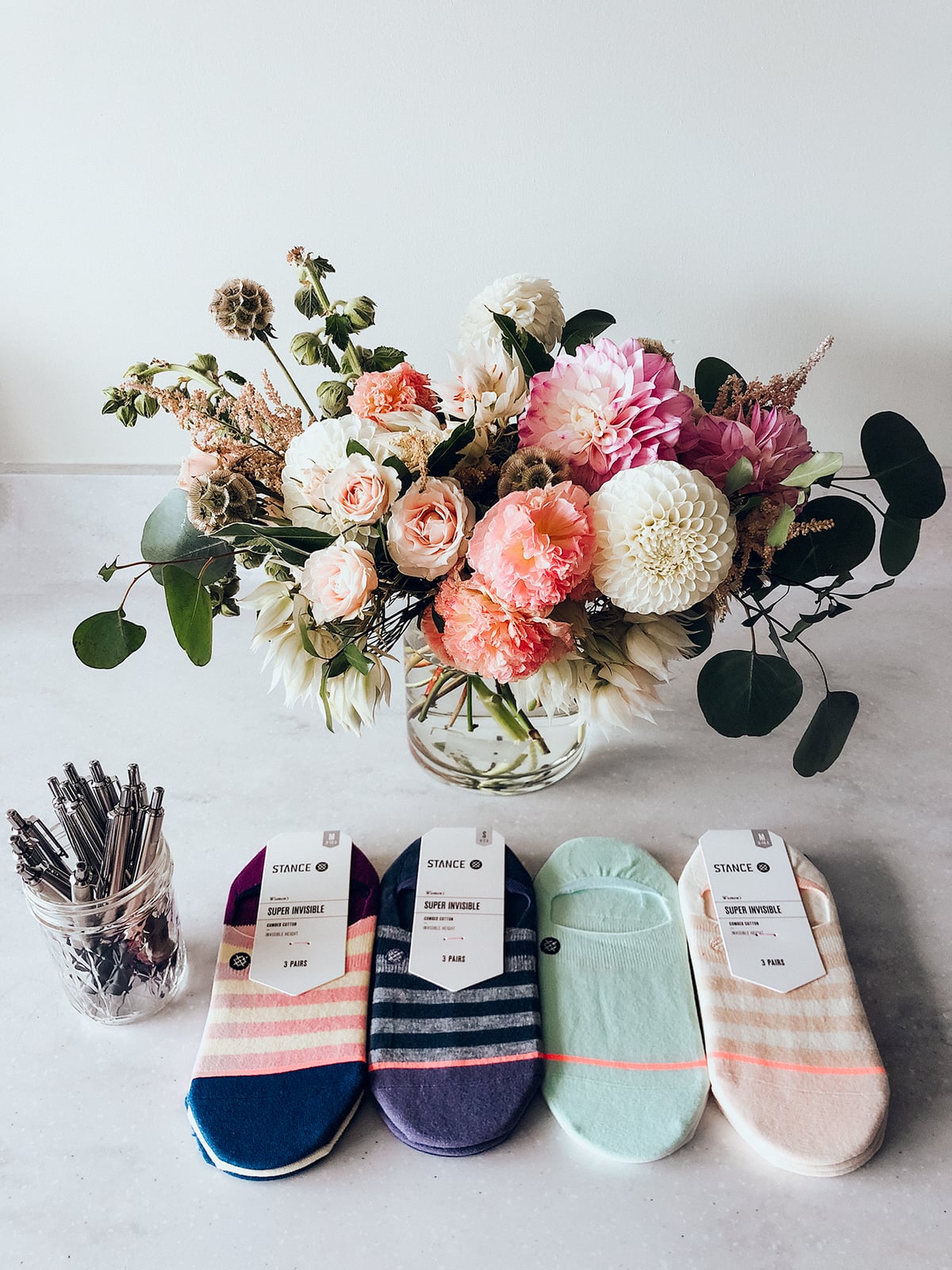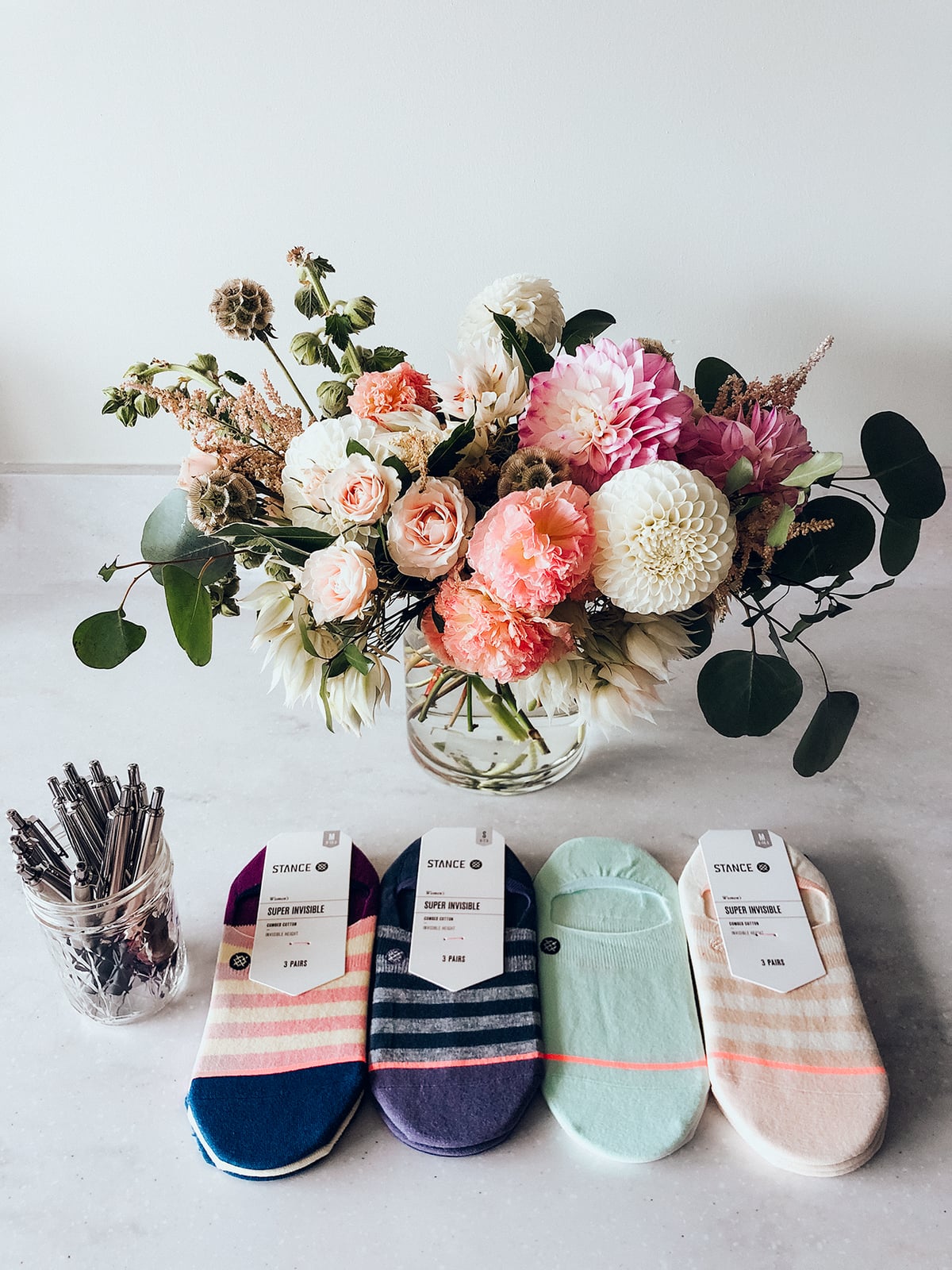 I reached out to Heidi a few weeks before Millie was due and she helped me come up with some ideas for gifts for nurses like the socks and pens above. I also had big plans to do more, like bring yummy, healthy snacks, but since baby sister decided to come FOUR days early, the pens and socks were all I had ready!
It still put a huge smile on the face of every nurse who came through the door during our hospital stay. Since Millie did come early the first few nurses that took care of us didn't get their gifts from me, but I kept a list of their names in my phone and once Neil brought the gifts for nurses from home I coordinated with my nurse at the time to make sure they all got them!
Baby brother (our 4th baby) is set to arrive ANY day now, so I pulled this post out about a week ago and looked at all of Heidi's suggestions so I would know what we should get for the nurses this time around. I hope it helps you guys too if you're looking for the perfect gifts for nurse's week which is coming up – May 6-12 – or if you're about to have a baby and wanting to say THANK YOU to the nurses who helped you get your little bundle here.
I'm going to let Heidi spill the deets on all of her favorite gifts for nurses that she has received or that she thinks every L&D nurse would absolutely love!
Gifts for nurses after delivery
#1: Pens
Seriously, PENS! Nurses love good pens. We hoard them like squirrels. And these are the very BEST pens in the entire world. I've been using them since nursing school and they're my absolute favorite. They're so good, Corrine's doctor even took one!
#2: Socks
Most hospitals require nurses to wear a specific color of scrubs, so socks are one of the few ways we get to express ourselves. So most of us really, really love socks. Like, a lot. Stance socks are totes amazing and super super cute!
#3: Diet Coke
One of my patients once bought me a 24-pack of Diet Coke after I delivered their baby and they still might be my favorite patient! Haha! Lots of nurses I work with share my addiction so this is a great easy and inexpensive gift!
#4: Water bottles
Another easy, budget friendly option is water bottles. Hospital water isn't always the tastiest and when you're walking 10,000+ steps per shift you need to stay hydrated! We nurses also really, really love reusable water bottles that will keep hot drinks hot and cold drinks cold for hours. Because depending on the day you may get a few sips in the morning before you have to abandon your drink for hours! I'm completely obsessed with these S'well travel mugs.
#5: Lotion
Using hand sanitizer a billion times a day and taking gloves on and off (and on and off) really does a number on nurses hands so we will never say no to yummy lotion. Love these Philosophy Hand & Nail Creams. They smell amazing and they are the perfect size to throw into your bag or locker.
#6: Chapstick
Hospital air can also be really dry so we nurses are huge fans of good chapstick. This Brazilian Kiss Lip Butter is one of my tried and true favorites, but I also really love EOS lip balms.
#7: Healthy snacks
Patients love to bring nurses donuts and cookies and Nothing Bundt Cakes and we totally appreciate them and eat waaaaaaaay too many of them, but we really, really love healthy snacks. A basket of nuts, fresh fruit, cheese, beef jerky, pretzels, protein bars, trail mix or popcorn would be universally beloved.
#8: Small gift cards
Small gift cards (like UNDER $10) for Starbucks, McDonald's (for the Diet Coke!), In-N-Out, Chick-Fil-A or Sonic are always popular and appreciated gift for nurses.
#9: A letter to your nurses
A letter to the hospital CEO or hospital administration thanking your nurses (by name if you remember them or keep a list) and talking about the great care you received and your positive experience having a baby with us! This is the best gift of all!!
Pens
Stance socks
Diet Coke
Water Bottles, Reusable Water Bottles
Brazilian Kiss Lip Butter
EOS lip balms
Lotion
Gift Cards
Thank You Cards
We love our nurses!
While it's not necessary to buy gifts for nurses, we hope this gives you some ideas if you're wanting to show appreciation to them without causing you any stress during this special time!