Quick version: Get 35% OFF Geometry towels HERE by using code MINTARROW from now until November 19th!
KITCHEN TOWELS. Not exactly a headline that usually turns heads. BUT. If you haven't tried Geometry Towels, then you're missing out big, huge time. They are AMAZING, to the tune of eco-friendly, absorbent, and stylish! A game-changer in our kitchens. SO much so, that we literally got rid of all our other kitchen towels.
They're not only THE cutest kitchen towels we've ever laid eyes on, they're also unbelievably efficient at absorbing liquids and making dish-drying and hand drying faster.
Now until 11/19 you can get our favorite kitchen towels for 35% off, including their new holiday collection! Normally our discount only gives you 15% off so this is a SUPER great limited time deal. Keep reading for all the details!
Geometry towels discount code!
From now until November 19th, when you use code MINTARROW at checkout you'll get 35% OFF your Geometry towels order! This is a limited time deal and the best patterns + new holiday patterns are definitely going to sell out FAST so get your faves quick.
The best towels
These are by far the best kitchen towels we've used in our entire lives, and they're always coming out with really cute new styles. But they last FOREVER! Corrine's first Geometry towel was gifted to her a few years ago and it still looks and feels brand new.
They're the best gift you can give to anyone who would appreciate this type of quality in their kitchen! Plus, they always have the absolute cutest seasonal styles to choose from.
Geometry house towel designs
One of our favorite things about Geometry towels is their stunning prints, and their new holiday collection is no exception. There are SO many fun festive prints to choose from. With such a wide variety of designs, there's a Geometry towel that's pretty much perfect for every kitchen decor and personal style.
Drying dishes in style
We absolutely love using our Geometry kitchen towels to dry our dishes, wipe up spills, and even dusting. Their special Geoweave fabric dries them so well and much quicker than our other cotton kitchen towels.
Geometry towels are super absorbent and even help remove bacteria from the surface of your dishes.
HOT TIP!!
Remember to never ever use your precious Geometry towels to remove hot things out of the oven – you'll literally ruin them by using them as hot pads. Just a heads up.
Replacing paper towels
In a world where sustainability is more critical than ever, Geometry towels provide an eco-friendly alternative to disposable paper towels. Made from post-consumer recycled materials, these reusable towels can be machine washed with other microfiber products and detergent, making them a sustainable choice for your home.
By incorporating these amazing towels into your daily routine, you can significantly reduce your paper towel usage, and we know that's extremely important to so many people these days!!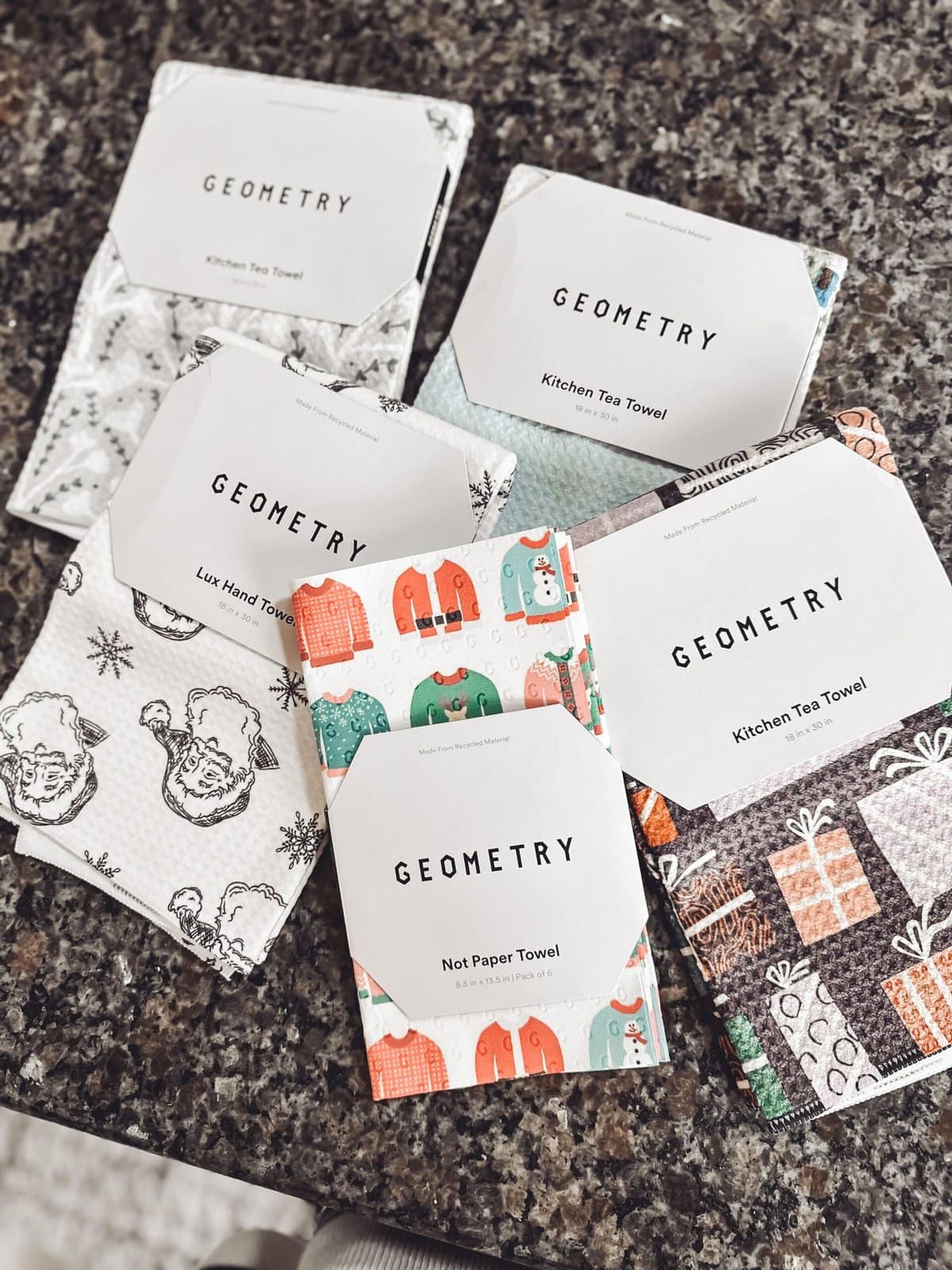 Our fave beach towels
We already knew we were obsessed with Geometry Towels for all things kitchen and even Corrine's cute powder bath usually features a Geometry Towel, but our love for Geometry went to a whole new level when we discovered their BEACH TOWELS recently!!
The one pictured below is actually a beach blanket which is perfect for TWO people to lay out on (as in, two grown adults!) or a bunch of little kids to sit on and eat a sandwich in between wave sessions. They're extremely lightweight so even bringing towels for a family of 7 is easy when you're packing these.
Caring for your Geometry towels
Taking care of your Geometry towels is a simple process. To maintain their quality and absorbency, follow these steps:
Machine wash them with a mild detergent in either warm or hot water.
It's recommended to wash and dry them with other microfiber products only.
Avoid using bleach and fabric softeners.
For drying, either tumble dry on low heat or air dry to ensure the longevity of your towels. By following these care instructions, you can enjoy the amazing benefits of these towels for a long time.
Frequently asked questions
What is special about Geometry towels?
Geometry kitchen towels are THE BEST kitchen towels you'll ever use – they're not just super cute, they're also the MOST absorbent and efficient kitchen towels.
How do you wash Geometry towels?
To wash your Geometry towels, add them to a washing machine with microfiber products and detergent. Then, wash on warm or cold cycle without fabric softeners and other materials, and dry on low heat.
How do you wash Geometry house not paper towels?
Hand washing the Not Paper Towel sheet in cold or warm water with a drop of soap and then hanging it to dry will help you quickly and effectively clean geometry house without paper towels.
This is a great way to reduce your paper towel usage and save money. It also helps to reduce waste and is more environmentally friendly.
What are Geometry towels made of?
Geometry towels are crafted from sustainable GeoweaveTfabric, made from the equivalent of 3.50 post-consumer recycled bottles.
Are Geometry towels more absorbent than cotton towels?
Geometry towels are definitely more absorbent, dry faster, and are more eco-friendly compared to cotton towels.
Don't pay full price!!
If you love Geometry towels as much as we do, or you are wanting to try them out for the first time, this is the perfect opportunity to stock up. Make sure to use code MINTARROW at checkout for 35% off your order until November 19th. This is a limited time deal so make sure you get your fave patterns before they sell out!