If you've been around for a while, you know my passion for doTERRA essential oils. I've used them since my very first pregnancy with Anabelle in 2012, and ever since! We spent years educating ourselves, fully immersed in building a doTERRA team, learning how to use the oils and teaching others. And now, even though we're not actively growing our doTERRA business anymore, we still use and LOVE the oils.
So today's post is for anyone who has oils sitting on their shelves collecting dust because they don't know where to start. It's for the mom who wants to use oils when her babies get sick but she doesn't know which ones to start with. It's for the college student who could use a little zen in her life when she's stressed out with finals, the dad who needs some digestive support because he's super sensitive to dairy but still likes enjoying a milkshake, or the grandma who gets terrible headaches and wants something that will ease her pain quicker than just the OTC meds in her cabinet.
SO, just like the recent baby registry post, I finally decided to compile the ULTIMATE guide with ALL my tips on how to use doTERRA essential oils! No more searching and asking, here's an answer to all of your essential oil questions.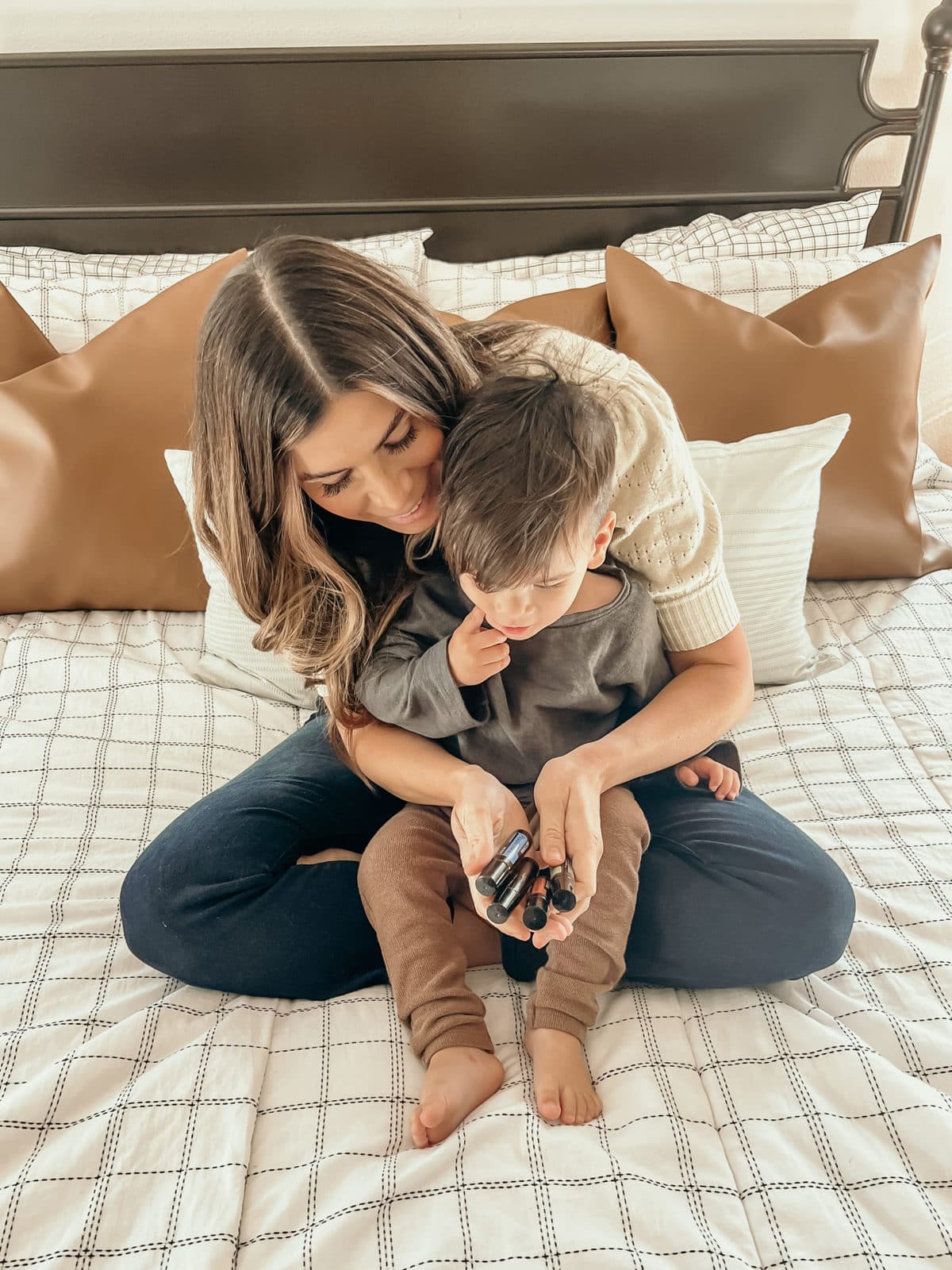 But wait – are you guys still doing doTERRA?
Like I mentioned before, I started using doTERRA essential oils in 2012 after I got pregnant with my first baby. But I didn't decide to build a doTERRA business team until 2014. When Neil exited the medical device sales industry after 10 years, he ran our doTERRA business while I focused on Mint Arrow. We worked side-by-side, him managing his business and me managing mine.
As we got pretty immersed in the essential oil world, ranking high in annual contests for top sellers and converters, we also were extremely blessed to learned from one of the greatest thought leaders of all time in essential oils, Boyd Truman. Seriously, he taught us everything we know about oils: how to use them, when to use them, which ones to use, etc. Now we have this huge oil collection in our kitchen that we still use and rely on DAILY.
After a few years of building our doTERRA team, our life came to a fork in the road where we had to choose to either go all in on doTERRA or all in on Mint Arrow, and we felt like we needed to go all in on Mint Arrow.
I still get late night calls and texts about which oils to use for a headache, an infection, a tummy ache, a fever, a sunburn, a flu, and I'm always up to helping my friends. I figured it's time to put it ALL into one blog post and help whoever stumbles upon this with their late-night googling or the next time someone DMs me needing this info.
Which oils should I start out with?
Sandy Truman was one of the founders of doTERRA and she created this essential oil kit, formerly known as the "original doctor mom kit" with the oils that are MOST used! It comes with 10 essential oils including Lavender, Lemon, Peppermint, Tea Tree, Oregano, Frankincense, Deep Blue, Breathe, DigestZen, and On Guard. Everyone should start out with these oils!
What doTERRA oils should I use when my kids are sick?
These are the 4 oils I SWEAR BY anytime one of my kids starts to sniffle, cough, or show any sign of sickness.
I immediately use 1) Frankincense, 2) Tea Tree, 3) AromaTouch, and 4) Peppermint oils (IN THAT ORDER).
If you don't have AromaTouch, On Guard works great, too! To remember this routine, I think F-TAP: Frankincense, Tea Tree, AromaTouch, Peppermint. Roll them onto your kid's back, spine, and bottom of the feet twice a day and seriously, this works miracles!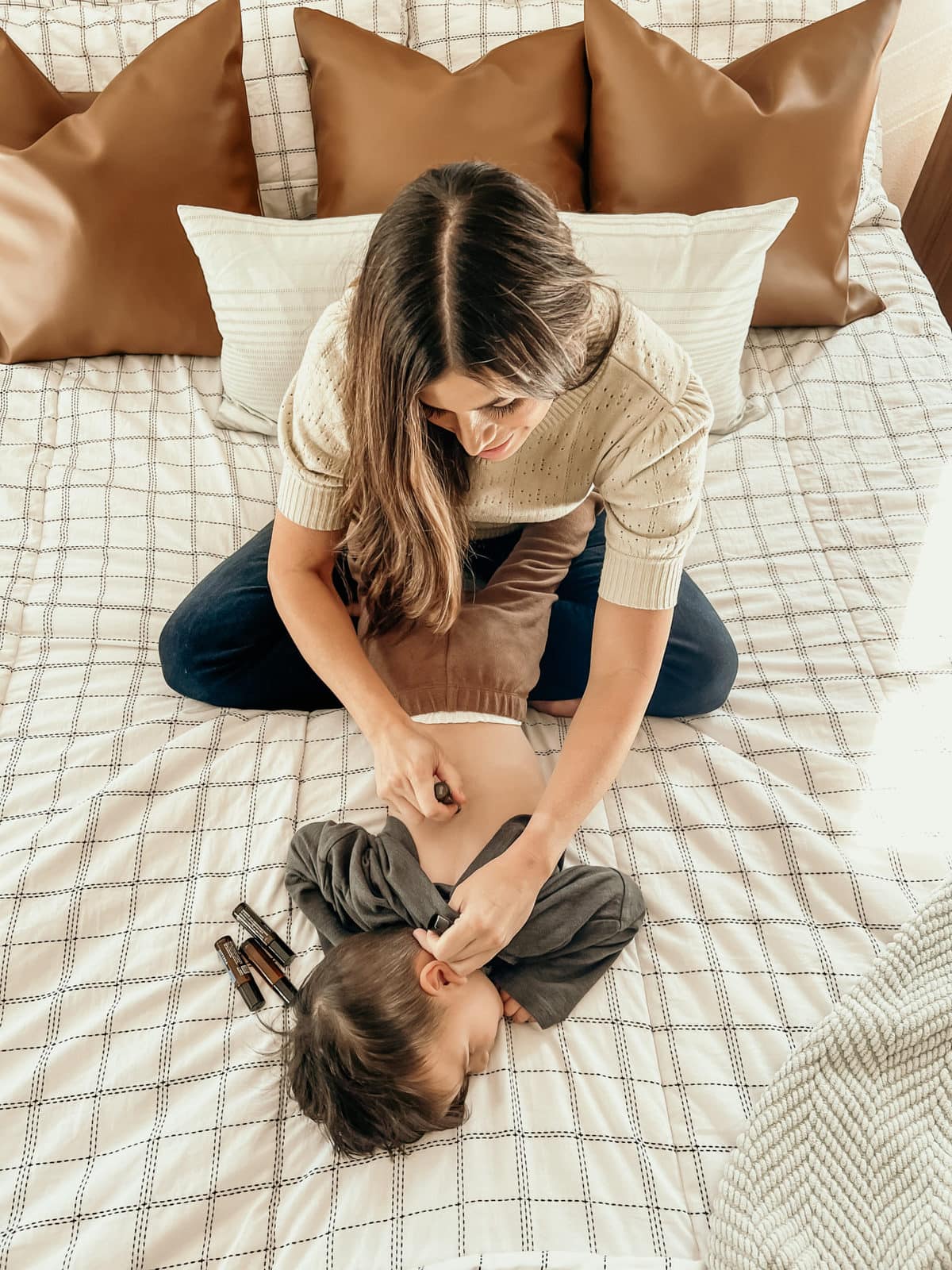 Can I use these oils on my baby?
YES – I even apply the oils every time I change their diaper. The BEST thing about oils is you can't overdose on them so apply them as often as needed!
One thing to be aware of is not getting essential oils all over your hands when putting it on babies. Your babies might get in on their hands, touch their eyes, etc. So I HIGHLY recommend getting the "Touch" Oils that are long, skinny tubes of oils with a roller ball on top. They easily roll on your baby's back and feet without getting it on your hands! Game changer!
I even love the Touch Oils for myself and my girls. AND they're more diluted and not as strong as the straight oils (which are still fine to use on your kids).
P.S. The AromaTouch oil doesn't come in a Touch Oil so I just buy some glass rollers off of Amazon and make my own! You can make any diluted oil by using a one drop to one drop rule. Use one drop of a carrier oil (fractionated coconut oil or olive oil) and one drop of an essential oil – so I put 20 drops of fractionated coconut oil with 20 drops of AromaTouch to make the perfect roller ball oil for my kids!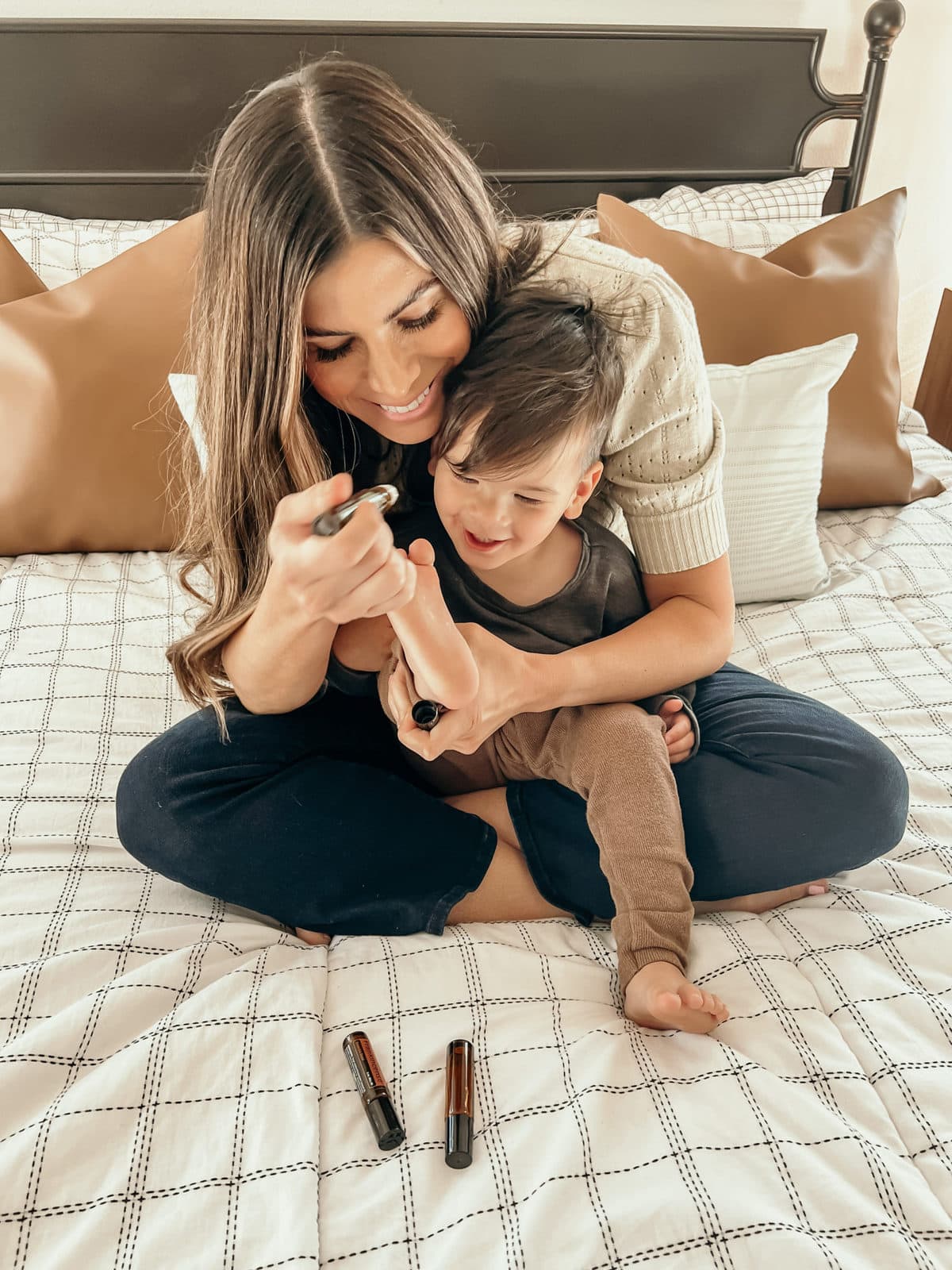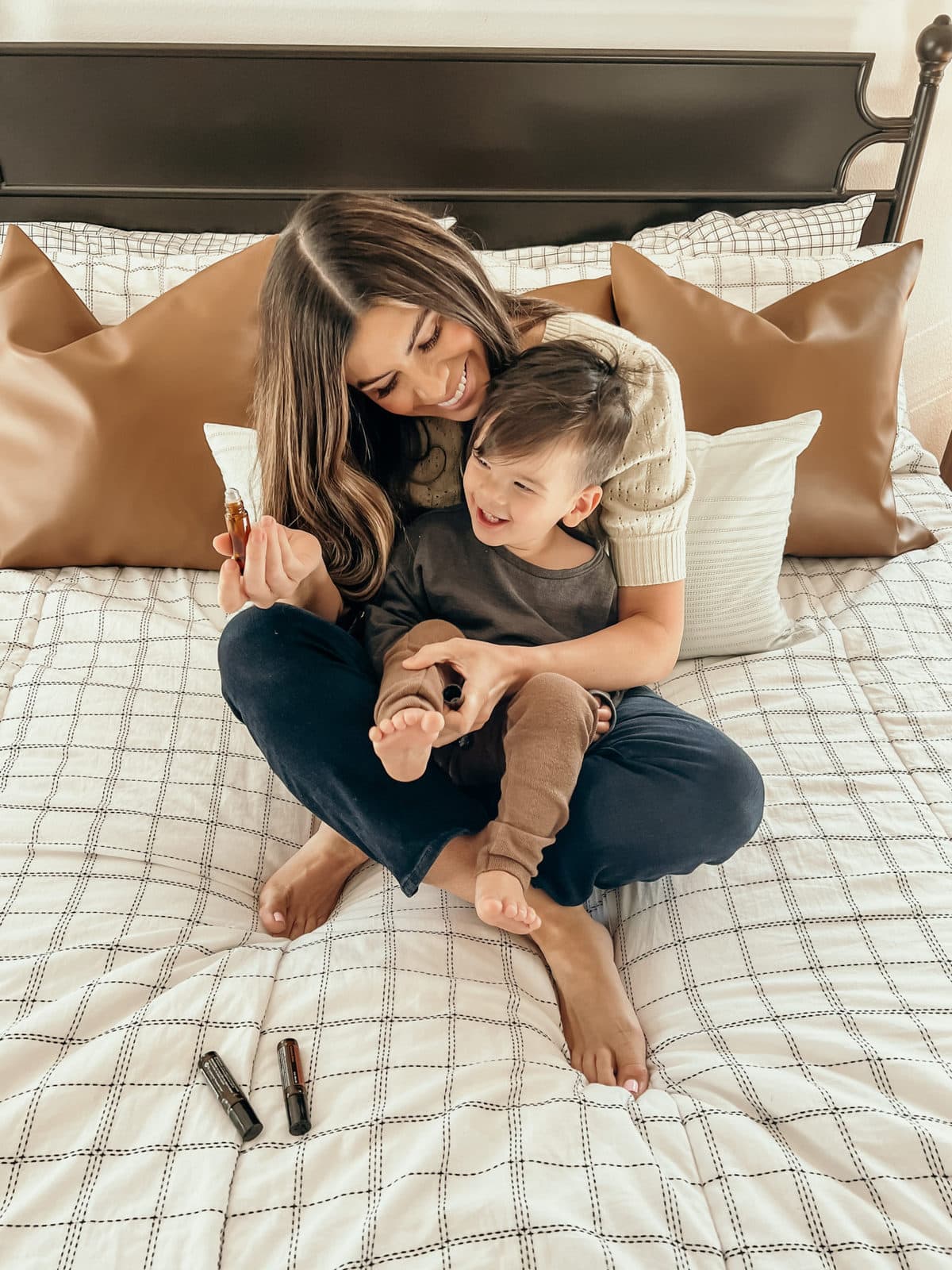 What oils do I use for head tension?
Peppermint is always the best for head tension! Apply it every hour if needed and watch your headache go away.
For the EXTREME head tension episodes I often get where I need to lay down in a dark room because I start to see spots, feel nauseated, and just feel horrible, the PastTense oil is a LIFESAVER. If I apply it quick enough when I start feeling those symptoms, it'll literally knock out my headache and I won't feel that full-blown head tension.
I honestly CANNOT live without PastTense. I travel with it and won't go anywhere without it. Because I SWEAR if I ever get one of those horrific head tension episodes, it makes it go away so quickly!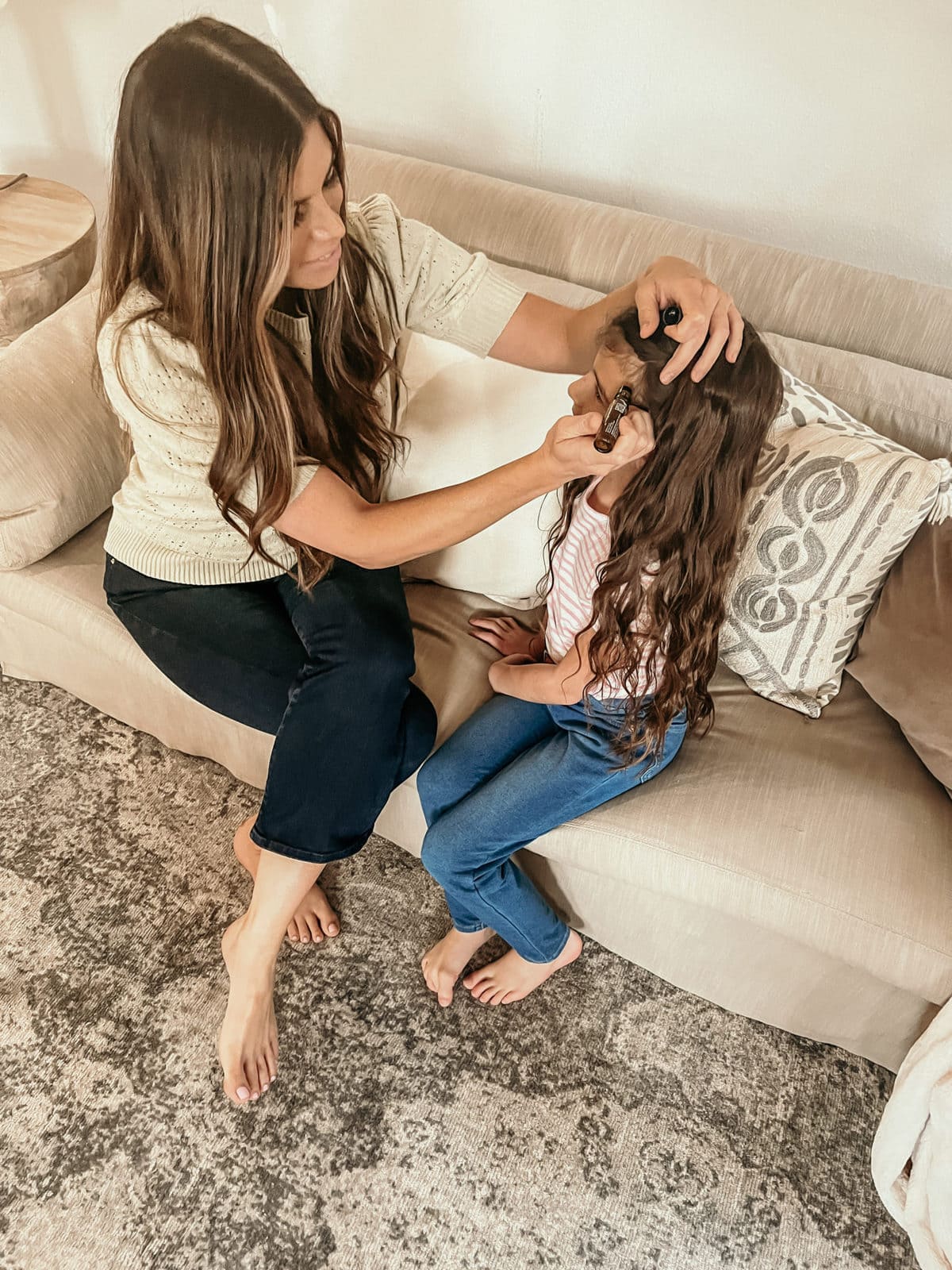 Which doTERRA oil is best for anxiety?
My absolute #1 oil to help my mental and emotional health is Balance. Anytime I'm feeling anxious, I smell it and IMMEDIATELY feel calm. It works super super well for me and was so helpful when I had postpartum anxiety. I love love LOVE this oil!
Which doTERRA oils and supplements help with digestion?
Terrazyme! LISTEN. This. is. a. game! changer! My mom and all the many friends who have had tummy issues and sensitivity to certain foods have absolutely fallen in love with Terrazyme. It has changed their lives!
I had one cute sister missionary over for dinner who was lactose intolerant, and she told me sometimes she'd just have to eat the food she's given even if it has dairy. It was super painful and totally disruptive when she'd eat lactose.
I gave her a bottle of Terrazyme to take home and take before eating foods that might have dairy. And let me tell you, she came back a week later with tears in her eyes saying that the Terrazyme changed her life! She had a milkshake for the first time in YEARS and it didn't upset her stomach at all.
I take it, my brother took it on his mission, and my mom always brings it traveling – especially places where she's likely to get sick like Guatemala and Chile. It's the perfect essential oil for any digestive issues!
The doTERRA DigestZen oil also helps with tummy pain. Plus, they come in pills which is so amazing! I don't love the smell or taste of the DigestZen oil, so the pills are perfect because there's no taste. It's more reactive – so it is great to use when your stomach already hurts. But honestly it's not my favorite smell, so I often use Peppermint oil on my stomach instead! Neil prefers to use DigestZen topically when he has a stomach ache because the smell doesn't bother him at all.
PB Assist is another wonderful doTERRA product that my kids LOVE. (Currently out of stock but hopefully it'll be back soon!) It's probiotic powder that my kids will actually take because it tastes just like Pixy Stix. So they love it and honestly will beg to take it!
And Neil SWEARS by doTERRA's supplements! They sell a Lifelong Vitality Pack (LLV) that's full of metabolic elements, essential nutrients, and powerful antioxidants. Makes taking supplements each morning super easy – especially with individual packets you can throw in your car or gym bag.
Which oils can clear out congestion and work best during cold and flu season?
I swear by On Guard! It's definitely a go-to for protecting against winter illnesses. I always travel with the On Guard Plus pills because they're so easy to pack! Right when I'm starting to get a sniffle and feel sick, I take it immediately and it truly works to prevent me from catching any virus going around.
For extreme sinus tension, I can almost ALWAYS avoid having to get an antibiotic by using this severe sinus tension relief bomb that I make myself. I just add 3-4 drops of Melissa, OnGuard, and black pepper in a veggie cap to take once a day until my sinus tension goes away. It gives me pretty immediate relief from that feeling like my head is going to explode if I put my head down at all, AND it's saved me multiple times from having to go into urgent care over the weekend or late at night.
Another huge tip: adding 1-2 drops of lemon oil to ice water while you're sick really helps to clear out mucus and any tension in the chest!
But do essential oils replace medication?
Not for most people, and not for us! Many people who I respect in the medical community, from the people who helped deliver my babies to Phil's My Pharmacist, say "why not?" about using essential oils.
doTERRA teaches the same thing: use essential oils and modern medicine! We still take medication in our home, but we love our essential oils, too, because they're extremely beneficial.
Can I use doTERRA products for cleaning?
Let's talk counter cleaner! I've tried so many counter top sprays, but something about doTERRA oils make for the very best counter cleaner. Once you spray it on your counters and let it sit for a minute, all of the hard and crusty spots will lift immediately.
doTERRA sells a concentrated cleaner that you can buy, but it has cilantro in it and I personally don't love the smell of cilantro in my counter top sprays. So I honestly just make my own and I love it! I mix about 15 drops each of On Guard, Wild Orange, and Tea Tree and put it in a glass spray bottle – make sure to use glass because the citrus oils can break down plastic over time! Add water to fill to the top, and swirl it around before each use. It works wonders, and smells so good!
And I LOVE the doTERRA foaming soap! It works so well and is an amazing cleaner for my makeup sponges – antifungal and antibacterial. It makes my sponges extra squeaky clean!
I also use lemon oil to take off those sticky stickers that are left on frames and other items. The oil pulls it right off!
What oils are best to diffuse?
Fall/winter: my favorite oils to diffuse together are On Guard, Cassia, Clove, and Wild Orange.
Year round: I also LOVE just using On Guard with Citrus Bliss which smells so so yummy but has On Guard to help block winter illnesses.
Spring/summer: I love to mix Grapefruit, Siberian Fir, and Citrus Bliss. Do 3-5 drops in a standard diffuser and your home will be smelling like Anthropologie SO quick! Seriously, everyone who smells this in my house falls in love with it – so springy and fresh!
Oils to have for the little things!
Some fun luxurious things I love are adding lavender to a bath or putting eucalyptus in a hot shower. Eucalyptus, and especially doTERRA's Breathe, help immensely with breathing support!
Vetiver helps so much with sleep – and of course lavender, too. Apply Deep Blue rub onto sore muscles to help alleviate pain. In fact, it helps so much that they even sell Deep Blue in liters now because so many pro athletes use it!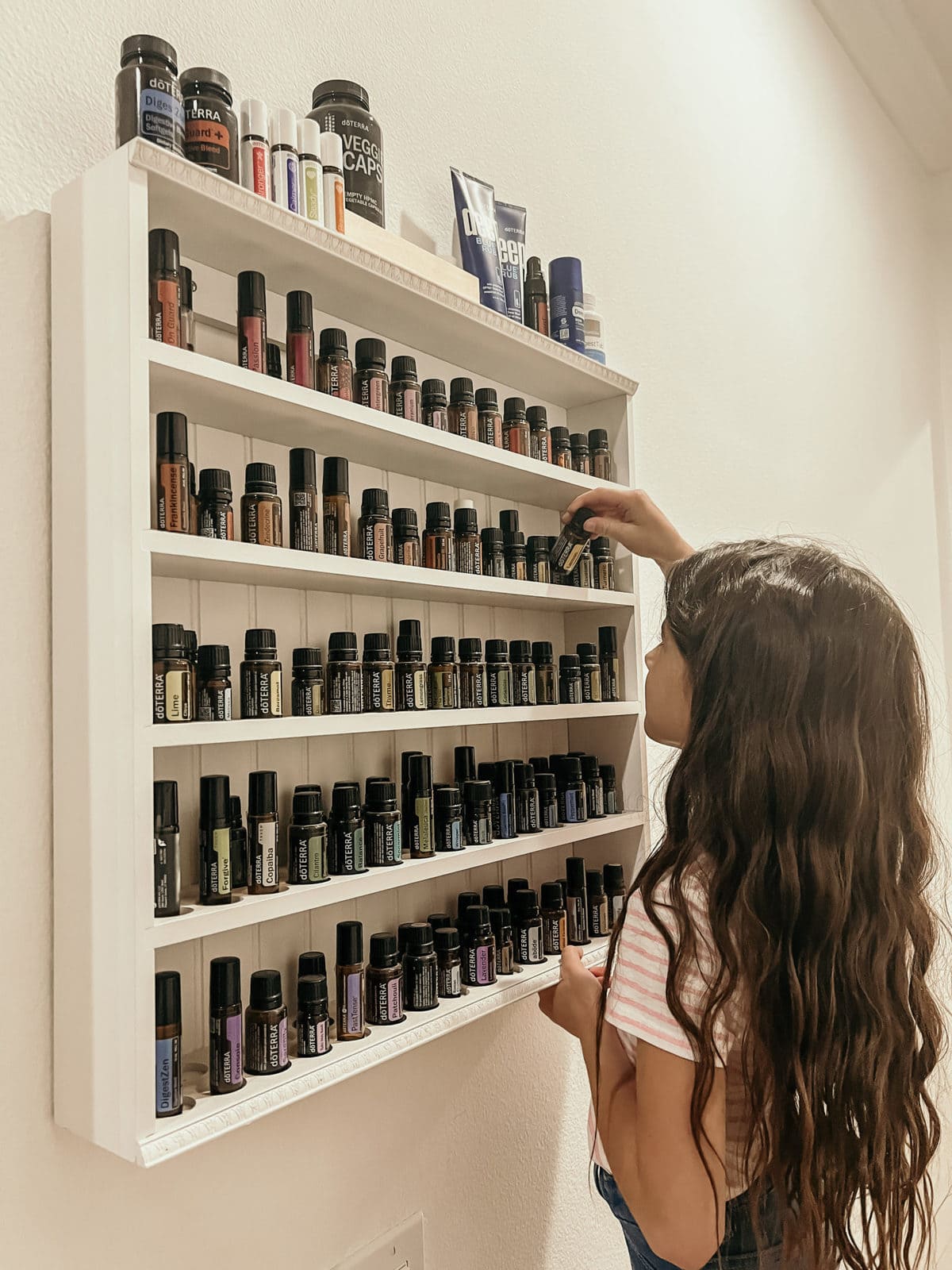 What do I do if oil gets in my eye?
Whatever you do, DO NOT use water to try to get oil out of your eye. Use OIL to flush out the OIL – whether it's fractionated coconut oil, olive oil, etc.
FAQs:
Q: What is PV?
A: PV is product value – all of the oils are full PV, but some of the other products like diffusers are not full PV.
Q: Am I under any obligation to re-order or sign anyone up?
A: Nope! No obligation whatsoever to re-order or sign anyone up. There is a business opportunity to join doTERRA – if you ever become interested, we can put you in touch with the right people who will help you grow your organization. But again, there's NO obligation. We used our oils for almost 3 years before ever signing anyone up or engaging in the business side.
Q: What does it cost to keep my wholesale account open?
A: You'll be charged $25 annually to keep your doTERRA wholesale account open, but you get a free peppermint essential oil (retail $27.33) with your renewal.
Q: Is it worth it in the long run to be involved in doTERRA's direct sales company?
A: A lot of direct sales companies will pay you up front to get people hooked, but as time goes on it kind of dwindles out. doTERRA is set up the opposite way – if you're in it for the long run and work hard in the beginning, it will continue to pay off for a really long time. We still receive a monthly check even though we haven't been actively growing our business for more than 4 years. doTERRA continues to be a big financial blessing for our family. But even if we didn't make a penny, I would still order from them every month because we believe in their products and use them SO much.
The deets on doTERRA
I hope this guide answers all your questions about doTERRA and essential oils in general! I'm beyond passionate about doTERRA and want nothing more than to share my tips and tricks on how to use essential oils to treat your kids, your husband, and especially treat yourself.
If you have any questions at all – about the deal or the oils or anything – please don't hesitate to email neil@mintarrow.com and he'll get right back to you. And if there's anything I missed that you want me to talk more about, let me know in the comments and I'll add to this post.