I love a good summer tan, but I really love a good summer tan year-round! So self tanner is basically my BFF.
Some of the most frequently asked questions I get are about self tanner. Which is the BEST self tanner? Which one's the best for your FACE? What's the best way to apply self tanner? Do you have a spray-tan gun? Which one? How do I prep for a spray tan? Which one lasts longest? So today I'm tackling all those questions in one post so you can slay that beachy vacation glow all year long and protect your skin from sun damage! WINNING! Plus I have an insanely good deal on one of the best rated self tanners out there!
Deal Details
I have an AMAZING deal for you on one of the highest rated self tanners on the market! Right now you can get this bareMinerals Faux Tan Body sunless tanner duo for only $29! (reg $48 for one!) That makes each bottle just $14.50! Make sure to use code SURPRISE if it's your first QVC purchase or code HELLO10 if you're a returning customer to get this insane deal!
Step 1: Exfoliate your body
Exfoliate, exfoliate, EXFOLIATE!! Seriously. Don't skip this step. At least 24 hours in advance (if I can) I soak in the bath for at least 20 minutes. Longer if I have a really good book or podcast I'm into!! Then I use either these charcoal exfoliating gloves that I totally love, or an exfoliating mitt. Either will work. Just go to town and exfoliate everything from the neck down super duper well!!
There's a lot of sugar scrubs and salt scrubs out there that do a fantastic job of exfoliation, BUT they also leave an oily residue on your skin. This is not the best base for applying a tan, because the oils act as a barrier and the tan has trouble sticking! If you know you're showering in between your exfoliation session and tan application and washing with an oil-free soap then you're good. But if not, I would avoid these scrubs since they're usually VERY oil based and your spray tan or self tanner will slide right off your skin instead of sticking!
So, bathe for 20+ min + charcoal gloves or exfoliating mitt + bar soap without any oil in it to wash and exfoliate and then rinse it all off. This is going to give you your very best body base for a spray or self tan.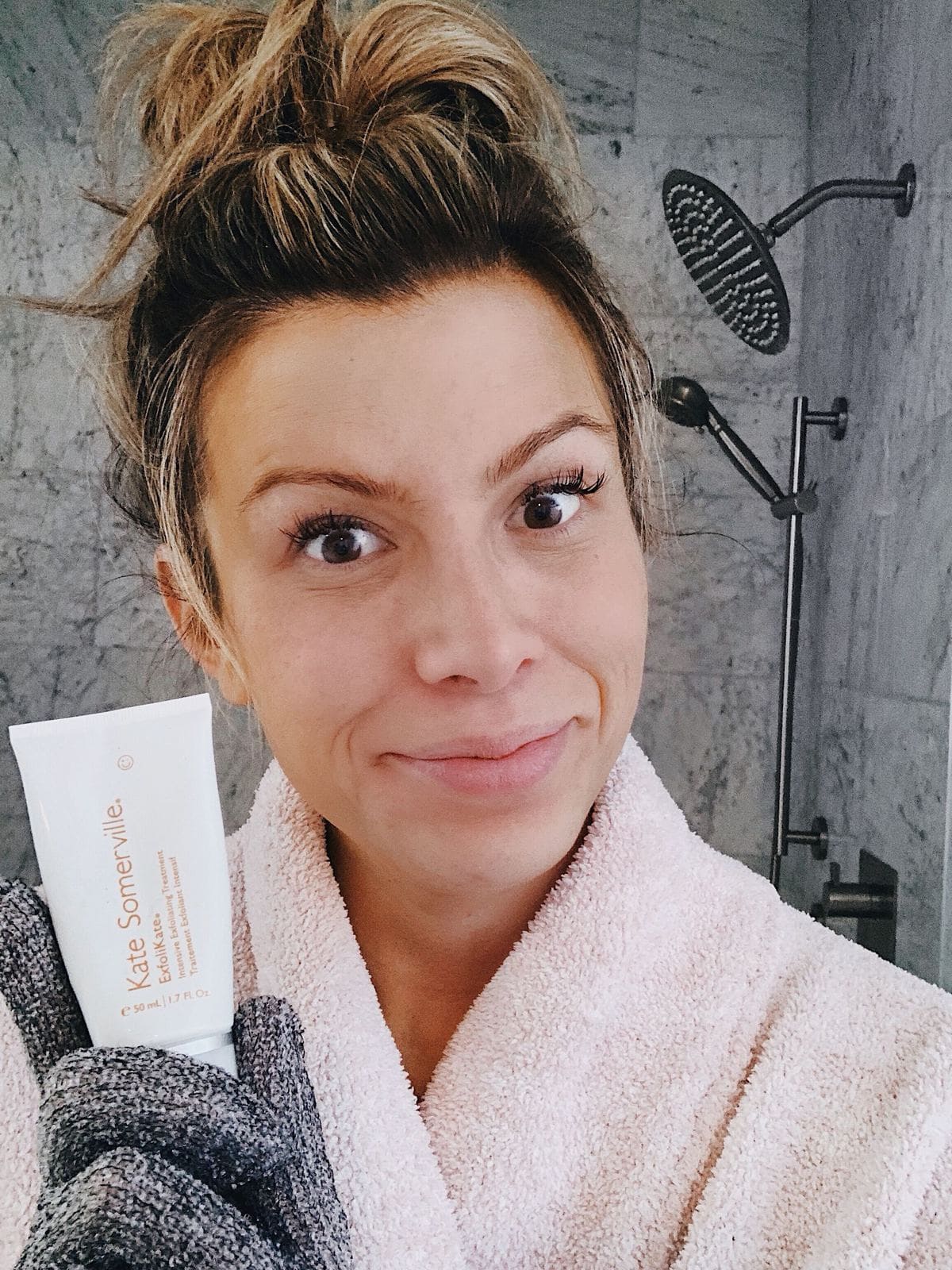 Step 2: Exfoliate your face
Charcoal gloves would be like way harsh to use on your face. Ouch! I like to first exfoliate with ExfoliKate scrub and then wash with this Tatcha Deep Cleanse Exfoliating Cleanser which is oil-free and amazing for making sure my face is squeaky clean before I put on any self tanner or spray tan.
Step 3: Apply self tanner
Don't forget
It's tanning time! But first…don't forget to get some LOTION and put it on your elbows, knees, knuckles, ankles, heels, the backs of your knees -anywhere you are prone to dry skin– so that your tan doesn't end up double (or triple) strength in these spots where dry skin will soak up self tanner more than your normal skin! Yikes!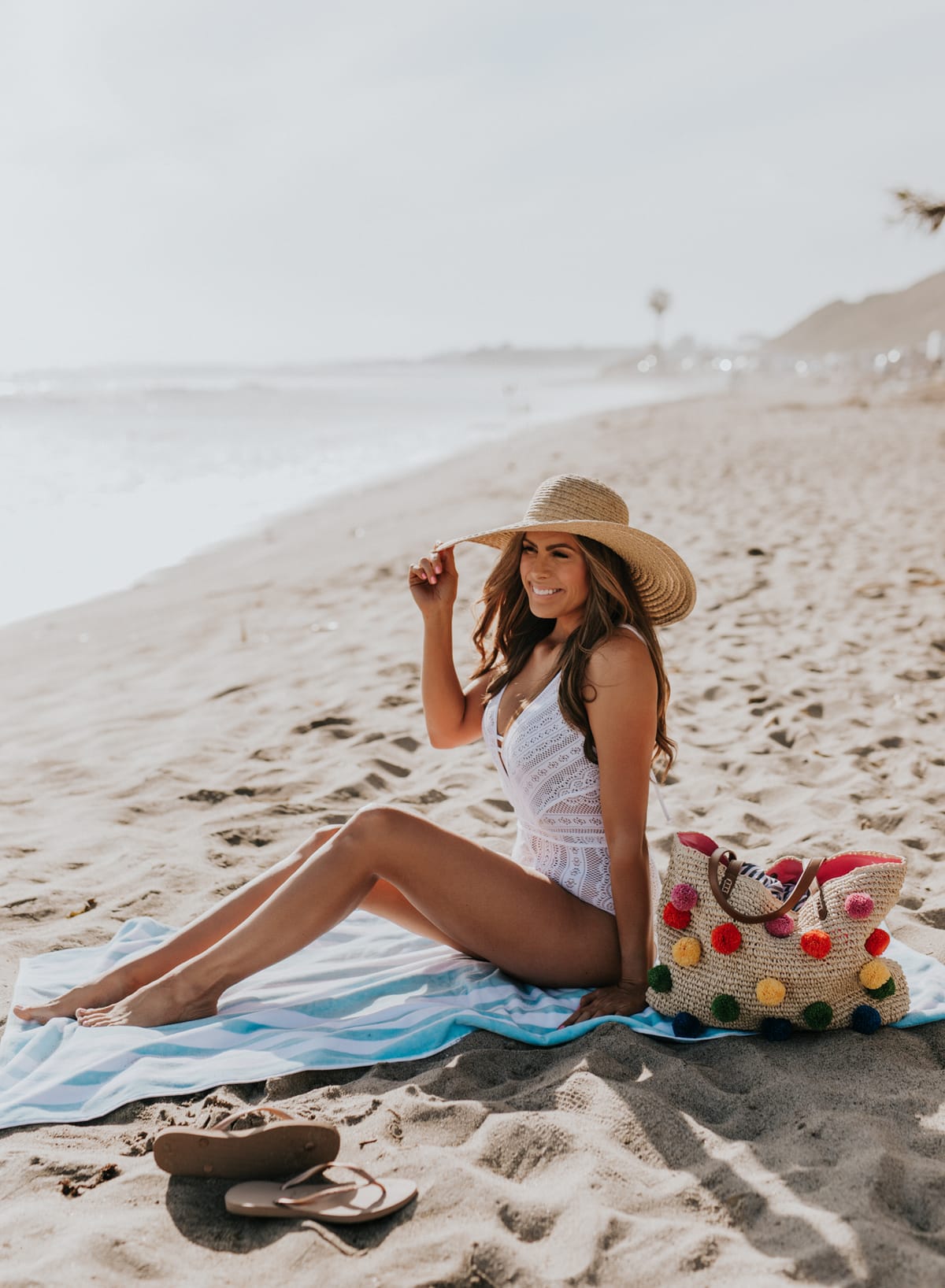 Spray tan gun
We own a professional spray tanning gun at our house, but I found this spray tan gun on Amazon and it looks LITERALLY identical to the one I paid $500 for and it has over 30 5-star reviews! Pretty sure they're the exact same spray-tan gun.
It's also the exact same spray tan gun that my good friend who does professional spray tans uses, and I bought mine from a girl who also does spray tans for celebrities as a living a few years ago. Safe to say this one is the best one!!
Favorite self-tanners
I've tried like EVERY self tanner out there. Okay maybe not every, but dozens. Truly. And after tons and TONS of testing, trying, seeing how long each lasts, how my skin reacts, whether they transfer to sheets, which are easiest to apply, which have cleanest ingredients, I have my master list right here for you of THE BEST self tanners, according to your needs. Ready?
Foam self-tanner
Foam self-tanners are good for beginners, easy to apply yourself, and the ones that give you a beautiful color the first time and last a long time.
The best QUICK foam self tanner: This 2-hour express dark self tanner is definitely the best if you want quick. You can buy it here or here! I LOVE that I can use it and get a decent tan in 2 hours if I forgot to self tan the night before something where I want to be tan or if I just wake up and look at myself and realize I'm looking pasty haha. I do love leaving it on overnight though and waking up and showering – I feel like it's even better if I can do that! This foam self-tanner has more of a reddish hue to it that turns out looking like a really natural tan, the kind you would get after a few days in the sun that truly looks like you just went on vacation.
One of the only downsides of this foam tanner is that it's a little on the pricey side, and I go through it pretty fast. If you want to grab one that will last longer that's another strong contender for my favorite, try my second pick:
2nd place quick foam self-tanner: If you're more into green tones, and just want something that looks more olive than, "just went on vacation," you will LOVE this quick foam self-tanner. This is a LOT of people's ride-or-die, holy grail self tanner and I have to say it's a very close second to my #1. I wouldn't be even slightly disappointed if this was the only self tanner I could ever use the rest of my life. Get it here for $44.
Best BANG for your BUCK tanner: I've tried a few variations of this brand and they're ALL SO GOOD! I'm trying a few new formulas they JUST released (reporting back soon!), but for now, this is my favorite because it's easy to apply and really IS long-lasting! Be sure to apply with this mitt! Well worth the $5.97 – promise!
Self-tan water
The best self-tan water: If you've heard of these and wonder if they work, my answer is YES they do and this one is the best I've tried! It goes on completely clear which is cool because it doesn't transfer to white sheets or clothes, but also not cool when you don't realize you missed a spot.
That's why most self-tanners have some sort of bronzer, so you can see exactly what spots you got and where you may have missed. For this reason, this isn't my overall top fave. But if you're looking for a good, totally clear, hydrating self tanner that you can sleep in and wake up with a beautiful tan, this is a really good option!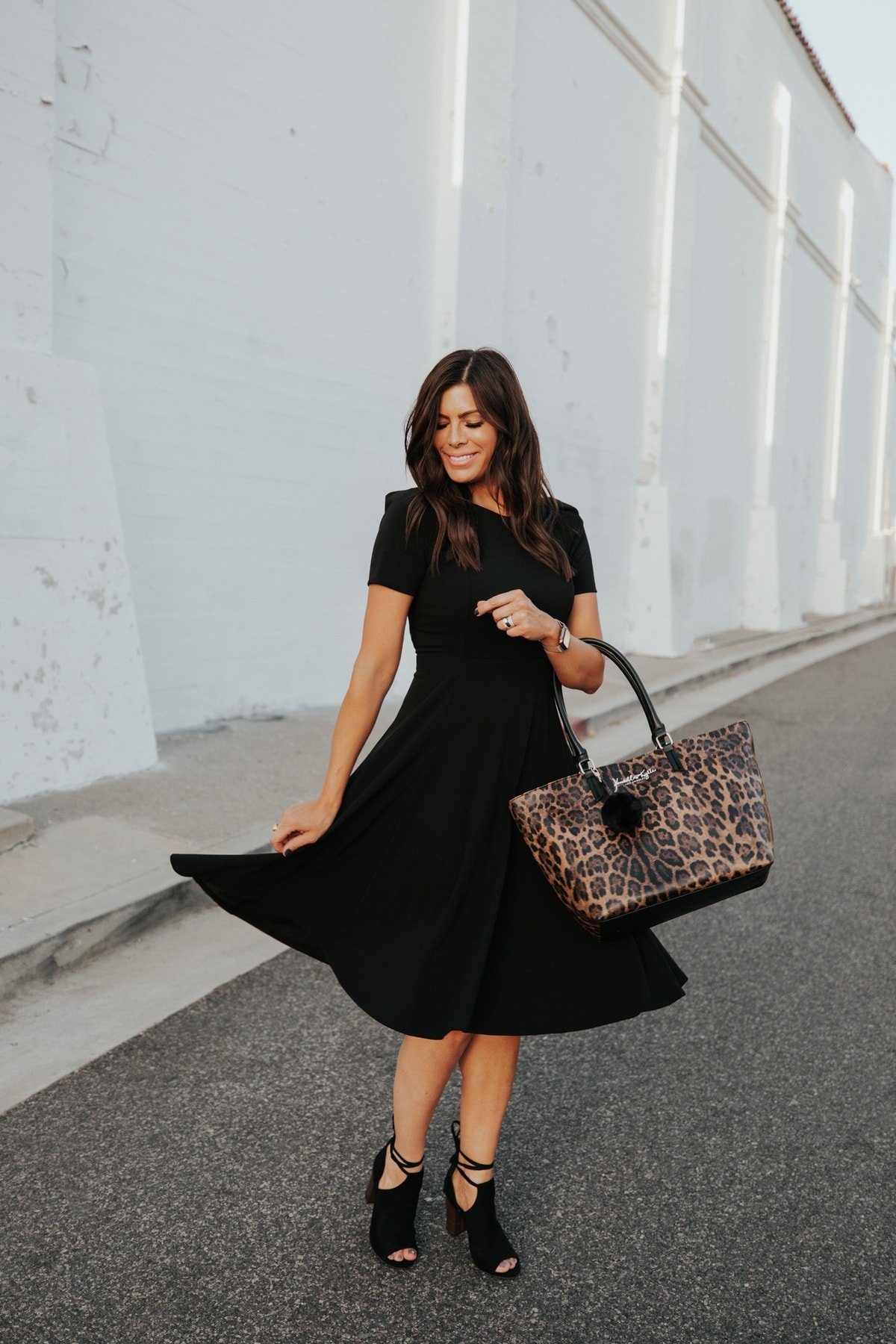 Lotion self tanner
Lotion self tanner is easy to apply, sometimes smelly (but not the one I recommend!), and can sometimes take a couple applications to get the right color.
The best organic lotion self-tanner: If you really want to get the most all-natural self tanner, this organic self-tanner lotion is the best one I've tried! I love it so much that I mentioned it in a past Amazon favorite things roundup. It has THOUSANDS of 5-star reviews and the other very best thing about it: it does NOT transfer to white sheets or white clothing! Best of all: it's only $30 for a huge bottle that'll last through tons of applications. Downside: it takes a couple applications to get the level of tan that I like. Just one application is on the lighter side, for me at least!
Perfectly rated self-tanner: I noticed this product actually last month while scrolling through QVC's site, looking for good beauty deals. This self tanner caught my eye because it had earned TEN perfect 5-star reviews, something nearly impossible with the hard-to-impress QVC reviewer crowd. I feel like QVC customers are seriously some of the very toughest critics, but this product had perfectly impressed 10/10 people so I thought to myself, "I've GOT to try this." I mean, I try ALL the self tanners in the land. And if there's something this good, I need to know about it first-hand.
Sure enough, this self tanner is INSANE, for many reasons. First, it's THE most wearable self-tanner I've ever used. I can put it on, wait about 10 minutes, and then even wear a WHITE shirt and it doesn't rub off, it doesn't smell weird, and it looks good from the second you put it on.
Second of all, it blends and develops beautifully into a "just went on vacation" kind of tan. It's pretty foolproof to apply and very forgiving – something not all self-tanners can say about themselves.
Lastly and maybe most important, it fades like a dream!!!! Most self-tanners I've tried get splotchy at the end – usually just part of the deal when self-tanning – but this stuff fades so evenly that it's the closest thing I've experienced to a real life tan from the sun, WITHOUT the sun damage!
Plus, it's a SERIOUSLY good deal right now! I've seen it retail anywhere from $48-$63, but you can get TWO full size bottles for $29 total. That makes each bottle come out at $14.50 a piece. Just make sure you're stacking the extra discount code on top of it to get that price! (Code SURPRISE if it's your first QVC purchase, code HELLO10 if you're a returning customer!)
Tanning drops
Tanning drops are easy to mix into a moisturizer you love, they're small and easy to store, and they're less intimidating to apply because they mix in to lotions or moisturizers you already have.
The best tanning drops: these hyaluronic acid tanning drops are THE BEST ones I've tried because they DON'T dry out my skin! So many people are obsessed with these but to be honest they aren't my favorite. They end up making the skin near my hairline flakey and dry, and then my face totally looks unevenly tanned. This may be because I have dry skin, though, and another girl on our team says she loves them! So if you don't have dry skin like I do, you might love them!
Tan wipes
Tan wipes are perfect for traveling since there's ZERO chance of leaking all over your bag, super easy for beginners, and they take up almost zero space.
The best self-tan to travel with and easiest to apply: these tan towels are absolutely fool-proof, ZERO mess to travel with, and they're formulated for body and face so you really do get everything you need in one. The only downside is, these are a little pricey. But definitely worth it if you want something that's good for your skin AND not going to spill when you travel!
Spray tans
Spray tans are the most professional looking (read: REAL looking) tan, they last the longest, but can be slightly tricky to figure out. Some people can spray themselves, but I always have Neil do my spray tans. Upside: very quickest of all the self-tanner options. We can knock out a spray tan in literally 2 minutes, where lotions or foams take me 15-20 mins to apply all over.
The best QUICK spray tan solution: this quick-developing spray tan solution has those same pretty slight red tones like you've truly just been on vacation, and it develops super fast! You can apply and shower 2 hours later, but I usually wait 3. It lasts a whole week and fades very evenly.
The best LONG developing spray tan solution: if you want something that you put on and sleep in, or put on and wait for 8ish hours to develop and then shower for a super pretty, long lasting tan, THIS is my favorite slow develop spray-tan solution I've tried! It also has incredible reviews so I'm not the only one in love!
TIP: If you're doing a spray tan at home, it's important to stand on a towel so that when you walk around and change positions you're not getting spray tan all over the bottoms of your feet! I also always put one of these disposable hair nets on to protect my hair during a spray tan so I don't have to wash it right after!
Step 4: Stay dry, then just RINSE
You don't want to shower or get wet for at least 2-3 hours with a quick-developing self tanner or spray tan, and 6-8 hours after applying a normal self tanner or getting a spray tan. 24 hours is even better! This includes dishes, bathing littles, or doing a really sweaty workout. Just Say No! A lot of times for me with 3 little kids the most practical way for me to pull this off is to do my spray tan right after the kids go to bed, and then wake up and shower it off the next morning.
Dust a little powder like an inexpensive makeup setting powder or (my fave!) mineral based makeup on your face and anywhere where you feel a little sticky. This will allow your tan to set in without sticking together or rubbing off where you want it to really stay and develop. When I get a spray tan during the day and have the rest of the day ahead of me, I use this mineral makeup and it works beautifully. NO LIQUID MAKEUP while your spray tan develops!! Trust me.
REMEMBER: your tan will continue to develop after you shower (yes – you read that right!) so professional spray tan gurus will tell you to not use soap that first shower after your tan, including avoiding shampoo because any soap or shampoo will wash off the still developing tan. So that first shower is really just a RINSE! If you're dying over this idea, you can apply a little soap to just "private" areas so you feel all clean for the day (this is what I usually do).
TIP: If you're worried about a tan rubbing off on your sheets or linens, you want to apply at least an hour before bed if possible, so it has some time to set in. I can apply this self tanner, let it "dry" for about 30 mins, then hop into bed and my bed sheets are fine the next morning!
Step 5: Moisturize
Moisturize like crazy! Once you've showered it's all about extending that gorgeous tan. This in-shower moisturizer is really good. This Brazilian bum bum cream is also insanely amazing! I also really try to cleanse with moisturizing soaps, body washes and face washes after my self tanners or spray tan because anything with the word "exfoliating" in the description will strip your beautiful self tan right off!
Step 6: Maintain
PRO TIP for making your face stay tan: ALL of the favorite self-tanners and spray tans I listed above I've used on my face just fine, but you'll probably notice the tan on your face fading faster than the rest of your body. So I really like to use the TEMPTU airbrush system to keep my face tan fresh throughout the week.
TEMPTU utilizes an Atomized Airflow technology that turns makeup and their self-tanning solution into the finest mist, creating an airbrushed finish that is super even and totally buildable! The solution is vegan, clean, and infused with skincare for a perfect and guilt-free glow.
The last thing I will say is that this system is spendy, but so worth it. You can use this for self-tanner OR with their airbrush foundation so it's definitely a two-for-one! This is definitely my #1 pick when it comes to my FAVORITE self tanners for my face!
My best self tanner for face post has a lot of other alternatives, but this is my current fave!
And lastly: if my moisturizing game is on point, I can typically make a spray tan or self tan last a week before I'm ready to do it again!
FAQ's
Does the self tanner you use fade evenly? YES! All the faves I recommended above fade pretty evenly, but I would say the BEST of them are this foam and this spray tan.
What do you do when the self tanner starts to flake off? At about day 6-7, when I notice it's fading or flaking a little, I bathe, exfoliate, and repeat the whole process!
How do you get your knees, feet, and elbows to not be blotchy or streaky? MOISTURIZE just those areas before applying self tanner!
What's the easiest way to remove it so you can get a fresh layer on? See exfoliating tips above, but seriously don't skip that 20 minute bath to get your skin ready before exfoliation.
How do you apply evenly? Make sure you use a good mitt with a foam, or if you want to go big, get the professional spray gun for the most even and perfect application!
Do you stand in your shower when you use your spray gun? YES! We have a small guest shower that we use for spray tans.
Do you use a different shade of foundation when you have self tanner on? I do, yes! But I like my skin tone SO much better with a little self tanner so if my skin starts to not match my makeup, instead of using my backup lighter makeup shade, I'd rather just self-tan again.
Face tanning seems scary. How do you keep it tan every day after washing every night? See my tips above for maintaining a tan on your face throughout the week!
Is there a natural self tanner sans chemicals, parabens, etc.? Yes, this is my favorite all-natural organic self tanner lotion!
What is the best way to apply to face and neck? Do you use a different type of self tanner? All of the fave self tanners I mentioned above I've used on my face just fine, but again, this is my absolute fave for my face! For the foams, I prefer to use a makeup brush (like the kind you'd use to put on foundation) to apply to my face and neck!
What are some good cream self tanners? This organic self tanner lotion is my fave creamy self tanner!
Which self tanner is best? Which have you tried and love? See my guide above of all the best!
How do I look tan but not like an oompa loompa? Does it transfer easily? None of my faves that I listed have an orange look, but some do transfer more easily than others to white sheets or clothes. HOWEVER, even the couple that do transfer a little end up washing out super easily after.
Which tanners will not transfer to white sheets or clothing? This foam and this lotion are best for zero transfer. Just remember, there's more room for error with the clear ones because you can't tell as easily if you miss a spot!
Is self-tanning safe during pregnancy? Always consult your own doctor first! My doctors in the past have told me self tanner is fine during pregnancy though.
Most long lasting self tanner? How long does it last? My spray tans definitely last the longest, 7 days for sure and 10 days if I'm really lucky and not taking as many baths, keeping my skin super hydrated, etc!
How often do you apply your self tanner? Usually every 7-10 days … if I go more than like 2 weeks I start to feel like a ghost haha.
How long does it take to apply? Spray tans are my fave for this reason: 2-3 minutes (literally). Foams, tan wipes or lotion: 15-20 mins to do a really thorough job.
How to perfect the hands and fingers? First of all, dilute by using a non-tanning lotion on hands/fingers/wrists. Second of all, I usually pump a foam onto the mitt and apply all over my arm and use kind of the "leftovers" on my fingers and wrists if that makes sense! Not a strong full pump.
Do all self tanners smell gross? Are there any that don't smell? Yes! All the favorite self tanners and spray tans I suggested above have mild smells (IMO!) but smell is so personal, you might have to try out a couple before you find YOUR fave.
How do you pick the right color? If you like the look you have right after a vacation when you've been in the sun a lot, you'll like this foam or this spray tan solution with red tones. If you have more cool tones, or you have (or want!) more of an olive skin look, you'll probably like this one best!
Does it make you break out on your face? None of the faves in this post have ever made my face break out.
Is self tanner safe while nursing? Again, consult with your own doctor with any questions, but yes I do spray tan and self tan while nursing because my past doctors told me it was fine. My best tip is to WEAR A BRA that covers the entire area where you'll be breastfeeding so you don't even apply or spray there, and then take that bra off immediately and throw it in the wash! I usually spray or apply a quick-developing self tanner right after a feeding session so I can shower before I need to feed baby again.
How do you shave your legs during the week without removing your tan? I really don't worry too much about this, but also (poor Neil ha) I don't shave my legs every day, more like every 3ish days.
How to remove your self tanner
I'm an avid self-tanner, so you can usually find me with some spotty residue from a previous tan. I'd heard such glowing reviews about this Isle of Paradise Over It Magic Self Tan Eraser and it totally lived up to the hype! I seriously couldn't believe how well it worked. The blend of glycolic acid with moisture-rich ingredients literally erases your leftover self tanner (just as it says, LIKE MAGIC!!).
All you have to do is spray this on your skin with the magical elixir (I stepped in the shower for this part so it didn't get everywhere), lather, and leave on for 5 minutes. Then I jumped in the shower and exfoliated as usual and could NOT believe just how much easier my old self-tanner melted right off! Seriously, one round of this and your skin is glowing and splotch-free!
Before…
After…
You want to make sure to wait about 3-5 days after the initial tanning application in order for the Isle of Paradise Self Tan Eraser to work properly. Your self tanner isn't ready to be removed after 24 hours, but once your skin starts to self exfoliate, this product REALLY helps with the final removal process. You can see in these before and after pictures that my lingering self tanner was cleanly removed only to show my natural tan (courtesy of Hawaii).
Here comes the (faux) sun
I hope this full guide helped you find some new products to try, or at least tips to applying self tanner for your best faux-tan life! I feel like if you practice just a few times, you'll be amazed how you get better and better with time at applying and knowing how your skin reacts and seeing the difference of utilizing some of these tips like good moisture maintenance and proper exfoliation. Happy self tanning, and let me know if you have any further questions or tips you want to share with me, too! I always love a good self tanner topic of convo. And don't forget to check out this insane deal on one of the best rated self tanners on the market!