We just had our first REAL beach day a few weeks back and recently spent a few days in Palm Springs for Alt Summit soaking up some sun and I am so ready for all of it! Warmer weather is slowly sneaking up on all of us and spring break is in full swing across the country! Anybody else in a serious sunshine state of mind?
Nordstrom has always been one of my favorite places to shop for swimsuits and coverups, because they have a MASSIVE selection of high quality options that will look great and last all season long! I tried on all of their very highest rated one-piece swimmers and coverups this season and I'm pretty excited to share the gems that I found.
The cut of this black swimsuit is like whoa flattering. The bum coverage is especially on point! It's seriously PERFECT bottom coverage. The ruffles are so so cute and the lace up back is so fun! Proof that a black swimsuit can be anything but basic!
I'm still nursing so I will say that the cut of the front might not be as ideal if you're more busty (not an issue if you're more flat chested) but I still loved this suit so much that I just went with it because I kind of feel that way in EVERY suit right now haha. Just a heads up though if that's an area of concern for you.
For YEARS I've been touting these Tory Burch Miller sandals as my favorite flip flop of all time EVER, so I'm not going to stop now! I take them on every single trip, because they're super comfortable but just a little bit fancier than your average flip flop. When I say comfortable, I mean comfortable-I wore these all over Europe a few years ago and had zero issues!
This LBC (little black coverup) is the perfect pretty little thing to wear from your hotel room down to the pool if you're living that resort life. Between the long sleeves and slightly heavier fabric I think it's little too warm for a HOT day at the beach, but it's totally gorgeous and provides great coverage if you're just wearing it to and from the pool.
An all black outfit NEEDS a good black bag and this MZ Wallace tote is the perfect option! This is the ultimate EVERYTHING bag! It squishes into the smallest corner of your suitcase and pops out looking perfect, it wipes clean, and has removable zipper pockets on the inside. This bag goes with me to the beach and workouts and is seen in the hippest places from New York to LA. I'm totally obsessed.
Thanks to Meghan Markle these Le Specs sunnies are sold out AGAIN! But, keep checking back and we'll be sure to update you when they're back in stock! They're such a classic, affordable pair of sunglasses! Here is a really similar pair in the meantime.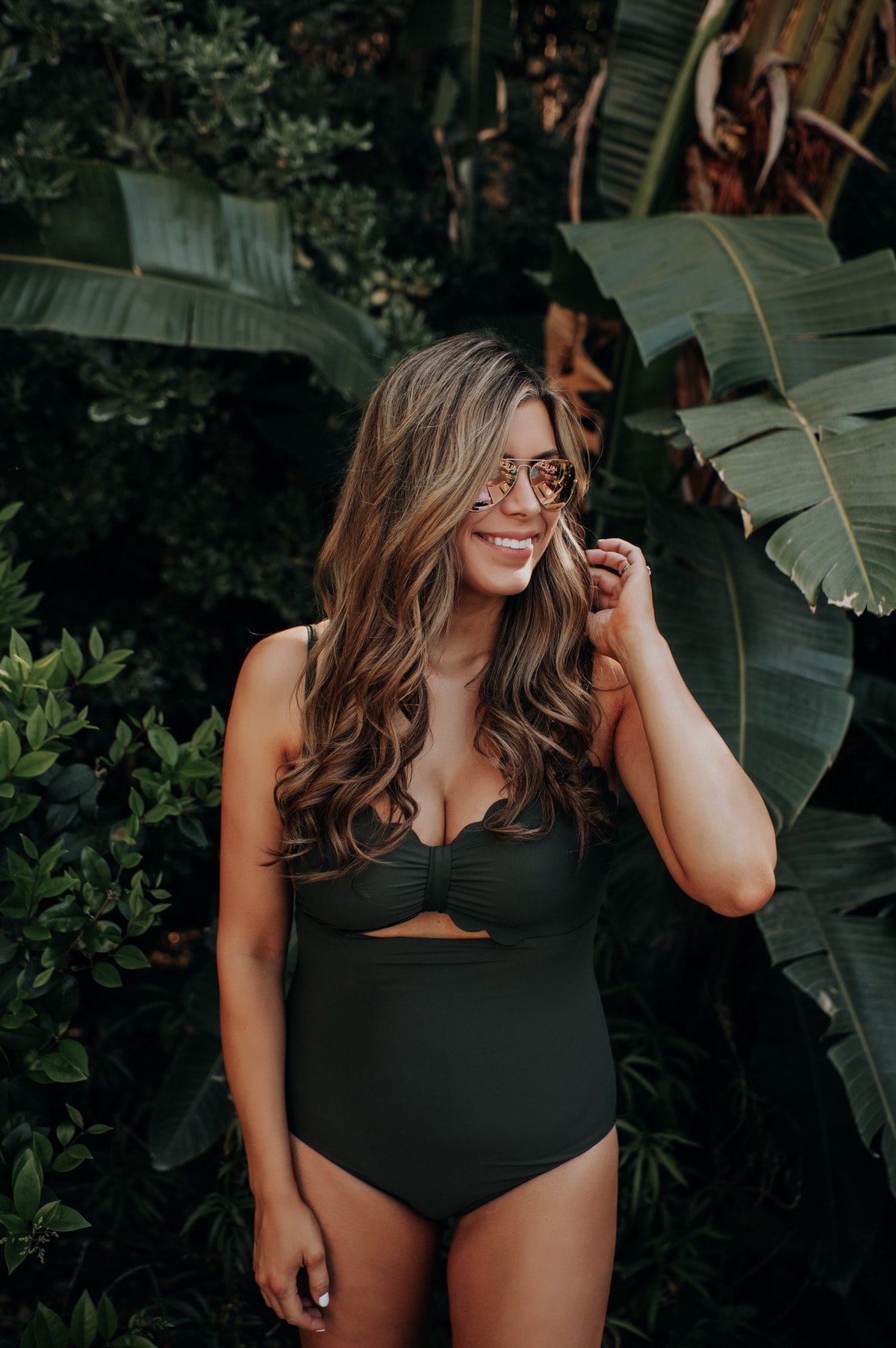 All the heart eyes for this scallop suit! The scallops are so stinking cute and I love that the straps are removable if you're trying to work on your tan, or straps on if you're in mom mode and chasing around littles! And bonus it's UNDER $100!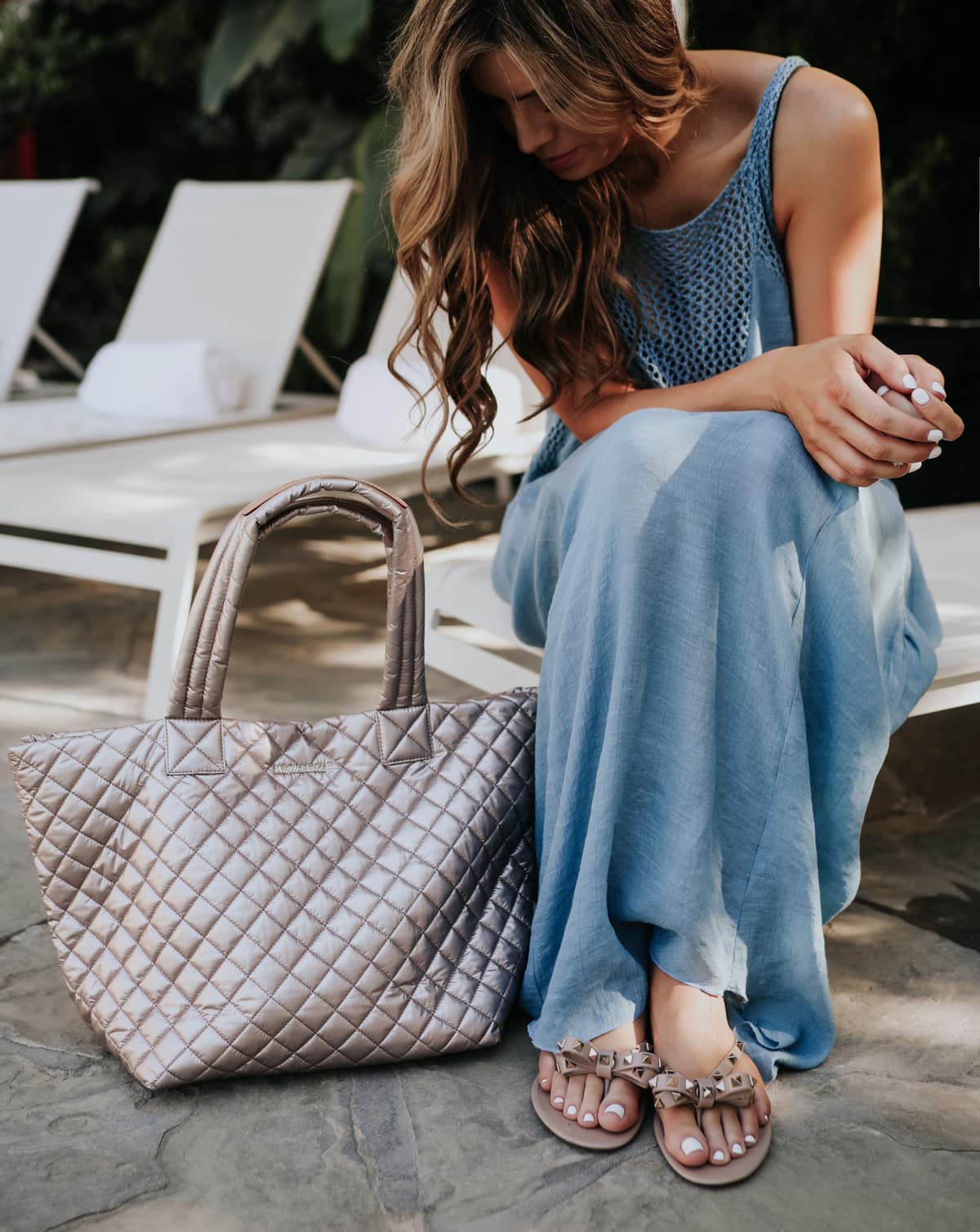 I got these Rockstud flip flops for my birthday and I love them SO much!! Definitely a splurge sandal, but if you're looking for something special like this that will last for YEARS, I think they're worth it! They have almost 500 perfect reviews so I'm not the only one who thinks so 😉
If you already found the perfect bag, why keep looking?! HA! This tote comes in so many fun prints and colors that it's easy to carry the same bag without carrying the same bag!
I looooooove how light and airy this blue cover-up is. This one is totally perfect for a beach vacation! It's under $100 and also comes in pink and black so I might need the whole trio!
Black One-Piece
Black Cover Up
Tory Burch Sandals
Black Tote
Scallop One-Piece
Cover-Up Maxi Dress
Rockstud Flip Flop
Rose Gold Tote
Black Sunglasses(sold out), similar
Pink Sunglasses
Photos by Arielle Levy

From the beach to the boat to the pool to the backyard, Nordstrom has the very best high-end options that will last you ALL Spring and Summer long.
I tried on literally ALL the top rated one pieces I could get my hands on at Nordstrom and the ones I featured in this post ended up being my faves, but we rounded up even more top-rated swim time options from Nordstrom below that you might end up falling in love with too!