We've lived in South Orange County for more than nine years now, and I lived in North Orange County for about a year and a half 15 years ago, and I LOVE IT HERE. We love it here. There's so many beautiful places to go, fun things to do, AMAZING food, and hello – THE BEACH!
It seems like every time I have a good friend or family member coming into town, they hit us up for our recommendations on favorite places to eat, or where to stay, or what the best beaches are and I end up sending them a text that would rival War and Peace in length!
SO today I'm sharing my local's guide to what to do in Orange County, including some of our favorite things to do other than the beach, yummiest food, best places to stay, and of course, a treasure map to the best beaches.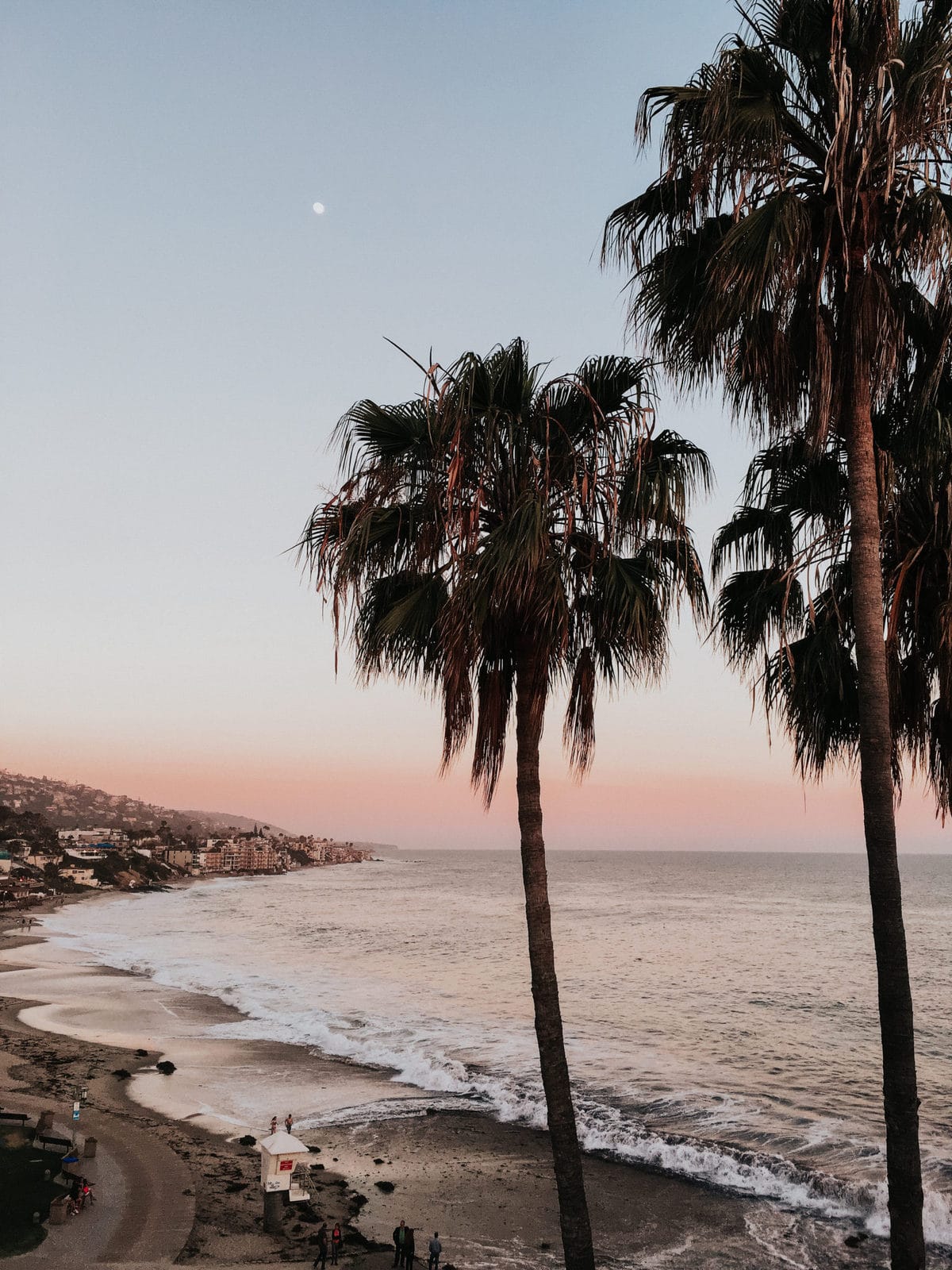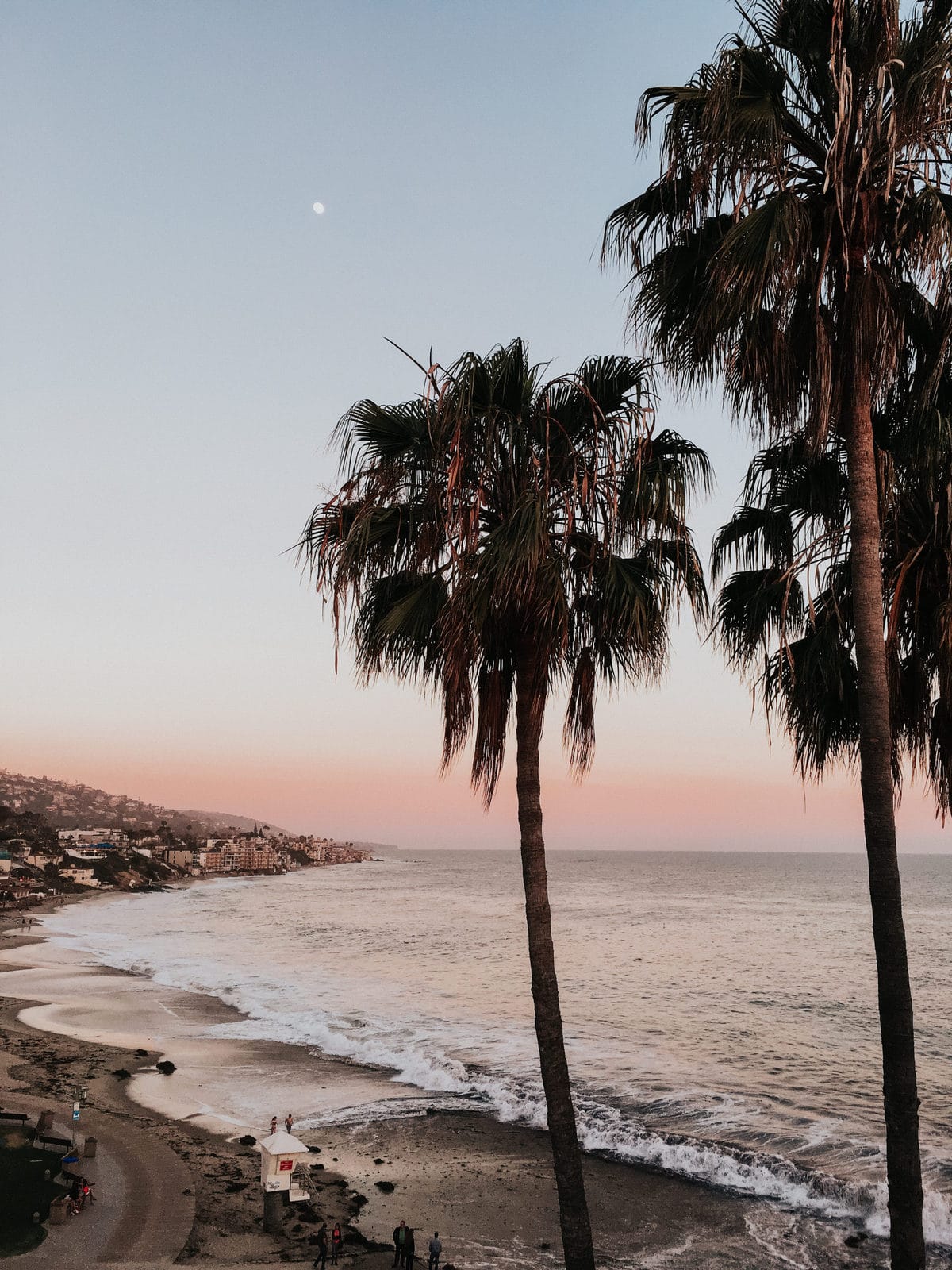 When to come to Orange County:
I'll just get this out of the way and say come see us in Orange County anytime EXCEPT May or June. I always feel so bad when we get visitors at that time! There's this icky thing here in Southern California called "Gray May" and "June Gloom" and it's typically just chilly, foggy, and the sun doesn't come out usually until at least noon or later in the day. It's like summer hibernates for those couple of months.
But come Fourth of July, BAM – summer's always here in full force, and it sticks around through October and sometimes well into November.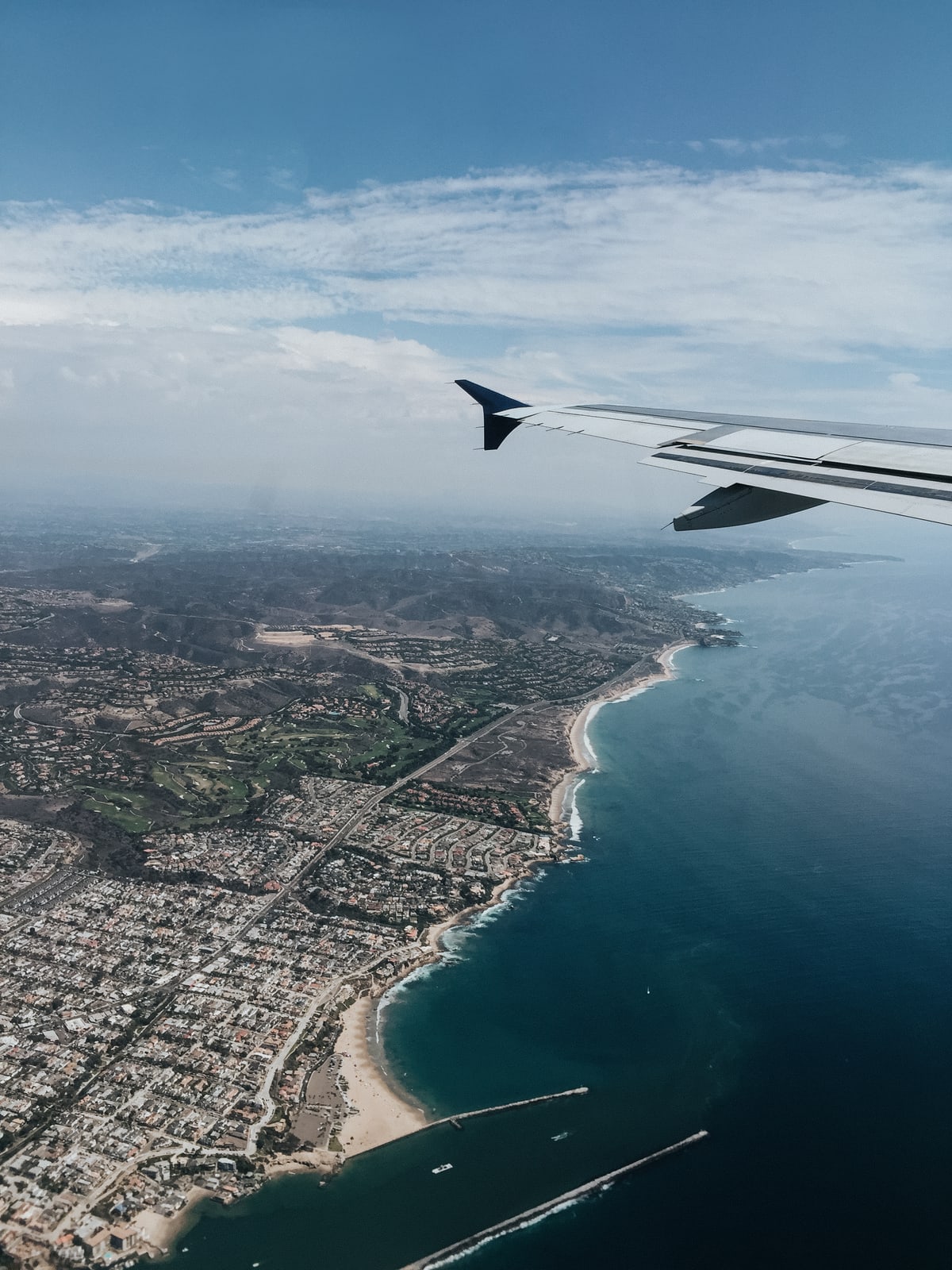 Best places to stay in Orange County
​Now that we've been here almost eight years, we've done a fair amount of little staycations to celebrate a birthday, or I've treated my team to a night away, or I've hosted girlfriends who've come into town for a night ON the beach before we stay at my house, etc. It's been a fun way to gradually try out a lot of the nicer hotels in this area and I can now pretty confidently give my favorite recommendations!
5-Star
MONTAGE: If you're looking for the convenience of the beach and the pool within just a few steps, then the Montage is my favorite 5-star option! Incredible pool and beach, the rooms are super nice and after staying here a handful of times for little local overnights with Neil and a girlfriend getaway, I have to say this is our favorite 5-star hotel in all of Orange County. You just cannot beat their pool and then just a few quick steps down to the sand and waves. The grounds are stunning and we often come down here for a Sunday walk, just to enjoy the incredible scenery.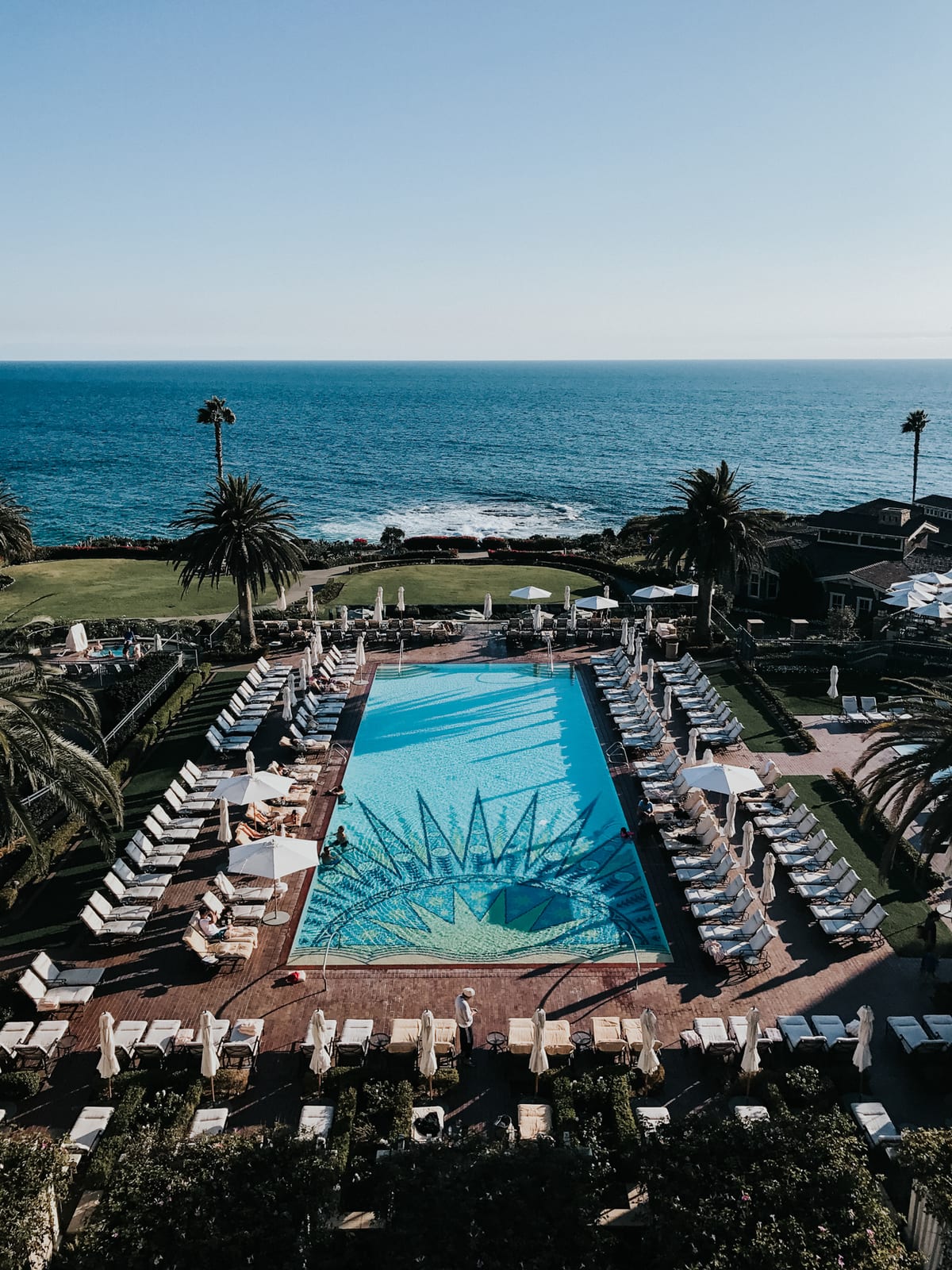 PELICAN HILL RESORT: We absolutely love the Pelican Hill Resort. The property is so beautiful and the rooms feel like a home away from home, with little fireplaces and a gorgeous view of Newport Coast. The pool is incredibly beautiful and they'll shuttle you down to the beach at Crystal Cove which, in my opinion, is THE most beautiful beach in all of Orange County. The food here is exceptional too! I had a poke bowl by the pool on my birthday one year and I think it was the best poke bowl I've ever had.
MONARCH BEACH RESORT: They just switched recently to a Waldorf Astoria resort, and it's absolutely beautiful inside and out. They also have a Drybar! We've done quite a few staycations here and loved them.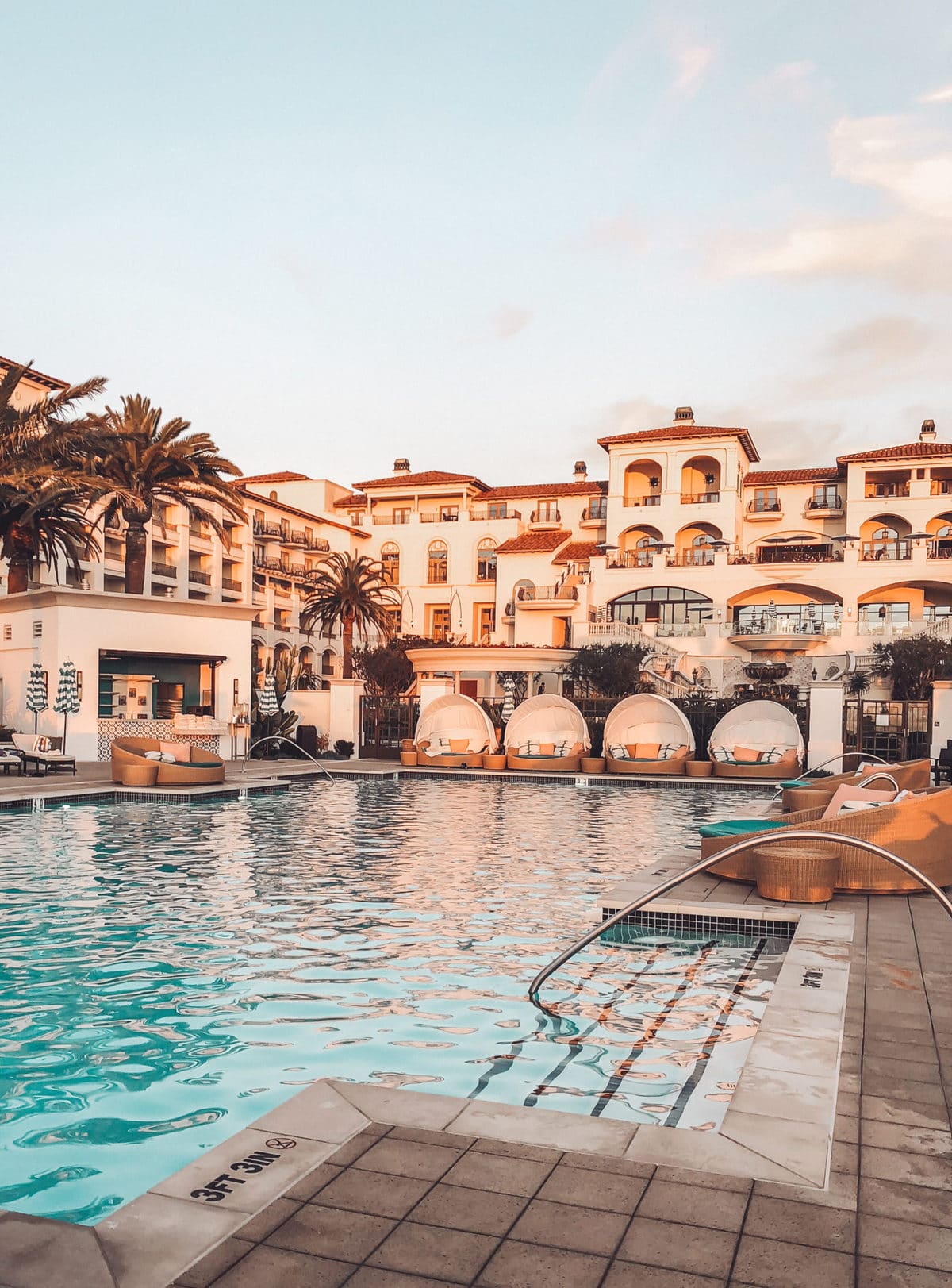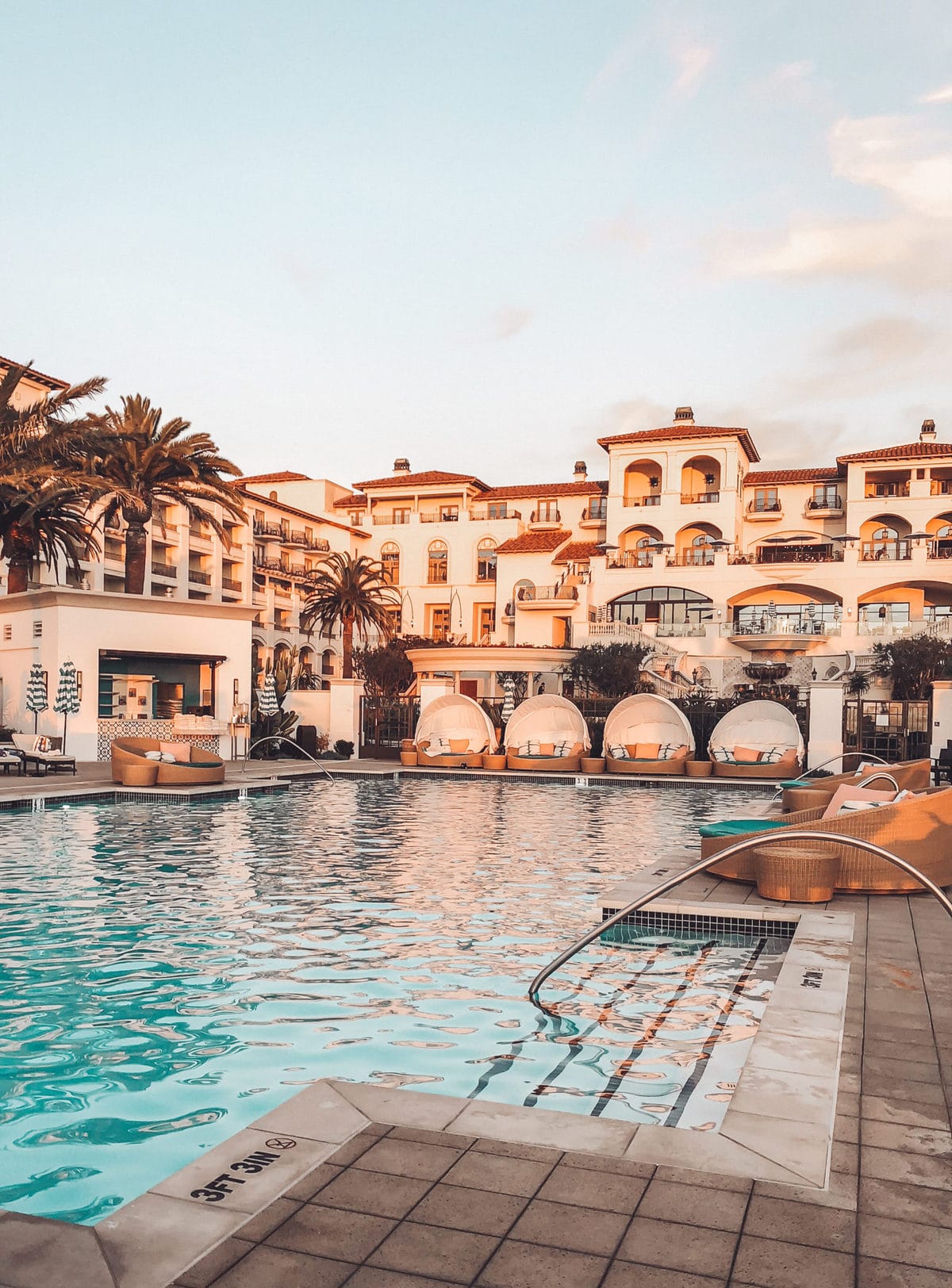 4-Star
SURF AND SAND: As long as you don't come during a heat wave (usually July – Oct), then Surf and Sand is a super fun place to stay! I mentioned avoiding the heat wave here because they don't have AC, so it can get pretty stuffy at night. But the whole entire resort is outdoors (even the hallways of the hotel!) and you can sleep with your windows open and listen to the waves crash all night. Ahhhh.
PACIFIC EDGE HOTEL: If you're looking for a budget find that's still oceanfront, Pacific Edge Hotel is my recommendation! I've stayed here before and while it's no four seasons, it's as close to the ocean as you'll get at any hotel in Orange County! Bonus: I love the restaurant that's on property called Driftwood Kitchen.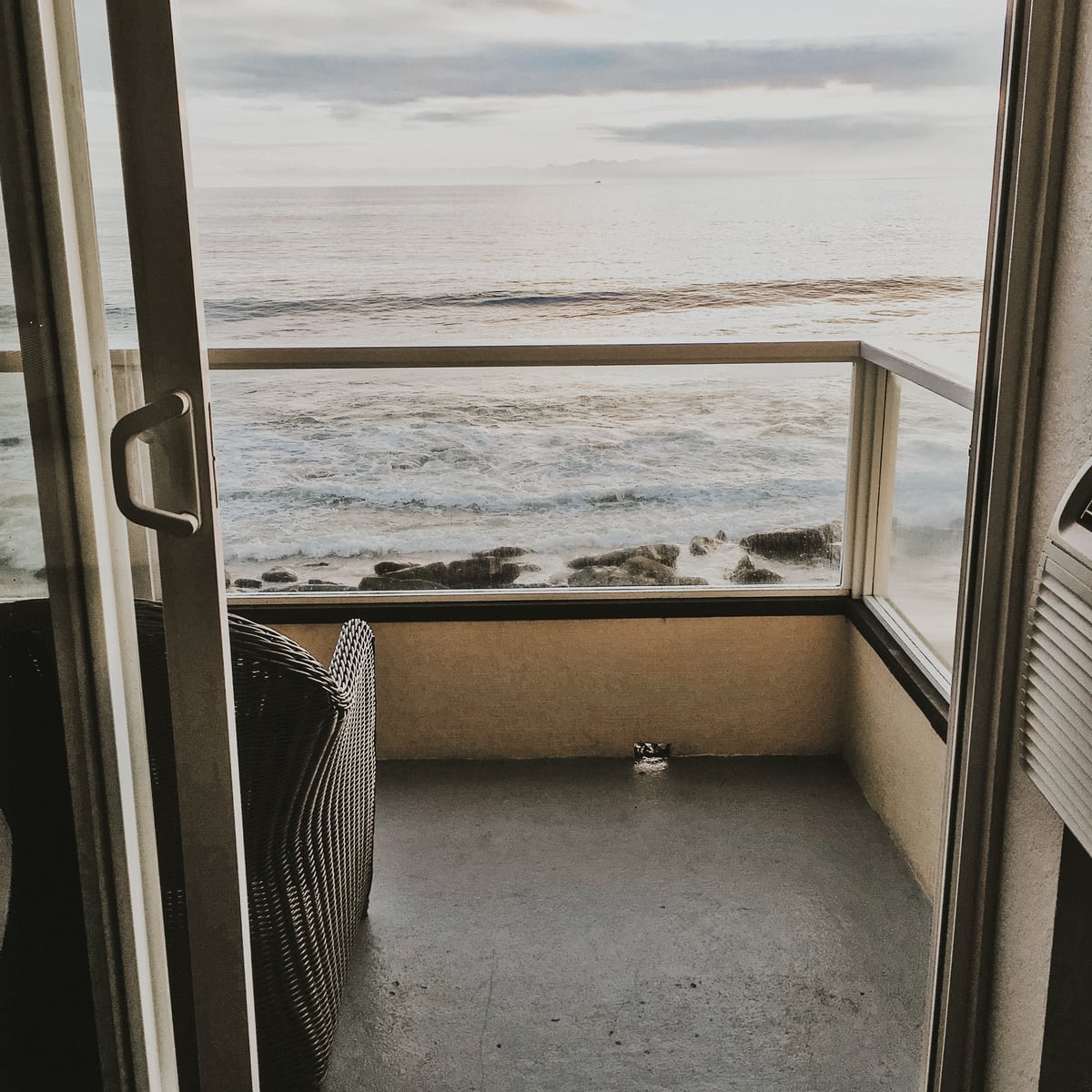 COURTYARD BY MARRIOTT ANAHEIM: If you're looking for somewhere to stay when you go to Disneyland, this is our #1 recommendation! They have an amazing waterpark, they're literally right across the street from Disneyland so you can not only walk to the parks in like 5 min, but you can also watch the fireworks from your room if you book a "resort view!" We loved staying here recently because ONE room fit all of us (since Harry's in a crib still) and our girls shared the bunk room.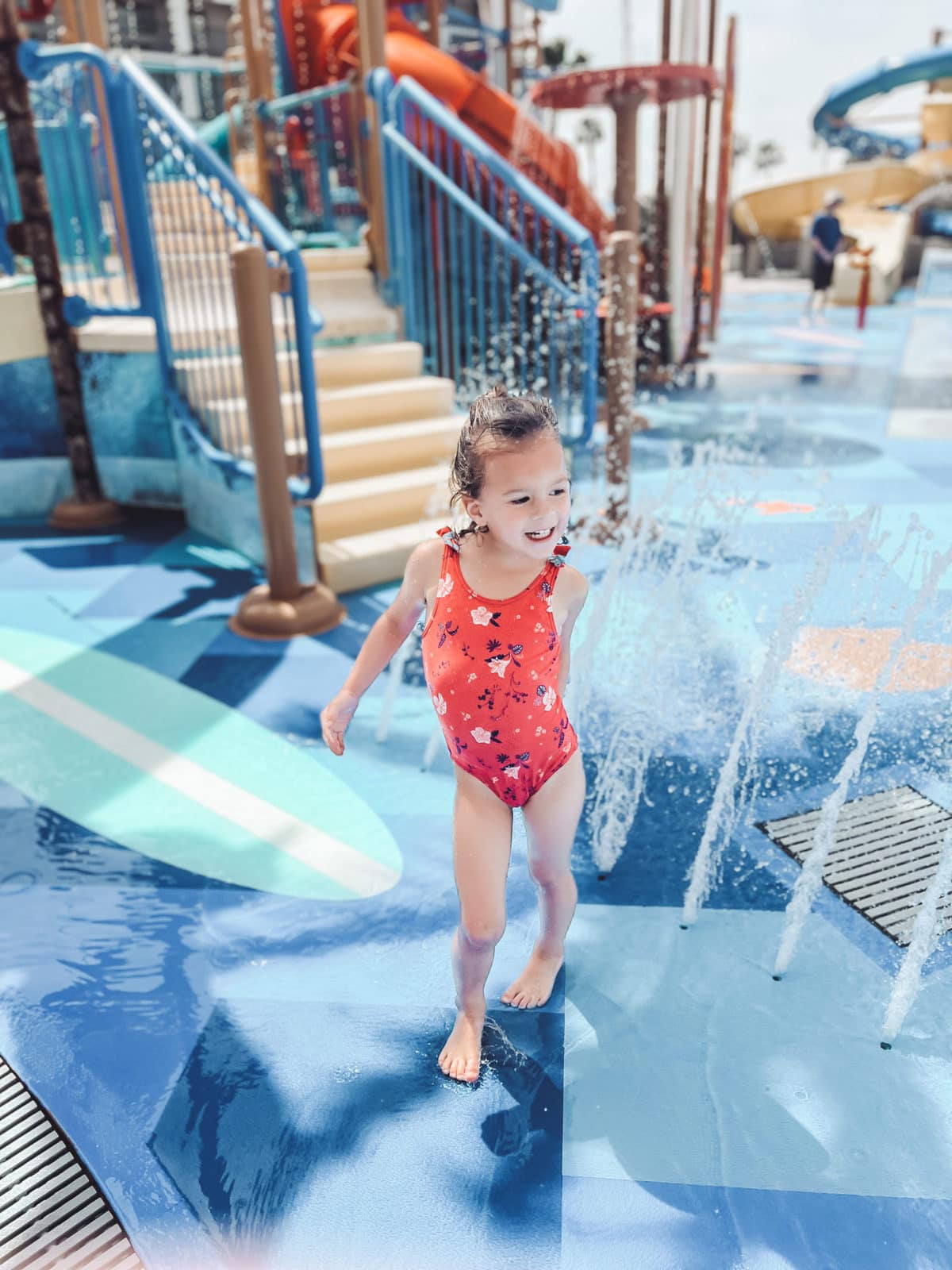 CRYSTAL COVE BEACH COTTAGE: If you're lucky enough to snag a spot at ​Crystal Cove Beach Cottages, they're extremely iconic, picturesque and inexpensive!! The spots get filled up in seconds each month when they open up for booking though, so you have to really plan ahead.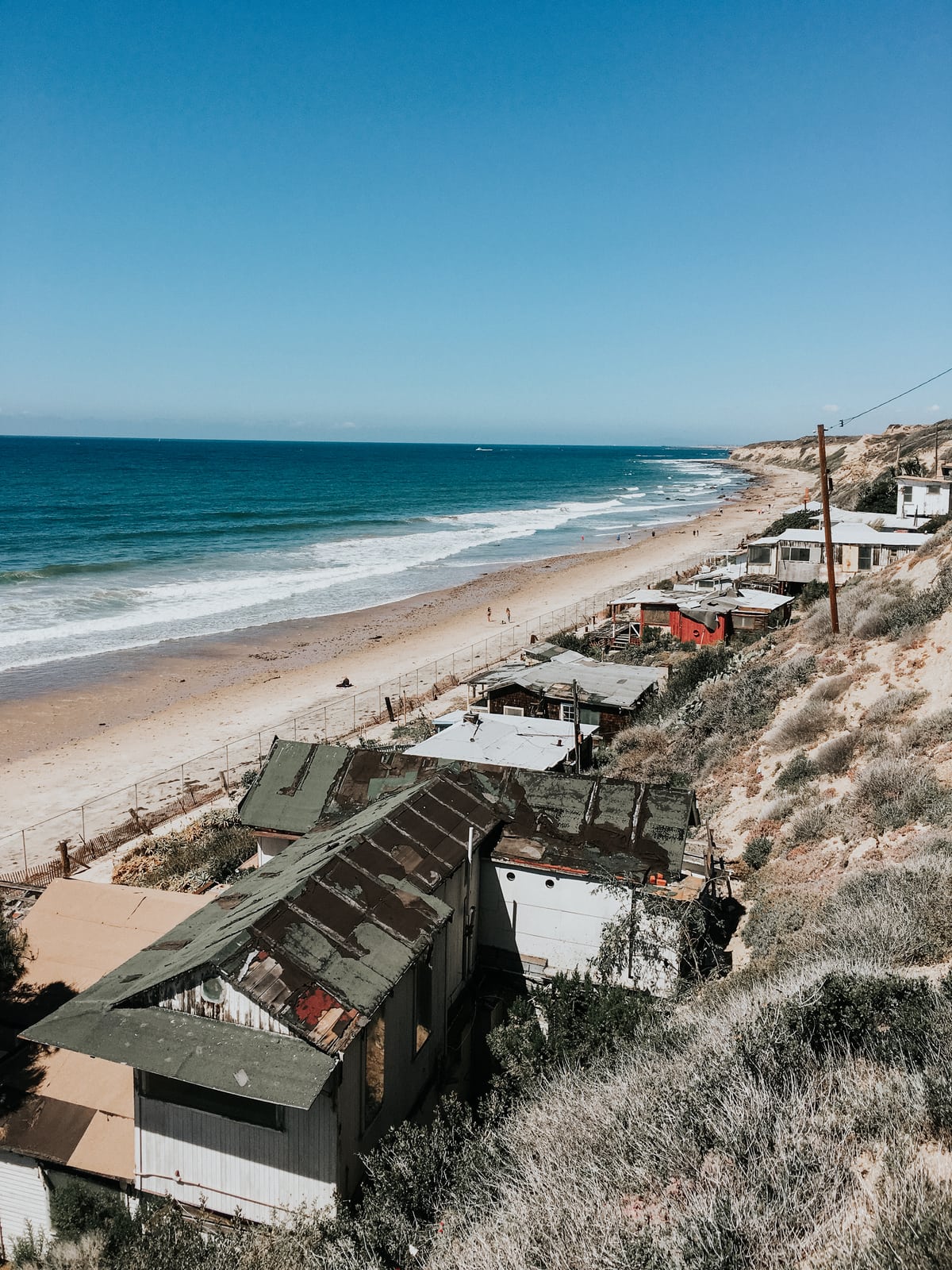 Where to eat in Orange County
There's honestly an ​endless amount of delicious places to eat in Orange County, from the fanciest of fancy to so casual that everyone is going to be in flip flops! Most of the places on my list are in South Orange County (referred to by locals as "South County") because that's where we live and spend most of our time.
If you want even more restaurant reviews from a source I totally trust, go to Female Foodie's Orange County archives cause she has recs all up and down Orange County. But as for the places we love and recommend, here are our very very favorite restaurants to go to as a family, on date night, or to take out of towners to in Orange County.
Baja Fish Tacos
Another family favorite that everyone requests when they come to town is Baja Fish Tacos. This is an amazing fast casual place with fish tacos that will blow your mind! I actually love their shrimp tacos even more. And their rice…I don't know WHAT they put in that rice but it is heavenly. My order: shrimp bowl, bravo style. It's an off-the-menu secret that a friend told me about when she brought me dinner after I had Millie, but it's basically on a bed of cabbage with cojito cheese and some type of secret sauce and I haven't ordered anything since!
$, Costa Mesa, Laguna Hills, Laguna Niguel, Long Beach, Mission Viejo, Norco, Orange, Santa Ana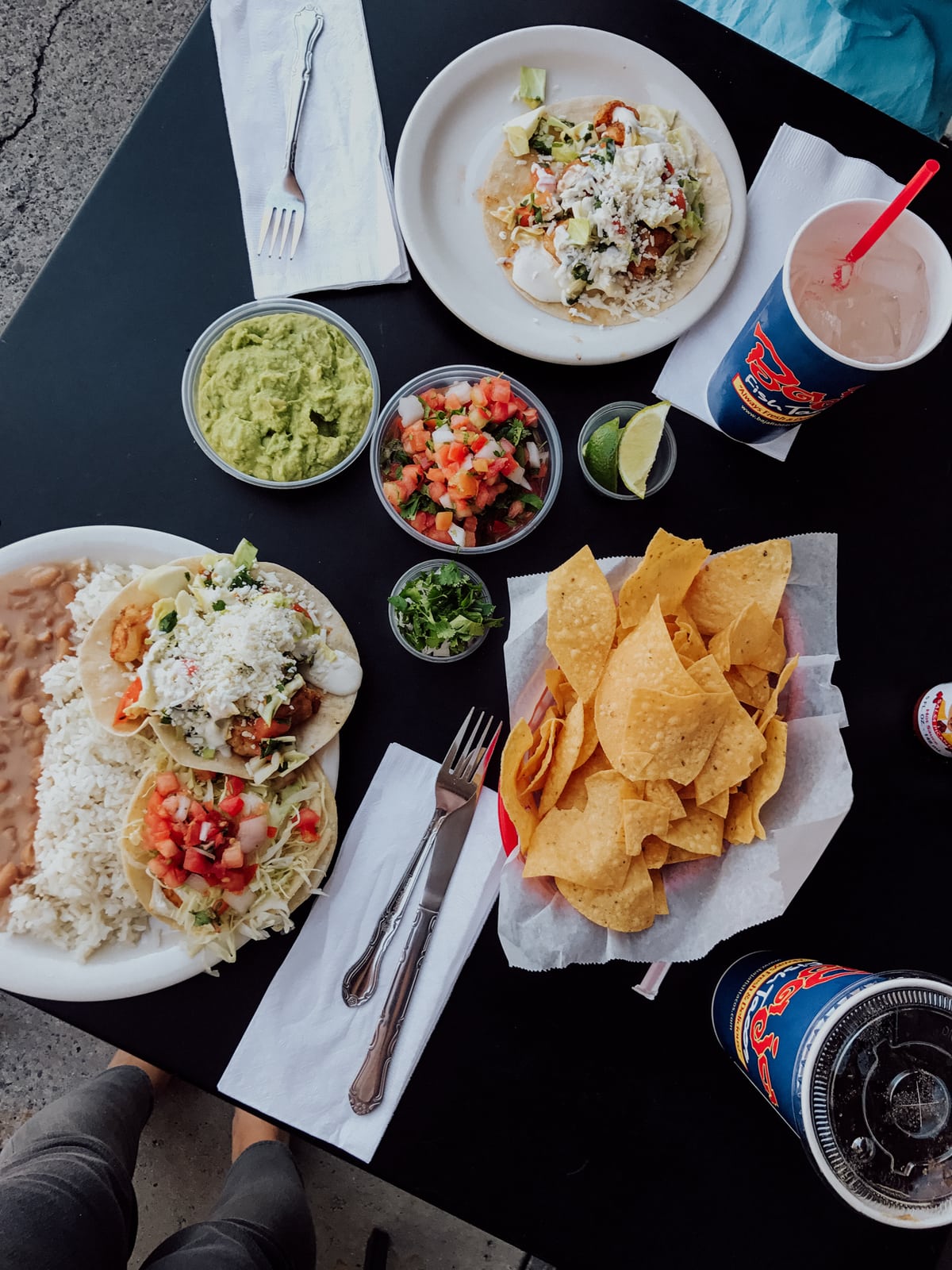 BJ's
A really fun, family friendly place to take visitors or go with a big group is BJ's! They have really yummy deep dish pizzas, salads, pastas, and they're famous for their pizookes (a warm cookie with ice cream on top). YUM. A chain that you can find in most beach cities in Southern California.
$$, 27 locations in Southern CA
Eat Chow
​Eat Chow was my #1 crave during my pregnancy with Millie. Everything there is good but their cheesy tots (yes, tater tots!!) will change your LIFE.
$$, Costa Mesa, Newport Beach, Santa Ana
Riders Club Burgers
One of the best burgers ever is from ​Riders Club Burgers. Neil LOVES this place. Every time we eat here I half expect Guy Fieri to show up with a camera crew because it's right up his alley.
$, San Clemente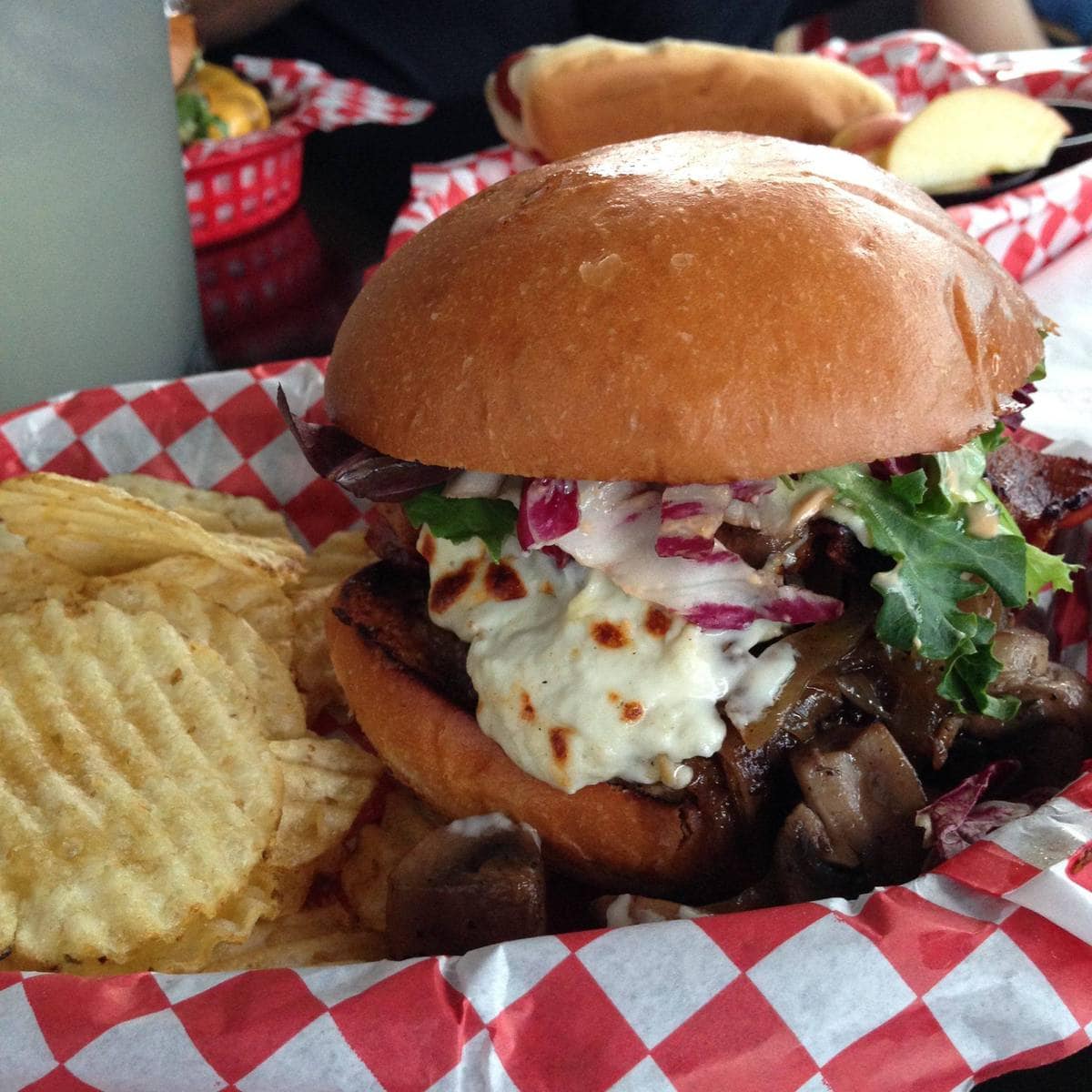 Bagel Shack
An iconic San Clemente or San Juan Capistrano spot that's always a crowd pleaser is Bagel Shack. We love their bagel sandwiches!! My order is the hot ham and swiss on a cheddar bagel, or in the morning I like the Old Man's. If you're an avocado lover you will too!
$, San Juan Capistrano, Lake Forest, San Clemente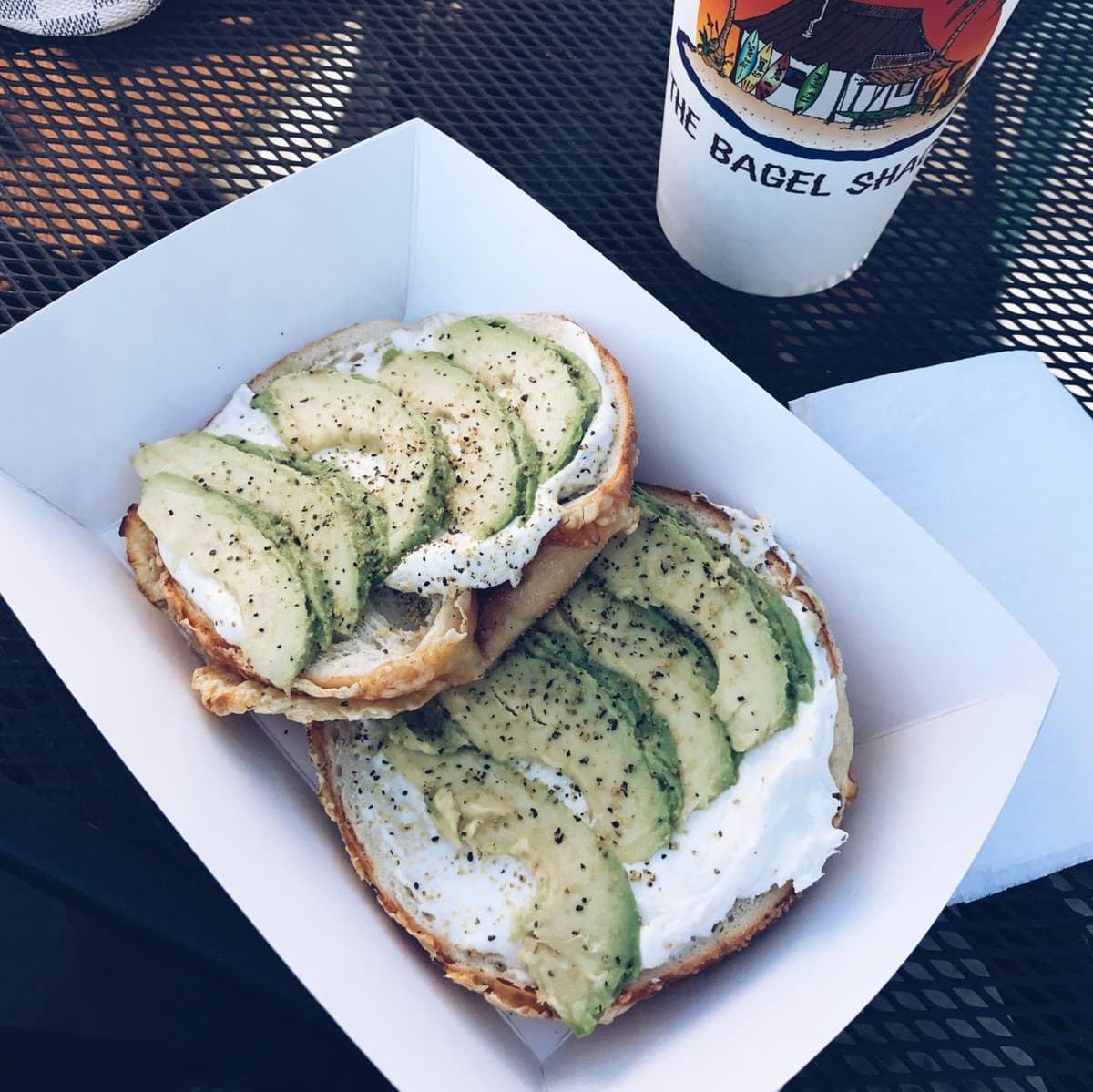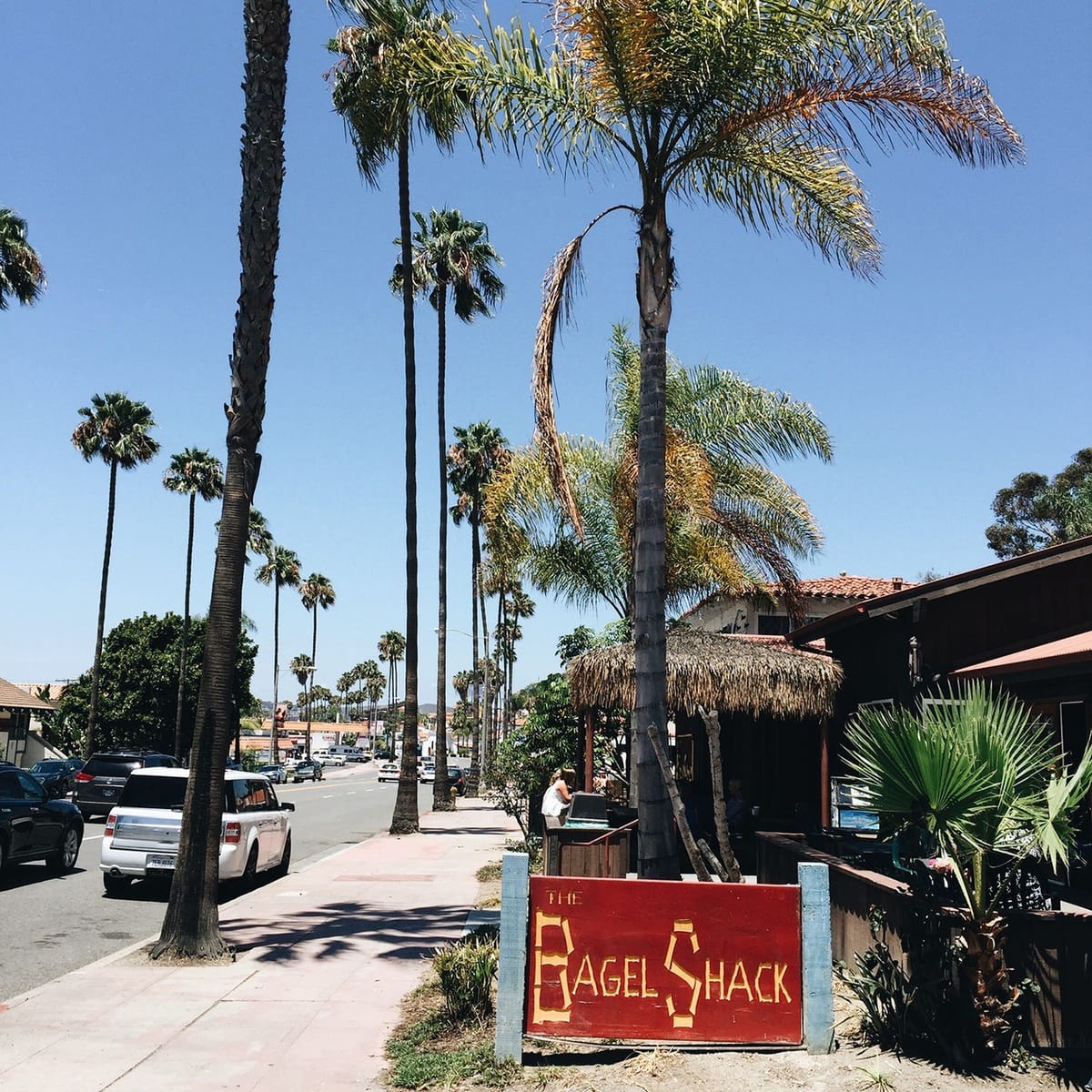 Bear Flag Fish Newport Beach
​Bear Flag Fish Newport Beach has super yummy fresh fish tacos! A fun, fast casual spot that's family friendly.
$, Newport Beach (Crystal Cove), Newport Beach (Lido Village), Huntington Beach
Ramos House Cafe
Ramos House Cafe is probably my favorite breakfast spot in all of Orange County. The food is insane and changes seasonally. Such a perfect spot for adults for breakfast or lunch. They are closed on Wednesdays, and they don't love little kids or laptops so it's not a very family friendly restaurant or a place to go hang out and hook up to wifi for a business lunch. Go for amazing food and good conversation.
Their menu rotates seasonally, so it's a little different every time I go. My faves are the biscuits, the beignets, and the blueberry pain perdu with lemon curd. YUM.
$$, San Juan Capistrano
Javier's
Our favorite Mexican food in Orange County is from Javier's!! I like going to the Crystal Cove location because the views in that area are so picturesque, oh and once I met all of the Real Housewives of Orange County here while they were filming haha. If you happen to be at the Irvine Spectrum Mall, the food is just as good at that location, and if you're ever delayed or waiting around in the John Wayne (OC) airport, the Javi's there is also excellent!
$$ Newport Beach, Irvine
El Adobe (Richard Nixon's fave)
This little Mexican joint is GOOD solid food, there's typically not a wait even on the weekend, but it's a nice little sit-down date night spot! Fun fact: this was one of Richard Nixon's favorite restaurants and they even have a dish named after him "The President's Choice" (pictured on the left). Neil loves ordering that, and I usually go for the fajitas or carnitas. This isn't necessarily the best food I've ever eaten, but it's always a good solid 8/10.
$$ San Juan Capistrano
R&D Kitchen
This little gem is inside the Fashion Island Mall and they have the best fried chicken sandwich I've ever had in my life! They also have super yummy salads. A great spot for girls lunch.
$$, Newport Beach
Mama D's
Mama D's is the BEST Italian food in Orange County, hands down. They're extremely family friendly (everything from crayons and coloring at the beginning to warm mini chocolate chip cookies served at the end, and endless bread for starving kiddos while they wait for food!), their service is top-notch, and that pink sauce. I could take a bath in that…it's so good!!! I had Neil bring this to me in the hospital when I had Millie, and we door-dashed it again to HOAG hospital when I had Harry, I love it so much 🙂 Don't sleep on the pink sauce!!
$$, Newport Beach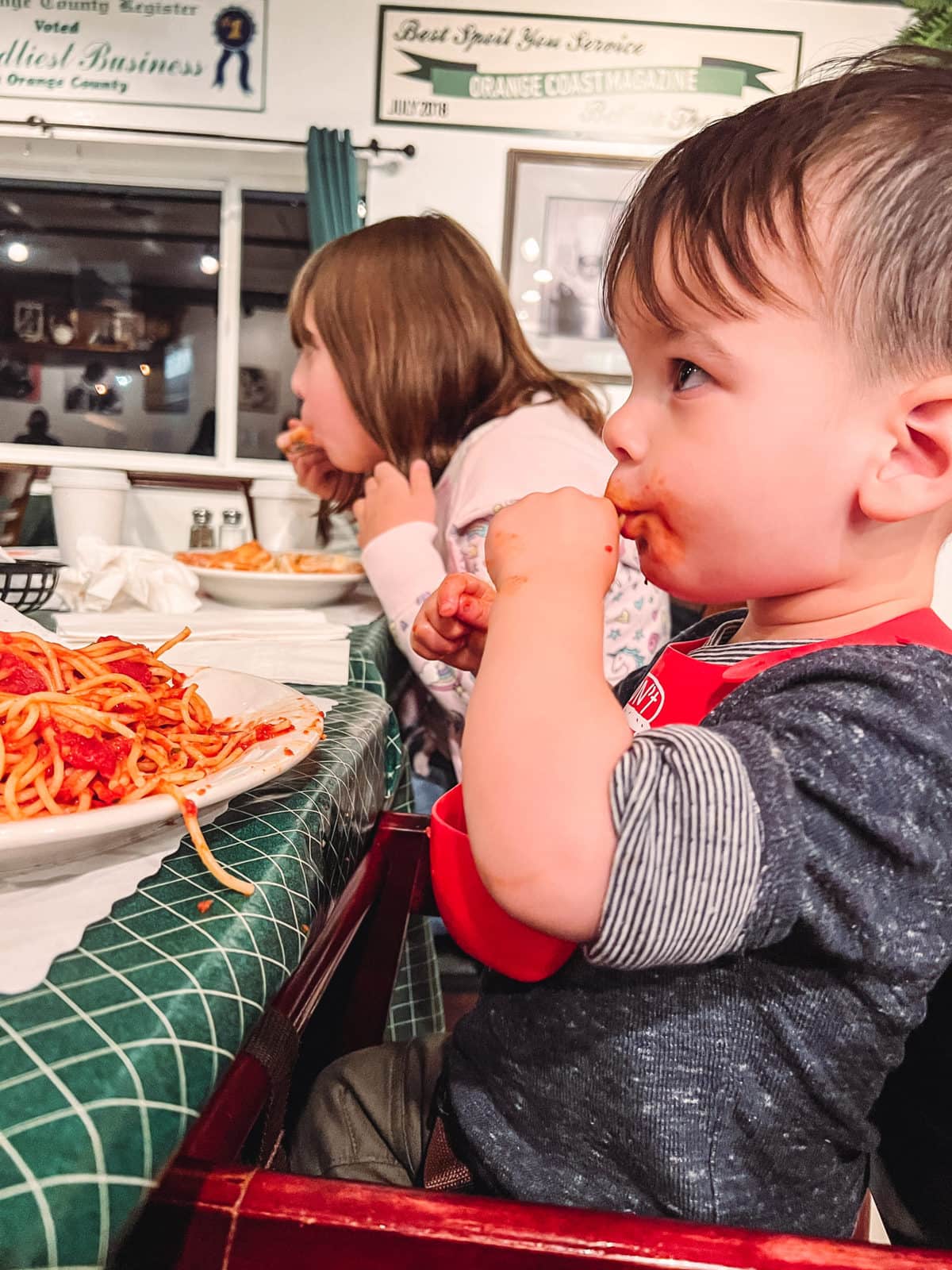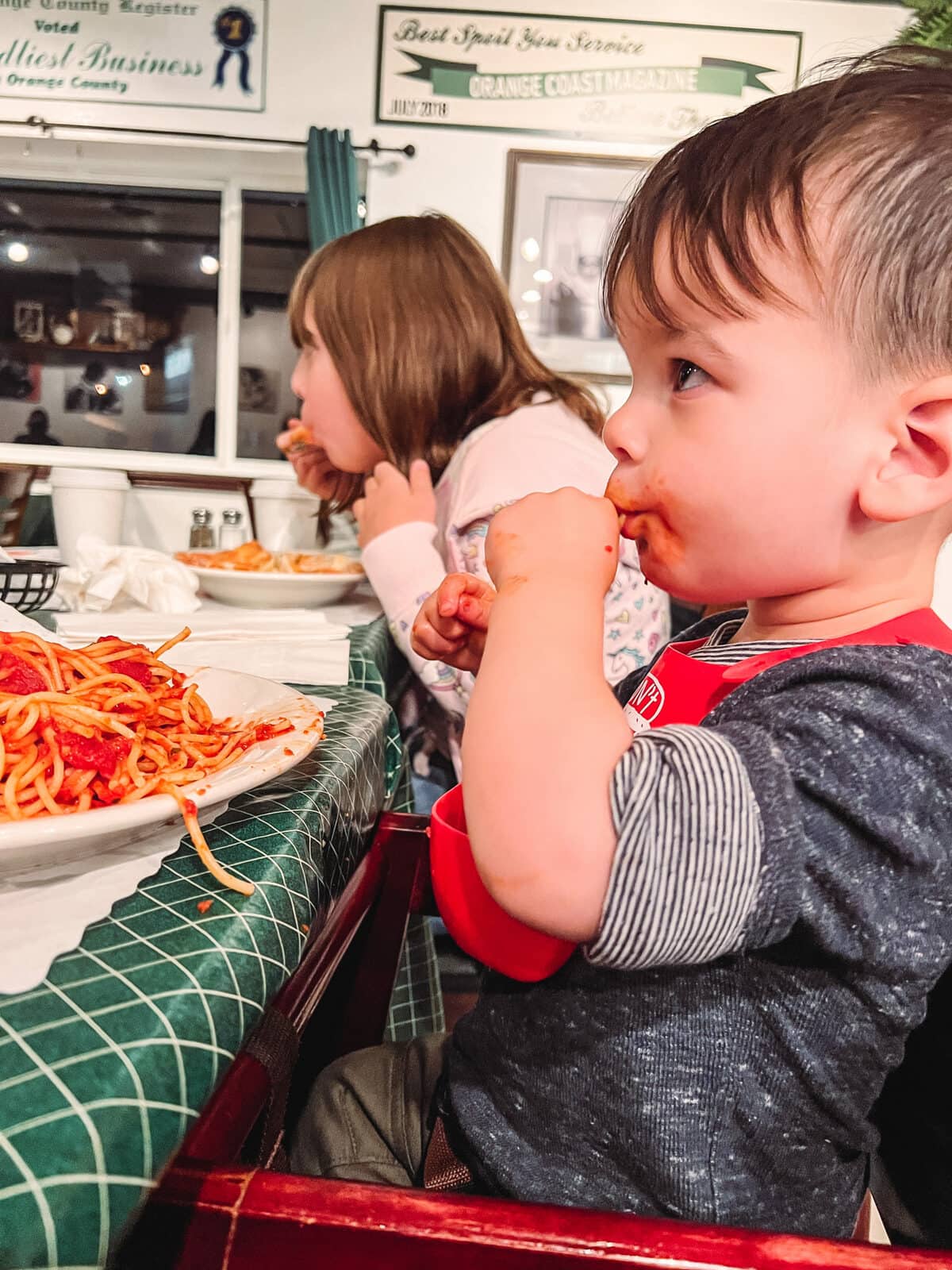 The Rusty Pelican
If you're saying to yourself, "we're next to the ocean, we SHOULD eat some good seafood while we're here…" then I recommend ​The Rusty Pelican. It's a nicer spot, but perfect for a birthday dinner or something where you want to treat yourself to really REALLY good fish!
$$$, Newport Beach
Rose Bakery Cafe
We've kind of made it a weekly habit to hit up Rose Bakery Cafe on our way home from the temple every week now. It's right on PCH and they have SUPER yummy breakfast sandwiches, breakfast burritos, smoothies, donuts, all the quick and easy breakfast things your heart could ever want. They have a nice little outdoor patio to sit down and eat your brekkie too. Family friendly too.
$, Corona Del Mar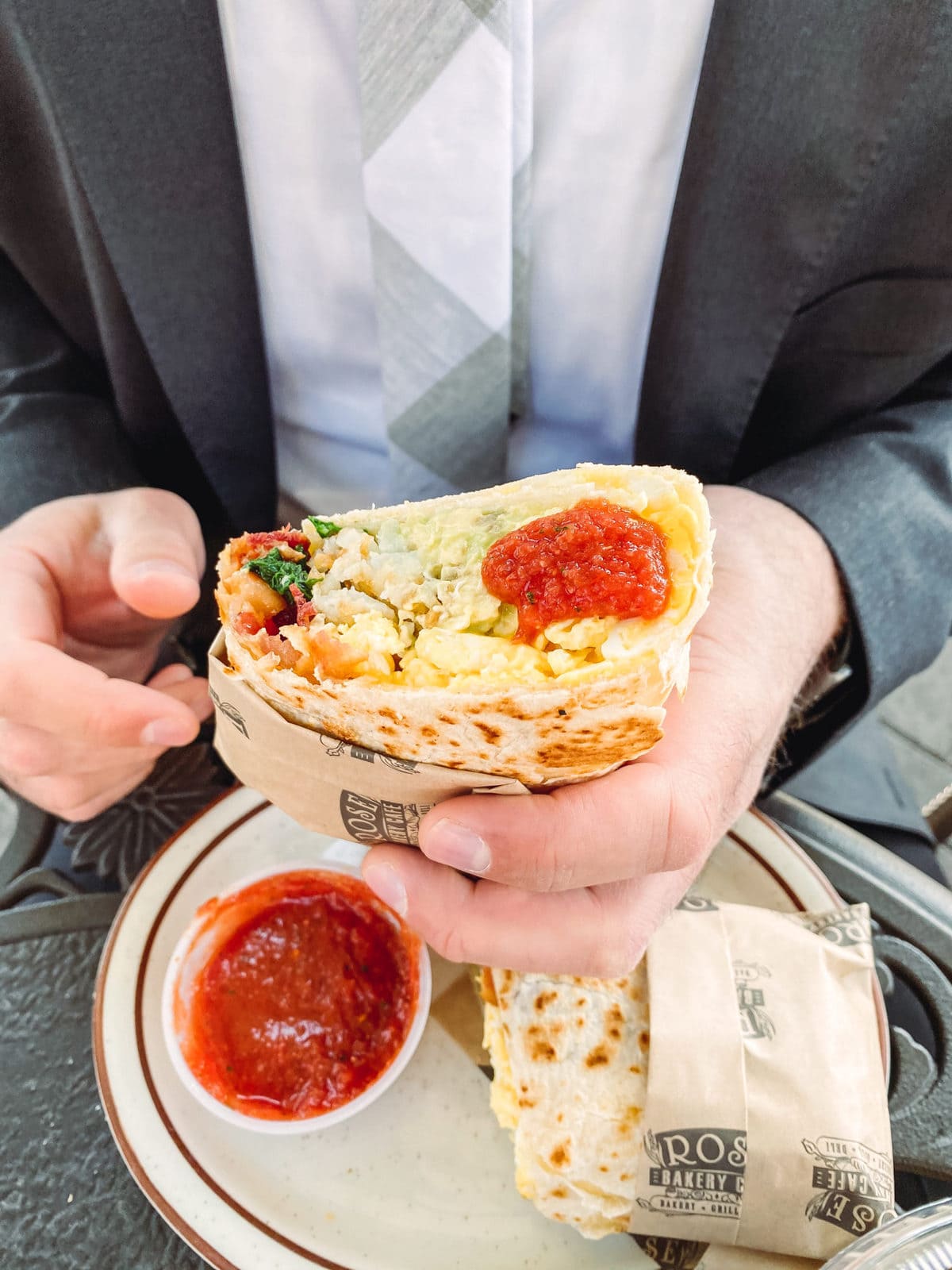 Mastro's
If you need somewhere nice and fancy to dine, Mastro's is my recommendation! I've only eaten here twice, for an anniversary and for Neil's birthday, but it's amazing quality food and their butter cake is the talk of the town around here.
$$$$, Costa Mesa, Newport Beach
Fable & Spirit
Fable & Spirit is a brand new fave spot but WOW it is good. It's Michelin-rated and absolutely lives up to the hype. I mean everything was lick-the-plate delicious. Fun place to take a group and eat family-style, because you know, when the food's that good, it's sad to only try one dish!
$$$, Newport Beach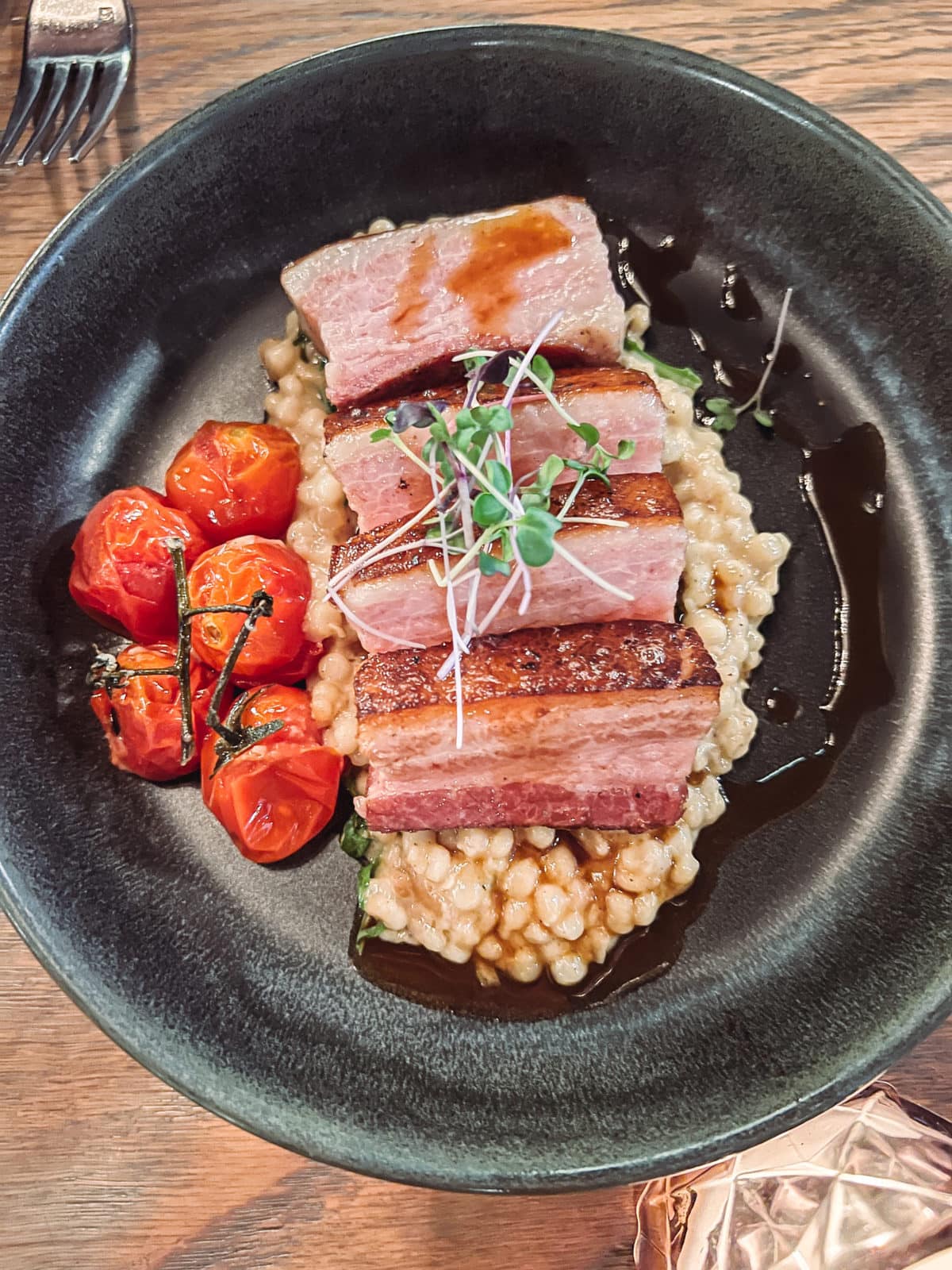 Nick's
Speaking of butter cake, Nick's make a mean butter cake too, and all of their food is super good. This is one of mine and Neil's favorite date spots, but you do have to either make a reservation or get here EARLY (at both the San Clemente or Laguna locations) because the waits on the weekends especially are 2-2.5 hours after about 5:30 p.m. Their sister restaurant, South of Nick's, is also really yummy but usually equally as busy.
$$$, Laguna Beach, San Clemente
ARC Restaurants
The sister-restaurants of ARC Food & Libations in Costa Mesa and ARC Butcher & Baker in Newport Beach are BOTH excellent! I like the Newport location a tiny bit better, but also this was the best wedge salad I ever ate, and it was at the Costa Mesa restaurant. So what I'm saying is, you really can't go wrong with either. Definitely more of a grown-up spot than a kid-friendly joint!
$$$, Costa Mesa & Newport Beach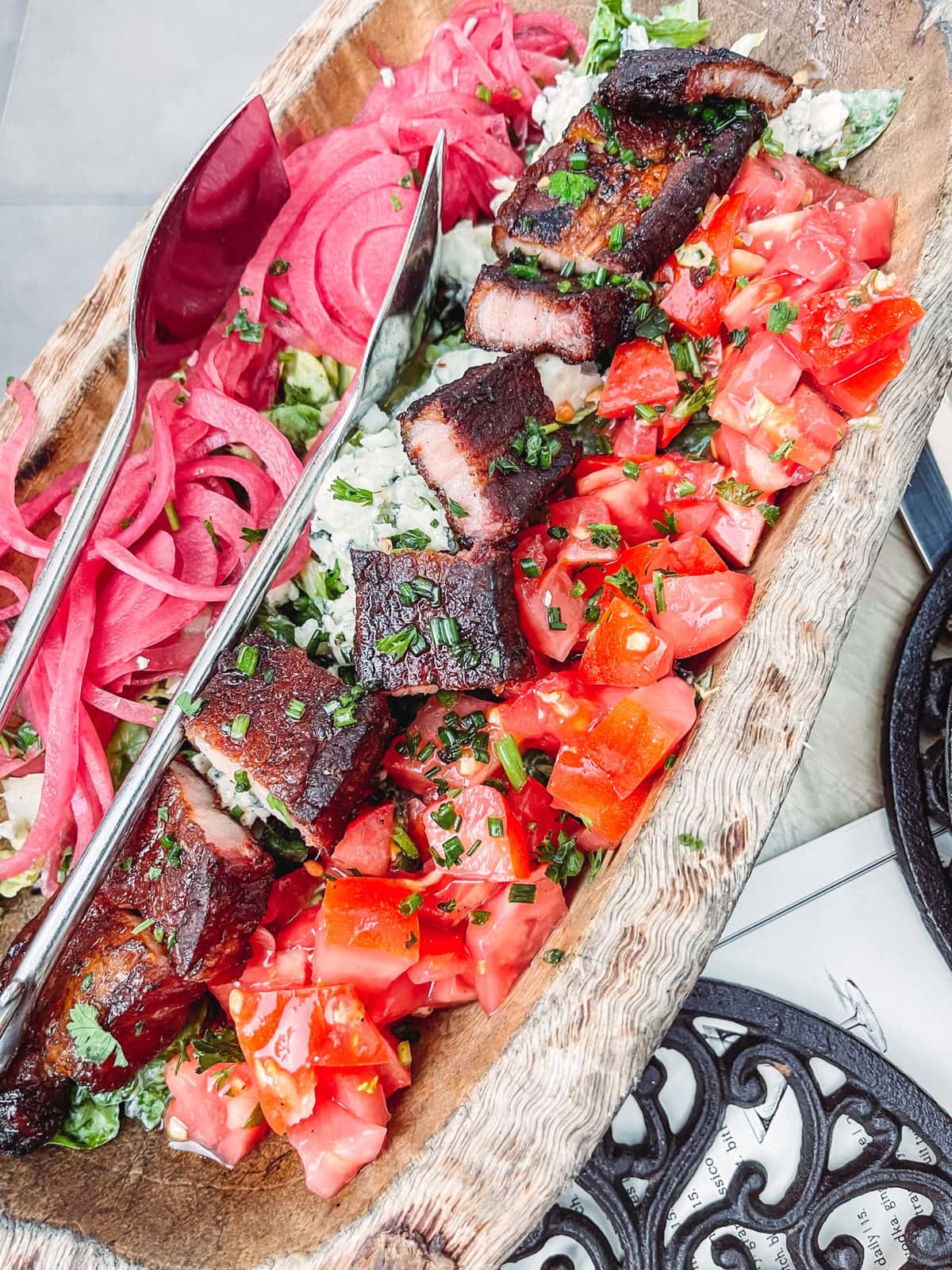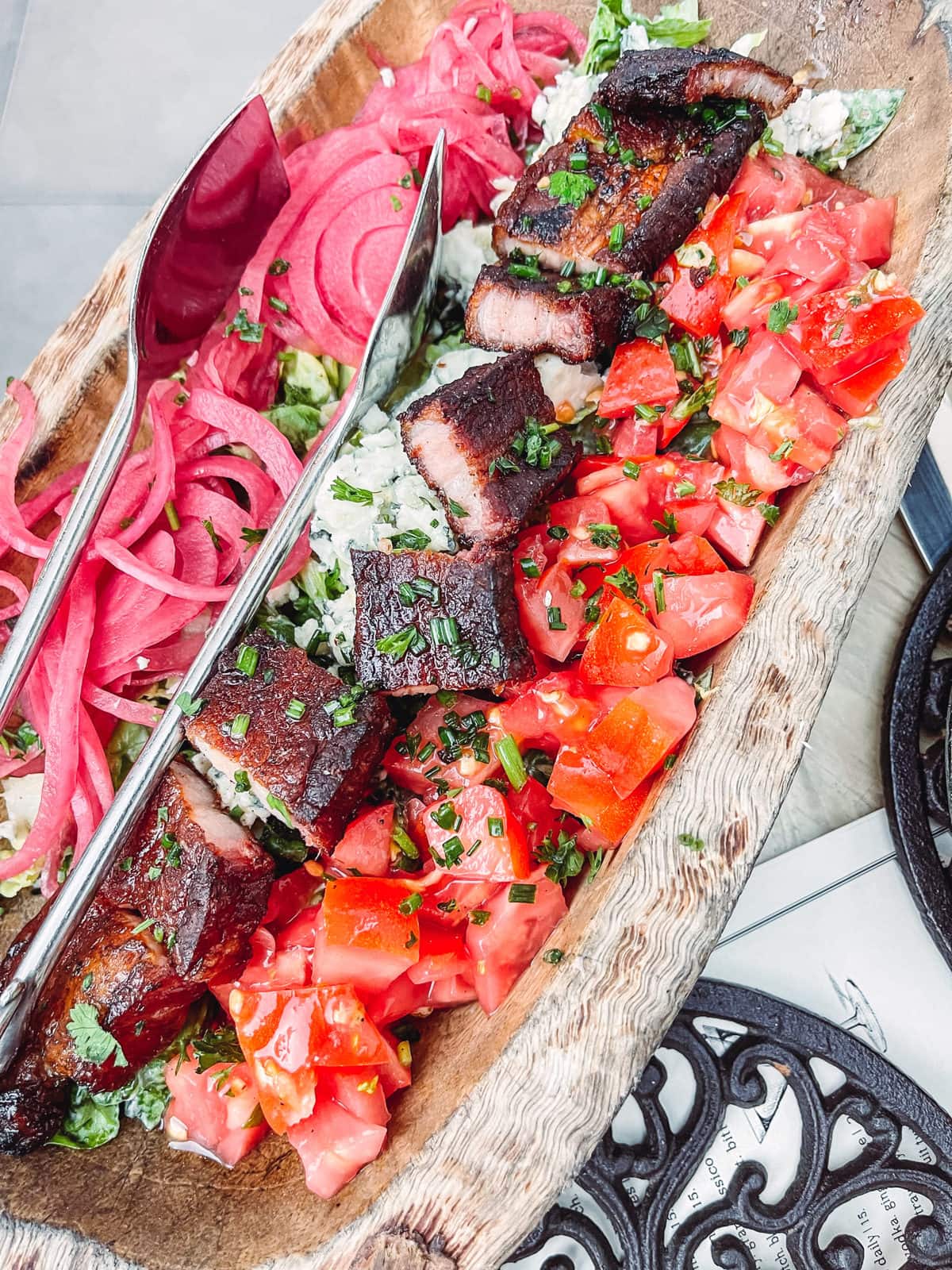 Muse
Our new go-to for sushi is Muse. It's ALWAYS good. Busy on the weekends! Get there early, or (pro tip!) go on a Thursday night.
$$, San Clemente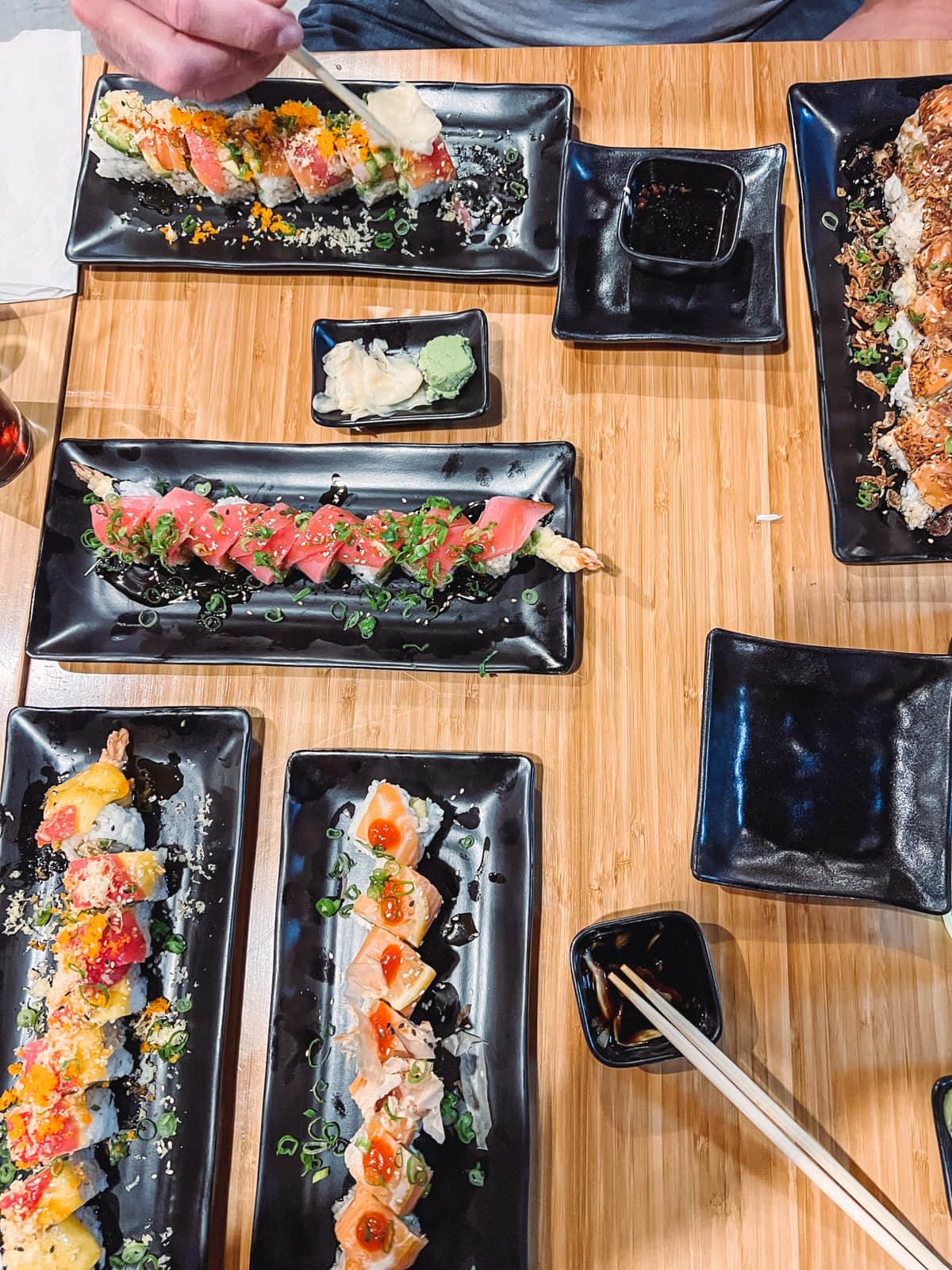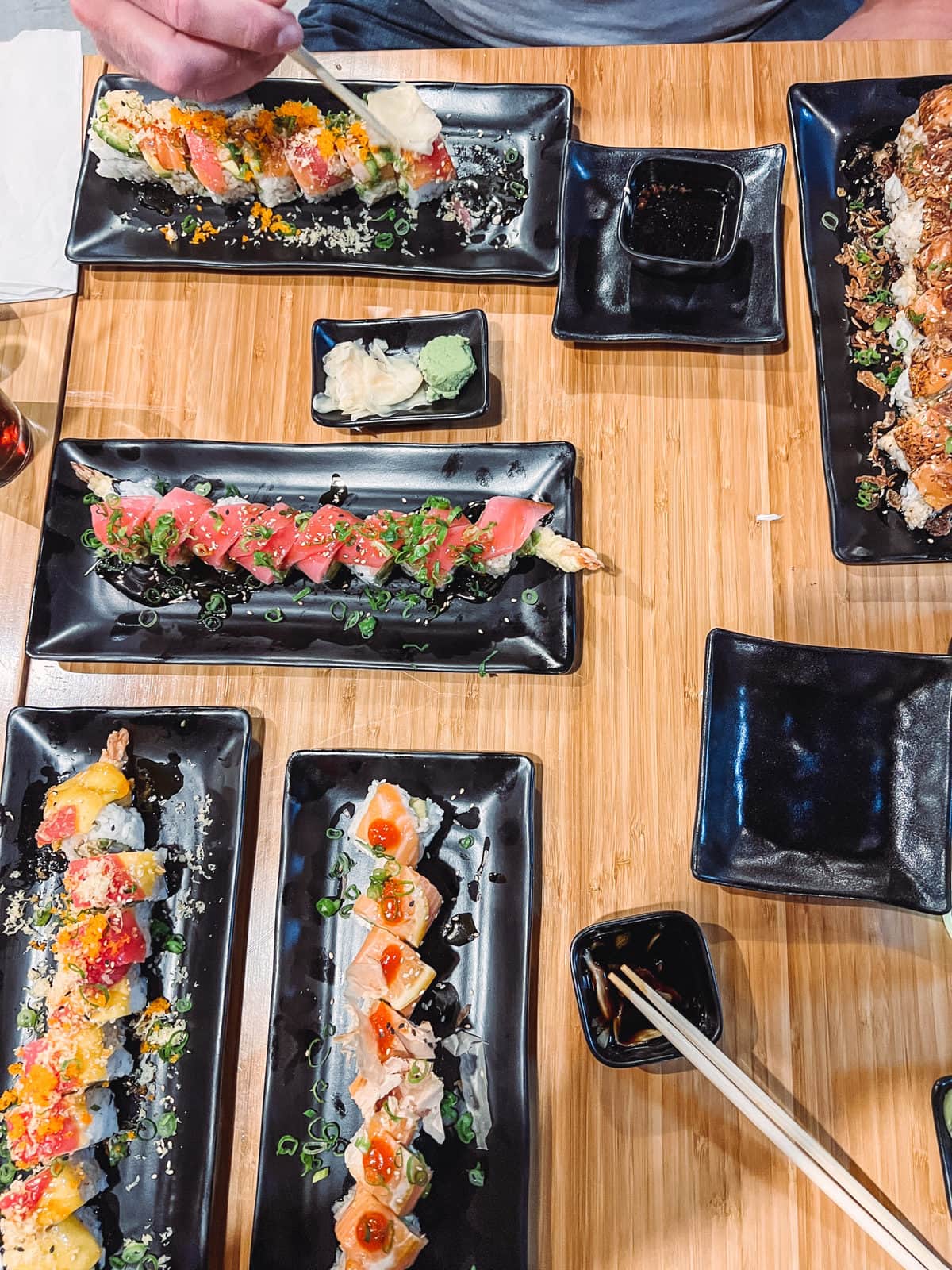 Yamame Sushi
It's a little farther for us so we don't go regularly, but Yamame Sushi in Rancho Santa Margarita is DELICIOUS!! If you're in the RSM area, and you like sushi, it's a MUST.
$$$, Rancho Santa Margarita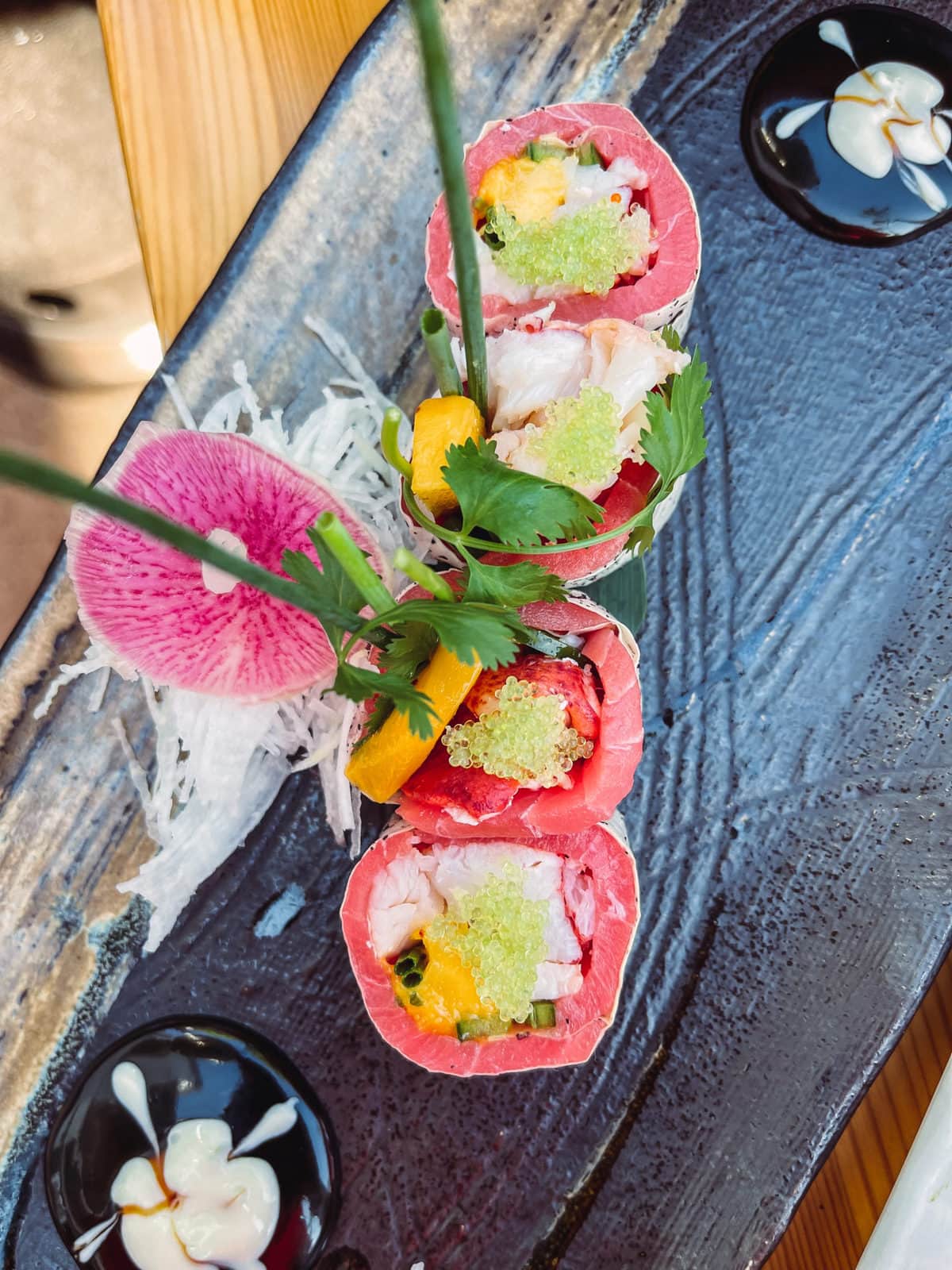 Bottega Angelina
Newest crave-worthy restaurant in town: Bottega Angelina! I dream about their prosciutto pizza. And my kids love the kids spaghetti and meatballs. And the margherita is delicious. So is the cappricioso. YUM.
$$, Laguna Niguel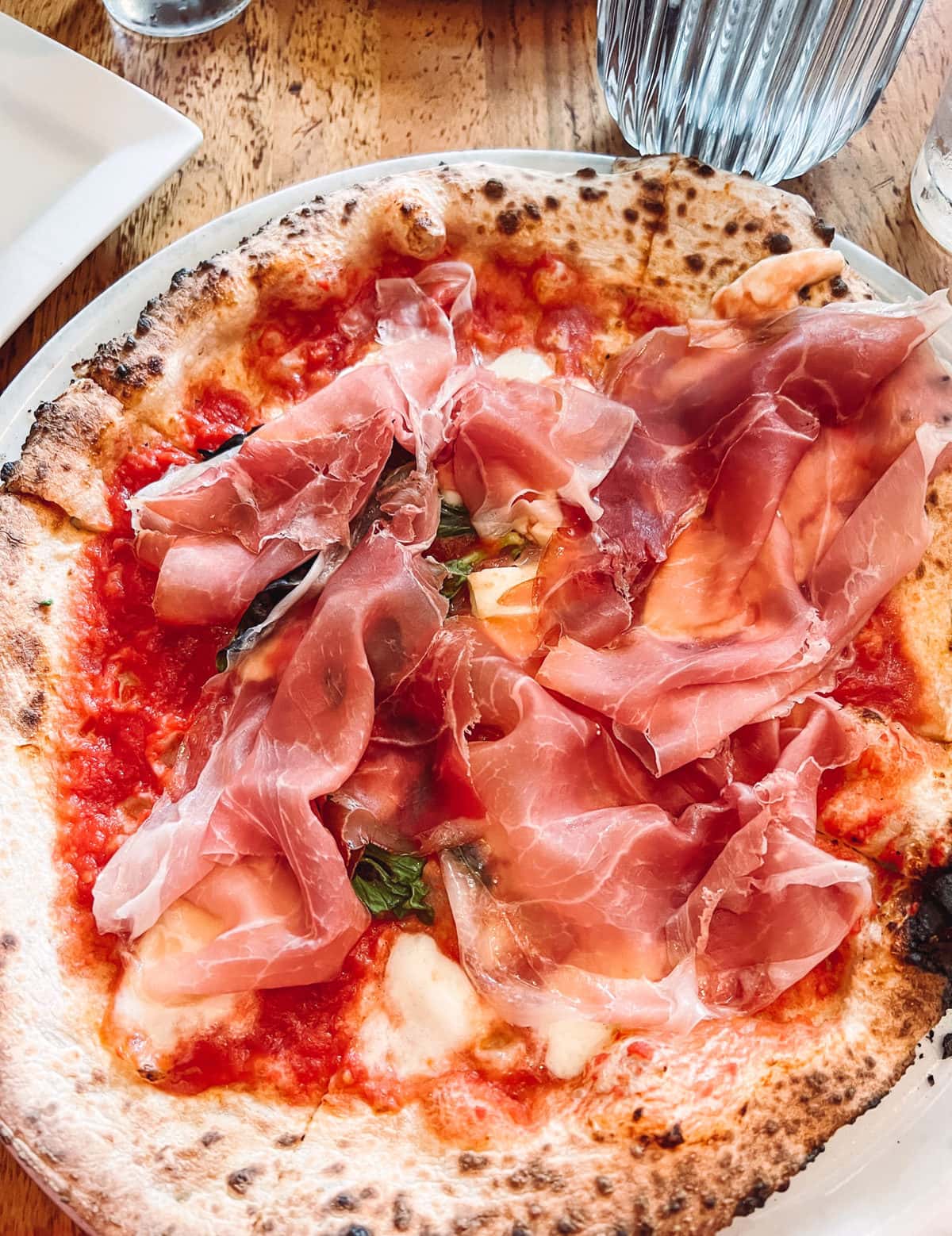 Beachcomber
Beachcomber is SUPER delicious and in extremely high demand! They do take reservations, but if you want to eat there for breakfast (especially during the summer or spring break) go EARLY. On a Saturday in the summer the wait can get up to 2+ hours for breakfast and they stop serving breakfast at 11 (I think?!) and they're pretty strict about that, but the good news is, lunch is delicious too and there's a beach right there for kids to play on if you have to wait.
It's the most beautiful setting where you're sitting as close to the waves as possible, AND you're eating incredible food? WIN-WIN.
$$, Newport Beach
Dessert spots in Orange County
South Swell Ice Cream
​South Swell Ice Cream is a fun place to grab dessert after dinner in San Clemente! Everything is very Instagrammable and so SO good. If you're trying to eat a little more healthy, this is a fun dessert spot because you can get a frozen banana instead of the ice cream bar.
$, San Clemente
Sprinkles Ice Cream
​Sprinkles Ice Cream is one of my fave ice cream spots! Their flavors are always extra yummy and they change all the time.
$, Newport Beach
Handel's Ice Cream
Handel's Ice Cream has been in business for a LONG time, but people I know had been driving down to San Diego for Handel's ice cream for years and years, and they're finally in Orange County as of last year! Every time I go into this place it's packed, but the line moves fast! Super delicious, fun ice cream flavors here like my current fave – Graham Central Station. Pro tip: you can get the 4-scoop sampler for $5 and try 4 flavors!!
$, Laguna Niguel
Salt & Straw
It's in Downtown Disney, but my very favorite ice cream in all of Orange County (and maybe that I've ever had in my life!) is Salt & Straw. My go-tos are Gooey Brownie and Salted Caramel.
$$, Anaheim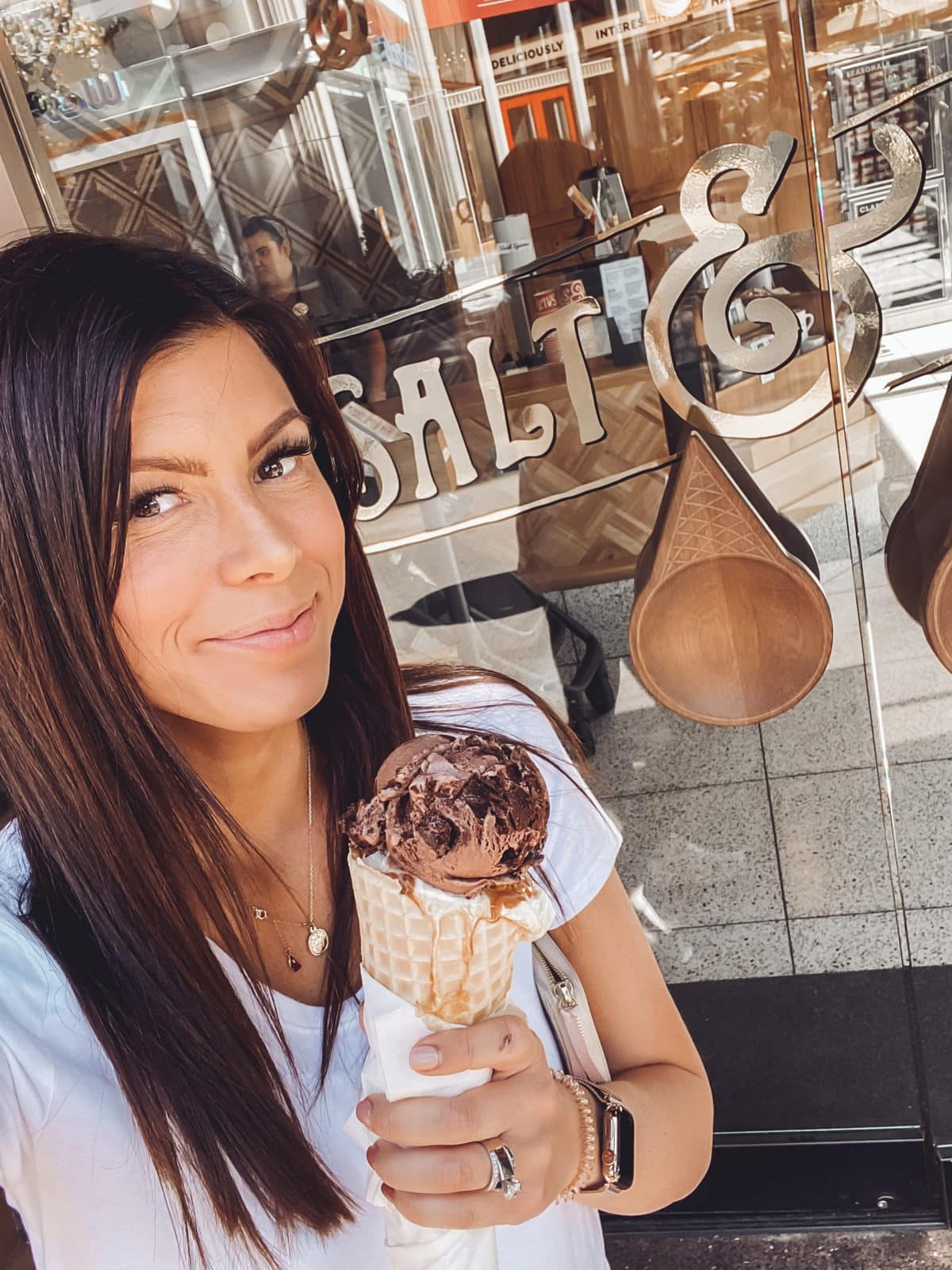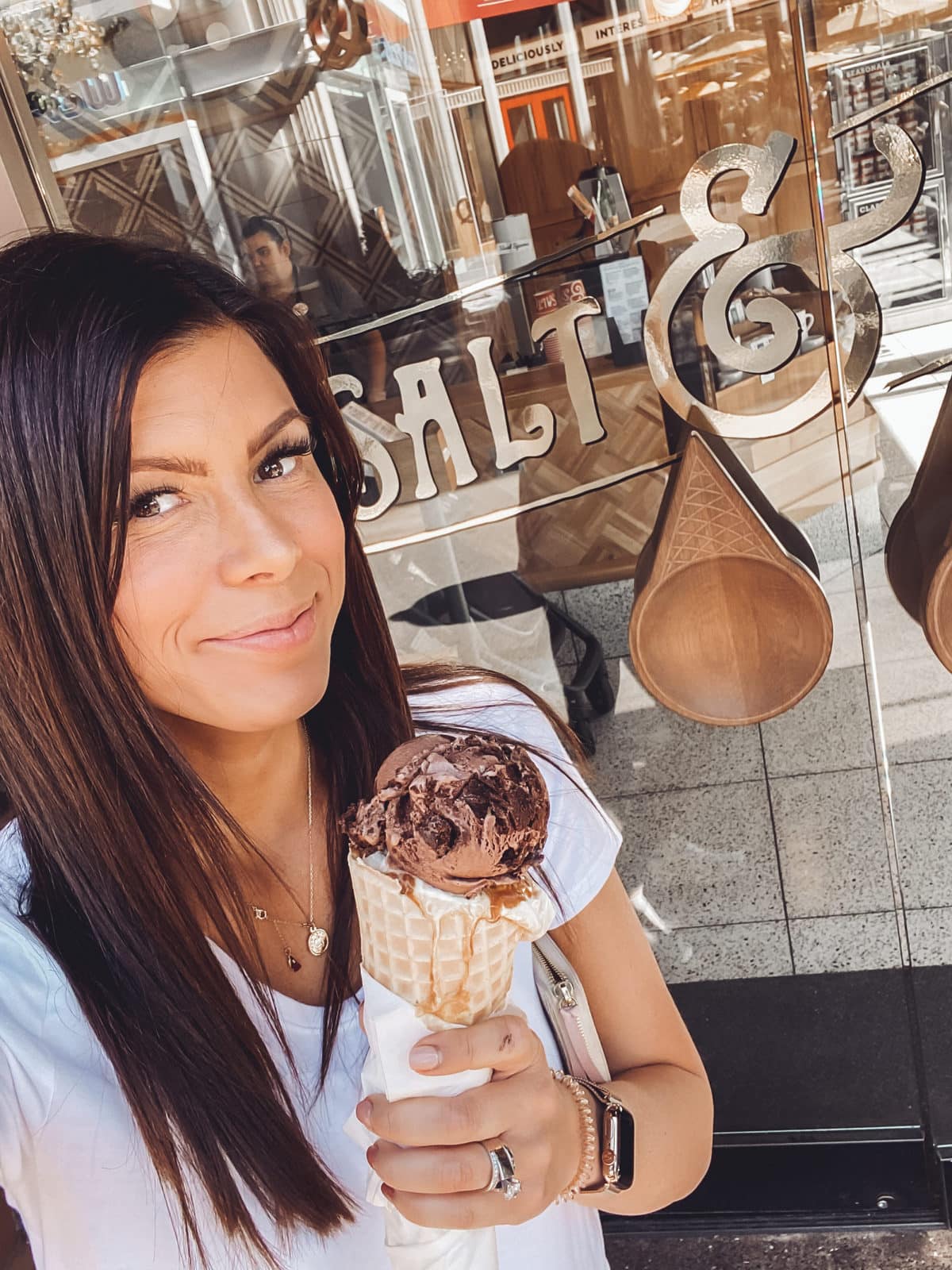 Sidecar Doughnuts
If you're a doughnut connoisseur, you MUST go to Sidecar Doughnuts. All of their doughnuts are to die for, but I always get whatever's most fresh, and sample it on the way back to my car.
$, Costa Mesa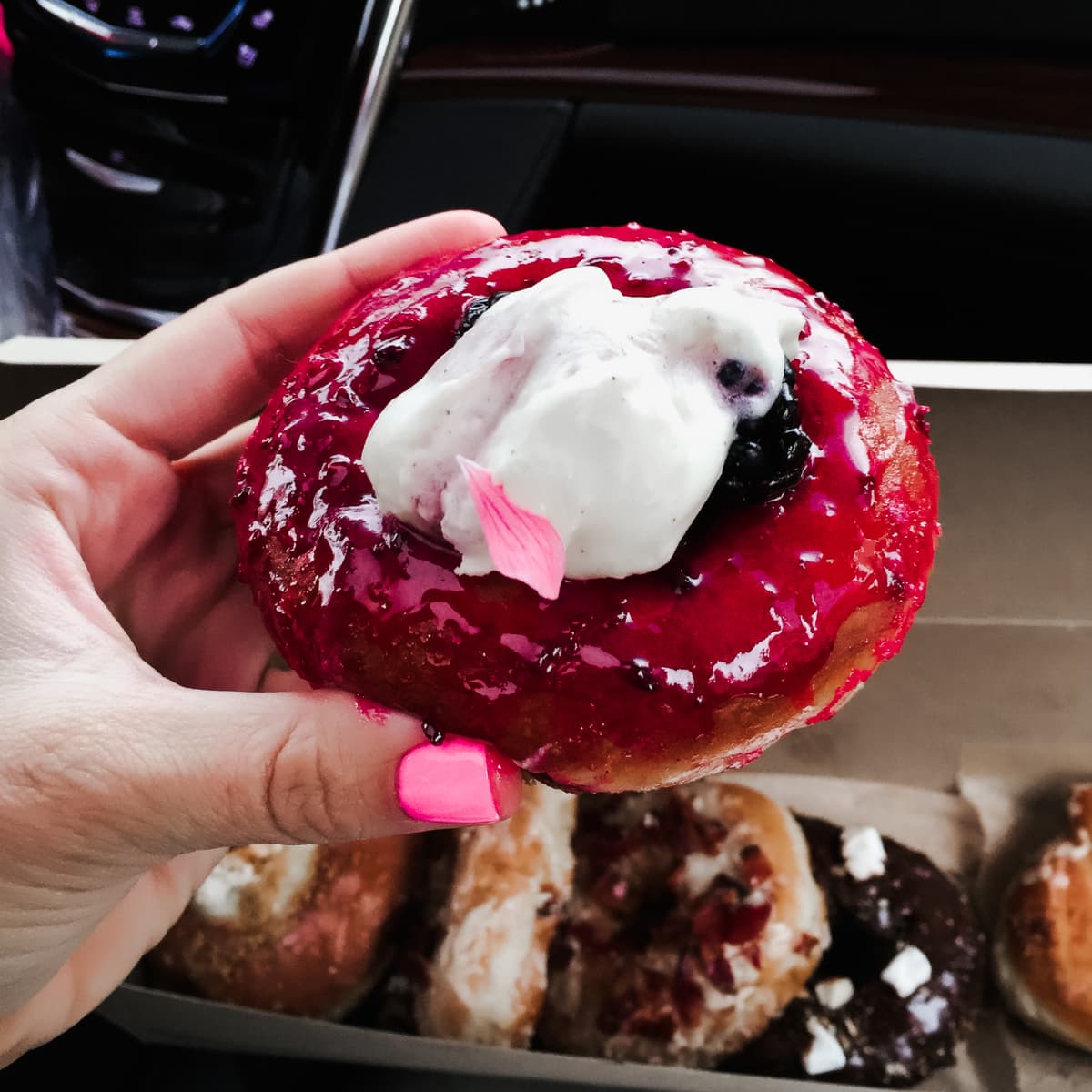 Balboa Frozen Banana Stand
Balboa Frozen Banana Stand is a super fun place to take your kids to get a treat, or go after dinner on date night! There are a few right on Balboa Island and I think they're all kinda the same 🙂
$, Balboa Island (Newport Beach)
Healthy food options in Orange County
Banzai Bowl
The very best acai bowls I've ever eaten, hands down are from Banzai Bowl. A few locations in Orange County and one in Oahu Hawaii – if that tells you anything! My mom ALWAYS wants to go here first when she's in town 🙂
$, Laguna Beach, San Clemente, Costa Mesa
Active Culture
If you love HEALTHY food, Active Culture is a must! Active culture's OG bowl and "not your mama's nachos" are some of my favorite things to order, oh and their coconut shake. But everything's good!!
$, San Clemente, Laguna Beach
Pressed Juicery
Pressed Juicery is another mega healthy spot that to be honest isn't my very favorite, BUT that's because if I'm gonna have a treat, I want it to be a TREAT. Most of my friends are obsessed with this place! They're known for their fro-yo and hot fudge that are sweetened with dates.
$, Tustin, Newport Beach, Newport Coast, Irvine, Laguna Niguel
What to do in Orange County
Usually people who are headed to California are there for Disneyland (more on that in a min!) or the beach (more on this later too!). But there's SO MUCH to do in Orange County! So here are some of our favorite things to do as a family in Orange County.
Drive down PCH
This might seem like a no-brainer but a drive down PCH is FREE and beautiful and if you have just a little extra time to get from point A to point B, take the scenic route.
ZOOMARS Petting Zoo San Juan
Our kids absolutely love ZOOMARS Petting Zoo San Juan! It's so cute and fun and they have small animals for petting, feeding, and even offer pony rides.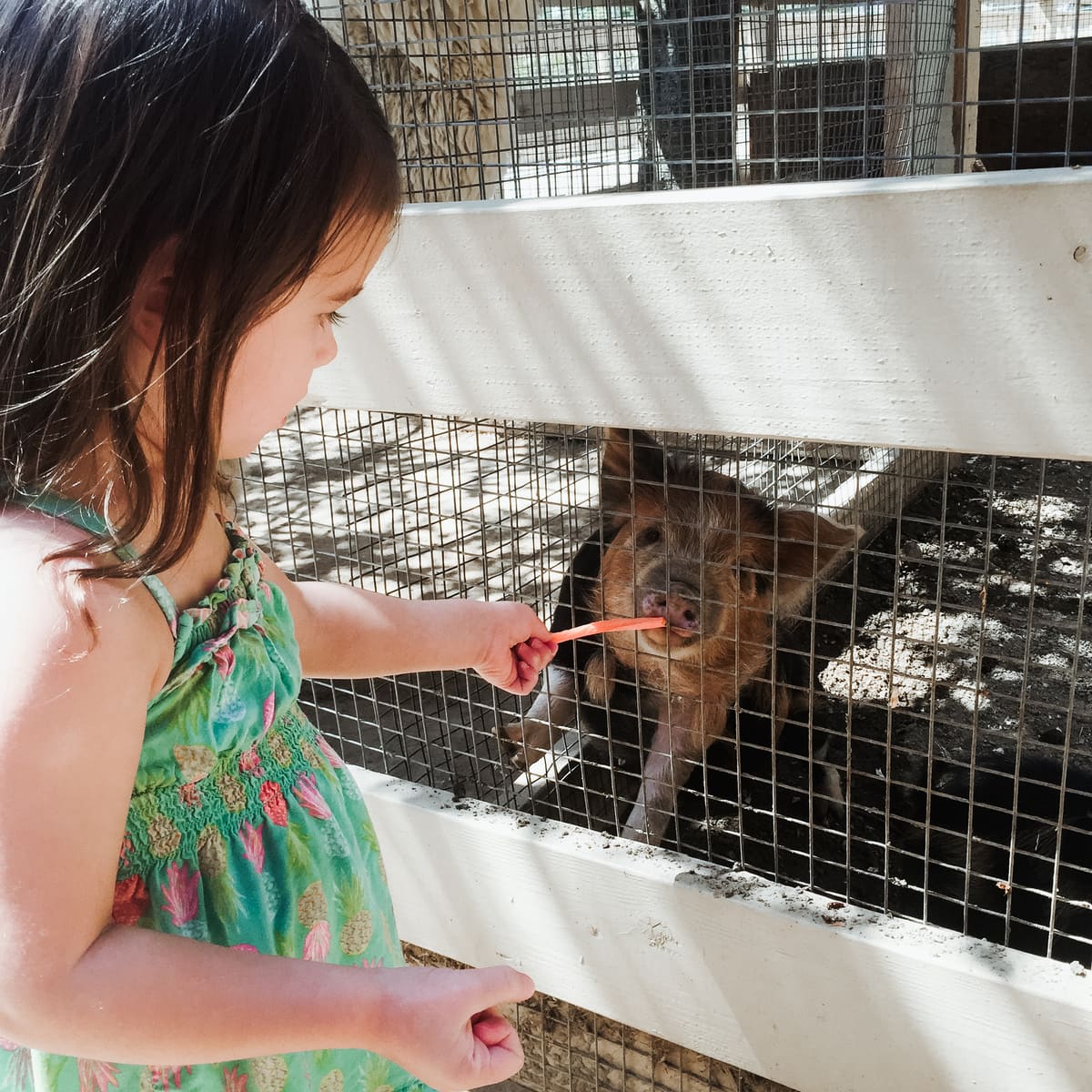 Pretend City
Pretend City is a fun option if you get rained out of a beach day and have antsy toddlers or young kids!
Big Air
Our kids love getting their wiggles out at Big Air too! It gets busy on rainy days, but it's a fun place to get some energy out. Also if you're a local, it's our fave place to host a bday party. They do everything for you and the price even includes pizza and drinks for the kids at the end. WIN.
Cinepolis Luxury Movie Theaters
If you've never been to a luxury movie theater but you've always wanted to, now's the time! Cinepolis has fully reclining gigantic plush la-z-boy type seats, and you press a little button and they come to your seat, take your order, and bring you your popcorn, drinks, candy, or whatever food you want right to your lap. Need a free refill of popcorn or soda? Press the button again, and they're back to top you off. And while most theaters in the area are $13-15, Cinepolis is $19.50 per adult ticket and $17.50 for kids or seniors over 60, so it is a little more, but not too much more!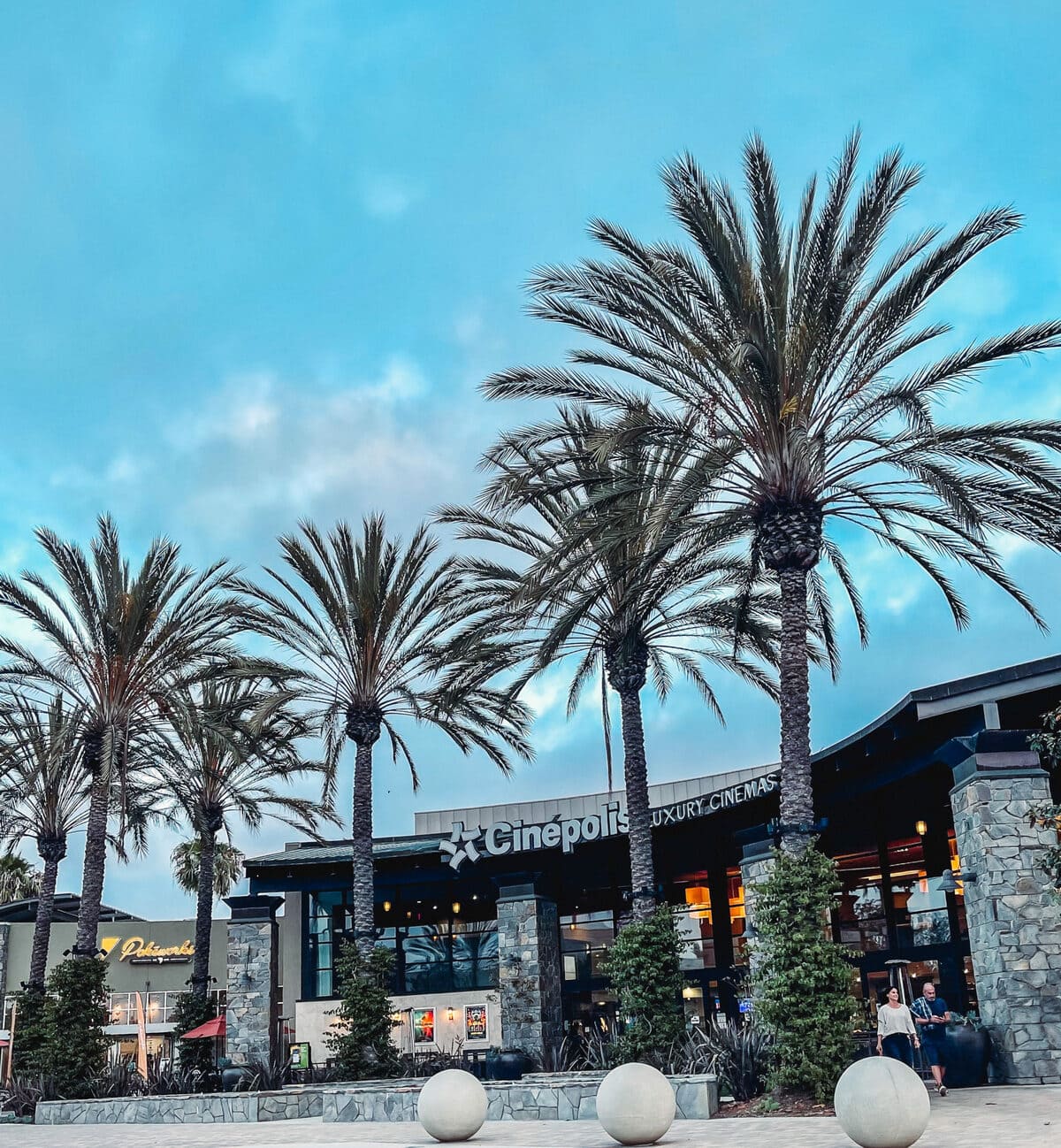 Pageant of the Masters
Last summer we finally went to Pageant of the Masters and I was BLOWN AWAY by how much I absolutely loved it. It's basically art that's depicted by real life people. It will boggle your mind how this is even real, the "paintings" look so much like a real painting, not like real people posing in these paintings, or as statues! Sounds weird but it's CRAZY good entertainment. If you're into theater (and even if you're not!) it's one of the best productions in this area. Tickets range from $15-240. You really do want to sit as close as possible to fully enjoy it!
Sergerstrom Arts Center
Segerstrom Arts Center is a super nice venue for things like traveling Broadway musicals and concerts. They hosted Hamilton a couple of years ago, and I saw the Tabernacle Choir at Temple Square there one summer and it was incredible!! I took my girls recently to see the traveling broadway cast of Wicked and WOW. Truly amazing. My favorite Elpheba I've ever seen, and I've seen Wicked at least a half dozen times!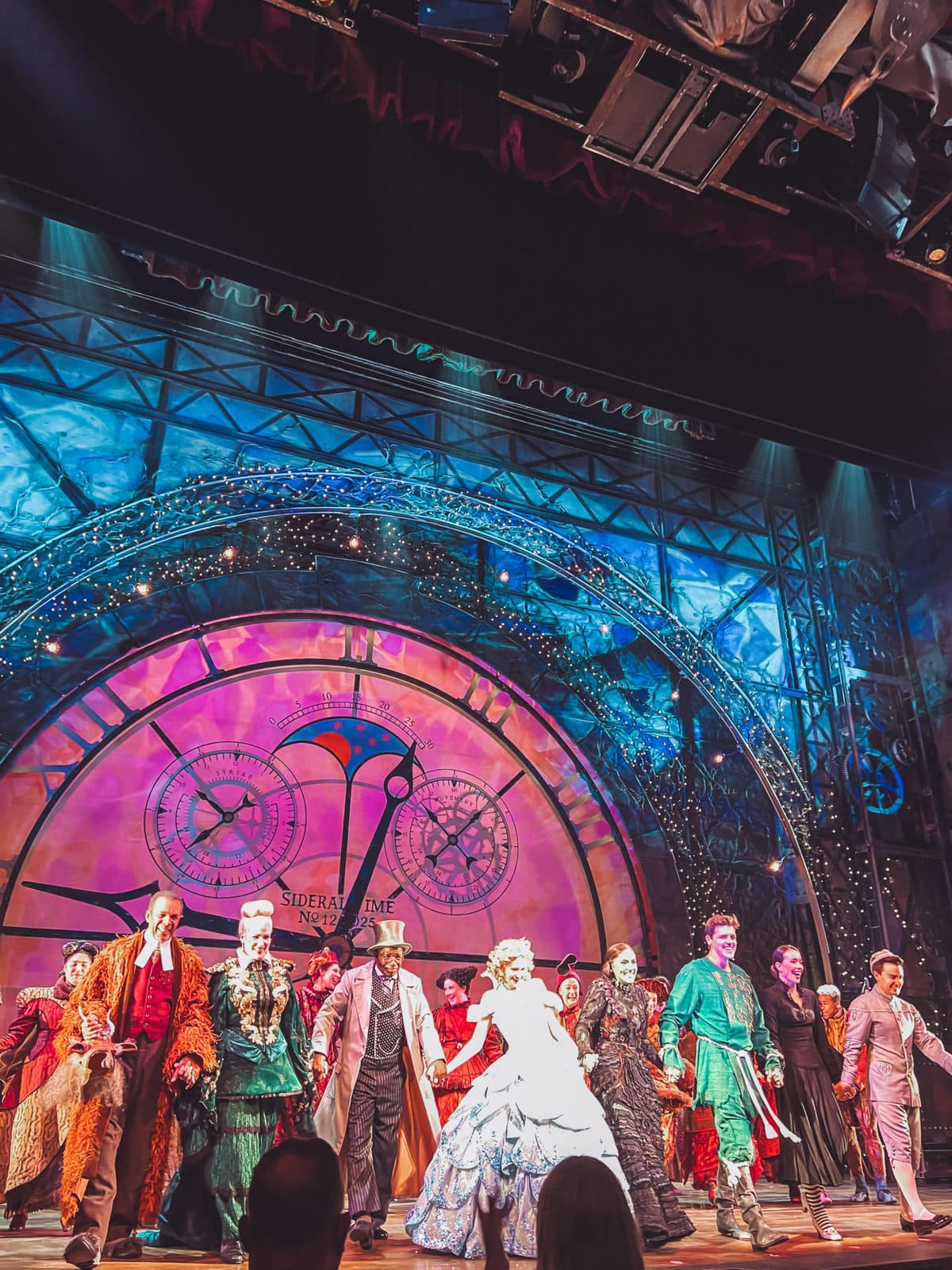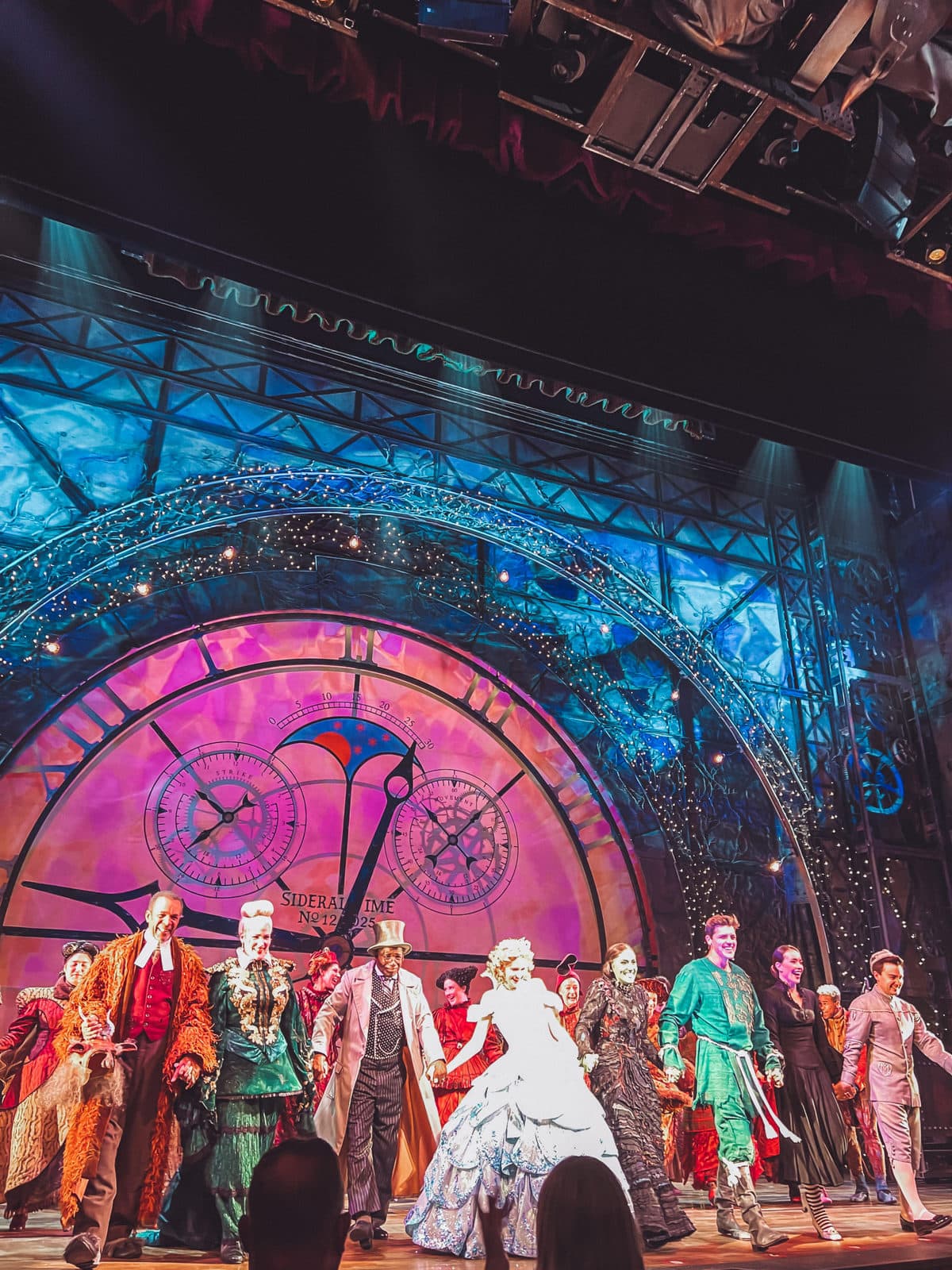 Disneyland
Yes, I know, Disneyland is OBVIOUS but I had to mention it! We are total disnerds and LOVE Disneyland!! You can read my 2022 guide to Disneyland, Season pass holder insider tips here on on Disneyland with kids, Disneyland date night, Disneyland todder/baby friendly rides, and What to wear to Disneyland here.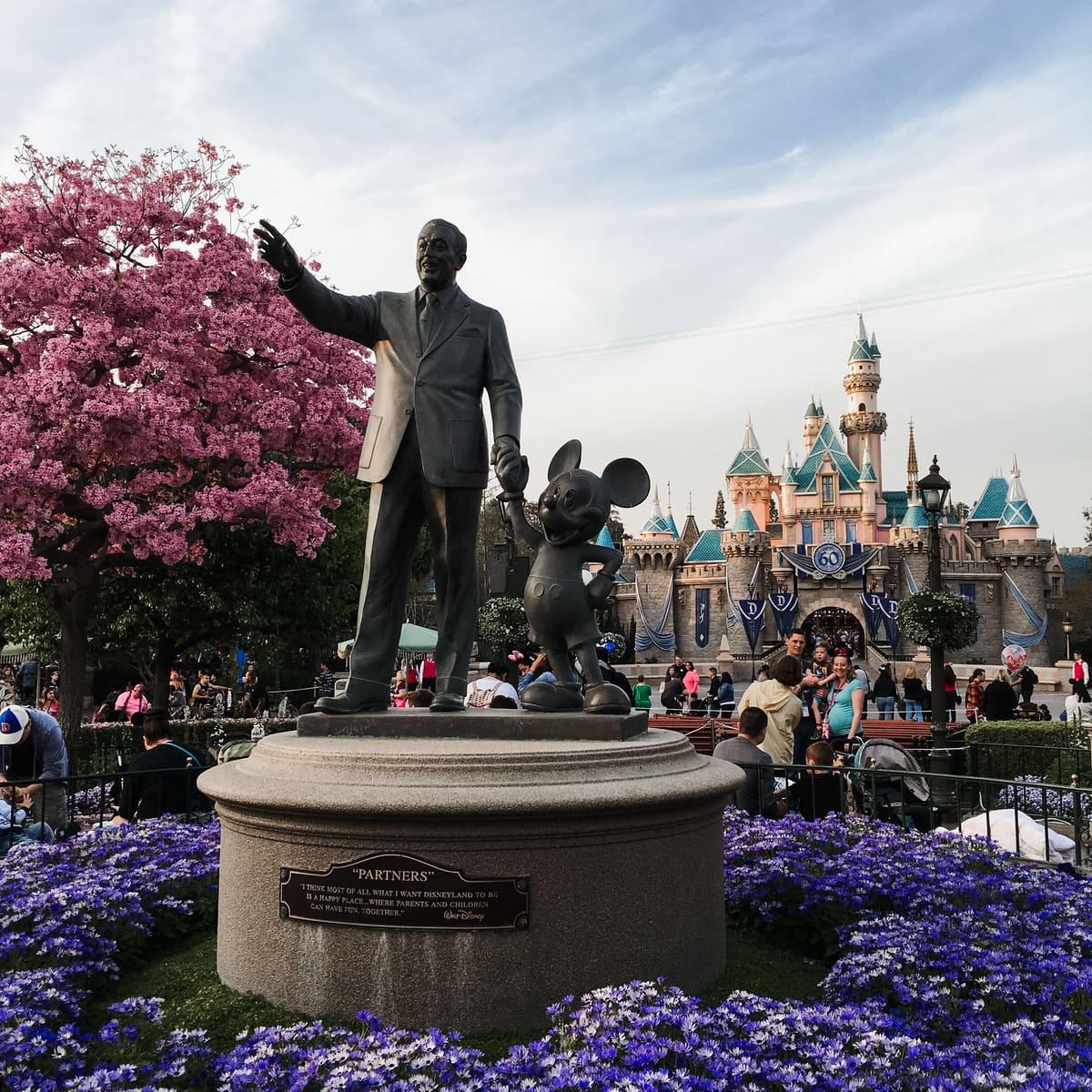 Angel's Stadium
If you're here at the right time and you love baseball, an Angel's baseball game at Angel Stadium is a really fun night out! The stadium is really easy to get in and out of and has great parking, unlike some of our MLB neighbors a bit north (coughDODGERScough). Close to Disneyland too.
Rent bikes at Newport Pier
Renting bikes at Newport Pier is a favorite pastime for our family! We rented bikes before everyone had their own, and there's a very pretty bike path where you can ride all the way down Newport Beach.
Fashion Island Shopping
A BEAUTIFUL outdoor mall with all my favorites is Fashion Island Shopping. It has Nordstrom, Anthropologie, Lululemon, and cute kids clothing like Hanna Andersson and Peek Kids. They have a nice variety of everything from Forever 21 to Chanel at Neiman Marcus, but it's fun to even just walk around because everything's so pretty. Great dining options too.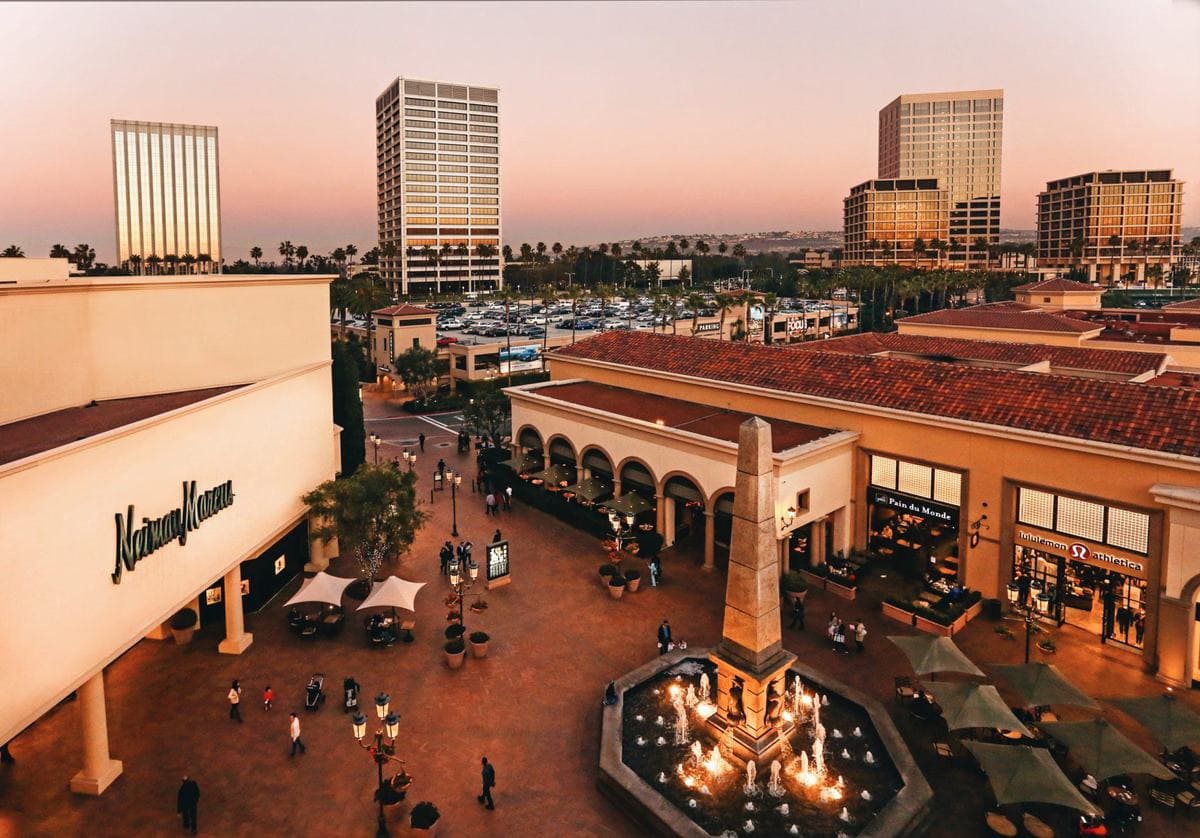 Irvine Spectrum Mall
Irvine Spectrum Mall is another fun outdoor mall, with a little more variety as far as high and low end options. Everything from Free People and American Eagle to Sephora and Anthropologie. Their Nordstrom is on the smaller side so it's not my fave for that reason (go to South Coast Plaza if you're looking for luxury shops or the biggest Nordstrom in the area!), but it's a good fun mix of shops and restaurants, and it has a really fun carousel and ferris wheel.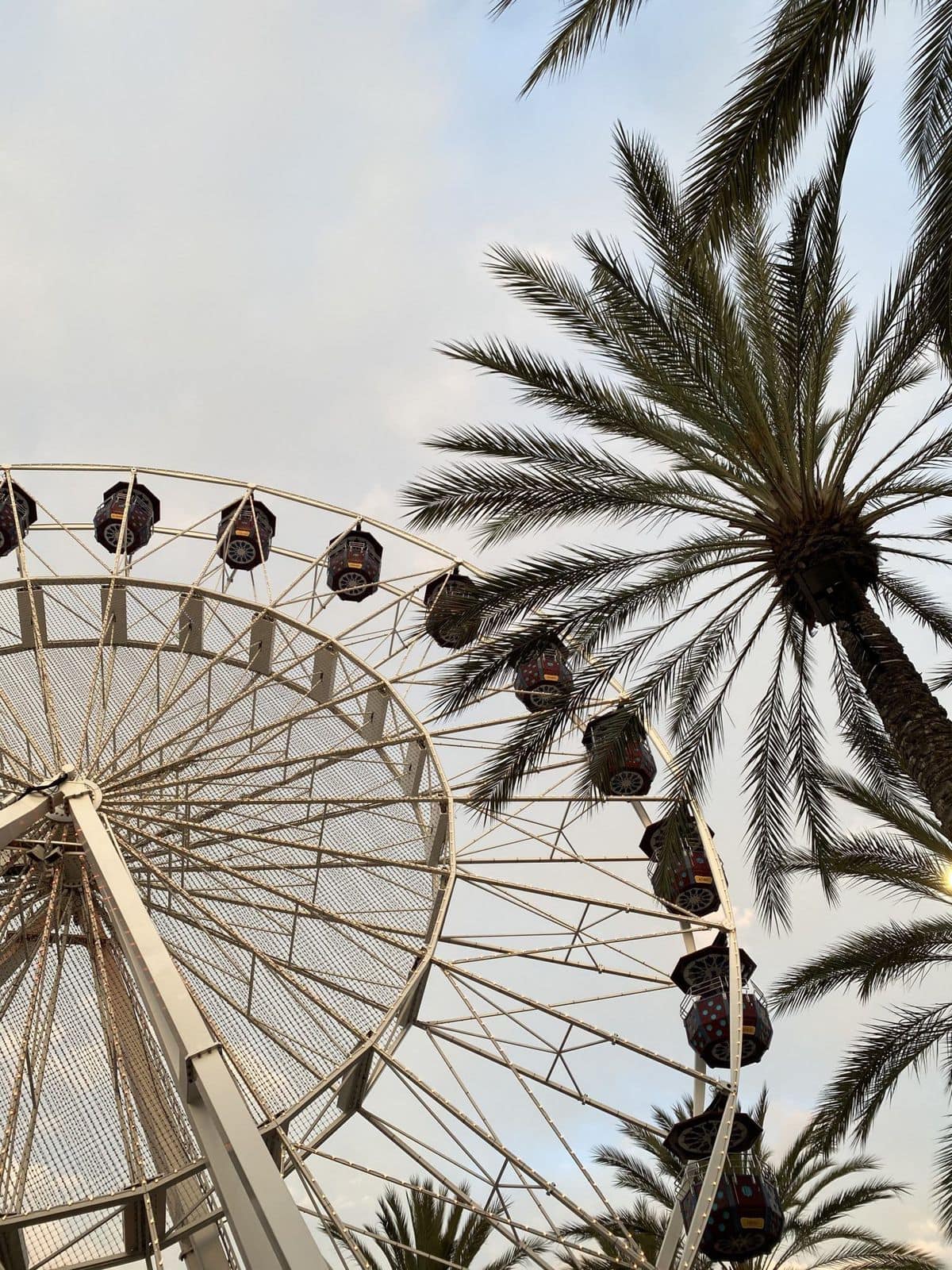 Rainbow Flip Flop Outlet
​Rainbow Flip Flop Outlet is a fun place to go get a souvenir (or take-home gift) that anyone would love, for a great deal!
Back Bay Loop Trail
If you love going on a scenic run or power walk, Back Bay Loop Trail is a beautiful loop that a lot of locals really enjoy.
San Clemente Beach Trail
​San Clemente Beach Trail is the most beautiful beach trail! This is always top of my mom's to-do list when she comes to visit. It's 5 miles if you go from the north parking lot all the way to the south parking lot and back. You can walk it, run it, or bike it!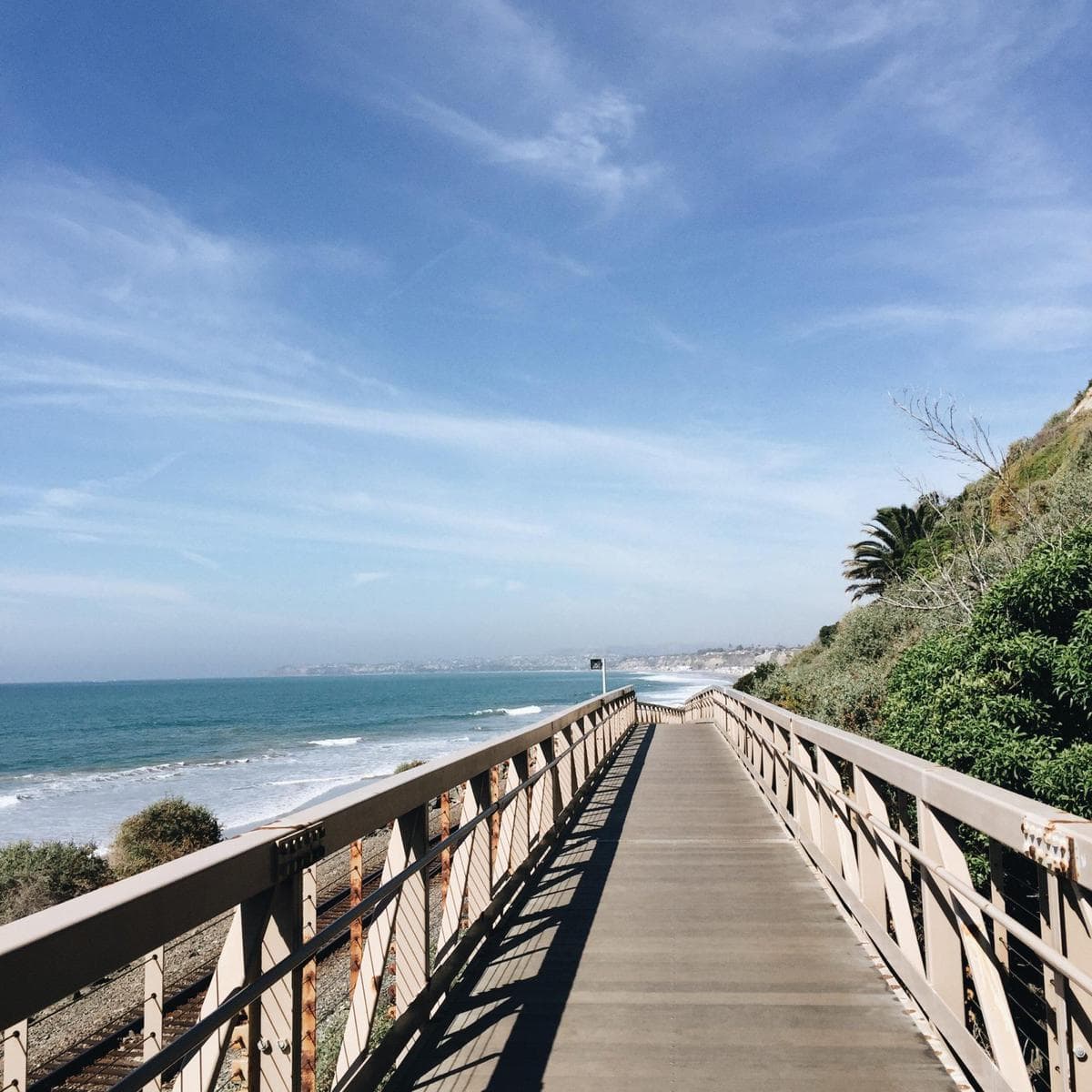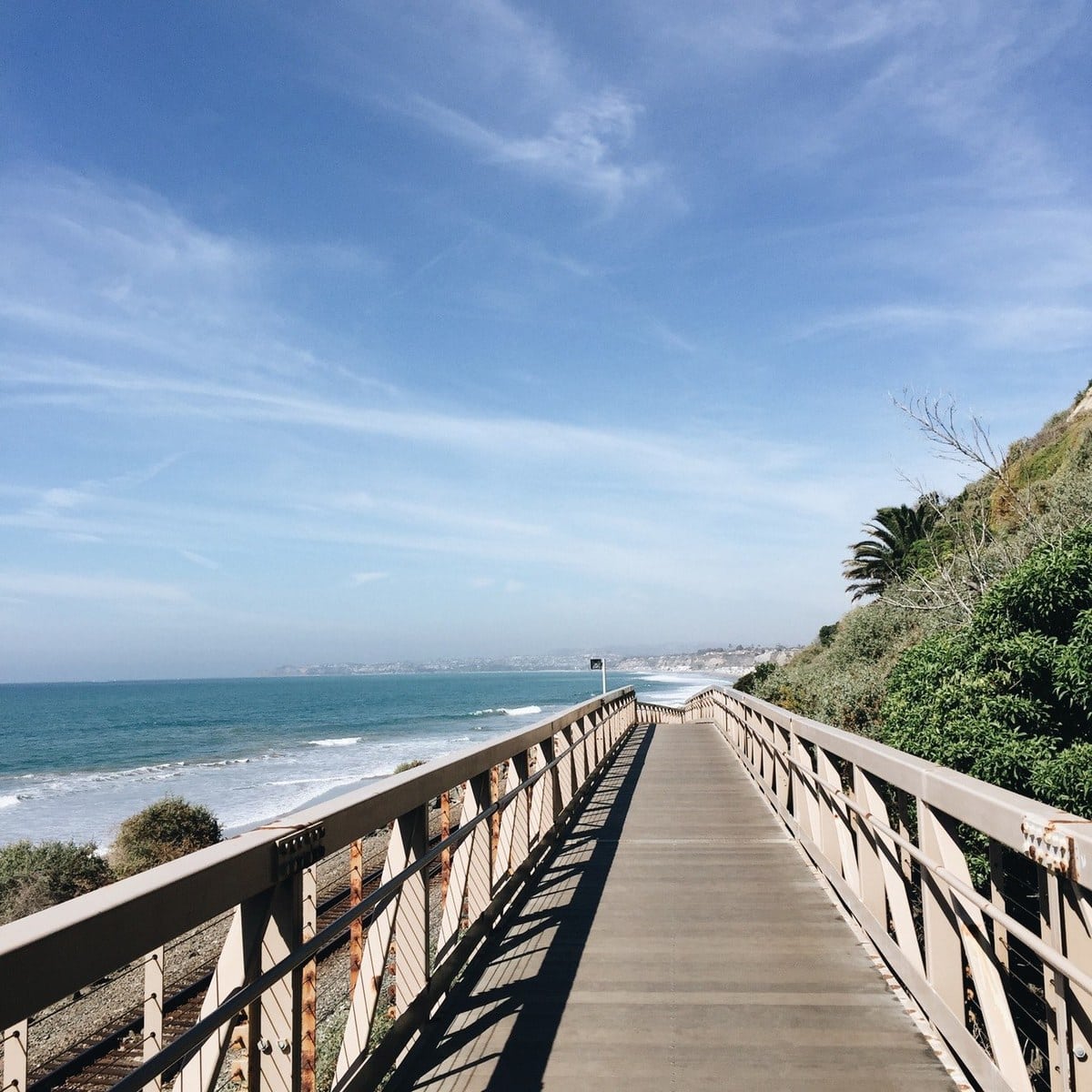 Best beaches in Orange County
There truly are SO many beautiful beaches in Orange County that it's hard to pick just a few, but these are the ones that I recommend most to people coming in from out of town that are easy to find, easy to park at. Most of these have bathrooms, and are the prettiest and most family-friendly.
ALSO, if you're headed to the beach with babies or littles, you might like reading our top 10 baby beach tips!
Crystal Cove
Crystal Cove is such a beautiful place for a family walk or down to the beach to watch the sunset. The tide pools are fun too!
Little Corona Del Mar
Little Corona Del Mar is ULTRA beautiful, parking during the week is pretty easy, and there are bathrooms!!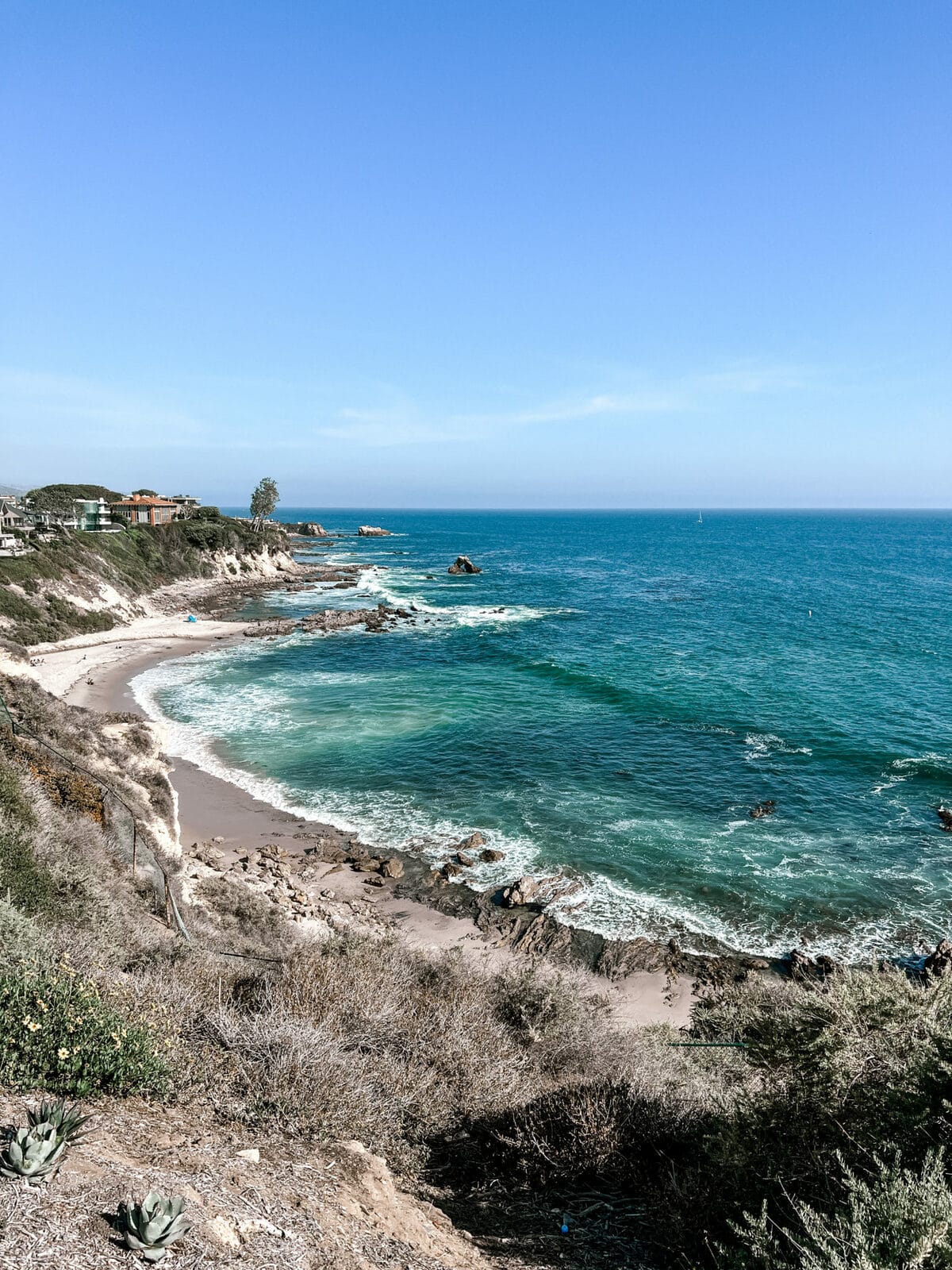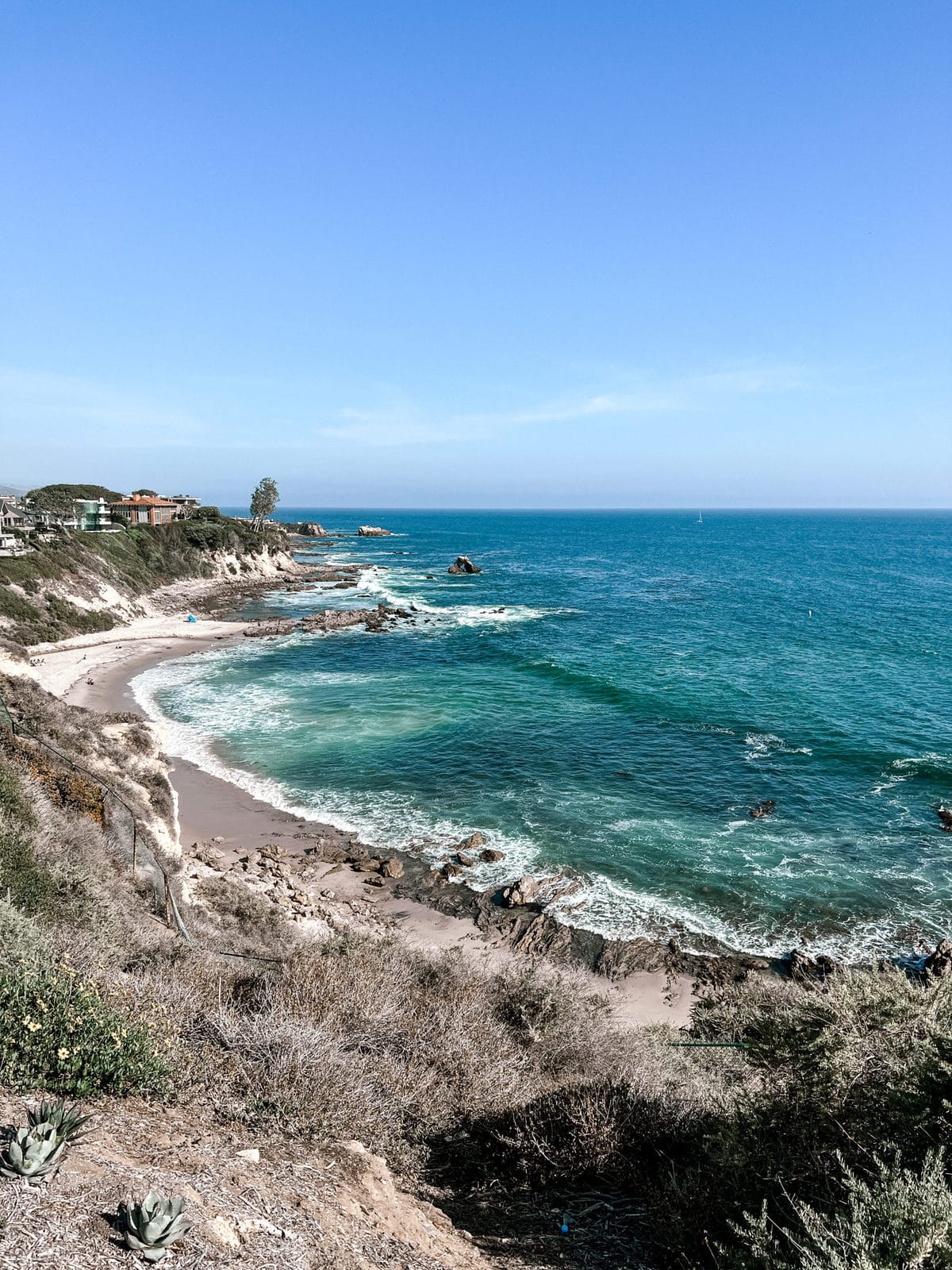 Montage Treasure Island Beach
I think Montage Treasure Island Beach is the prettiest beach you can "go to the beach" for the day. It's the same beach used by the Montage so it can get crowded in summer months, but it's breathtakingly picturesque.
Victoria Beach (pirate tower)
Originally built in 1926 by a California senator to access his beachfront home, Victoria Beach is now a hidden gem that people come from far and wide to enjoy! Route to "Victoria Beach," park in the neighborhood above, and walk straight down to the beach and if you don't see it right away, keep walking North and you'll run into it!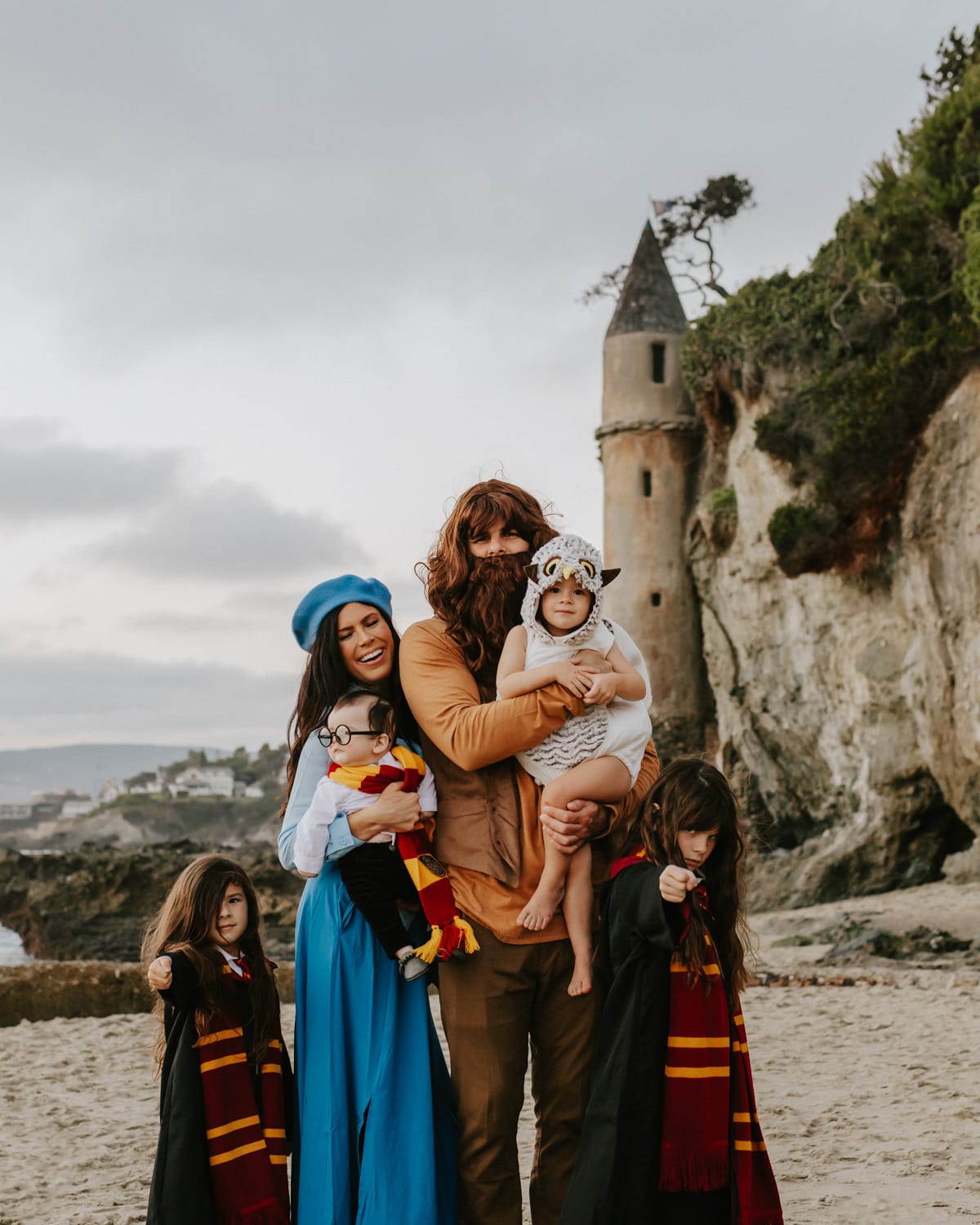 Here's a fun reel of us at Victoria Beach!
Calafia State Beach
One of my favorite beaches to tell visitors to go to is Calafia because it's clean, pretty, easy to find, easy to park at, has bathrooms, and a great little snack shack in the summer!
Baby Beach
If you have babies and toddlers, Baby Beach is a dream! It's more of a bay so you won't have to be paranoid of them getting knocked over by a wave. Lots of young moms hang out here in warm months and it can get mega crowded during the summer!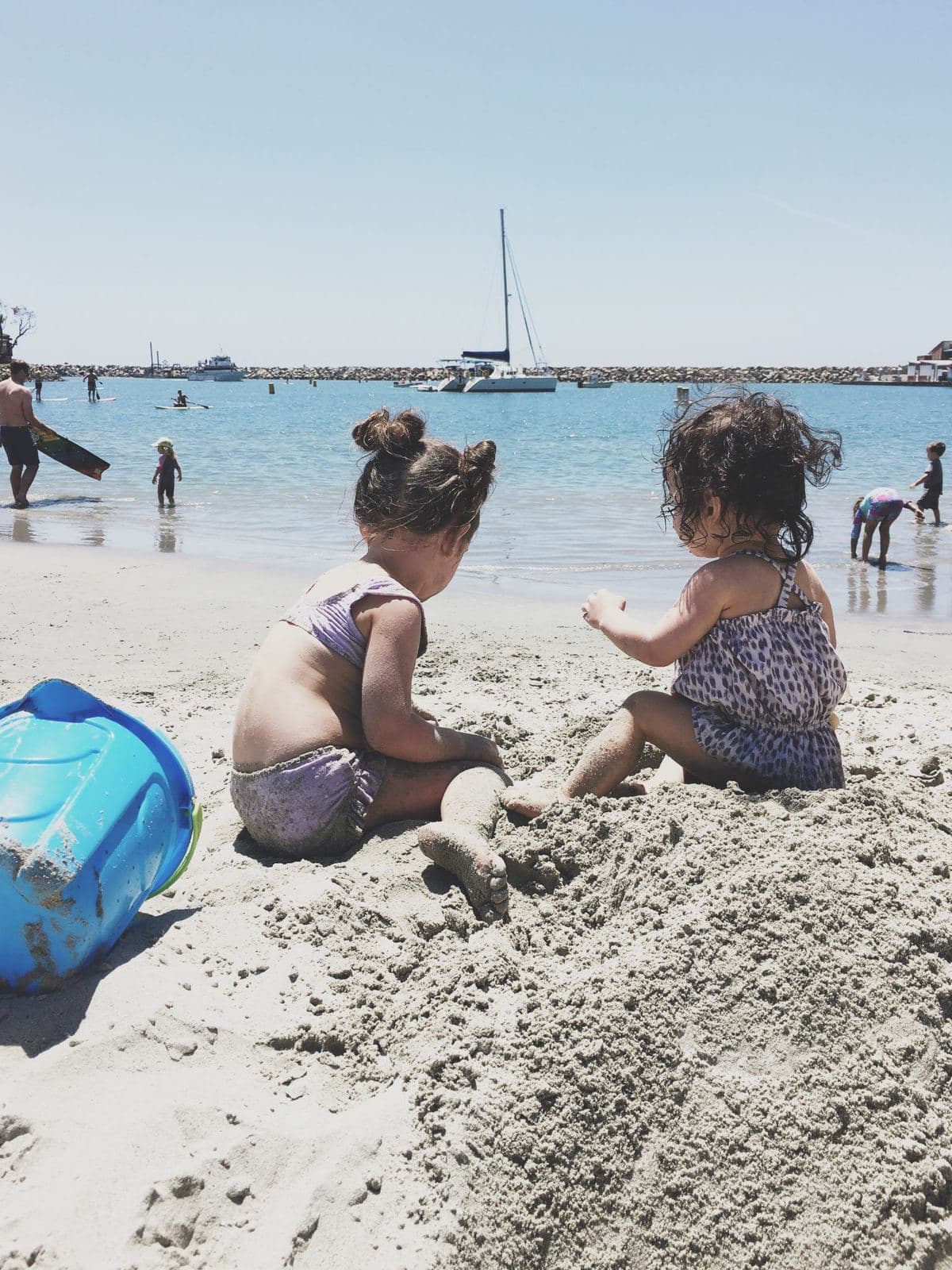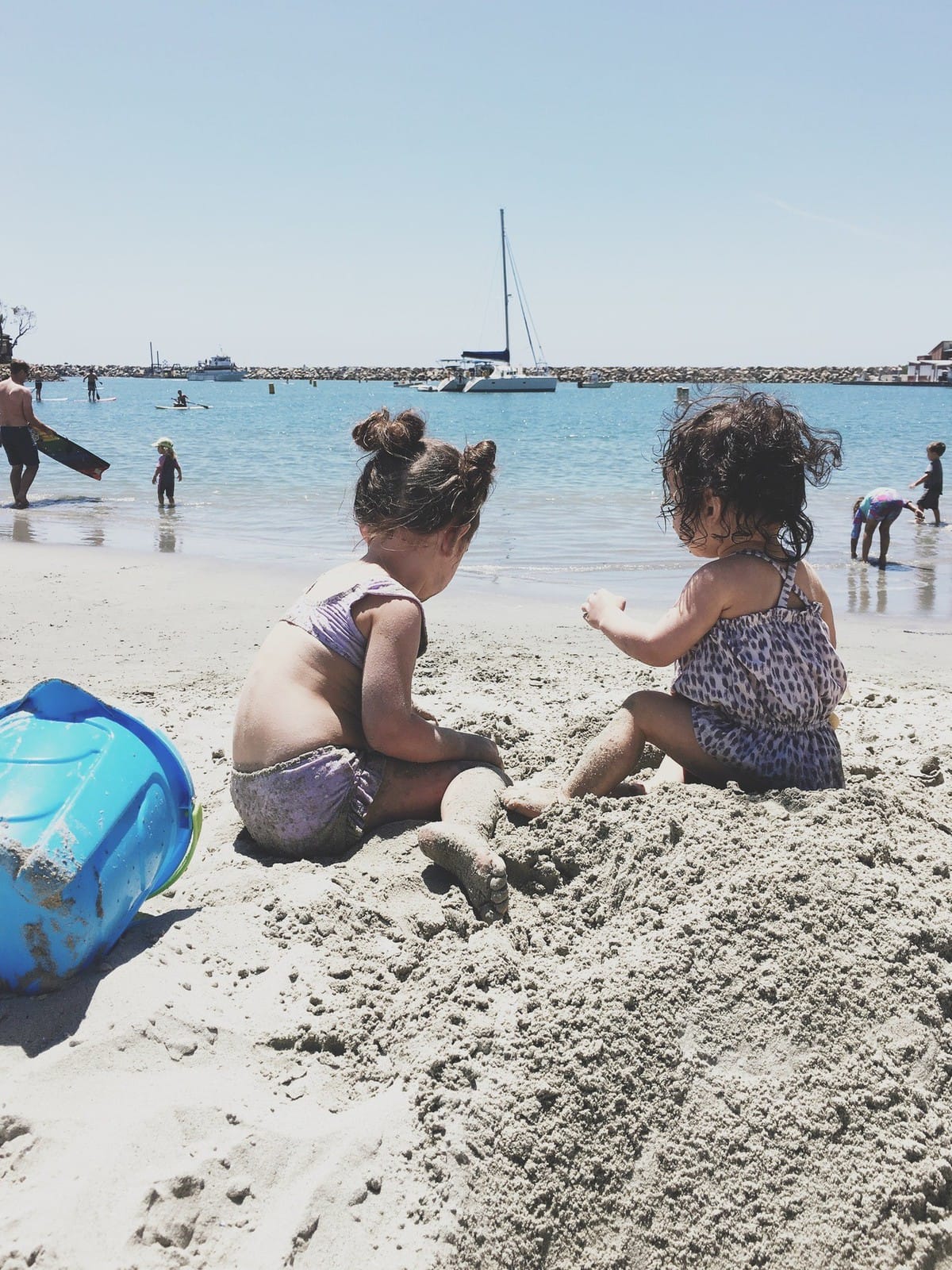 Thousand Steps
Thousand Steps is a really beautiful Laguna Beach spot that used to be kind of a "locals only" type of beach but now a lot of tourists find their way down here too. There are LOTS of steps (it feels like a thousand, but it's actually 200 something) leading down to this beach, but the mild waves and beautiful beach is worth it to me. For sure one of my fave spots.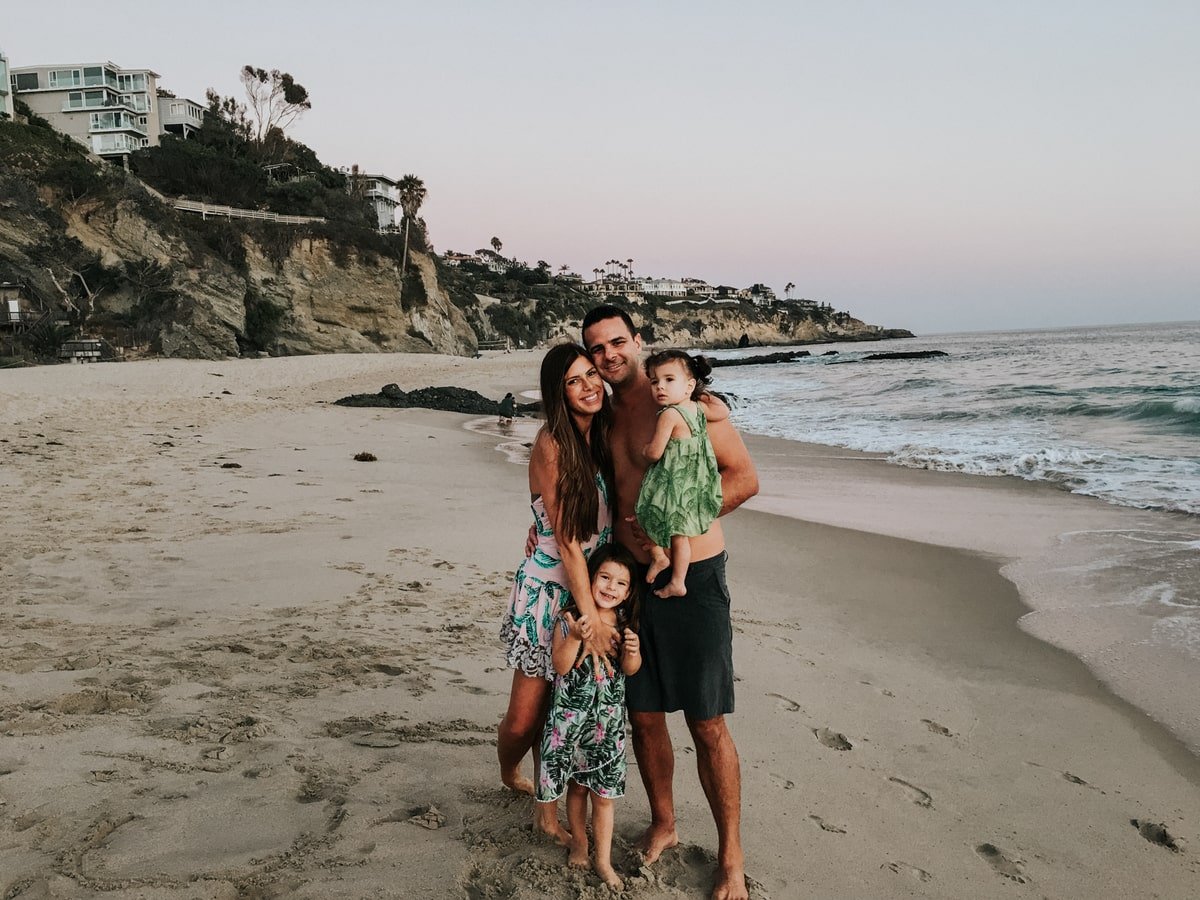 Newport Beach
If you've come in town for Disneyland, and you've asked me where you should go to the beach, Newport Beach is probably what I've told you! Newport Beach is family-friendly, clean, pretty, and conveniently close to a LOT of good food! Geographically, Newport Beach is a good place to jet to the beach from Anaheim. You can go to Huntington Beach too but the crowd there can be a bit more edgy 🙂 Fair warning: parking can get GNARLY in the summer! For this reason, we usually opt for beaches a little south of Newport.
Salt Creek Beach
Salt Creek Beach is one of our fave spots, not only to come to the beach, but also to just go sit on the enormous lawn on a Sunday afternoon and watch the sunset while the kids run and play. In the summertime, there's a $1 per person tram that runs up and down if you don't want to walk with all your kids and gear! Bonus: there's a super cute mural-painted tunnel on the way down to the beach that's the perfect photo op.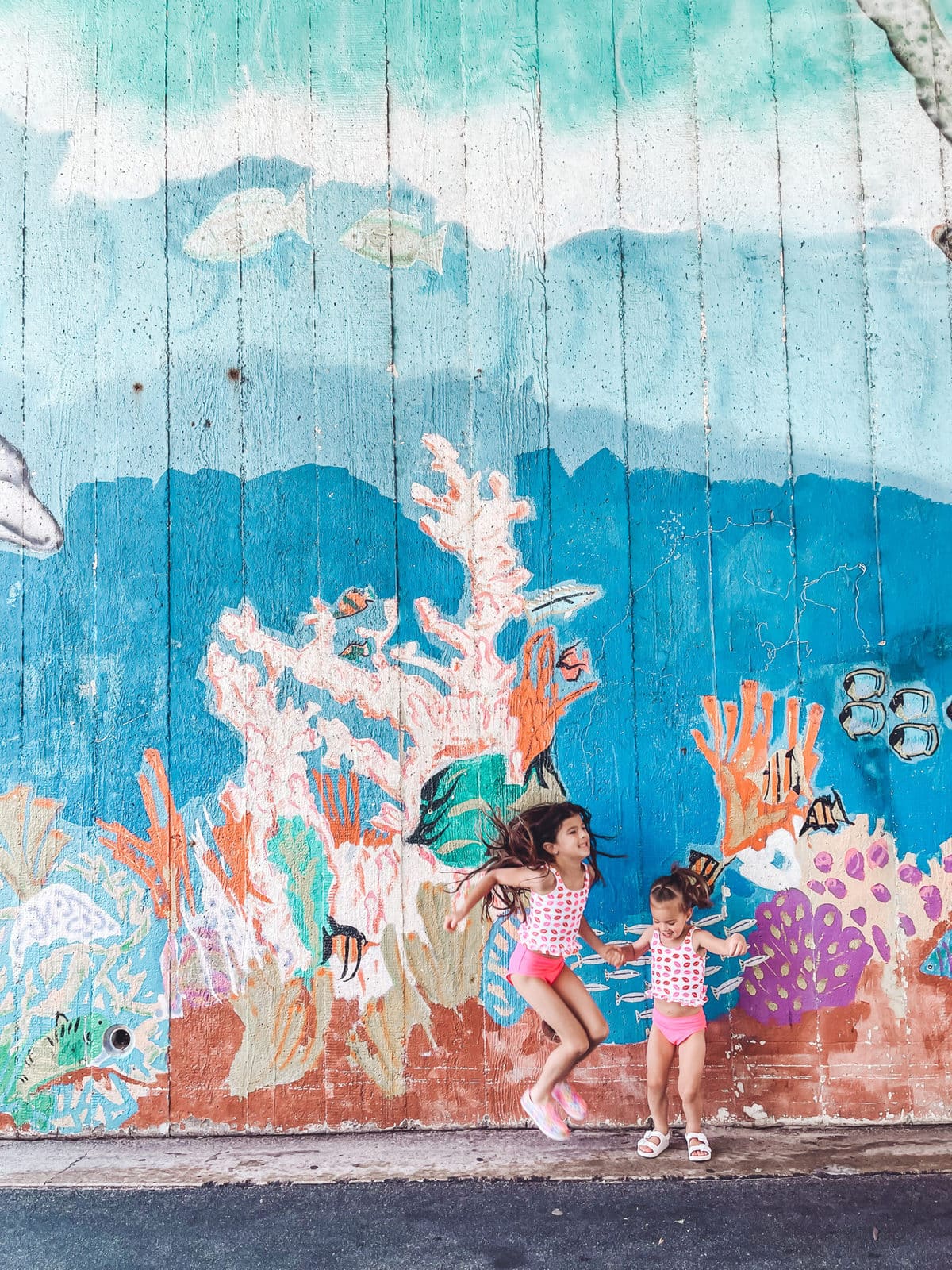 San Clemente Pier Beach
If you're looking for somewhere to have lunch right on the water, set up a towel and chair and umbrella, AND watch surfers all day, San Clemente Pier Beach is your spot. Public parking, places to grab a bite, and restrooms close by too!
California Dreamin'
I hope this helps you find some fun things to do while you're in our little corner of paradise!! Have you been to Orange County? Is there anything you'd add to the list? Let me know below!