Halloween is creeping up on us (ha!). Do you know what you're wearing?! If not, DON'T PANIC, because today we're rounding up the best halloween family costumes that ship RIGHT to your doorstep.
In the past we've gone as characters from Harry Potter, Star Wars, Toy Story, Alice in Wonderland, and before that, the Wizard of Oz. Coming up with an idea for a family Halloween costume can be a stressful situation, especially if you wait till the eleventh hour! If I'm being totally honest Halloween is not my jam. BUT my kids love it!! They start talking about what they're going to be for Halloween from November 1st to Halloween day and about every week in between.
If you're like me and you just need everything easy and delivered to your door, THIS POST is for you. Easiest family halloween costumes ever, no sewing required.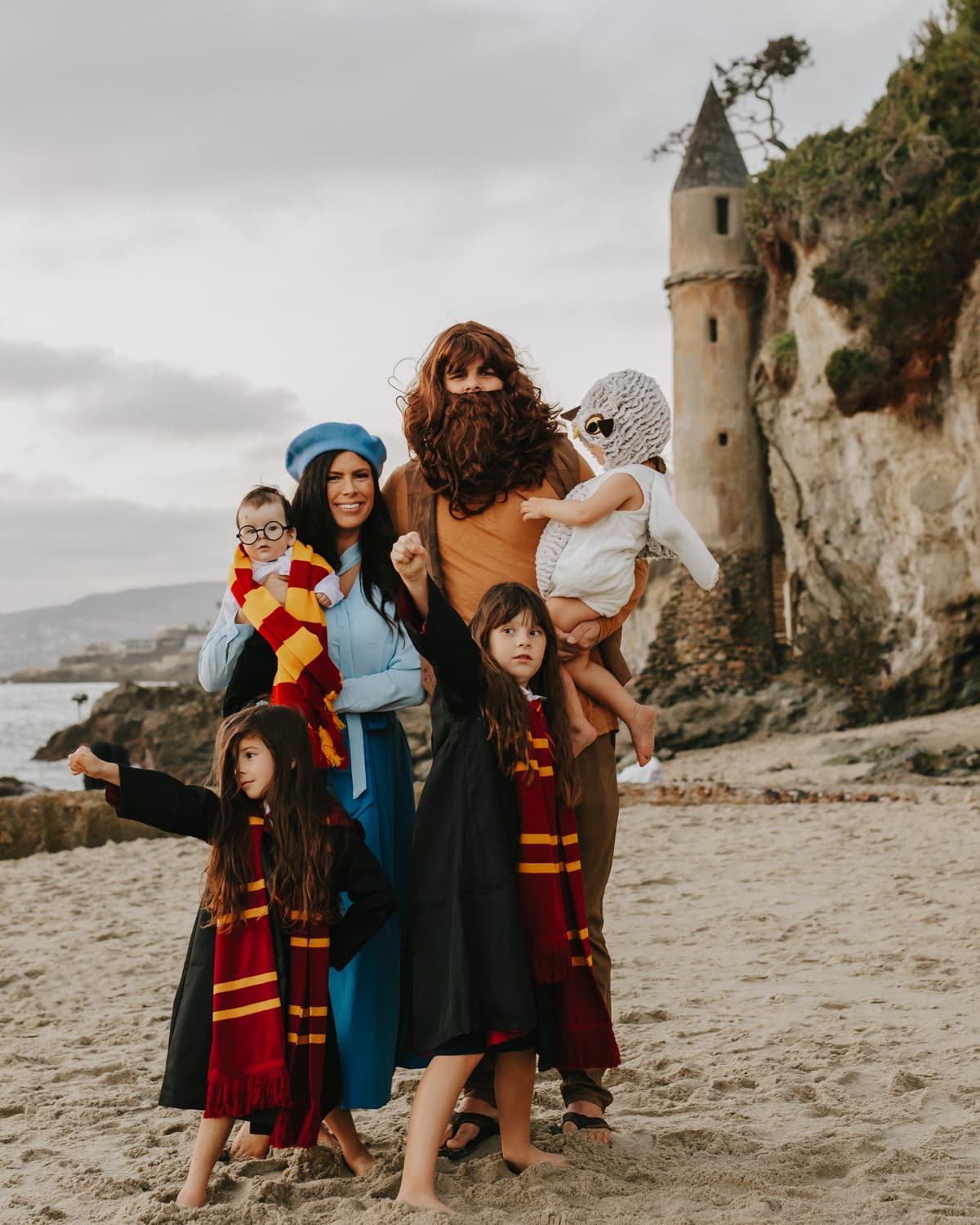 Harry Potter family costumes
My girls had been asking to do Harry Potter for a couple years, and since we have our own little Harry (!!!) we just HAD to do our own version of Harry Potter costumes!
The girls were thrilled to find these super realistic Hogwarts costumes! Add Hermione's robes to Ani's bangs and wavy hair, and she's totally a dead ringer for Harry Potter's best gal pal. And Lyla was not about to be left out of Gryffindor house, so she chose to be Ron Weasley's little sister Ginny!
My big girls picked out an owl costume for Millie (sold out now, but here's a super similar one!) and it turned out just darling. And I know I'm biased, but I'm pretty sure our Harry makes THE CUTEST, sweetest Harry Potter of ALL TIME!!
I wasn't 100% sure what Harry Potter character I wanted to be for Halloween but was totally inspired by Fleur Delacour. I mean, this monochromatic blue outfit with a beret??? Yes, please. And Neil as Hagrid worked out great and his costume was so easy to put together with a brown top, brown vest and a wig.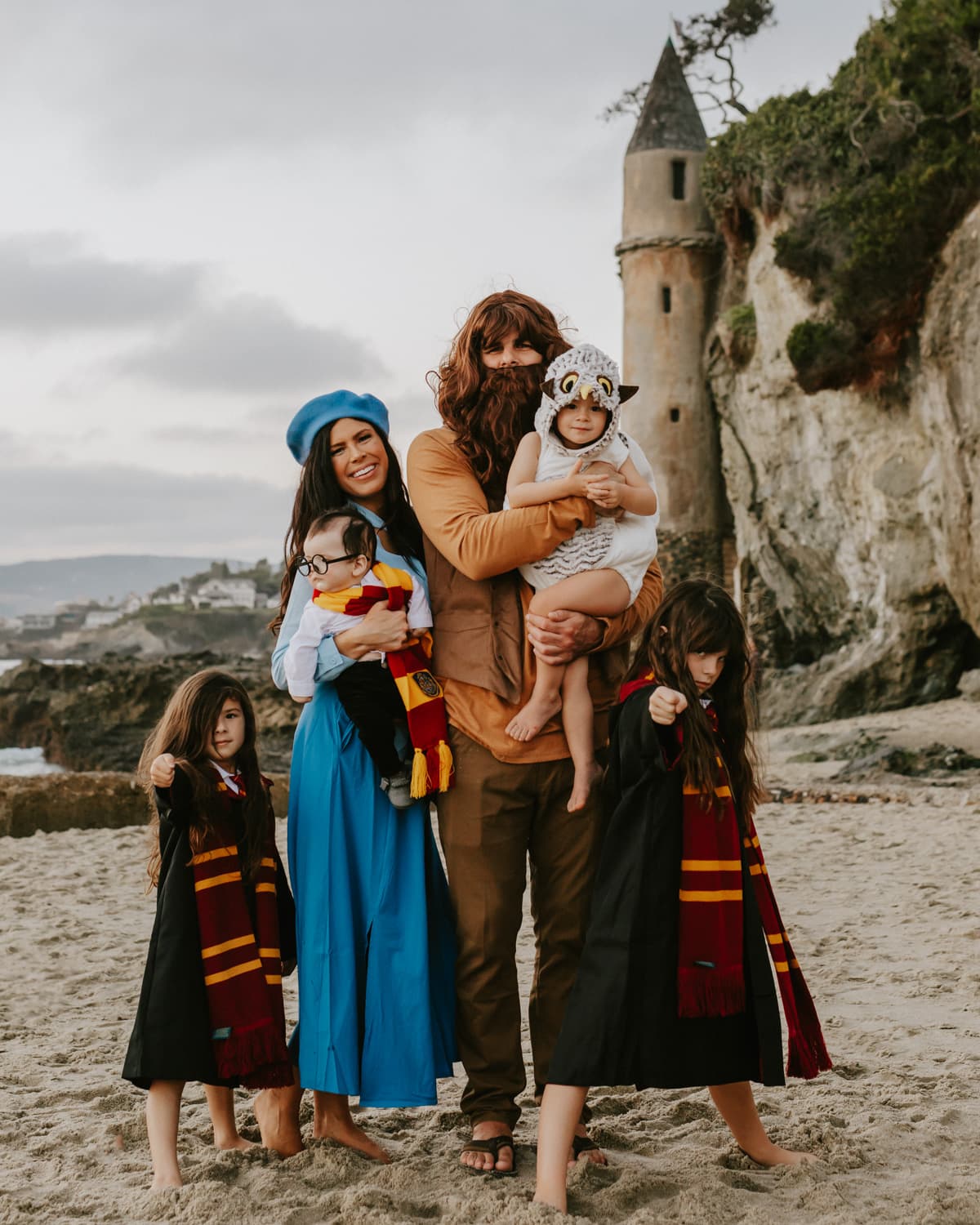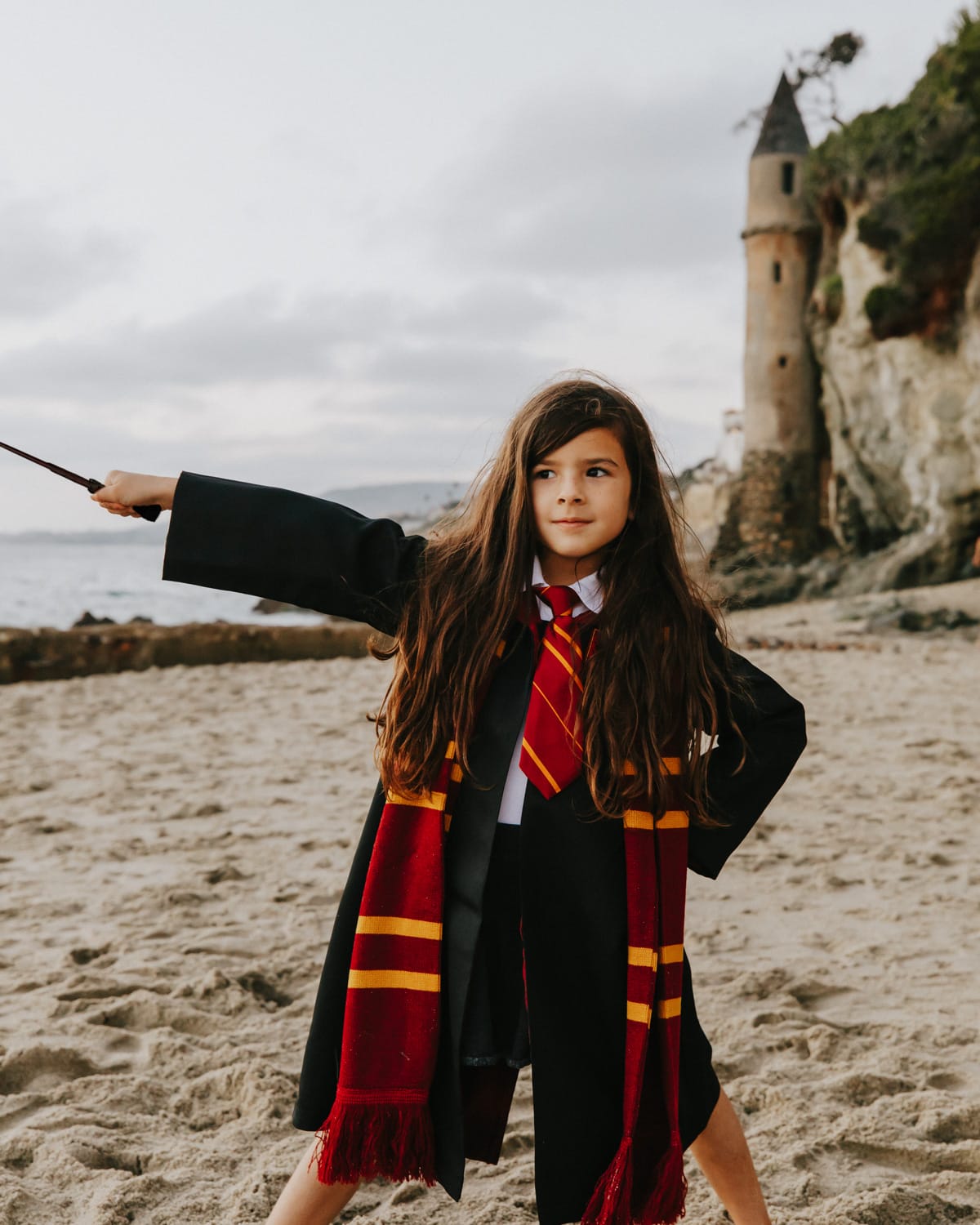 Star Wars family costumes
You know what happens when your kids get older? They want to choose their OWN Halloween costumes! In 2019, after years of family Halloween costumes, I prepped myself for variations of pink, sparkles, and tutus – but Anabelle stopped me in my tracks: she wanted to do a family Star Wars theme!
I was immediately on board, although fully aware that 1. my girls are scared of Star Wars and 2. they've never seen any of the movies. BUT. We're huge DISNEY fans and the excitement around Star Wars Land this time a couple years ago was electric! AND Neil can make the Chewy sound (hidden talent for the win!).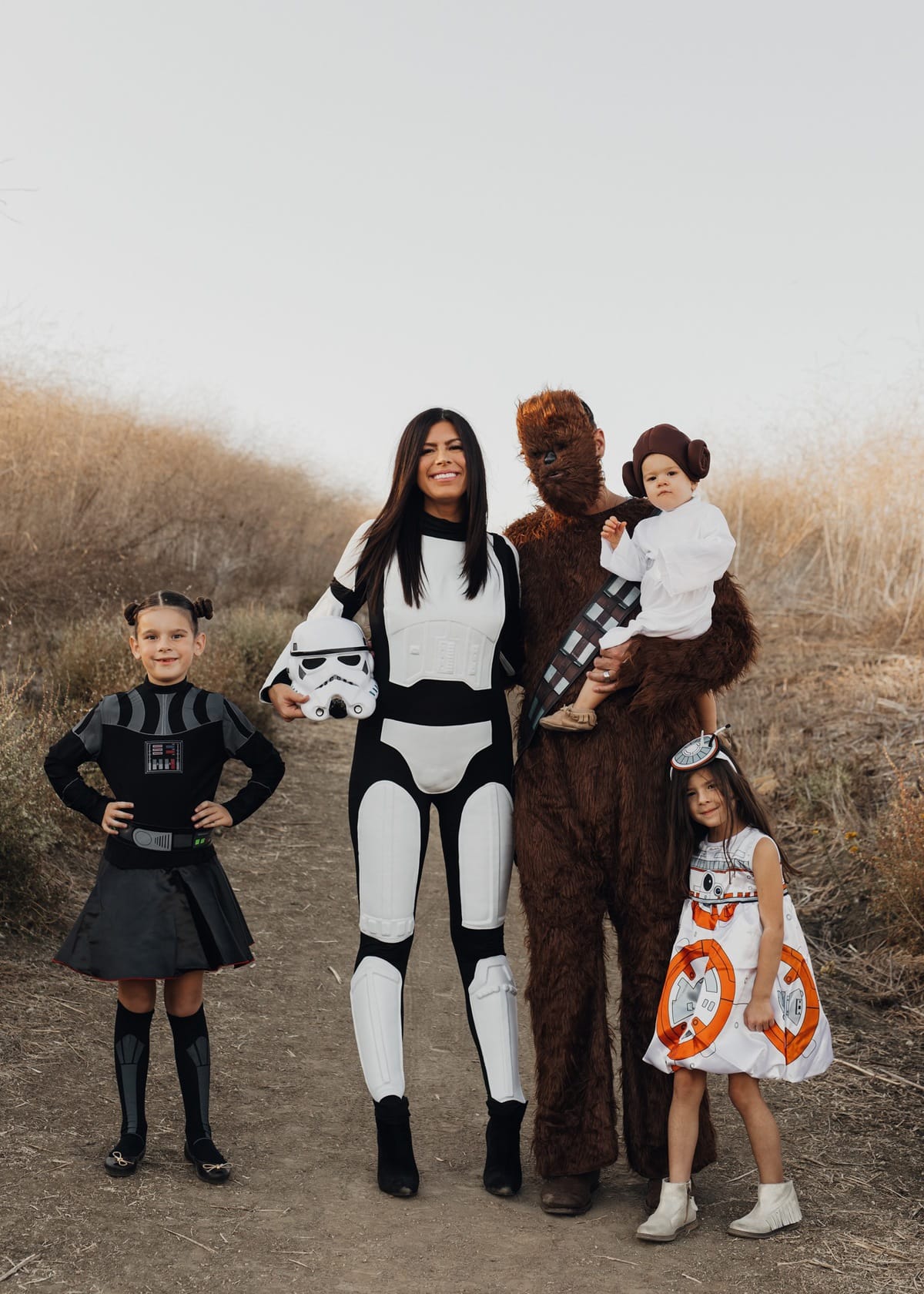 Toy Story family costume
We dressed up as Toy Story a few years ago!
Ani loved dressing up as Jessie and posing with Neil as Woody. They're the sweetest pair! Lyla was such a sassy workout Barbie. She brought some seriously sweet moves to this costume, and as our little resident Barbie and all things girly fan, this costume matched her personality perfectly.
Millie's costume was the easiest! Bo Peep and her sheep? I mean come on! (Millie's exact costume is sold out, but this is a similar version!) Isn't she the cutest little fuzzy lamb you've ever seen?!
Alice in Wonderland family costume
Lyla's Alice wig still cracks me up! We did Alice in Wonderland four years ago, and it's a really great theme to build on since there are so many distinct and colorful characters. Funny enough, these characters really matched my girls' personalities so they REALLY got into their costumes!
Wizard of Oz family costume
A few years ago, we chose Wizard of Oz which was totally nostalgic for me. I dressed up as Glinda as a little girl so it was kind of fun to have a go at it again. Toto in a basket was a huge hit, and getting Ani's face painted all green was quite the evening project. I can't believe how tiny they both look in these pictures! The sweetest little Dorothy and Wicked Witch.
Easy Halloween costume ideas
We've done all the hard work for you and rounded up the best Halloween costumes that all ship straight to your doorstep, saving your sanity and your sweat glands from all the stress of going to five different stores to get everyone's bits and pieces of their costumes.
Harry Potter
Star Wars
Toy Story
Alice in Wonderland
Wizard of Oz
Cat in the Hat
Peter Pan
Snow White and the Seven Dwarves
Super Mario Brothers
Happy Halloween!
Even though Halloween is over a month away, it's still REALLY smart to get everything ordered before one person's costume sells out and you're on a wild goose chase trying to track down some ruby red slippers or a blonde wig for a two year old.
Make sure to order your costumes ASAP so they don't run out of your faves and you can get them shipped to your doorstep in plenty of time, instead of wandering around some crazed costume shop the night before Halloween looking at the last shreds of costumes left behind! Ain't nobody got time for that!!