If you've ever planned a trip to Disneyland, you've probably wondered, "what's the best thing to wear to Disneyland?" – right? And if you've been a reader for even a little bit of time, you probably know we're HUGE Disney fans. Annual pass holders for the past eight years and we go at least monthly.
Some of the most frequently asked questions I get are about all things Disneyland. My DMs kind of explode any time I post a story from the Happiest Place on Earth. Where to eat? Favorite rides? Where to stay? In previous posts, we've covered the very BEST toddler rides, all my BEST tips for doing Disneyland with littles, and Disneyland date night. Today I'm breaking down what to wear to Disneyland the next time you're headed to THE park.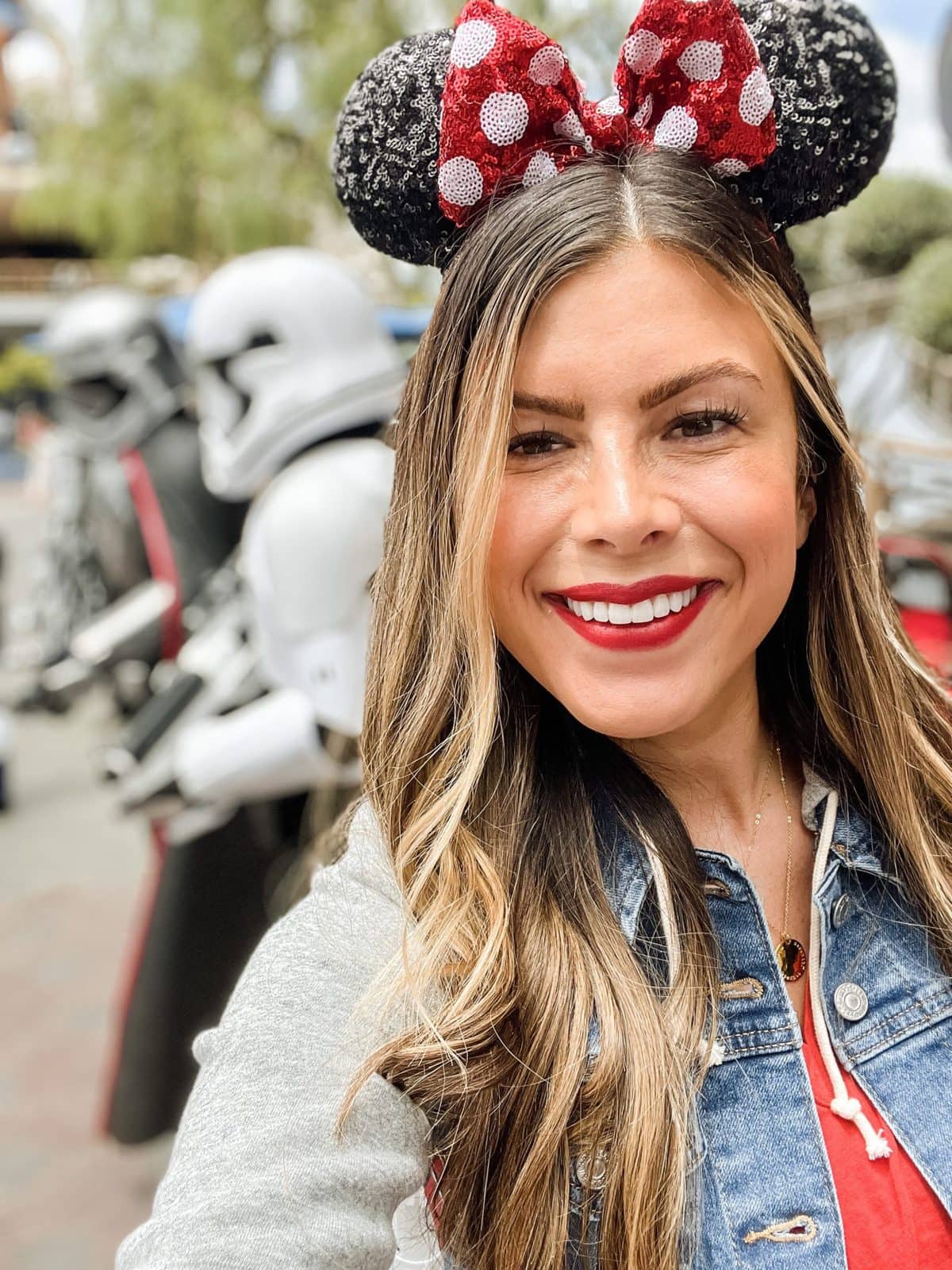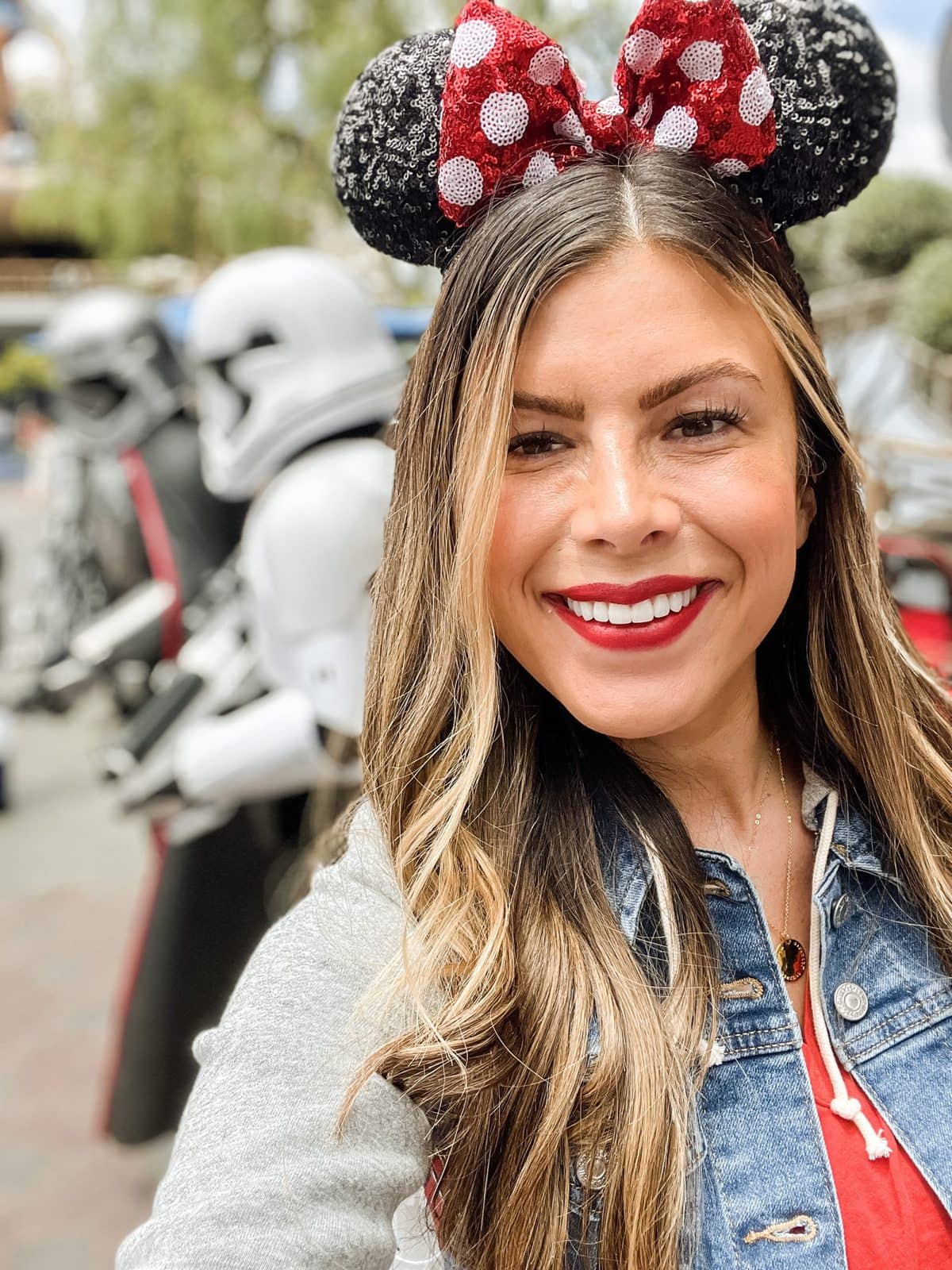 Comfort is Key
If you've ever been to Disneyland (or any big amusement park) you know this is true. If you're going to survive a marathon day of magic, you don't want the wrong outfit ruining the party. So, let's just establish the ground rule that if it's not comfortable, it's not coming!
What to wear to Disneyland: a shoe-in
The #1 thing that I'm the very most particular about is my shoes. If you're going to spend the entire day on your feet, you want to wear EXTREMELY comfortable shoes!
I really love these APL sneakers. They're super-duper comfy. But my favorite feature has got to be that they're laceless! There's nothing worse than trying to find a place to stop and tie your shoe on a crowded day at Disneyland!
These are also AMAZING shoes for working out, so while they're definitely spendy, you'll also get a ton of wear out of them for walking, running, and workouts, too. They're my F45 trainer's #1 recommended pair for F45 and I know tons of people who are also obsessed with them!
I also think Crocs are perfect for Disneyland. So comfortable and not too heavy to wear for a day full of walking around!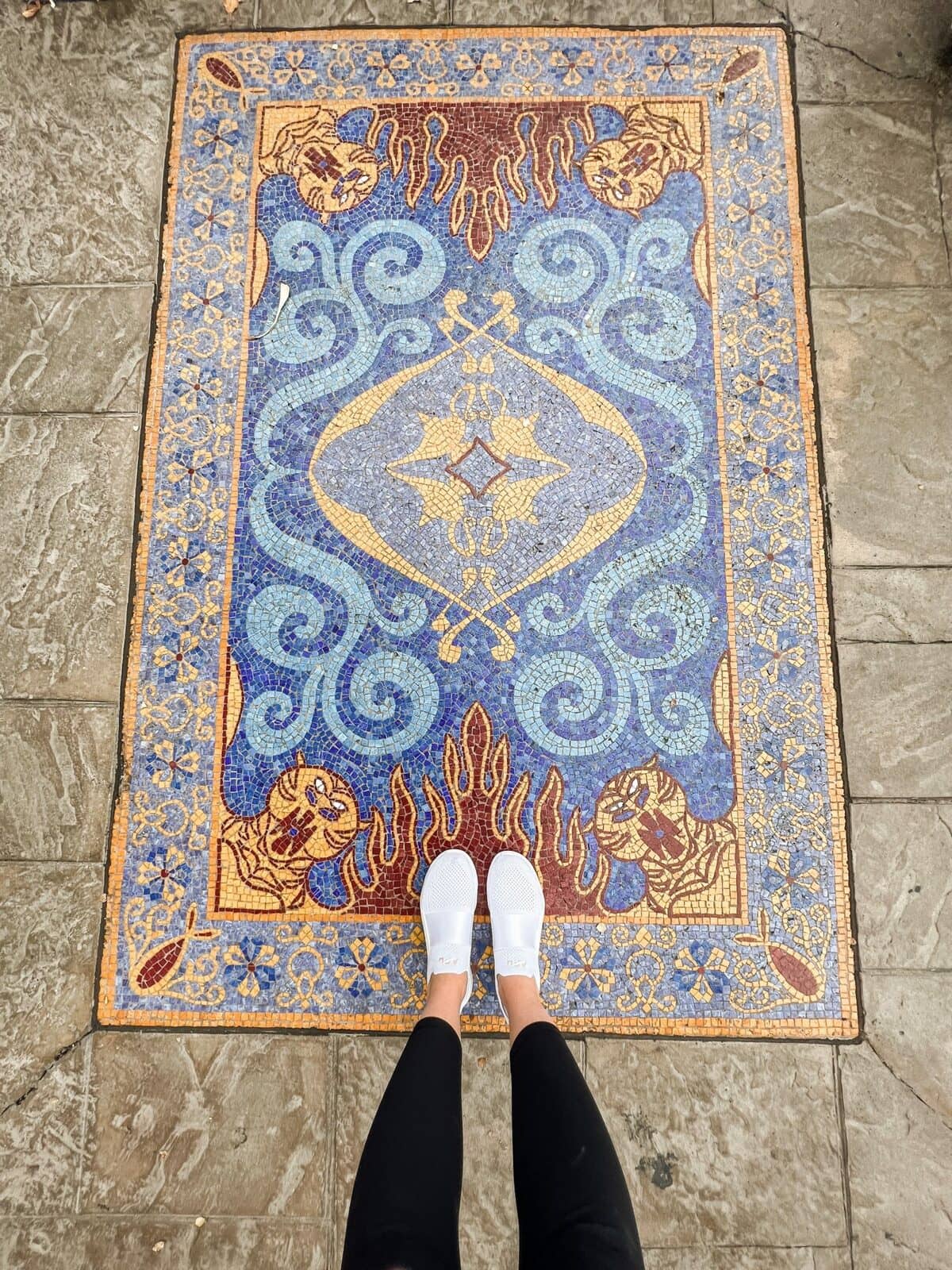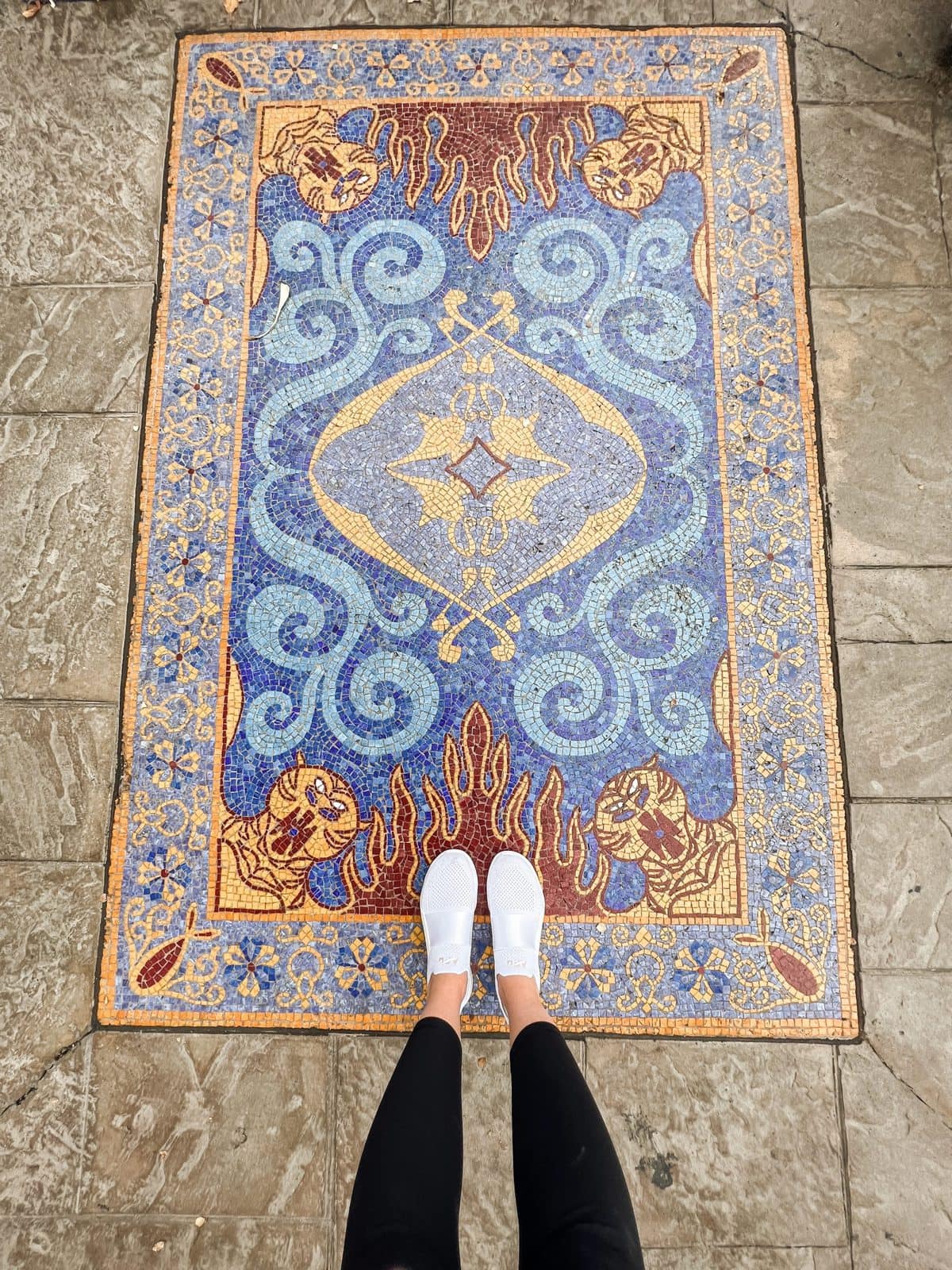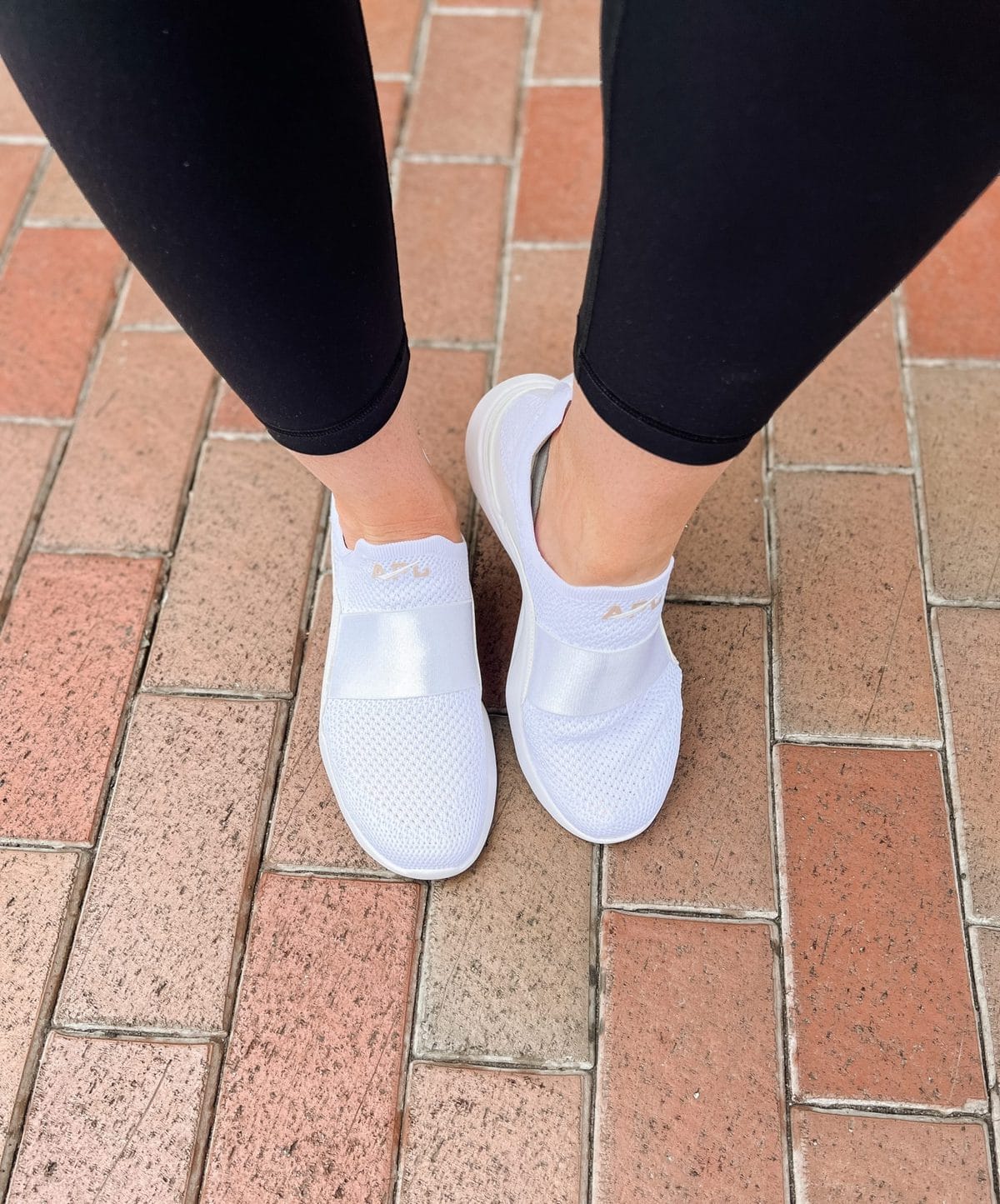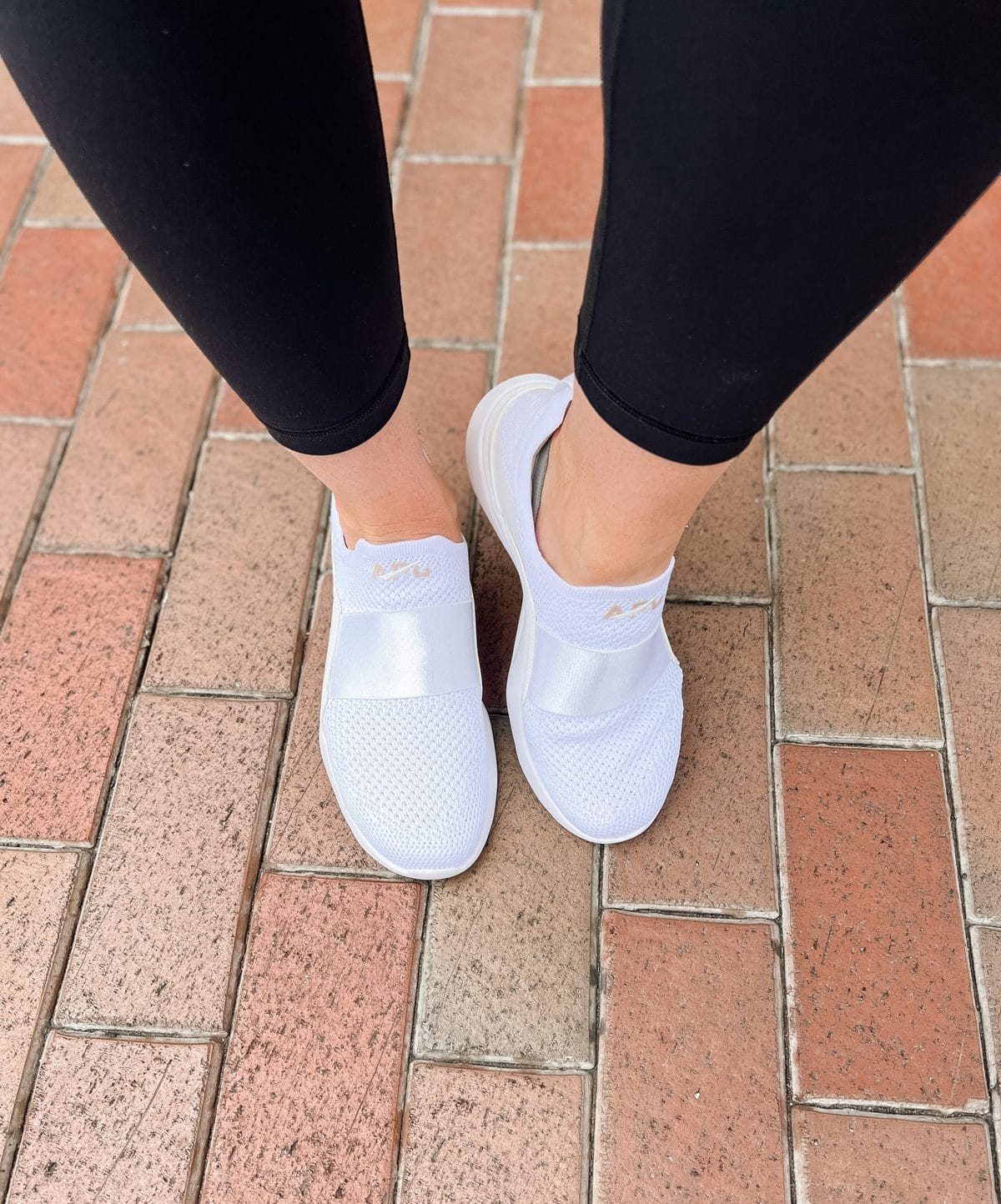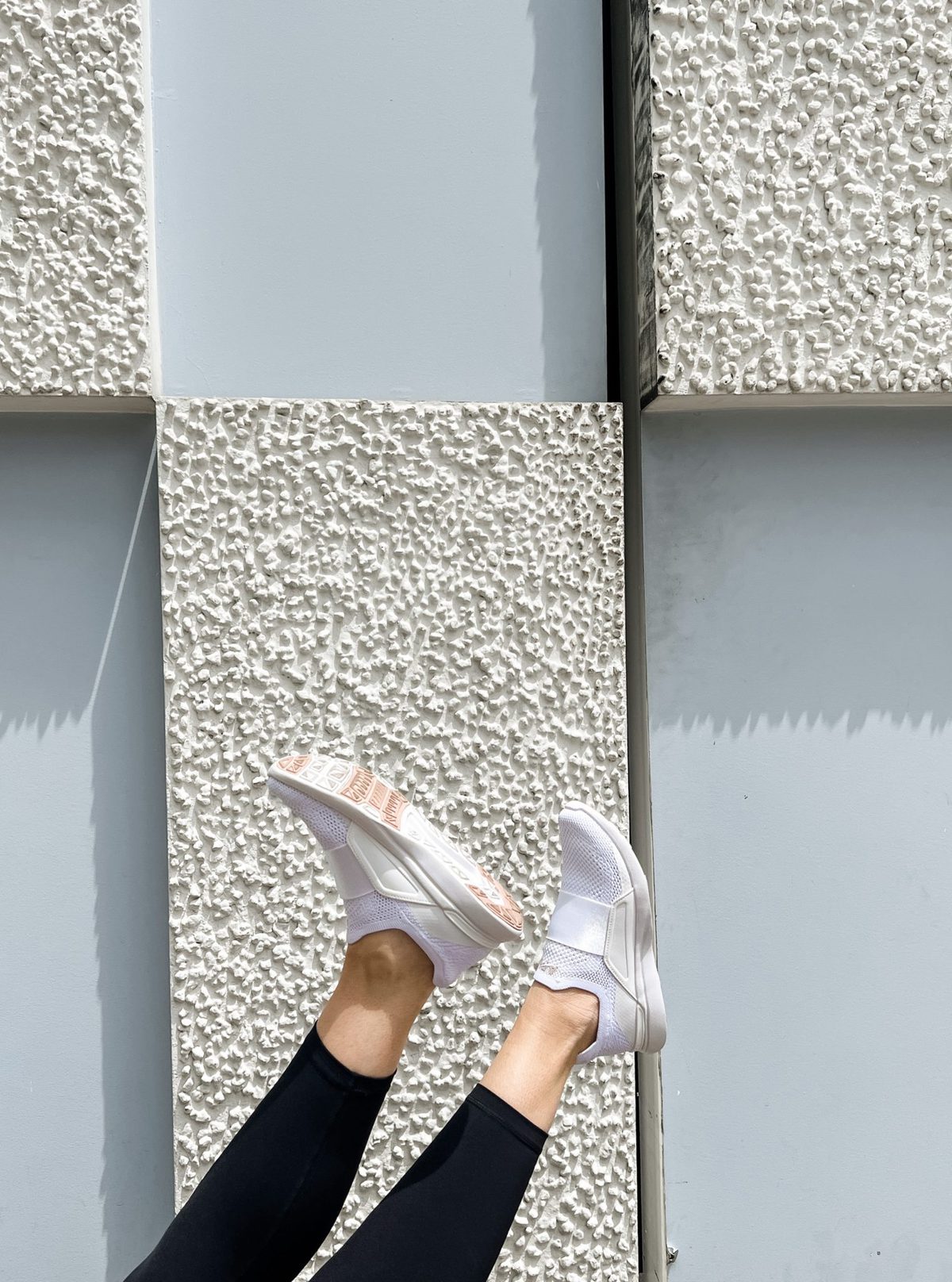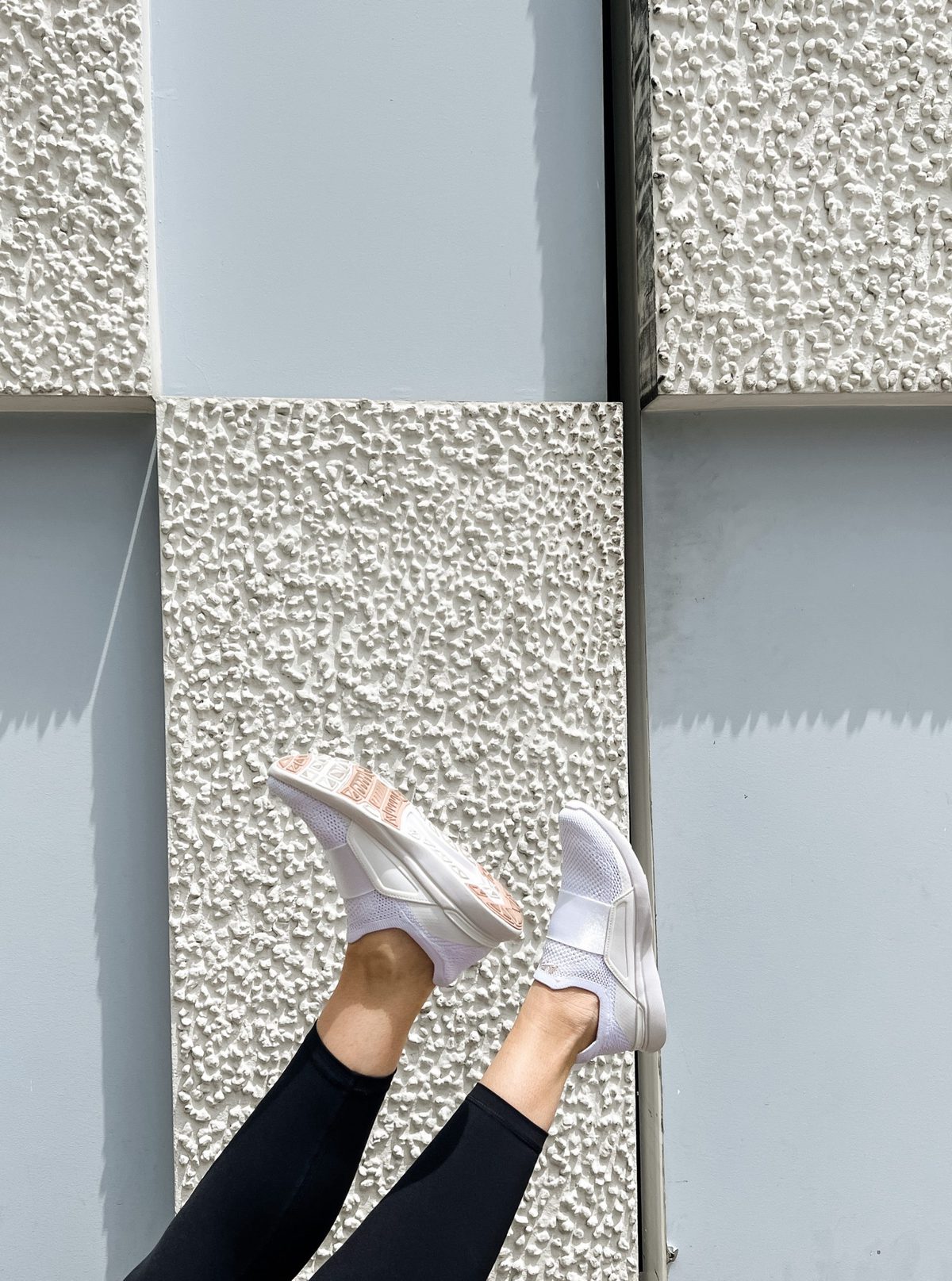 A Lightweight Staple Tee
This affordable $20 tee is a longtime tried and true favorite of mine and a total closet staple. I've bought this shirt over and over and OVER again. It's great for layering because it's super lightweight. AND it comes in literally 20 different colors!
Or if you're wanting to dress up with some Disney merch, this Mickey Mouse vintage tee is so adorable. Lightweight and neutral, this tee is perfect for a warm day at Disney! If you don't see your size, here's another fun option.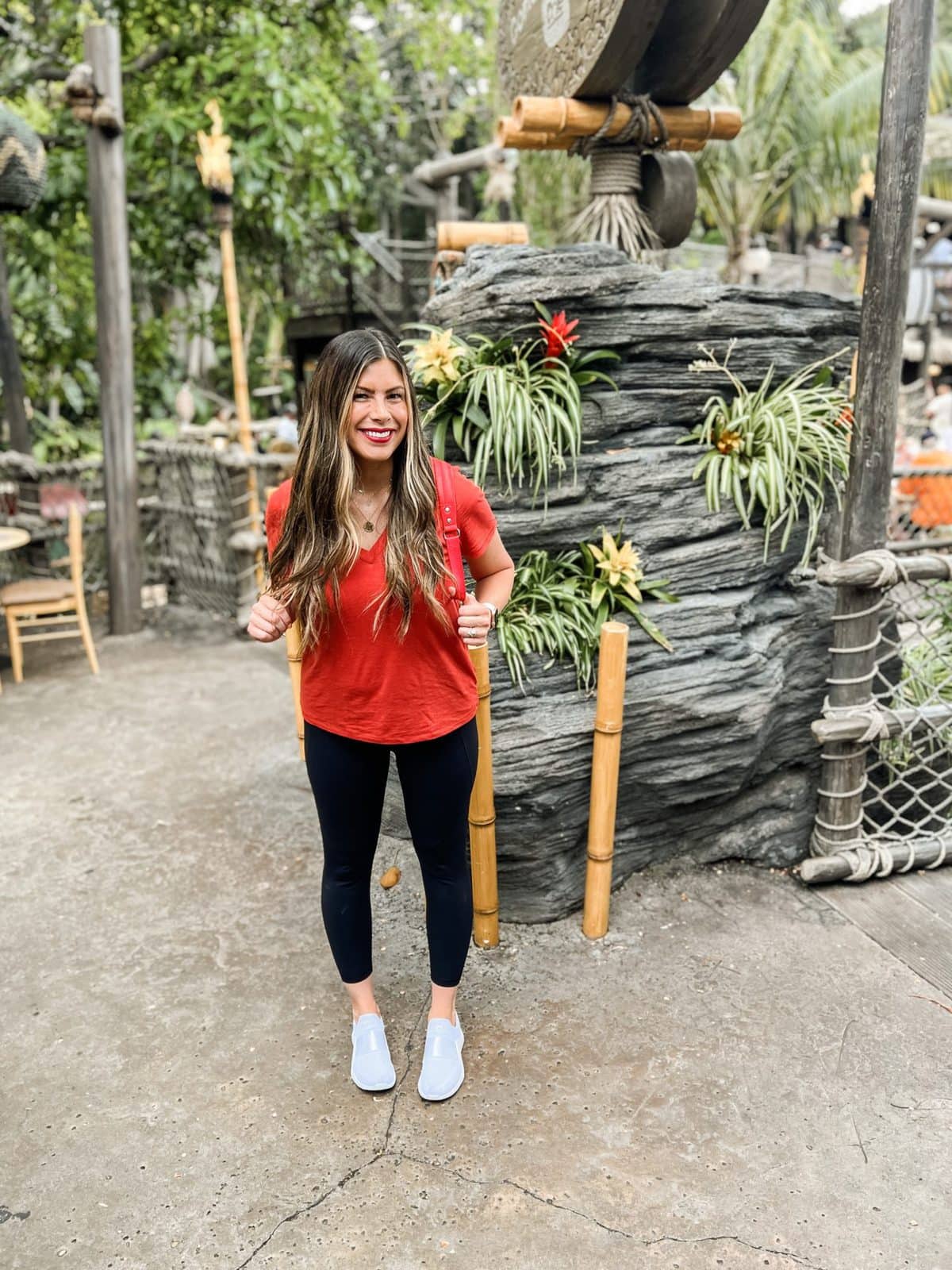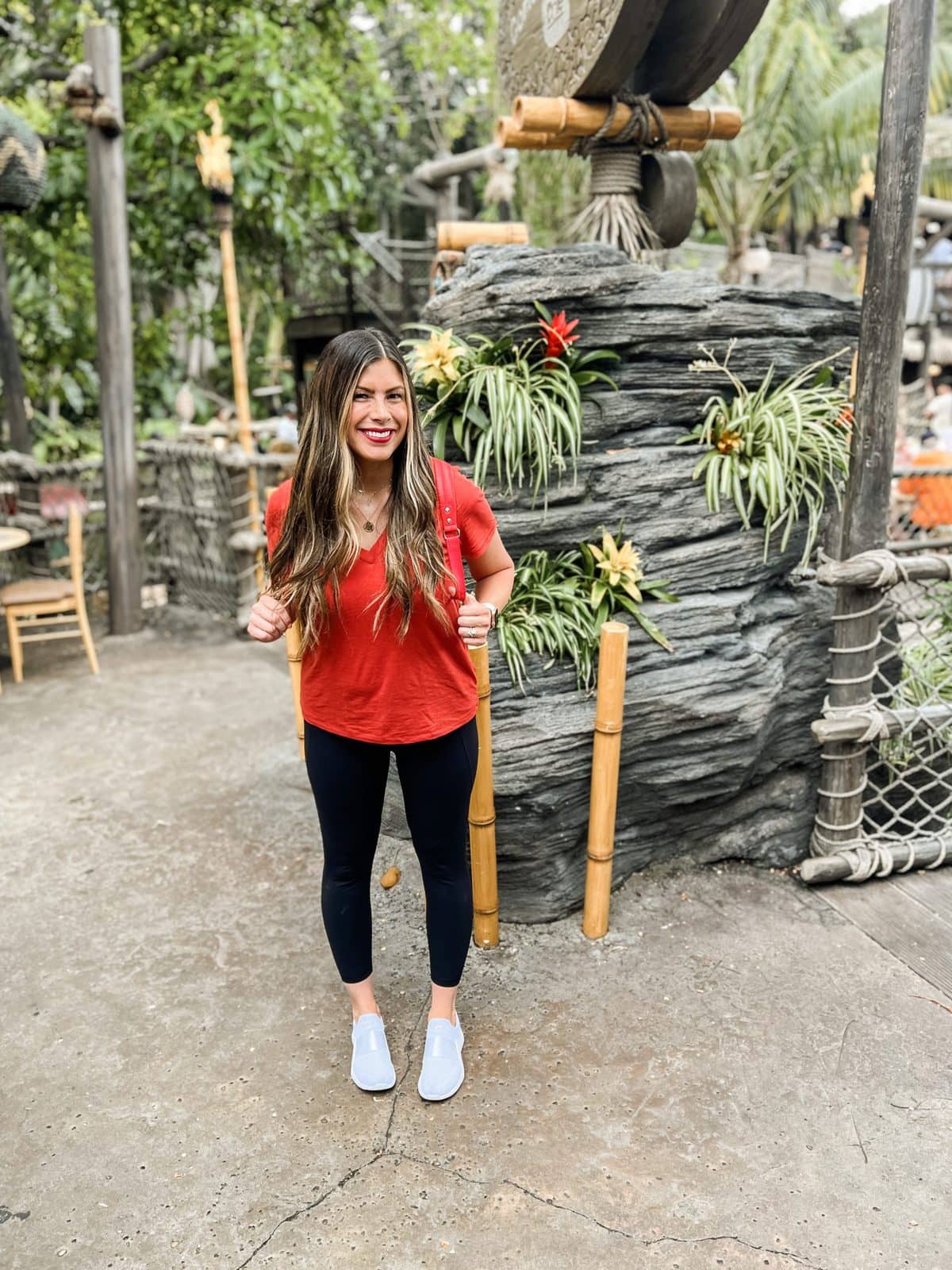 Never Skip the Jacket
Even on the very hottest days, you're going to want to bring a jacket with you to Disneyland. It can always get chilly in the morning and in the evening – even when you think it's not going to be!
I love something like this jean jacket for a summer day, or on a cold winter day I actually really LOVE a packable jacket because it's insanely lightweight and will take up hardly any room in your bag, but it'll seriously keep you warm on those chilly mornings and nights. Trust me, you'll be grateful to have a jacket when you're riding the Incredicoaster at night!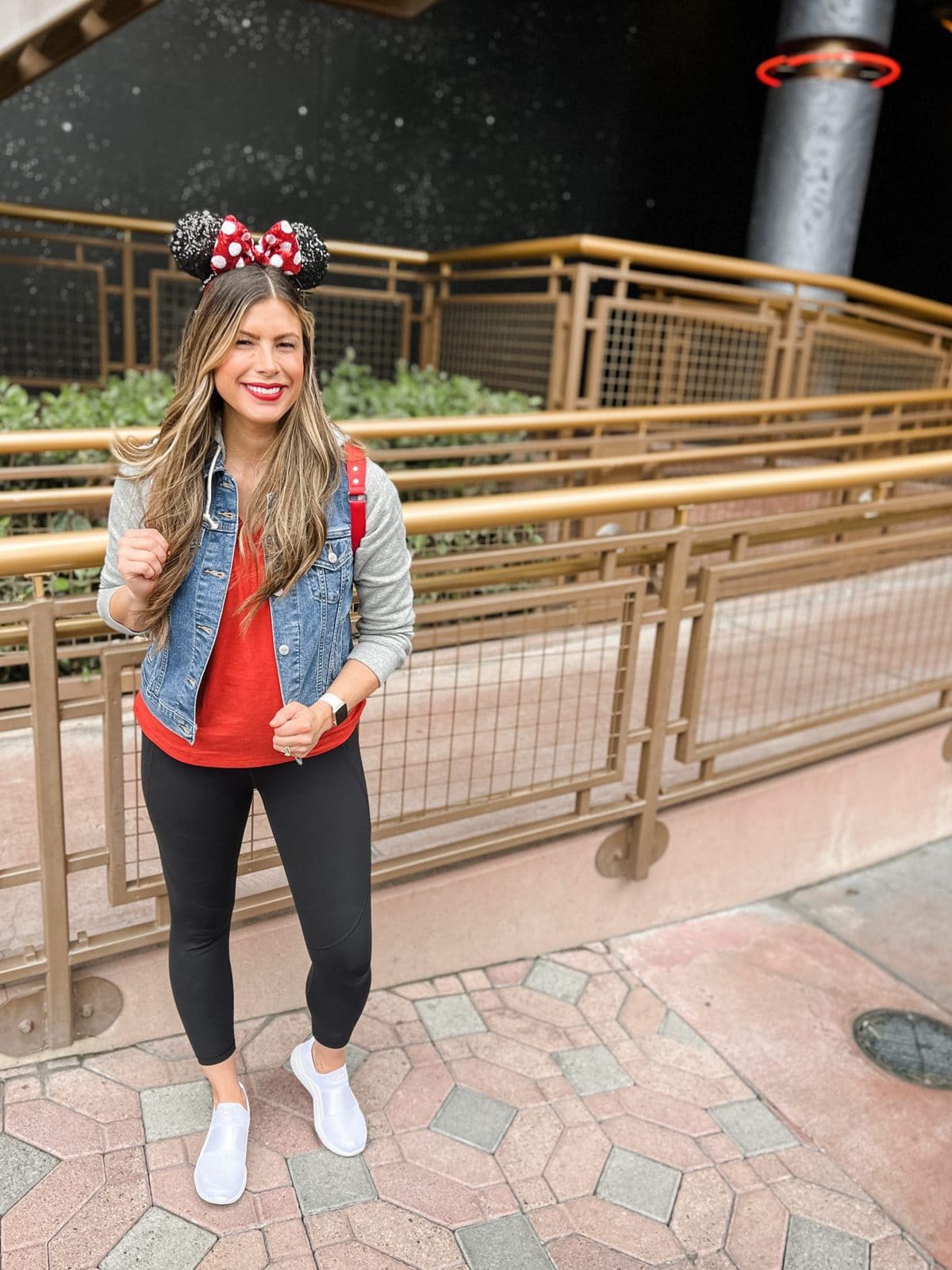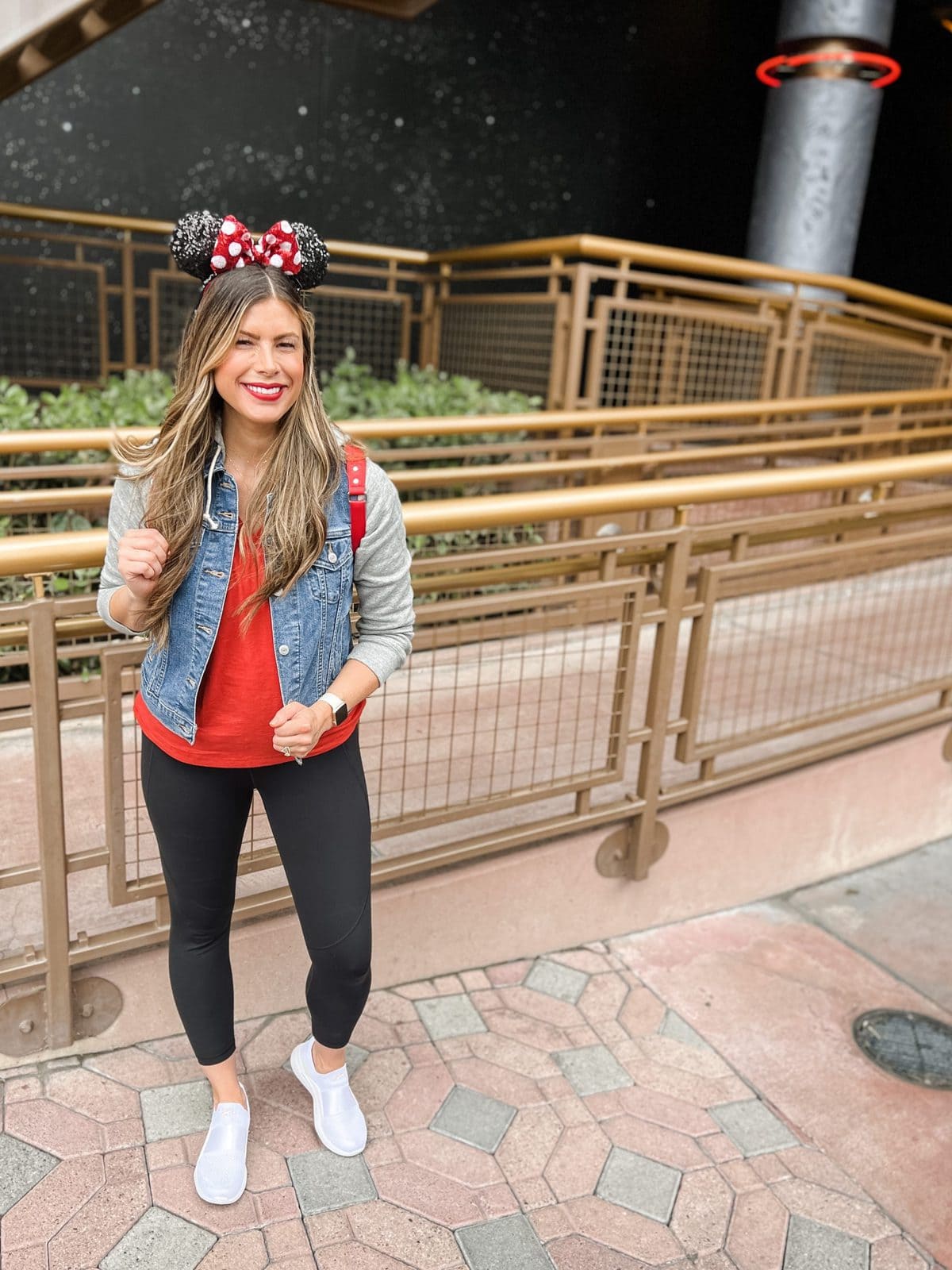 What to wear to Disneyland: A Backpack
With or without kids, a backpack is my Disneyland bag of choice. On occasion I've gone crossbody, but the backpack is usually the way to go. I love that a backpack affords me the space to bring a jacket or hoodie, plus all my other essentials.
I found this Disney backpack on Zappos and I'm obsessed! So fun with Mickey and Minnie all over it. SUPER cute and the perfect size for Disneyland – not too big but not too small! They have LOTS of Disney options too so you can choose one that works best with your wardrobe and colors you usually wear.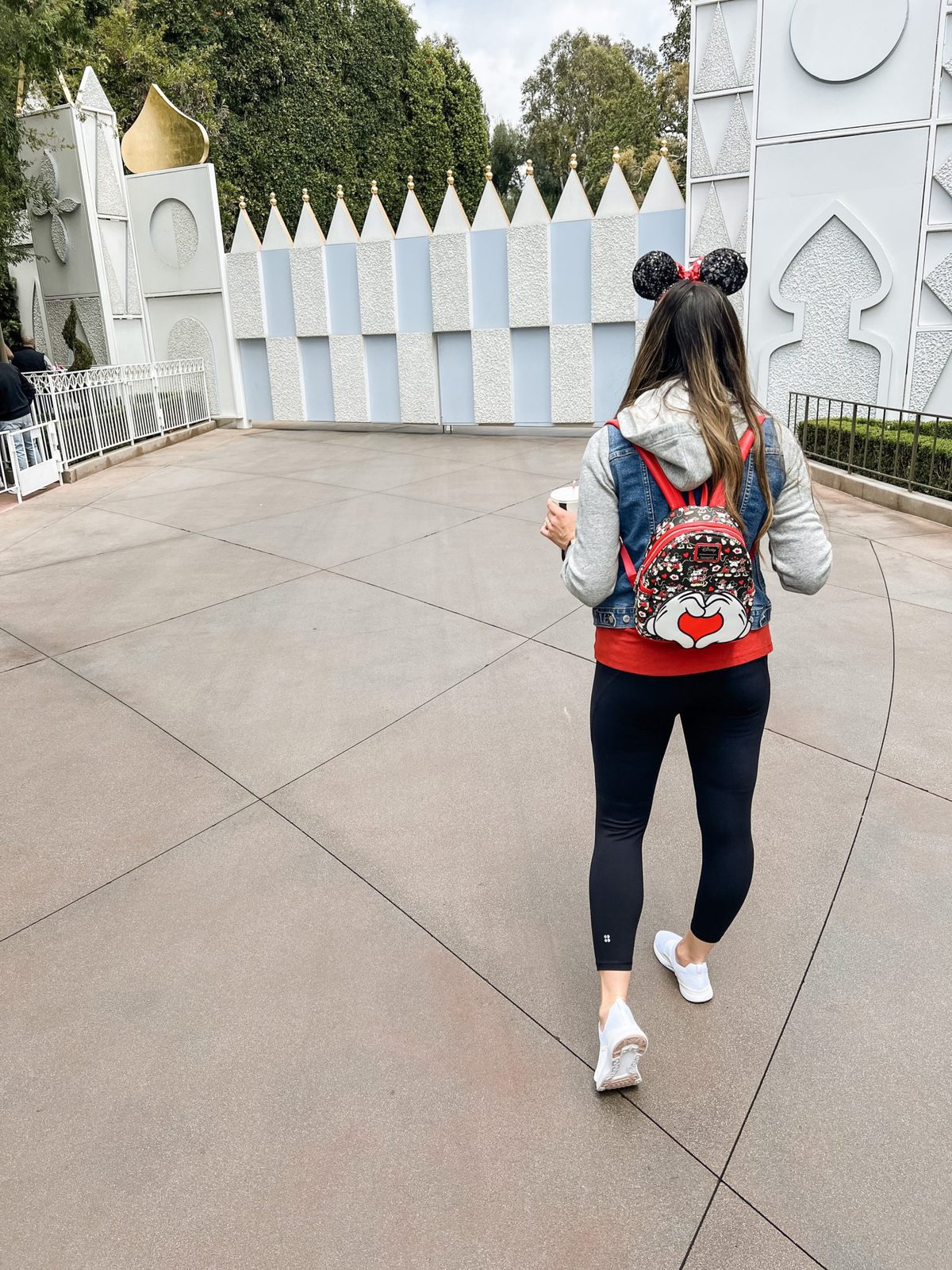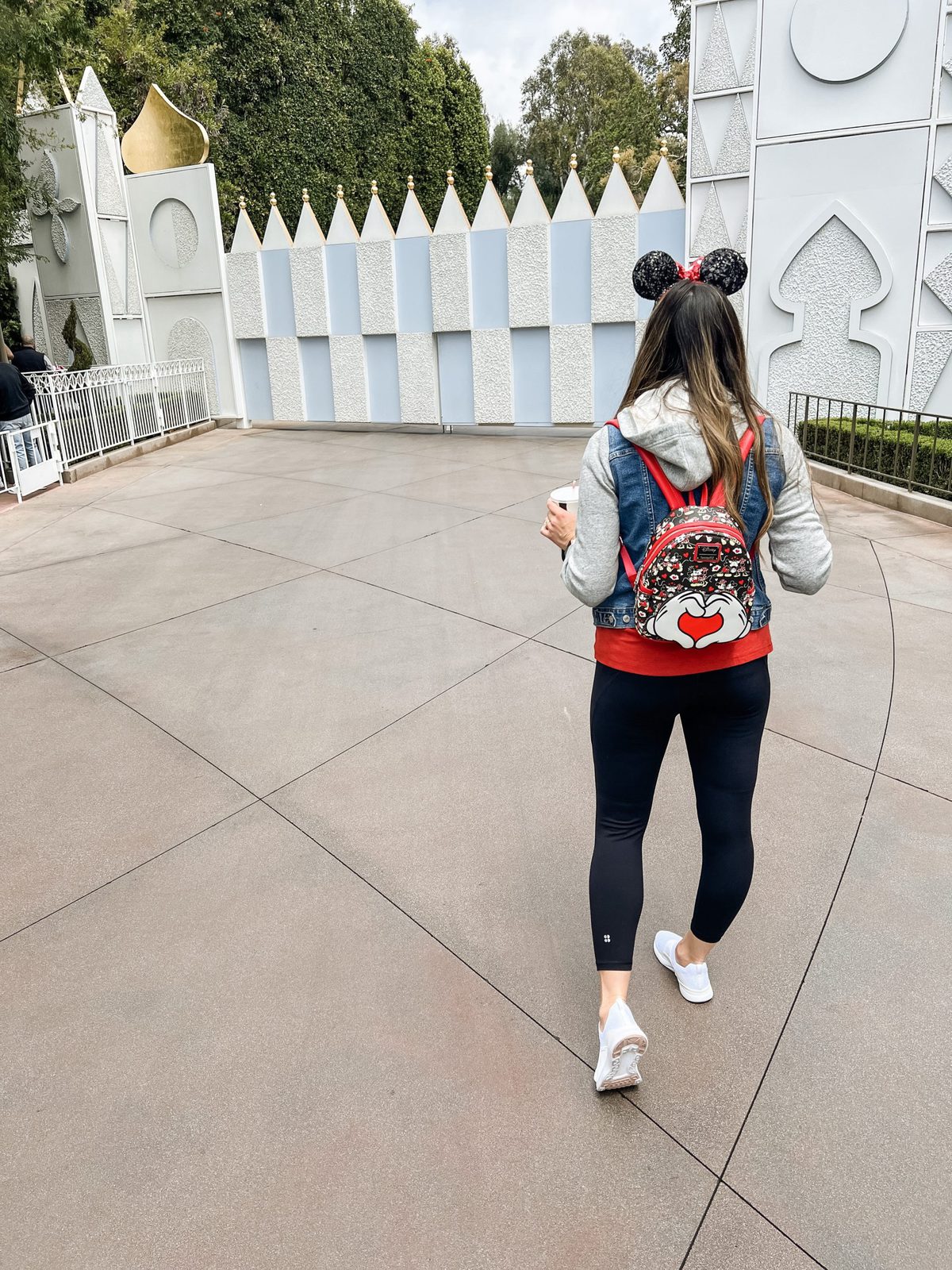 Inexpensive Sunnies
Sunglasses are a MUST. I love going with some lightweight aviators on a Disneyland day, because I can wear them ALL day long! Although, you might want to wear one of your less-expensive pairs of sunnies to Disneyland, just in case they get lost or you forget to secure all your hats and glasses on the Incredicoaster.
That said, also make sure it's a pair that's made with COMFORT in mind so you can wear them for hours. See rule #1 in case you forgot!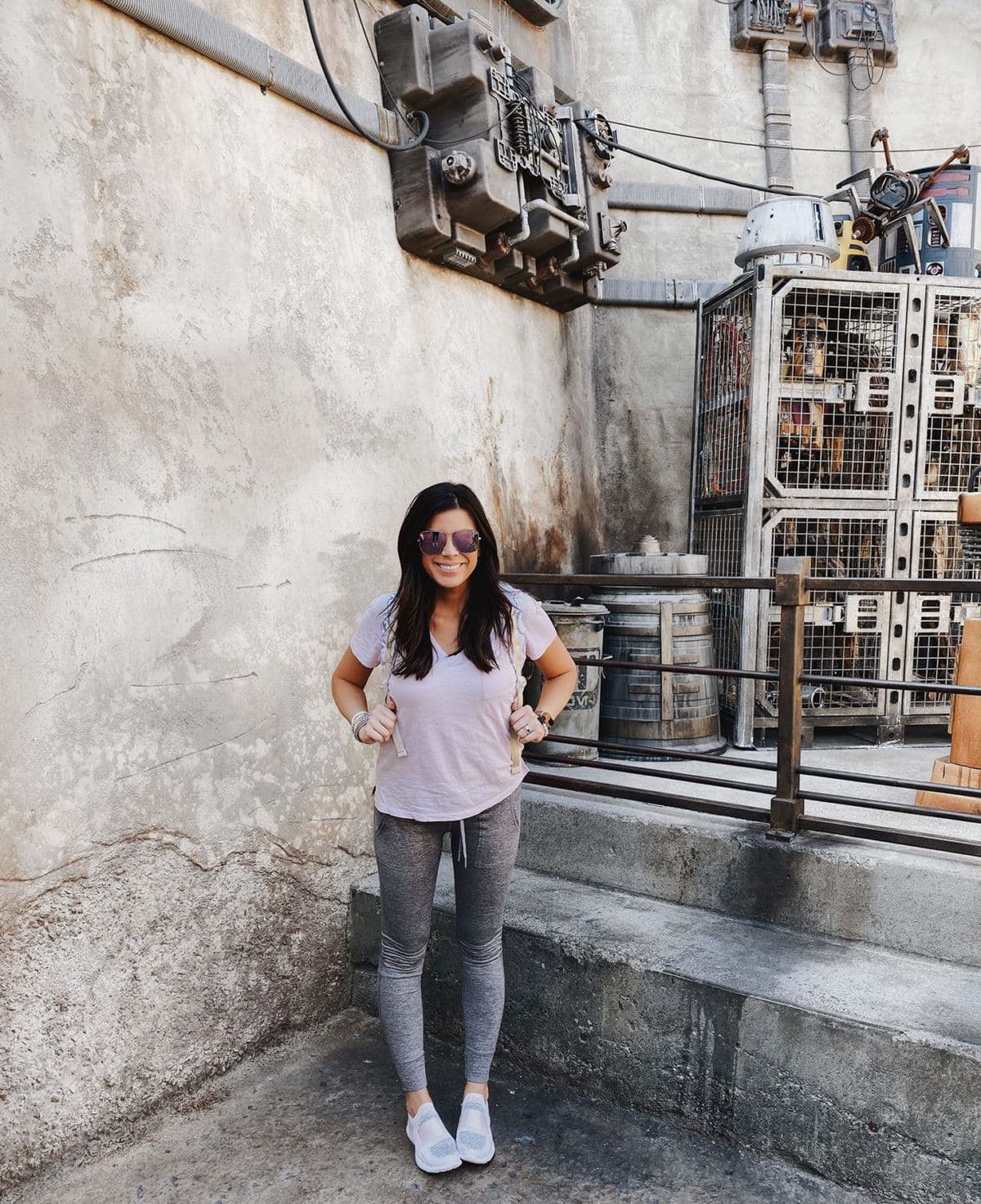 What to wear to Disneyland (tech-wise): A Watch That's Also a Phone
My Apple Watch gives me the option of leaving my phone in my bag without missing any important notifications or texts or calls. I still use my phone quite a bit at Disneyland because of Genie+ (total game changer if you've never used it!), but not having to have it out the WHOLE time is really, really nice.
Leggings But Better
A What to Wear to Disneyland #OOTD wouldn't be complete without mentioning these leggings! They're my very favorite pants to wear to Disneyland because they're leggings (hello love language) and they're ⅞ length so they won't scrunch up at the bottom! This particular pair also has a hidden pocket that perfectly fits my iPhone 13x – a lifesaver for having easy access to your Genie+ passes or making mobile food orders!
Okay now let's talk BIKER SHORTS. I'm obsessed. Biker shorts are DEF a summer staple and even more perfect for a super hot day at Disneyland! They're the perfect length and look so cute paired with a lightweight tee (oh, and not to mention SO comfortable)! I'll be rocking these in the warmer months to come for sure on Disneyland trips.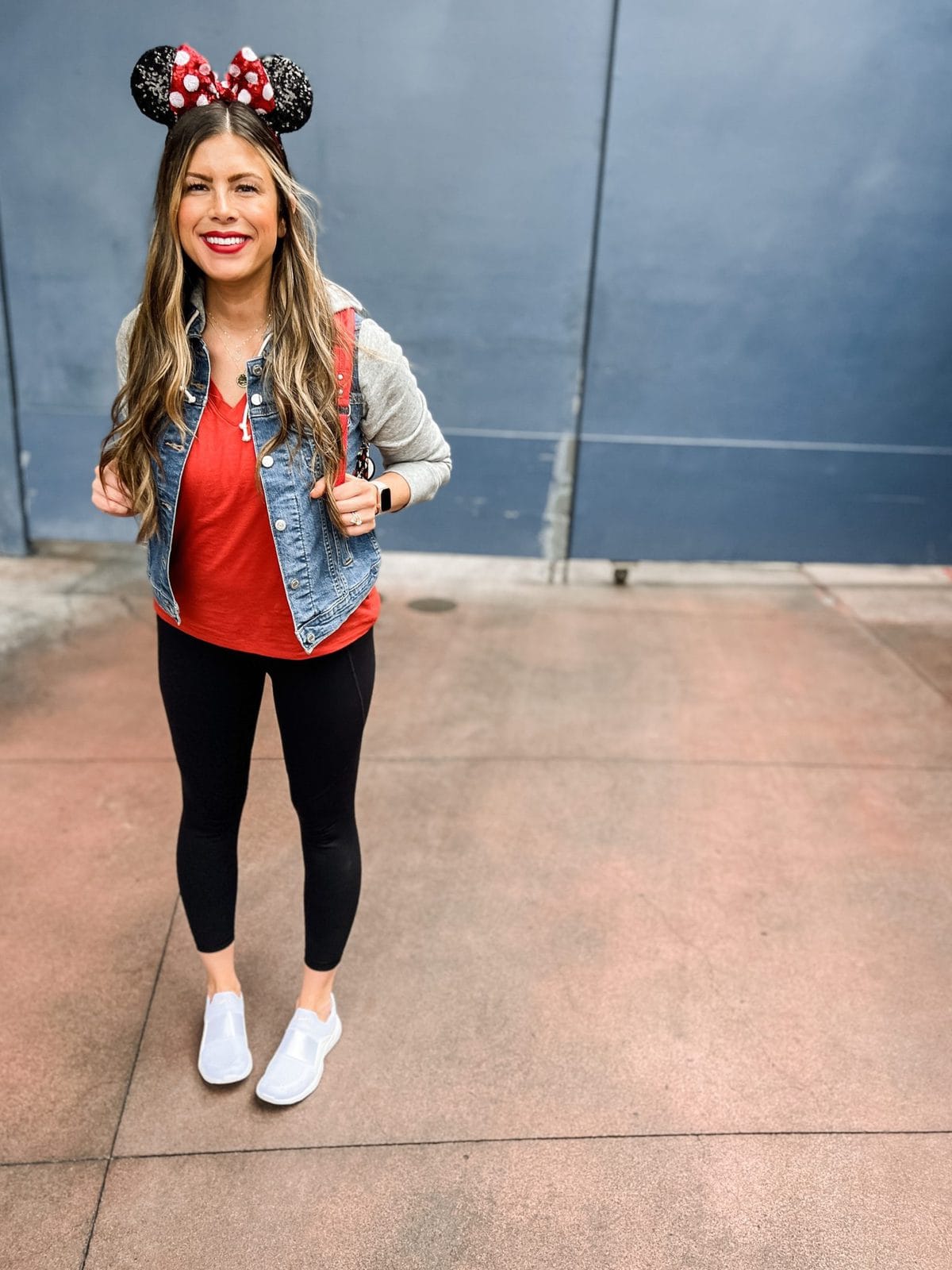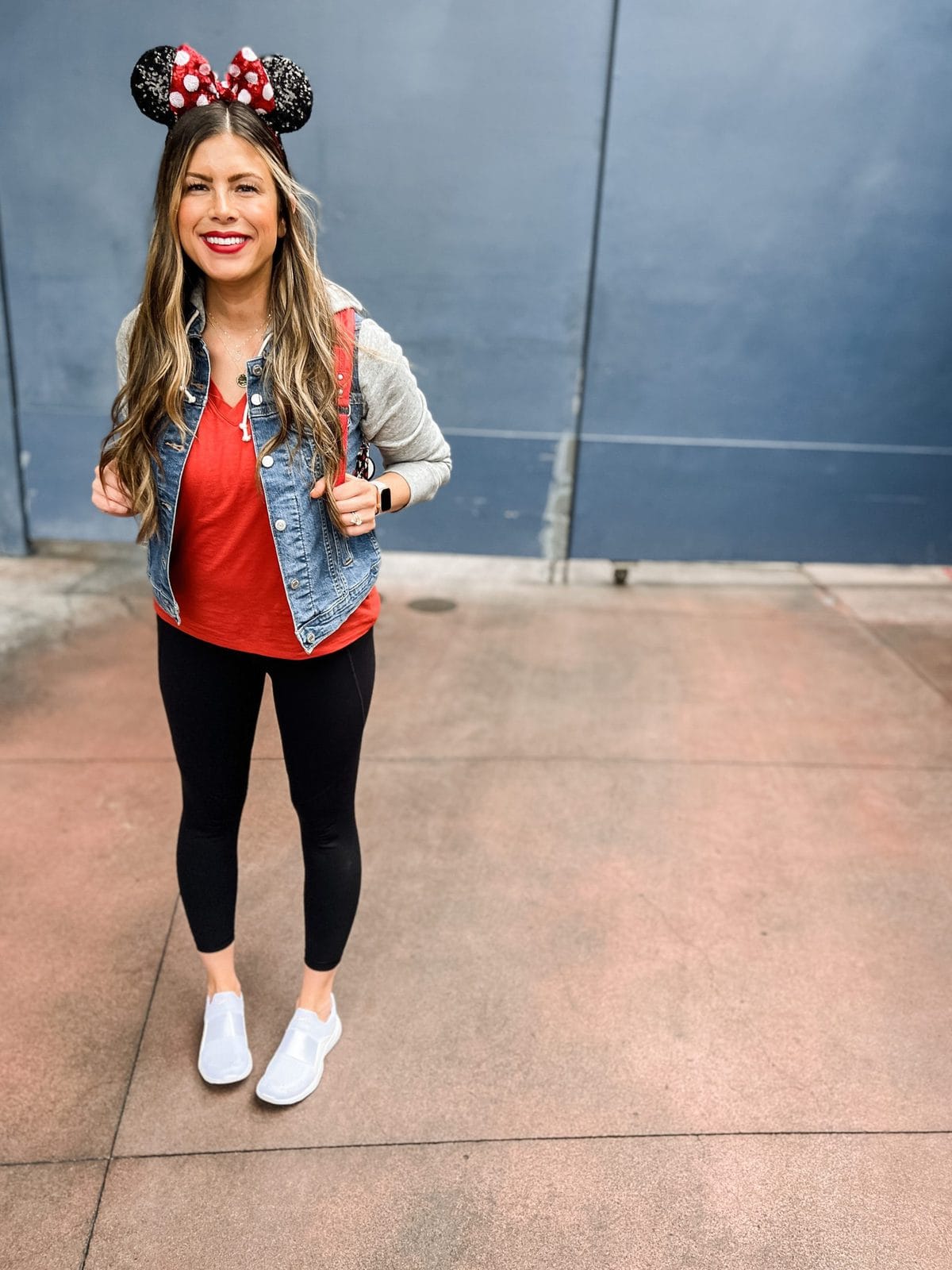 Blister Busting Socks
Nothing ruins a Disneyland day faster than sore feet or a blister, so socks are essential. These no-show socks are my favorite of all time. They should win an award because they're one of the only no-show socks I've worn that don't slide down under your heel. There are tons of super cute colors to choose from and they're only like $3 a pair.
What to wear to Disneyland (little girl version): princess dresses!!
At Disneyland, only kids can dress up like characters except during one of their special-ticketed Halloween events. My kids occasionally really want to go in a princess dress which can get tricky, because those dresses can get itchy and uncomfortable really fast! Plus you have to worry about layering and keeping them warm in the morning and evening.
If you have a little girl who absolutely INSISTS on wearing a dress, I think a great option is to have them wear a Disney nightgown like these that look like a princess dress! My girls will wear these for DAYS in a row and they're very comfy but still look just like a real princess dress. They're also a little easier to layer a jacket over or some leggings under!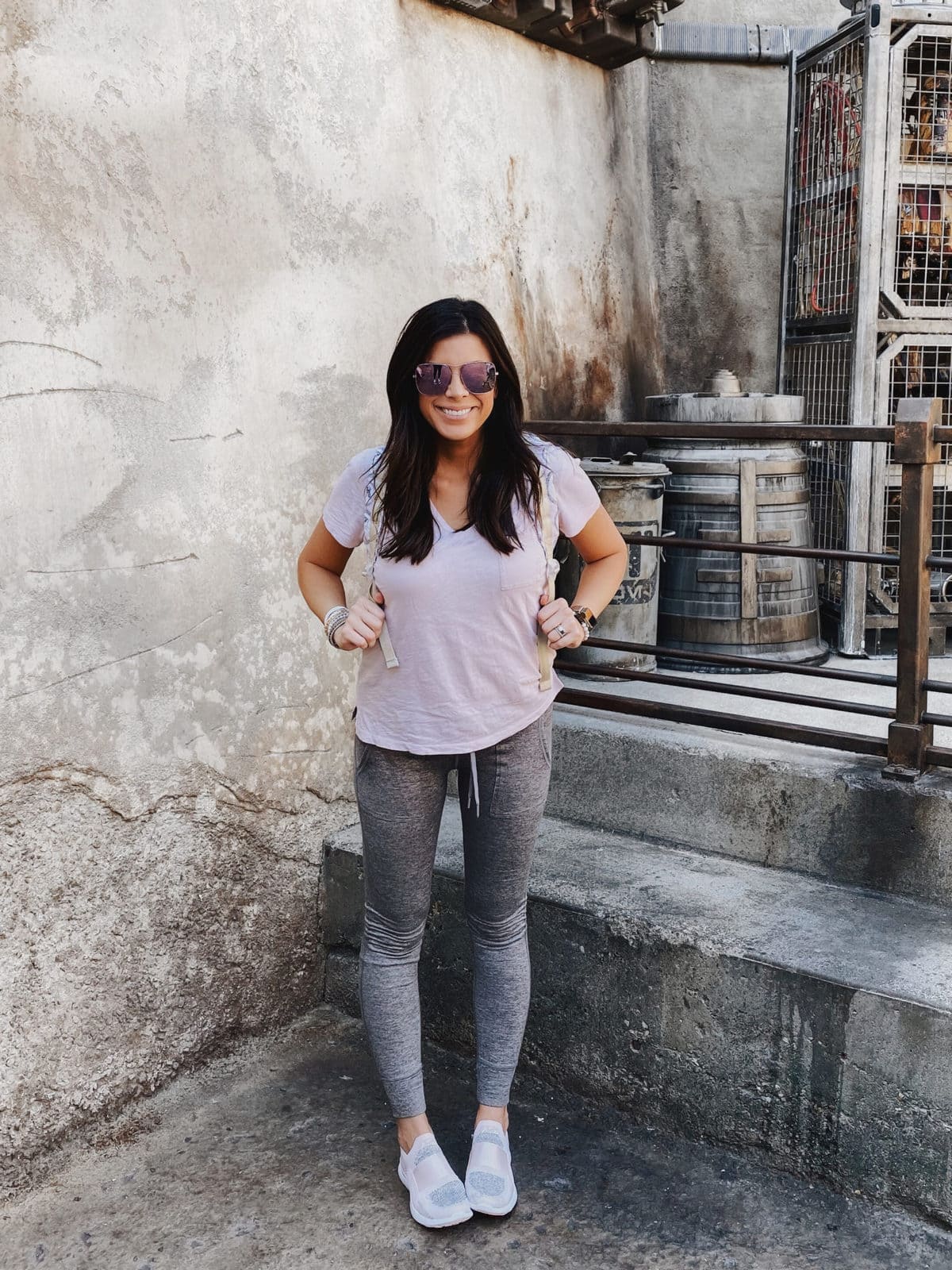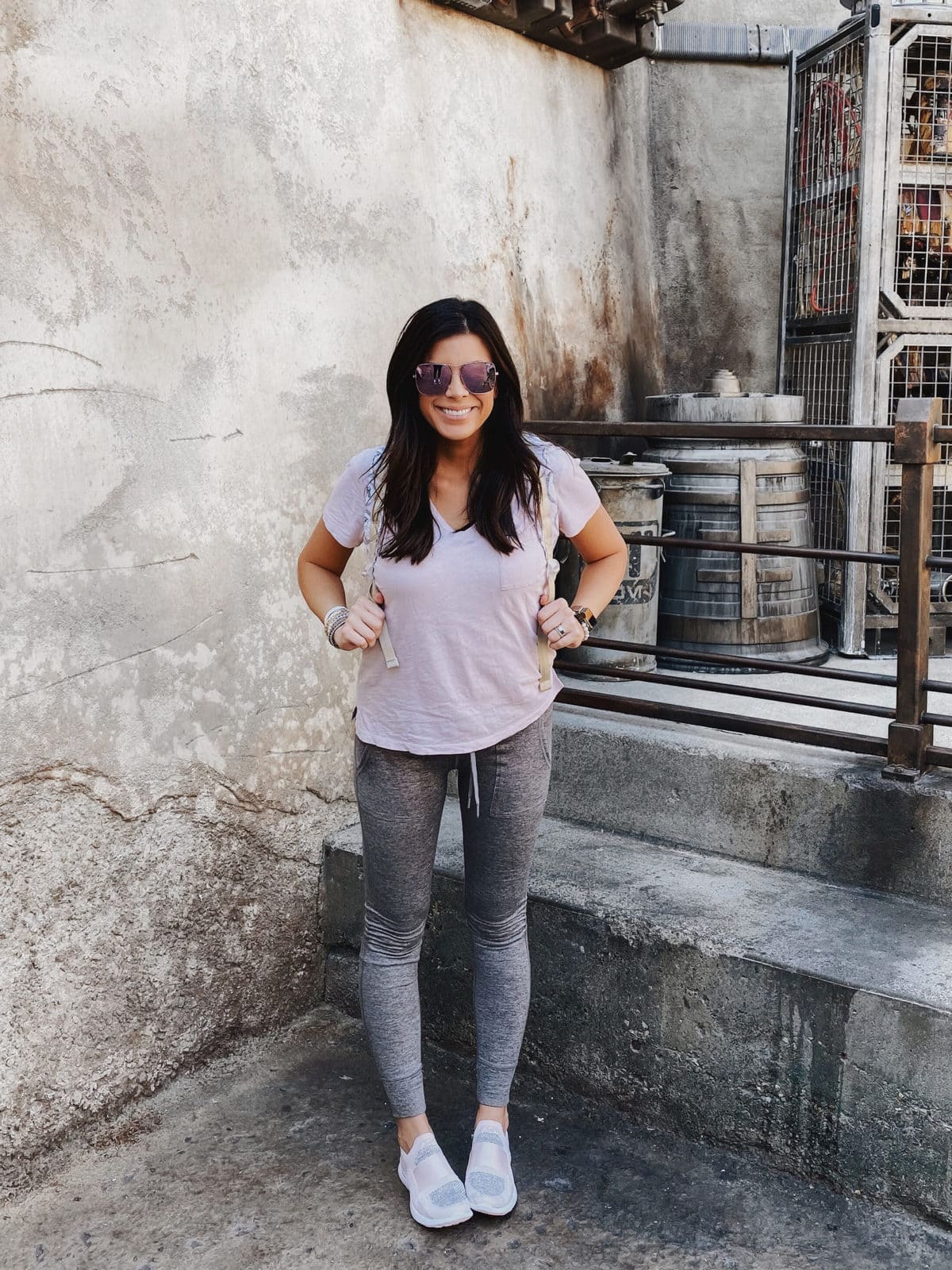 Dole Whip Friendly Dressing
And in case you were wondering, this outfit is 100% Dole Whip approved. So go ahead and grab two! And maybe a few churros for the road. Oh, and just so you know, I got all of these items I wore on my most recent Disneyland day from Zappos! I LOVE how quick the shipping is, and their return policy is extremely convenient. Shop fast and easy, and enjoy your magical day!!