Summer is coming and we want to spend as much time as possible enjoying all the sunshine and amazing weather and less time in our closets trying to figure out what to wear! Standing in front of a closet full of clothes and thinking, "I HAVE NOTHING TO WEAR!" is kind of the worst, right?! That's why we're all about closet staples and tried and true favorites. These summer closet staples will help you combat those "nothing to wear" moments and throw together a summer outfit that looks cute and will get you out the door in a flash!
#1: Tory Burch Miller Sandals
Tory Burch Sandals: You guys know these are Corrine's fave flip flops of all time ever. Period. End of story. They're insanely comfortable. Like walk all over Europe comfortable-which she did! They are just a little bit fancier than your average flip flop, which is perfect because they can be easily dressed up or down. You cannot go wrong with adding this Tory Burch sandal as a summer staple for your closet! If you're not totally up for the splurge though, here's an almost identical dupe!
#2: MZ Wallace Tote
MZ Wallace Tote: This is Corrine's ultimate EVERYTHING bag! It squishes into the smallest corner of your suitcase and pops out looking perfect, it wipes clean, has removable zipper pockets on the inside. This bag is the perfect summer closet staple because it can go to the beach, workouts and it's seen in the hippest places from New York to LA. We're obsessed. Which is why we've included it in this bag guide! It's definitely on the pricey side and although we really think it's worth the investment, we found a super similar but cheaper version here!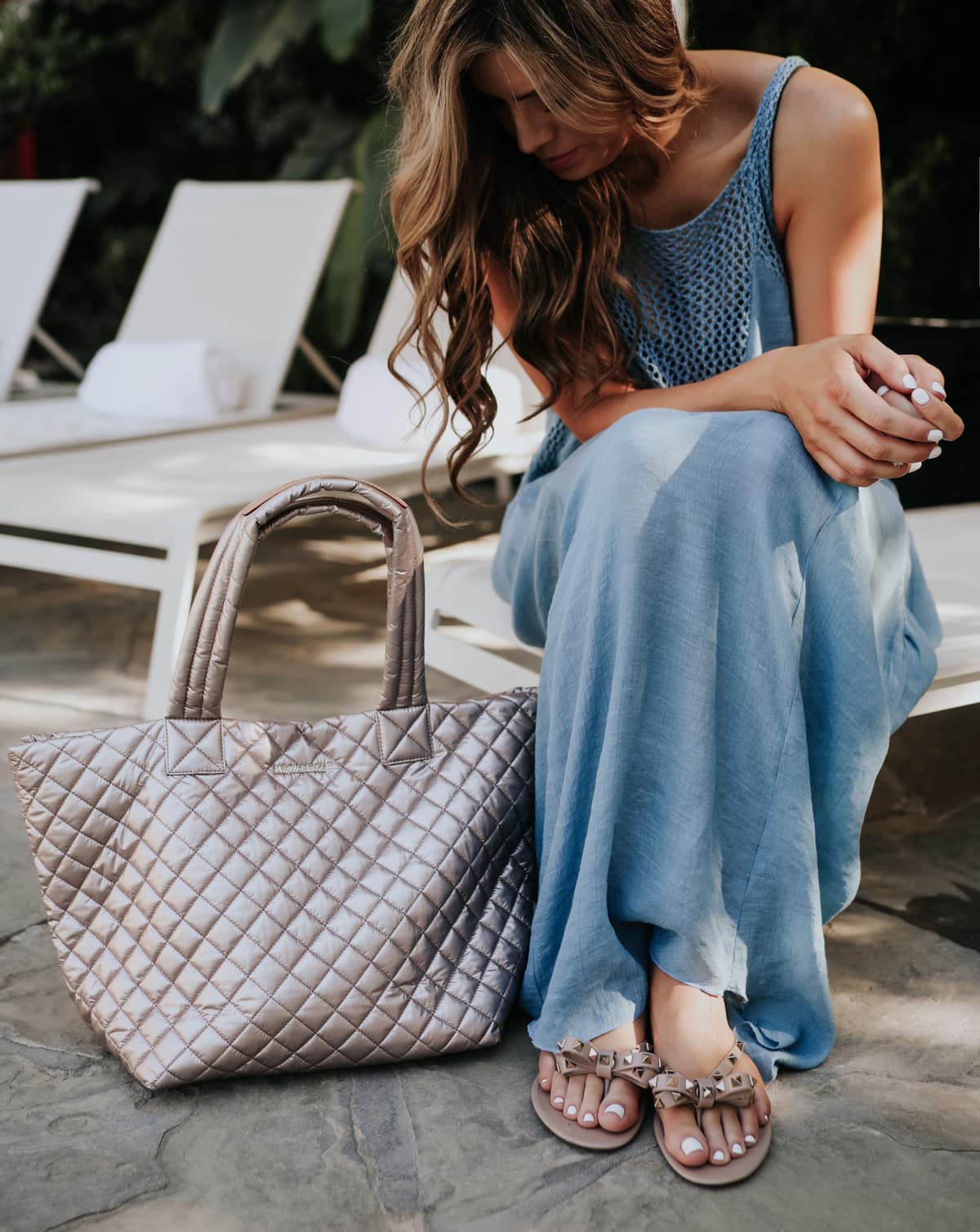 #3: Black one piece swimsuit
If you have been wondering what style of swimsuit to choose for the summer, then we absolutely recommend a black one piece! It's the perfect summer closet staple because the color and style is timeless.
The cut of this cute black one piece swimsuit is like whoa flattering. The bum coverage is especially on point! It has seriously PERFECT bottom coverage. The ruffles are so so cute and the lace up back is so fun! Proof that a black swimsuit can be anything but basic! This exact one is sold out, but here's an almost identical one, and here's one that's even less expensive! Get ready to fall in love with your new black swimmie this summer!
#4: Ray-ban Aviator sunglasses
Ray Ban sunglasses: We really, really love these sunnies because they're so lightweight, and you can wear them all day without getting a headache. These are one of our favorite summer closet staples, because you can wear them with your dressiest outfits or running errands in yoga pants and a tee! If you want to save a little, here's a super similar option.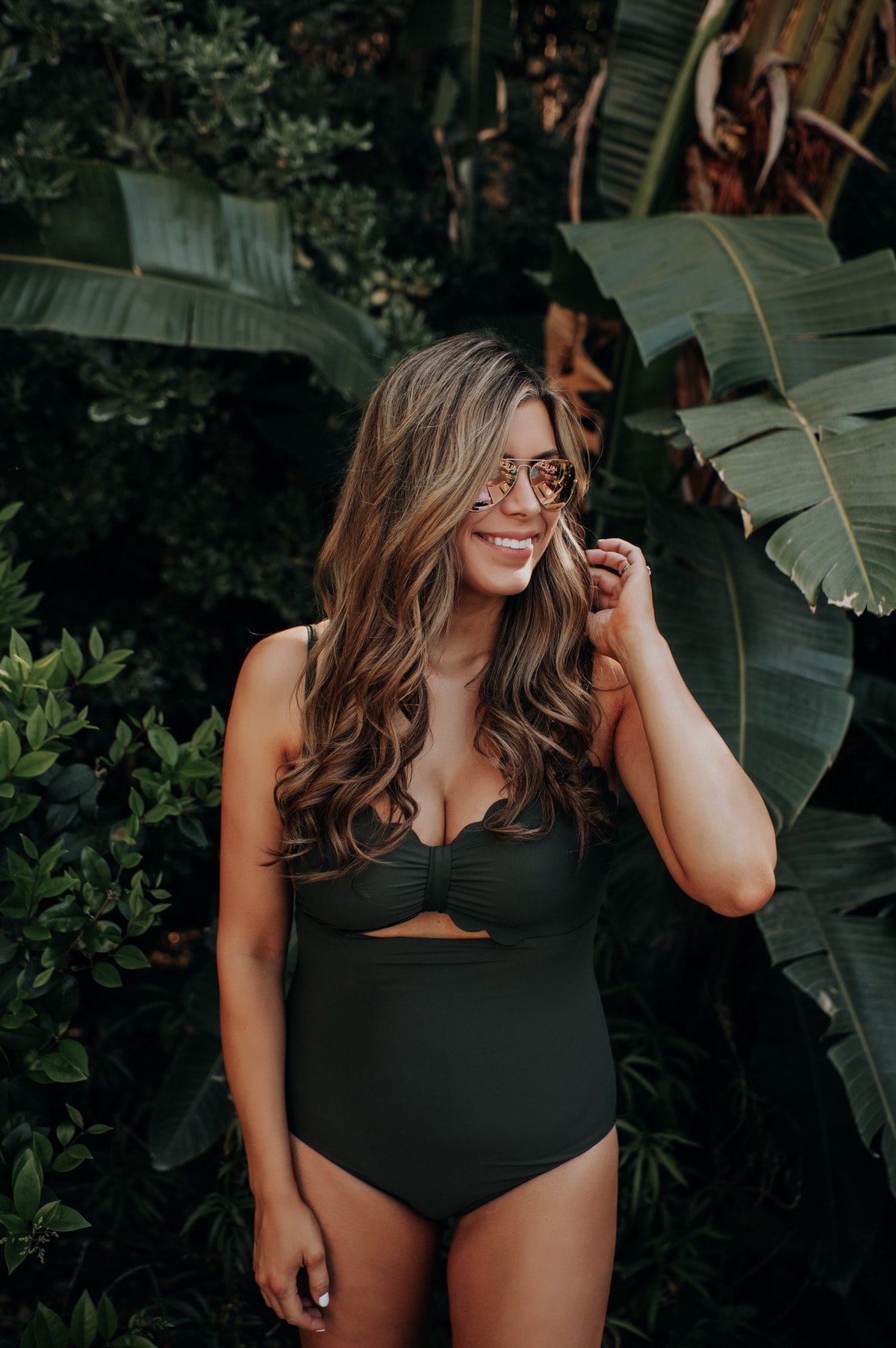 #5: White v-neck tee
Madewell V-Neck Tee: Corrine seriously cannot go a week without wearing this tee. She's bought this shirt over and over and OVER again. It's the perfect closet staple to throw on with jeans or with some shorts and a lightweight kimono! AND it's under $20.
#6: Denim Jacket
Denim Jacket: Summer nights can still get a little chilly-depending on where you live! Corrine's had this cute jacket for a few years now, and she's still totally in love with it! This denim jacket is a great closet staple because it's super soft and the fit is super flattering-other jean jackets can sometimes be boxy! This jacket is so cute paired with a dress, leggings, skinnies, you name it!
#7: Swimsuit cover-ups
Black swimsuit coverup: This LBC (little black swimsuit cover up) is the perfect pretty little thing to wear from your hotel room down to the pool if you're living that resort life. (post quarantine of course) Between the long sleeves and slightly heavier fabric on this swimsuit cover up, it's little too warm for a HOT summer day at the beach, but it's totally gorgeous and provides great coverage if you're just wearing it to and from the pool. This exact one is from a couple of years ago, but here's this year's version! And if you're hoping to spend a little less, this is a really cute option.
Maxi cover-up: We looooooove how light and airy this maxi dress cover-up is. This one is totally perfect for a beach vacation! This one is sold out, but here's a similar one that is just as pretty and flowy, and here's one that is priced on the lower end and it comes in so many fun color options.
#8: White Sneakers
Chuck Taylor sneakers: Comfy is one of Corrine's love languages and Chucks fit the bill! We love throwing these on with EVERYTHING in the summer! They honestly never go out of style, which is why they are an amazing summer closet staple! They are already super affordable at just $50, but if you're hoping to spend a little less, here's a dupe that has over 2000 amazing reviews!
Tory Burch Miller, dupe
MZ Wallace tote, dupe
Black one piece sold out, similar 40% off, dupe 40% off
Ray-bans sold out, similar for $124.60 (reg $178), similar for less
White v-neck tee
Denim jacket 50% off
Swimsuit coverup black sold out, similar, dupe
Blue coverup sold out, similar, dupe
White converse, dupe
Photos by Arielle Levy
Bring on summer
Those are some of Corrine's very favorite summer closet staples that she's worn year after year! What are yours? Let us know in the comments!!