My favorite white t-shirt is having a MAJOR moment today because it's almost half off, and I'm not one bit mad about it. This tee has been featured in about a half a billion of my blog posts, because I love it so much. It's absolutely a closet staple for me and today is the perfect day to stock up!!
Keep scrolling to see how crazy good this deal is and why this v-neck tee is a tried and true favorite of mine, and the many ways I've worn it over the years!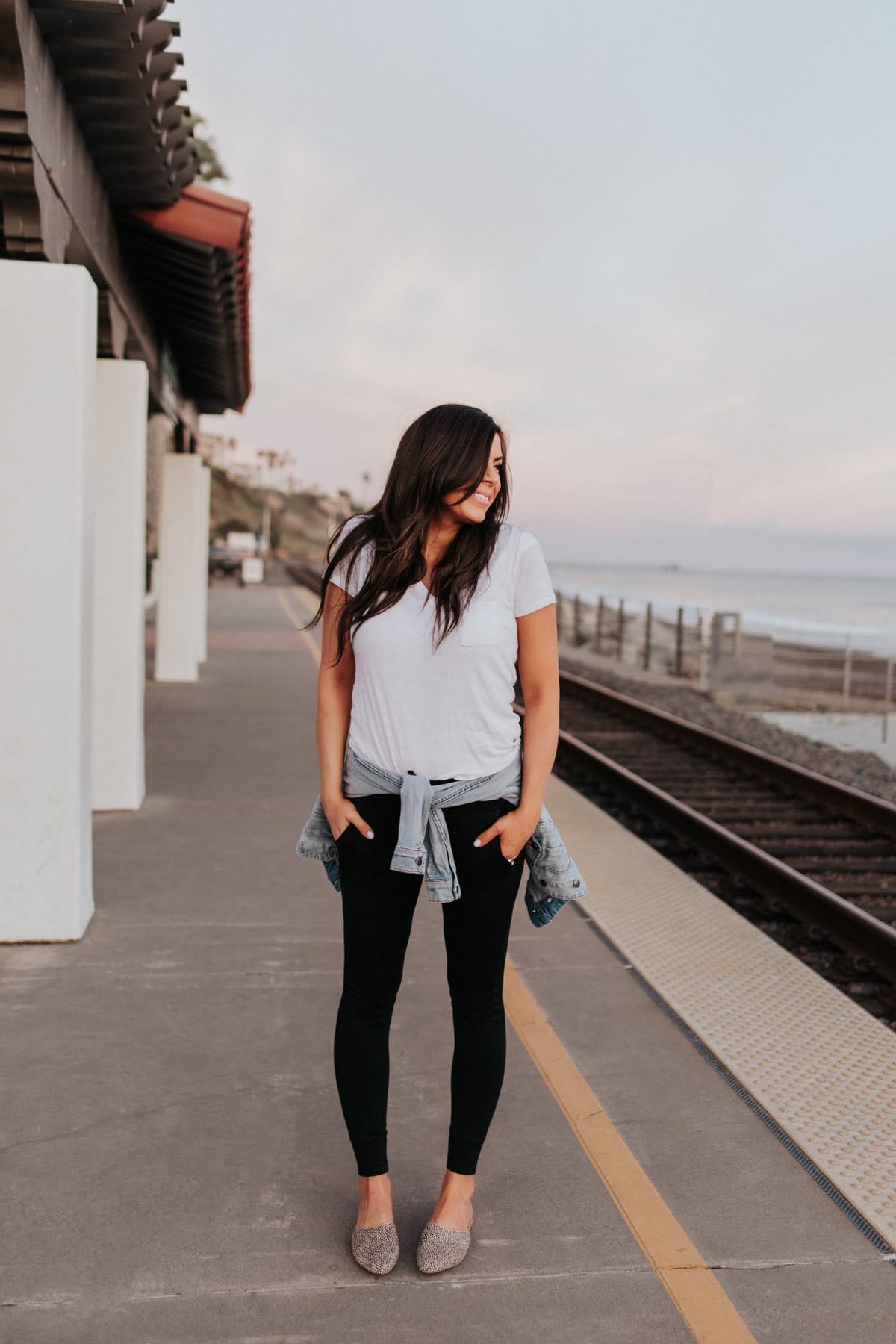 Deal details
Right now you can get my favorite white v-neck white t-shirt for $11.70 (reg $19.50)! That's 40% OFF!! This is an amazing deal for a good quality tee, and the best time to go ahead and snag the black and gray while you're at it!
One tee, so many styles
I have bought this t-shirt over and over and OVER again. It is great for layering because it is super lightweight. It's the perfect top to throw on with leggings and a jean jacket or jeans and a kimono.
I love that this perfect white v neck tee is also the perfect layering piece for fall and winter too! I've worn it under so many scarves, jackets, sweaters and anything else in my closet just begging for the perfect lightweight layer underneath. Especially with the way the weather is here more than half the year, layering is the KEY to not having to wear two outfits in a day! This tee allows me to start the day with a layer, shed the layer in the middle of the day when the sun is hottest, and then throw something back on over when the sun goes down at the end of the day.
My favorite white tee is also the perfect tee to tuck into a skirt for warmer days!
I cannot go a week without wearing this tee (and I've even figured out a clever way to wear it pregnant!).
It's also the best tee shirt to wear for any sort of adventure, like a day at Disneyland.
This never before seen price won't last long
Don't miss out on getting this t-shirt for 40% off today! I've seen it for $14 on occasion, but I cannot EVER remember it being $11.70 like it is today! So grab yourself one or two or three to rotate into your wardrobe while they're practically 2 for 1. No idea how long this super good sale will last, so grab yours before it ends and before the word gets out!