One of the most frequently asked questions I get is about self tanner. Everybody wants to know what the very BEST self tanner is. More specifically everybody really wants to know what the BEST self tanner for your face is! I love love love sunless tanner, because it means I get to keep that beachy vacation glow all year long and protect my skin from sun damage. Today I'm sharing my recommendations on the BEST self tanner for your face in a few different types of applications and price ranges so you can find the best self tanner for YOUR face!!
I know applying the same self tanner you use on your body to your face makes a lot of people very nervous. So I went out and tried ALL the face self tanners that I could get my hands on to try to find the best self tanner for your face … And now I'm giving you the scoop on all of them!
Tanwise Self-Tanning Face Gel
I originally introduced you to Tanwise Self-Tanning Face Gel in a post on the BEST self tanners and and it's still my favorite budget pick! I love that this gel is face specific and super, duper easy to use. It goes on really smooth and gives you a nice even, natural looking glow! It's one of the best "drugstore" facial self tanners out there and is priced just right under $10! This one gets my vote for the best face self tanner on a budget!
St Tropez Self Tan Face Mist
I have used this St Tropez Self Tan Face Mist more over the last year than anything else and I am still absolutely bananas over it! I'm head over heels for this stuff. Using this mist over and under makeup gives me the prettiest gradual tan. It's the ideal product if you're okay with GRADUAL. This is not the product for you if you're looking for an instant (or overnight) tan! My favorite way to use this face mist is to wash off all my makeup at night, spray this on my face and go to bed! Doesn't get much easier than sleep tanning! This is a water based product so it won't get all over your pillows or your sheets. This face mist is my pick for maintaining between spray tans or keeping a tan after a vacation.
Drunk Elephant Sunshine Drops
Literally like sunshine in a bottle and perfect for summer! This is a product that you mix into your moisturizer or your sunscreen for the perfect bronzed glow. It gives you the most stunning natural color on days you might feel like skipping the makeup or elevates your tan to match your makeup if you're a touch too pale for your foundation. My fave is always lighter than my body due to more frequent washes and exfoliation, so this is the perfect quick solution! I love that it's super clean product that's great for your skin. These sunshine drops are my favorite "quick fix" face self tanner.
Coola Sunless Tan Face Compact
I've been using this Sunless Tan Compact quite a bit lately and really, really love it! It's newer product from Coola, but it's perfectly reviewed and has tons of fangirls out there! It has the teeny tiniest shimmery glow to it that is so pretty. It's super easy to use: you just hit a button in the compact that shoots out a little bit of self tanning gel that you then apply with the cushion applicator. After application you can just put your makeup on over it and get on with your day! The tan develops over a few hours while you're wearing it which is so nice and super convenient! My pick for perfect double duty execution-you get an INSTANT dewy glow and a buildable, natural looking tan!
Alpha Beta Glow Pads
These Alpha Beta Glow Pads are the bomb! Honestly this is probably my favorite self-tanner towelette I have ever used. The color is REALLY good. Because this one was created by a dermatologist it has anti-aging benefits that come along with that natural healthy glow! Score! This is a great self tanner options if you have acne prone skin. You get 20 towels for $38 which means each tan is only about $2! Not bad if you have other self tanner you absolutely love for the rest of your body! My vote for the very best self tanner for your face if you want to use a towelette.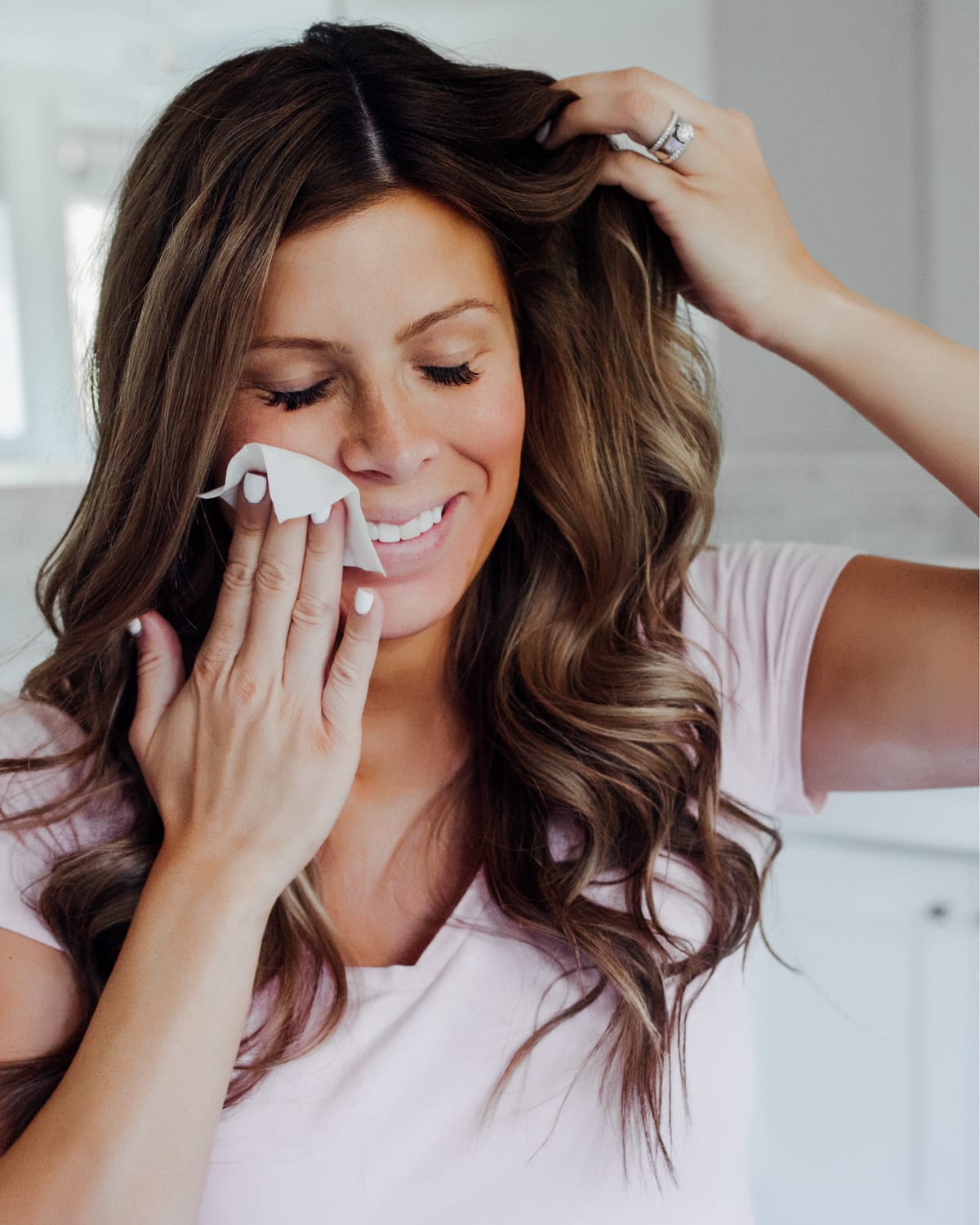 Kate Somerville tan towelette
Kate Somerville also makes a pretty amazing tanning towelette. These are on the spendier side, BUT I really love that you can use this tan towelette for body AND face! These towels are huge. It's big enough to literally do your whole entire body with ONE towel which is really, really nice and probably why they're so pricey for one towel! Just one use gave me a super nice glow the very next day! Application is super quick and easy too. Although it's a bit pricey, this is my favorite pick for the best self tanner for your face AND body!!
Clinique Sun-Kissed Face Gelee
The Clinique Sun-Kissed Face Gelee had great reviews and I was really, really excited to try it, but I didn't love it. At all. It's supposed to be mixed in with your foundation and I felt like it was just a real mess and not all that natural looking. Annnnnnd it doesn't actually tan your face. So for the money and the aim of getting an immediate or gradual sunless tan, this was definitely not my favorite option.
Jergens Natural Glow Face Moisturizer
If you're looking for the least expensive option possible, this Jergens Natural Glow Face Moisturizer is a really highly rated GOOD option. I liked it, but you definitely get what you pay for-I found it has a bit of an orange tint to it, and some people complained that it didn't give them enough color.
Tanwise Self-Tanning Face Gel
St. Tropez Bronzing Face Mist
Drunk Elephant Sunshine Drops
Coola Sunless Tan Face Compact
Clinique Gelee
Alpha Beta Glow Pad for Face
Kate Somerville Tanning Towelettes
Jergens Natural Glow Face Moisturizer
Photos by Arielle Levy
Have you guys tried any of these self-tanners for face? Is there one that you LOVE that's not on my list? Let me know what you thought and if you liked the same ones I did!!