Sometimes you just need a good SALE to get you up off the couch. And by get up, I mean walk to the next room to grab your phone! Luckily for you, you can stay quarantined and still take advantage of this roundup of all the BEST QVC shopping deals for March! I spent HOURS finding needle-in-a-haystack deals just for YOU. Retail therapy sounds pretty nice right about now, doesn't it? Let's dig in!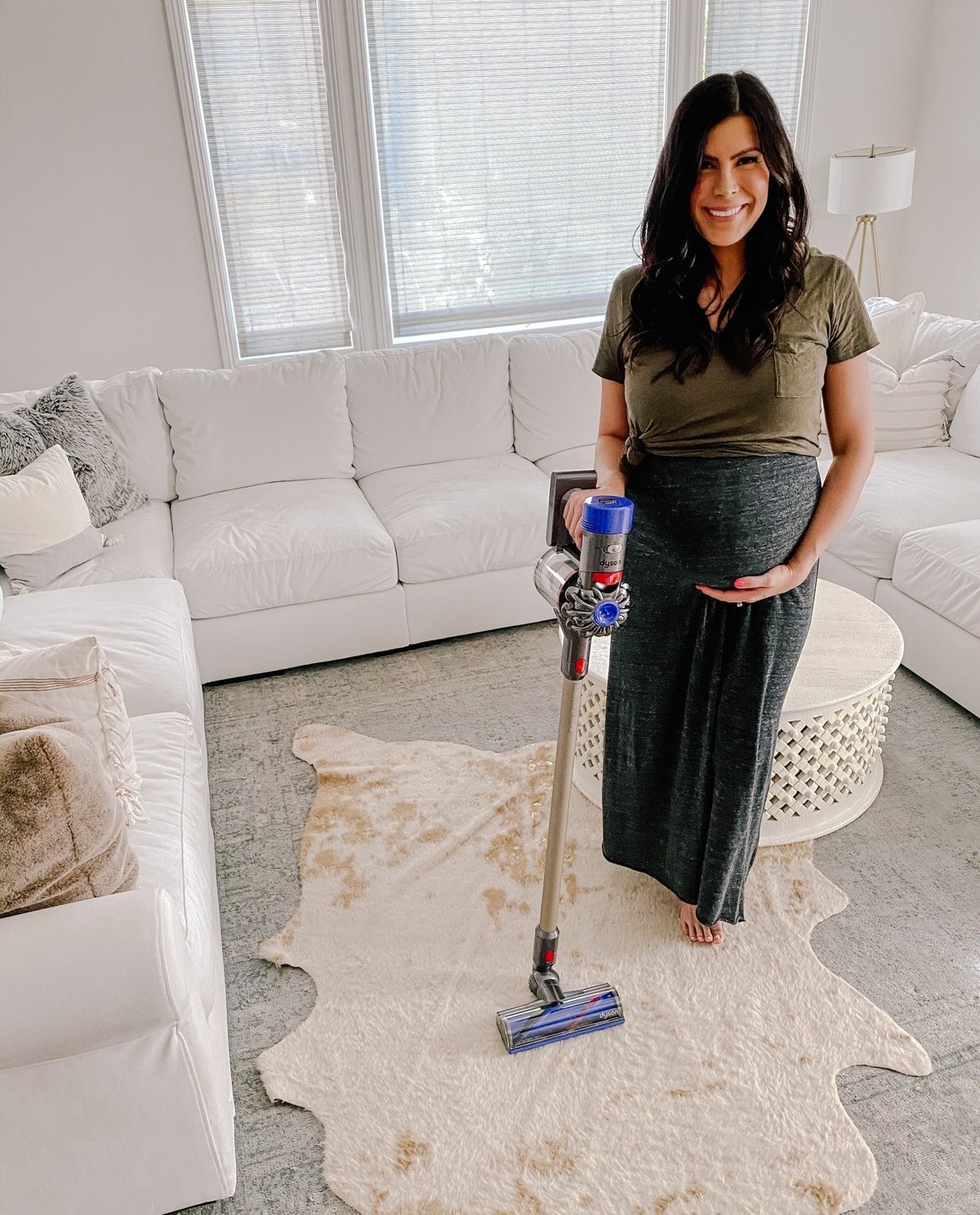 Dyson Animal Cord Free Vacuum
My mom has one of these vacuums at her house and I can never thank her enough for introducing me to it! It is the EASIEST and most convenient thing in my house. You can carry it everywhere, and it makes vacuuming a cinch (and dare I say, enjoyable?!) I know the reservation with cord-free vacuums is the power; will it work as well as my traditional vacuum? The answer is a resounding YES!! I am so impressed with how powerful this lightweight vacuum is.
The cleaning head is designed for all surfaces, it converts to handheld AND boasts a HEPA filtration system. And perhaps the best thing about it? The current price! This vacuum normally retails for $399, but is on sale ONLY ON QVC for $299! That's a 25% savings, and something you should definitely jump on!
Living Proof Duo
I've tried Living Proof products before, and this Restore Shampoo and Conditioner is like everything else of theirs I've used: simply amazing! My hair feels silky soft after each use, and it keeps my color fresh longer. Let's be honest, it's probably gonna be a while until I can get to my hair girl again (thanks, COVID), so washing with sulfate and paraben-free products is more important than ever right now! The fastest way to strip your hair color is to wash with super cheap shampoo filled with all the chemicals. I'm not about that life, especially while in quarantine!
These 24 oz bottles retail for $60 EACH at any store. QVC is offering the DUO of shampoo and conditioner for $69 TOTAL!! That almost makes it buy one get one free on this totally high-end shampoo and conditioner set. This jumbo set will last you forever, just another bonus!
beautyblender
This beautyblender set is an INSANE price and value! You get 3 beautyblenders AND 3 cleansing soap solids for only $45!! And trust me when I say there's something magical about their soap; it simply cleanses the beautyblender better than anything else. You definitely want to be cleaning your beautyblender very regularly AND switching it out every 3 months or so. Sponges tend to harbor bacteria, plus they start to break down after so many uses and washes.
A fresh beautyblender is such a simple pleasure in life, and this set of three beauty blenders + three soaps is only $45!! One of the iconic beautyblenders retails for $20, and it would cost you $108 at normal retail price to buy 3 soaps and 3 beautyblenders, so this is an incredible deal!
Isle of Paradise Self Tan Eraser
I've heard such glowing reviews about this Isle of Paradise Over It Magic Self Tan Eraser, but anytime I went to a major retailer to buy it they were sold out! The blend of glycolic acid with moisture-rich ingredients literally erases your leftover self tanner (just as it says, LIKE MAGIC!!).
Once I finally got my hands on it (THANK YOU, QVC!) I seriously couldn't believe how well it worked. You all know that I am an avid self-tanner, so you can usually find me with some spotty residue from a previous tan.
All you have to do is spray this on your skin with the magical elixir (I stepped in the shower for this part so it didn't get everywhere), lather, and leave on for 5 minutes. Then I jumped in the shower and exfoliated as usual and could NOT believe just how much easier my old self-tanner melted right off! Seriously, one round of this and your skin is glowing and splotch-free!
You want to make sure to wait about 3-5 days after the initial tanning application in order for the Isle of Paradise Self Tan Eraser to work properly. Your self tanner is not ready to be removed after 24 hours, but once your skin starts to self exfoliate, this product REALLY helps with the final removal process. You can see in these before and after pictures that my lingering self tanner was cleanly removed only to show my natural tan (courtesy of Hawaii).
KitchenAid Pro
If you've been holding out for a good deal on a PRO KitchenAid Mixer, THIS IS IT.
This Professional KitchenAid Mixer with all these attachments retail for at least $500!!! Thanks to a little QVC shopping, you can get it for only $329! The set comes with 5 separate mixing attachments (including the bowl scraper!!) and is equipped with commercial-style motor protection for the best, quickest mixing without sacrificing the machine. It also has a lift-stand (which I like way better than tilt-head), and the capacity AND horsepower is so much better than the traditional mixers.
Feel free to double that batch of cookies, this 6-qt mixer is HERE FOR IT.
We gave my mom a Professional KitchenAid in the early 90's (you read that correctly), and she STILL USES IT. The same one. This workhorse is so multi-functional, you can get attachments to make homemade pasta or even peel apples!
A KitchenAid stand mixer is a classic Mother's Day gift, or the perfect gift-to-self if you're finding yourself home and baking a lot right now (raises hand)! Also, I'm not mad about this iridescent pink hue sitting on my kitchen counter! It comes in FOURTEEN colors total, including a beautiful matte white and a shiny copper that will make your heart skip a beat.
Dyson V8 Animal Cord-free Vacuum
Living Proof Shampoo & Conditioner Set
beautyblender Essentials Kit
Over It Magic Self Tan Eraser
KitchenAid Pro Mixer
Living for QVC shopping rn
QVC consistently gives me the deals I need, even if I didn't know I needed them. Since we are all "working from home" (aka not leaving the house anytime soon), I love the idea of bettering my home and my beauty skills. Hey, we might as well come out of this thing on top, right?
First-time customers can get an additional $10 off with code "WELCOME" and second-time customers with code "HELLO10"! Happy QVC shopping!