Have you shopped American Eagle recently? Last year I was on the hunt for super highly rated jeans that wouldn't break the bank and American Eagle totally delivered! Since then American Eagle has totally reemerged as one of my most FAVORITE places to stock up on great basics at even better prices. Right now there is an absolutely killer deal happening at American Eagle that I can't not share with you guys!! We're talking 30% off FAVE pair leggings and a hot deal on jeans – so get ready to stock up on ALL THE THINGS.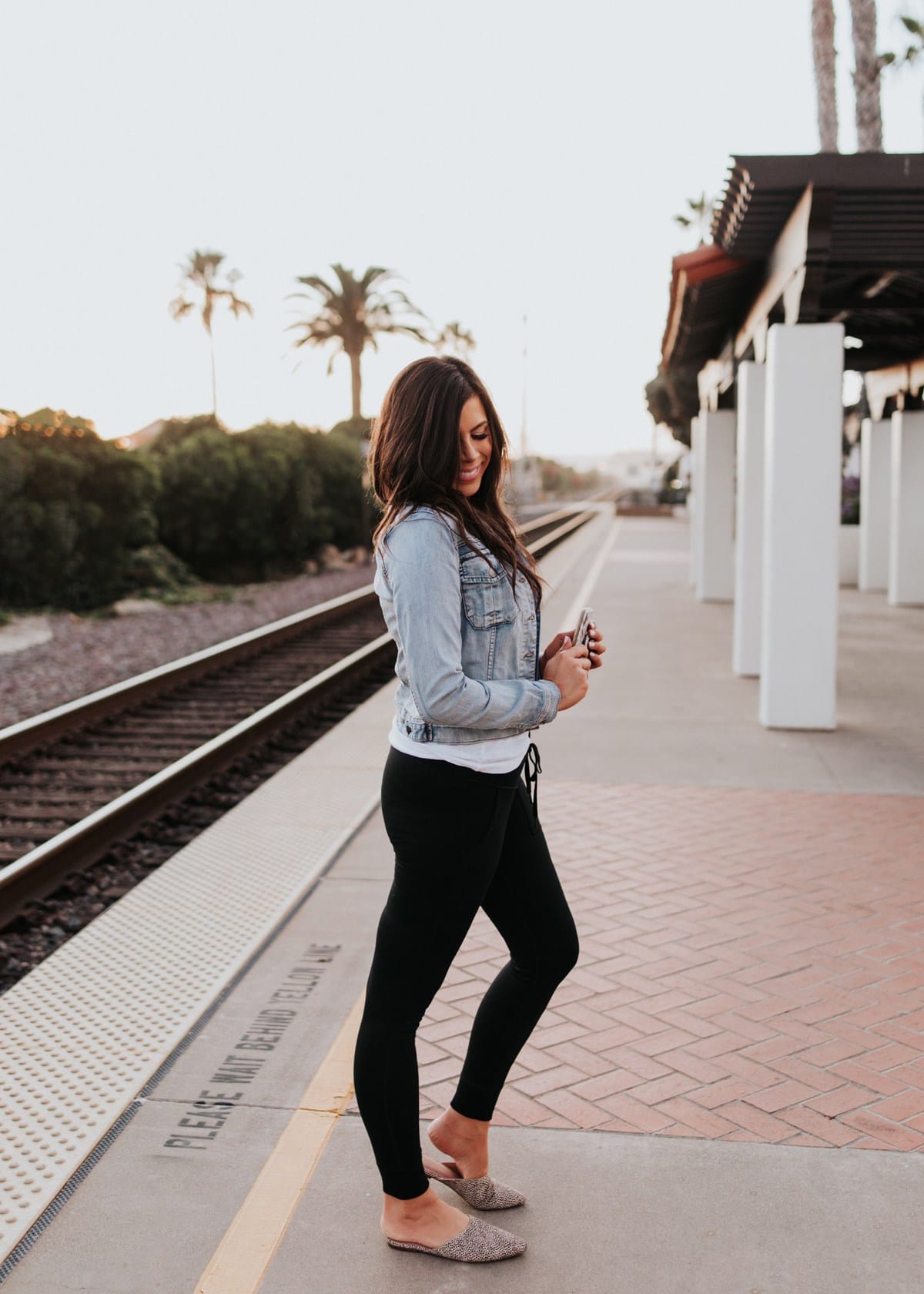 Deal details
Right now you can get 30% off all sweatshirts, joggers and leggings at American Eagle and Aerie, plus 25% off JEANS! How's that for smoking hot deal to start your week?
Super flattering leggings
These leggings are INSANE. I love them because they have pockets (YES, pockets) and kiiiinda look more like actual pants, but they are leggings so they are better!! They are super flattering and super comfortable, so they are a total staple for me! I also really like to wear them with a tee and tennis for a Disney day with the family.
If leggings and joggers had a baby, these would be their uber happy love child! Loggers? Joggings? Whatever we decide to call them, they are ABSOLUTELY amazing!
Add to your cart before the sale ends and you can save 30% and pay LESS THAN $35. They come in black and gray (I have BOTH) AND you can choose your length (short, regular, or long) and cue applause 🙌🏼!!
Highly-rated $29 jeans
The super highly rated, super affordable jeans I discovered and fell in love with last February are included in the sale too! These are THE most popular jeans at American Eagle. I honestly can't decide what is better about these high-waisted jeans — the fit, or the UNDER $30 price tag after getting 25% off at checkout! These jeans are currently available in multiple colors and patterns! These exact green jeans pictured are no longer available, but here's a similar pair in green under $30!
Sometimes high waisted jeans can make your bum look flat, but these jeans turn that bum into a BOOTIE!! I absolutely love that these stay skinny all the way down to the ankle which is important to me and you can order them in short, regular or long. Basically they're the affordable jean of your dreams.
American Eagle faves
Don't miss out on this smoking hot deal on a couple of my AE faves that SO MANY other people have left rave reviews about too! Right now you can save 30% off sweatshirts and joggers and 25% off jeans at American Eagle, no code needed.
We rounded up all the cutest and highest rated pieces (like MY FAVE leggings for $34 instead of $50!, and these highest rated jeans for $29 included in the sale for you to shop now!