Have you shopped American Eagle recently? Last year I was on the hunt for super highly rated jeans that wouldn't break the bank and American Eagle totally delivered! Since then American Eagle has totally reemerged as one of my most FAVORITE places to stock up on great basics at even better prices. Right now there is an absolutely killer deal happening at American Eagle that I can't not share with you guys!! We're talking $29-35 on my two FAVE pairs of pants – leggings and jeggings -so get ready to stock up on ALL THE THINGS.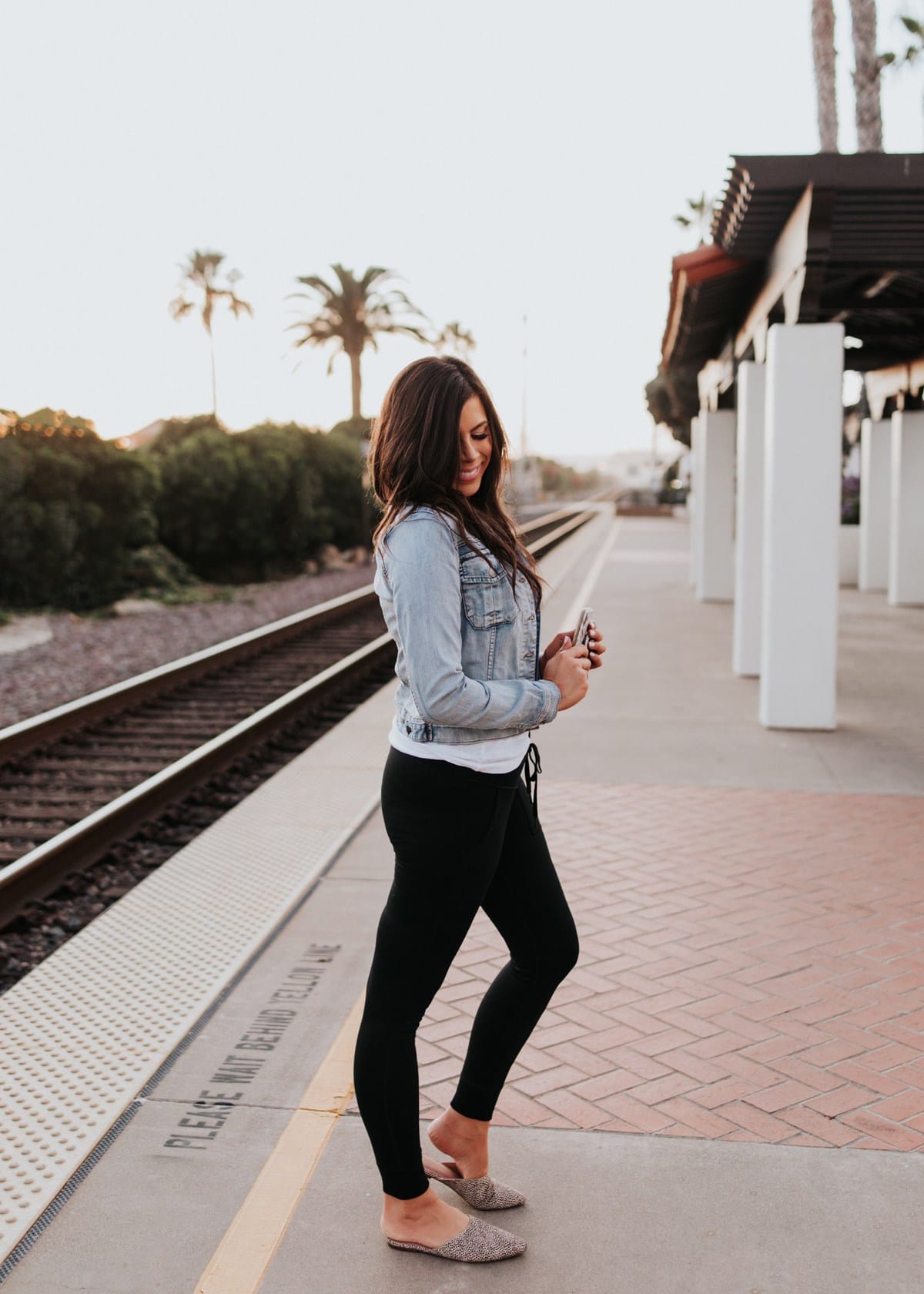 Deal details
Now through May 5th, you can save 25-50% off at American Eagle and Aerie. This deal is online only, but includes almost everything on the site!! Tops, shorts, jeans-it's all included. How's that for smoking hot deal brighten up your week?
Super flattering leggings
These leggings are INSANE. I love them because they have pockets (YES, pockets) and kiiiinda look more like actual pants, but they are leggings so they are better!! They are super flattering and super comfortable, so they are a total staple for me! I also really like to wear them with a tee and tennis for a Disney day with the family.
If leggings and joggers had a baby, these would be their uber happy love child! Loggers? Joggings? Whatever we decide to call them, they are ABSOLUTELY amazing!
Add to your cart before the sale ends and you can save 30% and pay LESS THAN $35. They come in black and gray (I have BOTH) AND you can choose your length (short, regular, or long) and cue applause 🙌🏼!!
V-neck tee and denim jacket
To maintain the effortless theme of my outfit, I threw on my very favorite v-neck tee of all time and a denim jacket!
This white tee has been featured in about a half a billion of my blog posts, because I love it so much. I even blogged about last week as my favorite white tee! It's absolutely a closet staple for me, and you can get it as cheap as $7 in some colors right now here with the code BIGTIME.
The denim jacket has a bit of a stretch and goes with literally everything! I have owned a few of these exact denim jackets over the years and they. are. amazing! They fit so much better than most of the other denim jackets that I've tried on that end up feeling too structured and rough, so I highly value that perfect amount of stretch in a denim jacket. I wear them with dresses and jeans and leggings and joggers and whatever!
Every closet needs at least one staple denim jacket! This one has over 500 near perfect reviews and is a super steal, especially right now at 40% off it rings up at $47 (reg $80!).
Leopard Mules
One of my favorite things about these leggings is that they can easily be dressed up or down. Throwing on these leopard mules is my favorite way to make this outfit way more chic in a snap! As we all know by now, leopard is a neutral so you can wear these shoes with absolutely anything! And the pattern is so slight that it compliments anything you pair them with.
These exact ones are sold out, but here's a similar pair that's on sale for 40% off at $78.54 (orig $132) plus additional discounts with code SAVEMORE if you spend over $100!
Highly-rated $29 jeans
The super highly rated, super affordable jeans I discovered and fell in love with last February are included in the sale too! These are THE most popular jeans at American Eagle. I honestly can't decide what is better with these High-Waisted jeans — the fit, or the UNDER $30 price tag!
Sometimes high waisted jeans can make your bum look flat, but these jeans turn that bum into a BOOTIE!! I absolutely love that these stay skinny all the way down to the ankle which is important to me and you can order them in short, regular or long. Basically they're the affordable jean of your dreams.
These exact jeans are 40% off right now and they're sold out in the green I'm wearing, but available in FIVE colors for $29.97!!! That's a total add to your cart, American Eagle no-brainer!
White V-neck tee, some colors on sale $7.49 w/ code BIGTIME
Denim Jacket ON SALE 40% off
Black Leggings ON SALE 30% off ($34.96)
Leopard Mules, similar
Highly rated jeans ON SALE 40% off ($29.97)
Photos by Arielle Levy
American Eagle faves
Don't miss out on this smoking hot deal on a couple of my ae faves that SO MANY other people have left rave reviews about too! Right now you can save 25-50% off your entire American Eagle purchase, no code needed. This deal is online only and ends on May 5th!
We rounded up all the cutest and highest rated pieces (like MY FAVE leggings for $35 instead of $50!, and these highest rated jeans for $29 included in the sale for you to shop now!