One of my major goals is to help you buy all the nice things that you love at a price you can afford. Because that's what friends are for! (Anybody else hearing Dionne Warwick in their head right now and that Stevie Wonder harmonica solo? HA!). For some girls that means saving up for a LONG time to buy that one special bag you'll love for years and years. If you're wondering which designer bag to put on your wishlist, today's post might help sway you toward one! Or if you're not quite ready to splurge, we have a save option for you!
Splurge or Save?
I know it's not in everyone (or a lot of people's) budgets to splurge on designer bags, SO with each splurge bag that I love here, I'm going to show you a pretty amazing save option for less than $150. I love a high-quality bag and if it's within your budget, I think they're totally splurge worthy!! A good, high quality bag is an investment piece you can literally use for years because they hold up so so well!
YSL Quilted Crossbody
I had my eye on this nude YSL quilted crossbody wallet for several years before I finally added it to my wardrobe. And it has gotten plenty of use! One of my biggest splurge hacks is to spend your pennies on a neutral that you can wear over and over again, to make the investment worth it. I have worn this here, here, and here! This can also be a major pro if you decide you're tired of a certain style and want to sell it, because these bags usually have an amazing resale value!!
If you're loving this quilted, chain, crossbody wallet idea but not the price tag, this save option is pretty amazingly similar and really cute! The best part is, it's only $25!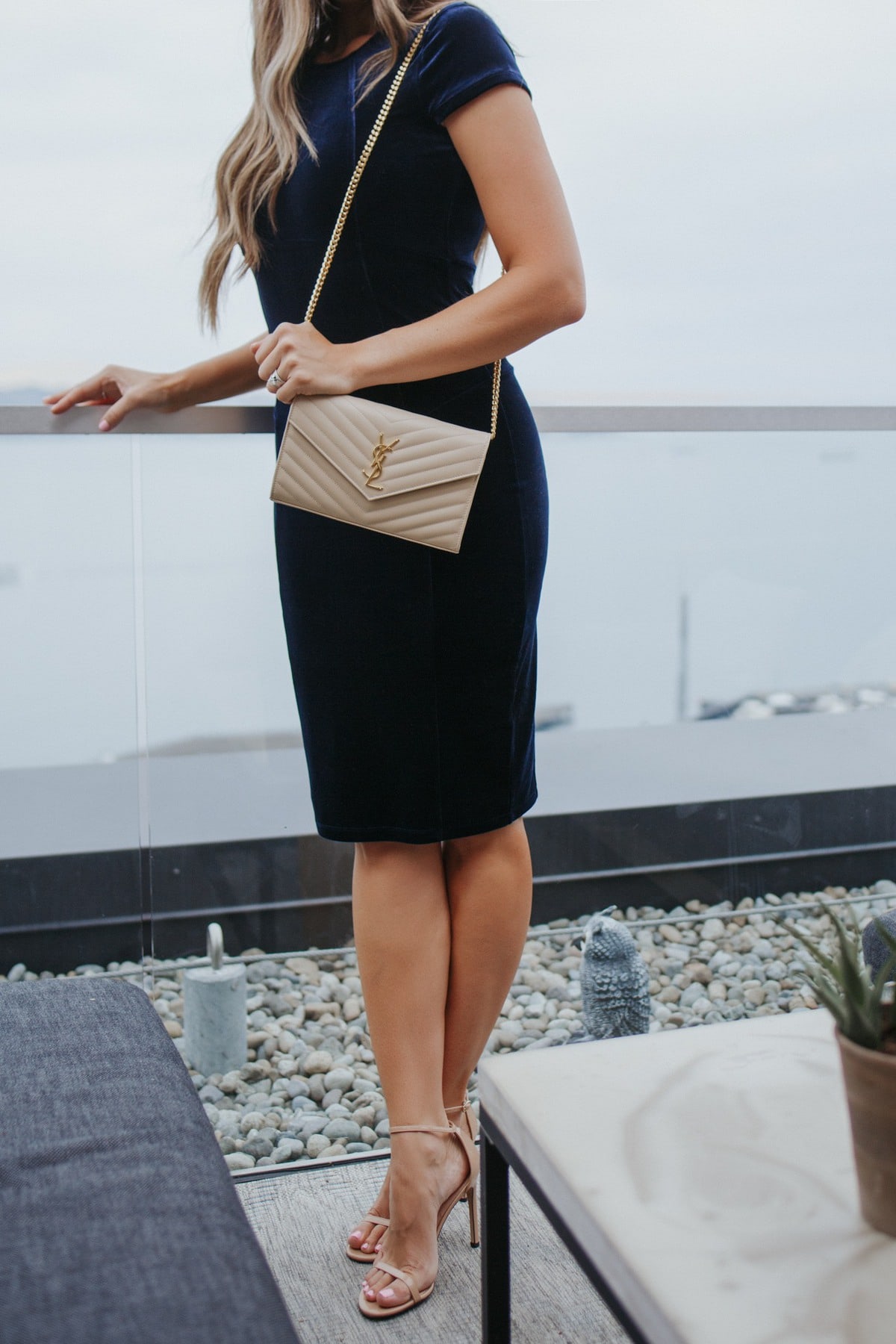 Louis Vuitton Neverfull GM
Probably my MOST USED splurge bag is her Louis Vuitton Neverfull GM. Neil bought this for me as a Christmas gift a few of years ago and I'm amazed at how well its held up after a zillion outings and trips all over the world! I LOVE this tote because it's GIGANTIC and you can sneak another small handbag inside of it to zip up little things into, like a wallet or lipgloss or whatever. Then in the bigger tote part you can shove a book, a water bottle, a sweater, a scarf–anything else you need easy access to on a plane, or in the car on a road trip. It's also the perfect bag to take to the movies because you can take a blanket (haha yes I'm serious!) into the theater without looking like a weirdo because they always love to PUMP the AC in the movies.
Although I have used her Louis Vuitton Neverfull to death and I love it so much, I've also LOVED this large tote for years and has owned and gifted it in several colors. It's only $50 and holds up SO well after tons of use! If you're set on the checkered look, this one is crazy similar.
Chanel bag
This Chanel double flap bag is one that I'm very careful with and don't wear out too many times because it's so expensive. I don't wear it a ton for blog pictures either, because I know it's crazy expensive and not very relatable. I posted a picture of it on the blog for the first time here because I wore it to NYFW, where I kind of figured if I had a nice bag on me I could get away with wearing leggings and boots and a down coat to a runway show! HA!
Of all the bags I have ever owned, this is the one I wanted for the longest time. I looked at it in Paris with Neil a while back, and in New York every time I was in Soho near the Chanel store. On my birthday one year, Neil finally talked me into getting it since I had saved for it for so long. You can read articles about how a Chanel double flap bag is supposedly a better investment than real estate (haha) but obviously that's not a good enough reason to just buy this bag! But it does help to know it's a solid investment piece and they actually really do hold their value.
TIP: If you're ever traveling to Europe and you're going to buy a Chanel bag anyway, BUY IT IN EUROPE! You'll spend less there on the face value of the bag. AND you can get the VAT tax money back (basically like a refund on your sales tax) in the airport if you ask the Chanel store to provide you with the paperwork and hold on to your receipt. There's tons of info online on how to do this, so I won't get too deep into it but I have done this with other designer purchases and it definitely works!
If you're DYING to own a Chanel bag but you can't or don't want to spend the cash, this is a great save option for only $21.98!
Givenchy Satchel
I've featured this Givenchy satchel on the blog about a million times in the years I've owned it. It is an investment piece for sure, but it has gotten more than its value in wear and tear! I first fell in love at a NYFW when I borrowed one from a ShopStyle event to take to a few shows and wear in some outfit pictures, and I was so sad when I had to return it haha! I have since put this bag through the ringer and it still looks brand spanking new! It's a very nice, substantial, structured bag that is well worth your money.
If you want the same look for way less, here's a similar looking option for $74.95!
Chloe Saddle Bag
My love affair with the Chloe medium crossbody bag is REAL! It's the perfect medium size to just carry around your wallet, sunnies, lipgloss, phone and keys.
This save option is so pretty and such a great steal under $70!
MZ Wallace Tote
And last but not least, the most affordable of my splurges is this MZ Wallace Tote! This is the ultimate EVERYTHING bag because it squishes into the smallest corner of your suitcase and pops out looking perfect. It wipes clean, has removable zipper pockets on the inside, can go with you to the beach and workouts and is seen in the hippest places from New York to LA. I could not love this bag more!
This MZ Wallace tote is already pretty affordable, but here's a save option that's only $89!
Happy shopping!
We've rounded up all these splurge and save bags for you to see and compare below. I hope this helps you either pick out your dream bag and start saving, or grab a save option that you can use and love right now!
Splurge
Save