Nothing says Valentine's Day quite like a red dress. I LOVE red dresses, because they're so bold. If you've been a reader for awhile you also know that I love lace. A lot. And pleats. The dress I wore in this post has both so I knew it had to BE MINE!
Red hot dress
This red dress is such a fun and flirty length a cut! Perfect for a red hot Valentine's date or a night out with all your best girls! I'm also super in love with the price. This dress is on MAJOR sale! It's $30.50 in the petite, which is way more than half off the original price of $98! You can also find it here in tall for $34 (reg $98)!
The exact maternity version I wore here is sold out, but you can see all the maternity dresses from the same designer here.
But don't stress if you don't see your size (they are flying off the shelves) because today's post is filled to the brim with the very cutest Valentine's Day dresses, in all shapes sizes and prices!
Nude Slip Dress
My favorite nude slip saves the day again! I love that with this magical slip I can combat the sheer and wear all these lace dresses that I love. I seriously wear mine with almost every dress!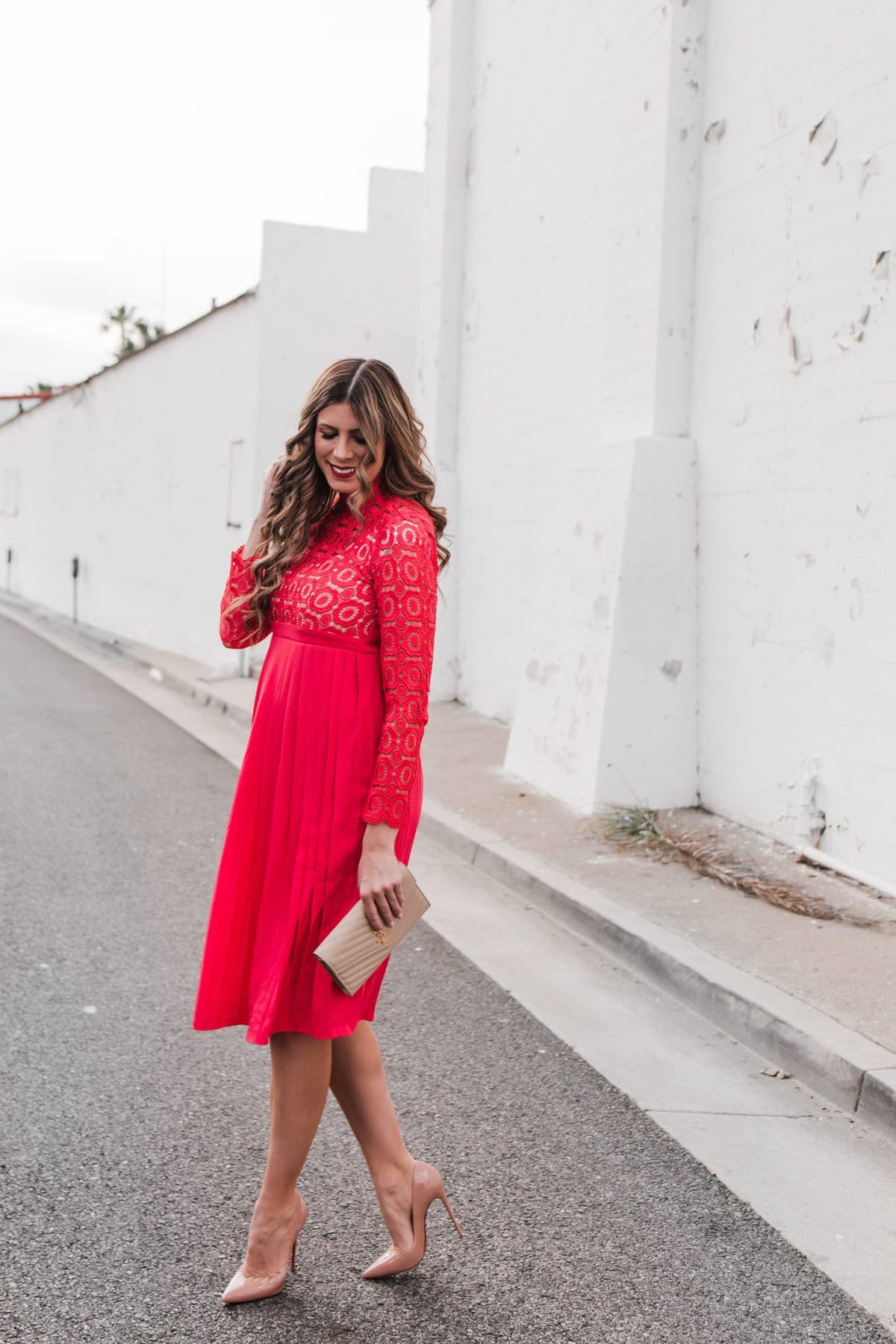 Let the red dress be the hero
My #1 tip for wearing a bold red dress is to keep everything else simple, so the dress can be the hero piece of the outfit. I love to pair bright bold pieces with nudes because they're so subtle that they almost disappear into the outfit!
Neutral Bag
This bag is such a gorgeous nude and seriously goes with everything. The size is perfect for all your essentials and I love that it can be carried as a clutch or worn as a cross body or shoulder bag. It's an investment piece that you'll find a million reasons to wear over and over again. But if you want a way less expensive dupe, I love this nude clutch that gives you the same look for a fraction of the price.
Classic nude pump
Louboutins are a splurge for sure, but something about that red sole is magic! In my opinion, splurging on a classic nude pump is worth it, because you'll wear these heels for YEARS!! I'm not going to lie to you guys the So Kate isn't the most comfortable shoe in the world, but they are literally THE MOST flattering shoe in the world!! They slim your legs, tone your butt, and make your toes look cute. And despite being uncomfortable, I still love them and love to wear them on special occasions! Just make sure you don't have to walk far haha.
If you're looking for a less expensive look-alike, and if comfort is key for you, I also really love this pointy nude pump that gets a 9/10 from me for walkability and wearability.
Red dress (tall), petite
Worn with this slip
Nude clutch, dupe
Nude heels, dupe
Top Valentine's Day dresses
Below I've rounded up some of my very favorite Valentine's Day dresses on the internet right now. Hopefully this helps you find the perfect dress for a fun little night out with a special someone or celebrating the day of love with some friends!