Even if it's not super warm yet where you live, that time of year when you want to spend a ton of time in the sunshine is ALMOST HERE! That means it's time to start thinking about an outdoor patio furniture refresh!
Whether you're looking to start decorating your outdoor space or replace something old, NOW is the time to order outdoor patio furniture. Especially with the global supply chain issues, if you wait until June or July it'll be super difficult to find outdoor furniture you like. So, I've done some research and – LEMMETELLYOU – I've found the BEST lookalikes for designer-inspired outdoor patio furniture, EVERRRR, and it's all at Walmart. Let me show you just how good this stuff is, and HOW MUCH you'll save going this route!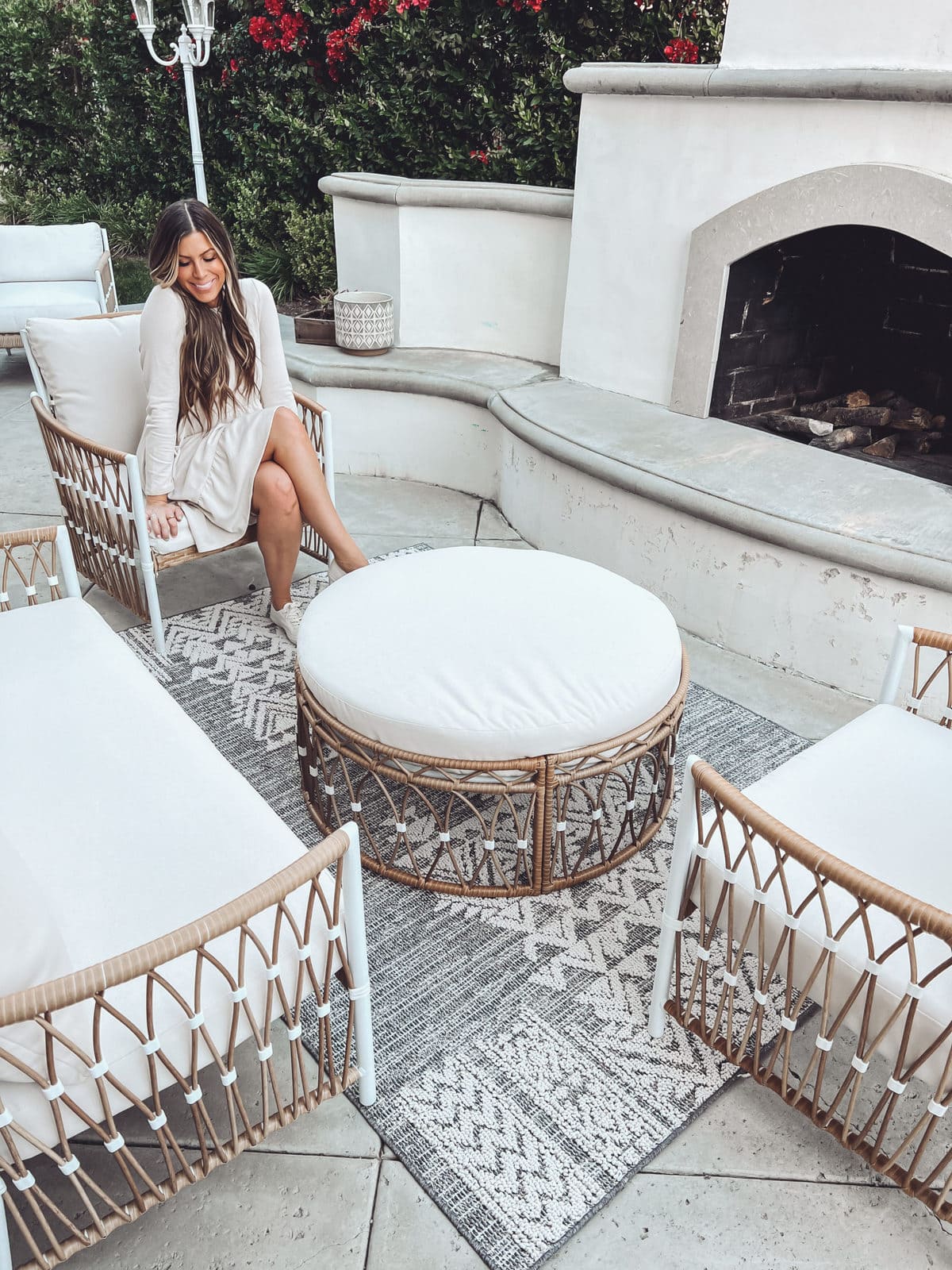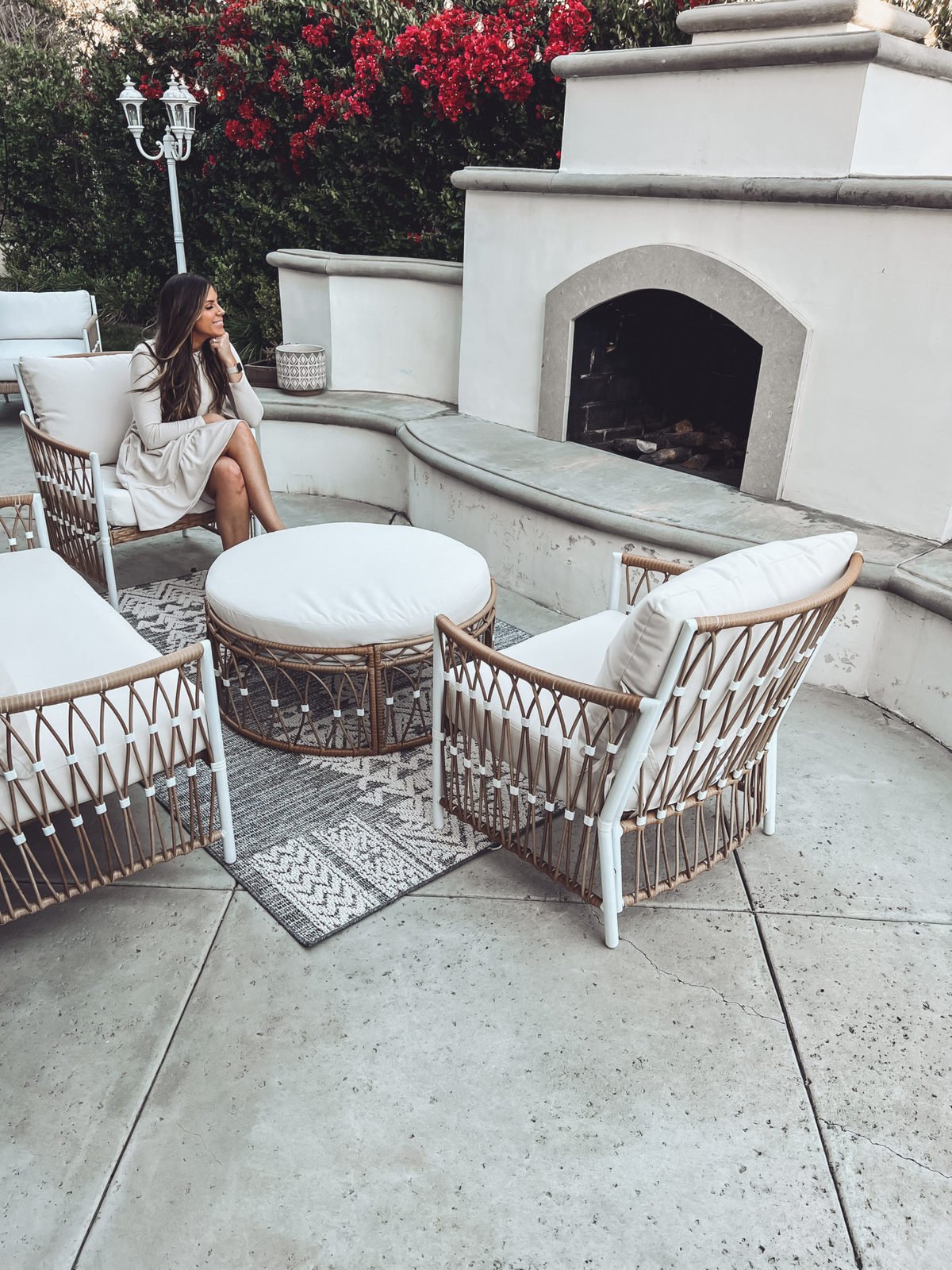 Started with two chairs…
Last year I took one look at our bare backyard and figured it was time to invest in some new outdoor patio furniture. We had one piece of old furniture that we'd had for nearly seven years, so our backyard space was long overdue for a refresh!
Of course, the place with the cutest outdoor patio furniture I wanted was also INSANELY expensive. So I decided I'd start and just buy these two high-end chairs that, even on sale cost me $1,500 EACH.
After that purchase, I planned to invest little by little each year to eventually have all the furniture I wanted in the backyard. Well, this year I started looking around for more furniture and just about dropped dead when I found almost the exact same style for PENNIES compared to the designer brand!
Designer-inspired outdoor patio furniture set
I found this 4-piece set that's nearly HALF the price I paid for only ONE of the chairs last summer. Seriously, it's insane how similar these pieces of furniture look to the designer chairs I bought! This set comes with two beautifully made chairs, a love seat, and an ottoman that have SUCH amazing reviews.
Since the prices were so affordable, I added a few more cute pieces to my backyard that complimented this boho chic style.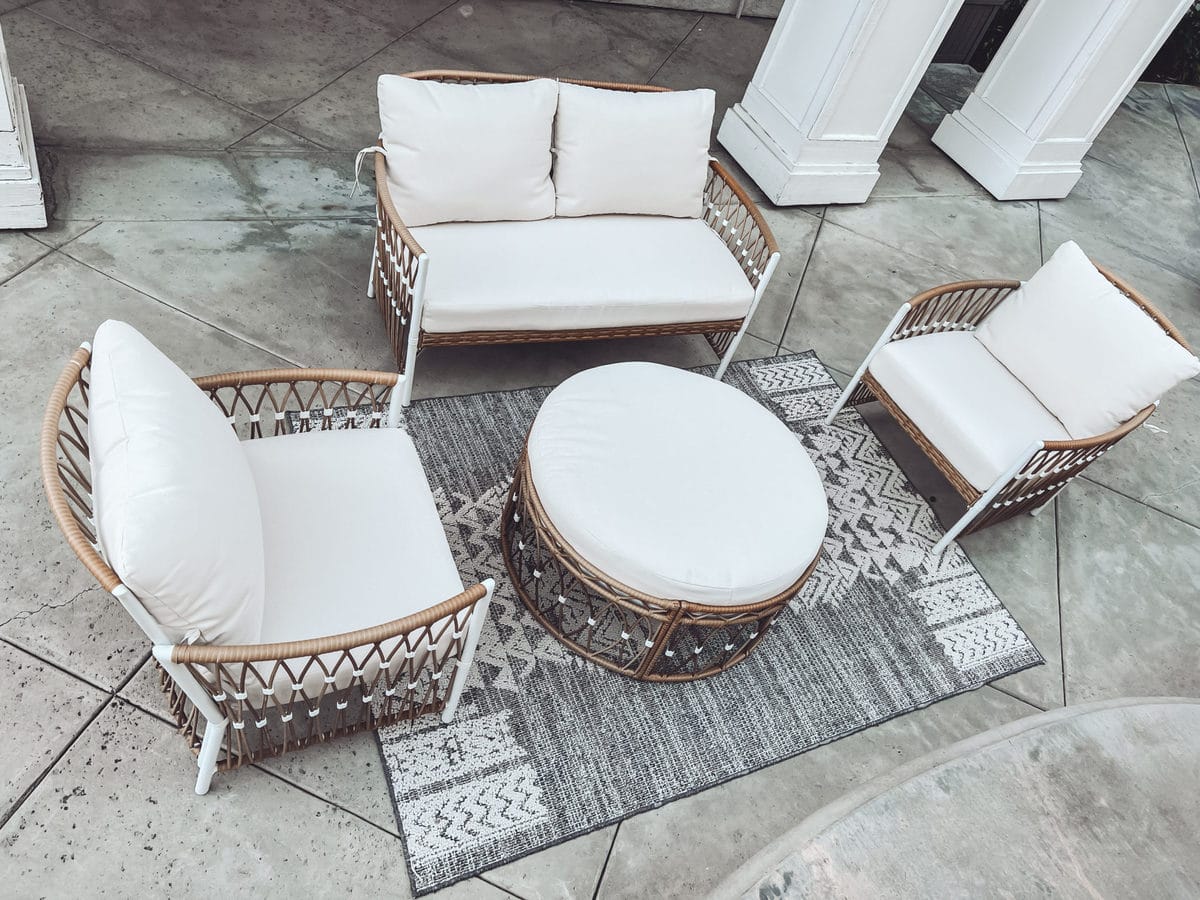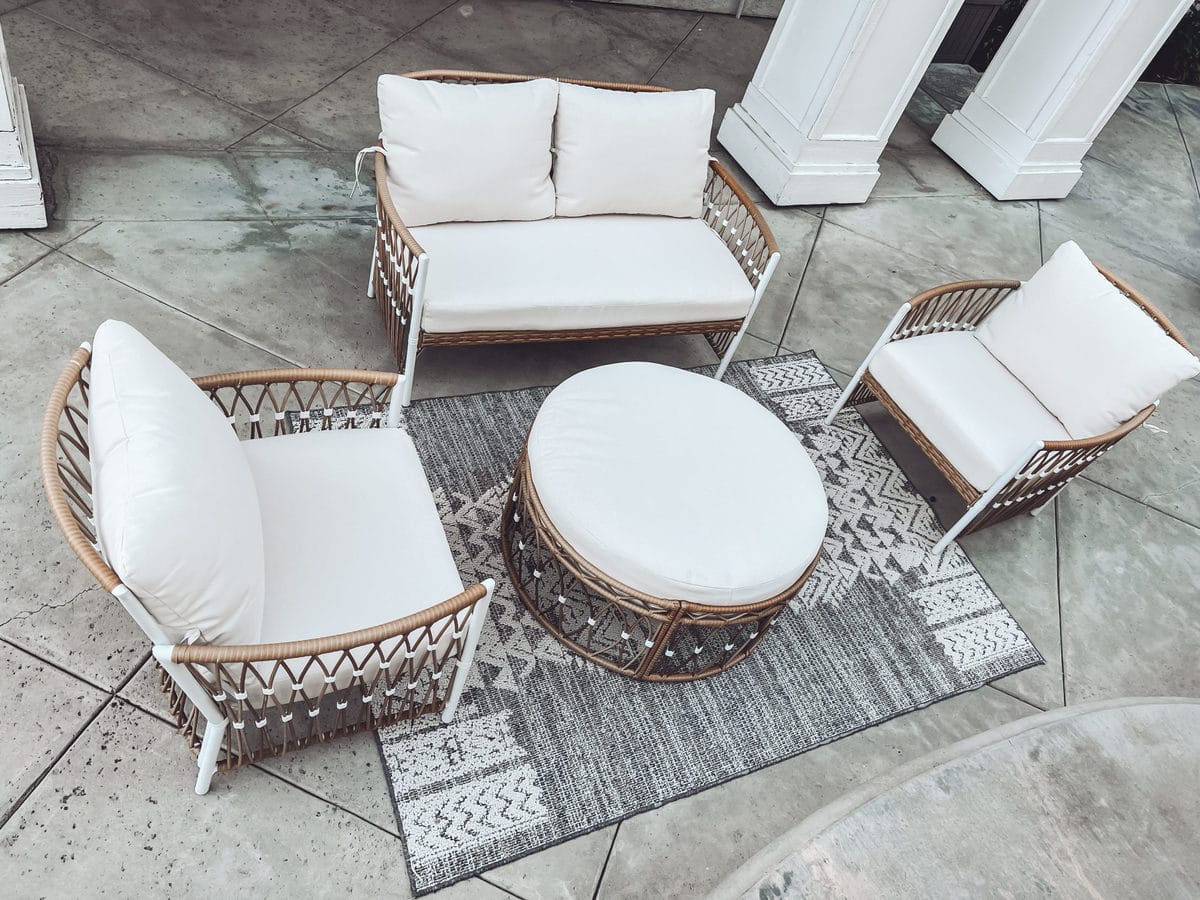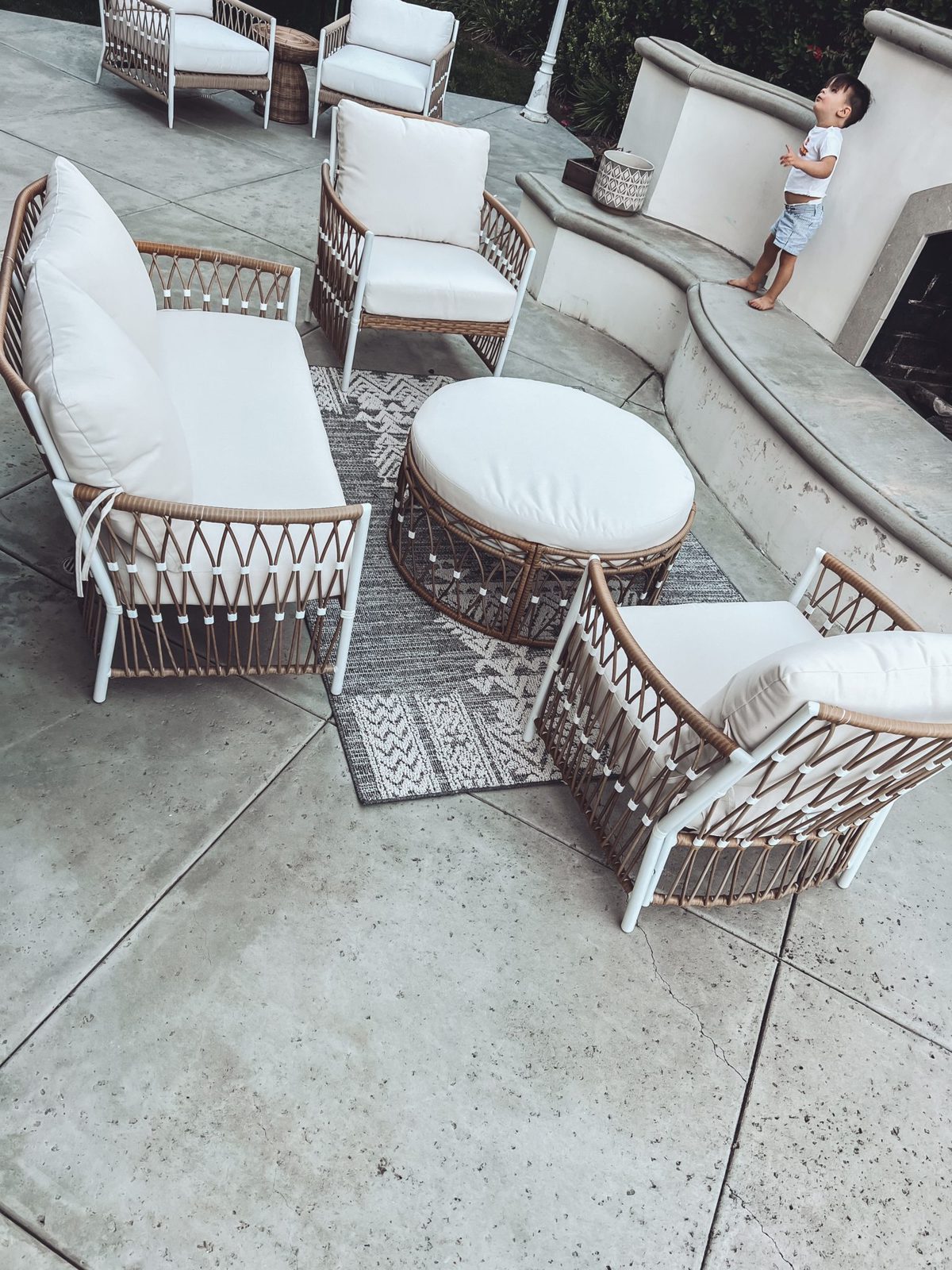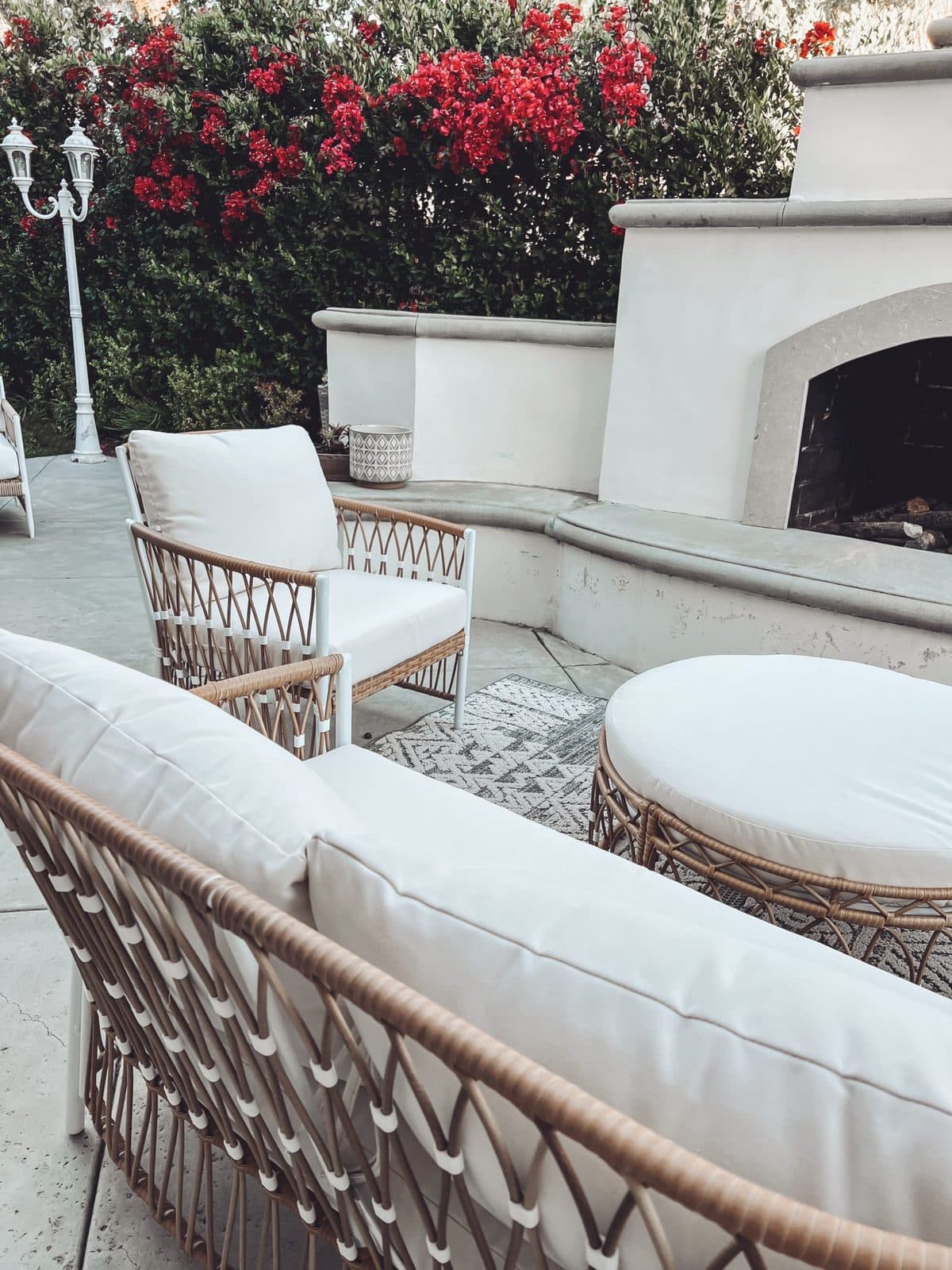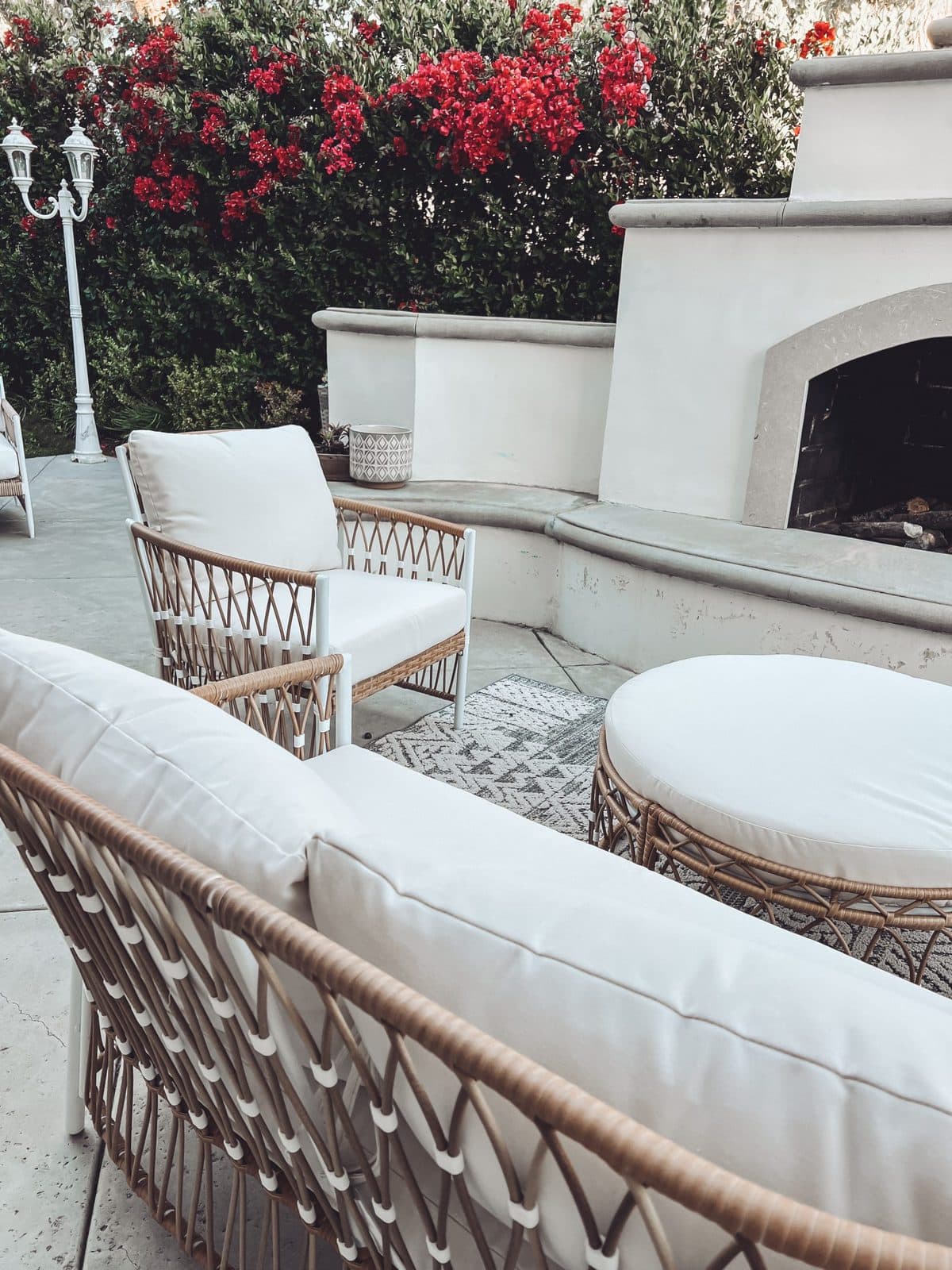 Dreamy egg chairs
Okay, THESE egg chairs! I've been wanting to get two egg chairs for the backyard, but figured I wouldn't be able to get around to buying some for a while, since the two I was considering last year retailed for $550-800, and they both sold out well before summer started. So, of course I was ECSTATIC when I found these more affordable, but just as beautiful, egg chairs!
Sit in the sun, read a book, take a nap – these chairs make being outside so fun and comfy. They're so stylish and seriously look SO much like designer pieces, but for an amazing price! They match the other furniture so well, too. Plus, if you love these, you'll want to take a look at this amazing designer-inspired hanging chair that's WAY LESS than the designer one!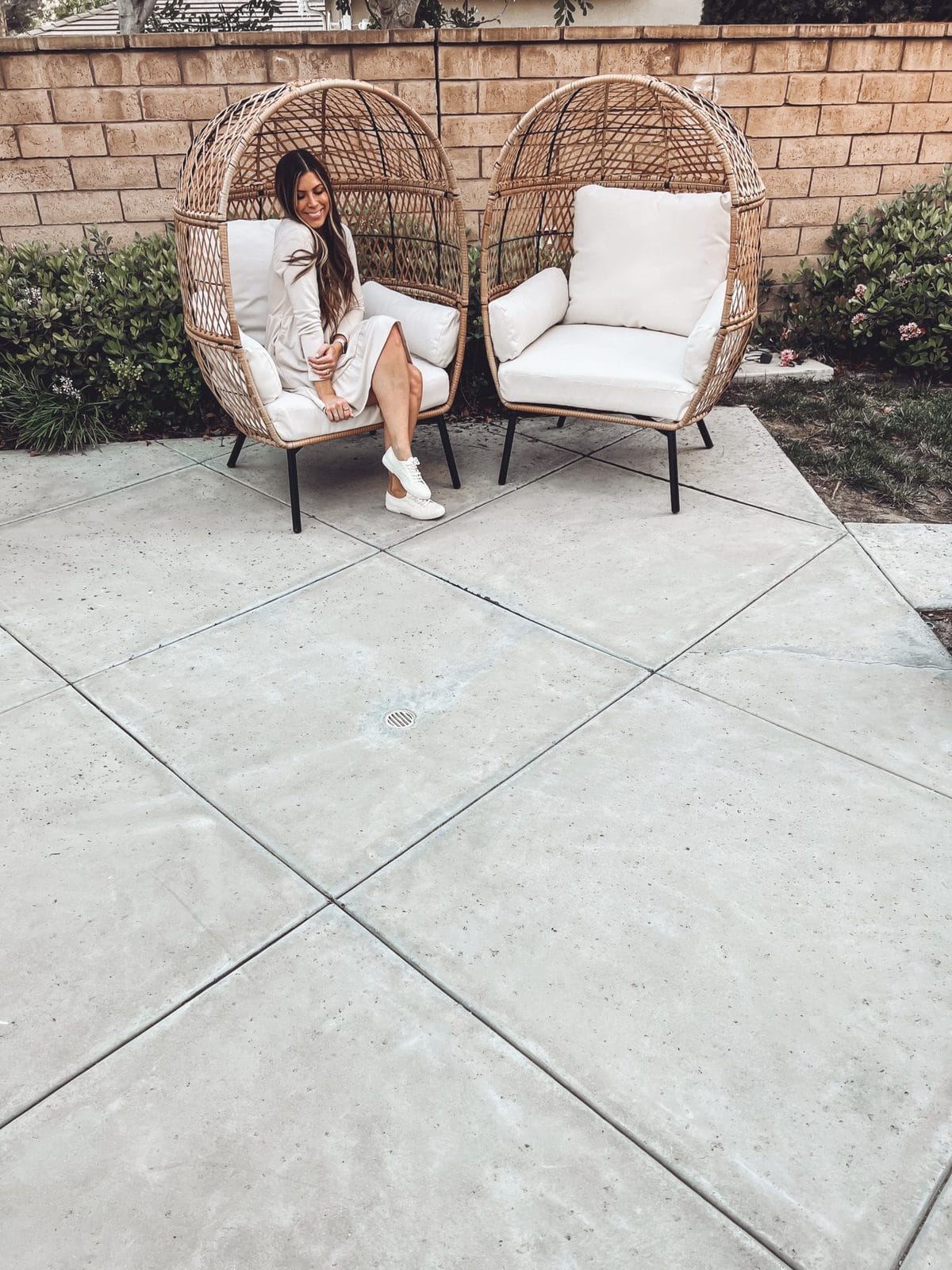 Outdoor loveseat + ottoman
I'm BEYOND excited to spend summer nights outside lying on this loveseat with an ottoman so you can lay back. Perfect place to lay out under these cute cafe lights that Neil strung in the backyard.
I've already enjoyed a sunny afternoon sprawled out on this loveseat and ottoman, and I'm looking forward to many more to come.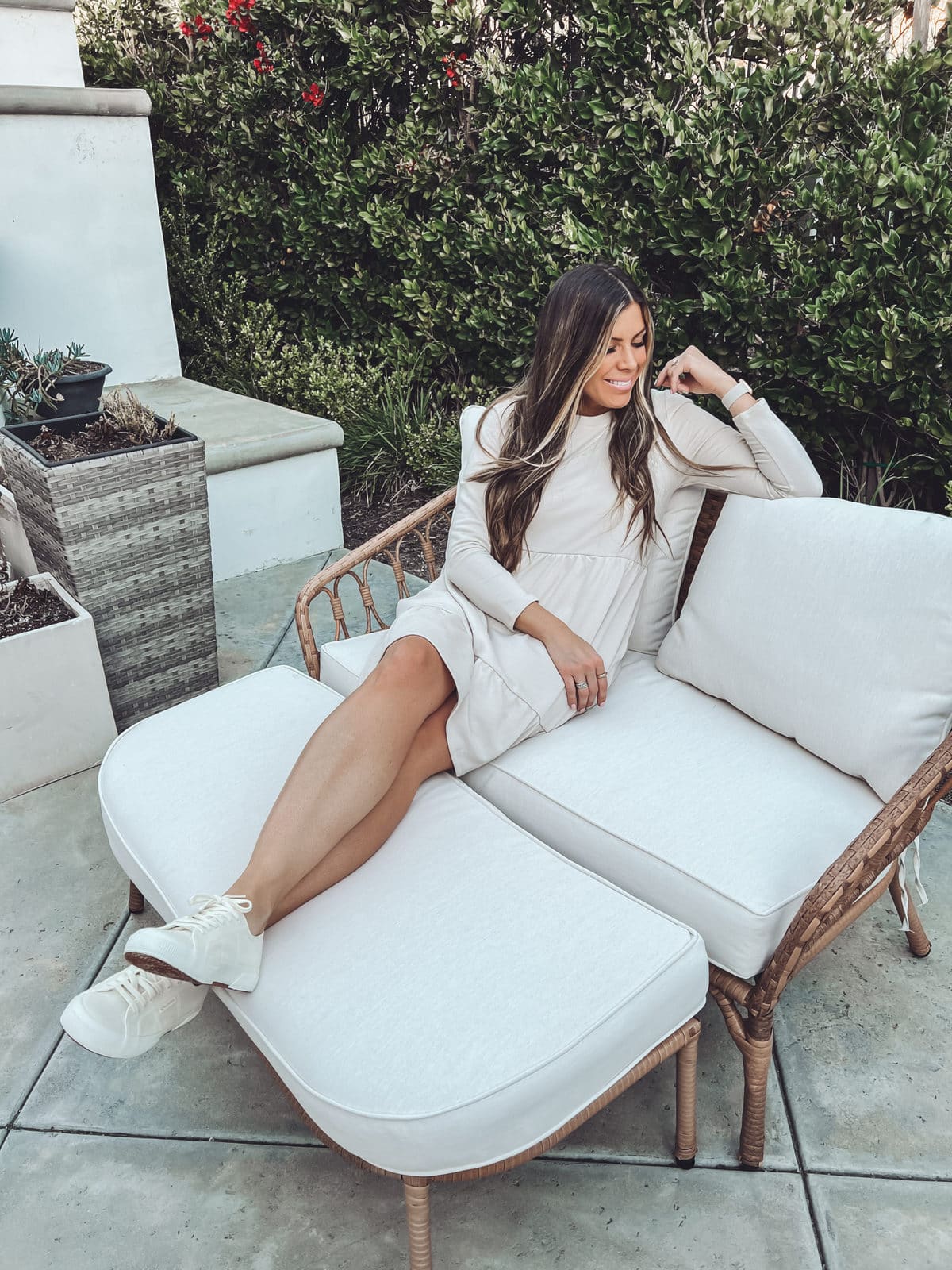 Gathering around the fireplace, roasting s'mores, and chatting with family and friends on summer nights will be so so magical in this outdoor space!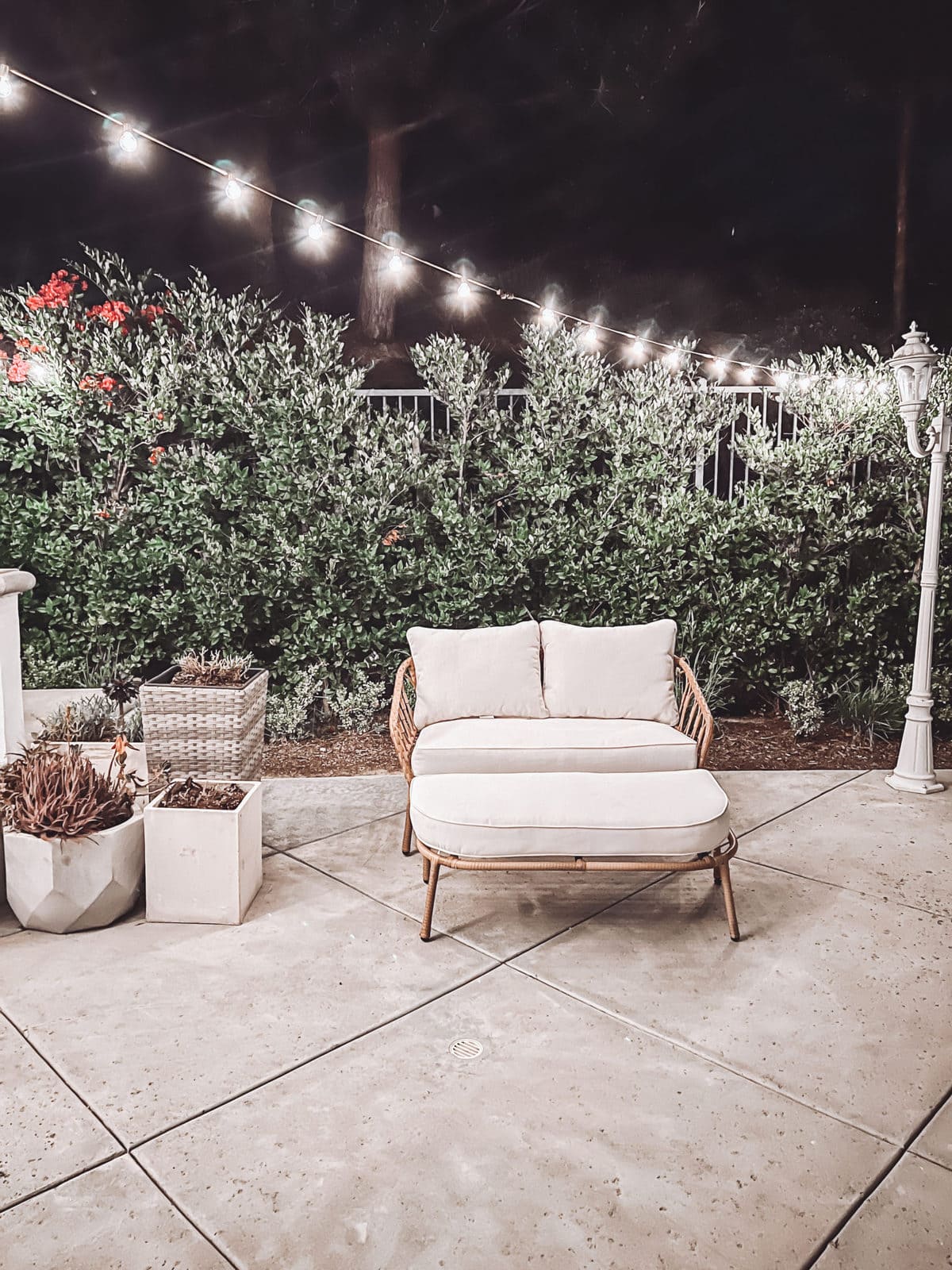 But why is outdoor patio furniture so expensive in the first place?
Well, as with most things, you get what you pay for. I know that the expensive chairs I bought last year will last us many many years – it's just inevitable that the higher quality, the more expensive it'll be.
Often when you find something extremely affordable, the reviews will tell you why, and discourage you from jumping on the deal. But with this particular set of affordable outdoor patio furniture, the reviews were SUPER high!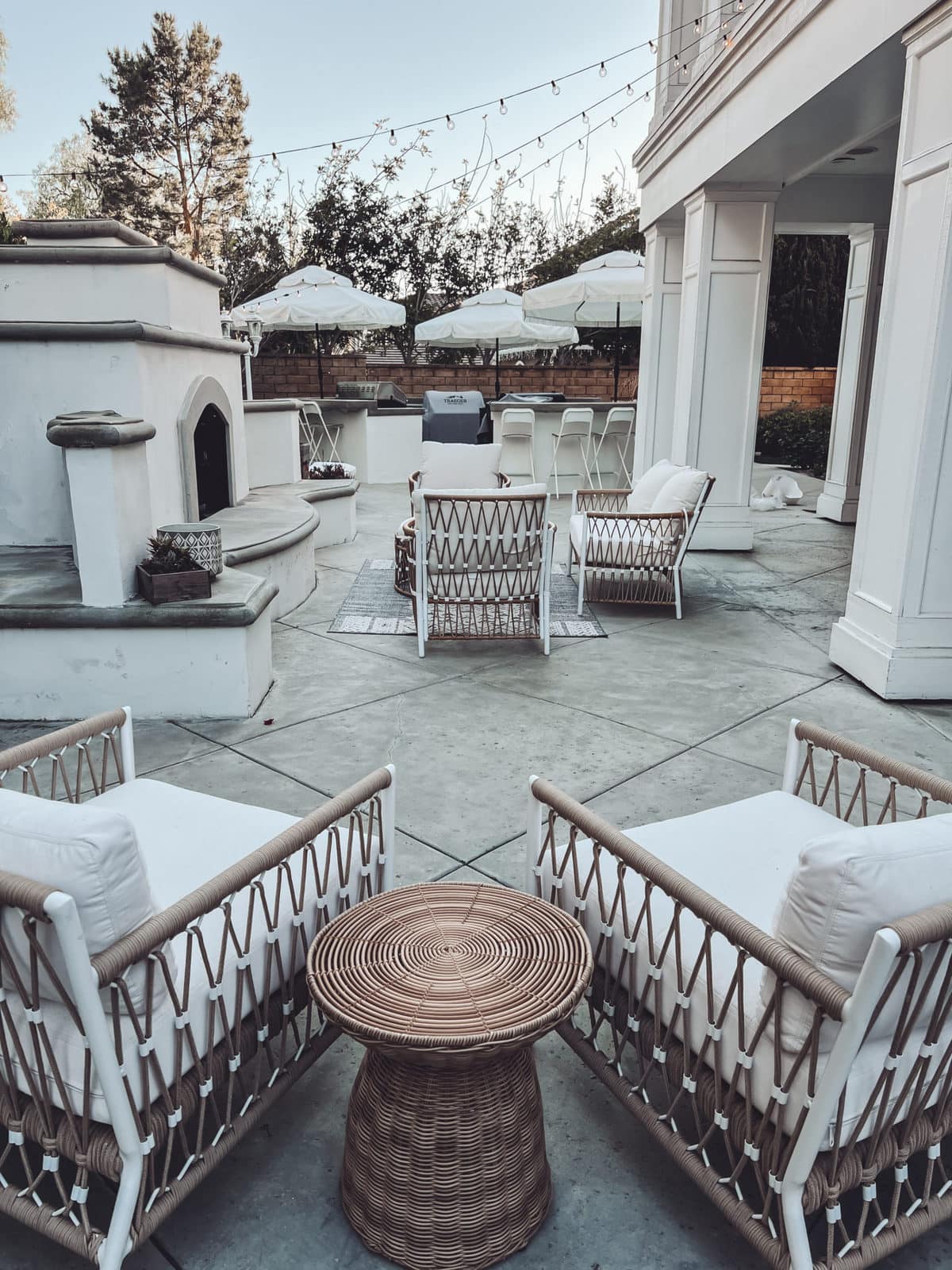 What's the quality like?
So far, the Walmart furniture feels JUST like the designer furniture when you sit and lay and lounge on it! It's hard to say for sure how many seasons it will last with 100% certainty, but like I said, the reviewers all raved about how much they're loving their set!
One said, "This is a beautiful patio set. The cushions are well made. It's high-end style without the price. Gorgeous!" And I second that!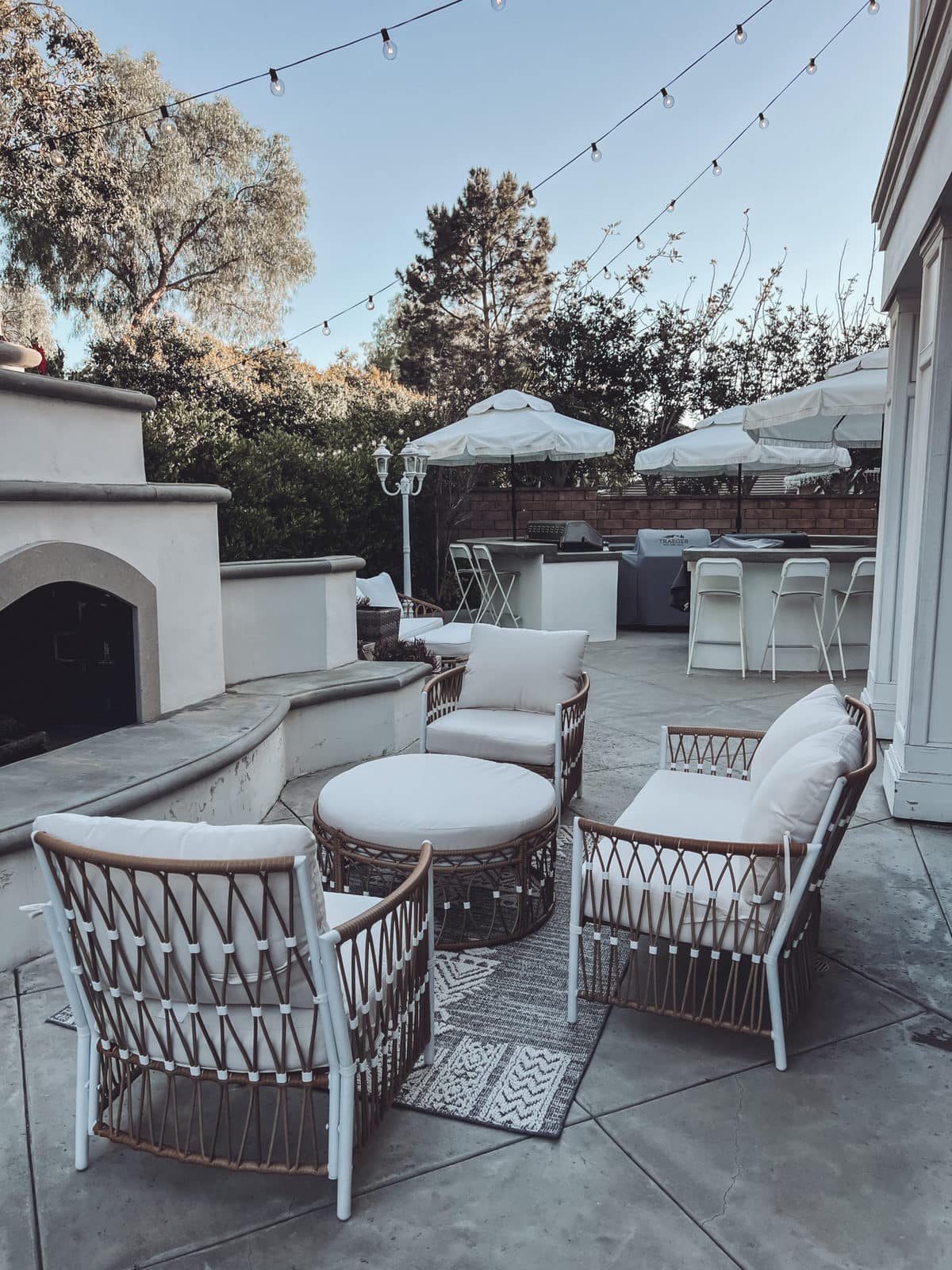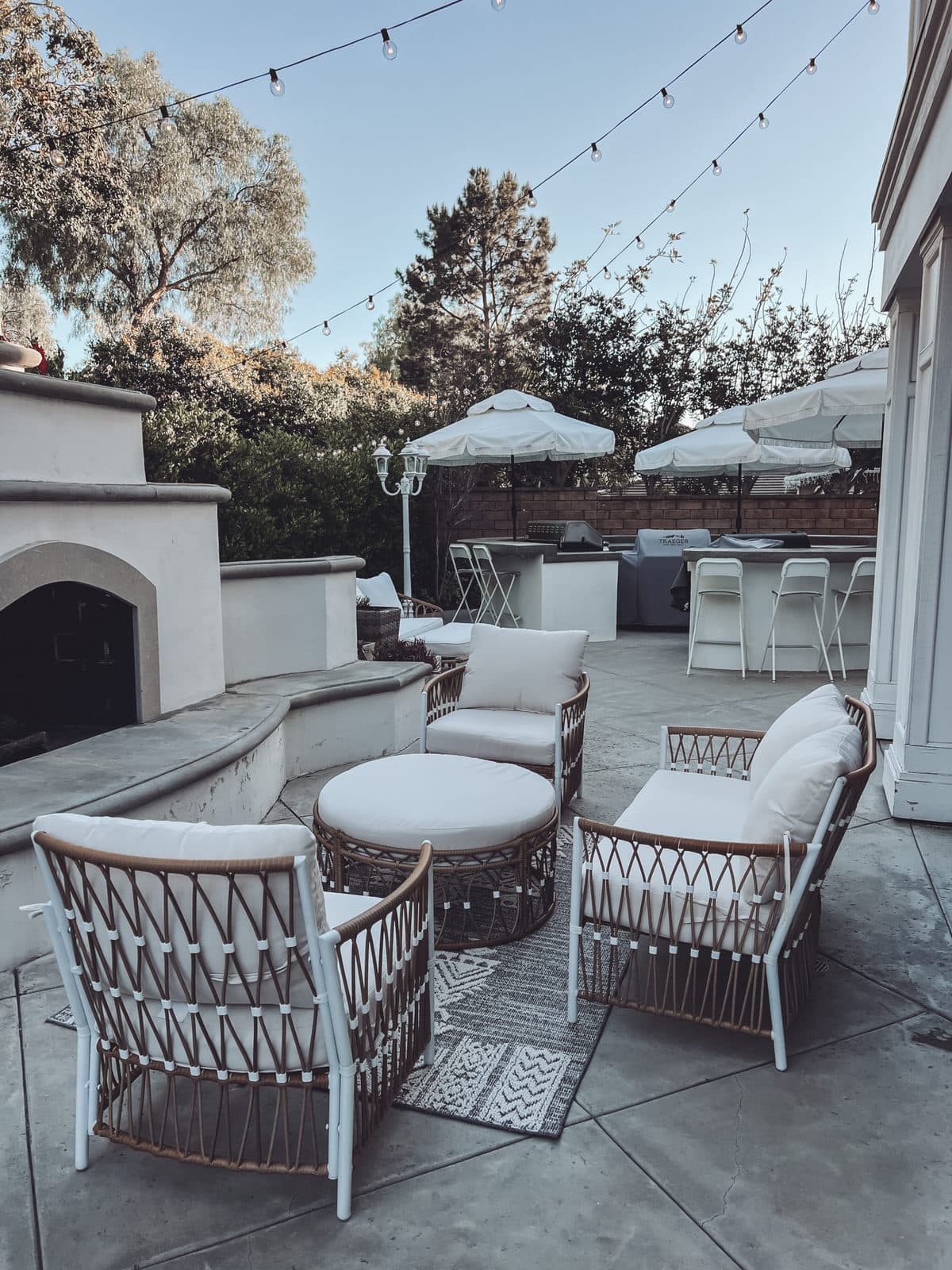 Will the outdoor patio furniture rust?
Aluminum outdoor furniture can rust. HOWEVER, these pieces are made with stainless-steel frames that have been powder-coated for rust resistance. (AKA, keep these outdoor pieces looking fresh from year to year!)
How long does outdoor patio furniture last?
My furniture arrived in perfect condition and I am guessing it will last at least 5 years!
The loveseat and ottoman are made with fade-resistant and stain-repellent fabric, so no worrying about the rain or other elements ruining the cushions. The pieces are large and sturdy and are meant to hold up for many years of use! I just got mine, but I already have a ton of faith in this outdoor patio furniture.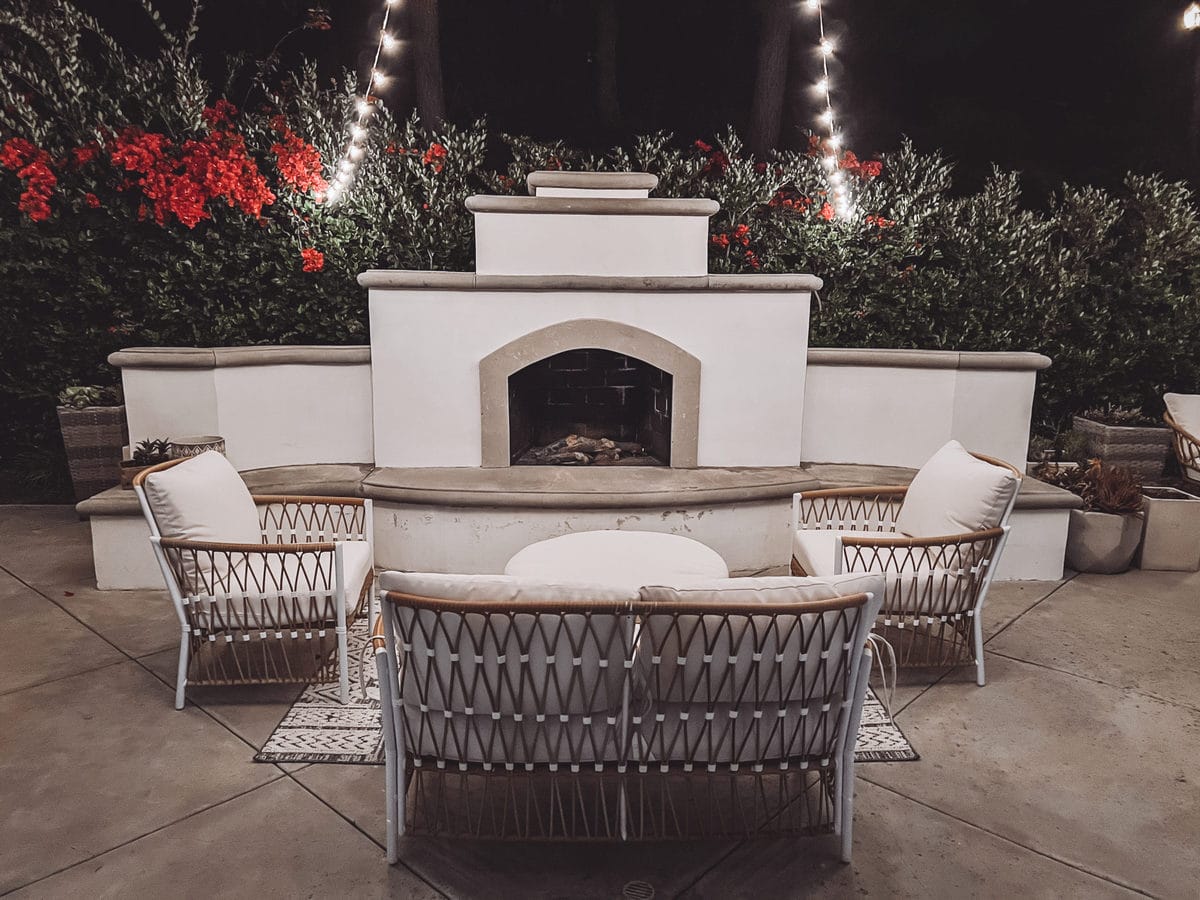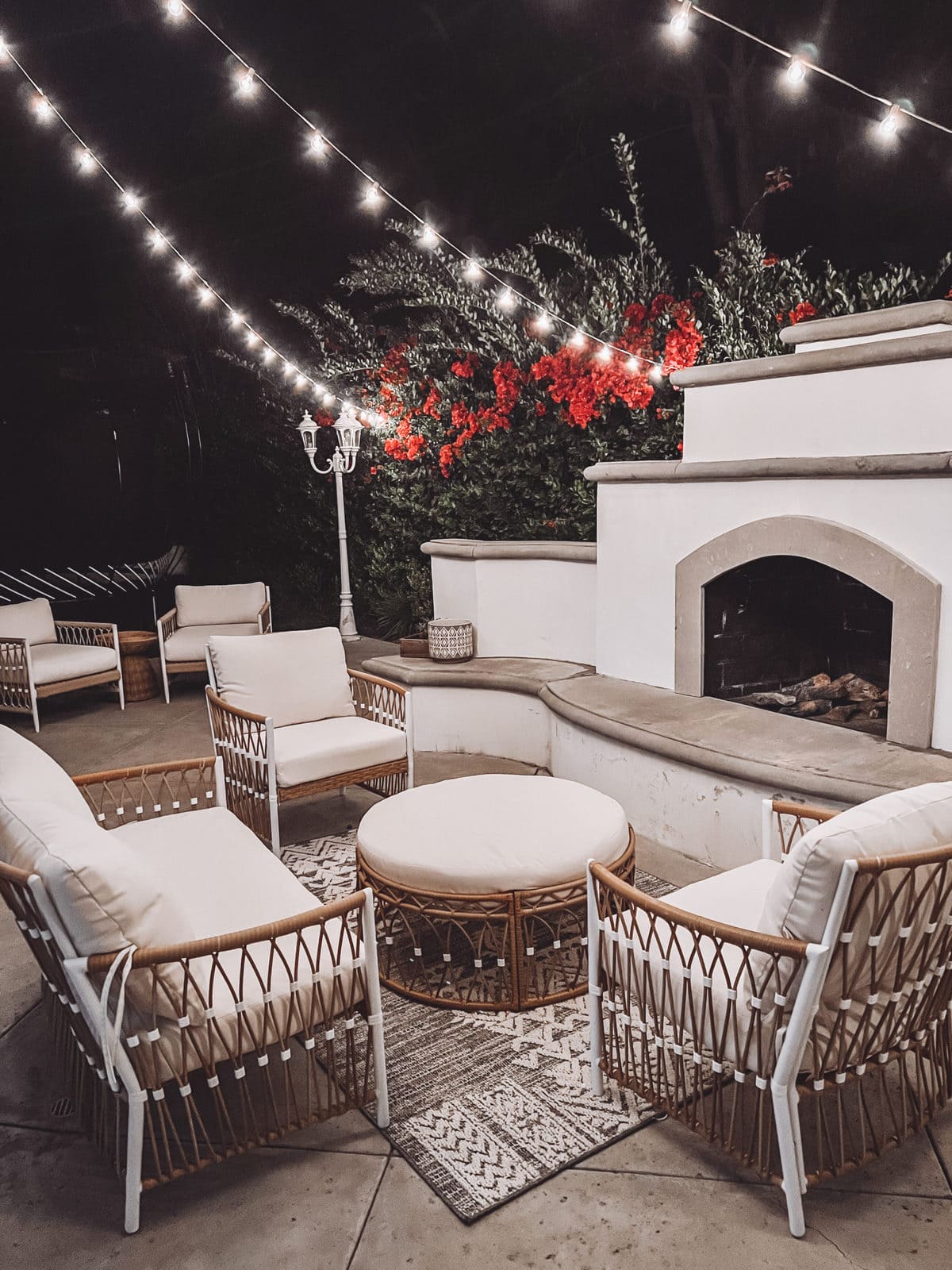 Some finishing touches
I couldn't be MORE excited about these pieces of outdoor patio furniture! They all look so good together in my backyard and I can't wait to see what you think of them. AND you can even add some cute finishing touches to your yard like this woven hanging light or striped umbrella! Don't miss out on these amazing deals from Walmart (one of my fave places to shop!) and get a head start on decorating your summer, outdoor spaces today.