Foundation has come a LONG way since the days of cake-face and orange demarkation lines along the jaw. I think seeing the bad foundation application jobs in high school scared so many of us (myself included) away from using a liquid foundation for YEARS!
Thankfully, cosmetic technology has improved drastically, and now we can count on foundation to conceal, but not take over. You still get to look like YOU, but with a little foundational help. 🙂 I've tried so many foundations over the years and these are my tried and true, go-to's that I always have in my makeup drawer, plus expert tips on how to choose and apply them!
PLUS, don't miss out on an amazing sale where you can save on almost ALL the foundations in this post!! Keep reading for details.
Slide to see all of my fav picks:

DEAL details!
First thing's first, a deal! Right now, you can get 20% off select foundations plus get free shipping on all orders when you are signed into your Beauty Insider account at checkout. Shop the sale HERE!
How to choose the right foundation
Skin Type
First, let's talk about HOW to choose the perfect foundation for your skin. The most important thing to keep in mind when choosing foundation is your skin type! Most people are either dry, oily, both or neither. What does this have to do with foundation? Depending on your skin type, foundations have certain ingredients that can help control oil, add moisture, etc!
As a rule of thumb, if your skin tends to be oily, choosing a matte foundation or one with fuller coverage usually works best. I would also suggest topping your foundation with a setting powder, like this one! It will keep your makeup in place longer, as well as help absorb oils throughout the day.
If your skin is more dry like mine is, look for foundations that have words like "glowy" or "luminous" in the description. Lots of times these foundations will include ingredients like shea butter, natural oils, or hyaluronic acid which boost your skin's moisture content!
Color and Undertones
Warm, neutral, cool undertones, what does it all mean and HOW do I find out what my skin is?! IT Cosmetics' website gives a really informative tutorial on how to choose your foundation color, based on undertones! You can also head to Ulta's site and take their test on how to choose a foundation shade. Simply enter the brand shade you've been using and it'll suggest what shade to get in a new foundation!
Favorite Foundations
Giorgio Armani
This award winning Luminous Silk Foundation from Giorgio Armani has over 1,000 perfect reviews!! Glowing reviews and glowing skin? That's a win-win. It is on the pricier side, but if you're determined to find the very best foundation out there, this is a must. It's weightless and hydrating and makes your skin look totally flawless and natural! I wear the color "7."
If you tend to be more oily, try its sister product Giorgio Armani Power Fabric Longwear High Cover Foundation! It gives the same look, but with a slightly matte finish to help combat oils throughout the day.
Get BOTH of these foundations on sale for 20% off + free shipping at checkout! That makes them each only $55.20 (reg $69).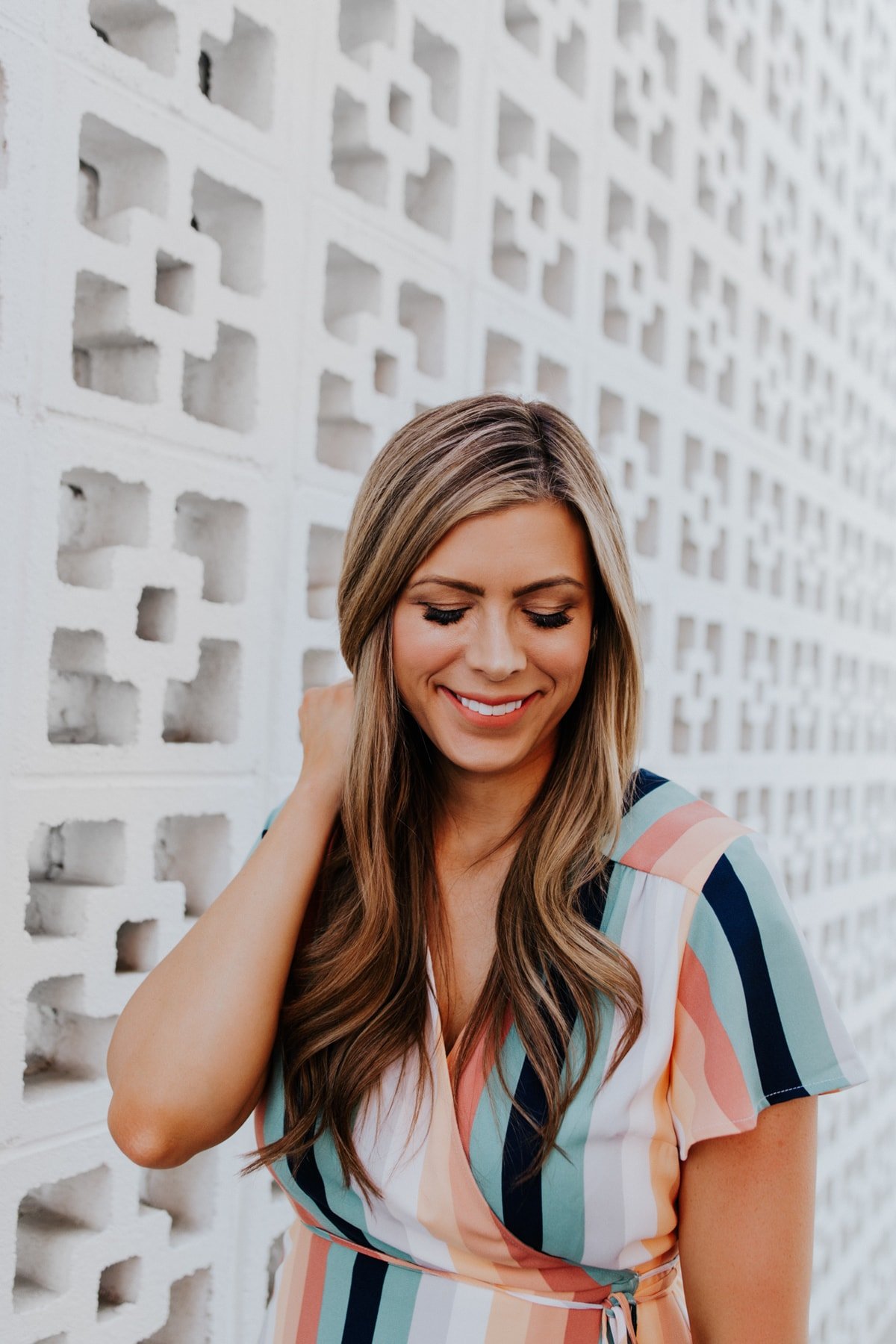 Estée Lauder
Estée Lauder's Double Wear matches my skin flawlessly (I wear Tawny)! I cannot even say enough good things about this foundation. It really does last 24 hours and gives you the BEST, prettiest coverage without looking thick or cakey at all. It's also AMAZING for my oily-skinned sisters out there because it's not only oil-free, but oil CONTROLLING!! Yes, please.
Get this Estée Lauder's Double Wear foundation for only $39.20 at checkout.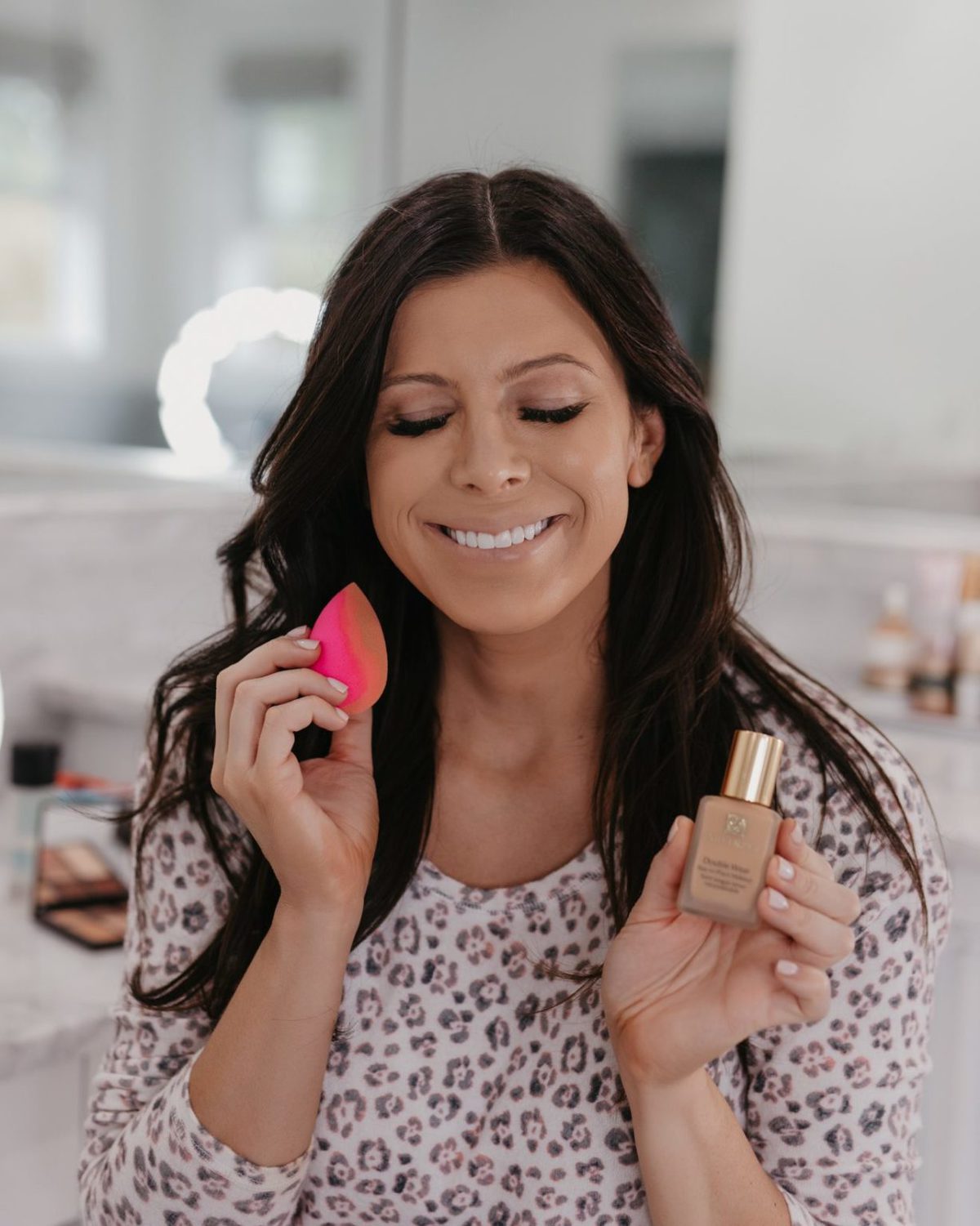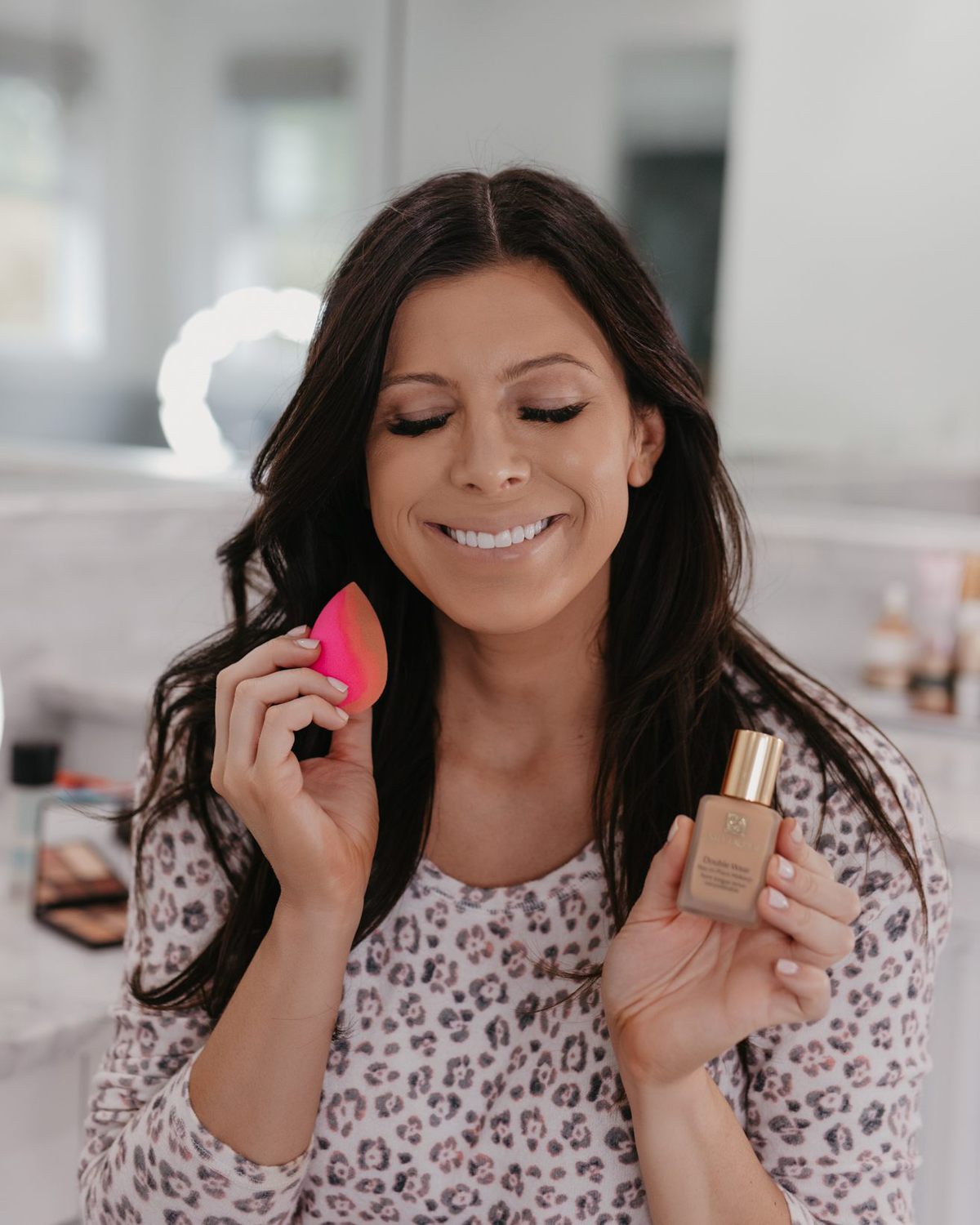 IT Cosmetics CC Cream
IT Cosmetics CC cream is straight-up MAGIC. It's SEVEN products in one!! That means you can literally skip your moisturizer, primer, color corrector, anti-aging serum, dark spot concealer, full coverage foundation, AND SPF 50 because this bottle whips it all up into one easy little formula.
This stuff is a CULT FAVE of soooo many beauty bloggers and beauty professionals. IN FACT, when I was at QVC a while ago, their professional makeup artist used this exact stuff on me. She picked it over the bottles and bottles of every brand of full coverage foundation I know and love (and some I haven't even tried) and when she pulled it out to use it on me, I was like "oohh I love that stuff," and she goes "I KNOW isn't it the best?!" Plus it's so easy to color-match! I wear Medium Tan.
And guess what?? Not only is there an original IT Cosmetics CC Cream, but it also comes in Illumination and Oil-Free Matte formulas as well! There's literally something for everyone and each foundation is just as good as the last.
Don't forget you can get all three on sale for 20% off at checkout! That's only $36.60 each (reg $47)!
How to Apply
Depending on what tools you use to apply your foundation, you can achieve different looks with the same product. For example, if you want your foundation to be more full coverage, use a Kabuki or other densely packed, natural fiber or fluffy brush!
You can also use that same foundation with a synthetic brush (the ones that look almost like paint brushes!) to create a totally natural look! Brushes are the BEST way to get the most out of every product because they can change the usage, application, and finished product.
My favorite ways to apply foundation are with a fluffy brush and a beauty blender! Especially when it comes to IT Cosmetics foundations, the ONLY way to apply it is using their brushes. Their Heavenly Luxe Complexion Perfection brush is my favorite way to apply both the CC Cream. I love the fluffier end to buff in the foundation and the smaller end to blend in around my nose or to use with concealer. When using a brush, start in the middle of your face and blend outwards.
You know that I looooove my beautyblender sponge. It's one of my MUST HAVE makeup products, often imitated, never duplicated! I rely on it for buffing out foundation, oftentimes just dabbing my foundation on different parts of my face and then stippling (a fancy word for the pressing and blending motion) the foundation all over. If you haven't tried one, you are missing out on airbrushed smooth perfection!
Solid foundation – ON SALE!
I think choosing foundations can be a little daunting, especially with all the options and price points out there! I like to suggest going to a place where they'll give samples and ask for a few different foundations to see what you love and what works best for you. And don't forget you can get 20% off most of these foundations and free shipping when you sign into your Beauty Insider account HERE at checkout!!
What is YOUR favorite foundation?! Let us know in the comments!