The only thing better than getting restocked on your favorite beauty products is getting major POINTS for doing it! This week only, you can earn up to SIX times the points on beauty, fragrance, men's grooming and spa service purchases with Nordstrom!
The beauty bonus day is a product junkie's playground because everything you're already planning on buying gets you ALL THE POINTS! This translates into more rewards at everyone's favorite department store. Today I'm breaking down this deal for you and sharing some tried and true beauty FAVES!!
How to calculate extra beauty points
If you're a Nordy Club member (free and no card necessary!) you'll get double points on every purchase. If you use a Nordstrom Debit card, (no longer open for enrollment but available if you have one from earlier) you'll get 4 points on the dollar, and if you use a Nordstrom credit card you'll get 6 points per dollar for each beauty purchase, now through February 14th!
Helpful Examples
Here's a few helpful examples of how the points would calculate if you purchased some of my faves:
NARS Liquid Blush: Nordy club members 60 points
Debit Card members 120 points
Credit card members 180 points
Dyson Hair Dryer: Nordy club member 798 points
Debit card member 1,596 points
Credit card member 2,394 points
Urban Decay Eyeshadow Palette: Nordy club member 98 points
Debit card member 196 points
Credit card member 294 points
Here are some of my all time favorites you can rack up the rewards with and all the reason I love them so much! Let's get started!
Backlight Primer
I've only recently tried this Backlight Primer that I got from the Nordstrom beauty department and it's my new FAVORITE. The luminous Backlight BECCA primer gives a filtered and blurring effect on the skin making your makeup look flawless!! It has a pearlescent technology to provide a glow that radiates through your makeup while smoothing and perfecting. It can also be used alone (swipe on a second layer to the high points of your face for added dimension!) or under your favorite foundation.
I love that Becca's products are vegan and house incredible ingredients like nourishing vitamin E and antioxidant licorice root extract which also improves uneven skin tone! And also, honestly, this stuff just looks the prettiest of any primer I've ever used under my foundation.
Artis Makeup Brushes
The more I use the Artis Makeup Brushes, the more I love them. My number one fave right now is the concealer brush!! It comes in the set and seriously makes my skin look airbrushed. The brushes make applying and blending makeup SO FAST and I can't believe how perfect my foundation looks afterwards.
The Oval 8 brush is the BEST foundation brush I've ever used, with flawless coverage and foolproof usage. It picks up (but never absorbs) so much product and pigment, there's no need for a second layer! You can use these brushes with cream, powder or liquid formulas, and there's a brush for every part of your face! You will LOVE them!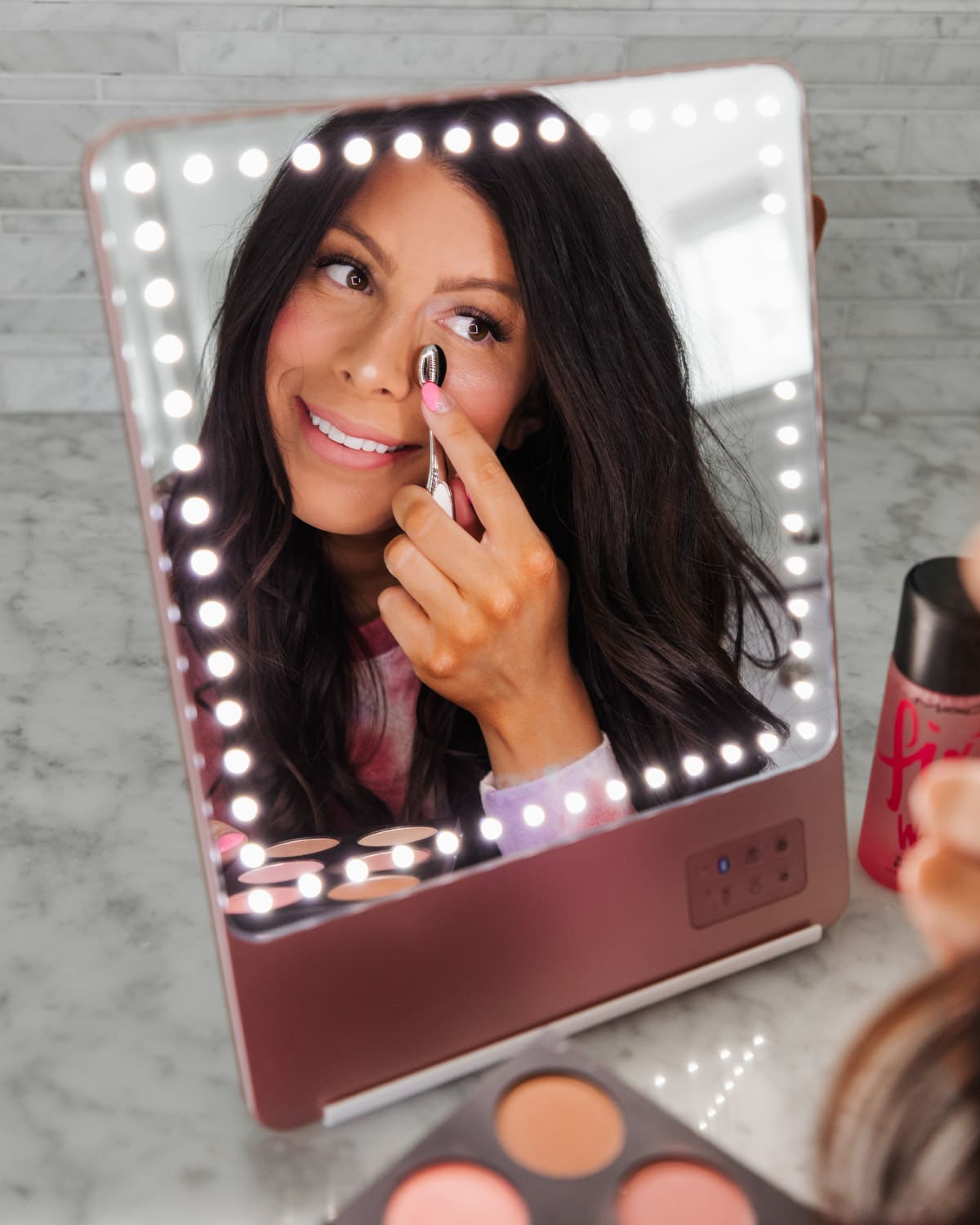 Best Foundation
Estée Lauder's Double Wear matches my skin flawlessly! I cannot even say enough good things about this foundation. It gives you the BEST, prettiest coverage without looking thick or cakey at all. It's full coverage, waterproof, oil-controlling and really does last all the live-long day.
Yesterday when I cast my vote for the Allure 2021 Best of Beauty awards, this was my pick for best overall foundation.
I wear 3W1 tawny in Double Wear, but if you're not sure which shade to order I have a super simple trick for you that I used with a friend of mine who's a professional makeup artist, and it worked perfectly!
Go to this link and click on "find your shade" and then simply find a brand of foundation you use and know what color matches your skin, plug that in, and VOILA! You'll get results on which shade to order this Estée Lauder's Double Wear.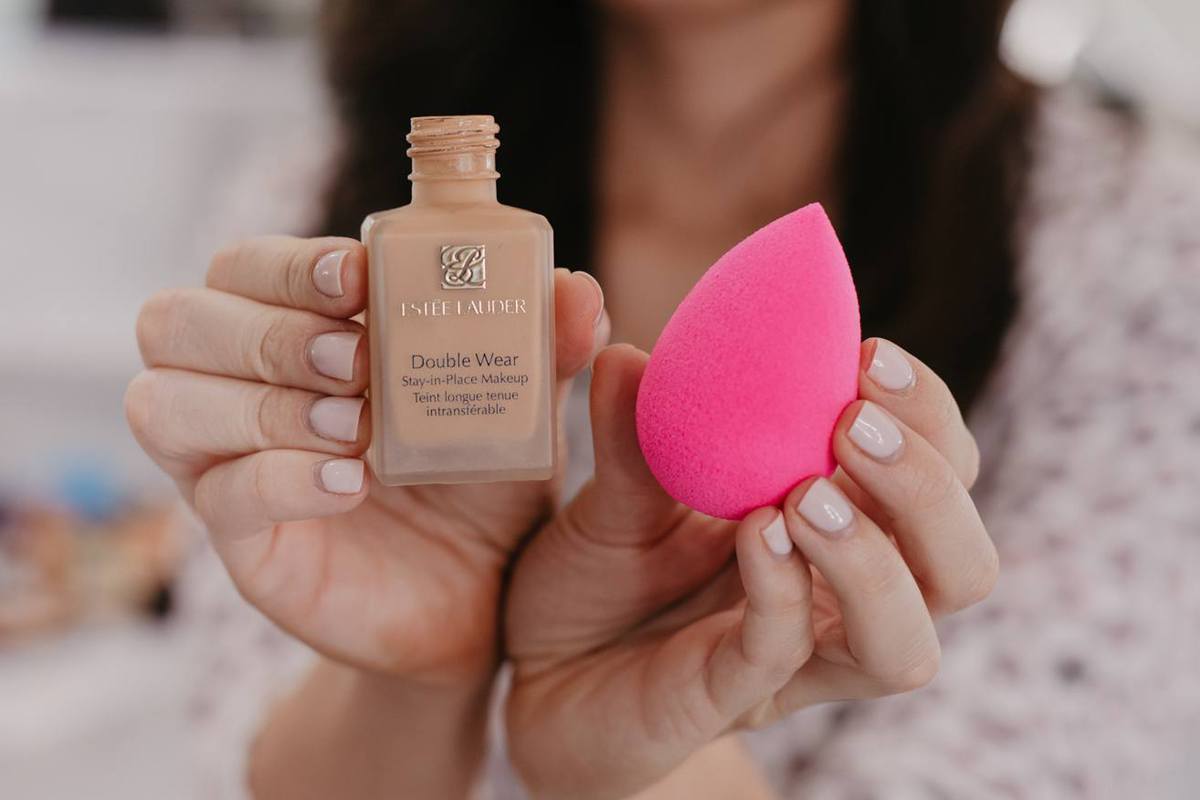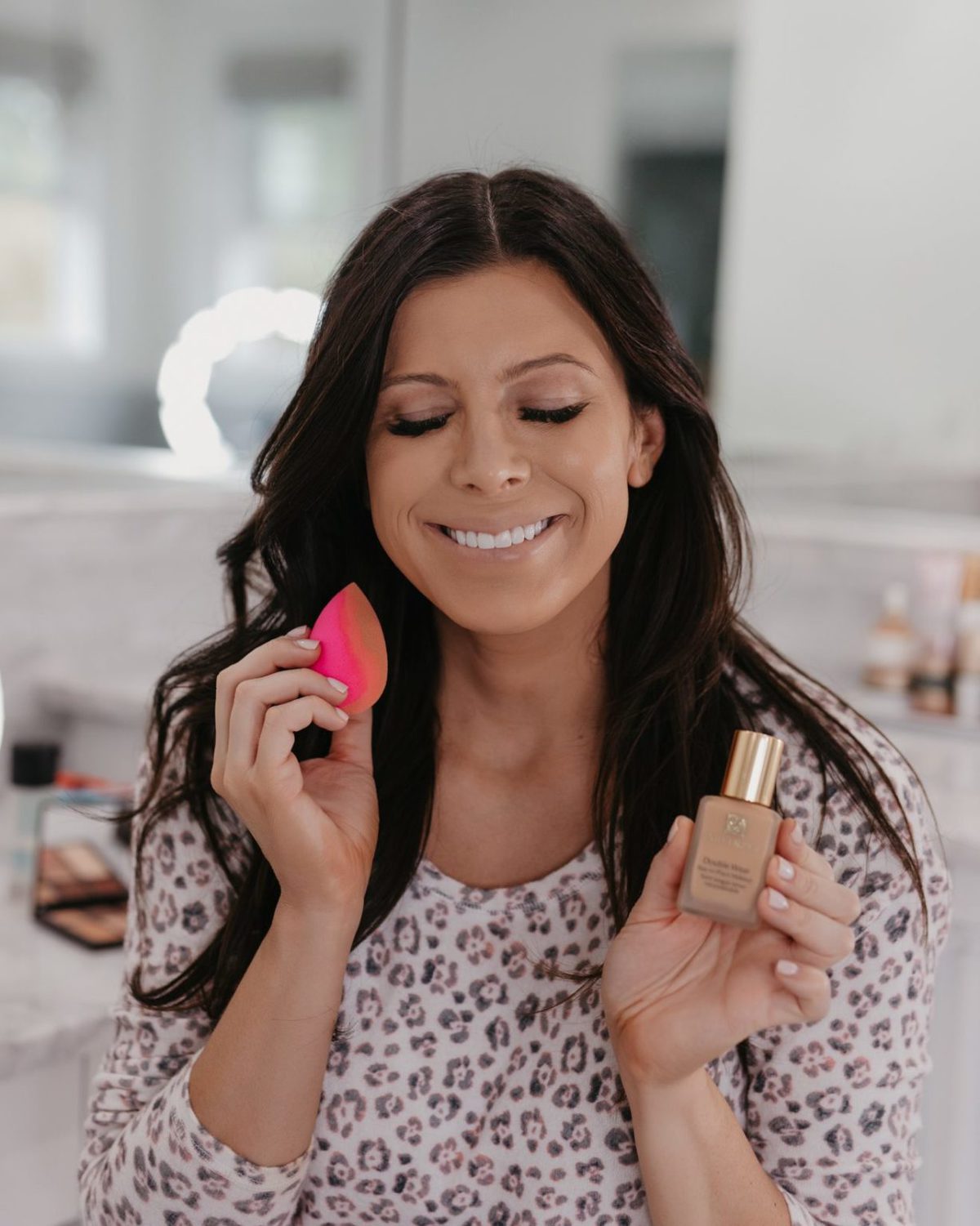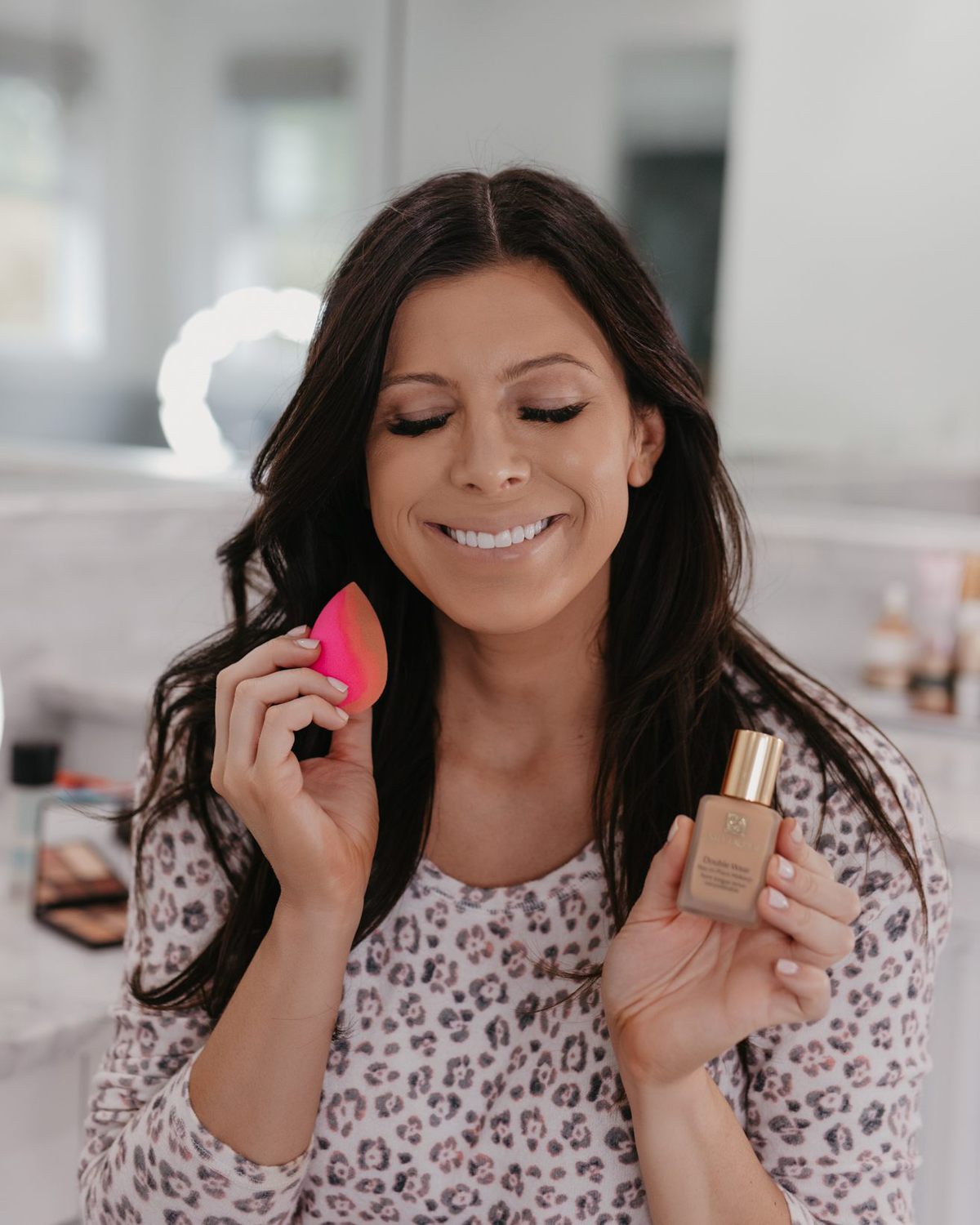 Concealer
I've heard nothing but rave reviews about the Giorgio Armani Concealer, which is a fairly new product. I was SO excited to try it for myself, since my love for the foundation runs deep.
And let me tell you. This concealer IS.INCREDIBLE. It feels so light, not sticky or tacky, but still gives amazing coverage. If you're looking for a powerful but lightweight concealer, this is the one for you. I wear it in the color 6, which is brightening but still blends beautifully with the foundation. Truly I can describe it perfectly by it's name: Luminous Silk!
Blush
NARS Blush in Dolce Vita is SOOO pretty. I love a deeper hue for fall/winter months and I also love getting a blush that is buildable. This one can give you the slightest hint of color or a bold bright cheek depending on how you build it! It also blends beautifully with a bronzer or contour because of the warm undertones.
MAC Powder Highlighter
MAC Powder Mineralize Skinfinish in Soft and Gentle is seriously the prettiest highlighter. It's subtle enough to give you the slightest glow, but can be built up to turn up the glow factor! These highlighters are slowly baked and include Vitamin E for a good-for-you skin glow that you will loooove. Try spraying your brush with setting spray for a more intense highlight!
Cream Eyeshadow
Eyes to Mesmerise Cream Eyeshadow in Champagne is the best base color to wear alone or to build upon with other shadows. It's a cream to powder formula that goes on sheer with a sweep of the finger, or with more coverage if you use a brush! These cream shadows are so beautiful, stay all day, never crease, and come in 6 stunning hues.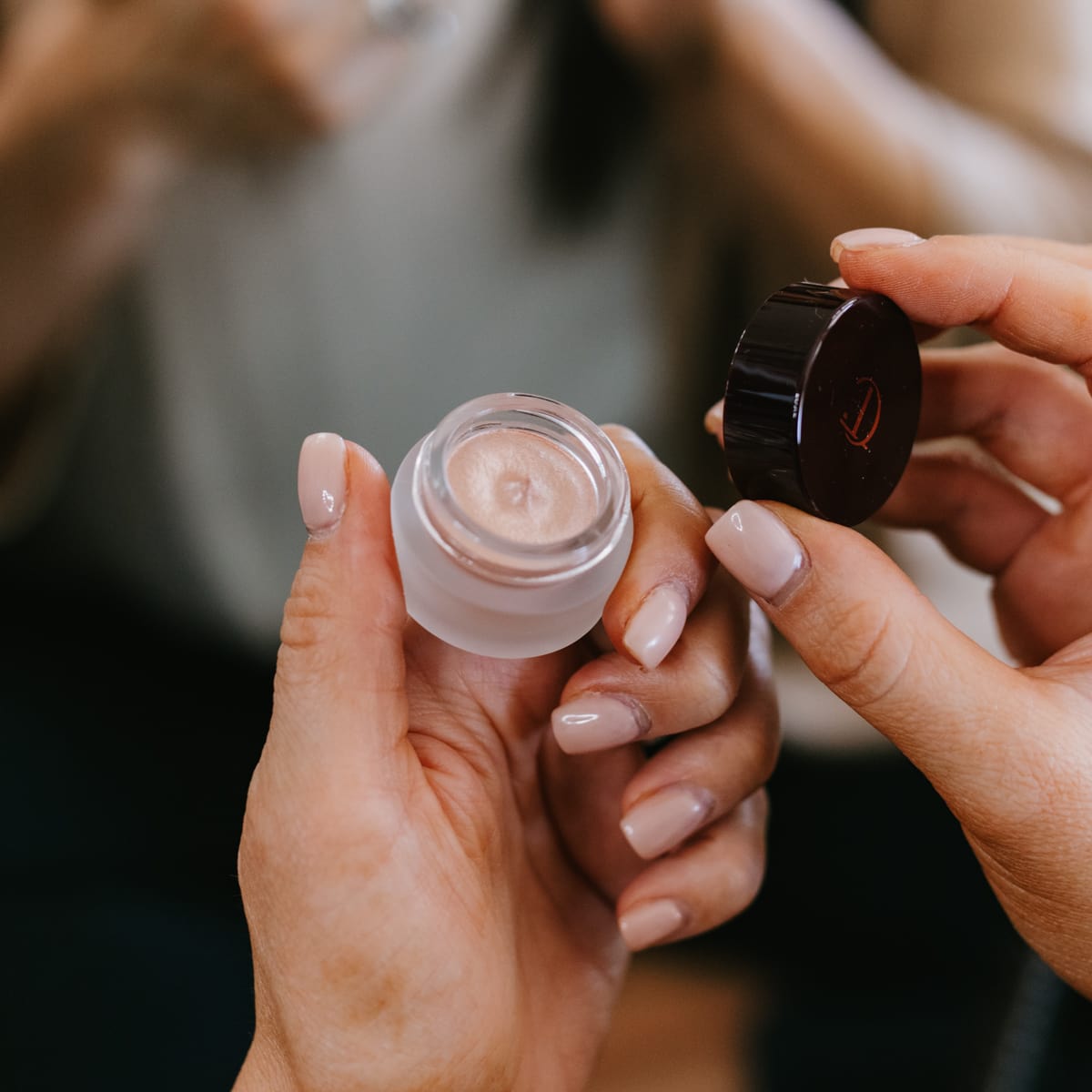 Brow Power Universal Brow Pencil
This Brow Pencil from IT Cosmetics has basically taken over my makeup kit as my GO-TO brow product. Those of you who know me know this is a BIG deal, because I've used a different brow product for yeeeears.
This pencil doesn't break, lasts forever, stays put on my brows, is ultra-creamy, easy to apply, and is the most universal color (I use Taupe as a blonde and a brunette!). I could seriously go on and on…
Anastasia Micro-Stroking Brow Pen
This Brow Pen keeps selling out everywhere because it is truly phenomenal!! If you want the look of microbladed brows but don't want to pay the pain or price tag, this is the product for you! I fill in my brows like normal with a brow pencil and then I layer this stroking pen (in Taupe) in the direction of my brow hairs. It gives it a killer 3D look, like all of a sudden I grew a bunch of brow hairs! It's only $22, and worth.every.penny. Hurry and grab it before it sells out again!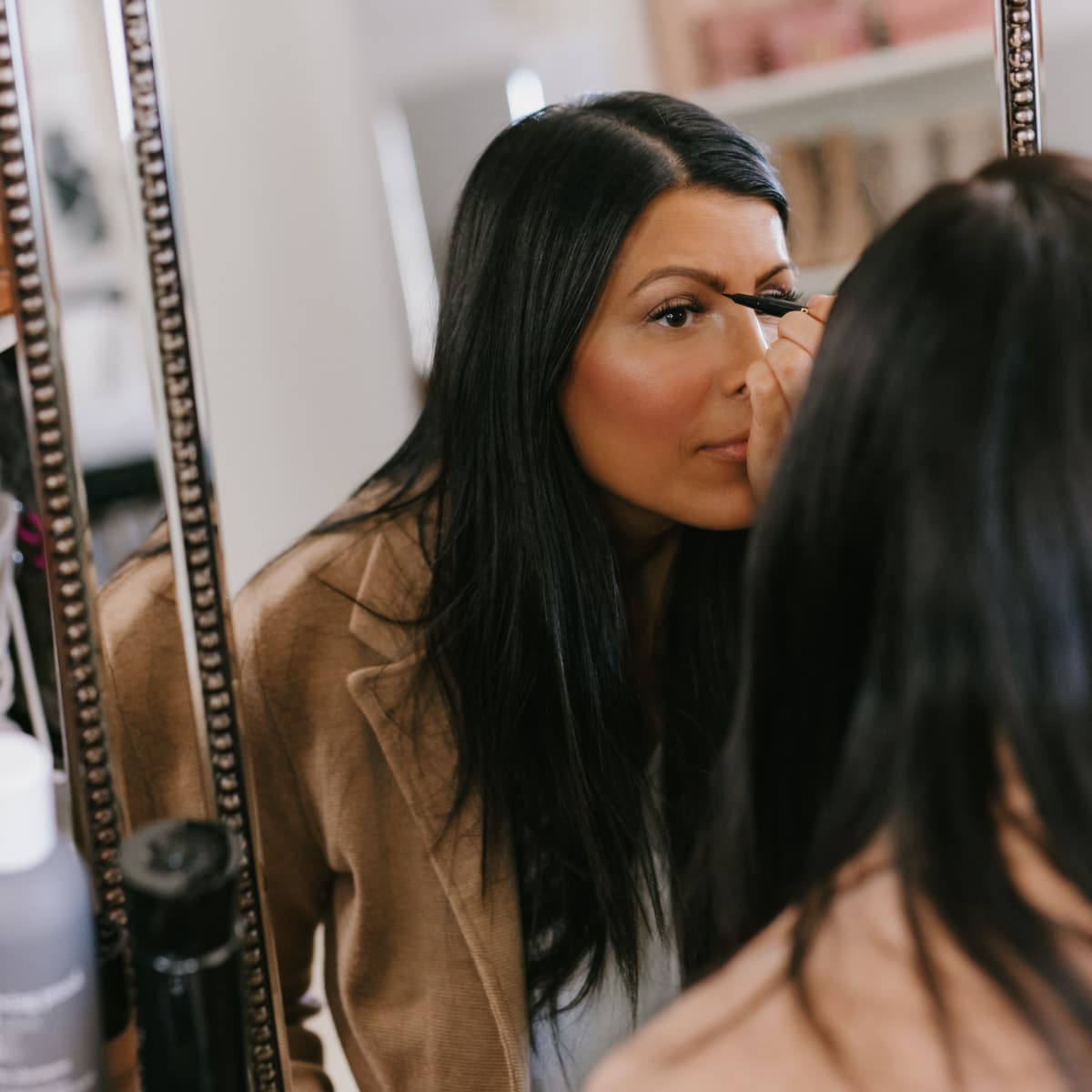 Top-Selling Lipstick
The NUMBER ONE selling lipstick on Nordstrom's site is Charlotte Tilbury's Pillow Talk! It's the perfect neutral EVER and been in my constant rotation for months! Luckily for me, they created a Pillow Talk Medium (!!!) shade that is just the slightest bit darker, which is PERFECT right now. It has a little bit of a berry tone, which I love for cooler weather. There is also a Pillow Talk Intense shade which is even deeper if you're wanting something more along those lines.
TIP: I usually put the lipstick on first and then line my lips with the Lip Cheat Lip Liner in the same shade (Pillow Talk) to seal it in, BUT if I want to make my lipstick last super long I will line first and fill in my lips completely with the liner then put on the lipstick!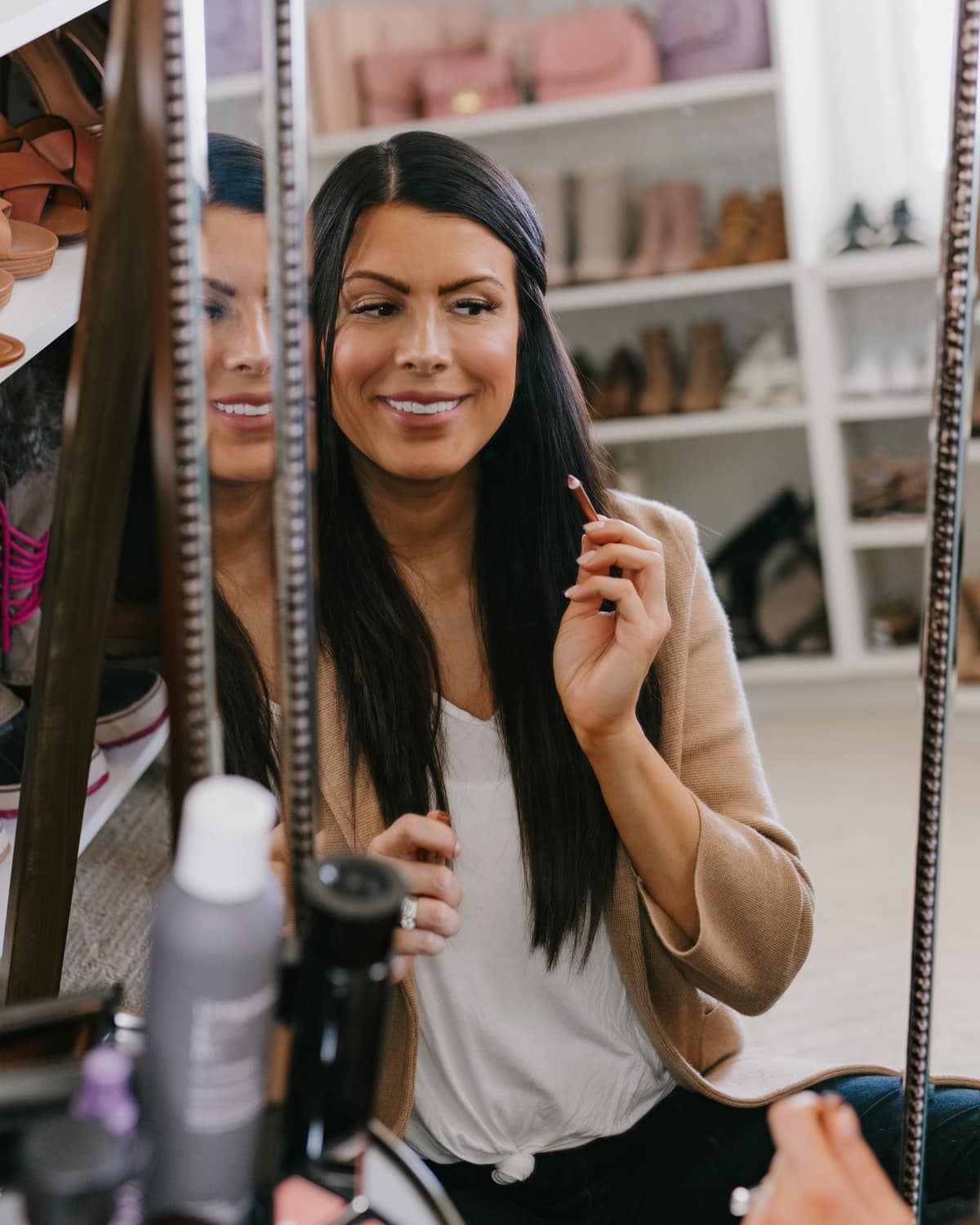 Laura Mercier Setting Powder
THIS is my favorite setting powder of all time. Ever. Period. I will never not have this in my makeup drawer! I had used Laura Mercier's regular translucent powder in the past and loved it, but this one is even better! The Honey color doesn't leave a white cast and blends amazingly with my foundation. It locks in makeup, absorbs oil, and seriously looks flawless ALL DAY!! This has insane reviews, so I know it's not just my new makeup obsession!!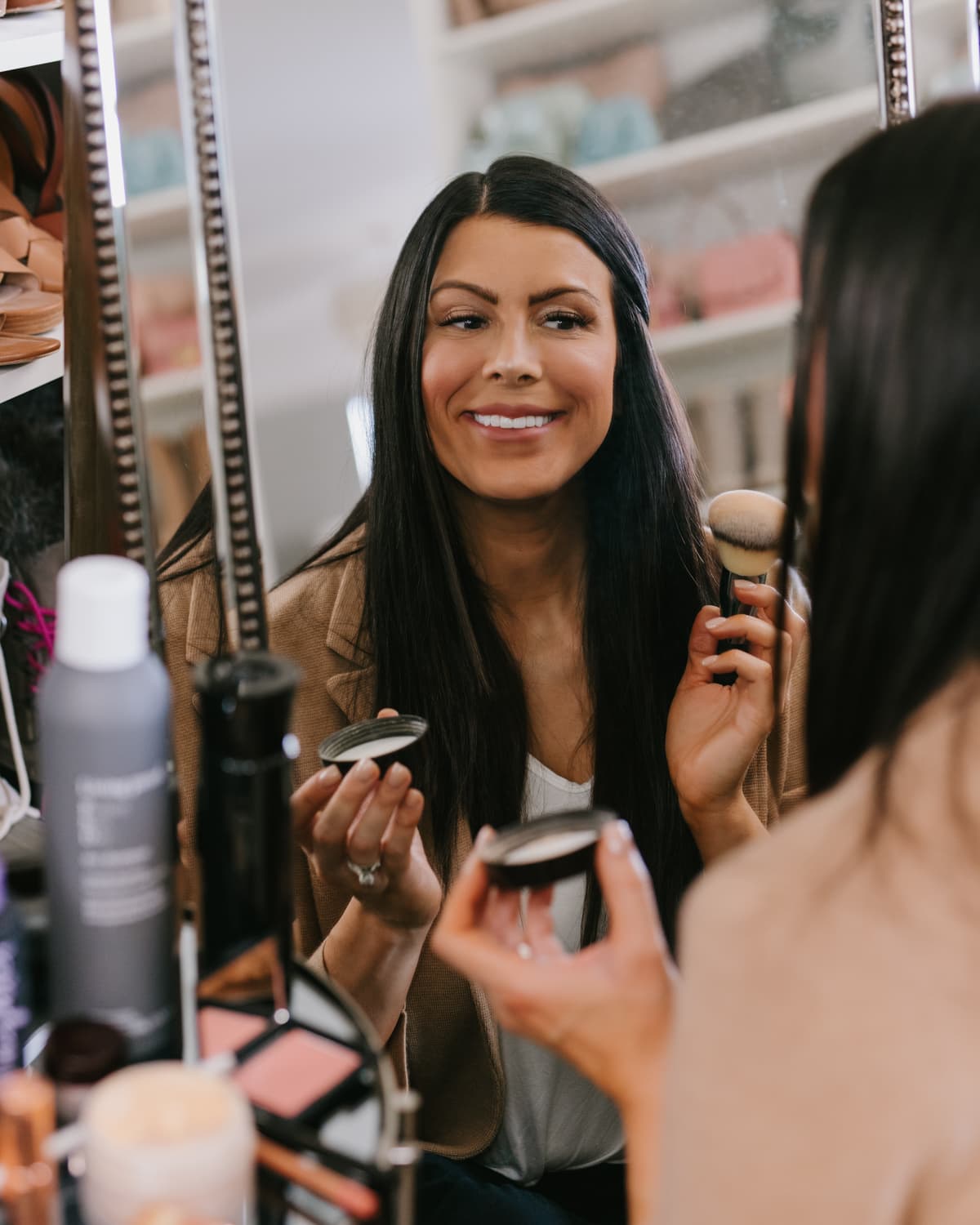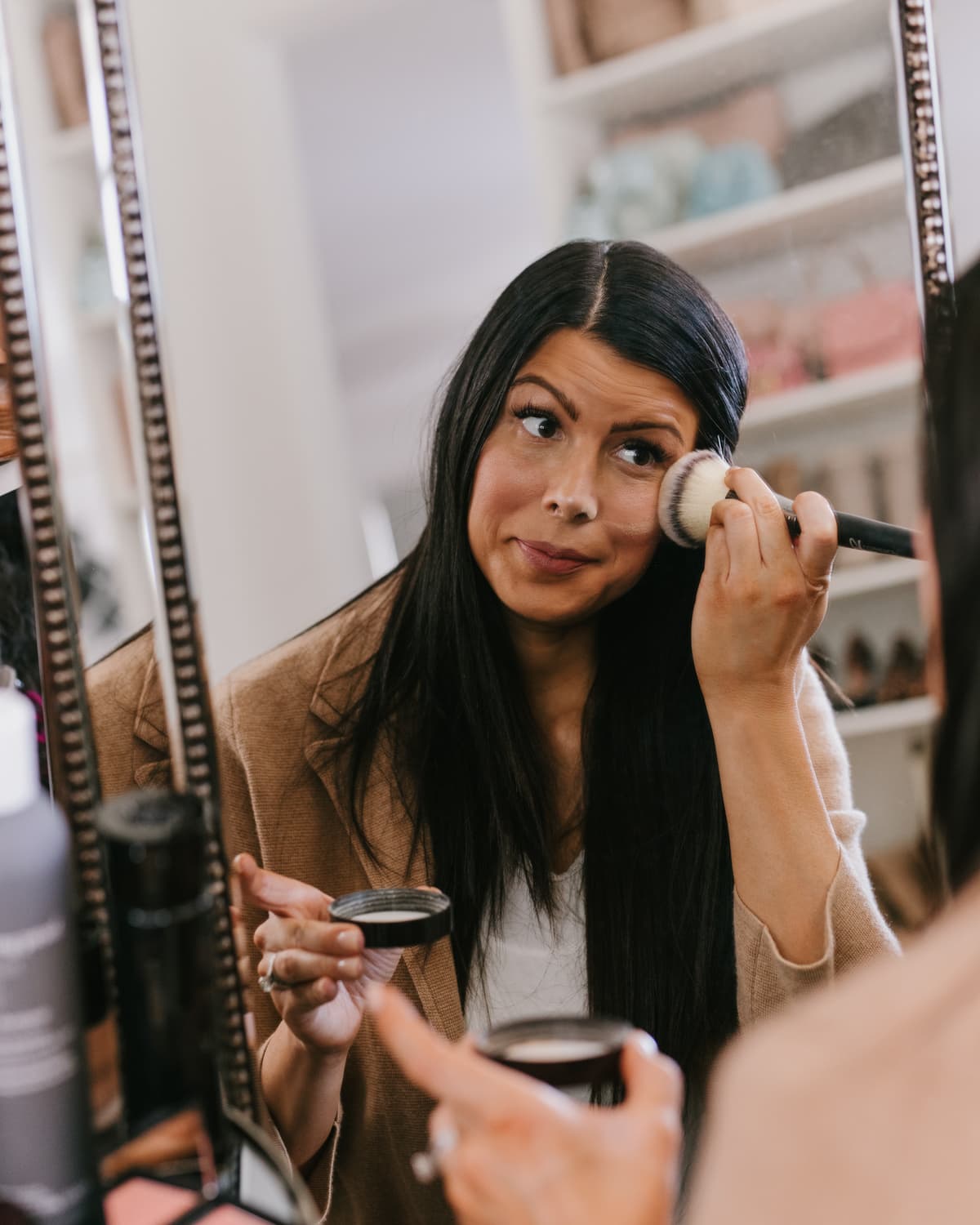 MAC Fix+ Setting Spray
I always finish off a makeup look by using a setting spray, and MAC Fix+ setting spray truly ensures all-day wear! This spray gives a boost of hydration while binding your makeup for a flawless look. It also boasts green tea, chamomile and cucumber to soothe your skin so it's great to spritz on a bare face as well.
Heat Styling Spray
I'm loving this Oribe Royal Blowout Heat Styling Spray that I got from the Nordstrom beauty department because it's dual-functioning! You can put it on wet or dry hair and the super-concentrated formula protects from any heat you apply. The first time I used it right before flat ironing my hair and I LOVED it! It smells amazing and didn't leave my hair greasy or weighed down. When I used it with wet hair, it totally detangled my mane AND still protected it from any heat I used to style.
Perfect Hair Day Living Proof Dry Shampoo
This Living Proof dry shampoo now comes in a 7.3 oz size, which is humungous. For $39 from Nordstrom beauty, you're getting way more per oz than the usual 4 oz bottle I'm used to! It is the best at cleansing, it has a great smell, and it's easy to use for dry shampoo-beginners. It shows just a little bit if you have darker hair which but you can totally massage/brush it out!
GloPRO Tools
The GloPRO is another beauty slam-dunk for me. I saw so many amazing results from incorporating this into my skincare regime this last year! It's a safe way to do at-home microneedling, stimulating collagen and elastin (hello, YOUTH!) and allowing skincare products to penetrate more fully. One of the things I love most about this is that you can actually use it every day and that it DOESN'T HURT!! More information about my experience with the GloPRO here!
Dermaflash
The Dermaflash is one of my favorite beauty discoveries of 2020 (silver linings AMIRIGHT)! This product allows you to do an at-home dermaplane (wayyyyy better than the disposable women's facial razors!) and gives your skin the smoothness of a baby's bottom! I usually only do this every 10 days or so because the results LAST that long!!
Time to stock up!
This is one of the BEST times of year to repurchase your routine Nordstrom beauty products and splurge on new favorites while being rewarded every step of the way! Put all the faves you've been needing or wanting in your cart and check right out while this crazy 2-6x point reward deal is still going!!