When it comes to makeup, the options are literally endless, right?!?! You can pretty much purchase cosmetics anywhere nowadays, and it can be hard to know when to pinch pennies and when to fork out the dough for certain products. Over the years I have skimped and saved AND splurged and spent. So today we're just gonna have a little chat, just like real girlfriends would do in real life, on where to put your money, when to hit up the drugstore and when to head to a department store when stocking up your makeup bag!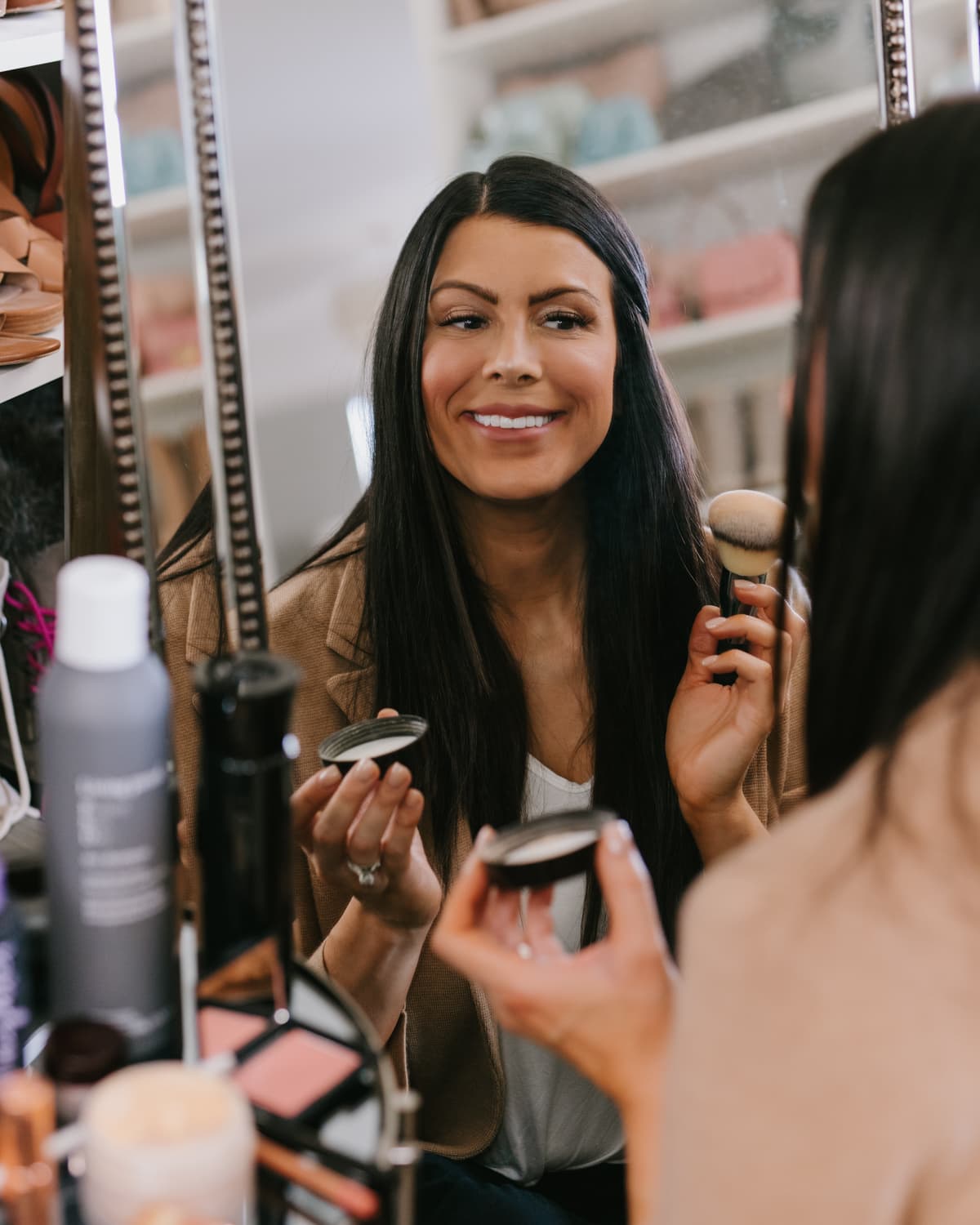 SPLURGE-worthy faves
Rule of thumb: products that are going to be sitting directly on your skin for an extended period of time are best to spend a little more on! Although drugstore base products have come a looooong way in the last few years, splurging on foundational products that have skincare-like qualities is always the better route for your skin in the long run!
Foundation: Estée Lauder Double Wear
Estée Lauder's Double Wear matches my skin flawlessly! I cannot even say enough good things about this foundation. It gives you the BEST, prettiest coverage without looking thick or cakey at all. It's full coverage, waterproof, oil-controlling and really does last all the live-long day.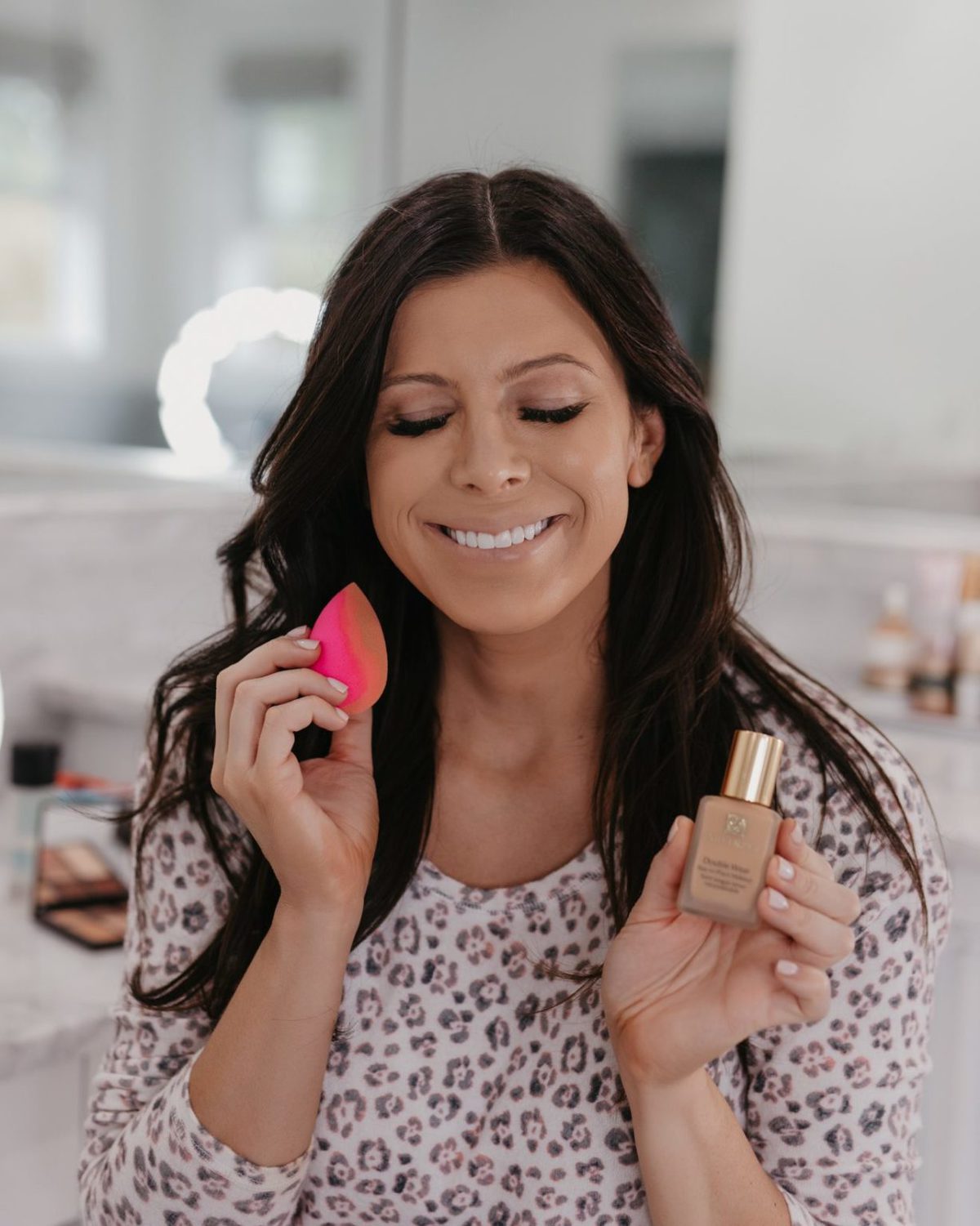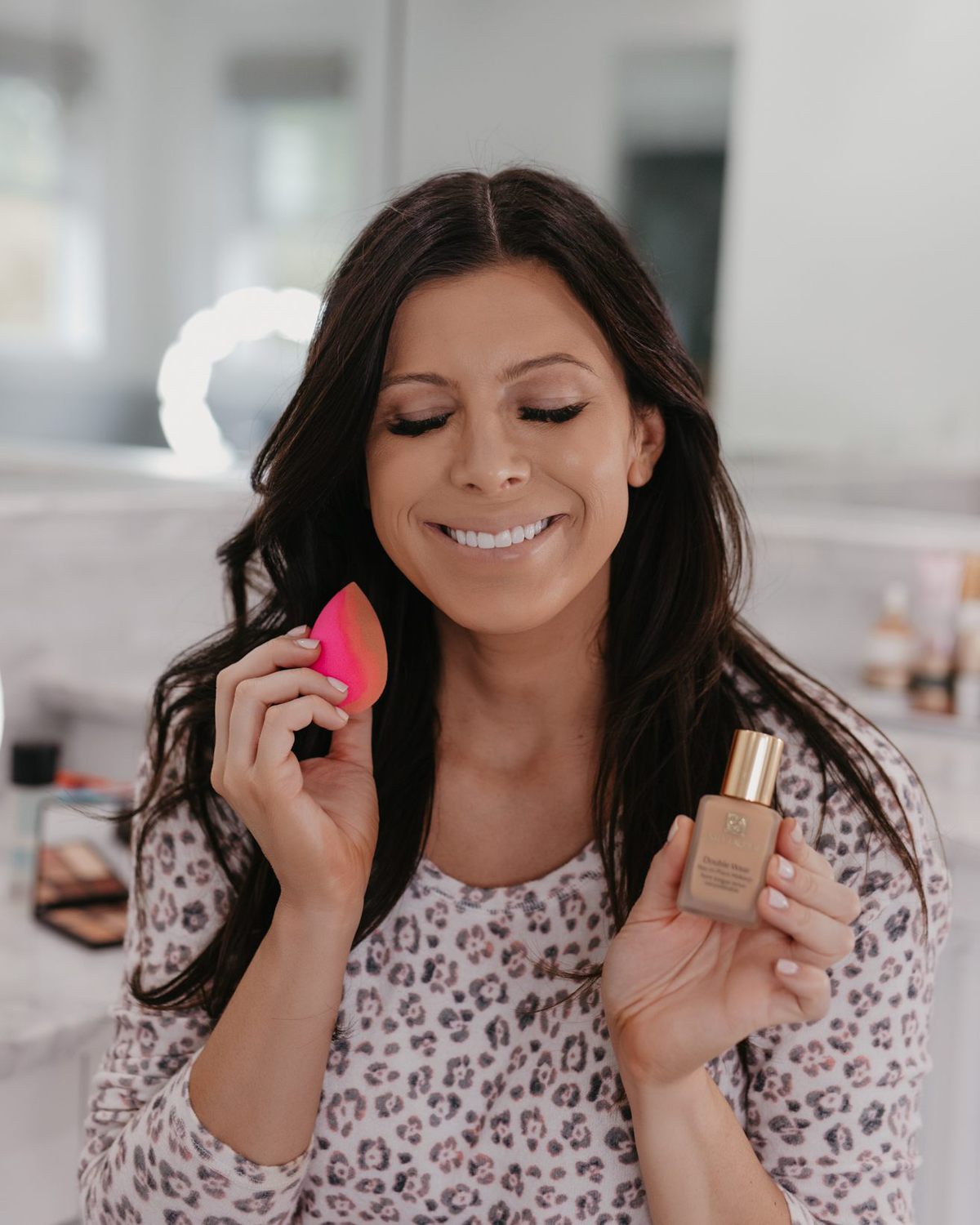 What shade should I order?
I wear 3W1 tawny in Double Wear, but if you're not sure which shade to order I have a super simple trick for you that I used with a friend of mine who's a professional makeup artist, and it worked perfectly!
Go to this link and click on "shade finder" and then simply find a brand of foundation you use and know what color matches your skin, plug that in, and VOILA! You'll get results on which shade to order this Estée Lauder's Double Wear.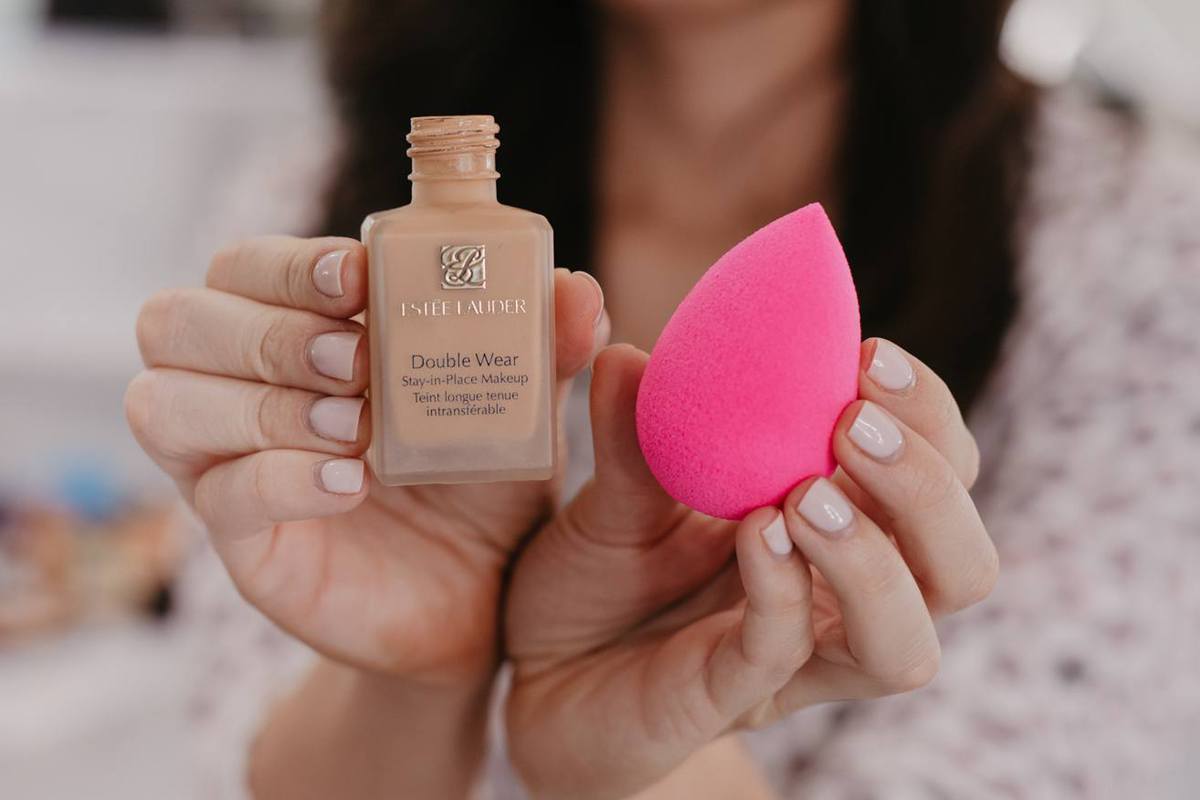 Concealer: Tarte Shape Tape
Tarte Shape Tape Concealer has taken over (and changed) the concealer game! Celebs and makeup artists alike keep it in their makeup arsenal at all times. It really has the best coverage, is so long-lasting, and is totally versatile. My favorite way to use it is under my eyes; it definitely erases all evidence of my late-night Harry feedings!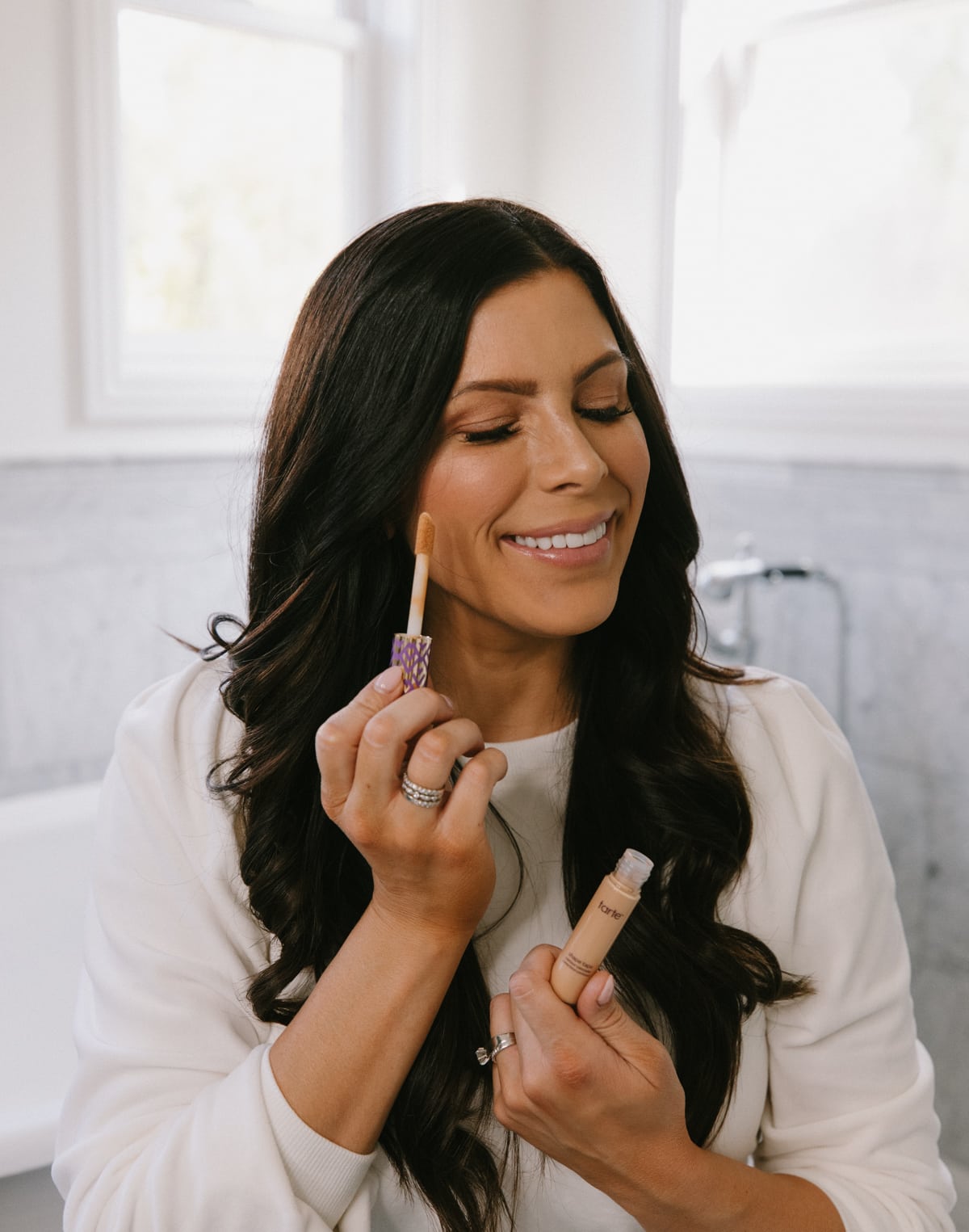 I also love using Shape Tape on blemishes or areas with redness (hello under my nose!). Try tapping it on a trouble area and leaving it unblended for a few minutes. When you buff it in with a blending sponge, your blemishes will literally disappear and stay away all day! I also love getting extras to keep in my purse for a quick touch up (did you know you can use it for foundation in a pinch?!) Try grabbing it in a lighter hue for under the eyes to brighten and highlight, and a slightly darker shade for blemishes!
Picking the right shade
I've gotten a LOT of questions about picking the right shade of this Shape Tape concealer. If you click here, there's a super helpful shade Matchmaker that will show you how to pick the right shade for you!
Setting Powder: Translucent Powder
I'm not kidding when I say that the Laura Mercier Honey Translucent Powder is the BEST powder I've ever used. Not only is it silky smooth, but it has a soft-focus quality that blurs fine lines and imperfections. A little goes a long way to set all your cream makeup! Apply after foundation and concealer to finish your look.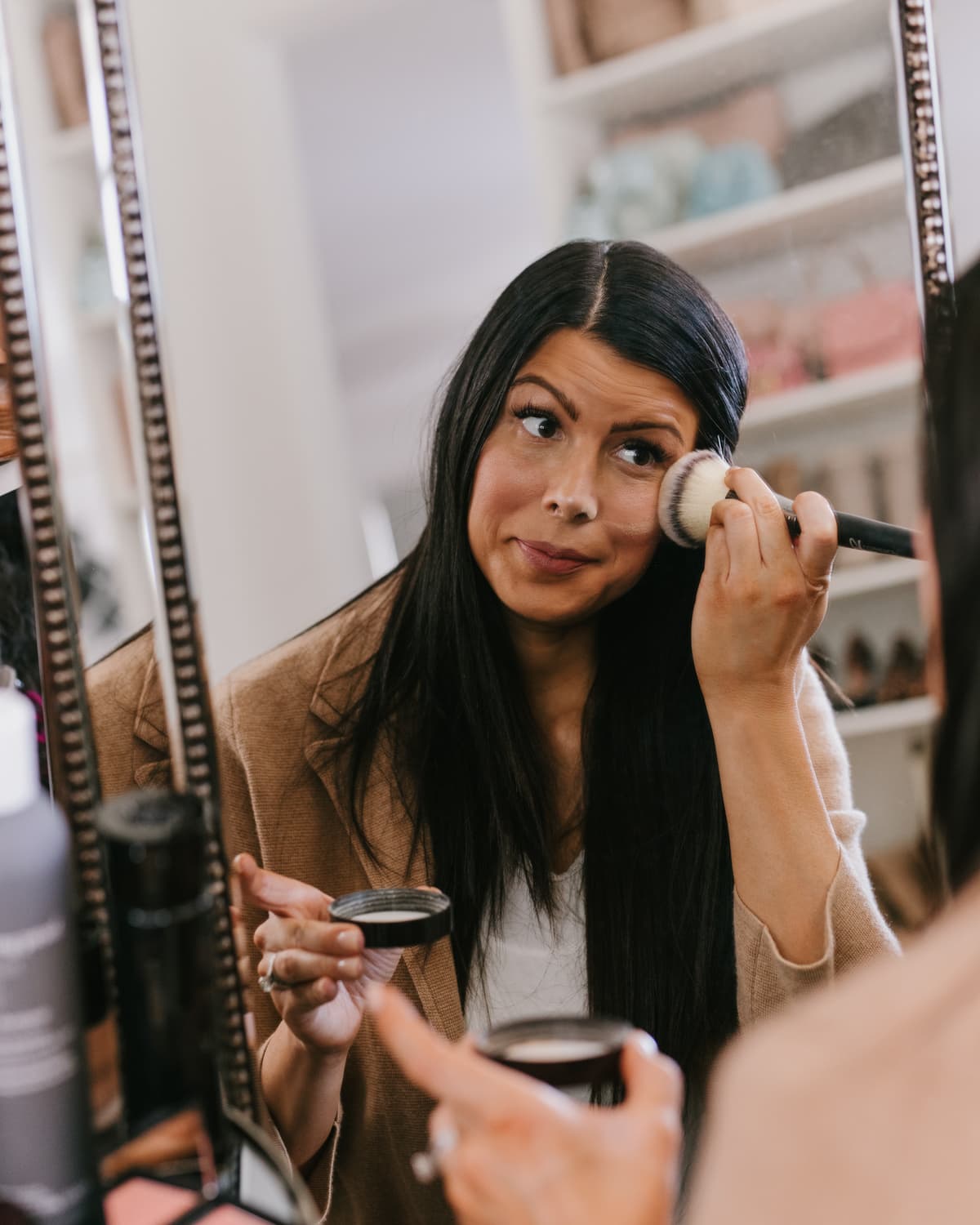 Makeup Brushes: Artis
Artis Makeup Brushes are my current obsession and I can't believe I've lived 35 years without them! You can use them with cream, powder or liquids (hello, versatility!!) and they literally blend everything to perfection. These brushes will last you for-ev-er if you take care of them (check out our makeup brush post for more details on how to keep your brushes in tip-top shape)! AND you know we have an exclusive code to get a discount for our readers. Use CORRINE30 for 30% off Artis brushes and prepare to be amazed!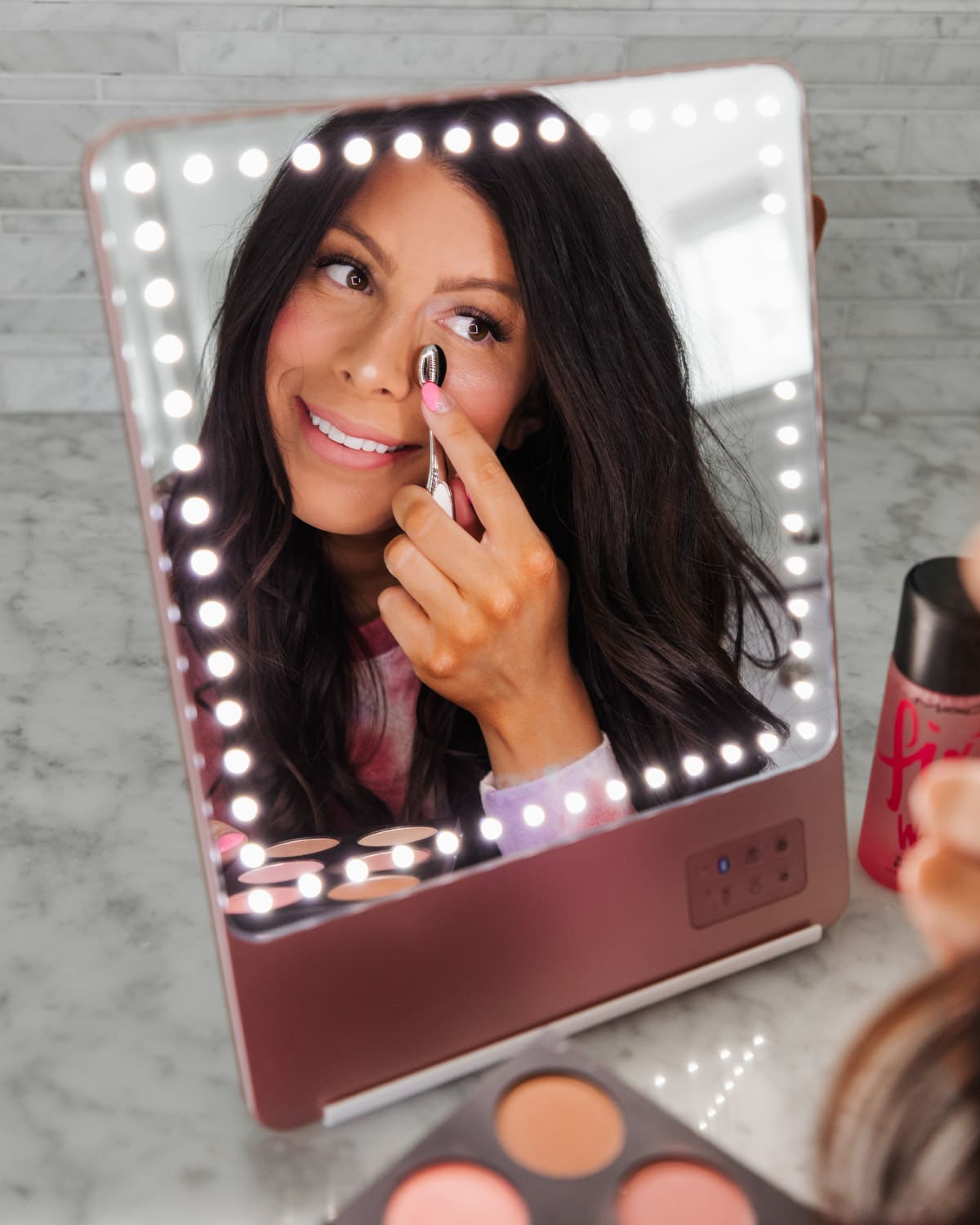 Makeup bag SAVES
Sometimes it can be a little overwhelming going to a drugstore and seeing all the cosmetics counters looming before you. HOW TO CHOOSE??? There are tons of products that I could easily grab at the department store and add to my makeup bag, but why spend money where you don't have to? Once your foundation, concealer and powder have already created a base on your skin, utilizing drugstore products is a great way to save money and not sacrifice the look!
Highlighter: MegaGlo highlighting powder
This is a product that BLEW. MY. MIND. This highlighter from Wet N Wild is an Allure Best of Beauty Winner and according to a Sephora makeup artist who I spoke with, better than anything at Sephora! This MegaGlo Highlighting Powder is less than $5 here or here!!
I tried the Blossom Glow and Golden Flower Crown and loved them both. The Blossom Glow was more of the traditional highlighter look. The Golden Flower Crown has a really pretty golden tone that's perfect all year round. These are seriously phenomenal, so smooth, last all day and have the prettiest colors.
Eyeliner: NYX Epic Pen
This liquid eyeliner is TOPS. As in, it's SO easy to use, lasts all day (even if I take a nap, it's still perfectly in place), and is only $9! I love the pen shape and the ultra dark color that makes for the perfect cat-eye. Such a good save to add to your makeup bag.
Blush: Milani Baked Blush
This Milani Baked Blush is the perfect pink and it's probably THE most popular drugstore blush out there among YouTubers, bloggers and makeup artists. It gives you a beautiful healthy, peachy glow for less than $7, and it's a great dupe for my favorite department store Nars blush that I mentioned in this Sephora roundup.
Brow Pencil: Microbrow Pencil
This NYX micro brow pencil in taupe is an incredible dupe for the Anastasia Brow Wiz in taupe that I've been recommending for YEARS. The super fine tip creates hair like strokes and helps you fill in small areas with no problem. I love that it's vegan and cruelty-free and that it's only $9.99! You can grab it here or here.
Lip Gloss: NYX Butter Gloss
These NYX Butter Glosses are under $5!! I've tried a TON of the colors and I love them all, but my fave by far is Creme Brulee. They are pigmented enough to wear alone or over a lipstick or lipliner to add softness and shine. I love the subtle color and the feel of this gloss: for reals, like butter! Get this gloss here or here.
Eyeshadow: Morphe eyeshadow palette
This Morphe Eyeshadow Palette is packed full of the most creamy, highly pigmented, super blend-able, prettiest eyeshadows! This palette is $25 for 35 beautiful, high quality colors all in one palette! It equals about $.71 PER eyeshadow, which is insane! I love that it has a mix of shimmery shades and matte shades, plus dark colors that you can use with an angled brush for eyeliner!
Mascara: L'Oreal Paris Lash Paradise
I have been asked multiple times on social media what my favorite drugstore mascara is and HANDS DOWN it is this one by L'Oreal!! It's a total dupe for Too Faced mascara and it is amazing! Apparently Beyonce's makeup artist is obsessed with it too so…#goodcompany? Get this mascara here.
Newest drugstore fave: aerosol setting spray
This setting spray, I'm telling you, is straight PERFECTION!!! It feels like a wave of the finest setting spray you've ever felt in your entire life and it sits so softly and perfectly on your face, and makes your makeup last so much longer just like any good setting spray should! It also doesn't have a strong smell! And best of ALL, it will cost you $10 for a mini or $16 for a full size. The most popular setting spray on the market (which I still love and totally recommend!) will cost you double that.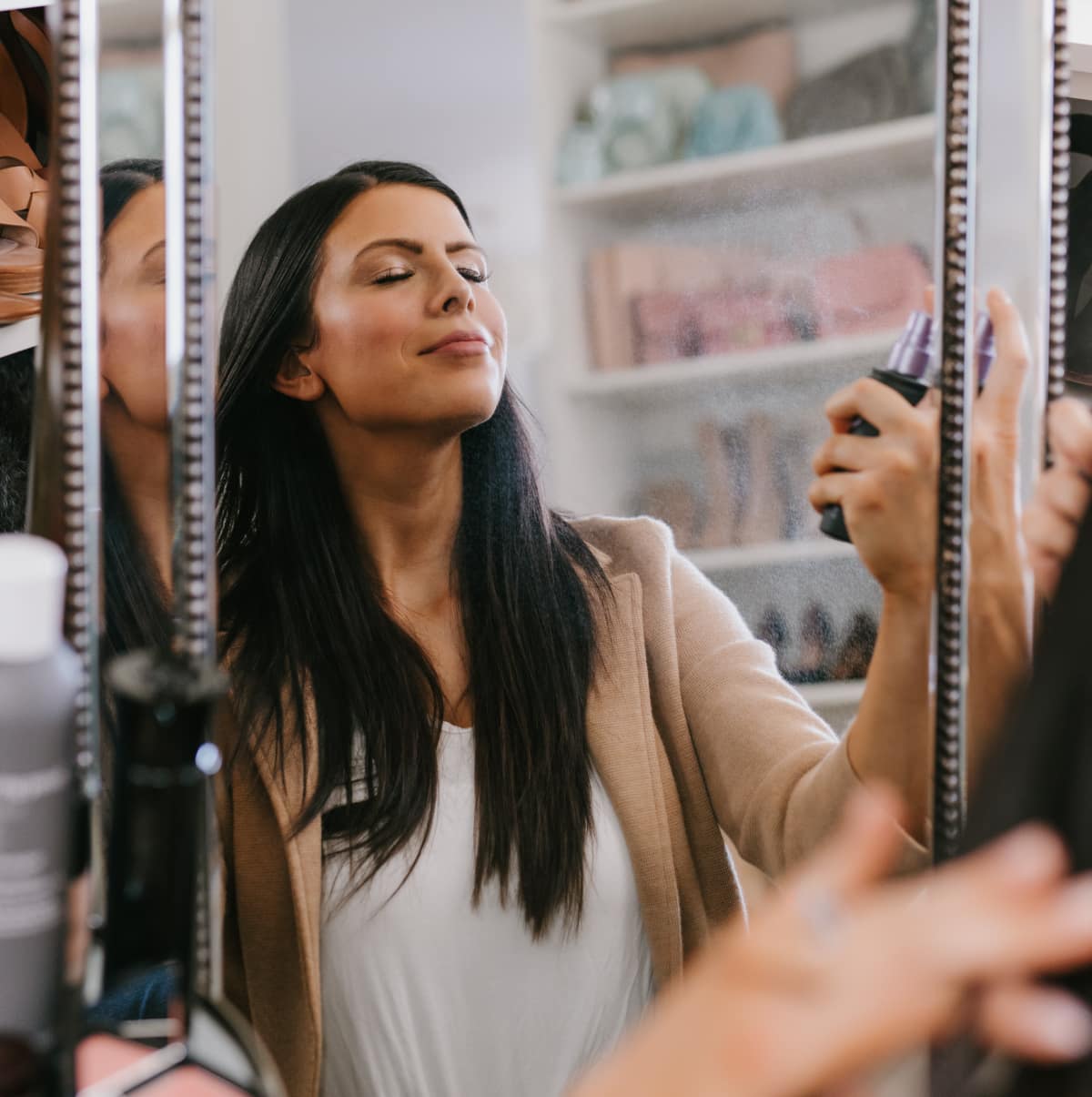 Add to cart
I love the idea of saving money on certain products in my makeup bag in order to save up for others! Truth is, both department AND drugstores have so many amazing cosmetics, the trick is knowing where to start. It also totally depends on your personal makeup-wearing personality! For example, if you don't wear foundation but LOVE eyeshadow, splurge on some amazing palettes! Or if you're just getting started wearing makeup, know your money will never be wasted when you spend it on your skin. And that a new $5 highlighter might just make your day 🙂
Splurges
Saves