It's never a bad time to chat SUNGLASSES! I love a good pair of sunnies and have several favorites that I pull out over and over again. It's such an easy way to complete an outfit, and as an added bonus, it disguises those tired eyes that we all get some days. In this post I'm sharing my go-to sunglasses that I get asked about all the time, including classics that will likely be in style for a loooooong time. Keep scrolling for my favorite sunglasses!
Ray-Ban Aviators
The ultimate classic in sunglasses is a Ray-Ban aviator, am I right?! They'll just never go out of style! I love the pink lens on these ones. I feel like it's super cute and adds an unexpected pop of color whether they're dressed up or down.
Diff Aviators
These pink and gold Diff Aviators put a cool and modern spin on that classic aviator look. They are a GREAT alternative to Ray-Bans if those are out of your price range. These exact ones are sold out, but here's a similar pair.
Tory Burch Sunglasses
A good pair of tortoise shell sunnies with a square frame are super flattering and super universal since they'll go with just about anything! The exact pair of Tory Burch tortoise shell sunnies I have on in these photos are sold out, but these Tory Burch sunnies are almost identical and have great coverage to keep you comfy and squint-free on bright and sunny days or long road trips. Two thumbs up from me!
Quay square sunnies
These square Quay sunnies are SUCH a fun shape, I just love them for boat or beach days! The black ones I'm wearing are a really great price for an everyday, throw-in-your-bag sunglasses that'll go great with casual outfits!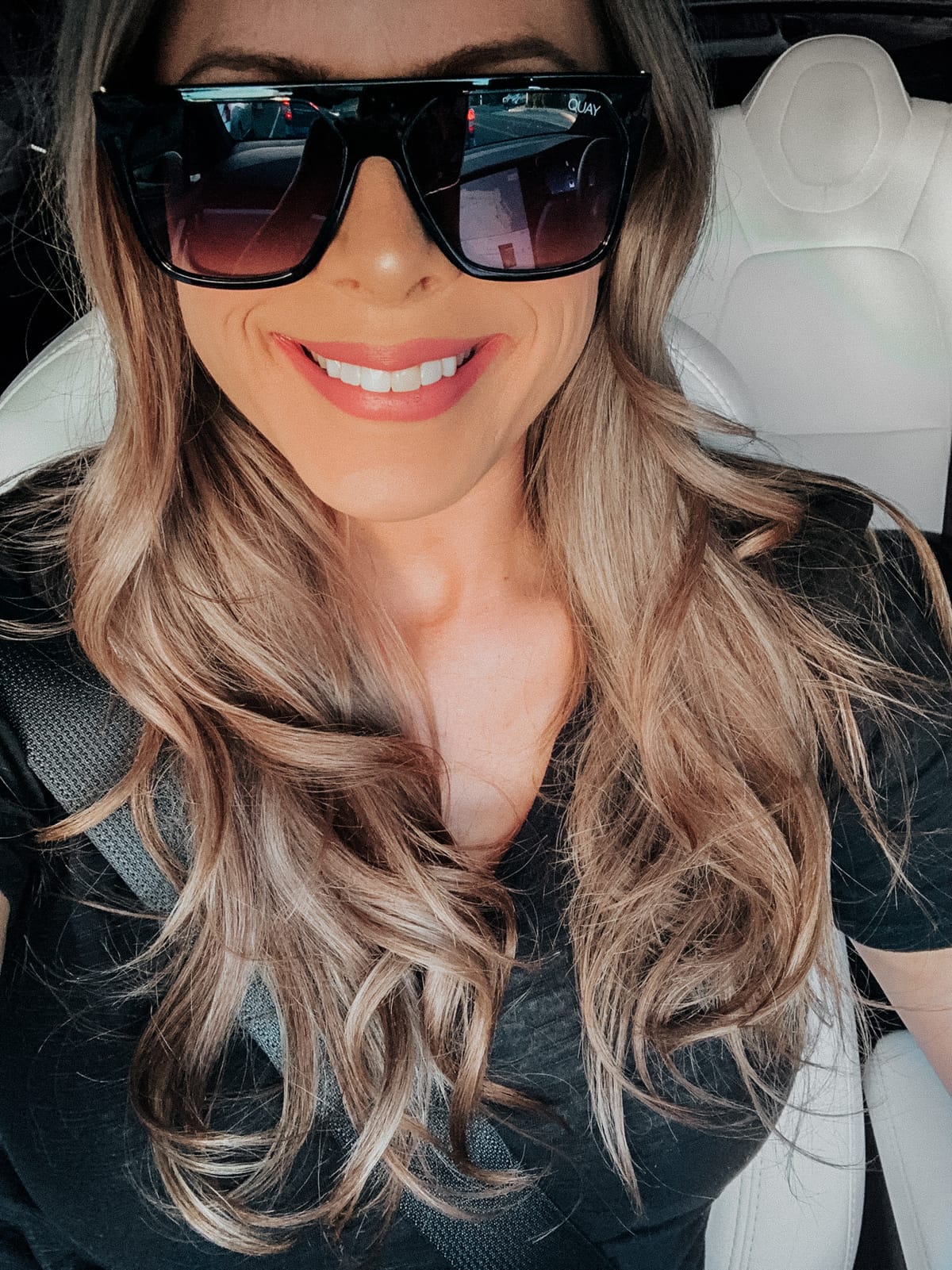 Tom Ford sunglasses
My Tom Ford sunglasses are, YES, expensive…BUT I've had them for years and years! I have worn them nonstop with every kind of outfit, both casual and dressier. They are super, super high quality and comfortable for hours of wear. Like dang near perfect 9.9/10 for comfort. If you're looking for a pair to splurge on that you know you'll baby and get years of use out of, this pair is one I highly recommend.
Le Specs Air Heart sunnies
These Meghan Markle Le Specs sunglasses were a HUGE hit in 2019 and I'm still loving them. I mean, how cute did she look in them?! As soon as the Duchess was seen wearing them they started selling out everywhere. At just under $70, these are a classy shade that looks designer for a lower price point. They are definitely not quite as comfortable as some of the higher-end options I've mentioned, but by no means are they uncomfortable! I'd say 7/10 for comfort but 10/10 for cuteness! These are sold out in black right now, but here's a similar pair.
Chloe sunglasses
My Chloe Sunnies are another splurge, but I love that they're a totally different vibe and shape than my Tom Fords so it feels like I'm set as far as high-end shades go! These have a great retro feel with both the shape and the gradient lenses, they're just a really fun addition to any look.
More of the cutest sunglasses
Below is a bunch more sunglasses we love and recommend below, in a ton of different price points! Regardless of personal style, there are sunnies that will appeal to EVERYONE. Find a pair you love and be ready for sunny days ahead!