I'm a sunglass girl through and through. And I'm so excited because summer is on the horizon and it's about to be sunglasses season! Wearing sunglasses can add a cute little amp to any outfit and there are just sooo many styles out there to choose from – the options are endless!
There are also so many beautiful designer sunglasses to drool over, except I bet none of us are drooling over those price tags. I decided to dive deep and do some research, and I found the 4 most popular "designer-inspired" sunglasses on Amazon! I bought all 4 to try out and review. 3 made the cut, and one did not! And I'm super excited to share with you my faves, my rankings and why these Amazon designer-inspired sunnies are a crazy good deal!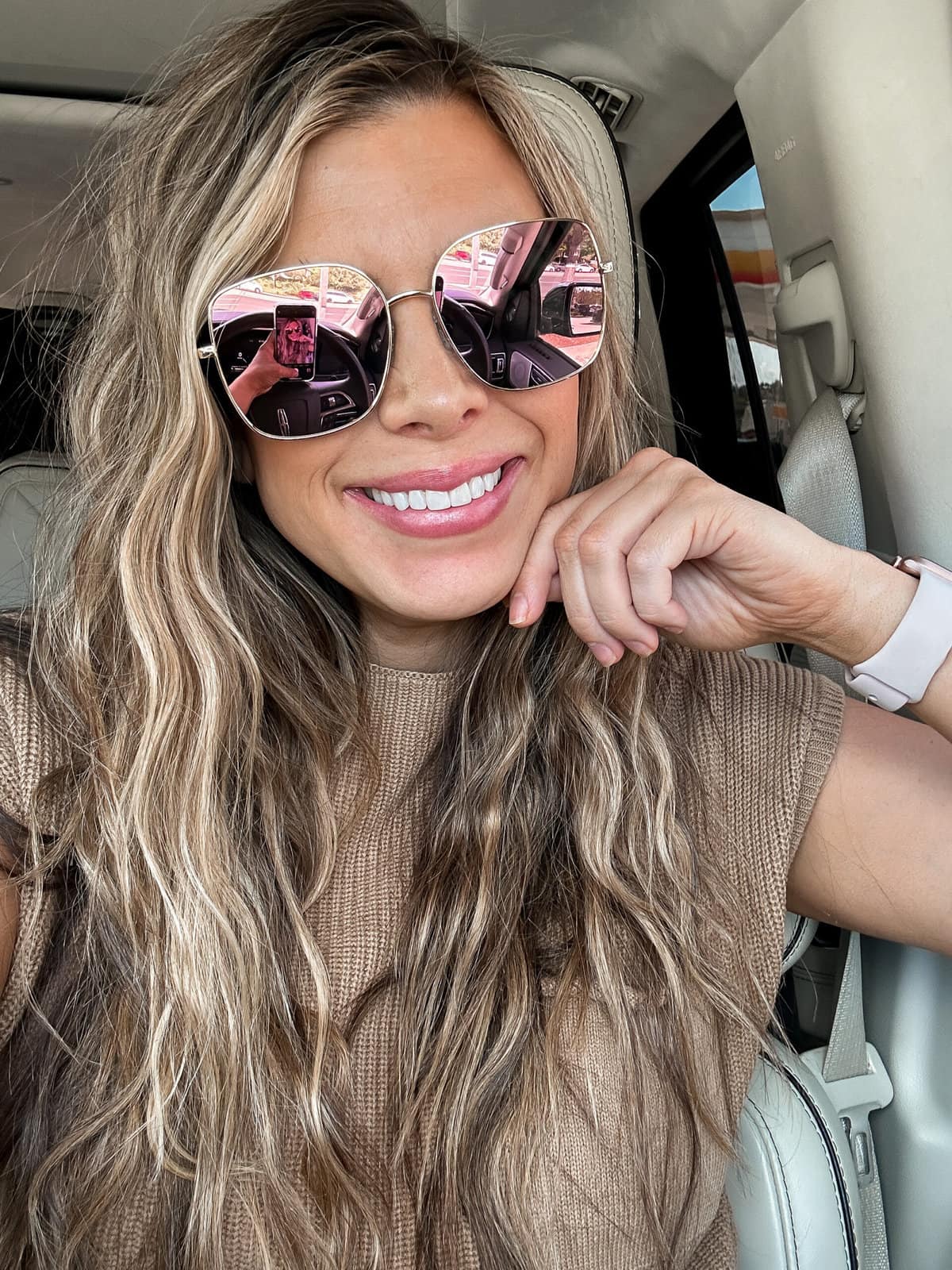 In a hurry? Shop the sunglasses below:

The pair that didn't make the cut:
I'm gonna start off with the pair that didn't make the cut! These designer-inspired Amazon sunglasses are a popular pair of sunglasses on Amazon and I initially loved the vintage, boho, oversized look of these but they were just too many things about them I didn't really like. They were sooo uncomfortable, slid off my face, just clunky and a little too heavy, and I didn't love how they looked on my face. It's really important to me that sunglasses are comfortable to wear and not too heavy, so these were not it!
They're really similar in looks to these $495 Tom Ford sunglasses! The dark brown tortoise and gold detail in the corners are very comparable, but the Tom Ford pair might be a little more comfortable, I'm not sure! The thing that's positive about this Amazon pair is they're only $14.99! Such a good deal! So if you don't mind a heavy pair of sunglasses, then this might be a good pair for you, but I recommend checking out the ones below!

Sunglasses #1 that I loved:
These oversized metal squared framed Amazon sunglasses are a big YES. I love that the frames are huge, that they're superrr lightweight, and they're stable! A lot of my Ray Bans aren't as stable and slide off my face a little bit easier, but these stay snug in place and are super comfortable and lightweight. I also love the cute pink lens color!
These deserve a perfect 10/10 from me not only because of how they look but they're literally a lookalike of these beautiful Chloe Celeste sunglasses that retail for $505!! Except this incredible Amazon pair is only $15.99 and they achieve the same cute look for way less. This is seriously such a steal of a find!

Sunglasses #2 that I loved:
Okay dare I say I'm mayyybe even more obsessed with this pair?! I absolutely love the matte black frames, they're extremely lightweight, and they're huuuge. A plus in my book! They literally cover half of my face and I'm all about that look.
The details on the sides of these Amazon sunglasses also just have that designer-inspired look about them, and look super similar to these designer Tom Ford sunglasses that retail for $455! This Amazon lookalike gives the same exact look with the shape and the gold detail up in the corners. They're so cute and fit so well on your face, and only costs $14.99! Literally a FRACTION of the designer price. I love these Amazon sunnies and they'll for sure be a pair that I'll be reaching for a lot this summer!

Sunglasses #3 that I loved:
And last but definitely not least! I would give these a solid 8/10. They were comfortable, they were not heavy, they look cute, but if I had to choose out of my top 3, I'd either choose the matte black or the pink ones. These would be my third pick! I really loved them though and they come in a lot of other cute colors. If you love a cat eye shape on your face, then pick these Amazon sunglasses! Plus they're literally the designer lookalike of these $159 Lu Goldie Lucia sunglasses, but for as low as $12.74! A seriously good deal, especially if you want a designer-look in sunglasses but don't want to pay that price tag.

Designer look for LESS!
Here at Mint Arrow, we're always looking for deals on all the best and cutest things. I love a designer look, but I don't love the designer price! That's why these designer-inspired Amazon sunglasses are a crazy good deal. They look cute, they feel cute on, and they're a fraction of the price. Which of the 4 pairs is your favorite style?