New makeup, who dis? I love makeup. Like a whole lot. It's so fun mixing up my makeup routine just a little bit with the changing seasons, and I felt like this was the perfect excuse to try out all of the very highest rated and best selling makeup products at Nordstrom to recommend all the ones I love most to you!
Nordstrom is one of my go-to destinations for makeup, because they have SO many options! But having so many options can be a bit overwhelming so I decided to try out all the products that were top-rated or Nordstrom beauty BEST sellers or used and loved MOST by the makeup artists that work at Nordstrom! And after ALL my testing and trying, these are all the products that make my cut.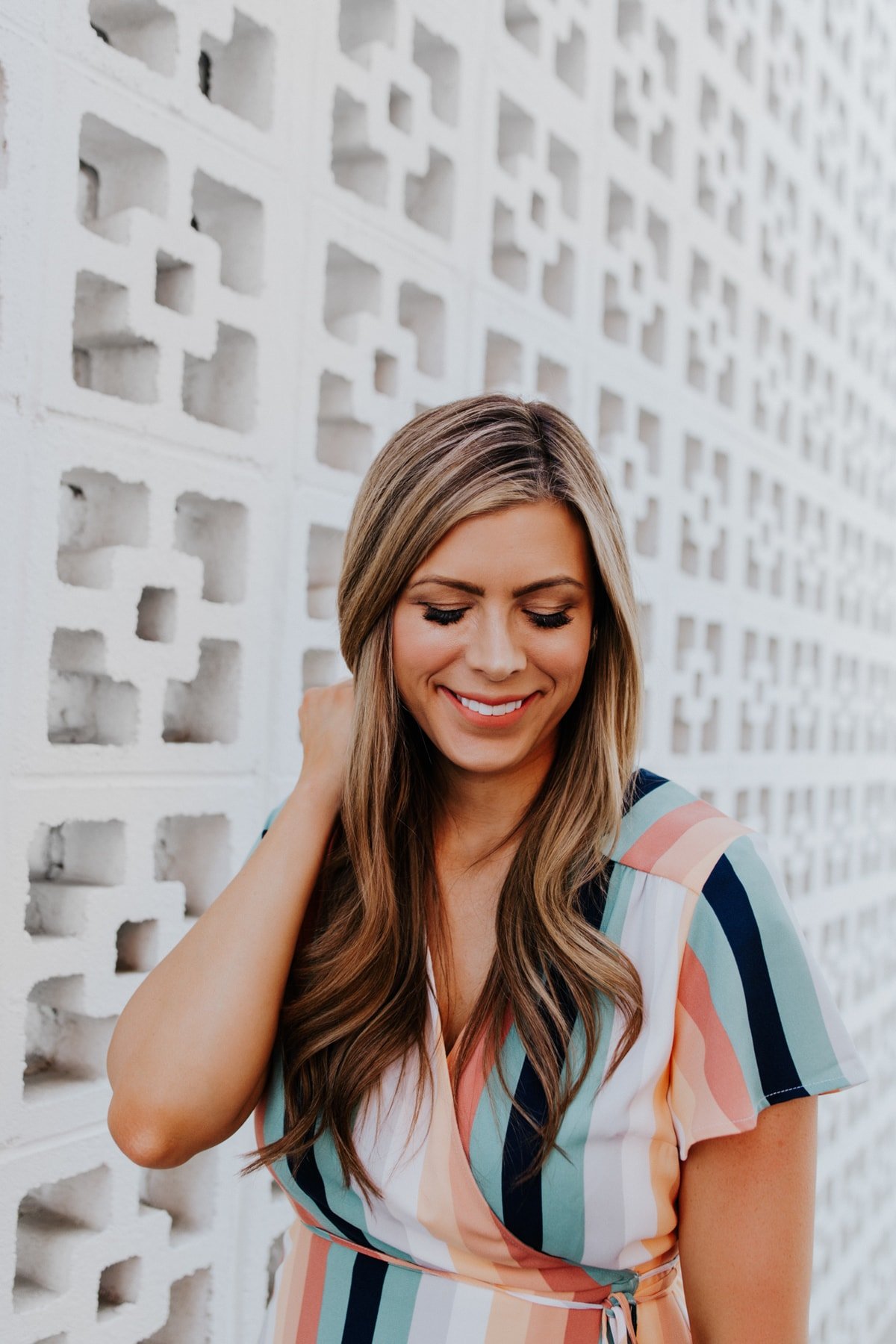 BEST MAKEUP MIRROR:
I've raved about this makeup mirror a few times but it's worth another shoutout because seriously IT IS THE BEST! This makeup mirror has the prettiest glowy ring light built in and a serious zoom to help you see what you're doing without being so close you can't even concentrate ha. It also has some pretty rad technology where you can take a picture in the lighting where you spend a lot of time (work or school or where ever) and the ring light on the mirror will adjust to that lighting so you can see what your makeup will look like in that light. GENIUS right?! I'll admit I've never used that feature but I still absolutely LOVE this mirror with all my heart — so much so that after I accidentally broke my first one, I turned around and 6 months later bought the exact same one to replace it. Yep, that good.
BEST MAKEUP REMOVER:
This Lancome makeup remover has been a cult favorite beauty product for years! If I didn't necessarily wash my face super well the night before or I'm doing my makeup after an afternoon at the pool or the beach I might start with this. Just to make sure I'm starting with a fresh clean face! I love that this remover has ZERO oily residue and removes makeup quickly!
BEST FACIAL TANNER:
I've mentioned this St Tropez bronzing face mist in the past and I'm still bananas over it! I seriously love it and it has perfect ratings! It works super quick. It's a great color. And I love that you can apply it to your face and then put makeup on over it without looking ridiculous or too tan, and it also works beautifully as a makeup setting spray that works gradually on your face tan. Plus it smells pretty amazing!
BEST SELF TANNER:
And while we're at it, I should mention that several of the Nordstrom beauty and makeup specialists I talked to raved about this self tanner and I tried it and WOW it really is amazeballs. Like the prettiest color, 2-3 hour turnaround to get the full effect, and you can apply it and layer makeup over it and not look like a weirdo (which is strangely hard to come by!).
BEST PRIMER:
This Prep + Prime from Mac is completely AH-mazing! It's super lightweight, but magically evens out redness and skin tone. It creates the most gorgeous base for your makeup and is one of the TOP rated primers loved by multiple Nordstrom makeup artists that I quizzed about their fave primers, and I can't help but agree. It's AWESOME.
BEST FOUNDATION:
This award winning Luminous Silk Foundation from Giorgio Armani has over 1000 perfect reviews!! Glowing reviews and glowing skin? That's a win-win. It is on the pricier side, but if you're determined to find the very best foundation out there, this is a must. It's weightless and hydrating and makes your skin look totally flawless and natural!
BEST HIGHLIGHTERS:
I was new to this multipurpose wonder, but I'm pretty head over heels! It's primer. It's a highlighter. It's both!! All I really know is that it makes your skin super pretty. The Hollywood Flawless Filter from Charlotte Tilbury gives you this great dewy, glow that lasts all day! Mix it in with your foundation like I did here, or use it just in spots where you want a little extra glow.
If you're more interested in a powder rather than liquid highlighter, this highlighter palette from Anastasia Beverly Hills is another tried and true, top-rated favorite. I love using it to add just a little extra glow!
BEST CONCEALER:
This concealer from Lancome is pretty fabulous. And did I mention it is waterproof? It's a total magic wand for tired eyes. Swipe it on and POOF! It's like a good night's sleep and eight glasses of water in one. HA! It's a perfect cross between those really thick, heavy duty concealers that last all day and the ultra dewey lightweight ones that look beautiful when you apply but sometimes don't stay all day. This one achieves all the good without any of the bad.
BEST BROW PENCIL:
This top-rated brow pencil from DIOR is one of my newest obsessions. I almost wish I didn't love it because it's kind of expensive, but WORTH IT!! It's pretty amazing. It goes on the most perfect consistency. It's super easy to shape your brows. And the color is phenomenal-even with the most featherlight hand!
BEST BLUSH:
I've been a longtime lover of this liquid blush from NARS in the color Orgasm. And if it's not broke why fix it? You just dab a tiny amount on the back of your hand and swirl it around for all that creamy goodness! A lot of people like the classic pressed powder version of orgasm, but I really prefer the liquid because it acts more like a stain than just a blush so it really lasts ALL DAY LONG.
A close CLOSE second and another love of my life that deserves a mention is this liquid blush in posie tint from Benefit Cosmetics that I use just as frequently and can't live without!
BEST BRONZER: I've tried sooooo many bronzers and usually I feel like they're all kinda the same but really honestly loved this new one from Bobbi Brown that was highly recommended by Nordstrom makeup artists AND reviewers online! I'm wearing it in "natural" which is the most popular and well-loved shade of all of them.
BEST EYESHADOW PRIMER:
I've raved about this eyeshadow primer from Urban Decay before and with OVER 2000 perfect reviews I'm not the only one obsessed! Keeps those shadows vibrant and crease-free for 24 hours!
BEST EYESHADOW PALETTES:
Normally I'd recommend this tried-and-true palette all day every day, but sometimes it's just REALLY big to carry around. So I tried this highly rated palette from Charlotte Tilbury that was recommended to me by a few Nordstrom makeup artists and fell in looooooove. Most of my palettes are ginormous! This compact size is perfect for taking on vacation or throwing in your tote for easy touchups. It's a great everyday palette and the colors are so pretty!
BEST LIQUID EYELINER:
As for eyeliner perfection, this one from Lancome is definitely it for me! It glides on super easily and it's almost like a felt tip pen for your face. I've never found an eyeliner I like quite as much as I love this one!!
BEST LIPSTICK:
MAC lipsticks always WIN in my book. They're just classic, beautiful and reliable as your lifelong bestie. I love this brand new matte lipstick from MAC. It goes on creamy but settles matte and looks good for hours and hours which is HARD to find with a matte! And if you haven't tried a poppy color lately, this shade called "mull it over" is super flattering next to sunkissed (or spraytanned ha) skin!
BEST LIPGLOSS:
If you just can't do lipstick and you're more of a gloss lover, this lip maximizer from DIOR is the #1 best-selling, top-rated, and most loved lipgloss that all the makeup artists recommended (and I love too!). And it does just what it claims in the title. You will LOVE it. Promise.
Nordstrom has amazing beauty services, with some locations that have pedicures or even blowout and spa services! Check your local Nordstrom to see what they have available. I also love all the free gifts with purchase they offer throughout the year! It seems like they're always spoiling me with something free with purchase!
BEST Makeup Mirror
BEST Makeup Remover
BEST Liquid Highlighter
BEST Self Tanning Face Mist
BEST Brow Pencil
BEST Eyeliner
BEST Foundation
BEST Liquid Blush (in orgasm)
BEST Bronzer (in natural)
BEST Powder Highlighter Palette
BEST Foundation Primer
BEST Eyeshadow Primer
BEST Concealer
BEST Small Eyeshadow Palette
BEST Lipstick (wearing "Mull it Over")
BEST Lipgloss (wearing pink/glow)
Below you'll find a clickable roundup of all the BEST, top-rated makeup picks from above that you can grab from Nordstrom right now!