If you find the idea of spending an ENTIRE day at the beach with littles in tow just a tad overwhelming don't worry, I TOTALLY GET IT! The beach can be super intimidating. It's crowded, sand is messy, you've gotta be constantly on your toes around the ocean, and there's A LOT of packing and prep to make sure you have everything you need for the day! So today I'm sharing my top 10 tips for taking a baby to the beach, and sharing all the best baby beach gear, so you can tackle your beach day with a baby or littles like a pro.
After years of beach living we've pretty much mastered our beach day routine and I'm going to share all my knowledge, tips, tricks and hacks with you! How to plan a successful beach day is one of my most FAQ, so I've gathered ALL of my BEST tips for taking a baby to the beach!
We moved to a beach town when Ani was 18 months old, so she's been going to the beach since she was tiny. And now Lyla and Millie have spent their whole lives at the beach, so we have over 5 years of experience with family beach days!
Spending a day in the sunshine playing in the sand and water is our very favorite thing to do together and some of my best memories are of these days at the beach. But I've definitely got a few tricks up my sleeve that I think make a gigantic difference with pulling off a successful day at the beach with babes.
Baby Beach Tip #1: Safety First
You'll see in our top picture that Anabelle (two years old at the time) had a puddle jumper life jacket on, because we were at a beach in Mexico and she wanted to go from the pool to the beach all. day. long. It majorly reduced my stress to have her in a coastguard approved life jacket on so she could go from the beach to the pool with ease, even though we had adults watching her the entire time. Anytime I have one of my littles at the beach who are dying to be in the water and they're not 100% confident swimming yet, I just put them in a puddle jumper for the day. Totally a baby beach gear essential if you have a walker/runner who loves to be in the water.
Staying safe in the SUN is a huge deal to us too, since sunburns can not only be super painful for babies but can lead to skin cancer later in life!!
There's obviously a million ways to do this. We typically take a standard beach umbrella with us, but this year we have really been loving this popup tent we got recently. (Check out our whole budget-friendly beach set-up here). It's awesome and it's reasonably priced and one of my favorite baby beach gear items.
We've also used a Sunbrella Sport-Brella for years and we love it. It's easy to set up and really nice, because you can tack down both sides and slide a little crib underneath it for naps. It's UPF 50+ protection which really just means it's keeping your skin safe and protected from all those UVA and UVB rays!
Sunscreen is a little more controversial and I know different parents and pediatricians have different preferences for when to start applying sunscreen to baby skin. Obviously we keep our little, little babies in the shade as much as possible, but once they start crawling all bets are off!
When you're ready to start putting sunscreen on your baby I love the Tubby Todd PLAY sunscreen and have found it works really well! We also frequently use Target Kids sunscreen and another fave of mine is Trader Joe's sunscreen which ranked super high on Consumer Reports' list for sunscreens that actually protect at the level they claim (50 SPF in this case). Sunscreen is an absolute MUST on my list of baby beach gear I never ever go to the beach without. Even on a cloudy day, babies get sunburned easily!!
I also always, ALWAYS do a sun hat for double protection.
Baby Beach Tip #2: Bring the Beach Toys
Toys are a beach day essential. BARE MINIMUM we have to bring a bucket and a shovel. Neil loves digging a big hole for the girls to sit and play in and they seriously think that's the best thing since sliced bread.
A couple of times I've tried to play "minimalist" and skip beach toys because it seems like our baby beach gear list can get gigantic real fast, but that's a BAD idea because kids who don't have sand toys do things like wander off (not fun) or start looking for alternative toys like trash from the trash can or poking each other with sticks or throwing rocks (also not fun haha).
If you're traveling to a beach and want to come prepared, I love this set of collapsible beach buckets! We took these on a Disney Cruise a couple years ago and they were a HUGE win. For sure one of my best baby beach gear finds over the years.
My girls absolutely love this surfer dude toy too (pictured below) and it's a favorite to pack in our beach bag because it's lightweight and provides entertainment ALL day long. You just throw this little surfer dude out in the water and magically he surfs back to you every time. Fun gift for a family going on a beach vacation or moving to the beach too!
One of our best pro tips is to bring a small inflatable pool to fill with ocean water and let the babies play in! It's a little less stressful if you have a crawler or a walker versus letting them play at the water's edge, because it keeps them contained! So you're able to sit and supervise while the baby plays and keep an eye on your kids that are a little bit older and want to be down by the waves.
Baby Beach Tip #3: Snacks are Life
What is a beach day without the snacks? A total failure! If you have littles you already know this: SNACKS ARE LIFE.
We love doing sandwiches at the beach for lunch. They're easy to prep, easy to take, easy to eat. The girls love Uncrustables and it's super nice to pack them frozen and then by the time they're ready for a snack or lunch they're thawed out, but still cold! Neil and I usually grab Jimmy John's or some other yummy sandwich on the way to the beach and toss those in the cooler! Chips, crackers, fruit snacks, and popcorn are always big hits, but
PRO TIP: it's better to bring a few smaller bags of snacks versus one big bag! Because ANYTHING that gets opened at the beach quickly becomes sand city!! Don't pack a huge fruit platter that you'll want to bring home and continue eating. Only take what you're going to eat! But that being said, pack extras when you can because playing in the sand and waves makes everyone hungry.
Tiny water bottles are a HUGE win on beach days. I don't know why but I can always get my girls to drink more water when we bring those little bitty ones! They'll drink the entire thing and they don't leave half-empty water bottles all around. While I know it's not as eco-friendly as reusable water bottles, it's what works for my family right now to keep everyone as hydrated as possible. For myself, I love a Hydroflask with ice water that stays cold all day!
Cooler bags are a really nice option because they're easier to transport than a heavy cooler when you're bringing stuff to get you through an entire day at the beach. Sometimes I'll freeze yogurt tubes and it helps keep everything else in the bag cold while also being a good snack as they thaw! Not just a baby beach gear must but ANY AGE beach gear must!!
PRO TIP: if you include some cold drinks and frozen food it helps keep your other food cooler and means you can use less ice! WIN! If you stick your cooler bag underneath your umbrella in the shade it'll stay pretty cold throughout the day. Just make sure to eat sandwiches or anything with mayonnaise in the first hour at the beach so it doesn't cook in the sun and make anyone sick.
Baby Beach Tip #4: Mats & Towels are a must
We always take a Gathre mat and put that down first. It's our home base! Then we set up our umbrella or pop-up tent around it. We also always have extra towels, since the girls like to lay on top of them and wrap up in them (since the ocean breeze can often be FREEZING!). Extra towels are also nice for providing privacy when your little ones are changing in and out of wet suits or swim suits!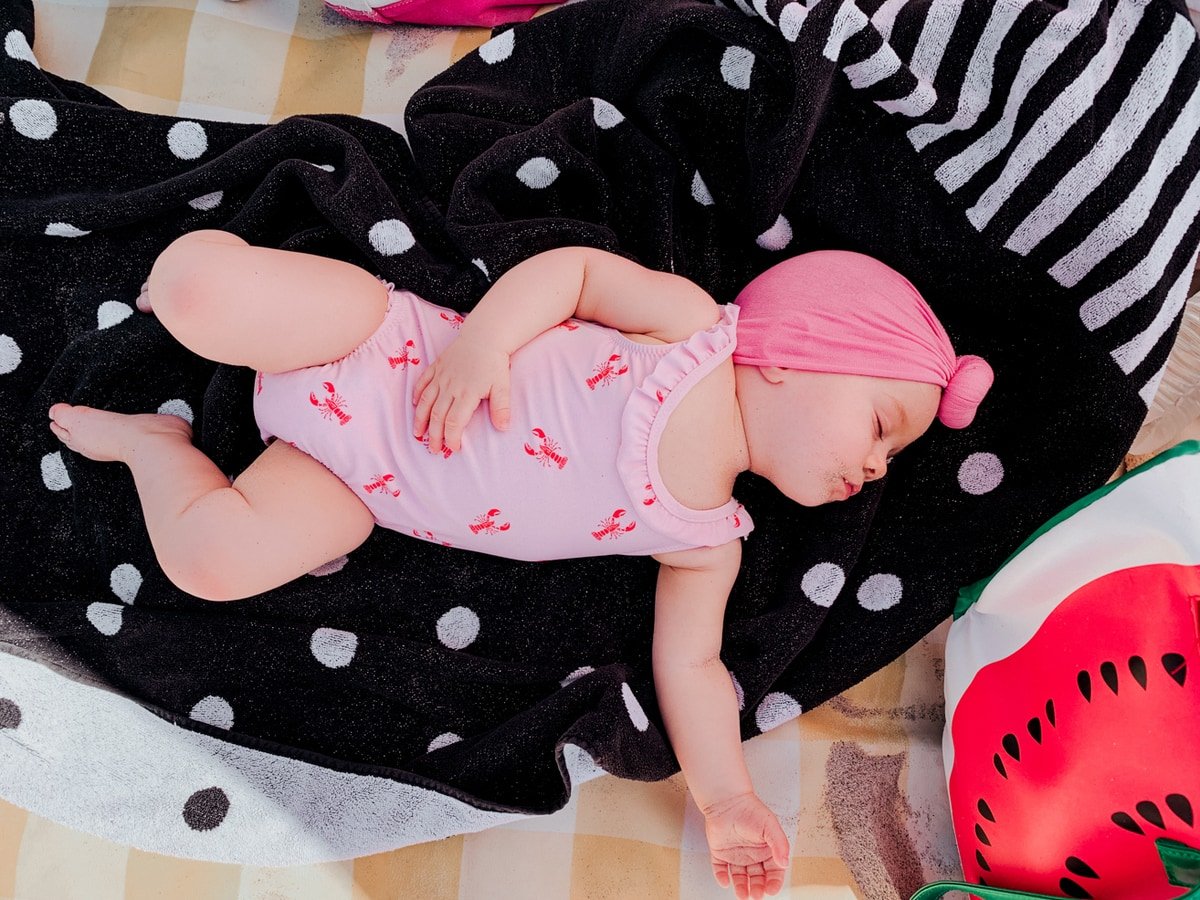 Baby Beach Tip #5: Take the Travel Crib
I swear my babies take their best naps at the beach! They're worn out from playing in the sun and they have the best sound machine in the world as they listen to the crashing waves! The Baby Bjorn Light (or something similar) is a great beach travel crib to tuck into the shade for nap time at the beach. This isn't necessarily a baby beach gear MUST, but it's super helpful if you have a baby who naps and needs a safe, enclosed place to slumber.
The photo above is of a day when I was lazy and didn't bring a travel crib along and guess how long Millie's nap lasted that day? About 5 minutes. I bet you can't guess who WON'T be forgetting the travel crib on the list of baby beach gear the rest of this summer!!!
We just ordered this baby crib that's way less expensive than the Baby Bjorn Light and I'm excited to try it out this summer for beach naps. I'll be sure to report back!
Baby Beach Tip #6: Sand Removal Hacks
Any other mamas out there OBSESSED with the sand brush?! This is a life saver at the beach with babies and little kids. It's not hard-bristled at all. It's actually really soft and works amazing at getting sand off even when my girls have been ROLLING in the sand and gotten themselves totally caked.
Baby powder also works super great for this and I love this talc-free option. This is SO helpful when you're doing a diaper change at the beach or before you get back into the car at the end of the day!

Baby Beach Tip #7: Extra Diapers & Clothes
When it comes to diapering at the beach, I always make sure to have a swim diaper on hand if we're bringing the little pool. Otherwise I just let them play in the sand in their regular everyday diaper!
One lifesaving tip is to have a fresh diaper or undies and a clean set of clothes to put on before getting into the car. My girls are used to this now and they LOVE putting clean, dry undies and clothes on before the drive home instead of sitting in a wet, sandy swimsuit the entire drive home (YUCK)! Plus if they're comfortable they're more likely to fall asleep on the drive which is a MOM WIN!
Baby Beach Tip #8: Beach ONLY Swimsuits
While we're chatting swimsuits…I actually prefer to have separate swimsuits that are just for the beach! Beach swimsuits get destroyed SO FAST, so I always choose less expensive suits for the beach. I've also learned my lesson with pretty white or white-striped suits over the years and I NEVER do a white or light-colored swimsuit for the beach because sand gets INSIDE the lining of the suit and it's impossible to get it out! Darker suits hide those tiny grains of sand and look better a little longer. Two sets of swimmers: beach suits and pool suits. It's a game changer.
We've done some fun roundups in the past of affordable kids beachwear here and here.
Baby Beach Tip #9: Babywearing to the Beach
Babywearing IS A MUST when taking a baby to the beach!!! In my experience, it's almost always a downhill hike to the beach, whether that's from the parking lot or down a set of stairs (I'm looking at you thousand steps beach!) or even down a slope of sand. Trust me when I say you're gonna want BOTH hands free to carry stuff or hold onto other littles hands or even hold onto the railing yourself! IMO, some type of wrap or carrier is a baby beach gear MUST.
Another pro tip: Sometimes (esp when my babies are smaller) I stick them in an Ergo or Solly wrap for naps and they LOVE cozying up to mama for a snooze.
Baby Beach Tip #10: Don't Sweat the Small Stuff (even the sand)
The last thing I HAVE to mention when talking babies at the beach is eating sand. WHY?! Why do babies love eating sand?! It's like they just can't resist and immediately try to shovel handfuls into their mouth! When we first moved here I was super paranoid about this and tried everything I could think of to get Ani to stop and the more I fought it the more she pushed back! ALL of the other moms at the beach were like, "just let her eat the sand, it's not going to hurt her!" And you know what? They were totally right. I know it seems crazy, but now I just let them do it and they've all survived.
There's so much potential to stress about forgetting something or not getting all the gear perfectly right when you cart a baby down to the beach. But every time we go to the beach EVERYONE still ends up having fun, everyone comes home happy and tired and full of good memories, no matter what we forgot or whatever didn't go perfectly.
I know this is A LOT of information but I wanted to share ALL of my best beach with kids tips so you guys can enjoy beach days like a local! I know there are so many different systems that work well for different families, but this is how we're able to stay ALL day and have fun from start to finish.
Also, now that you're all ready to go to the beach, if you're headed to our neck of the woods, you might love our best things to do in Orange County (a local's guide) blog post.
You can shop EVERYTHING I've mentioned above in the roundup below! HAPPY SUMMER!!!
Puddle jumper life jacket
Sport-Brella
Pop-up tent
Tubby Todd PLAY sunscreen
Target Kids sunscreen
Sun hat
Small inflatable pool
Collapsible beach buckets
Surfer dude toy
Uncrustables
Jimmy John's
Crackers
Popcorn
Tiny water bottles
Hydroflask
Cooler bags
Gathre mat
Baby Bjorn Light crib
Less expensive baby crib
Ergobaby
Solly Baby Wrap
Baby powder
Toys