The Little Black Dress. You can pretty much never have too many LBDs, because they are such a classic, forever closet staple. Want to know an unexpectedly great place to snag a super little black dress? WALMART! Their We Dress America campaign continues to slay the affordable fashion game season after season!
Walmart has so many high-quality pieces at insanely amazing prices. Every time I go in the store or get on their website, I find so many fun things. I absolutely loved scrolling through all their dressy options and adding all the cute things to my shopping cart!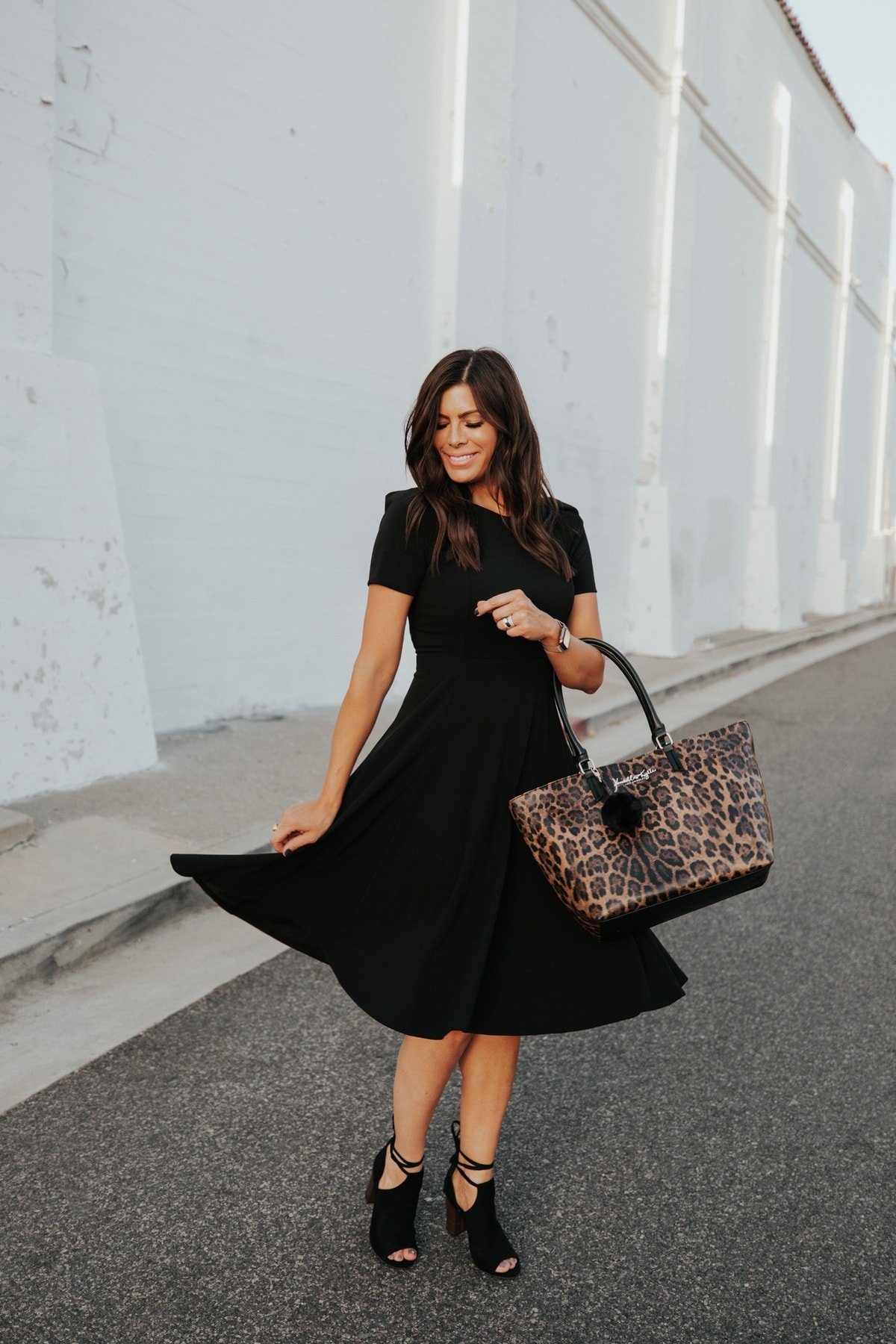 Fit and Flare Black Dress Magic
This classic Calvin Klein little black dress fits like a freaking glove! And not just any glove, but like the world's dreamiest glove. I've always been a major fan of the fit and flare style because it's so universally flattering. The pleated sleeve detail is super pretty, and I love a statement zipper. The price point on this little black dress is bananas! It was originally $134, but now it's $56.28! That's more than HALF OFF the original price. $56 for a high quality, well-made Calvin Klein dress that you'll having hanging in your closet for years!! It comes in two other gorgeous, never-go-out of style colors if your closet is maxed out on black. But like, is that even possible? #allblackforever!
Peep Toe Bootie
The open toed bootie is one of my most favorite ways to transition from Summer to Fall for my feet. It's still super-duper warm here in California and just the thought of wearing a whole shoe makes me sweat! You can't ever go wrong with the comfort level of a block heel. Plus, they're really cute and really highly rated. Can you believe they're from Walmart? Currently these peep toe pretties are just $25. INSANE!
A Pop of Animal Print
Animal print is one of Fall's hottest trends and my favorite neutral is currently EVERYWHERE! I love mixing in leopard with a basic little black dress or an all-black outfit for a pop of something extra! The black pom on this super affordable $32 tote is so so cute!
Casual > Dressy
If dressed up isn't your jam we've also got a really, really cute casual look from Walmart coming later this month. Remember this fun and crazy affordable summer look? Well…the Fall version is headed your way and includes the cutest graphic tee!
Midi Fit-& Flare Dress
Peep Toe Bootie
Leopard Top-Zip Tote
Photos by Arielle Levy
SHIPPING
BONUS: did you know that you get free two-day shipping on orders over $35?! A-MA-ZING right?!?! No membership fee. All the time, on anything shipped and sold by Walmart. Clothes, food items, home goods. Yes please!!!
More Affordable Dressy Looks
We rounded up all the little black dresses and dressy looks we love that are currently in stock at Walmart.