Summer doesn't officially start for another two months, but I am already totally in a sunshine state of mind and ready to start shopping (and wearing) all of summer's hottest trends!! There are so so many fun options and I am loving it! Tie-dye, the bucket hat of your Clueless loving dreams, bike shorts (yeah, you heard me!), and scrunchies that are like totally 90's, but better!
Today I've gathered my TWENTY favorite trends for summer 2019 and you can get them all at Nordstrom. Like right now. Nordstrom always carries ALL the hottest trends. The main page of their website even has a What's Now section specifically dedicated to current trends in fashion and beauty! I also really love shopping at Nordstrom, because their customer service is totally on point, plus FREE shipping and FREE returns might be one of my love languages!

Neon Green
Fluorescent shades are back and here to stay for the summer! It's such a fun throwback to my 90s childhood. I feel like I could be hanging out at the Max with Kelly Kapowski and Zack Morris in this neon green tee!
Sidenote: the pink pullover I paired with this tee is the most insanely soft sweatshirt you have ever felt in your entire life. I don't know what it's made out of, but I need it in my life on the daily! I love the little pop of neon when I layered it over the tee. So fun and perfect for summer nights!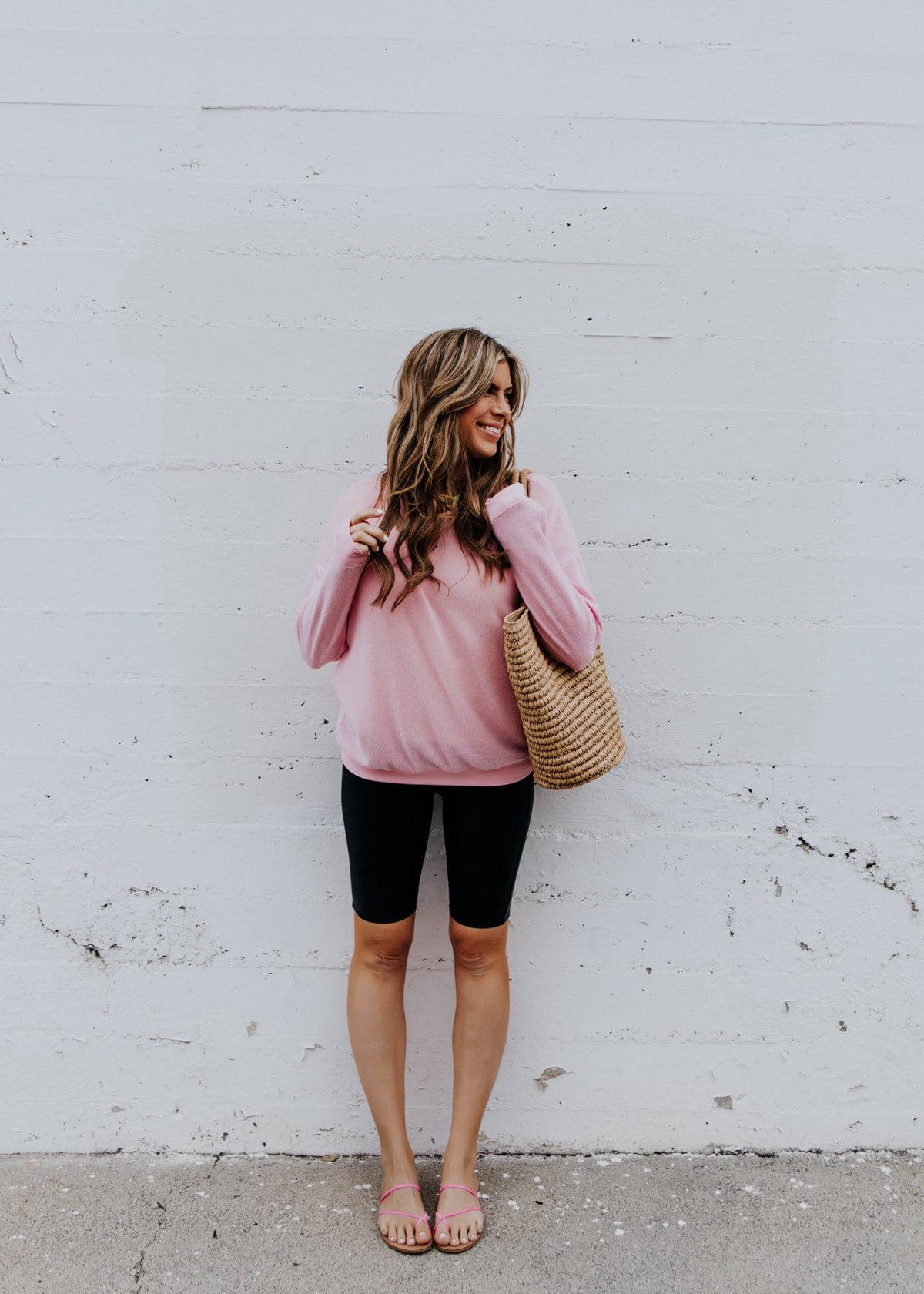 Straw Bag
Straw bags have been a hot summer trend for a few years, but this year more than ever these fun, beachy bags are making their way off the sand and onto the streets. It's a cool way to bring vacation vibes to any outfit.
Bike Shorts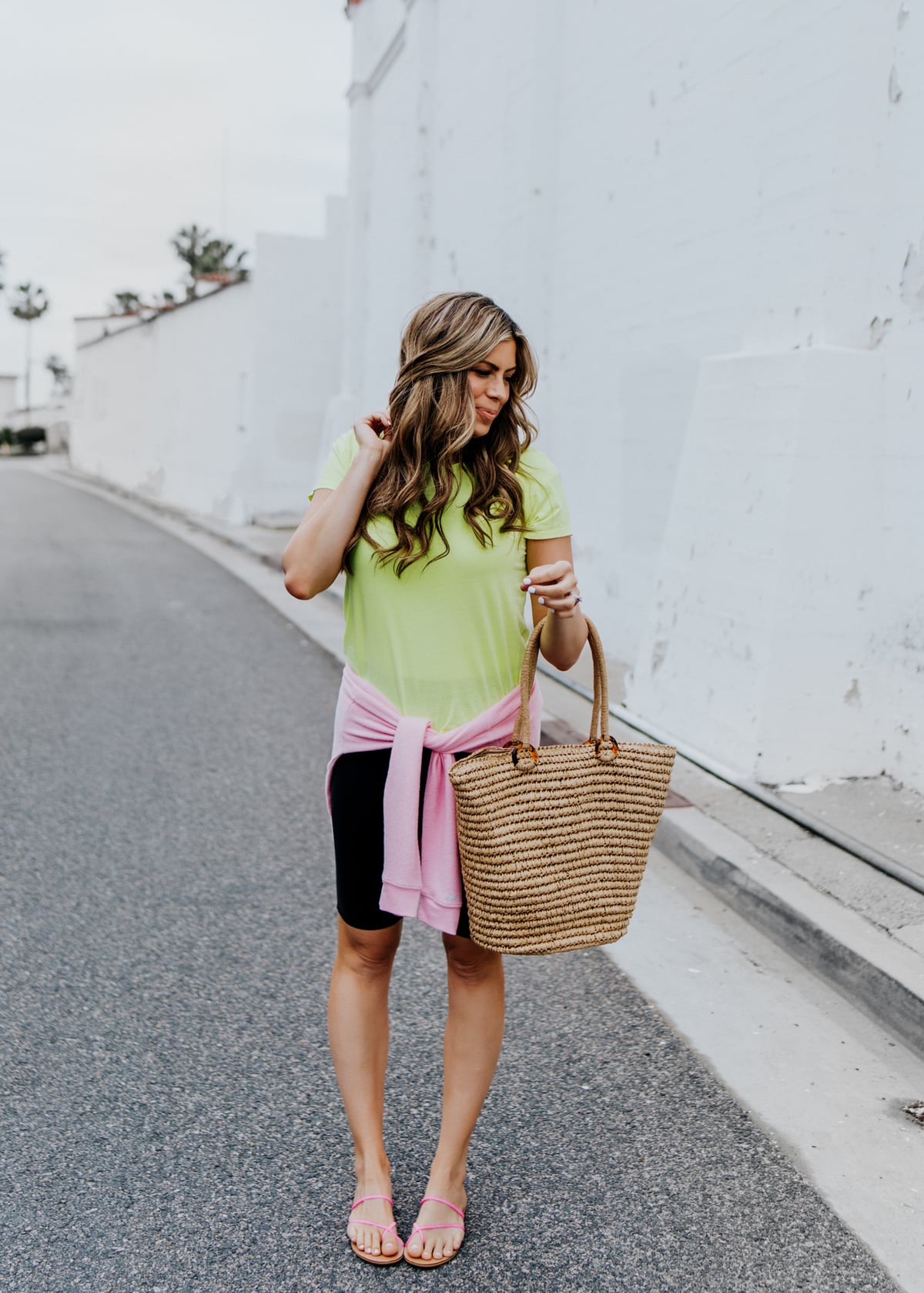 Bike shorts are back and I could not be more here for it! I love this trend, because it's like the summer version of leggings! They're comfortable and casual. They're perfect for running errands or hanging out at the house without being too hot or sweating to death.
The Spanx version was my favorite because they were way more slimming, but they will cost you a few more pennies. The Zella version is also amazing and a little more affordable and a little more comfortable for all day wear. You really can't go wrong with either!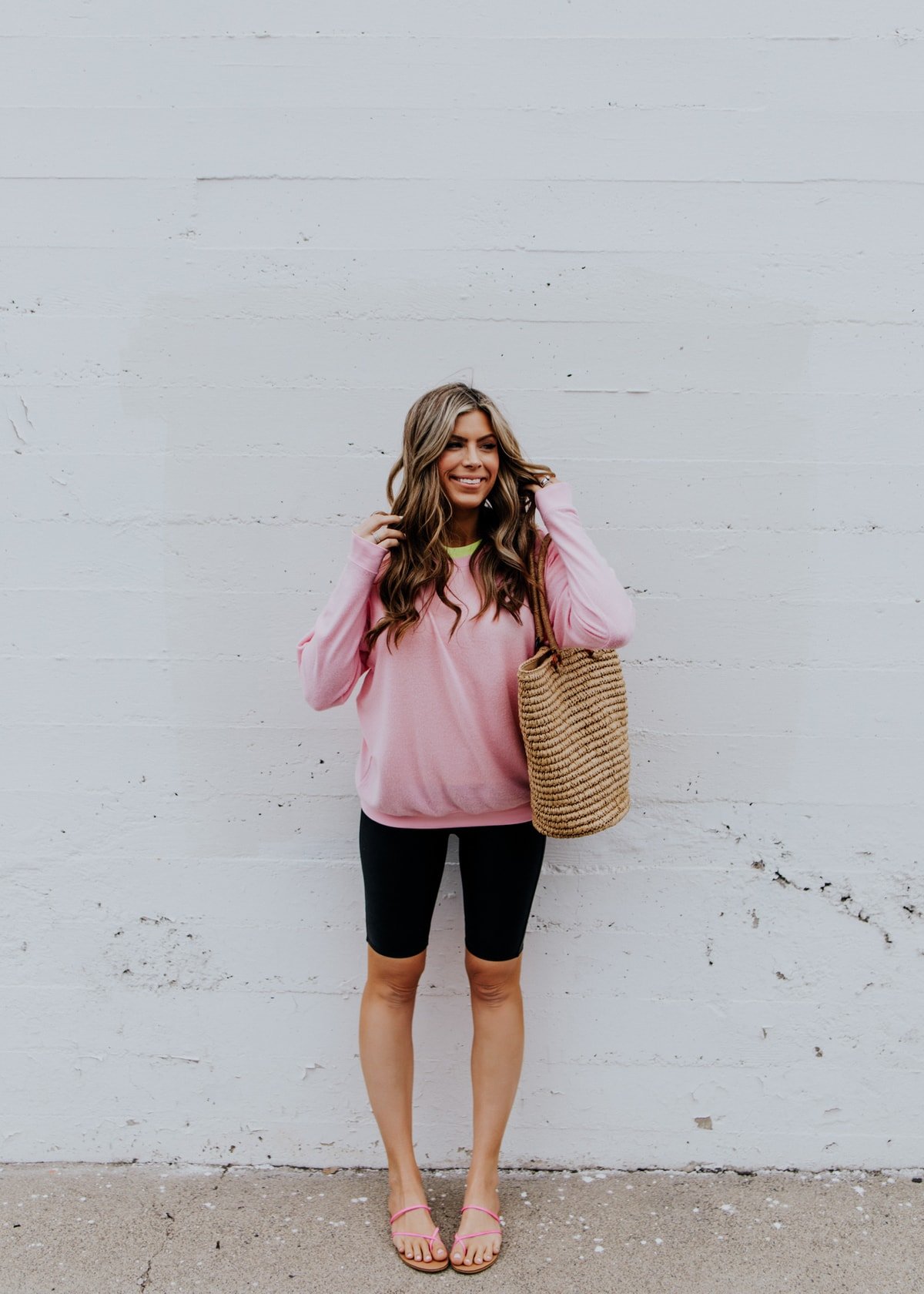 Strappy Sandals
I am totally on board with the barely there sandal moment that is happening right now! They're super flattering, pair with anything and are totally pedi ready at all times. This neon pink pair is pretty comfortable (8 out of 10) and super super cute (10 out of 10!) and a fun complement to the whole look!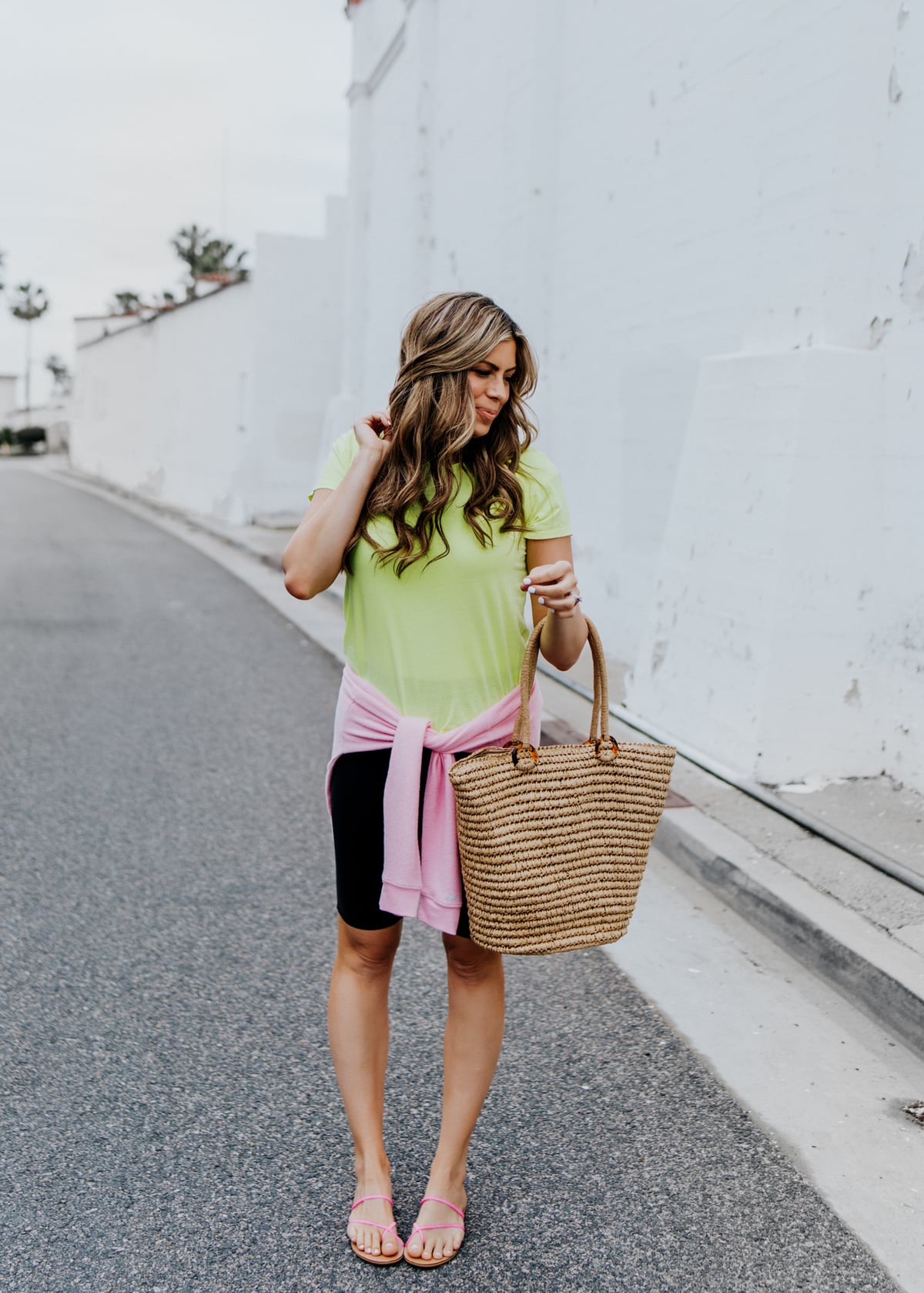 Bucket Hat
The bucket hat is totally IN and is a very cute way to cover up a bad hair day in the summer!
Maxi Dress
A pretty, colorful maxi dress screams summer. It's also a super easy trend to take from day to night just by swapping out shoes.
White Blouse
You can never go wrong with a white blouse in the summer. It's classic and it's always on trend. It's even more fun when the white blouse comes with a little something special like ruffles or lace insets.
White Lace Blouse
White Ruffle Blouse
Fringe
The is the Western inspired trend of the summer and it's great for adding just a little drama and interest to an outfit.
Animal Print
Animal print is in in a major way this summer-it's kind of the new neutral! One of my FAVE things about it is that you can throw an animal print with any color and it just works!
Leopard Print Tee
Snake Print Swimsuit

Polka Dot

I'm polka dots are HOT right now! This is another classic print that you're going to see everywhere this summer and I'm not mad about it.
Bermuda Shorts
A classic Bermuda short is exactly that-a classic that shows up year after year after year. I am still on the hunt for the perfect Bermuda short and when I find that perfect pair you guys will be the first to know! But I am all about modesty so I'm celebrating this trend, and this brand new pair looks promising!
Lavender
If you're not into neon, lavender is kind of the "it" color of the summer! I love how fresh and flirty and feminine it is.
Scrunchies
They're functional and adorable. They are the perfect way to add an easy pop of playfulness to your outfit. Especially if you're the kind of girl that spends most of the season with your hair up, because it's hot! I am all about anything and everything with a bow so I am a fan of these cute scrunchie bow hybrids!
Belted Swimsuit
Belts are one of THE biggest swimsuit trends this year! It's such a fun way to dial up a classic one piece and take it to the next level. BONUS: It creates such a flattering feminine shape! Oh and look at those polka dots again!!
Tie dye
You heard it here, tie dye is THE print of the summer! It's super on trend and has me feeling like chasing down the ice cream man for a Creamsicle and blasting Ace of Base.
Puff Sleeve
Puff sleeves are just so cool. Literally. When it's hot and sweaty outside there is nothing nicer than breezy sleeves! They're light and airy and just plain pretty.
Boiler Suits
Jumpsuits are kind of my jam currently. Love the ease of a one-piece outfit. You can just throw on shoes and you're good to go! They're super functional and fashionable.
Tartan
Tartan is totally in again and this time you don't have to wait till fall and winter weather! If you're not into animal print, but you love a bold print tartan is another cool option for summer 2019.
Patchwork
Summer 2019 seems to be all about bold, eye catching fashion choices. Patchwork is the perfect colorful hero piece to build an outfit around.
Raincoats
Depending on where you live summer weather can be totally unpredictable so I'm loving all the cute waterproofs that are on trend right now.
Pink Pullover
Neon Tee
Bike Shorts
Neon Pink Strappy Sandals
Nude Straw Tote
Photos by Arielle Levy
Which of these fun summer trends are you loving or excited to try? We rounded up all our favorites from Nordstrom below for your shopping pleasure!