Raise your hand if you're TOTALLY ready to hit the beach! I absolutely LIVE for sunny days spent by the ocean with a couple of cold Diet Cokes and my babies. The beach is seriously my happy place.
Obviously, we LOVE our family beach days, but I also love the super rare beach days where I hit up the sand with just Neil or some girlfriends with a good book or podcast for some chill time. But no matter what kind of beach day I'm having I NEVER leave home without SEVEN beach favorites!
High quality swimsuits, coverups, and sandals are basically wardrobe essentials at our house since we spend SO much time at the beach. But you also can't hit the beach without sunscreen, a beach bag or towels!
Luckily Macy's has every single thing you need to do the beach right! I love being able to snag all SEVEN of these beach essentials in one stop so I can spend less time at the store and more time on the sand! Plus, right now there's a Summer Sale happening that will save you money on ALL THE THINGS!
A Versatile Cover-up
This striped cover-up is so SO cute and my current favorite beach coverup! I love that it totally doubles as a sundress-making it the perfect no-worry, option if you need to run into the gas station or into the store for snacks on your way to the beach! It has PERFECT reviews and it's priced just right at $34!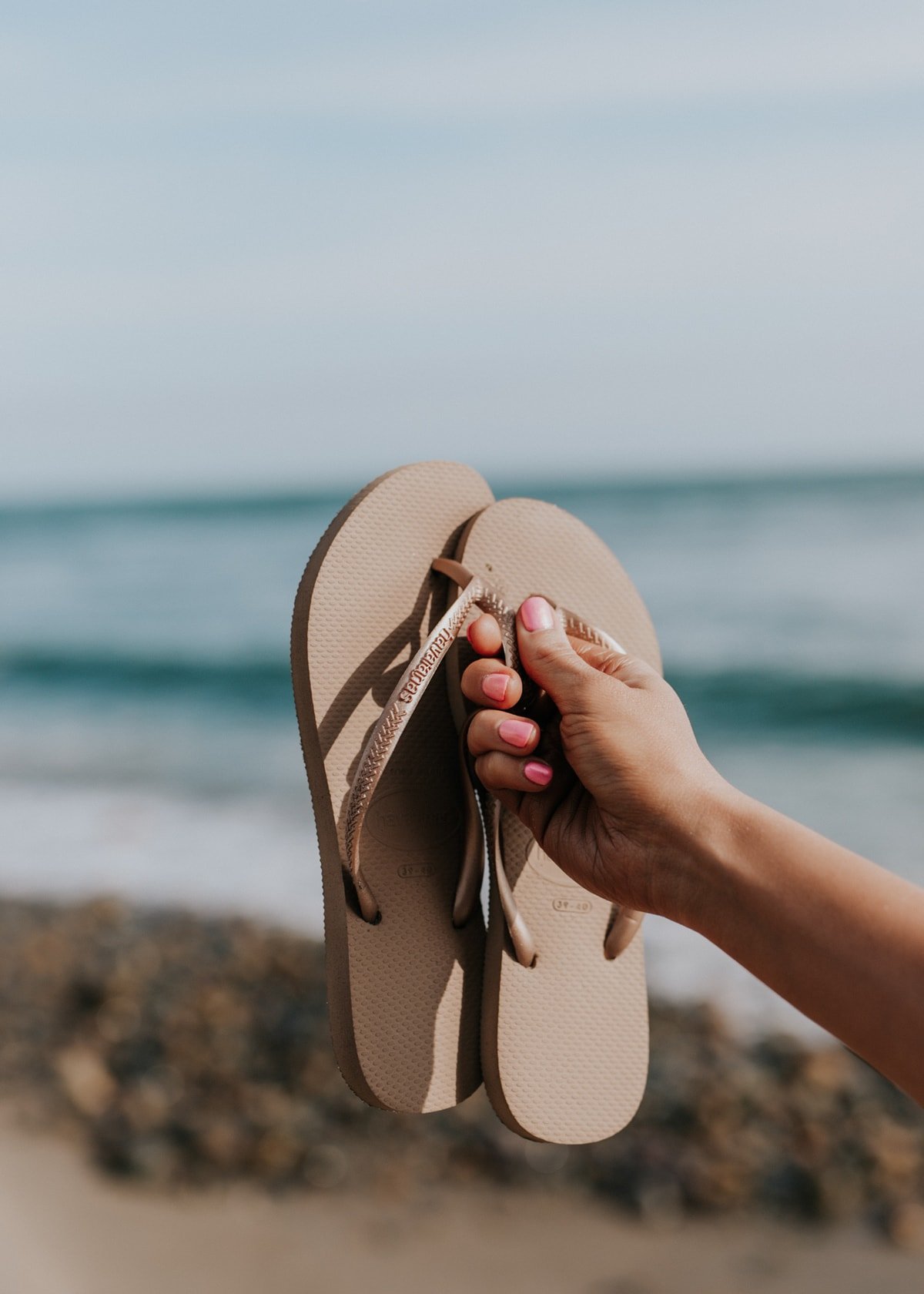 My Go-to Summer Sandal
These are the BEST and MOST comfortable classic flip flops! Whether you're at the beach, the pool or headed to the movies you can't go wrong with these sandals!
Every time I find a good deal on these sandals I shout it from the rooftops, because seriously everyone needs a pair (or two or five!). They stay looking brand new summer after summer! But the best, most beach essential feature is that they're completely waterproof and all the sand washes off like butter! They come in TONS of super cute colors too so prepare to become obsessed like I am!
A Playful Beach Bag
Is there anything on the planet cuter than pom poms on a beach bag?! This pop of color and texture is EVERYTHING! The extra-large size makes it an easy beach fave, because it can hold all your other beach essentials! It has impeccable reviews on the Macy's website and comes in 6 other fun prints if pom aren't your jam!
The Softest Towel EVER
Hands down the SOFTEST beach towel I have ever EVER used is this one right here! This is Macy's #1 rated beach towel.
It's big.
It's luxurious.
It's totally worth your money.
And it's totally my new beach fave!!!
I'm not usually super picky about beach towels, but I'm thinking I'm going to need more of these because I never want to be at the beach or pool without it again!
ALSO, the first time I looked at these towels I was like no way am I paying $80 for a towel, EVEN if they're perfect. But once they went on sale I was like okay, I can try this towel out and ohmyGOSH you guys they're so worth every penny. Right now they're on sale 50% off each!
A Pretty Swimsuit
This ADORABLE crocheted one-piece was super highly rated so I knew it would be a good pick! I love the contrast of a bright white suit and a bronze summer skin, but this swimsuit also comes in three other perfect neutrals if a white suit isn't for you. This beach favorite is currently 25% off and well UNDER $100!
One funny note about Becca swimsuits: I showed this cute one-piece to one of my girlfriends and she told me she has FOURTEEN suits by this brand because they're just her favorite! They hold their shape wear after wear, they're super soft, the colors stay bright and vibrant, and they're basically just amazing!
A Serious Sun Hat
You all KNOW how serious I am about sun protection, so a sun hat is a beach essential! An absolute MUST and the wider the brim the better!
This top rated one has amazing reviews and is insanely easy to fold up to pack in a bag. The supersize and UPF 50+ rating means my face and my shoulders are getting plenty of sun protection!
Summertime Skin
I am BLOWN AWAY by this bronzer. It makes your skin look phenomenal! It makes everything look tan and shimmery and pretty in the most airbrushed-in-real-life insane way. This top-rated beach favorite makes getting that perfect sun kissed summer glow possible in two seconds. Obviously I'm not the only one who thinks so since 157 other people are obsessed too!!! (Love bronzers and self-tanners? Read my Self Tanner 101 here)
I swear by SunBum sunscreen in the summertime! SPF is so important, I'm literally never in the sun without sunscreen and this is my FAVORITE sunscreen! With any type of lotion sunscreen I always get a heat rash, but I never do with this spray sunscreen, so I'm super-duper loyal to the brand! I love the scent and that the easy, even spray application lets me get a bit of color without burning!
Striped Cover-Up
Crochet One-Piece Swimsuit
Floppy Hat
Pool Slides
Sunscreen
Body Blur Skin Finish
Tropical Straw Tote
Resort Towel
Photos by Arielle Levy
Sale Details
Today, June 26th-June 30th you can save 25% during Macy's Summer Sale with code STYLE. BONUS: You get free shipping on orders over $75!
It's SO NICE to be able to get all my top-rated beach favorites at Macy's! Their customer ratings make it ridiculously easy to find items that I know their quality will last summer after summer.
Here's a roundup of more beach FAVES we love!!!