If you've been following me for a while, then you KNOW the lounge life chose me long ago. I firmly believe that life is just better in loungewear and I will routinely pop up on Instastories in a robe or my best athleisure. Feeling comfortable is especially important in these crazy, anxiety inducing times of self-quarantine and social distancing and staying home (almost) 24/7. Good thing home is where the pants aren't-at least not the real pants!
If you're looking to expand your collection of comfy clothes while we all quarantine and chill, keep reading because I'm rounding up my TEN loungewear essentials. These pieces get my stamp of approval for doing all the yummy baking, snuggling all your quarantine buddies, and watching all the Netflix.
All time favorite pajamas
There's currently a meme circulating that says something like "8PM is now the time to officially remove your day pajamas and to put your night pajamas on." And I feel that in my soul. HA! Both my day pajamas and my night pajamas would be these pajamas. I'm a total homebody at heart and my all time favorite jammies are 100% a loungewear staple for me and make being at home even better. I have bought them in a zillion colors and patterns over the years and don't want to imagine my (lounge)life without them.
OBSESSED is a total understatement when talking about these pajamas–which I'm sure you know because I really do talk about them ALL the time! They're included in my Nordstrom Anniversary coverage EVERY year, they're featured on all my gift guides, and they're even included in my BEST baby registry list. They are next level good. Buttery soft, lightweight and oh so comfortable for sleeping or just for hanging out.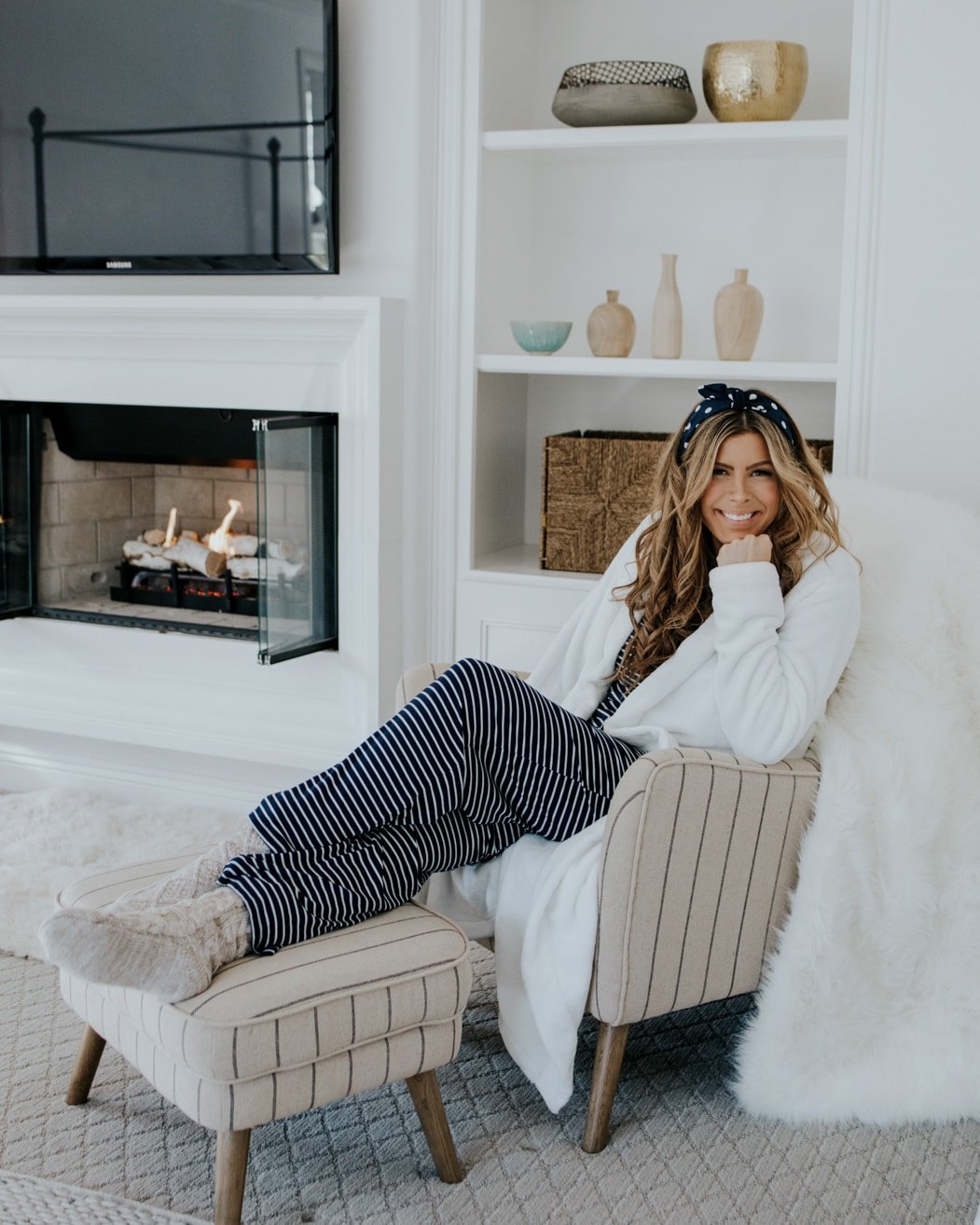 Lounge Friendly Robe
I'm a serious robe connoisseur and absolutely consider them a loungewear staple. This UGG robe is straight up magic. Unicorn level magic. It's extremely soft, but not heavy. So it's basically the perfect robe 365 days a year!! I totally love that, because sometimes you buy a robe but it's too light and can only be used in the summer or vice versa.
I absolutely love it and it's one of Ugg's most highly rated robes so TONS of other people love it too! I sized up for length and sleeve length and have ZERO regrets.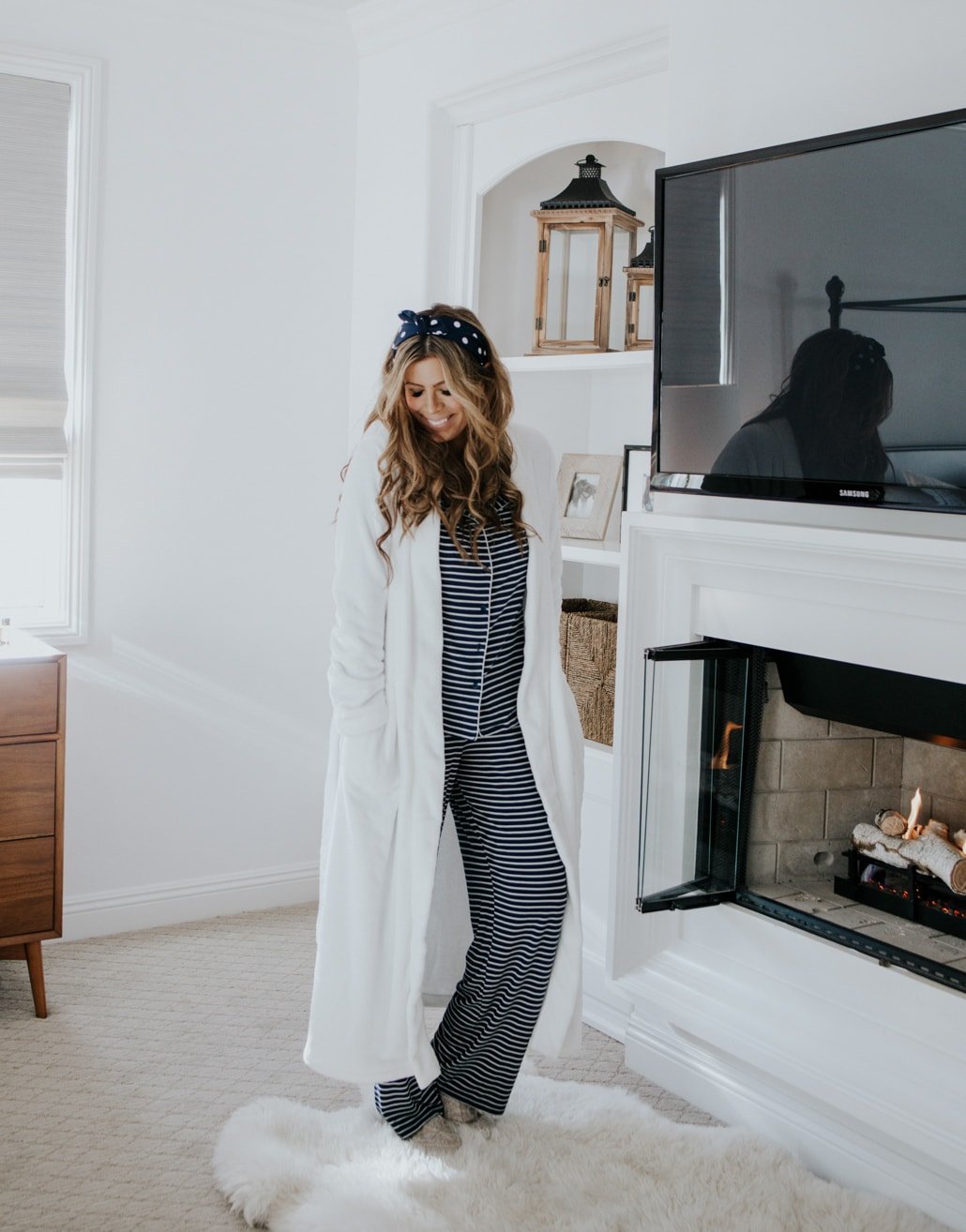 Also I've washed this robe and laid it out to hang dry and it still feels as soft as it did brand new, which is the quality you're paying for with this robe! No pilling or losing softness over any period of time.
The Coziest Socks
These might be my very favorite socks. They are so stinking cozy it's like a hug for your feet! The fleece lining is so plush and the pom poms are so cute. Perfect socks to live in during this time of self-quarantine and the coziest addition to your loungewear "stay at home" look.
Stay-at-home sale
If you're an avid reader of our Today's Top Trending Deals section, you might have noticed that there's a super good Anthro sale today too on Stay-at-home essentials. SO many cute things to check out in this 40% off sale!!
Ten Loungewear Essentials
This is my Mint Arrow approved loungewear essentials list. These are ten wardrobe staples guaranteed to make your self-quarantine more comfortable.
More Lounge Life Favorites
Shop even more loungewear favorites below. And if you're looking for some quarantine friendly activities to do in your new comfy clothes, I've got you covered! Pull out your KitchenAid and bake one of my favorite recipes, checkout our roundup of indoor kid's activities, or just settle in and binge all my favorite feel good shows.