Why be outdoorsy when being indoorsy is SO much more comfortable? While I love travel and adventure on the road sometimes, I'm a homebody at heart and I'm happy to have any excuse to curl up in cozy clothes and just chill! The lounge life is 100% the life for me! Right now the perfect evening (or weekend) looks a lot like me, in pajamas, watching This is Us or my newest favorite A Million Little Things and hanging with my man.
Nordstrom has a massive selection of sleepwear and relaxation favorites for living your best life curled up at home and today we're going to explore all the things that Nordstrom reviewers and I BOTH think are the best ever.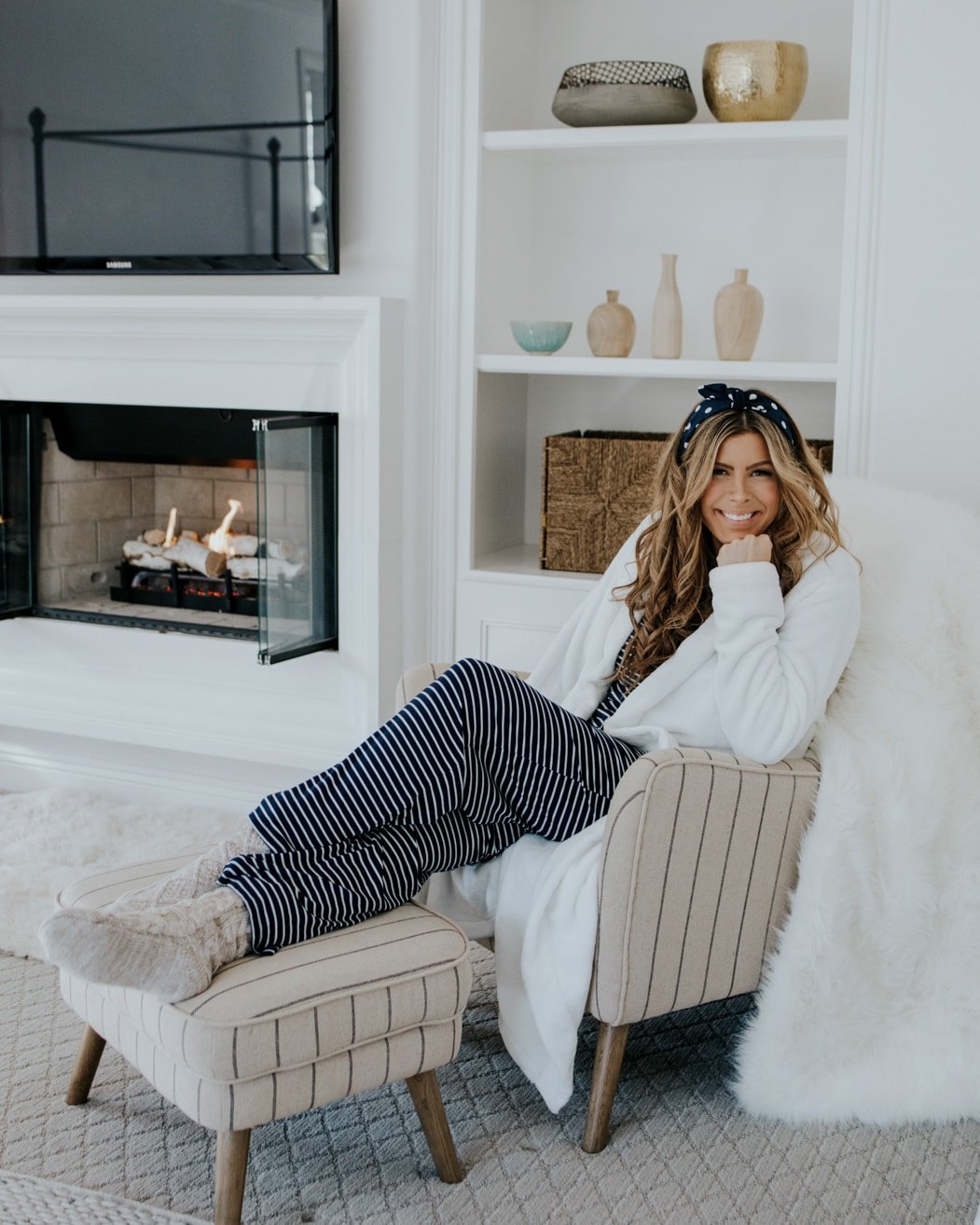 This UGG robe is straight up magic. Unicorn level magic. It's extremely soft, but not heavy. So it's basically the perfect robe 365 days a year!! I totally love that, because sometimes you buy a robe but it's too light and can only be used in the summer or vice versa. I absolutely love it and it's one of Nordstrom's most highly rated robes so TONS of other people love it too! I sized up for length and sleeve length and have ZERO regrets.

Also I've washed this robe and laid it out to hang dry and it still felt as soft as it did brand new, which is the quality you're paying for with this robe! No pilling or losing softness over any period of time.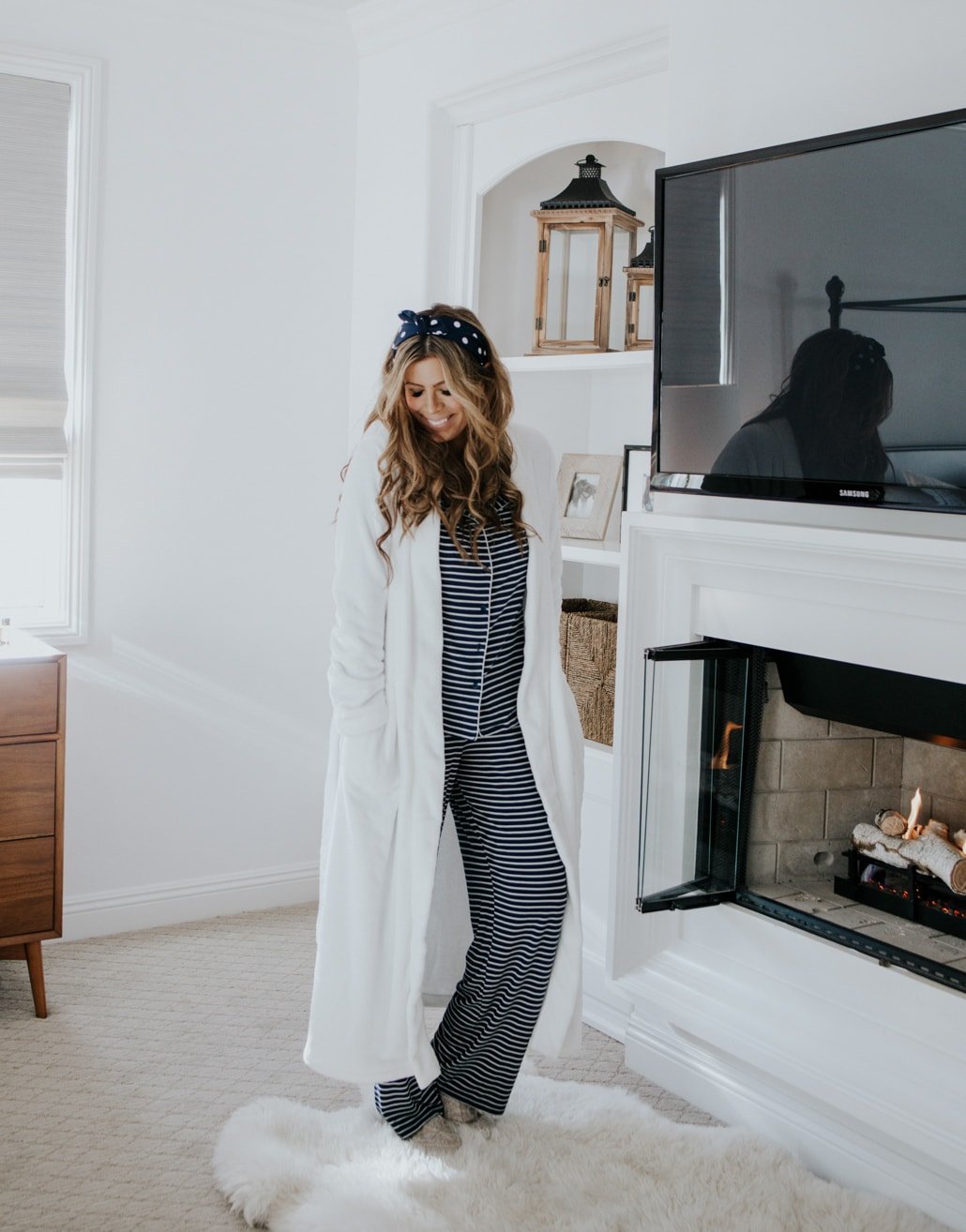 This porcelain essential oil diffuser is the prettiest diffuser I have EVER seen. By far. If you love your oils like I do this is the perfect nightstand companion.
Know what pairs perfectly with that UGG robe? UGG SOCKS! These might be my new favorite socks and apparently I'm not wrong for loving them so much because almost 200 other reviewers on Nordstrom's site do too. They are so stinking cozy it's like a hug for your feet! The fleece lining is so plush and the pom poms are so cute.
Oh hey there! It's my favorite Moonlight Pajamas making their millionth appearance on this blog. It's impossible to have too many pairs of these babies, because they are just SO good! Hands down my favorite pajamas I have ever, ever owned!

​Oh and guess how many people agree with me? ONE THOUSAND. Seriously, 1K reviewers on these most perfect pajamas ever.

Online it says that these run big and to size down, but I totally disagree. For me, these favorite pajamas run TTS! How darling is this BRAND NEW stripe pattern?!
Who says you can't accessorize loungewear? Totally loving this cute polka dot headband. Since robe till noon is my typical #OOTD I may as well make it fashion, right? HA! In all reality, it is convenient for washing my face before bed or keeping little flyaways out of my face while I put on a mask if it's a real treat yo self kind of night. It's also cute enough to wear with a real outfit, and available in three other colors.
Back to these pajamas because I feel like we need to discuss just a little more why so many people (like me) are obsessed. They are soft, lightweight and oh so comfortable for sleeping! They are EVERYTHING!! If you don't want to take my word for it, go check out over 1000 perfect reviews.

​I also love that they wash up so well and stay buttery soft and perfect for YEARS. Seriously I've never gotten rid of a pair of these and I've had some for 5+ years.

Pro tip: if you're tall like me, hang dry these! One pair of mine was accidentally thrown in the dryer and they're too short for me now.

Staying in has a lot of upsides. Cozy clothes. Not having to wear a bra. But ice cream in bed just *might* be my favorite. Ice cream is kind of my go-to treat. Currently it's Halo Top ice cream drizzled with Walden Farms caramel syrup. YUMS!
Signed, sealed, delivered on this nightshirt. This is the brand new nightgown version of my all-time favorite pajamas and I am in love! It's super soft and stretchy and long (but not too long)! Yes, yes and YES!!
Over the last month our little family has been going through a lot and it's been really, really nice to stay in and stay home. Turning on the fireplace, watching a movie, and staying in bed is currently our happy place! Being at home with each other: is there anything better?
Robe
Nightshirt
Socks
Moonlight Pajamas
Headband
Porcelain Essential Oil Diffuser
​Photos by Arielle Levy

Nordstrom is one of my very favorite places to snag all my staying in favorites. We rounded up all the most highly rated pajamas, robes and sleepwear at Nordstrom right now so that you can get your snuggle on in style, in the coziest jammers that are so high quality you can enjoy them for years and years.