One of my very MOST popular Nordstrom Anniversary Sale posts annually is my BEST JEANS guide. This past year, my number one pick sold out SO FAST – that's why I'm FREAKING OUT today!! Not only are some of my top picks back in stock (including my #1!!!) but they're ON SALE AGAIN. Grab these before they sell out (because they definitely will, especially at these amazing prices!), and let me tell you why out of allllll the jeans from the Anniversary Sale these were some of my TOP picks!
Sometimes our hottest deals sell out REALLY fast, so if you want to be in the know and find out FIRST, you can join our bestie group text! And don't worry, I'll only send you the VERY hottest deals that have the highest sell out risk – PROMISE. To join the list, text DEALS to 949-506-2558
BEST OVERALL: Good American Straight High Waist Ankle Jeans
Good American Good Straight High Waist Ankle Jeans – Sale: $96.75 (Orig: $129), 25% OFF. Runs TTS!
These were my first pick in my top 20 Nordstrom Anniversary Sale items list, and they were FOR SURE my favorite jeans of the Anniversary Sale!!! Perfect 10/10 from me.
They're super slimming in the waist (flattering on everyone), stretchy, non-skinny (if that's a big deal to you in 2021!), and they just fit like a glove. The bum is super flattering, too! And I love love loved how they looked with this bodysuit.
At $96.75, these are some of the very least expensive designer jeans in this jeans sale. Sizes in these sold out FAST during the Anniversary Sale, so make sure to add to cart quick if you're thinking about getting them because they're THAT GOOD.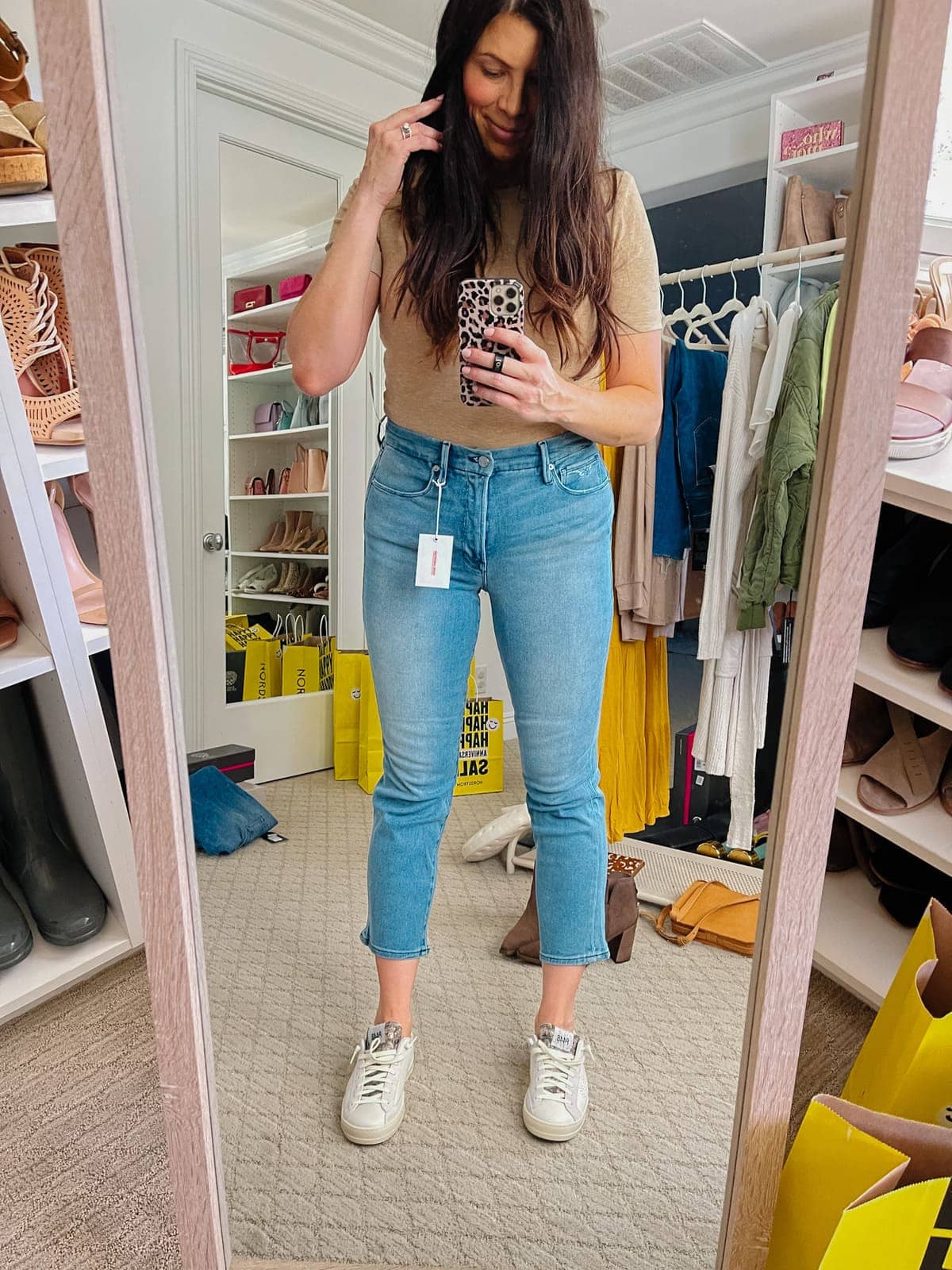 BEST SKINNY: Rag & Bone Dre Raw Hem Slim Boyfriend Jeans
Rag & Bone Dre Raw Hem Slim Boyfriend Jeans – Sale: $136.50 (Orig: $195), 30% OFF. Runs large, size down one size.
These were my very very favorite skinny jeans I tried on during the Anniversary Sale, which actually really surprised me! I noticed that Nordstrom brought back their boyfriend jean from years past and I expected to love that pair, but I loved these skinnies SO much more.
They fit SO slimming and flattering, and I think the raw hem is really cute and fun. And can we say a hallelujah for a high waist?
The wash and the way these jeans are cut make for a very elongated figure. Nothing like pulling out a pair of jeans that makes you feel slim every. time. If you want a reliable skinny jean that always makes you feel like your best self, these would be my recommendation!
BEST MID-RISE: PAIGE Verdugo Jeans
Paige Verdugo Ripped Raw Hem Crop Skinny Jeans – Sale: $135 (Orig: $225), 40% OFF. Runs TTS
If you're the type of person who doesn't love a super high waist and could go for a really nice mid-rise, THESE jeans are for you!!! But you'll want to add these to cart fast because sizes are going quick. This pair of denim is everything you want in a good pair of jeans. Flattering, good quality, great fit, and a traditional blue color. That means you can wear them with pretty much anything!
Another thing about PAIGE jeans is that they're super extremely comfortable. If you're investing in a pair of jeans this year and you want something you'll actually wear over and over and over again – you can't go wrong with these. In fact, I have a feeling they'll make you so comfortable and confident that you'll never want to give them up for wash day!
Add to cart
I tried on EVERY pair of jeans that my Nordstrom store carried when I shopped on one of the Icon Level days of the Anniversary Sale. These were absolutely some of the best jeans on sale, so it's super duper crazy and exciting that they're in stock and on sale again! Add to cart quick before they sell out in your size – you'll be so happy you did with all the fall and winter months coming up!