Nordstrom Anniversary Sale 2022 is on the horizon! I'll be here to equip you with THE BEST guides to show you all the best buys from the sale this year. There are TONS of NEW BRANDS in the sale this year that are going to sell out quick, so you'll definitely want to be prepared with all the details beforehand!
I'm talking best guides for yourself, your kids, your husband, your house, all the things that you can ONLY get on sale during the most wonderful time of the year – the Nordstrom Anniversary Sale of course!
Sometimes our hottest deals sell out REALLY fast, so if you want to be in the know and find out FIRST, you can join our bestie group text! And don't worry, I'll only send you the VERY hottest deals that have the highest sell out risk – PROMISE. To join the list, text DEALS to 949-506-2558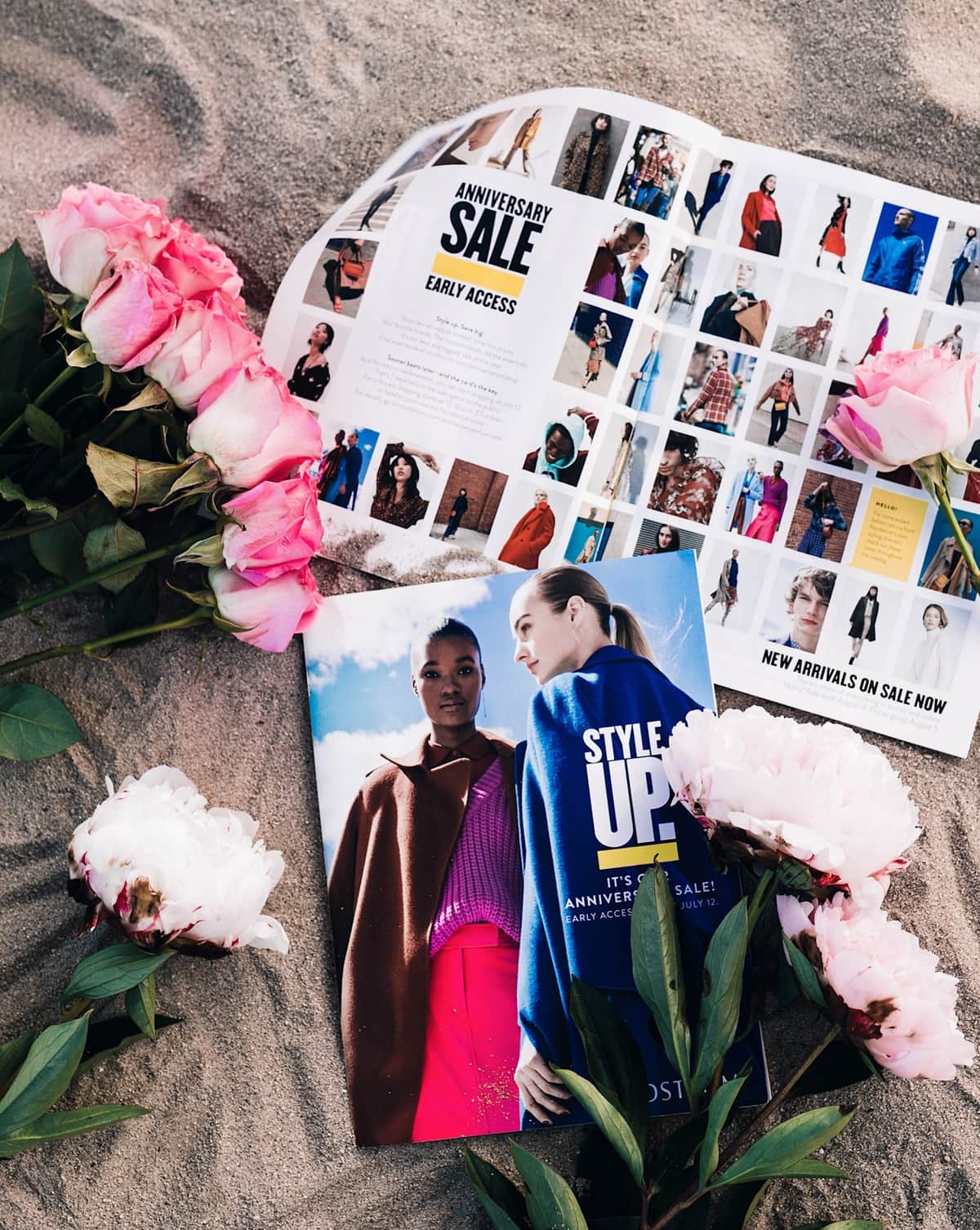 Click on a topic below to jump right down to exactly what you need to know about the Nordstrom Anniversary Sale!
When can I shop the sale?
Early access to the Nordstrom Anniversary Sale is available to all Nordstrom Cardholders!
Preview: June 29
ICON early access: July 6
Ambassador early access: July 7
Influencer early access: July 9
Open to the public: July 15
Sale ends July 31.
If you're looking for all the information you need to shop the Nordstrom Anniversary Sale this year, make sure to check out our Complete Guide!
If you've shopped the Nordstrom Anniversary Sale in the past, you know that whole saying in life about the early bird getting the worm is totally true! Normally there are four early access periods for the Anniversary Sale, but this year there are only going to be three.
The past FIVE YEARS Nordstrom has not guaranteed a restock on anything after the presale, so it's becoming more important than ever to be a cardholder if you want full access to the best stuff when the pre-sale launches.
EXCLUSIVE Nordstrom Anniversary Sale e-mail list
You can sign up below to be on our EXCLUSIVE insider email list where we'll ONLY email you about the best tips, secrets and quick-guides to things that will sell out fastest and the hottest, highest rated items of the 2022 Nordstrom Anniversary Sale:
I'm going to give you ALLLLLL the details about the very BEST buys during early access of the Nordstrom Anniversary Sale, and will be continually coming out with helpful guides so you can quickly shop sections of the sale easily without having to pick through thousands of items. Make sure you're following along on Instagram @mintarrowdeals so you don't miss out!
Leading up to the sale, we'll also be updating this post every day to share our top tips that will be useful for you during the sale!
You can trust me
This is my NINTH year blogging about the best of the Nordstrom Anniversary Sale!! Can you believe it?! So I think I'm safe to deem myself an expert and someone you can trust at this point!
I was also recently featured in Business Insider as a Nordstrom Anniversary Sale expert so that makes me a little more legit, right?!
I'm sharing all my BEST tips and tricks for getting the very most out of the Nordstrom Anniversary Sale with YOU! I'll be giving you all the juice on which days the best deals are available, how to make sure you get what you really, really want from the Anniversary Sale before the good stuff gets picked over (or sells out!!), and talking restocks!
What is the Nordstrom Anniversary Sale?
The Nordstrom Anniversary Sale is the BIGGEST and the BEST Nordstrom sale of the year!! The very best (and trickiest) part of the Nordstrom Anniversary Sale is that the items are all BRAND NEW. Unlike the Nordstrom Clearance Sale or the Nordstrom Half Yearly Sale where they discount things from that season or the previous season (like putting spring or winter items on sale now), you'll only see new things!
The only downside is that it's mostly fall styles and you may have to wait a bit to wear a coat or boots, but it's worth it to get super cute, high quality clothes that will last all season at insanely great prices!
Stay updated on the Sale
During the 2022 Nordstrom Anniversary Sale, we'll be updating you DAILY on restocks, highly rated items, things I've tried on and worn and loved, and any other pro insider tips that you won't find anywhere else. If you're wondering what's been restocked that day, just come back to THIS POST and we'll have that updated for you DAILY.
ICON level sneak peeks
Because I do SO MUCH shopping at Nordstrom to create blog content, I qualify for ICON level early access shopping. Stay tuned because I spend hours (last year I spent 11!) looking through, trying on, and matching up all THE BEST stuff in the sale! I spend all that time so that I can tell you what fits best, HOW it fits, if it runs big or small, what's most comfortable, most flattering, etc.
I did an Instagram LIVE on the very first ICON level shopping day last year of some of the BEST things from the sale, along with some of the things I thought you could probably skip! Watch the video below!
Quick guides
My team and I are always hard at work creating QUICK GUIDES for you to shop the very BEST picks in the most fast, efficient way possible so you know what's really worth spending your money on at the Sale.
2022 Nordstrom Anniversary Sale Guides
We will be adding our 2022 guides below, and under that you can see our full guides from last year and check out our picks from the 2021 catalog!
What to buy first
Take a look at my list of the TOP 20 Nordstrom Anniversary Sale 2021 picks!
The best bras
Here are the best intimates that were part of the sale!
BEST women's shoes
In this post you'll find the BEST pairs of shoes from the 2021 Anniversary Sale!
Top BEAUTY picks
Check out the best BEAUTY items from the sale this year and why I LOVE and recommend each one.
TOP RATED Nordstrom jeans
Shop my TOP RATED Nordstrom jeans below:
BABY DEALS
We rounded up all of our favorite Nordstrom Anniversary Sale baby gear, baby clothes and baby accessories below so you can shop all the BEST stuff in a flash!
Guide to shopping Teens/Tweens
We've rounded up all of our favorite tween/teen outfits below! Happy shopping!
TOP Nordstrom Men's Items
We wouldn't want to leave the guys out of the shopping fun! Get your guy all stocked up for the year. You'll both be so glad you did!
Cutest women's clothes under $100!
I hope you're getting excited and maybe even planning all of your next outfits!! We've rounded up all of these very favorite Nordstrom women's clothes from the Sale for you to shop below for easy shopping! PLUS, they're ALL UNDER $100, so your bank account will thank you!!
#1 very BEST pajamas!
We also rounded up all the other sleepwear, loungewear and robes in the Anniversary Sale that we think sweet dreams are made of!
Top Nordstrom KIDS picks
We may have gone a little overboard, but here a few more of our top kids picks (for both girls AND boys) from the Nordstrom Anniversary Sale! Kid, mama and back to school (even from home) approved!!
Girls
Boys
Your fall wardrobe checklist
Here are our checklist picks for ALL the fall outfit items that you can find during the Nordstrom Anniversary Sale!
WOMENS:
MENS
How to "spice" up your HOME guilt-free!
Whether you're redecorating an entire room or just wanting to spruce up a corner, there's definitely something for you in Nordstrom home, at a price WAY lower than you'd pay any other time of the year! We've rounded up some of our very FAVE home steals from the Nordstrom Anniversary Sale below to help you get your home just right:
Nordstrom Anniversary Sale restocks
Let's talk restocks! The Anniversary Sale is infamous for selling out and restocking all our faves throughout the sale! It can be MADDENING to try to search for these hidden gems daily in the sale, so we're making it EASY for you. Soon, you will see all the best restocks, UPDATED DAILY, below!
Game Plan
Every pro-shopper knows you can't go into a sale without a good game plan. There are literally tens of THOUSANDS of items included in each Anniversary Sale each year and HELLO that basically spells automatic overwhelm.
You can watch my YouTube video to get a little bit of an idea of what you might see on sale this year, but the most important thing to remember with your game plan is that EVERY STORE has different inventory, and the only way to know you're for sure seeing everything is to look online! That's the one place you will see EVERYTHING, and can see which stores are carrying the exact color and size of the things you want. Then you can reserve them for in-store pickup, or have them drop shipped to your front door. EASY!
TOP TIPS for the Sale
We wouldn't be besties if I didn't make sure you had allllll the sale details. So here come my tips, tricks, and hints for maximizing your Anniversary Sale experience. Ready?
Shop the Sale early
My biggest recommendation is to be totally prepared to shop the sale RIGHT when it opens to early access, and the only way to do this is with a Nordstrom Card. As you can see in the timeline above, the Nordstrom Anniversary Sale opens early to Nordstrom Card holders up to 16 days before it opens to the public, depending on the status of your card!
Cash in
If you apply and are approved for the Nordstrom Card, they will give you a $60 Nordstrom Note toward a future purchase!
Each store is different, but online is king
Next, just remember as I mentioned before that each store will carry totally different stuff since they all have their own individual buyers. That's why we work SO HARD to give you the guides that will show you all the best stuff in one place, including how things fit and whether to size up or down, what's most flattering, etc.
Know what you need from the Sale
Look at your closet, see what you really need right now. Is it one good pair of jeans? A staple bootie that will get you all through the winter? Maybe it's a good new pair of shoes you can workout in? If you need to stick to a budget, go through your wardrobe FIRST so you know what to spend on and what to skip! Also, we'll have our fall wardrobe checklist updated with my picks from the 2022 Anniversary Sale.
Check back for restocks
Things will sell out fast, so we will have our "what to buy FIRST" blog post up with the things we think are the most popular and will sell out first. BUT, a lot of things will restock throughout the sale. Check back here DAILY for a list of things that have restocked that day. And don't lose hope if something you love sells out in your favorite color or size, because there's a good chance it might come back!
The Nordstrom Anniversary Sale Preview Catalog
The past couple of years, Nordstrom let you preview EVERY SINGLE THING that will be on sale at this link!!! Once the catalog is live, start browsing and be prepared with what you for sure want to buy once you have access to the sale.
Online vs in-store
I get the question a lot: is everything online available in-store, and vice versa. The answer is: EVERYTHING from the Anniversary sale is available online, but only SOME things are available in-store.
Insider tip: Each store has different buyers, so each store will carry different inventory.
If you shop at home for the things you're dying to get, you can always do in-store pickup and grab the colors and sizes you REALLY want, and then add on whatever you find that you love in-store. But your only guarantee to see absolutely everything is online!
Also, if you're worried about packages sitting on your doorstep, you can STILL order online and do in-store pickup.
Nordstrom Card secrets
My biggest recommendation is to be ready to shop the sale the SECOND it opens for Early Access. The ONLY way to do this is with a Nordstrom card. The Nordstrom Anniversary Sale opens early to Nordstrom Card holders up to 16 days before it opens to the public, depending on the status of your card! Regardless of your status, Nordstrom cardmembers shop at least 12 days before everyone else!!
If you apply and are approved, Nordstrom will give you a $60 Nordstrom Note for a future purchase! Are you doing your happy dance yet?
If the Nordstrom credit card isn't really your thing, let's talk about the Nordstrom Rewards program. It's completely free to join and super easy to sign up, and you'll earn a $20 Nordstrom Note for every 2,000 points you accrue.
Important note: signing up for the Nordstrom Rewards program does NOT get you early access to the Anniversary Sale. You have to be a Nordstrom cardholder for early access. However, you do get access to perks like Curbside Pickup which is awesome during this sale!
What about a promo code?
There are NO promo codes for the Nordstrom Anniversary Sale. There's no secret code that will allow you to shop early. The only way to get Early Access to the biggest fashion event of the year is to become a cardholder. If you're not a cardholder, you have to wait for the sale to go public! But once YOU have access to the sale, the price you see is the price you pay – no codes necessary!! YAY!
Rewards Points
Nordstrom cardholders and Nordy Club members earn points for any purchases made at Nordstrom. As long as you're at least Influencer status, you can schedule Personal Double Points Days! Schedule a Personal Double Points Day during the Anniversary Sale and you earn 2X the points on your purchase! If you're a Nordstrom credit card member, that's 6 points (versus 3) for EVERY dollar you spend!
What about restocks?
The most FAQ I get about the Anniversary sale is: will Nordstrom restock everything after the pre-sale? The first three years I blogged about the Nordstrom Anniversary Sale, almost everything that was available during the pre-sale was restocked completely when the sale opened to the public.
HOWEVER, the past five years, I've noticed that many of the items that were available during the pre-sale are not restocked once the sale opens to the public.
BUT, bookmark this page, because we'll be updating you on restocks throughout the sale in this post!
Avoid Anniversary Sale FOMO
If you see one of those red-hot sell out items that makes your heart flutter like Jonathan Taylor Thomas did in the 1990s, stick it in your cart and buy it online immediately. Even if you plan to shop the sale in person, you can still just have it waiting for you at in-store pickup with zero risk that your size or favorite color is out of stock by the time you get there.
We will include all of our guides in this post each day with COMPLETE coverage of the sale in every category! Including tons of helpful shopping guides and personal recommendations on our favorite Nordstrom Anniversary 2022 picks from handbags to shoes to dresses to everything in between!
LIVE guides
If you're as excited as I am (three Diet Cokes deep and standing outside of Disneyland levels of excited) then let's dive in together! Below you'll find all of our guides once the 2022 sale is live.
Can't WAIT to crush it with you this year at the 2022 Nordstrom Anniversary Sale!
Final words of wisdom
One good knife. This is a principle I learned from my chef mama A Bountiful Kitchen: "I'd rather have one good knife in the kitchen than 100 crappy knives." So buy wisely – get the ONE item you're dying to have from the Anniversary Sale that will last you months and months instead of spending the exact same amount of money on ten items from a lower quality store that you'll wear or use a couple times before it starts falling apart!
The Nordstrom Anniversary Sale is THE very best sale of the year when it comes to getting extreme quality and major sale prices, and I'm so thankful to have you here to shop it with me!