The MOST wonderful time of the year has officially hit us – the Nordstrom Anniversary Sale is ALMOST HERE – and one of our most requested posts is for the very best BABY DEALS! If you're looking for a stroller, car seat or gifts, this is the place to look! Stay tuned for my favorites.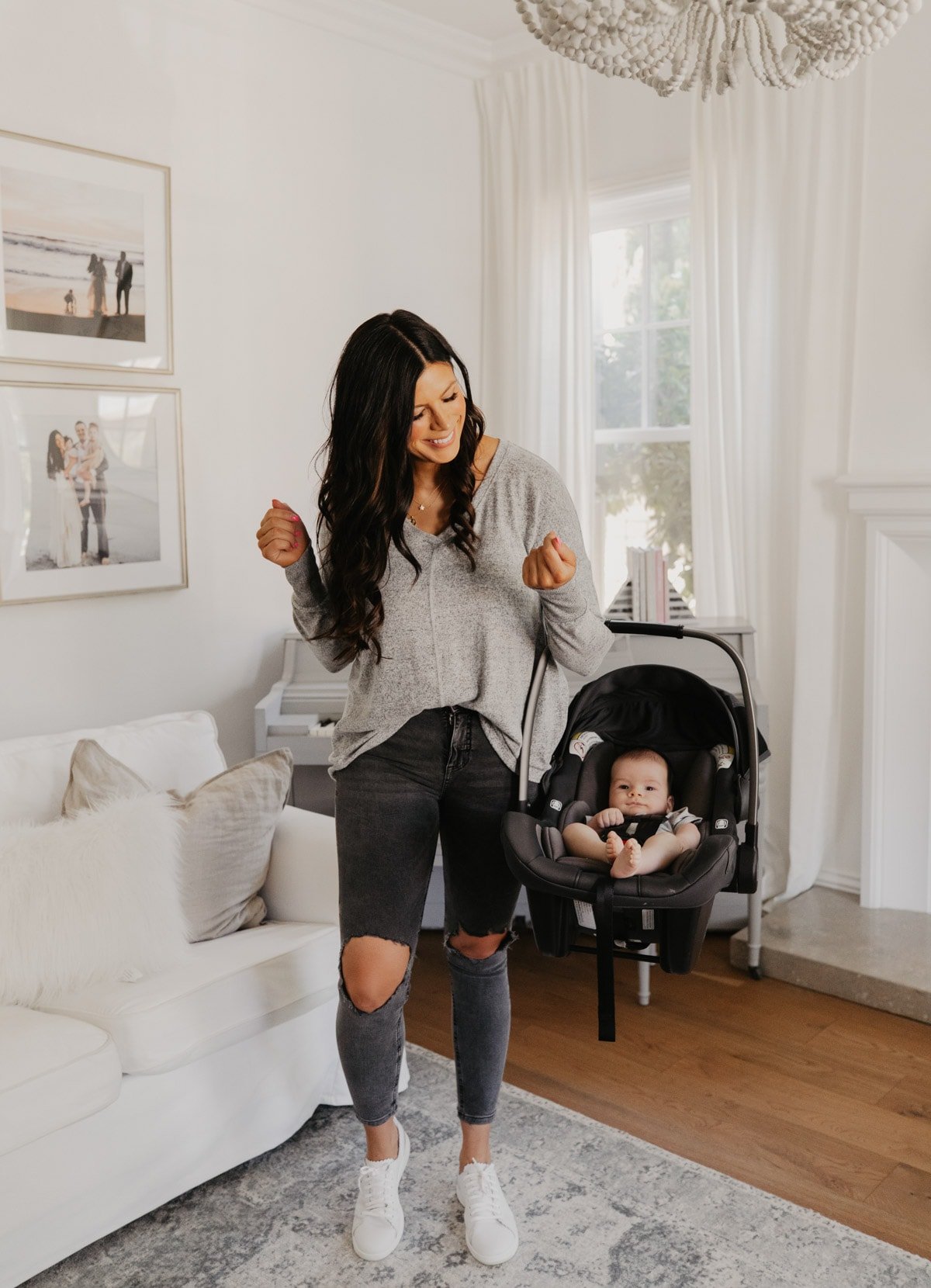 When can I shop the sale?
Early access to the Nordstrom Anniversary Sale is available to all Nordstrom Cardholders!
Preview: LIVE! View it here
ICON early access: LIVE!
Ambassador early access: July 7
Influencer early access: July 9
Open to the public: July 15
Sale ends July 31.
If you're looking for all the information you need to shop the Nordstrom Anniversary Sale this year, make sure to check out our Complete Guide!
Stay informed with our EXCLUSIVE text + email
2022 NOTE: Because the 2022 Nordstrom Anniversary Sale hasn't started yet, the deals you see below are from last year, but hopefully it gives you an idea of what to expect this year!
Strollers
Bugaboo
Bugaboo invented the high-end stroller niche. We all saw the celebs with their Bugaboo stroller circa early 2000's and HAD TO HAVE! And let me tell you, it really is everything and more! And right now it's $226 OFF – on sale for only $673 (after sale $899)!
The Bugaboo Lynx is a super highly-rated, lightweight version of the iconic original. It is so easy to maneuver, glides like a dream and has a massive undercarriage that fits all the things! It's super easy to flip the seat around forward or backwards and features a five-point harness that's a cinch to use. And my kids always love the security of a belly bar! I also love this deep sunshade and the fact that this stroller accommodates tall people with the adjustable handles!!
Word to the wise: while being lightweight, this stroller does not fold up super compact. So, if you don't have tons of garage/storage/trunk space, my other stroller recommendation would be the City Mini GT2 (more on that up next)! BUT if this is the stroller you're looking for, BEST deal!
City Mini GT2
City Mini GT2: This City Mini GT2 All-Terrain Package (with parent console and belly bar) is on sale and these are all fun and nice-to-have gadgets, but not necessary accessories! This GT2 All-Terrain package is on sale for $321 (normally $429). So if you're looking for just the basics and essentials, I'd recommend purchasing the GT2 stroller itself, without the extra accessories. Plus, you get an even better deal for a lower price! On sale for $251, and normally $359.
Car Seats
Nuna Rava
Nuna Rava: This is one of THE most popular convertible car seats on the market! She's the Bentley of car seats and people are OBSESSED! You can use this from 5 lbs to 65 lbs! The Rava has hundreds of perfect reviews and during the Anniversary Sale you can save 25%! It's cozy. It's a breeze to install. It has cup holders!! Currently on sale for $409.90 (reg $549.95).
This carseat received almost 276 FIVE star reviews! One reviewer said, "Top quality product and seems as though it will last forever. Very easy to install and I love that the preferred method of installation is just the seat belt. My daughter falls right asleep as soon as I put her in so that speaks positively to its comfort level. I highly recommend this product." And there's many more where that came from!

Nuna Pipa Lite LX
Nuna Pipa Lite LX: This is my FAVORITE infant car seat! I love that it has a "dream drape," a UPF 50+ that protects babies from the bright sun (we used this with baby Harry all the time on walks!) It is THE most lightweight infant carrier on the market and is more than $100 off during the Nordstrom Anniversary Sale making it only $314.90!! It adapts easily to any high-end stroller, which makes it even better!
Word to the wise: this car seat does NOT have a car seat thread, so you have to use a base with it (think traveling in taxis, planes etc)! This hasn't been an issue for us because on our 3rd and 4th kid, we had another infant car seat we could use just for these one-off trips so the Nuna Pipa Lite LX was TOTALLY worth getting for all the use we've gotten out of two babies and how ultra lightweight the carseat is for carrying on your arm. But if you need it to function for both home and travel, you might want to look into our other pick above instead!
2022 UPDATE: The Nuna Pipa Lite LX bundle isn't currently available, but you can find the car seat itself HERE.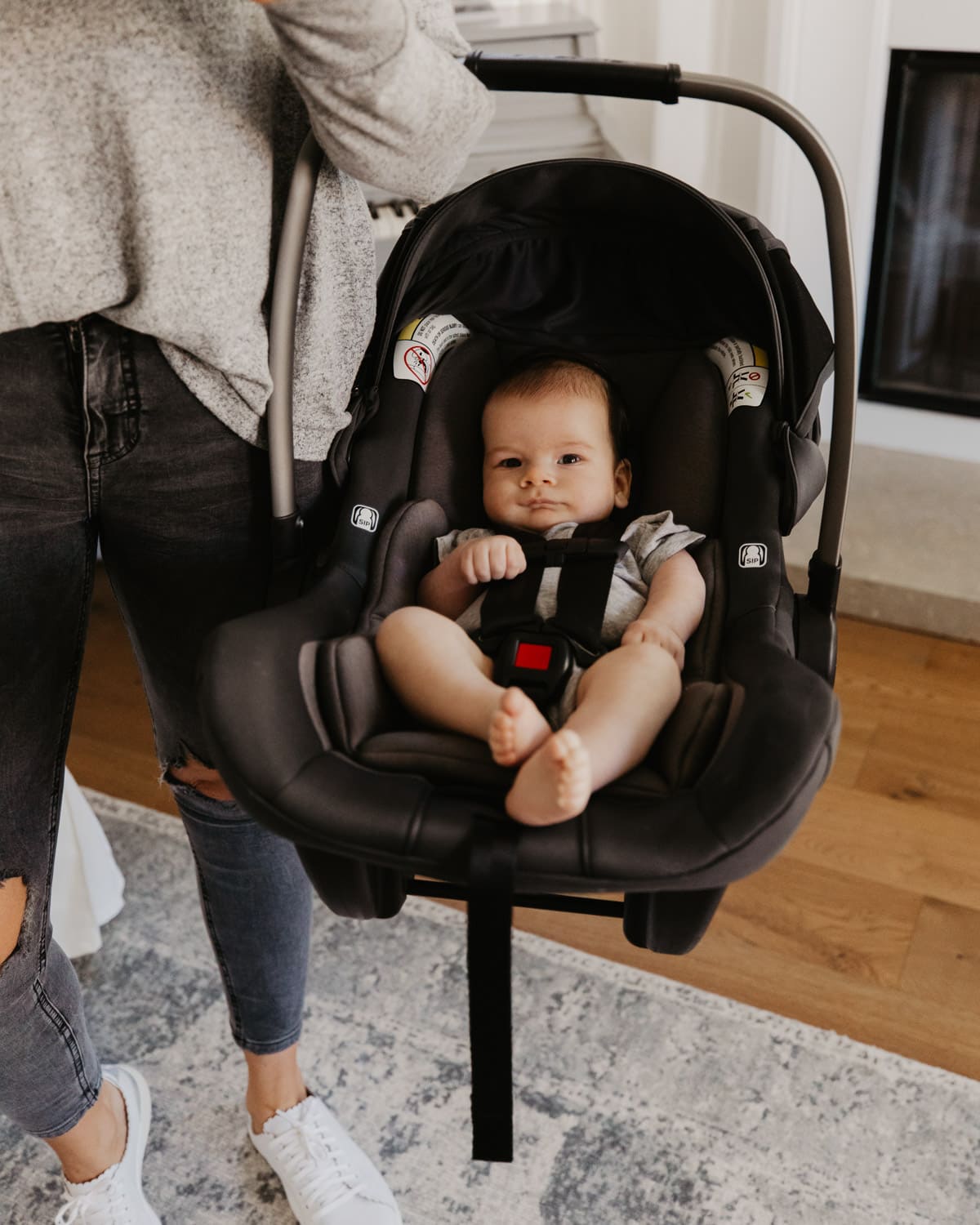 Stokke Carry-On Suitcase
As I said in our road trip tips post, it makes ALL the difference in traveling with kids when you're prepared. This Stokke carry-on suitcase is so genius and saves so many moms when they take their littles on long flights – no more throwing nap time out the window while traveling for long hours! And yay for happier, well-rest kids! This suitcase transforms into a leg rest or an in-flight bed for your kids to stay cozy while cruising at high altitudes.
This carry-on suitcase does it all! There's even a soft handle strap for your child to hold onto while they sit and you can pull them as you're walking a mile to your gate in the airport (been there, done that!) It's a nice little traveling accessory that makes your journey a whole lot easier and convenient, so I'm all over it. Right now is the perfect time to try this out if you've been eyeing it because it's on sale for only $148.90 (normally $199)!!
Smaller Items on Sale
Little Giraffe
Little Giraffe: These hooded towels are THE NICEST towels I've ever felt or used for a baby. The fabric is heaven (I want one for myself!) and they are one of our favorite Nordstrom Anniversary Sale baby DEALS at $32.90 ($49 after the sale)! This is really an AMAZING price point too for a baby gift! Not too crazy but at $30 you're still giving a super nice gift without going nuts. And I love that it comes in gender neutral cream, or charcoal, or pink or blue!
Baby Bling Bows
Baby Bling Headbands: These bows are SO nice because they won't indent your child's head. I seriously can't tell you how many times my dad ripped baby bows off Anabelle's head because he was worried it was "cutting off her circulation." HA! These darling bows are adjustable so you can easily use them from birth to toddler.
These headbands come in so many really cute colors, and they're on sale for only $8.90 (normally $14), so if Millie was still little enough to wear these, I'd buy more! Love, LOVE these.
Petit Lem Pajamas
I put Harry in these Petit Lem jammies and they are adorable and super cozy! They have a soft cotton knit fabric, so they're gentle against babies' skin and make it extra enjoyable to snuggle up with your freshly bathed baby!
There are a couple different patterns and colors on the Anniversary Sale to choose from – both boys and girls! I'm getting a bunch more for Harry because they're just so cute and only $15.90 right now (normally $28).
Freshly Picked Diaper Bag
Think of what your perfect diaper bag would be like… it's THIS one isn't it? And it's on sale right now for $116 (normally $175), and comes in the prettiest rose pink color!
I have a different color version of this Freshly Picked diaper bag and I'm in love. Her bags are all so thoughtfully made. She actually uses a panel of moms to give her feedback on exactly what they need – like, how big should the pockets be, where should they be, where it should have zippers, what kind of materials – ALLLL the things. She's literally thought through all the details of what makes the perfect diaper bag, and this is it. If you're expecting or need a fresh, new diaper bag, this is a super great deal and so worth it!
Don't miss out!
We rounded up all of our favorite Nordstrom Anniversary Sale baby gear, baby clothes and baby accessories below so you can shop all the BEST stuff in a flash!