The Nordstrom Anniversary Sale is one of the very best beauty sales of the whole entire year! Some of my tried and true beauty secret weapons (and new favorites) are only on sale ONCE A YEAR and that time is here! And the Nordstrom Anniversary Sale beauty deals are SO good this year.
And just so you know: the average deal in the beauty department typically at Nordstrom is about 15% off, and these deals are between 30-50% OFF! I've rounded up 22 of my beauty faves (products and tools) so that you can shop smarter, not harder!
In a hurry? Shop my picks below:
When can I shop the sale?
Early access to the Nordstrom Anniversary Sale is available to all Nordstrom Cardholders!
Preview: LIVE! View it here
ICON early access: LIVE!
Ambassador early access: LIVE!
Influencer early access: LIVE!
Open to the public: July LIVE!
Sale ends July 31.
If you're looking for all the information you need to shop the Nordstrom Anniversary Sale this year, make sure to check out our Complete Guide!
Stay informed with our EXCLUSIVE text + email
Anastasia Deluxe Brow Kit
This Anastasia brow pencil, definer and gel kit is what eyebrow dreams are MADE of! Anastasia Brow Wiz is a LONG time favorite of mine so anytime it goes on sale, I RUN! I get my eyebrows tinted and laminated, but you can totally help create that fluffy look with this kit alone, or use it to touch up that look once the lamination and tinting starts to fade. Outline and shade your brows with the pencil and definer, then set in place with the AMAZING clear gel!
The "natural" brow trend is going to make this kit FLY off the online shelves, so seriously make sure to grab it while you can! This whole kit has a value of $68, but with this sale, you can get it for only $39!
Nordstrom Anniversary Sale beauty TOP pick: Riki Skinny Lighted Mirror
I've been using a Riki mirror for YEARS so I was so excited to see this included in the Nordstrom Anniversary Sale beauty deals again this year! AND it has some upgrades. It now comes with a magnifier and phone clip attachments to see the details and take flawless selfies or videos!
I've taken this mirror on trips many times to combat bad bathroom lighting. It's lightweight and folds down super compact, perfect for travel or lack of bathroom counter space. Normally this mirror retails for $230, but during this sale you can get it for 35% off making it only $150! So if you've been dying to get your hands on one, now's your time!
Cryo Facial Set
Getting a facial just got a WHOLE lot easier (& cheaper!) with this Beauty Bio face cream and cryo roller! The Quench face cream is an award-winning ceramine cream that is beyond moisturizing and restores hydration for glowing skin. Trust me, after just one use of using the cream and cyro roller to sculpt, lift, and tighten your skin, you will be hooked!
Give yourself your own beauty facial with this kit that is on sale for $99, instead of its value of $214 – that's more than 50% off!
Nordstrom Anniversary Sale beauty TOP pick: Drybar Blowout Essentials Kit
I LOVE a good Drybar blowout, but when I can't make it there, using these products is totally the next best thing! Get the Prep Rally Prime & Prep Detangler, 3-in-1 Finishing Spray, Hot Toddy Hair Protectant Mist, Detox Dry Shampoo (one of my faves!), AND The Single Shot Round Blow-Dryer Brush – our TOP recommendation for blow dryers in the Nordstrom Anniversary Sale beauty deals – all for $155 ($225 value)! This fan-favorite set is sure to give you the perfect blowout that will last days!
Nordstrom Anniversary Sale beauty TOP pick: Charlotte Tilbury Pillow Talk Lip Kit
The NUMBER ONE selling lipstick on Nordstrom's site is Charlotte Tilbury's Pillow Talk, and this is for sure one of the top Nordstrom Anniversary Sale 2022 picks – and OUR very top GO-TO lip recommendation!
Pillow Talk is the most perfect neutral EVER and it's been in my constant rotation for a while. I don't know how, but it manages to look just as beautiful on ALL skin tones! This limited-edition lip set comes with Pillow Talk Matte Revolution Lipstick, Pillow Talk Lip Cheat Lip Pencil, and Pillow Talk Hyaluronic Happikiss Lipstick. It's only $59 and it WILL sell out quick!
Nordstrom Anniversary Sale beauty TOP pick: St. Tropez Jumbo Self Tan Mousse
St. Tropez is the most widely known and acclaimed name in the game and for good reason, and it's one of the self-tanners I recommend in my self tanner 101 post! It's been around forever and reviews for its products are consistently amazing across the board at major beauty retailers. This St. Tropez Bronzing Mousse is so user friendly, you'll consider yourself a self-tanning expert in no time! Use the mitt to apply, wait 8 hours, and rinse off for the most beautiful, natural bronze look.
OR you can use the express formula, keep it on for a couple hours, and then rinse it off!
When self-tanning is synonymous with a particular brand, you know it's gotta be GOOD – especially with a Nordstrom Anniversary Sale beauty sale price of $46 instead of its $80 value, especially when a regular full-size bottle costs $42, you're getting double the product for just $4 more!
Nordstrom Anniversary Sale beauty TOP pick: Oribe Magic Set
I'm SO excited that this Oribe set is part of the 2022 Nordstrom Anniversary Sale beauty deals! This set includes a full-size Dry Texturizing Spray that builds incredible volume and adds texture to any hairstyle, and a full-size Gold Lust Dry Shampoo that extends your blowout and prevents hair damage! PLUS it smells soooo yummy, as if you came straight from the hair salon. This is a $97 value, but it's $65 during the sale!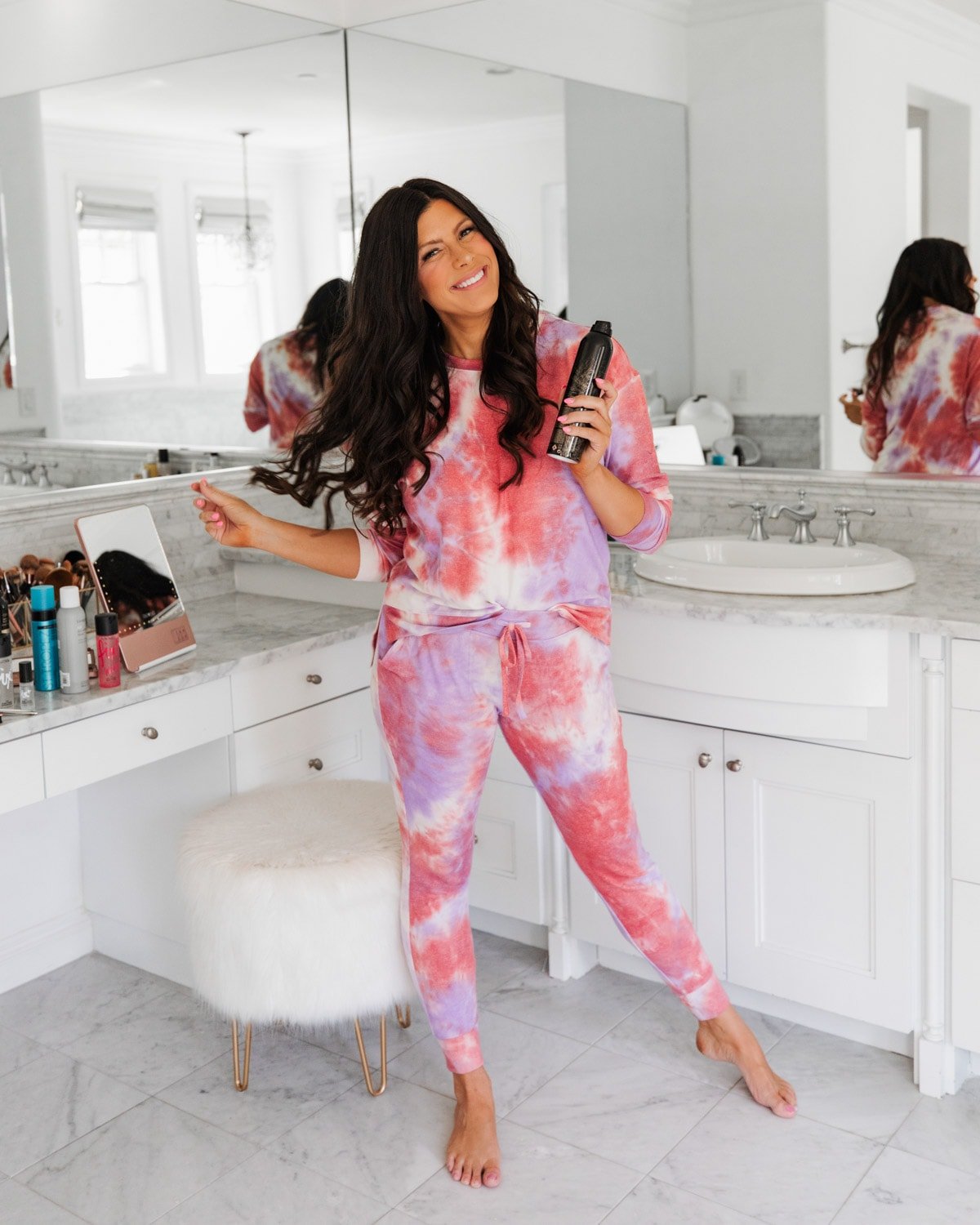 slip Pure Silk White King Pillowcase Set
I love my slip pillowcases SO much that I even travel with them! I took one to the hospital when I delivered both Millie and Harry. They're that good. I'm BEYOND excited they're apart of the 2022 Nordstrom Anniversary Sale because instead of getting one for the normal price of $110, this set comes with TWO King size pillowcases for $154 (or grab Queen size for $125). This is TOO good a deal to pass up, and they fight aging and bedhead which is a major win. I'm telling you, they're SO worth it.
ELEMIS Jumbo Dynamic Resurfacing facial wash
This ELEMIS facial cleanser is so gentle yet effective. It's one of my FAV face washes. It does a great job of taking off that day's face (makeup or not!) AND doesn't dry my skin out! This is super important to me, and something I've come to expect from all my ELEMIS favorites! I also love that if you don't have time to exfoliate, this cleanser includes ELEMIS' Tri-Enzyme Technology that actually resurfaces as you cleanse. I am SO excited it is apart of the N-Sale this year AND in a jumbo size for $65 ( a $98 value)!
Benefit Gimme More Precision Brow gel & pencil set
Okay, the Gimme Brow eyebrow gel has been such a staple for me throughout the years. It's almost spooky how it magically fills in your brows and makes them appear soo much fuller! It's like you grow eyebrows (in the BEST way) as you apply it. Seriously so cool. This set with the gel and the brow pencil, is EVERYTHING you need to get those perfect, natural, everyday brows we allll want and need. Plus it's only $20 during the Nordstrom Anniversary Sale beauty deals! Can't get much better than that.
Stila Two Can play waterproof Eye Liner Duo
The Stila Stay all Day liquid eye liner is incredibly easy to apply and won't budge ALL DAY. The thin, marker-like applicator is the least daunting liquid liner we've tried, and will make your eyeliner look pro-inspired every day. This set comes with TWO eye liners for $32 instead of $44 after sale. Don't skip out on this deal and get your new fav eye liner that won't skip, smudge or pull when applying!
Simplehuman 8-inch sensor Mirror
One of my tried and true beauty routine staples, is a simplehuman mirror that I use LITERALLY every day! This makeup mirror magnifies without distorting and helps you see exactly what you'll look like out in the sunlight!
Not to mention, it has a large range of brightness settings and a motion detector that lights up as your face comes near. It's seriously worth every penny and you can get it for such a good deal during the Nordstrom Anniversary Sale beauty deals for $150 instead of its normal price of $200!
Mario Badescu Drying Duo set
The Mario Badescu drying lotion is the OG potion for getting rid of zits overnight. I've been using this stuff for YEARS and it works like magic – even Neil will occasionally ask to use it! Anytime I have a hormonal breakout or anything like that, I instantly grab this stuff and put a little dot of the drying lotion on my zit before bed.
I am now just as equally obsessed with the Mario Badescu drying patches that are invisible, because you can just put them on all your blemishes to wear in the day and watch your zits disappear. This drying duo acts fast to clear your skin and I'm so excited it's on sale for $24 during the Nordstrom Anniversary Sale beauty deals!
Living Proof Perfect Hair Day set
This set includes my very favorite dry shampoo (the #1 selling dry shampoo on the planet!), Perfect Hair Day Shampoo and Perfect Hair Day Conditioner. The Living Proof brand was designed by MIT scientists to give you thicker, healthier, more beautiful hair every single day. If you're trying not to wash you hair too often, this set is for you because Living Proof is proven to keep hair cleaner longer!
The Perfect Hair Day Shampoo and Conditioner come in JUMBO sizes and the dry shampoo comes in both a standard bottle AND a travel size one. Using this $170 value set, you will truly have the perfect hair day, but for only $99 during the sale!
GloPro Skin and Hair goals set
I'm actually, completely, TRULY obsessed with the GloPro. I cannot believe how much I really enjoy using it to microneedle and how much difference I've seen in my skin. This little tool has revolutionized at-home skincare and even won awards to prove it!
For $179, you can get a whole set with the GloPro, Face MicroTip Attachment, Scalp MicroTip Attachment, Body MicroTap Attachment, Scalp Serum AND a calming gel cream (a $353 value). Use this set to microneedle from HAIR-to-TOE for firmer skin and thicker hair!
PMD Pro Clean Rose Quartz Facial Cleansing Device
I LOVE the PMD Pro Clean Rose Quartz. The amazing thing is it's made with medical-grade silicone and with over 7,000 vibrations per minute, so it lifts, firms and tones as you clean! It uses SonicGlow and ActiveWarmth technologies to break down all the oil and dirt in your pores giving you the ultimate CLEAN skin at the end of the day! AND this beautiful edition comes with rose quartz on the back for added effectiveness for inflammation and tension in the skin because of its magnesium, iron, and oxygen in the gemstone. This PMD Pro Clean Rose Quartz device is $118 during the N-Sale and $179 after sale!
If you're looking for something to clean your face without the rose quartz for applying serums and moisturizer, the traditional PMD Clean Facial Cleansing Device is a GREAT alternative. And it's also part of the Nordstrom Anniversary Sale beauty deals for $66 (normally $99)!
Sigma Beauty Essentials Brush set
Sigma brushes are some of my very favorite high-end brushes!! I love that the use of the brush is scripted on each brush so you don't even NEED a cheat sheet. This $89 value set comes with a cheek brush, eyeshadow brush, all-purpose buffer brush, and a powder sculpt brush all for only $55 during the sale – one of the BEST values of all the beauty sale items this year! So, if you're wanting some high-quality brushes that will last, this set will give you ALL the essential brushes you need for day-to-day makeup application!
Kate Somerville Jumbo ExfoliKate
The Kate Somerville ExfoliKate has long been my very favorite home exfoliator for face. This dual-action exfoliation game-changer utilizes both physical and chemical exfoliants for the softest and freshest skin around. The fruit enzymes provide a grit that will scrub the outer layer of skin, helping rid your face of dulling dead-skin buildup.
The enzymes also penetrate the skin to actually dissolve clogged pores and help with uneven skin texture and tone! It is dubbed the "2 minute Hollywood facial," and I can't agree more! Try it for yourself and get this special jumbo size for $144 during the Nordstrom Anniversary Sale beauty deals (a $212.50 value)!
Nordstrom Anniversary Sale beauty TOP pick: Charlotte Tilbury Pillow Talk Cheeks Set
This was a super popular item and unfortunately it's out of stock currently. We will keep our eye out for a restock!
Knowing how beautiful the Charlotte Tilbury pillow talk lip kit is, I KNOW the Charlotte Tilbury Pillow Talk Cheeks Set is going to sell out super fast, too at $54 (an $80 value). This richly-pigmented blush and pillow talk beauty light wand will give you those perfect rosey cheeks and a dewy glow that will last ALL day long!
Nordstrom Anniversary Sale beauty TOP pick: Supergoop! Unseen & Play Sunscreen Set
This was a super popular item and unfortunately it's out of stock currently. We'll keep our eye out for a restock!
This Supergoop! sunscreen has AMAZING reviews. It's SPF 40, totally invisible, weightless, and scent-free. It's such a nice, light sunscreen that acts as a makeup primer, too!
This set comes with a bigger and smaller bottle of the sunscreen AND includes the Play Everyday Lotion for your face and body that's SPF 50, fast-absorbing, non-greasy, water + sweat-resistant, reef-safe, and broad-spectrum. Grab this set for just $48 ($78 value)!
Supergoop! Glow Duo
This was a super popular item and unfortunately it's out of stock currently. We'll keep our eye out for a restock!
Get a moisturized GLOW while keeping your skin protected with this Supergoop! Glowscreen and glow stick duo for just $41 ($61 value)! You've probably seen this glowscreen all over, because it's gone viral – it's SO popular. It's just as lightweight as the Supergoop!
Unseen sunscreen with SPF 40, but gives an additional dewy, glowy finish. This set comes with the SPF 50 glow stick which is the perfect size to throw in your bag to reapply throughout the day, locking in moisture and adding a glow!
Top Nordstrom Anniversary Sale Beauty Picks from the Sale
We put together a clickable roundup below of our top beauty picks from the Nordstrom Anniversary Sale just for you. These really are my favorite BEAUTY top picks from the sale, things I think are worth every one of your hard-earned pennies that I put my personal stamp of approval on that I'm sure you will love too!