The Nordstrom Anniversary Sale is one of the very best beauty sales of the whole entire year! Some of my tried and true beauty secret weapons (and new favorites) are only on sale ONCE A YEAR and that time is here! And the Nordstrom Anniversary Sale beauty deals are SO good this year.
And just so you know: the average deal in the beauty department typically at Nordstrom is about 15% off, and these deals are between 30-50% OFF! I've rounded up some of my beauty faves (products and tools) so that you can shop smarter, not harder!
When can I shop the sale?
CATALOG IS LIVE: Take a look at it here!
ICON early access: NOW!
Ambassador early access: NOW!
Influencer early access: NOW!
Open to the public: NOW!
Sale ends August 6th!
Nordstrom Anniversary Sale beauty TOP pick: Charlotte Tilbury Pillow Talk Lip Kit
The NUMBER ONE selling lipstick on Nordstrom's site is Charlotte Tilbury's Pillow Talk, and this is for sure one of the top Nordstrom Anniversary Sale 2023 picks of the year.
Pillow Talk is the most perfect neutral EVER, and it's been in my constant rotation for a while. I don't know how, but it manages to look just as beautiful on ALL skin tones! This limited-edition lip set comes with Pillow Talk Matte Revolution Lipstick, Pillow Talk Lip Cheat Lip Pencil, Lip Jewel Lip Gloss in Pillow Talk (the lip gloss I'm wearing in the picture above). It's only $62 for all 3 and it WILL sell out quick! (a $92 value).
Necessaire The Body Wash Duo Set
I wasn't sure if this Nécessaire Body Wash would be just a 'nice smelling body wash but a grocery store product would do' kind of moment, but it's totally not. This body wash smells amazing and while you're breastfeeding you need all the help you can get to REALLY deep clean any body odor (if you know, you know), and I swear nothing works like this wash. This was legit THE number one beauty item I was most excited to stock up on during Anniversary. This set includes 2 full-size The Body Wash for $35 when normally just ONE bottle will cost you $25.
See below for my evidence of emptying this stuff over time because I love it so much!!
Living Proof Clean Hair Anytime, Anywhere Set
This set includes my very favorite dry shampoo (the #1 selling dry shampoo on the planet!), Perfect Hair Day Shampoo and Perfect Hair Day Conditioner. The Living Proof brand was designed by MIT scientists to give you thicker, healthier, more beautiful hair every single day. If you're trying not to wash you hair too often, this set is for you because Living Proof is proven to keep hair cleaner longer!
The Perfect Hair Day Shampoo and Conditioner come in JUMBO sizes and the dry shampoo comes in both a standard bottle AND a travel size one. Using this $170 value set, you will truly have the perfect hair day, but for only $99 during the sale!
And the Clean Hair Anytime set is so great because you get a travel size and full size of their original, best selling on the planet dry shampoo, for $30 (a $46 value). The travel size is SO handy for quick trips when you only want to take a carry-on on the plane!
Anastasia Beverly Hills Brow Care Kit
This Anastasia brow care kit is what eyebrow dreams are MADE of! Anastasia Brow Wiz is a LONG time favorite of mine so anytime it goes on sale, I RUN! If you're wanting to grow out or fill in your brows, especially if you over-plucked them like all of us did in the 90s, you can totally create that fluffy look with this kit by using the growth serum to get your brows to grow and filling them in in the meantime!
The soft brown color is the most popular and the one I use, and it tends to sell out the fastest! This kit is $30 but has about a $50 value so if you're needing both anyway this is a great deal.
Nordstrom Anniversary Sale beauty TOP pick: St. Tropez Jumbo Self Tan Mousse
St. Tropez is the most widely known and acclaimed name in the game and for good reason, and it's one of the self-tanners I recommend in my self tanner 101 post! It's been around forever and reviews for its products are consistently amazing across the board at major beauty retailers. This St. Tropez Bronzing Mousse is so user friendly, you'll consider yourself a self-tanning expert in no time! Use the mitt to apply, wait 8 hours, and rinse off for the most beautiful, natural bronze look.
OR you can use the express formula, keep it on for a couple hours, and then rinse it off!
When self-tanning is synonymous with a particular brand, you know it's gotta be GOOD – especially with a Nordstrom Anniversary Sale beauty sale price of $49 instead of its $88 value, especially when a regular full-size bottle costs $42, you're getting double the product for just $7 more!
Nordstrom Anniversary Sale beauty TOP pick: Oribe Magic Set
I'm SO excited that this Oribe set is part of the 2023 Nordstrom Anniversary Sale beauty deals! This set includes 2 full-size Dry Texturizing Sprays that build incredible volume and adds texture to any hairstyle! PLUS it smells so yummy, like you came straight from the hair salon. This is a $98 value, but it's $74 during the sale!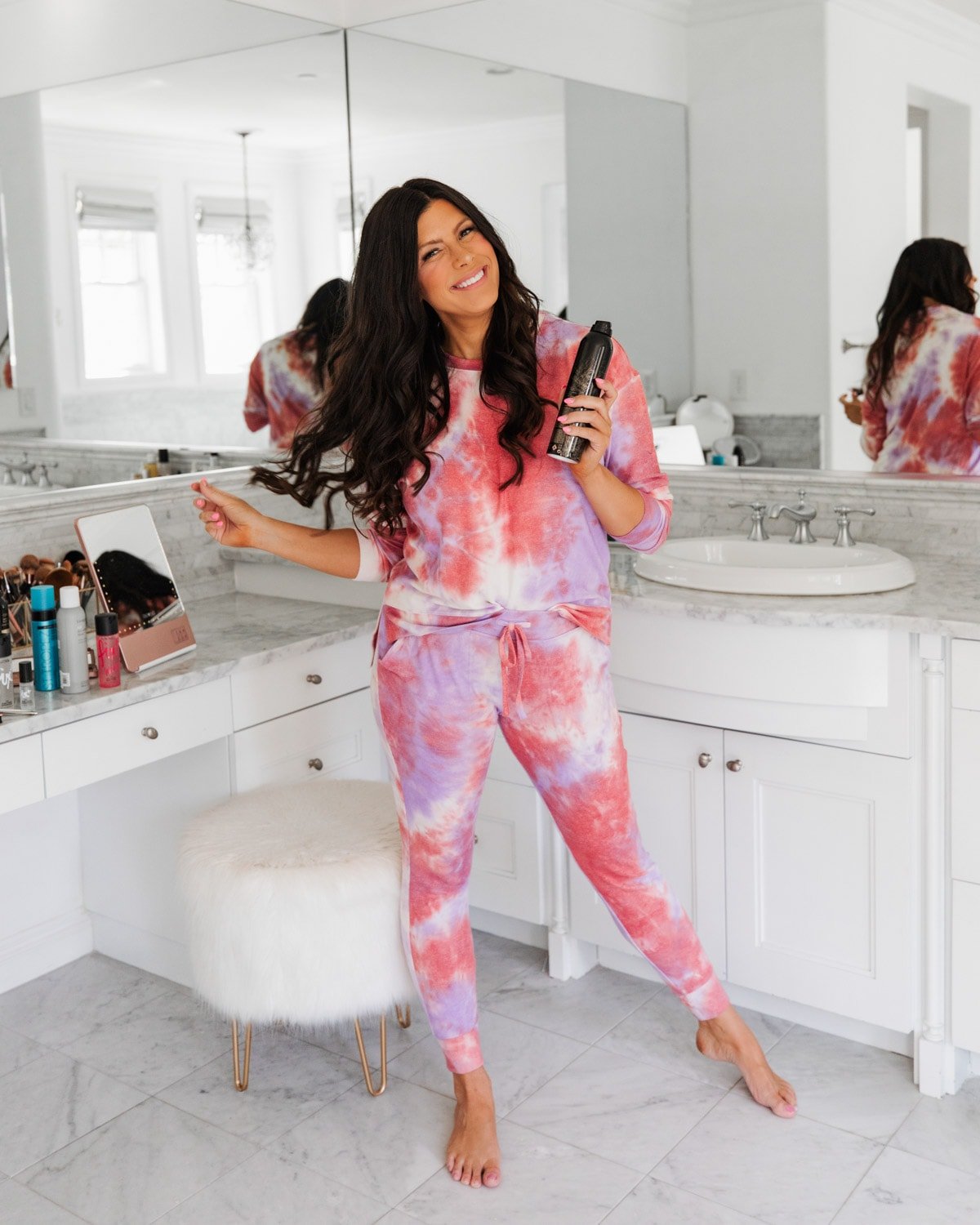 HOURGLASS Ambient Lighting Essentials Palette
I used to have an HOURGLASS combo like this one and loved it and somewhere along the line I lost it! I've been dying to replace mine so I was super happy to see it in the Anniversary Sale! Each of these blush, bronzer and highlighters retail regularly for $45-58, so getting all 3 for $69 (while that IS expensive) is a way better deal than $157 it would cost you to buy all 3 separately!
Rouge Volupté Shine Oil-in-Stick Lipstick Balm Duo Set
YSL lipsticks have been at the very top of my ride-or-die favorites for years now, and I'm so excited to see a duo in the NSale this year!! The shade 150 that's included is called "nude pink" which is the same name they give my beloved signature shade 44, so i'm guessing it's ALMOST exactly the same. In fact, earlier in the Sale preview they had actually labeled it somewhere shade 44 so I bet it's a slight variation on the same shade. Either way, I'm excited because ONE tube of this lipstick will run you $43, so to get two for $55 (instead of $86!!) is amazing.
Vacation Leisure-Enhancing Sunscreen Summer Sunscreen Duo
If you want to smell like you're on vacation every time you apply sunscreen, grab this! This brand truly exploded over the last year and it's because their products smell incredible. They have crazy high rave reviews so I'm super excited to try both the oil and lotion! Think the dreamiest beach vacation + all of your favorite summertime nostalgic memories combined. This set comes with an SPF 30 oil that's perfect for hydrating and creating a pretty summer glow, AND a classic SPF 50 lotion that's super lightweight. This duo is on sale for just $28 (reg: $41) and is a super good value.
ELEMIS Jumbo Dynamic Resurfacing facial wash
This ELEMIS facial cleanser is so gentle yet effective. It's one of my FAV face washes. It does a great job of taking off that day's face (makeup or not!) AND doesn't dry my skin out! This is super important to me, and something I've come to expect from all my ELEMIS favorites. I also love that it gently exfoliates because cleanser includes ELEMIS' Tri-Enzyme Technology that actually resurfaces as you cleanse. I am SO excited it is apart of the N-Sale this year AND in a jumbo size for $72 (a $95 value)!
Benefit Cosmetics BIG Brow Haul Set
Okay, the Gimme Brow eyebrow gel has been such a staple for me throughout the years. It's almost spooky how it magically fills in your brows and makes them appear soo much fuller! It's like you grow eyebrows (in the BEST way) as you apply it. Seriously so cool. This set comes with two full-size volumizing brow gels and one travel-size mini brow-setting gel. Plus it's only $39 for two full-size gimme brows AND the brow gel — normally all of that would cost you $67. Can't get much better than that.
Mario Badescu Drying Duo set
The Mario Badescu drying lotion is the OG potion for getting rid of zits overnight. I've been using this stuff for YEARS and it works like magic – even Neil will occasionally ask to use it! Anytime I have a hormonal breakout or anything like that, I instantly grab this stuff and put a little dot of the drying lotion on my zit before bed.
I am now just as equally obsessed with the Mario Badescu drying patches that are invisible, because you can just put them on all your blemishes to wear in the day and watch your zits disappear. This drying duo acts fast to clear your skin and I'm so excited it's on sale for $24 during the Nordstrom Anniversary Sale beauty deals!
Sigma Beauty Essentials Brush set
Sigma brushes are some of my very favorite high-end brushes!! I love that the use of the brush is scripted on each brush so you don't even NEED a cheat sheet. This $50 triple set comes with a contour/blush brush, all-purpose buffer brush, and an air flat kabuki foundation brush all for only $50 during the sale – one of the BEST values of all the beauty sale items this year! So, if you're wanting some high-quality brushes that will last, this set will give you some of the essential brushes you need for day-to-day makeup application!
Kate Somerville Jumbo ExfoliKate
The Kate Somerville ExfoliKate has long been my very favorite home exfoliator for face. This dual-action exfoliation game-changer utilizes both physical and chemical exfoliants for the softest and freshest skin around. The fruit enzymes provide a grit that will scrub the outer layer of skin, helping rid your face of dulling dead-skin buildup.
The enzymes also penetrate the skin to actually dissolve clogged pores and help with uneven skin texture and tone! It is dubbed the "2 minute Hollywood facial," and I can't agree more! Try it for yourself and get this special jumbo size for $115.50 during the Nordstrom Anniversary Sale beauty deals (a $165 value)!
Nordstrom Anniversary Sale beauty TOP pick: Supergoop! Glow Duo
Get a moisturized GLOW while keeping your skin protected with this Supergoop! Glowscreen and glow stick duo for just $43 ($64 value)! You've probably seen this glowscreen all over, because it's gone viral – it's SO popular. It's just as lightweight as the Supergoop!
Unseen sunscreen with SPF 40, but gives an additional dewy, glowy finish. This set comes with the SPF 50 glow stick which is the perfect size to throw in your bag to reapply throughout the day, locking in moisture and adding a glow!
Top Nordstrom Anniversary Sale Beauty Picks from the Sale
These really are my favorite BEAUTY top picks from the Nordstrom Anniversary Sale this year, things I think are worth every one of your hard-earned pennies that I put my personal stamp of approval on that I'm sure you will love too!