The Nordstrom Anniversary Sale is one of the very best beauty sales of the whole entire year! Some of my tried and true beauty secret weapons (and new favorites) are only on sale ONCE A YEAR and that time is NOW!!
The Anniversary Sale really put its best beauty foot forward this year and KILLED it with beauty deals. The average deal in the beauty department typically at Nordstrom is about 15% off, and these deals are between 30-59% OFF! I've rounded up TEN of my beauty faves (products and tools) so that you can stock up NOW while the prices are HOT!
#1: Olaplex Hair Care Set
One of my very most favorite, bombsauce beloved, tried and true hair brands is Olaplex – and I'm SO excited that this set is part of the 2021 Nordstrom Anniversary Sale! The secret sauce is actually the Olaplex treatment (not just the shampoo and conditioner). This is a LIFE-CHANGER for damaged or color-treated hair! But the fact you get all THREE items in this set ($126 value) for only $84 makes this one of the best investments you can make during this year's Sale.
SOLD OUT! But here's some other hair products I LOVE!
#2: Anastasia Brow Bae-sics Deluxe Kit
Anastasia Brow Bae-sics Deluxe Kit: This Anastasia brow pencil and brow gel kit is what eyebrow dreams are MADE of! Anastasia Brow Wiz is a LONG time favorite of mine so anytime it goes on sale I RUN! I get my eyebrows tinted and laminated, but you can totally help create that fluffy look with this kit alone, or use it to touch up that look once the lamination and tinting starts to fade.
The "natural" brow trend of 2021 is going to make this kit FLY off the online shelves, so seriously make sure to grab it while you can! This whole kit has a value of $55, but with this sale, you can get it for only $33 which is 40% off its value.!
SO sad this amazing kit is sold out! I really hope it restocks, but if it doesn't, here's a brow serum to consider!
#3: Riki Skinny Lighted Mirror
Riki Skinny Lighted Mirror: I've been using a Riki mirror for YEARS so I was so excited to see this included in the sale again this year! I've even taken this on trips to combat bad bathroom lighting. It's lightweight and folds down super compact, perfect for travel or lack of bathroom counter space.
Normally this mirror retails for $210, but during this sale you can get it for 38% off making it only $130! So if you've been dying to get your hands on one, now is your time!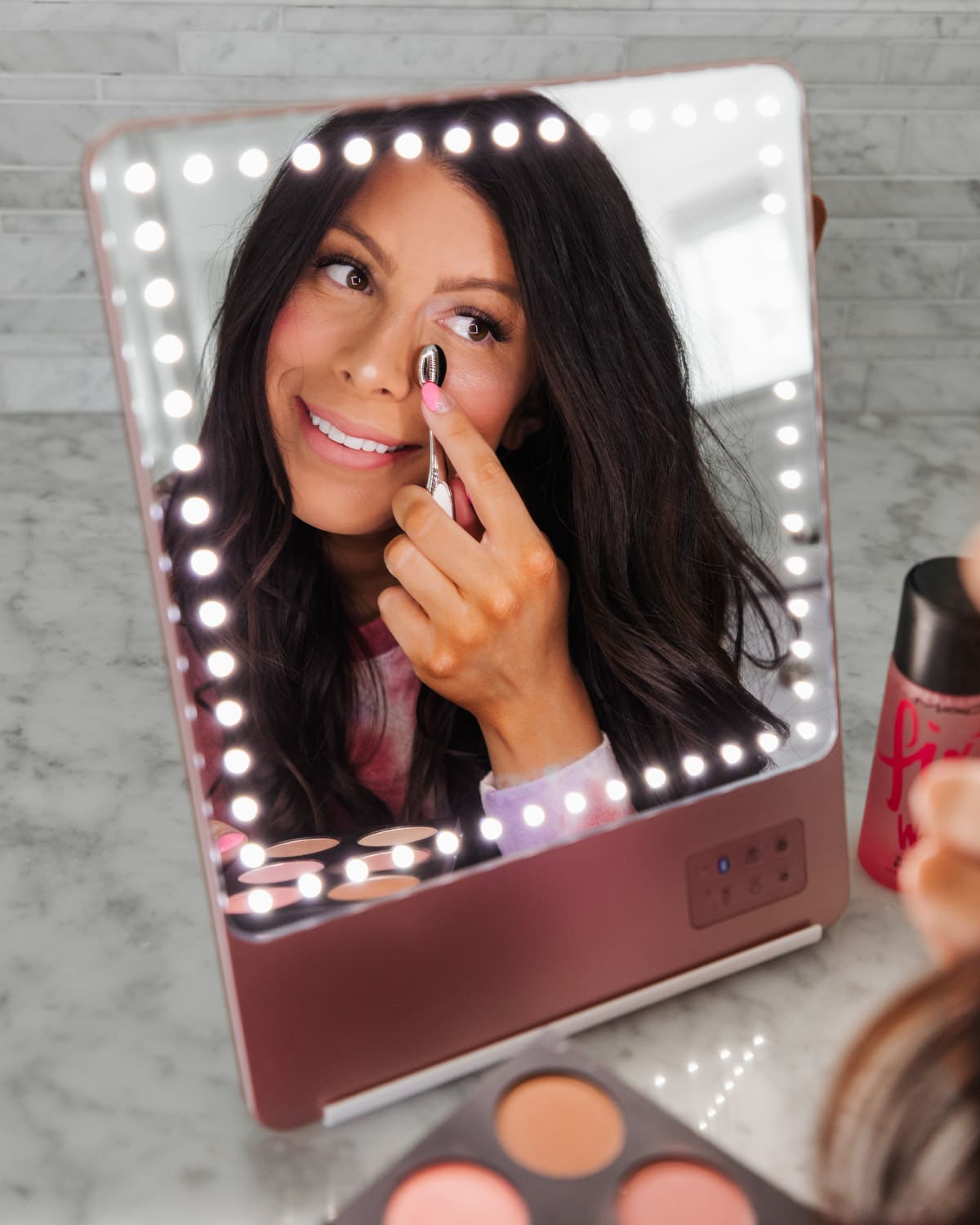 #4: Nécessaire Body Wash & Body Lotion Set
Nécessaire Full Size The Body Wash & The Body Lotion Set: This limited edition body wash & lotion set is the BEST gift you can give to your skin. I think everyone's been talking a lot about healthy facial skin lately, but don't forget that your body loves TLC too! This set is going to go fast since it's a limited edition, perfect for gifting, AND it's only $35 (but valued at $50).
This Nécessaire set is sold out, but here's another popular hand & body lotion people love!
#5: Donna Karan Cashmere Mist Deodorant
Donna Karan Cashmere Mist Deodorant & Anti-Persperant Trio: I used to be a DIE HARD DK Cashmere Mist Deodorant user and so many people discovered it here on this blog! I've since switched to all-natural deodorant, BUT soooooo many women have hit me up over the past year in DMs or emails asking "where can I get Donna Karan Cashmere Mist Deodorant?!?!?!?"
It's been next-to-impossible to track down so if you need some, not only is this one place you can finally get it, but stock up on it at a crazy good price! Valued at $283, but right now it's on sale for $116!!
This deodorant is sold out, but here's another really popular kind on sale!
#6: T3 compact
I never travel without my T3 because it's just SO good. One reviewer said, "It dries my hair in minutes with NO frizz!" It might seem like a splurge for a travel-size dryer, but since I know I'll use it for YEARS and it will keep my hair protected, it's 100% worth the investment to me.
If you're someone who normally air dries your hair and uses a hair dryer only occasionally, then this would be a GREAT one to get as your rare backup, and/or for travel! Definitely, a travel hair dryer that is worth every penny. On sale for 33% off maiking it only $99.99, and normally is $149.99!!
#7: Charlotte Tilbury Face & Eye Palette
If you're into an all-in-one (I'm talking eyes, cheeks, bronze, AND contour shades) palette for only $75, RUN DON'T WALK!! These high quality shades are universally flattering, the perfect mix of mattes and shimmers, and can be used day to night over and over! It's the most perfect "commuter palette," fool-proof and totally user-friendly!
They don't call it the "5 minute makeup palette" for nothing!
Just to give you idea on the deal this palette is, in order to buy 3 eyeshadows, two blushes, a bronzer and a highlight from Charlotte Tilbury you're looking at spending $286!! Although the sizes are different, you're getting the same variety of colors in ONE easy palette AND full-size mascara for only $75. This is an INSANE deal and one that I'm guaranteeing WILL sell out!!
#8: Body Fuel All-in-One Energizing & Conditioning Wash
This is an invigorating cleanser that can be used on both your body and hair! It contains caffeine, vitamin C, and menthol so it leaves your skin and scalp feeling extra clean and energized. I bought this for Neil because he can't be bothered to use more than ONE product in the shower that functions as his shampoo AND body wash. You can get this full-size bottle on sale for only $36 right now (normally $54)!!
#9 YSL Rouge Volupte Shine Lip Set
The YSL lip combo includes my signature color 44 so I was STOKED to see that!!! You get to try 3 colors for the price of 1, just know they are mini sizes, but they'll last a long time! It also comes with both shades 45 (bright cherry red) and shade 131 (deep chili red). Both so beautiful on!!
This lipstick is the very prettiest lipsticks I own, and EVERY time I wear it in my stories, I get quizzed about what it is! It's sooo creamy and hydrating and has the best color payoff. This whole set has a value of $56, but with this sale, you can get it for only $38 which is 32% off its value.!
I'm SO sad that this sold out so quick, but this set looks amazing too!!
#10 Laura Mercier Pure Canvas Primer Duo
This Laura Mercier primer is SO glowy and pretty!! Apply it all over your face and it reflects light to VISIBLY refresh dull, tired skin. I tried it in-store and instantly fell in love.
With this duo, you get two full-sized tubes of the silicone-free Pure Canvas Primer Illuminating for $49, which normally has a value of $76 per tube. So this is a goooood deal!!
Top Beauty Picks from the Sale
We put together a clickable roundup below of our top beauty picks from the Nordstrom Anniversary Sale just for you. These really are my favorite BEAUTY top picks from the sale, things I think are worth every one of your hard-earned pennies that I put my personal stamp of approval on that I'm sure you will love too!
Best 2021 Nordstrom Anniversary Sale deals
What to buy first: Top 20 items that will sell out fast
The four bras worth buying during the Nordstrom Anniversary Sale!
Nordstrom Anniversary Sale beauty top picks!
Best Nordstrom shoes in this year's Anniversary Sale, with sizing info!
ALL the jeans from the Nordstrom Anniversary Sale – these are my top 5
Nordstrom Anniversary Sale BABY DEALS!
Guide to shopping Teens/Tweens – TOP FAVES from the Anniversary Sale
TOP Nordstrom Men's Items from the Anniversary Sale – Neil's POV
Nordstrom Anniversary Sale: Cutest women's clothes + a bonus list of items under $100!
1 very BEST pajamas from Nordstrom Anniversary Sale!
Top Nordstrom KIDS picks of the Anniversary Sale!
Your fall wardrobe checklist from the Nordstrom Anniversary Sale
How to "spice" up your HOME guilt-free! – Nordstrom Anniversary Sale
LAST CHANCE: Nordstrom Anniversary Sale items that won't go on sale for another year!