The day is finally here! It's FINALLY public access for the Nordstrom Anniversary Sale and the women's clothes selection is really, really good this year – so good that (as expected) things are selling out FAST. If you're wondering what to shop from this year's sale and need some outfit inspo on how to style these pieces, THIS is the guide for you!
I tried on the cutest clothes, found the most flattering pairs of jeans, and rounded up the top shoes + accessories of the sale, and now it's time to put them into action! Keep reading to see how I styled all of my favorite picks from the sale and put together 7 different outfits that are all on sale right now during the Nordstrom Anniversary Sale! But like I said, things are flying off the shelves so let's get to the good stuff before it's gone.
Slide to see all the picks:
When can I shop the sale?
CATALOG IS LIVE: Take a look at it here!
ICON early access: NOW!
Ambassador early access: NOW!
Influencer early access: NOW!
Open to the public: NOW!
Sale ends August 6th!
Stay informed with our EXCLUSIVE text + email
Nordstrom Anniversary Sale Outfit Ideas
Outfit Idea #1: Fave sweater of the entire sale
Okay, you already know I'm head over heels for this cream Good American sweater! It has the prettiest almost silky sheen to it. I paired it with these incredibly flattering jeans (that sold-out super fast) but these are a super similar silhouette that are still in stock atm. I finished off the look with these adorable neutral western boots, because boots peaking out from under some flare and bootcut jeans is a major trend going into the fall this year! Topped it off with this straw rancher that works for more than one season and a neutral tote. If you didn't already read the story in this post, it's kinda funny because this bag absolutely came home with me even though I didn't realize at first it wasn't included in the sale. That's how much I fell in love with it!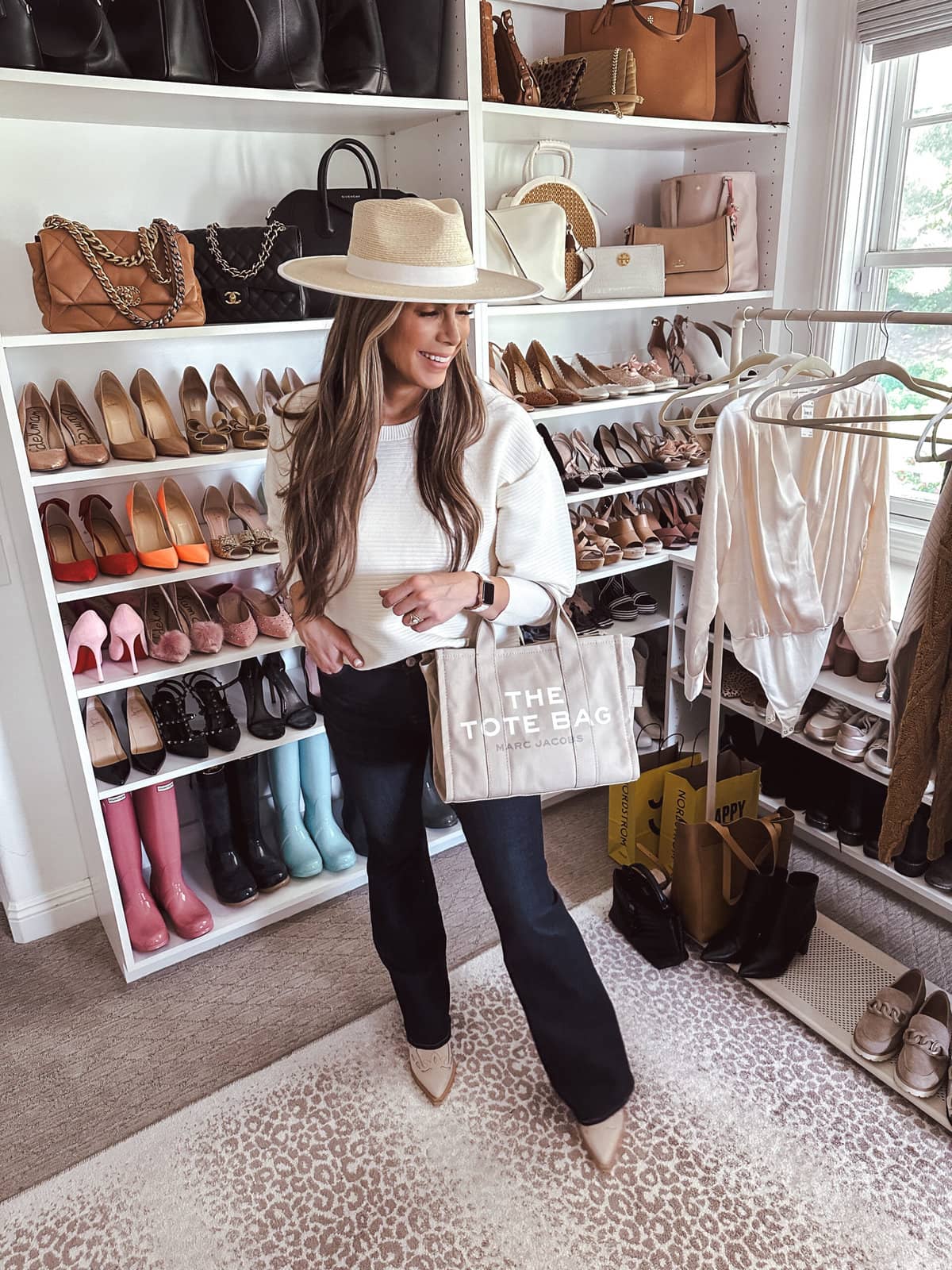 Outfit Idea #2: Everyday casual
This is such an easy, but put together everyday look that's perfect once it starts to cool off just a tiny but it's not quite full on grab your warmest sweater before heading out the door weather. This lightweight sweater already sold out in the blue color I'm wearing but you can still get it in this super pretty dusty rose shade. It's incredibly lightweight + soft and pairs perfectly with these jeans (that are also about to sell out – see similar option in stock here). These chain loafers are the understated star of the outfit and another fun trend we're predicting will be back in the fall this year!
BONUS: The perfect palette
I already talked about how much I love this palette here and what an insane value it really is! But in case you missed it this Ambient Lighting Palette is the perfect compliment to any of the outfits you put together from the sale because it gives the perfect lit from within subtle glow. You're getting a blush, bronzer AND finishing powder in one convenient compact palette for just $69.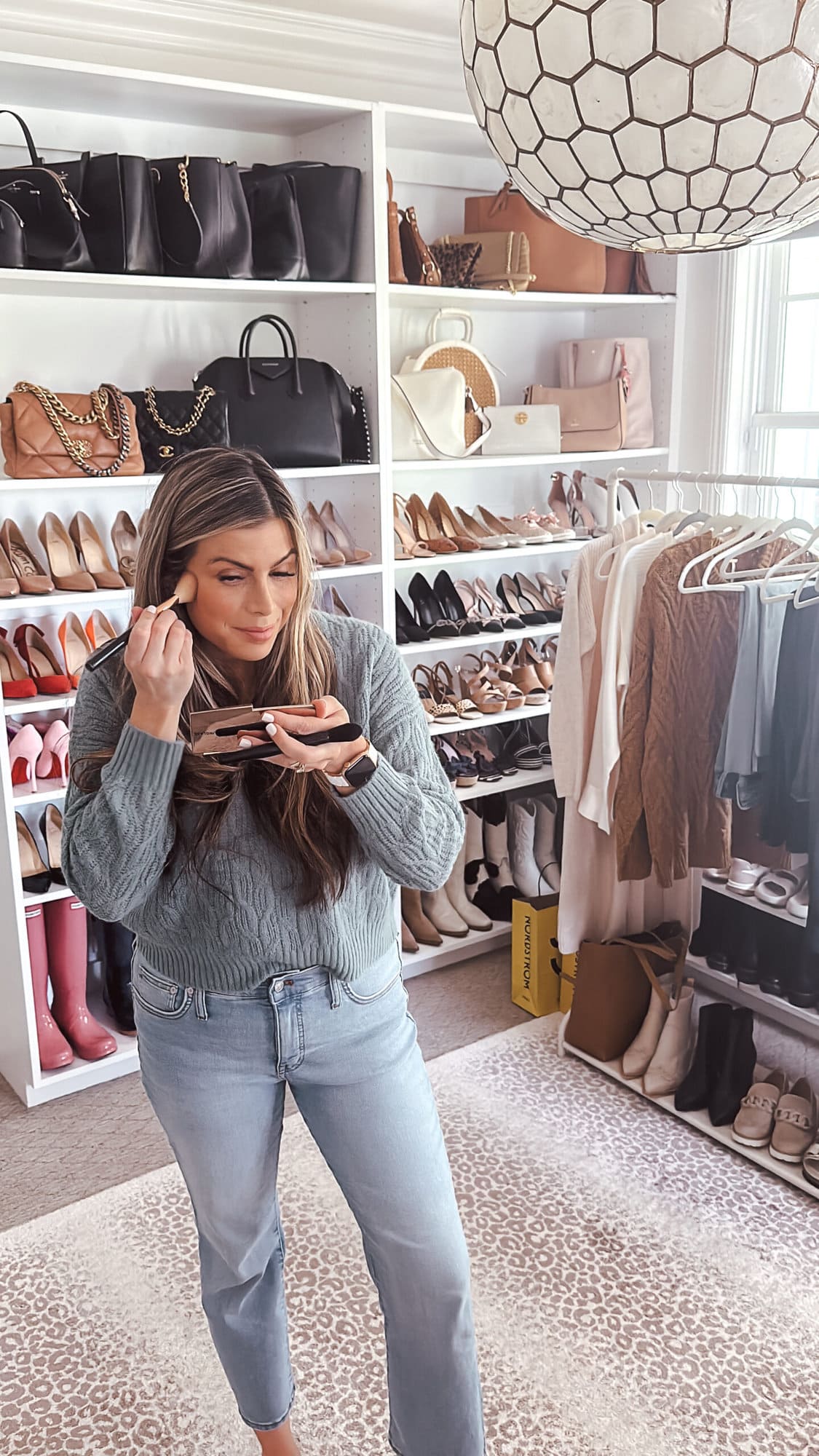 Outfit Idea #3: Transitional outfit for changing weather
Another super easy transitional outfit idea with pieces that will work year round. Let's start with these shoes because we're all here for the Birks, right?! I'm actually kinda sorta shocked these cream Birkenstocks are still in stock tbh! They've been so popular this past year and aren't going anywhere as we head into the fall. These baby flares are CUTE and they're the perfect jeans to wear when you want to bring attention to your really cute shoes thanks to the length. This ribbed cardigan is still in stock in a couple of other colors and is the perfect cropped length to keep you covered and line up with the waistband of your jeans. This is just the easiest, throw on and go school pick up line, lunch with girlfriends, errands outfit that isn't leggings and a pullover!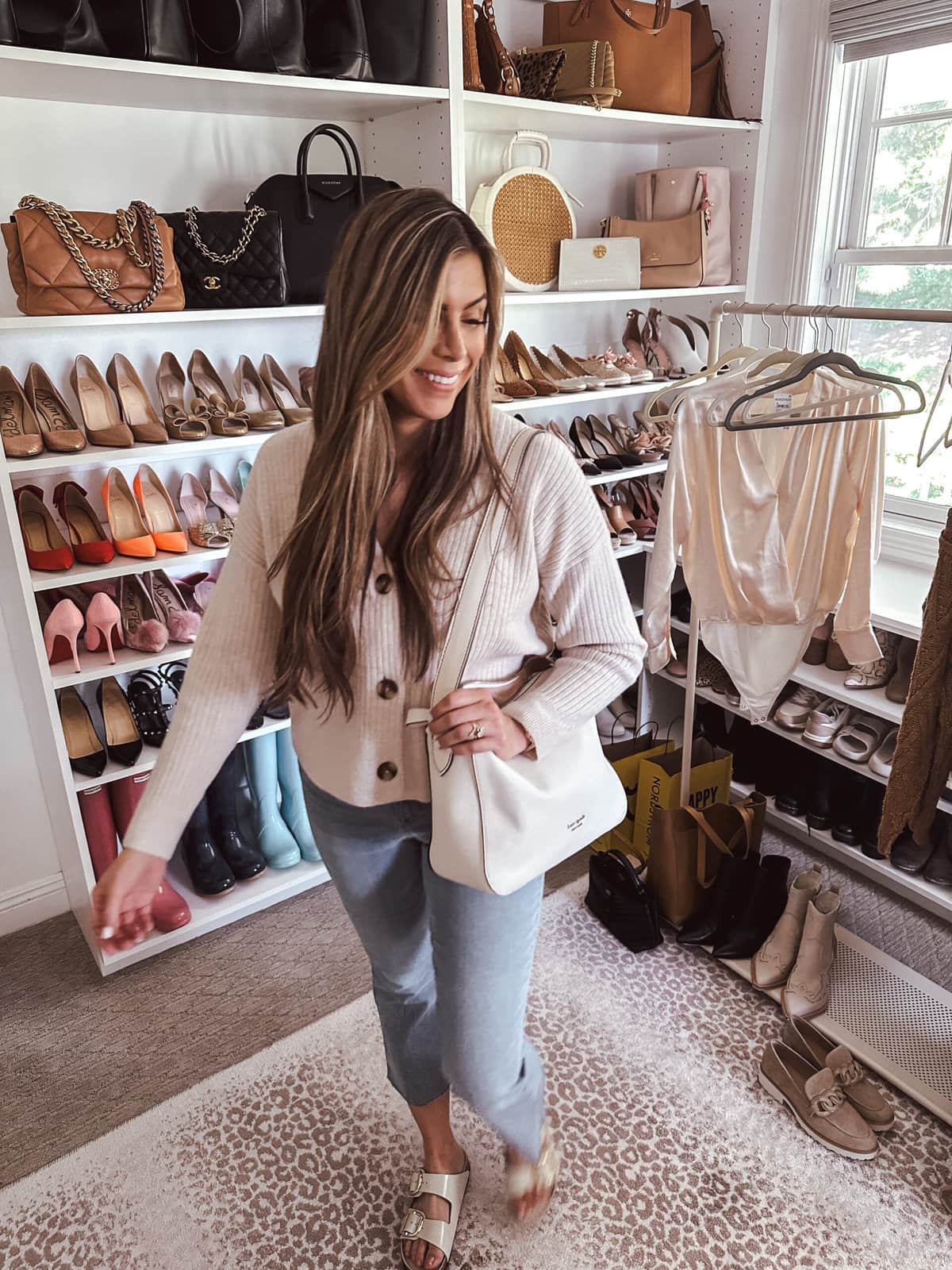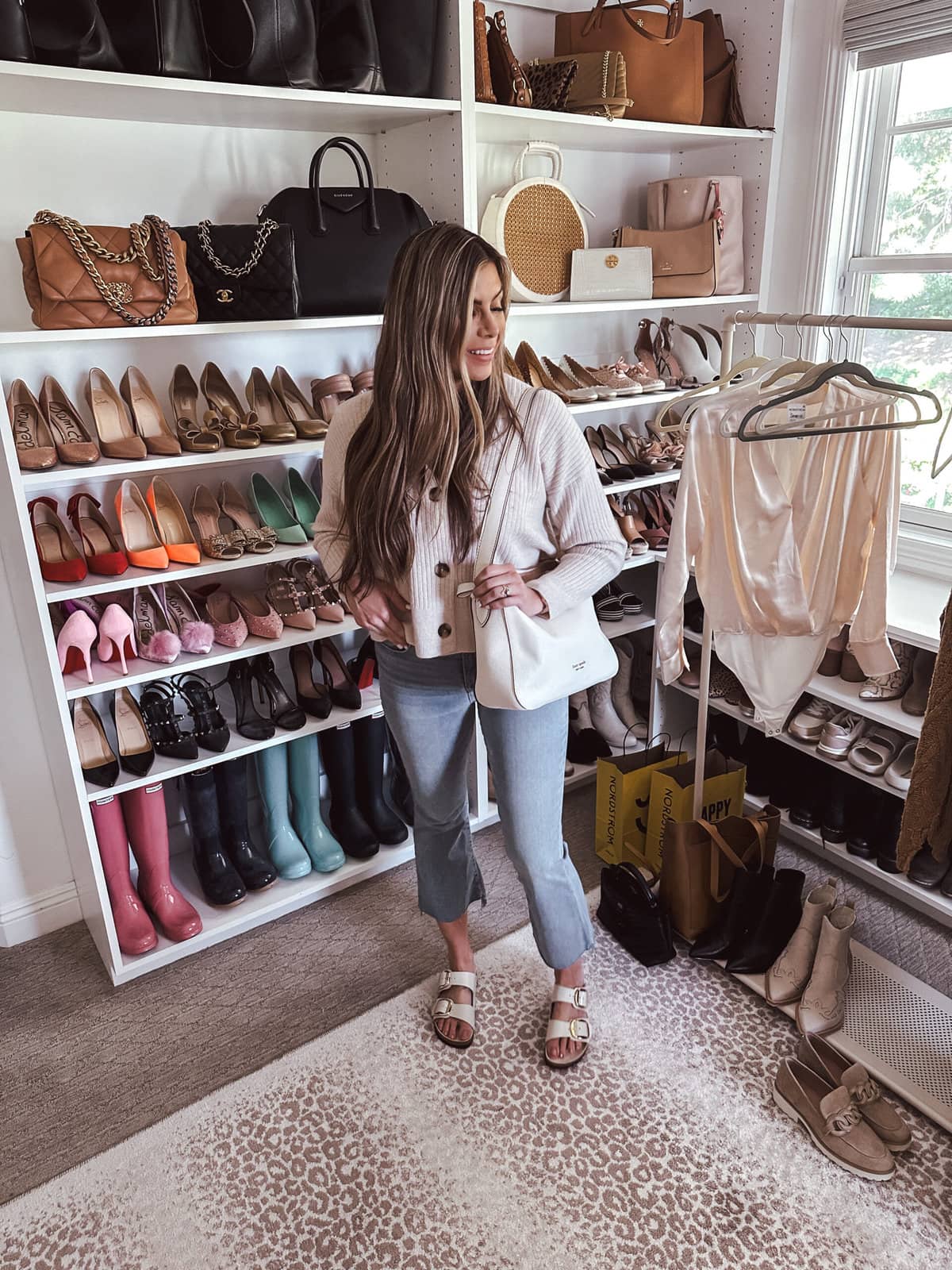 Outfit Idea #4: Chef's Kiss Midi Dress
Can we take a moment for this midi dress? I am SO bummed this sold-out so fast because it's seriously so good! But there's actually so many other really cute midi length dresses that would give a similar look like this one that I've had my eye on and it's a similar color and length for a really great price at under $60. This dress is another one that's similar in color and length – definitely more pricey but a brand that always fits beautifully!!
These platform heels were the perfect shoe to elevate this look if you had an occasion or a special date planned but you can also swap them out for some casual white sneakers to easily dress this down too if that's more your vibe! This leather tote has been a long time closet staple and is just that bag that goes with basically everything. This JUST sold out, but this tote is available and is a similar color that would look so cute with a navy dress, under $50 too!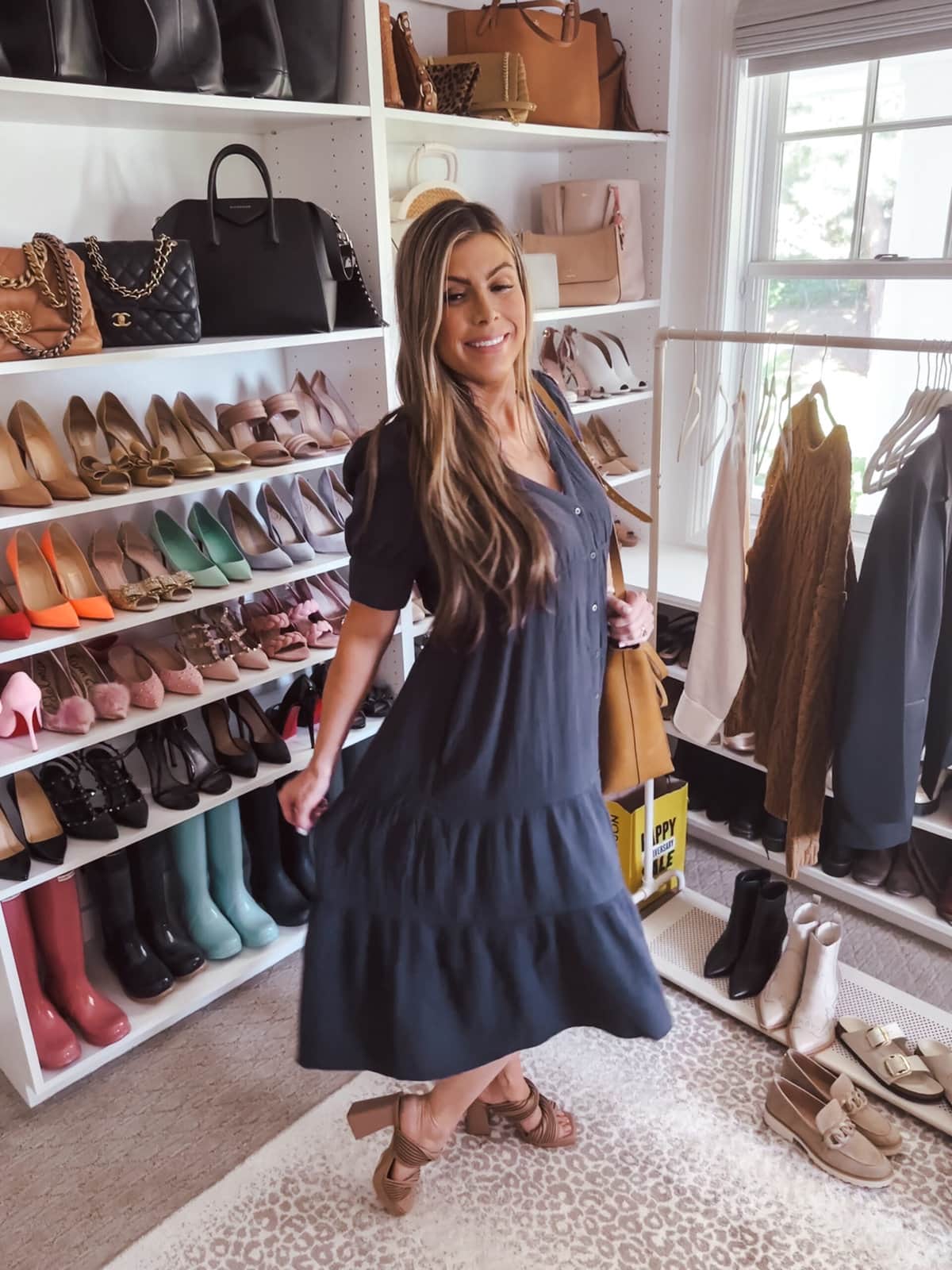 Outfit Idea #5: Classic Fall Vibes
If this outfit doesn't make you seriously pumped for all things fall I don't know what will! But seriously, I can practically smell the pumpkin spice in the air when I look at this outfit! A chunky tunic length sweater paired with the only faux leather leggings you'll ever need. Boom, outfit done! Some booties and a hat just help take the look to the next level.
Outfit Idea #6: Jeans but make it dressed up
Okay, this bodysuit is going fast, and it's because it's seriously flattering thanks to the wrap silhouette. This is the perfect outfit for when you need to be a little dressed up but can still get away with wearing a pair of jeans. So maybe a nice dinner date or similar occasion that you want to look slightly elevated for!
Outfit #7: Cozy and put together
This duster cardi is SO good for so many different reasons. It feels like you're wearing a blanket but is socially acceptable and even cute to wear out and about! I styled this with a basic white t-shirt, some great fitting jeans, go with everything birks and a classic tote for a classic everyday look. Everything about this outfit has comfort in mind but still looks like you took the time to put yourself together. These layers are so key too because if it warms up, just pop off the sweater and you still have on a great casual outfit…not something you could so easily do wearing leggings and a pullover!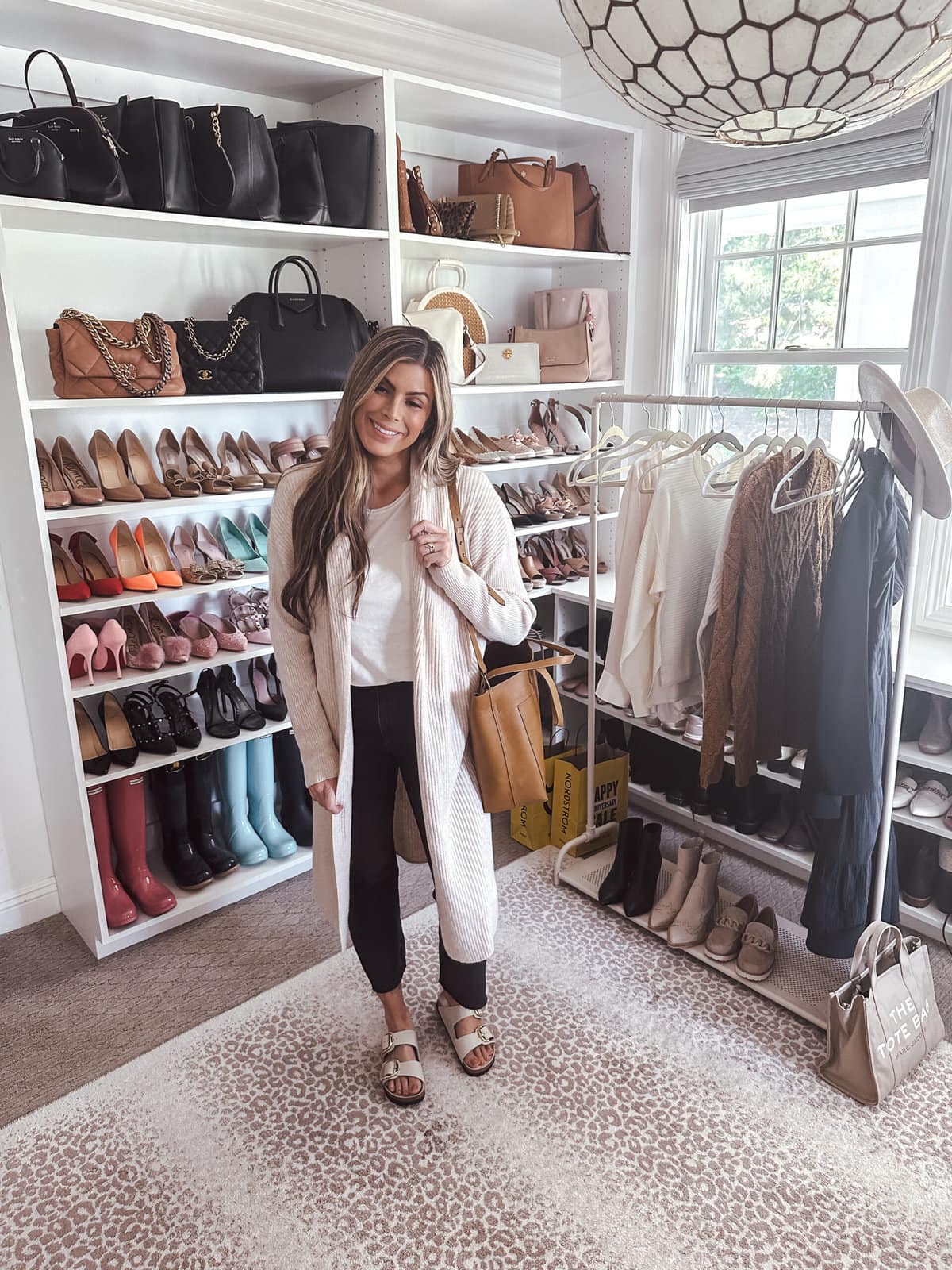 All of the Nordstrom Anniversary Sale outfit inspo in one place
Are you getting pumped and dreaming up your our latest outfits yet?! The Nordstrom Anniversary Sale is LOADED with tons of cute finds this year. I hope this guide was helpful to you in getting some ideas with how to style these pieces and put together the cutest Nordstrom Anniversary Sale outfits this fall.
2023 Nordstrom Anniversary Sale Guides
Nordstrom Anniversary Sale 2023 {Complete Guide!}
TOP 15 Nordstrom Anniversary Sale 2023 picks – most likely to sell out first!
I tried on ALL THE JEANS in the Nordstrom Anniversary Sale – these are the BEST.
Best Nordstrom Anniversary Sale shoes, with sizing info!
Nordstrom Anniversary Sale beauty top picks!
Nordstrom Anniversary Sale BABY DEALS!
Bags + Accessories worth buying at the Nordstrom Anniversary Sale
The CUTEST Nordstrom Anniversary Sale women's clothes
A week worth of outfit ideas straight from the Nordstrom Anniversary Sale!
Nordstrom Anniversary Sale best picks $50 and UNDER!!!
The BEST Nordstrom Anniversary Sale home items!
TOP Nordstrom Anniversary Sale Men's Items
Back to school ready with Nordstrom Anniversary Sale KIDS + TWEEN picks!
The Nordstrom Anniversary Sale 2023 Preview