I don't know about you guys, but this house runs on Diet Coke and a heavily utilized Amazon Prime membership 😉 Amazon is the first place I go when I'm looking for something I can get on my doorstep QUICK, that I know has been reviewed by lots of other buyers before I take the chance on buying it myself! I can get a little bit impatient when I want to spruce up a space in my home, so that two-day shipping (and sometimes even same day!!) is just my very best friend!
Not an Amazon Prime Member?
Amazon Prime Day deals are only available to Amazon Prime Members, but don't worry! If you haven't joined myself and a bazillion other people who are addicted to Amazon Prime, you can try it free for 30 days! Also, if you happen to be a business owner, you can get an Amazon business account here!
Frame TV
These frame TV's are ALL THE RAGE because you really can display the prettiest art when the TV isn't in use. AMAZING RIGHT?! I've been dying to get one for a couple of years now and this is the best deal I've EVER seen on them.
You save a full 27% off the 55 inch Frame TV making it only $1,097.99 (retail price $1,500)!!! This price is for the 55 inch, but they have options from 32 inches all the way up to 75 inches with great savings in all sizes!!
Weighted Blanket
Weighted blankets are ALL.THE.RAGE right now. Weighted blankets have been touted for helping people sleep better and lowering anxiety! This would be a really thoughtful gift for someone who is going through a hard time or has insomnia! It's also on sale for up to 20% off depending on the weight you get!
Pebble ice maker
Today and tomorrow only (or whenever this deal sells out), you can get our favorite pebble ice maker for $466.65 – an extra 15% off the listed $549 comes off at checkout!
This is an INCREDIBLE deal, and one that TONS of people are searching for, so if you've been wanting to pull the trigger on pebble ice NOW is the time!
Why I love this nugget ice maker
I'm absolutely, completely, totally OBSESSED and in love with this nugget ice maker! Its a bit of an investment yes, but ALL of the other built-in models nugget ice makers that I've ever looked into buying were literally thousands of dollars, not in the hundreds. Our nugget ice maker is not only MY favorite, but Neil's and both girls and neighbors and friends who drop by for a cup of nugget ice. Best purchase ever!!! I've blogged about it in my last kitchen reveal, a gift guide, and my third trimester pregnancy favorites.
I love that this pebble ice maker can just be plugged into the wall ANYWHERE and doesn't have to be hooked up to a water line – we just pour bottled water into the bottom and it produces the most perfect, chewy, heavenly pebble ice you could imagine. If you've got a party coming up or you're spending a week on a houseboat (Lake Powell anyone?) or in an office or a butler's pantry (where we store ours) or a big pantry where you want to hide it or anywhere really, it's SO perfect!
Air Fryer
We've recently tried an Air Fryer and have been SO impressed! Honestly, we kinda thought Air Fryers were pointless before trying one. Like, do we really need ANOTHER appliance that takes up space in the kitchen? One word: YES! This thing reheats, crunchifies, melts, bakes and (duh) air fries! It's pretty much amazing and we don't want to cook without it anymore!
The best part? You can get our favorite Air Fryer today for ONLY $89.99 (reg $129.99)! Such an amazing deal and totally one that will sell out quick! Can you say Thanksgiving leftovers?
Instant Pot
RIGHT NOW you can get 3 qt 10-in-1 Instant Pot for only $49.99 (originally $119.95), making it 58% off during Amazon Prime Day!
You can also get the 6 qt Instant Pot today for Amazon Prime Day for 21% OFF! That's a $20.95 savings! These usually sell out fast, so grab one (or two!), to help you combat all of that holiday cooking that's coming up!
PLUS you can get the 10 qt Instant Pot for only $99 (reg $150), which is a SUPER good deal! This one is huge. I have the 8qt and I love it – it's perfect for my big family but we have 2 babies. Once we have 6 full grown eaters here we will need a 10qt!
The Instant Pot is a pressure cooker so you can make crockpot type dishes but in a fraction of the time! Think an 8 hour slow cooker recipe in 35 minutes instead! Perfected mashed potatoes in 20 minutes. Chicken breasts from frozen to perfection in 12 minutes. I use my Instant Pot seriously at least 3 times a week now. It also works as a rice cooker, steamer, you can make soup or sauté meats, seriously this thing does it all! Every single one of my friends who have bought the instant pot have come to me after and said, "why did I wait so long?!"
It is a go-to for all those rushed nights when you realize you haven't planned dinner yet! I like to make this quick chicken dinner in just a few minutes and serve it over a little Trader Joes rice and everyone gobbles it right up.
All-Clad Cookware
Today get 43% off a 10-piece non-stick All-Clad Cookware set!! This retails for $700 and is a Prime Day deal of only $399!!!!
Why are people like my food blogger mom and just about every celebrity chef you see on Food Network or the Cooking Channel almost ALWAYS cooking with All-Clad? Here are a couple of reasons. First, All-Clad cooks food SO evenly! Next, it's a lot harder to burn food at the bottom of these pans because they're so much thicker than a cheap pan. Another reason is they are crazy easy to clean. But the best part is…they last FOREVER! No more replacing your chipping pans every few years!
Blendtec
My very favorite Blendtec blender is only $328 today, normally $510!! This is 36% off, and one of the best deals you'll see on it!
My entire family has been loyal to Blendtec for YEARS because they are just THE BEST. Have you seen any of the "will it blend" YouTube videos? They are pretty amazing and entertaining. I'm not going to be blending up our iPhones or Amazon Echo anytime soon, but I LOVE that even the most frozen solid fruits or veggies get pulverized in seconds every single time. I have had my Blendtec blender for 9+ years and have used it hundreds and hundreds of times and it still works like it did the day I took it out of the box.
Cordless Vacuums
Dyson Cordless Vac
The discovery of cordless vacuums is probably the best thing to happen to my house in 2020. You can carry it everywhere, and it makes vacuuming a cinch. I know the reservation with cord-free vacuums is the power; will it work as well as my traditional vacuum? The answer is a resounding YES!! I am so impressed with how powerful our cordless vacuums are.
The cleaning head is designed for all surfaces, it converts to handheld AND boasts a HEPA filtration system. And perhaps the best thing about it? The current Amazon Prime Day price! You can get this Dyson vacuum for ONLY $269.48 today (orig $329.99)!!!
Also I still think THIS deal that we featured a few days ago on the nicest cordless vacuum that Dyson makes is an incredible savings – $499 for a $730 vacuum.
MOOSOO Cordless Vac (BEST bang for your buck)
This MOOSOO vacuum is seriously the greatest dupe on the market for the Dyson vacuum. And it's a fraction of the price! In researching this totally amazing and under the radar vacuum, I discovered that it has earned thousands and thousands of really amazing, super positive four and five-star reviews. People really love this vacuum and after giving it a whirl, I do too!
If you aren't quite ready to take the plunge on the Dyson, THIS is the next best choice! For only $111.99 (orig $179.99) during Amazon Prime Day, it's a no-brainer!
iRobot Roomba
For Amazon Prime Day, there are TONS of Roomba deals!! The Roomba 692 is only $199 (normally $319), the Roomba 981 is only $399 (normally $600!), and the Roomba i6+ is $599 (normally $800!!!) These vacuums are super hard to find on sale, so these are all killer deals! They all work with Alexa and have varying power depending on your needs!
We absolutely love using robotic vacuums just to help keep our floors clean all the time! It is such a useful little household helper. You can schedule it to run each day, or just press CLEAN and it will automatically get to work! These vacuums would totally make a great gift for a family with dogs or small babies who crawl around on the floor or an older person or people who hate vacuuming-really anyone!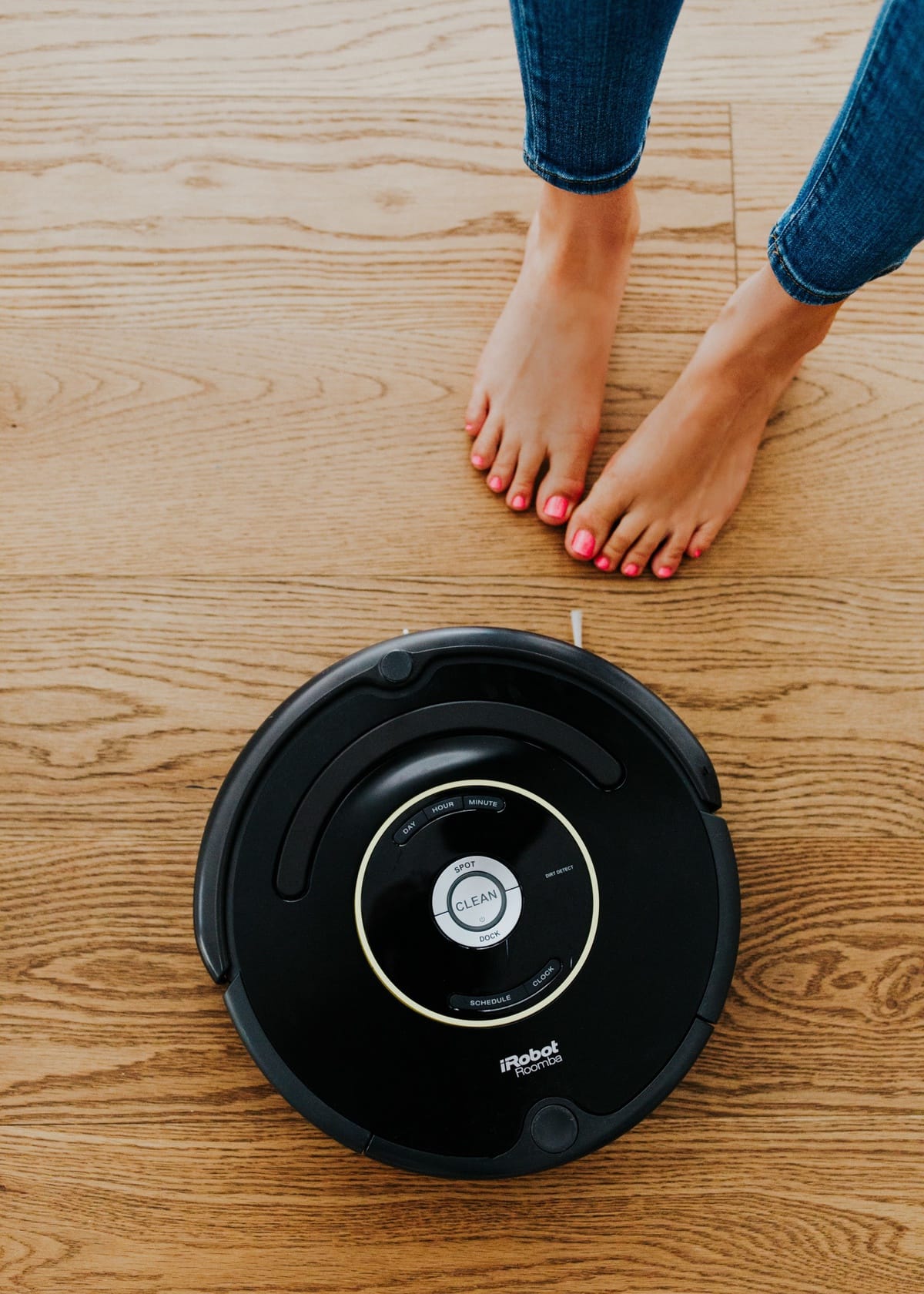 Le Creuset bakeware
Get this Le Creuset bakeware for 40% off!! Such a great deal on such a quality piece of bakeware that's rarely on sale!! Today grab the iconic cast iron oven for only $179, normally $300!!
There's also this amazing Enameled Cast Iron griddle for a whopping 44% off, making it only $89! Use this for searing meats and roasting veggies, you'll totally be able to tell the difference!
The Le Creuset is a game changer!! I got this as a Mother's Day gift a few years ago and never looked back. It's lightweight, lasts forever, cooks evenly and looks beautiful. Everything you cook in it tastes amazing! Such a good quality gift that will last for years and years.
Tuft & Needle Mattress
Get this Tuft & Needle Queen Mattress for only $428.40 and have it shipped straight to your door! (The additional 20% off the already reduced price of $535.50 comes off at checkout!) You can also grab the King Mattress for only $540!! This is an INSANE price!
After sleeping on an old mattress for WAY too long, we ordered ourselves a Tuft & Needle mattress and I can honestly say it's been the best sleep I've ever had in my adult life!! We officially found the perfect blend of comfort and support to produce super dreamy sleep. Tuft & Needle mattresses came highly recommended by an executive in the mattress industry and I TRULY love it myself. I had a 100 night sleep return guarantee (and you will too if you order one) and my plan was to return it and try another if I didn't love it but, I really did love it and I'm confident you will too.
Traeger Wood Fired Grill & Smoker
I've been waiting and waiting for the Traeger Pro Series grill to go on sale and I'm STOKED that it's part of Prime Day!!! Get this Traeger Grills Pro Series for $799.00 (reg $888.04)!!
We've had our Traeger for a few years and we are OBSESSED. We have used our Traeger to make our Thanksgiving turkey the last few years and it seriously puts all other turkeys to shame! It's so juicy and delicious, like every other meat you cook on the Traeger. I've even been doing my mom's pot roast on it and I kid you not, the flavor is UNREAL. I will never cook it any other way now! I've also used it for my mom's pork tenderloin with mushrooms recipe on the Traeger and it was fantastic (and one of my girls' favorite meals!)
Perfectly pink area rug
I am obsessed with this rug. It totally ties the space together perfectly and was very affordable for the size. It's 100% wool and super high quality. Right now you can get this super cute rug for $239.99 (reg $350).
Detergent Deals
Right now, you can get up to 30% off Tide, Cascade, and Downy household items! I'm convinced that Magic Erasers solve all the problems in the world, and you can even snag a 10 pack for only $13.73 today. If you need to stock up on keeping your clothes, house and dishes clean (who doesn't??) now is the time to buy!
Bench Scraper
Also I LOVE having a bench scraper to clean up my marble countertops (and loved it in past kitchens with granite or quartz!!). This one is normally $10 but today it's $5 for Prime Day!
Top Amazon home deals for Prime Day
Here are more of the very best Amazon HOME deals for Prime Day. We grabbed a bit of everything–bedding, lighting, kitchen tools, cleaning appliances–to make your Prime Day browsing a piece of cake. Here's the best of the best in Amazon Prime Day's home, kitchen and decor deals!
MORE Prime Day deals
What to buy first: 12 hot items that will sell out fast
HOT! Honest Diapers on sale – high sell out risk!
The BEST Women's Fashion deals of Amazon Prime Day!!!
Prime Day deals on my favorite Amazon leggings
The best Amazon Prime Day BABY deals!
Craziest Amazon Prime Day HOME deals!
Amazon Prime Day beauty deals you cannot miss!
The BEST tech deals on Amazon Prime Day!
Amazon Prime Day kids toys at amazing prices!
HOT DEAL on the Philips DiamondClean – the most amazing electric toothbrush I've ever used
HOT! Crazy good Levi's jeans sale for Prime Day!
Halloween candy ON SALE for Amazon Prime Day!
HOT Amazon Prime Day deal on our FAVORITE pajamas!