Today I'm SO excited to give you a little tour of Millie's nursery! This room is so, so special to me. Decorating a nursery is one of the few things I really enjoy about being pregnant and a lot of love went into this little room, so I'm really thrilled to finally be sharing it with you today.
I'm usually a pretty plain and simple kinda girl but for Millie's nursery I consulted my designer friend Tahni Hansen and together we decided on a boho vibe for this room. I'm so glad we did because I absolutely LOVE how everything came together!! This is my favorite room in our whole house right now.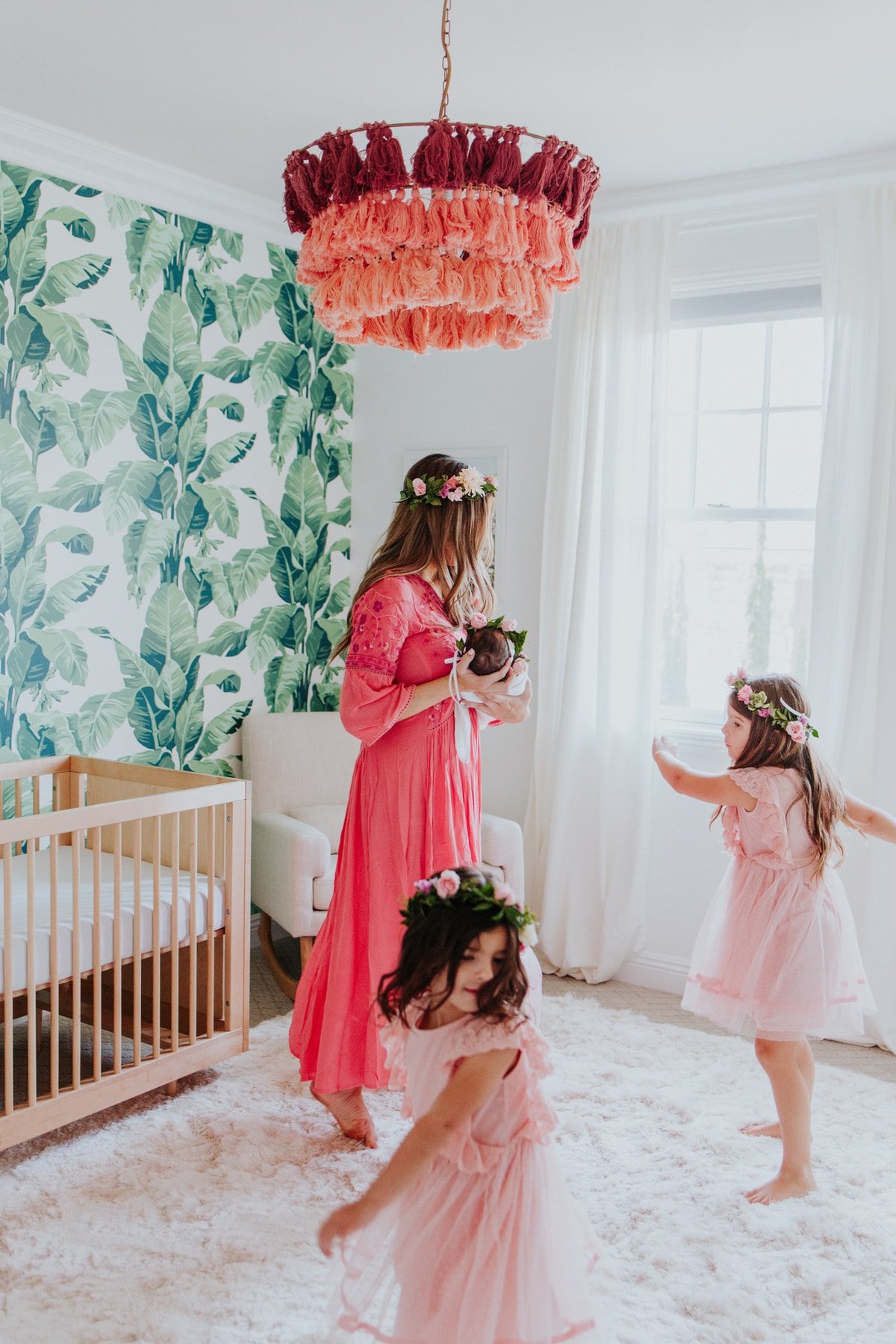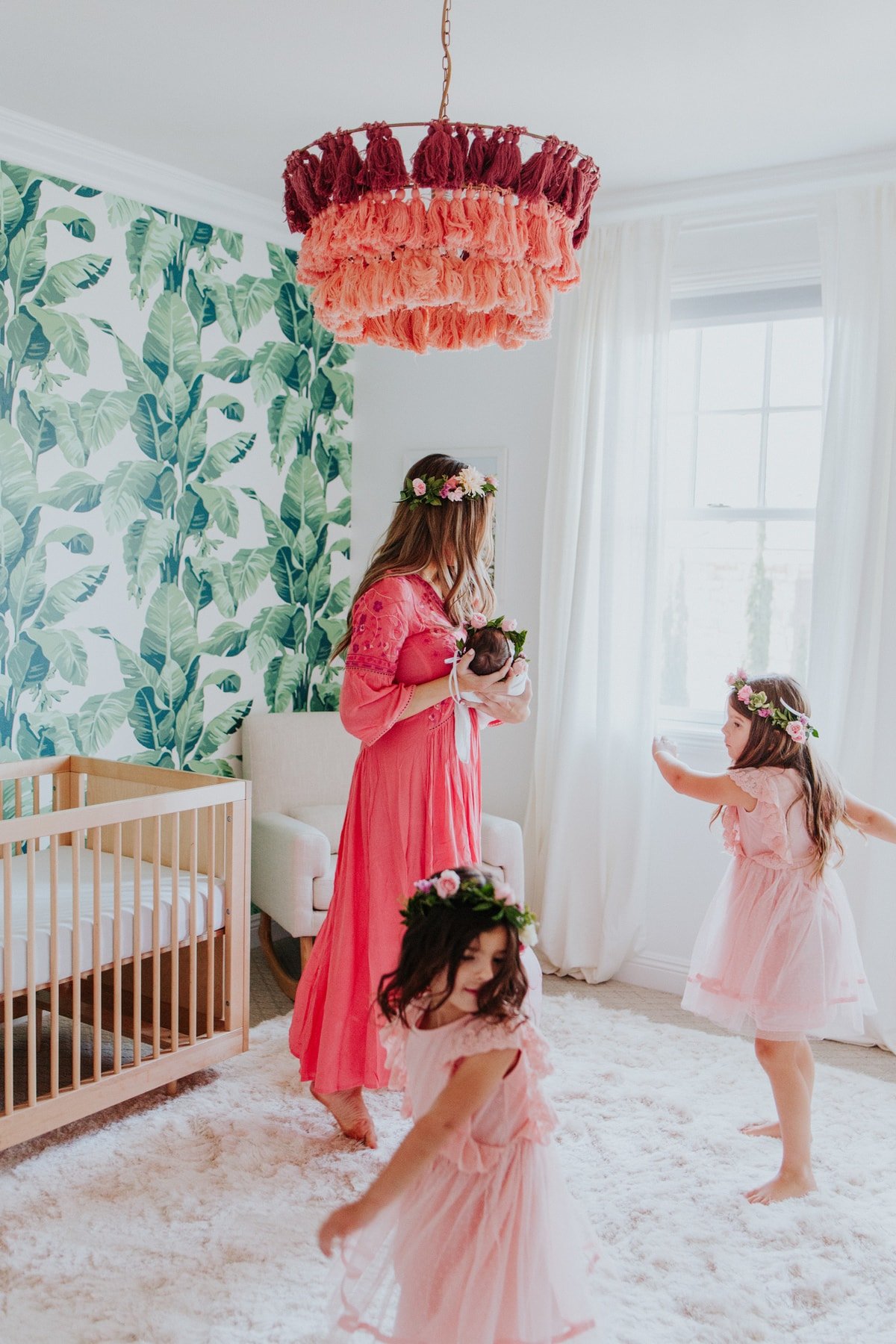 Just look at these three! I have been dreaming about this scene since I found out I was pregnant. Ani and Lyla are already the sweetest big sisters and I just know that watching them grow up together is going to be one big adventure!
I wanted this shoot to be simple but match the boho feel of the nursery, so I thought flower crowns would be the perfect finishing touch to make these photos feel just a little more special. The girls loved having flower crowns to match me and little Millie. My friend Aubrey who I've been friends with since college made these perfect little flower crowns and it was really fun to have her there too.
Wall Art
I absolutely love how the Shutterfly art we picked for the nursery ended up flowing with all the other decor. You can read more about how EASY it was to decorate the nursery with the help of Shutterfly in this post!
Glider & Leather Pouf
One of the most important pieces in a nursery is the glider! It's where you'll spend hours cuddling and feeding your little one, so while I wanted it to look gorgeous in this space, I also needed it to be comfortable. This rocker fit the bill on both accounts, and I love it paired with this sweet and girly round leather Pouf. A place to sit back and put my feet up is exactly what this newborn mama needs, especially when I'm feeding this babe every couple hours all day long.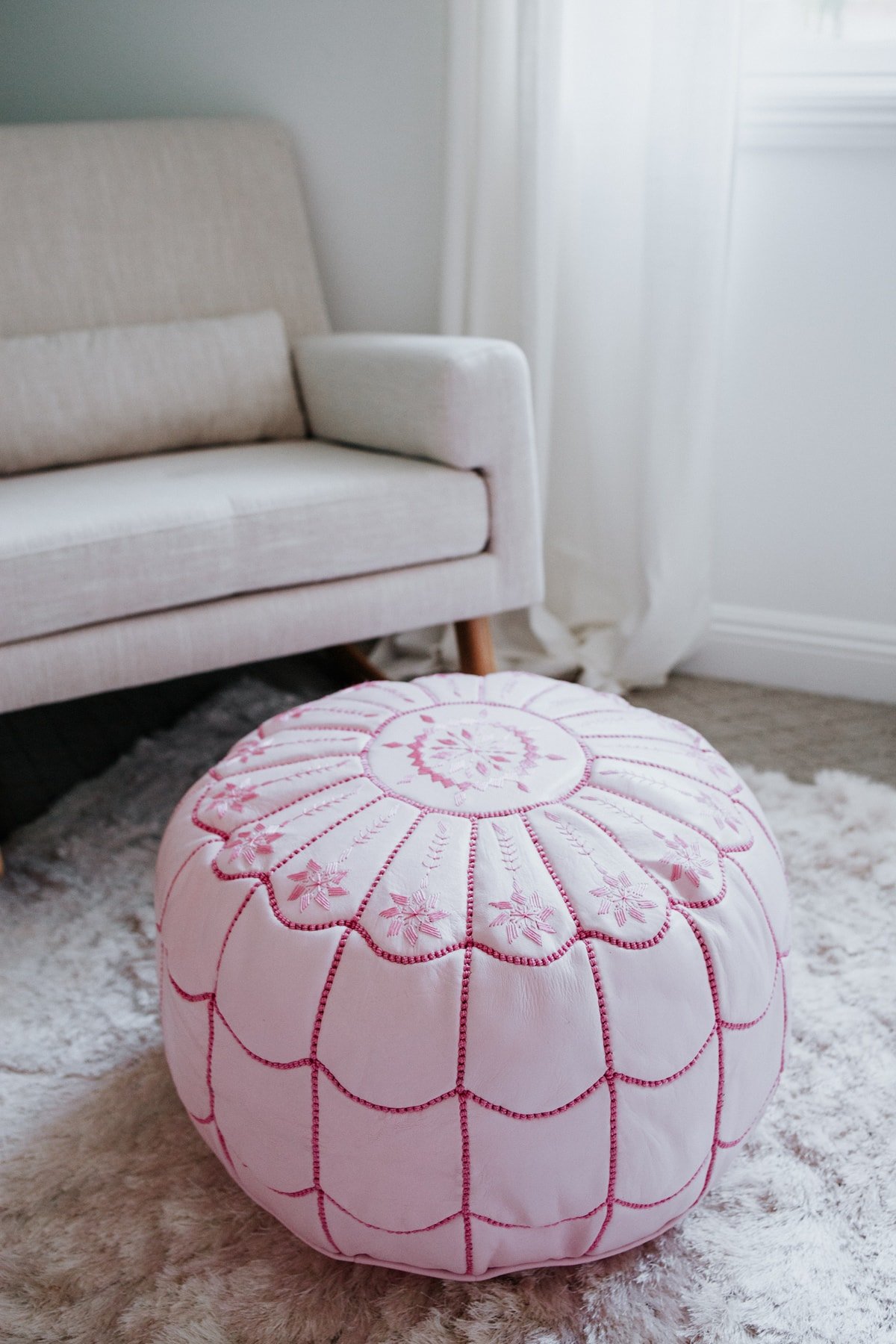 Neutral Rug
The shaggy rug is so unbelievably soft, I'm glad we chose it every time I step in here with bare feet! This rug is a perfect neutral that doesn't distract from anything else we have in the room.
Tassel Chandelier
This tassel chandelier was an instant favorite. The minute I saw it I started dreaming about how it would work into the baby nursery space! This chandelier is a perfect blend of girly and bohemian, and I love the punch of texture and bright and happy color it adds into Millie's room. AND I loved that it was under $200!!!
Crib for baby
For Millie's crib we decided to just be practical and re-use the same crib we had for Lyla, even though it was a little "loved" haha. It's such a pretty neutral and so effortless to match with any type of decor so it was an easy choice.
Printed Palm Wallpaper
I'm also thrilled with how this palm wallpaper turned out. While it isn't a super girly choice at first glance, I knew that with the right accents I could make it work just right with feminine baby nursery decor! I think this wallpaper plays so well with the bright white walls and pops of pink throughout this room.
White Dresser
This white dresser was the biggest splurge in Millie's nursery but I really felt like it was such a classic piece that we'd be able to use it for years to come. We picked something kind of similar for Lyla's nursery and it ended up transitioning beautifully into her big girl bedroom.
Changing Pad Cover
In keeping with the girly nature theme of the whole baby nursery, we got this Flamingo Changing Pad Cover. It's muslin, so super soft, and machine washable, a must for anything you're changing a baby on!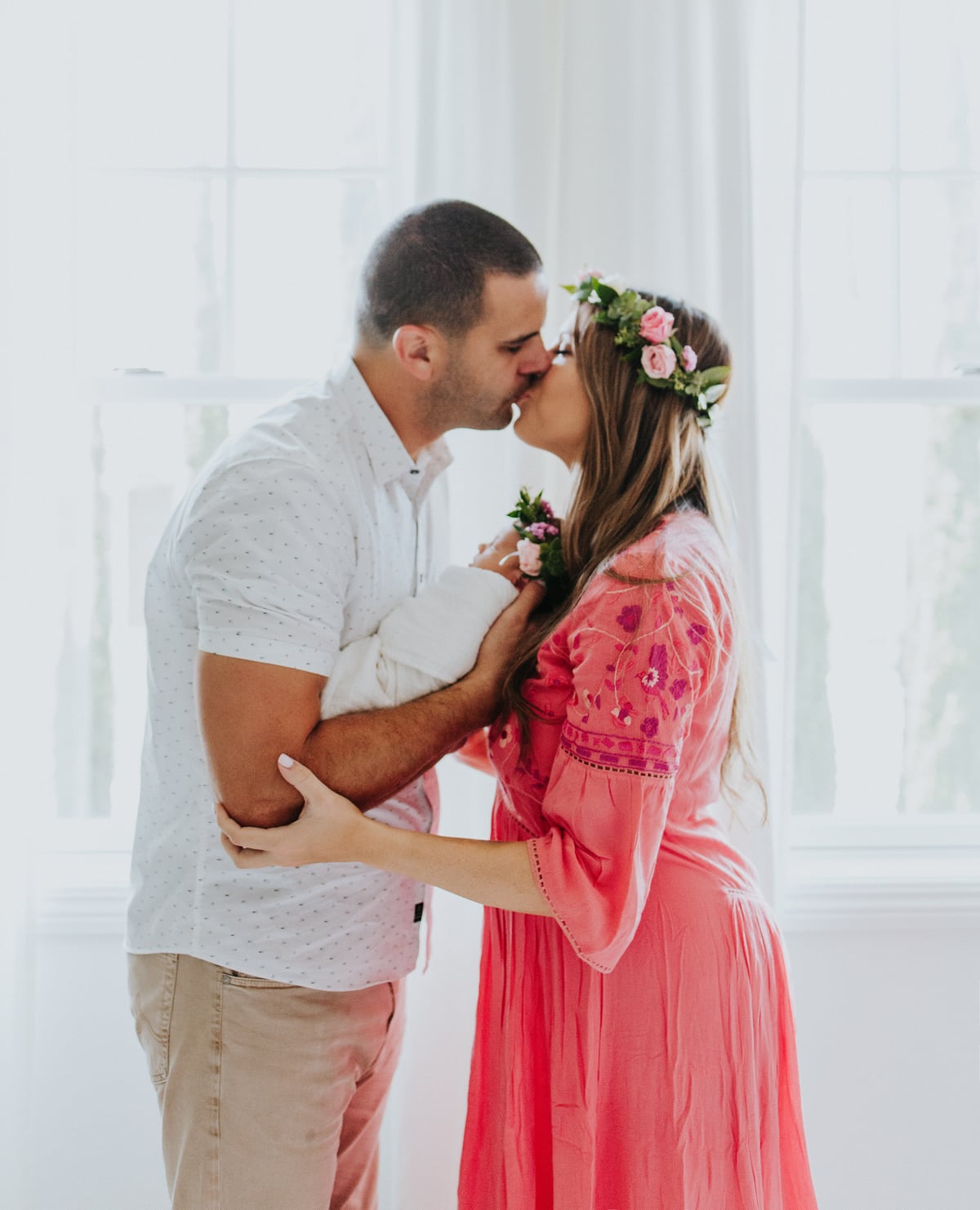 Crib
White dresser
Flamingo Changing Pad Cover
Pink Tassel Chandelier
Neutral Rocker
Rug
Round Leather Pink Pouf
12×12 frames – add a photo from the art library and search the "kids" gallery to find the animal prints
Palm Wallpaper
My Pink Embroidered Maxi Dress
Pink Girls Dress
Pink Toddler Dress
Photos by Arielle Levy
Oh baby
Thanks for joining us on a tour of little Millie's baby nursery! Take a look here at Millie's newborn shoot and my tips on how to get the best newborn pictures possible, in the comfort of your own home.