Quick version: a newborn photo guide with all my tips + tricks after having five babies!
I'm so excited to finally share photos from Bobby's newborn photoshoot! I've learned so much about newborn photography with each new baby. I did almost everything textbook wrong with Ani's newborns, which is so funny because in my mind I had this picture painted of blissfully beautiful newborn photos with my first baby (doesn't everyone?) and they turned out pretty much exactly NOT like I planned, thanks to my first-time-mom naivety. So I figured I'd share with you all some tips on getting the best (and avoiding the worst) newborn photos after doing it five times now!
I'm including some of Millie's and Harry's and even a couple of Lyla's too because I still love them so much and it's fun to see boy and girl newborn photos. And because there can never be too many pictures of brand new babies, right?!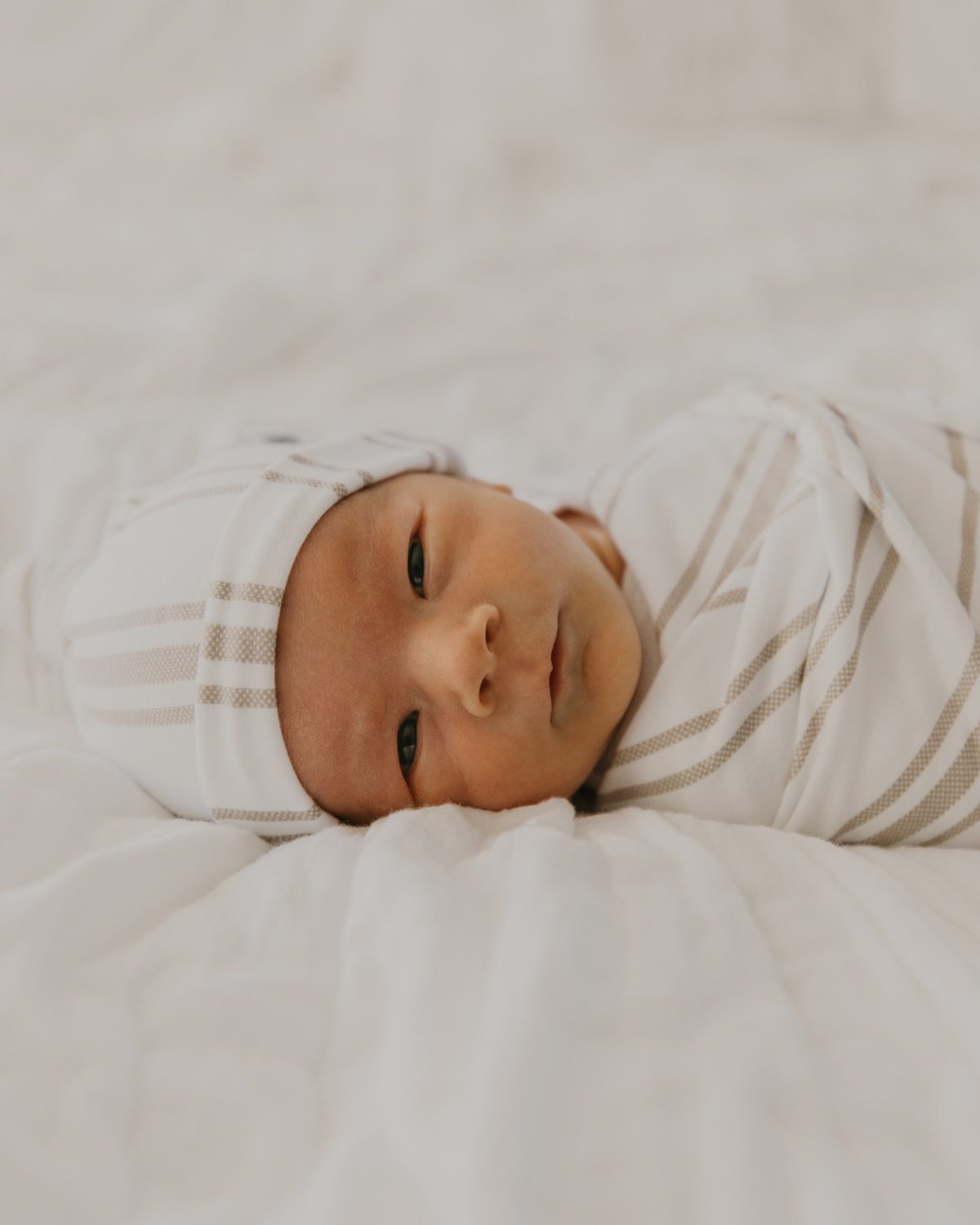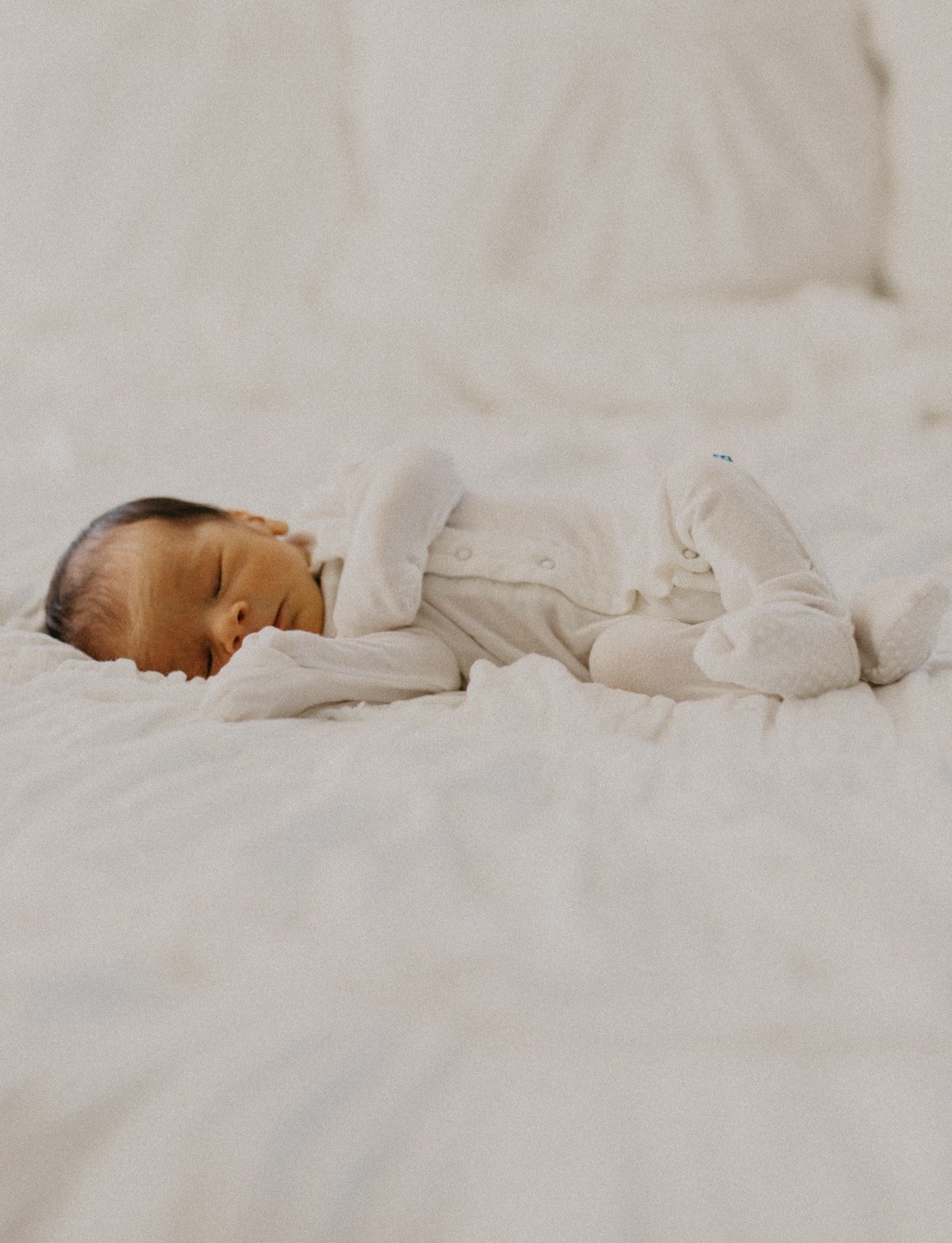 Tip #1: When to take newborn photos
Okay really ideally, 5-10 days after birth is the best time. I think this is the magic number, when you've been (hopefully) home from the hospital for at least a few days. Your baby is still in that super sleepy state and is more likely to sleep like a rock through the shoot. Also, your milk has probably come in, which leads me to my next tip…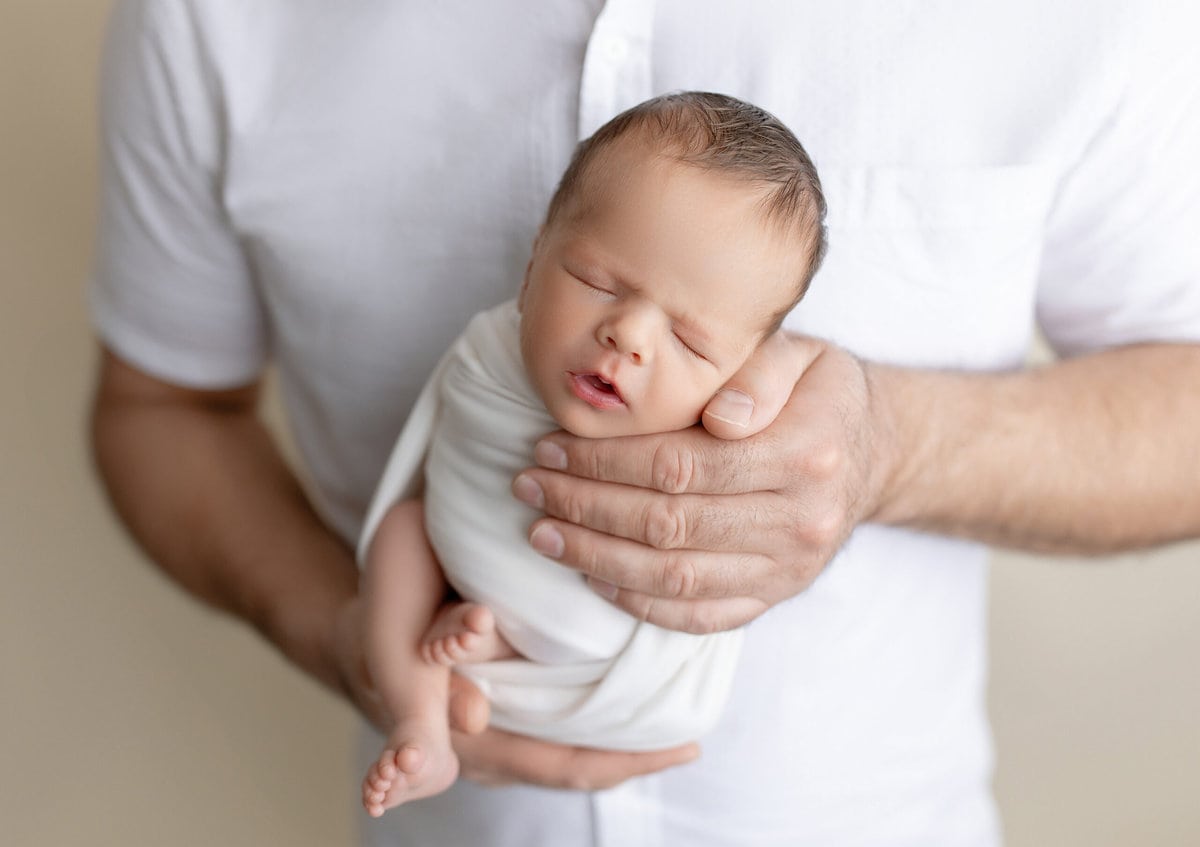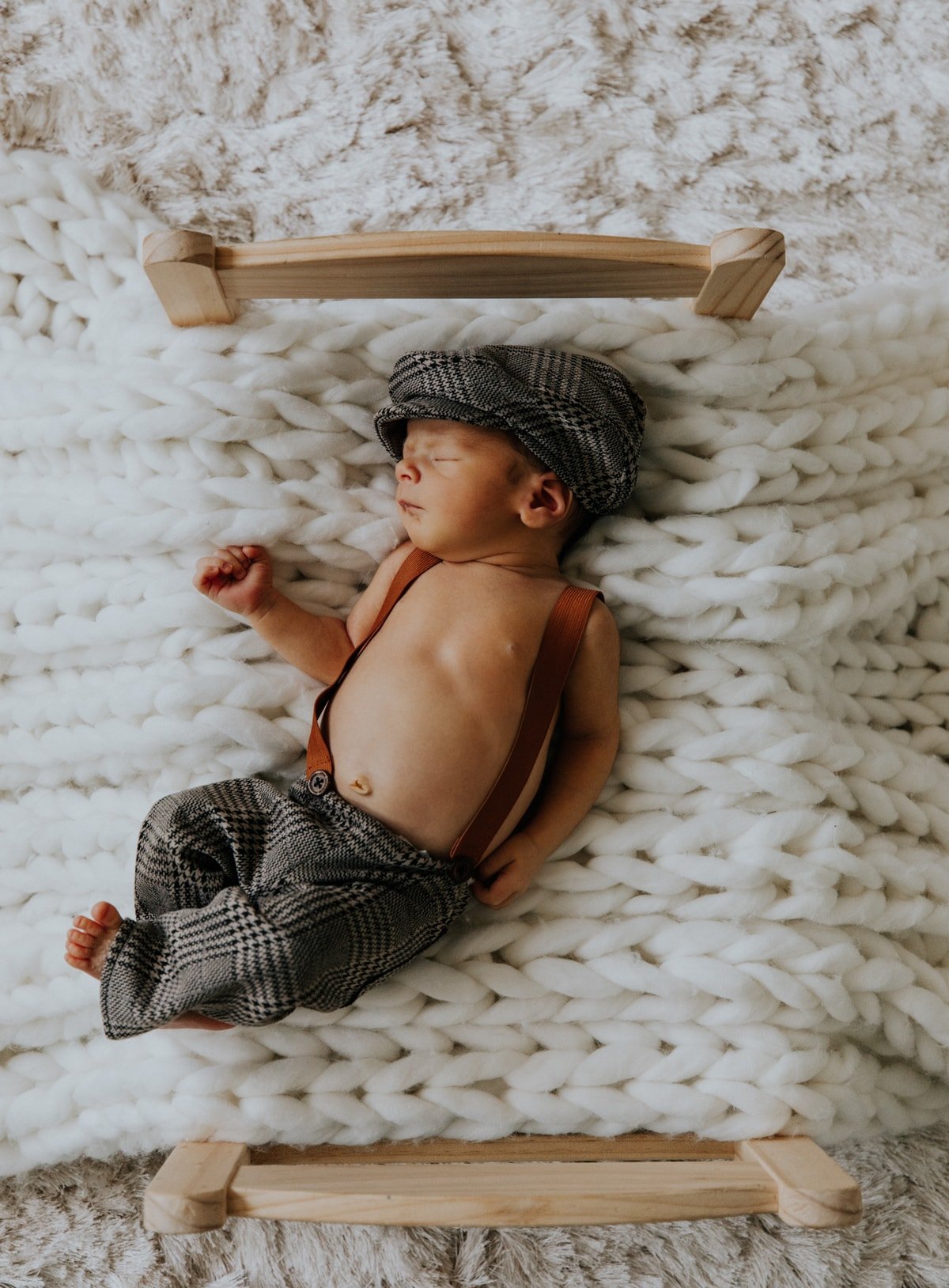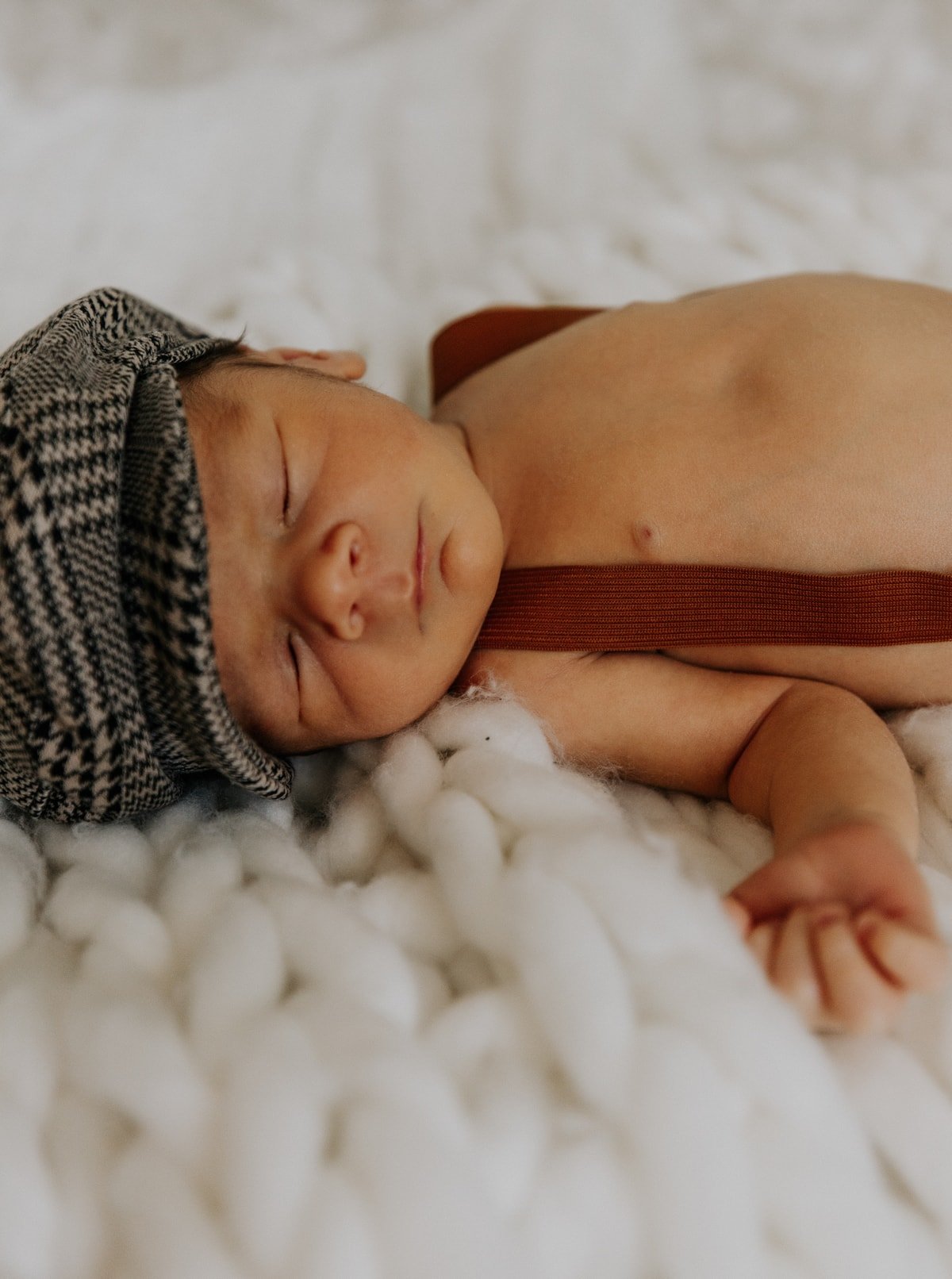 Tip #2: Feed your baby
Right before the shoot starts, feed your baby! And if he/she starts fussing during the shoot, feed them then too. Normally I try super hard to not nurse my babies to sleep but in this case, totally nurse your baby to sleep (or give them a bottle). When we took Anabelle's newborn photos she was hungry, and I just tried to push through it because I didn't want to inconvenience our photographer. Make sure you ask your photographer ahead of time if he/she is okay with you taking a small break in the middle of the shoot to feed if you need to.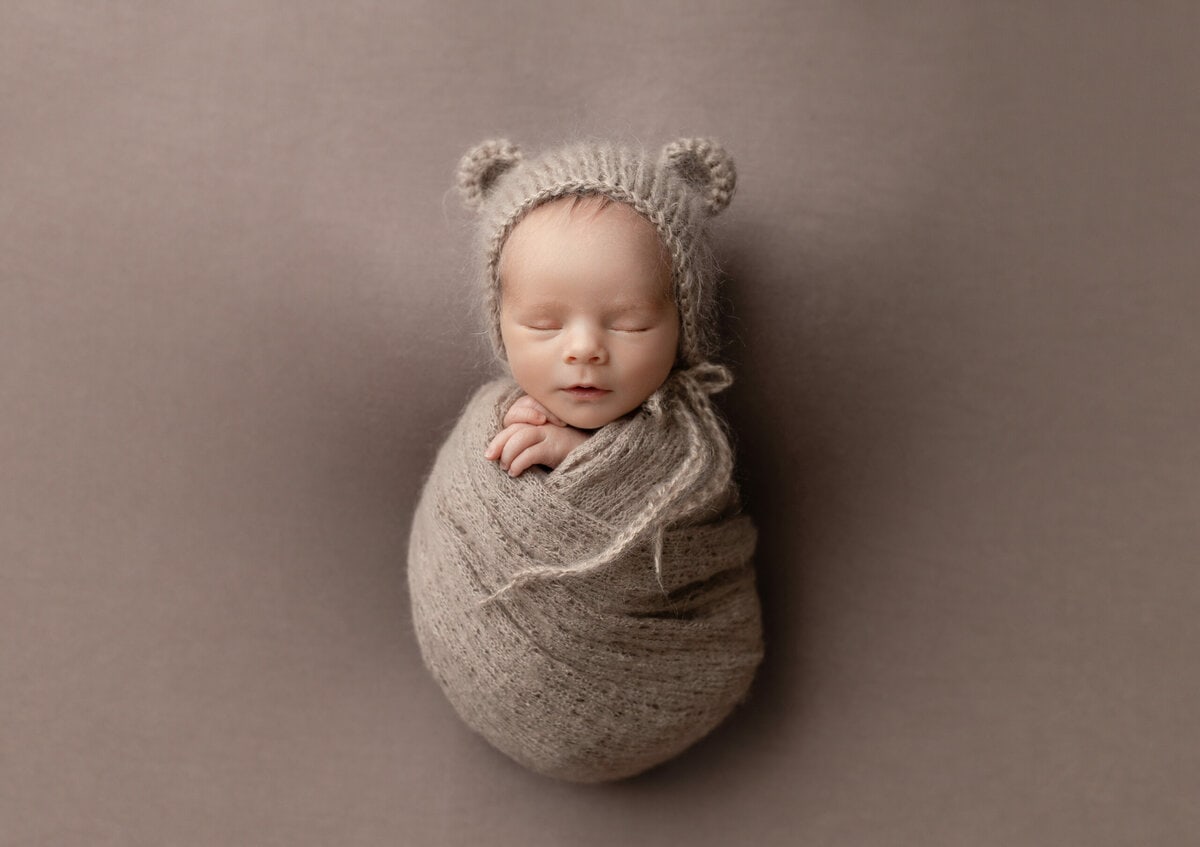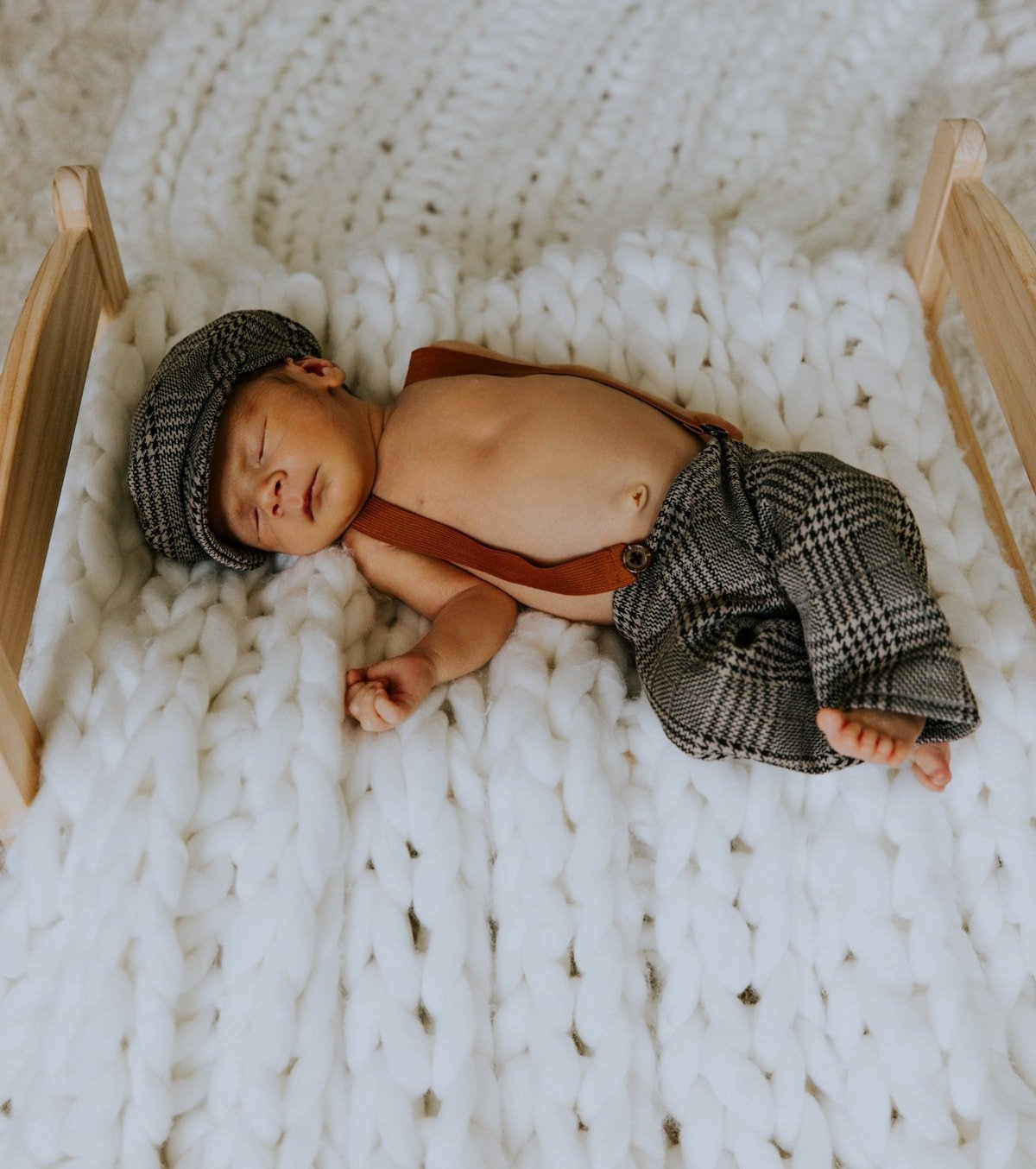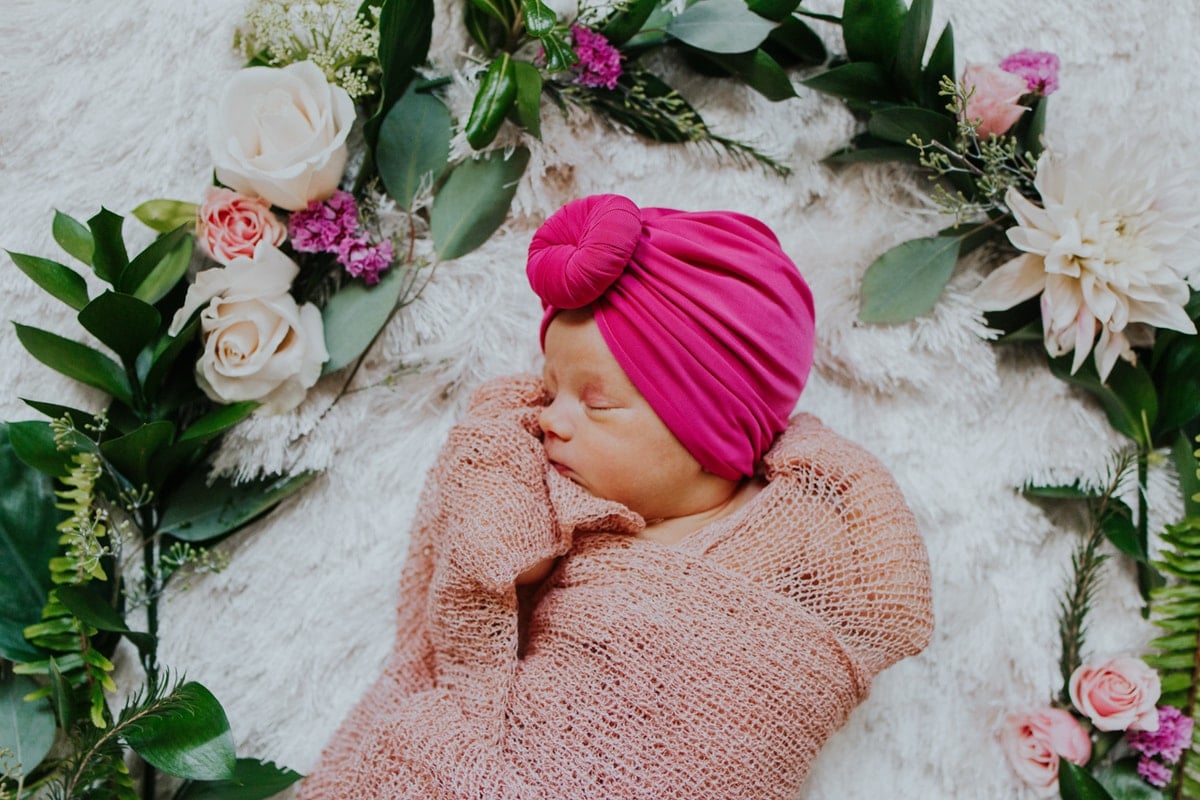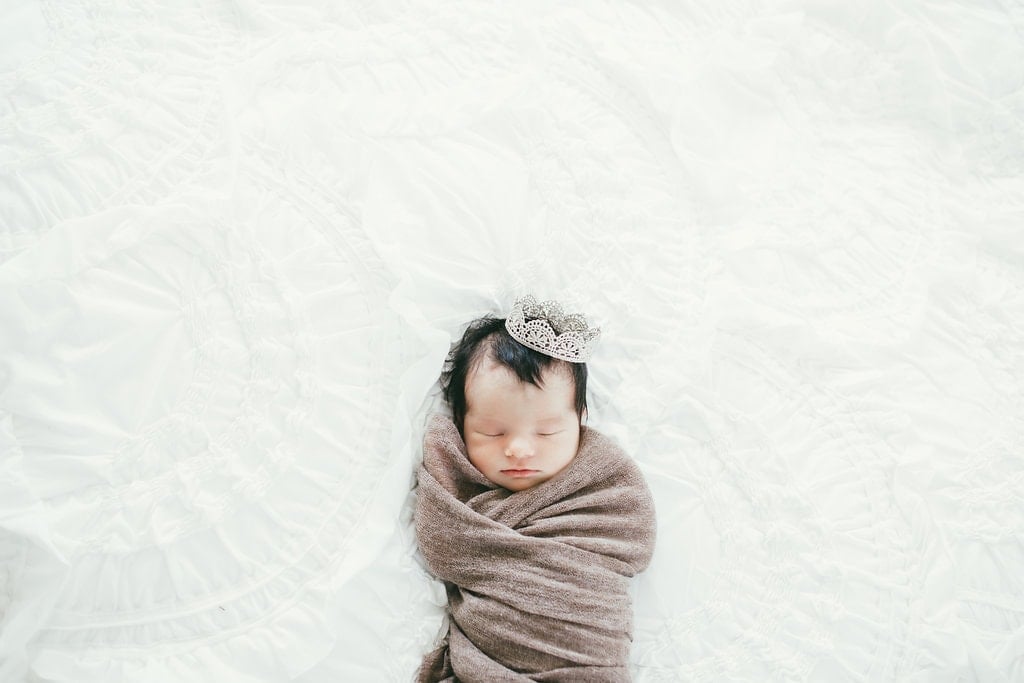 Tip #3: Make your house warm for the newborn photoshoot
If you shoot in a studio, they'll most likely know this tip for newborn photography and be prepared, but if you're shooting in your house and your postpartum hormones are off the charts and you're sweating like mine usually are, DON'T crank your air conditioning! Sweat it out as best you can and keep your house nice and warm. That baby is not going to like being naked for pictures if he/she is cold and newborns get cold super easily! If your house is toasty warm though, baby won't care at all.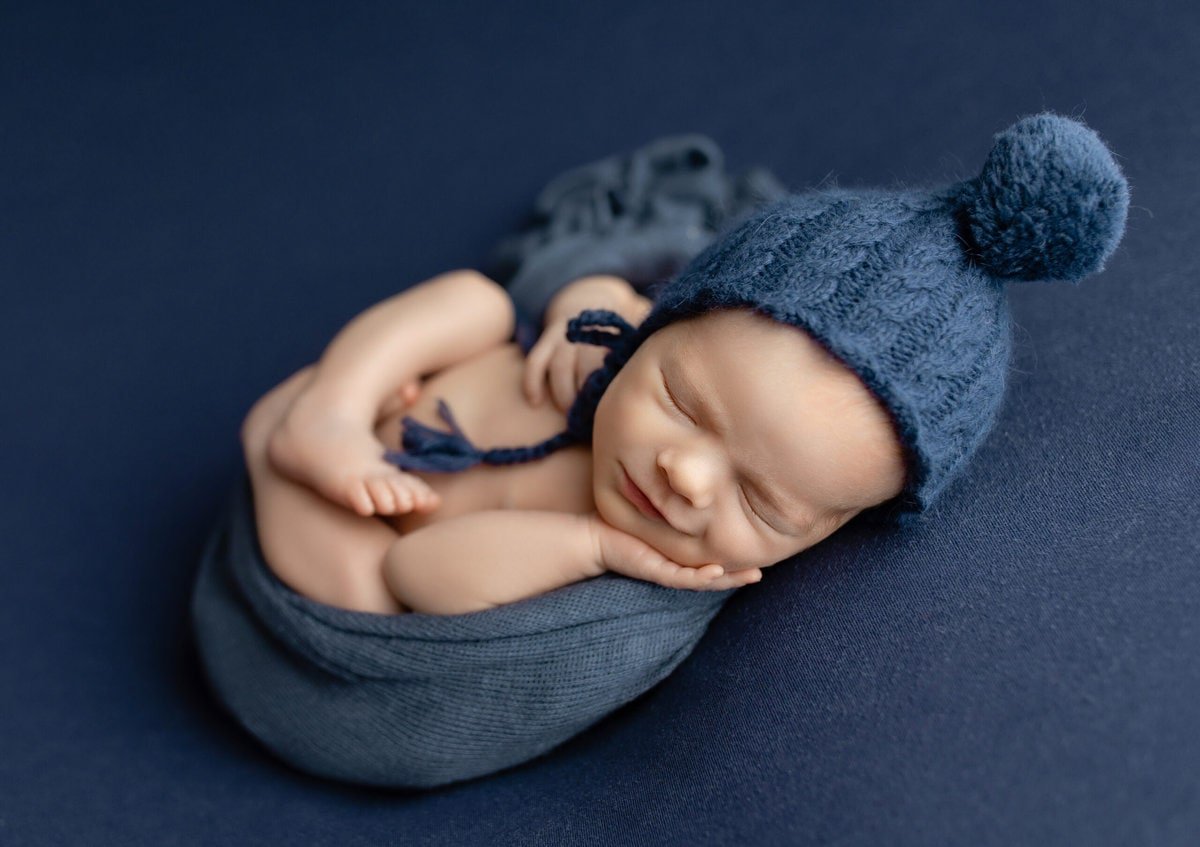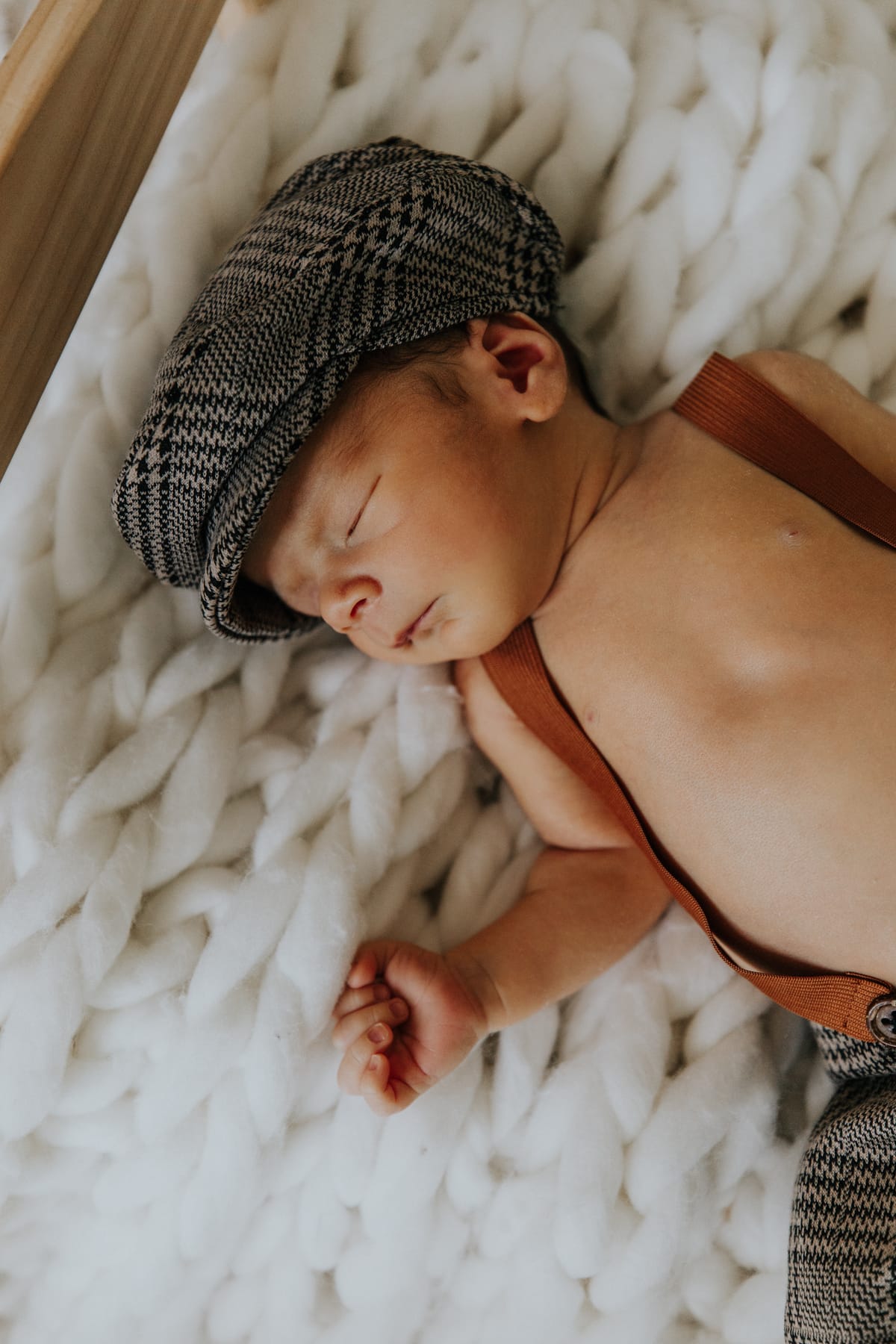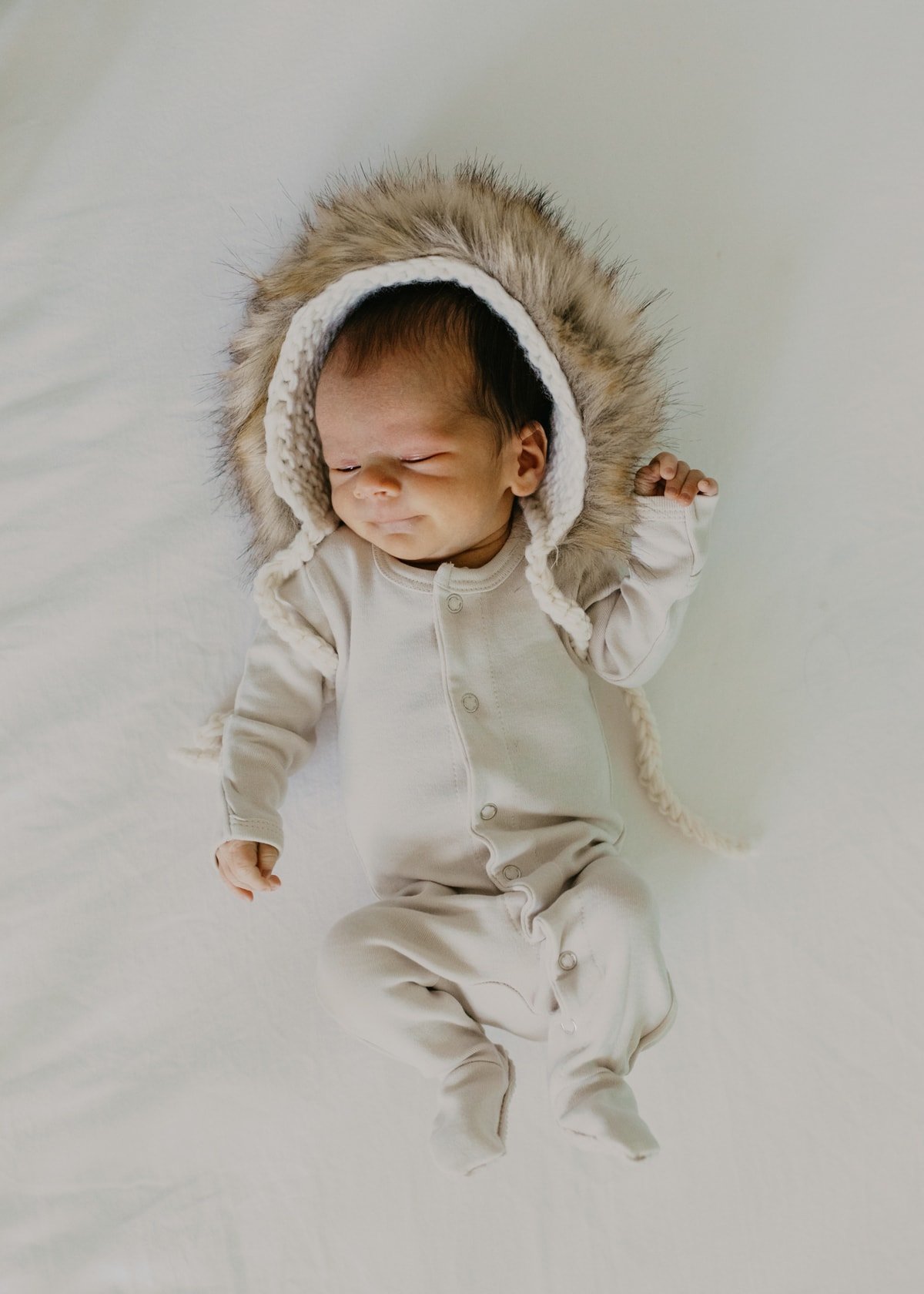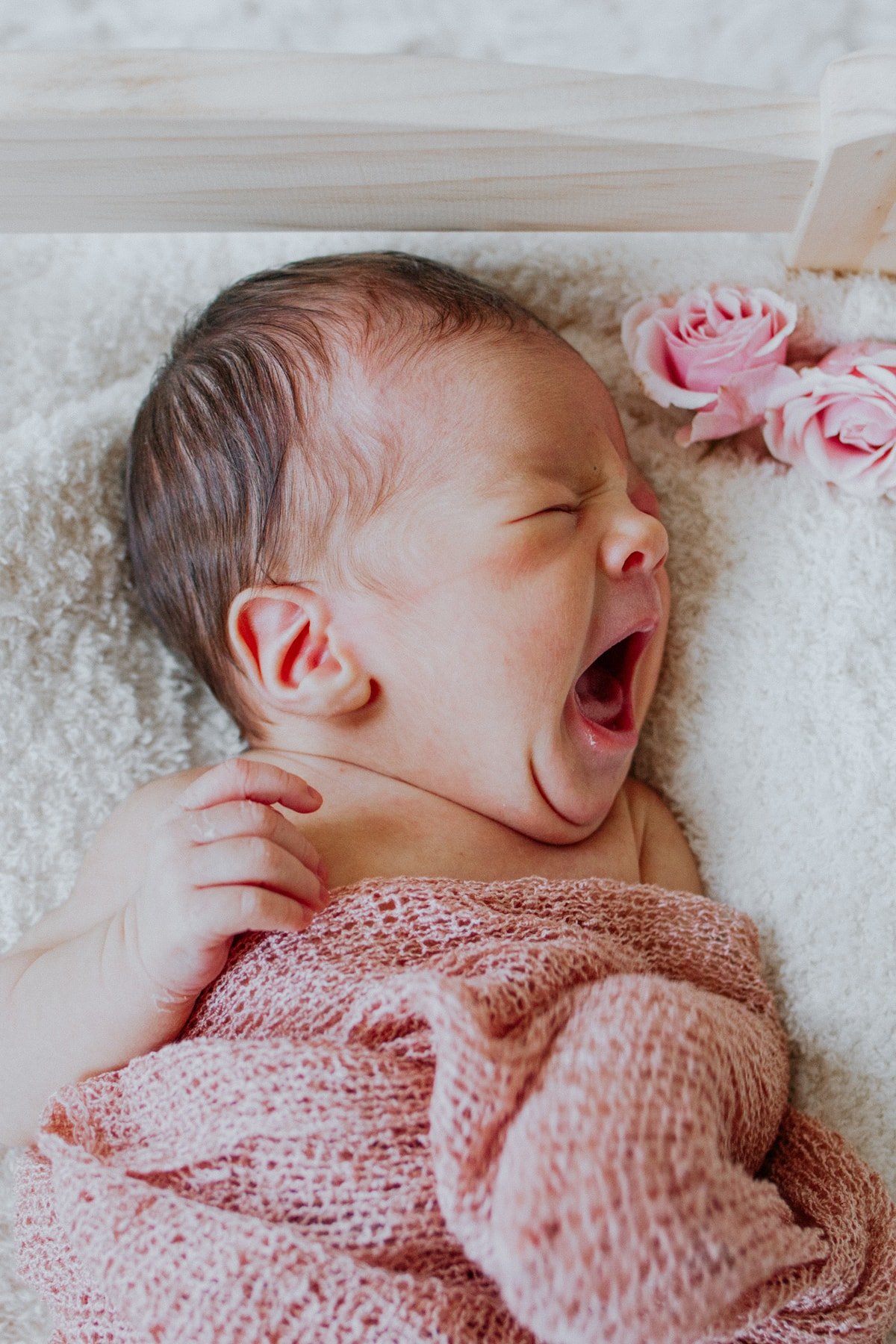 When we shot Anabelle's photos we did them in our house that was nice and cool because I was hot (ha). We also used a studio that my photographer had access to, but it wasn't set up for newborn photos so it was cold and drafty. The one picture I had envisioned for Anabelle's photos was of her peacefully sleeping so that we could make a Christmas card that year that said, "sleep in heavenly peace," or "silent night." Instead we have this picture below hahaha.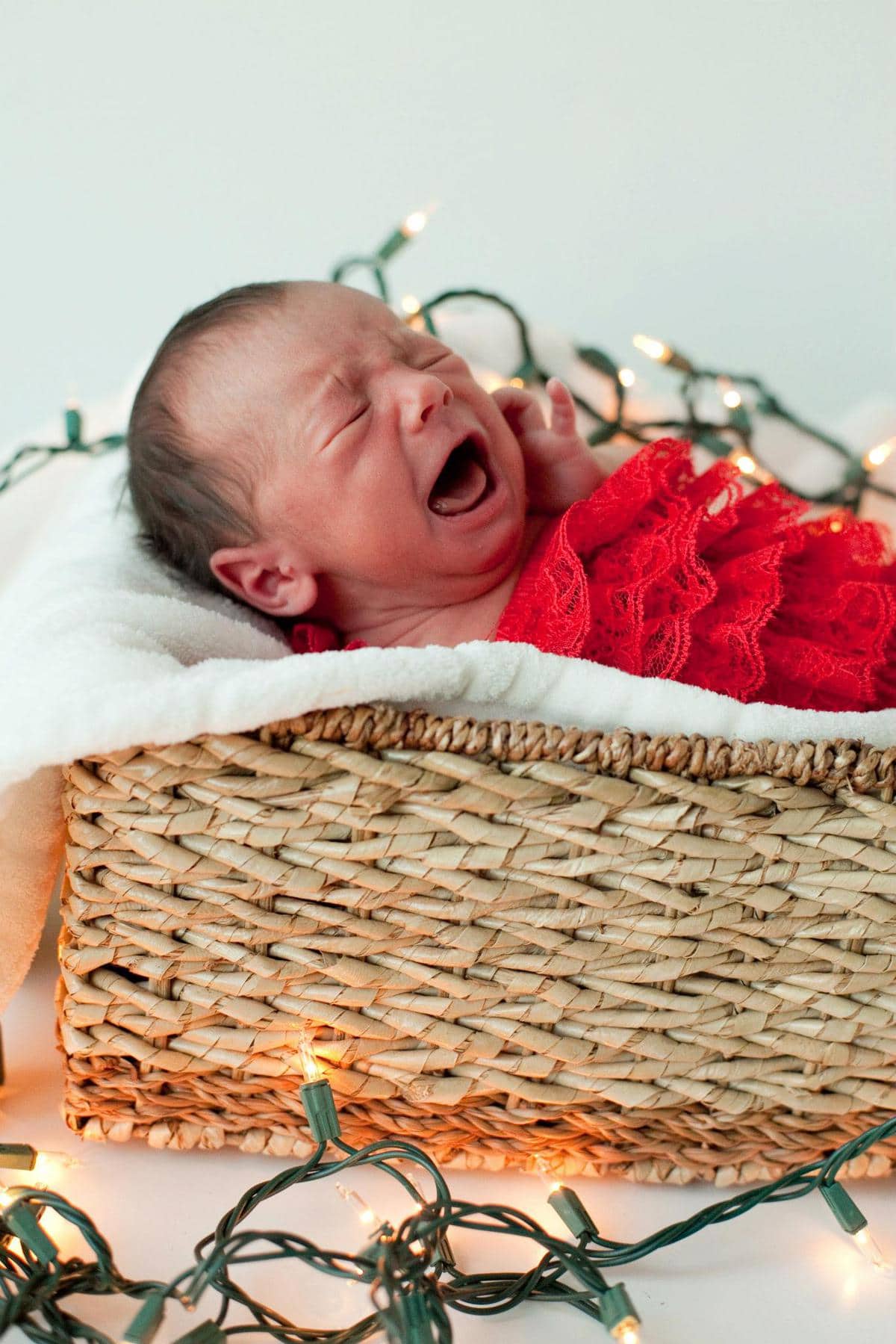 Tip #4: Plan for the worst
Babies are walking bodily function disasters. They just are. Babies love to pee and poop and spit up on everything. So just plan on that! Extra blankets, burp cloths, outfits, whatever you need – ESPECIALLY if you want to do any nakey pics or just in a wrap without a diaper. I did a few of these with Millie and none with Harry since he seems to be even more prone to pee on everything. But still, I had multiple outfits just in case anything happened to any of them. You'll always be glad to have more than not enough options.
And if you're doing photos in a studio, they'll be prepared for this so you don't have to worry!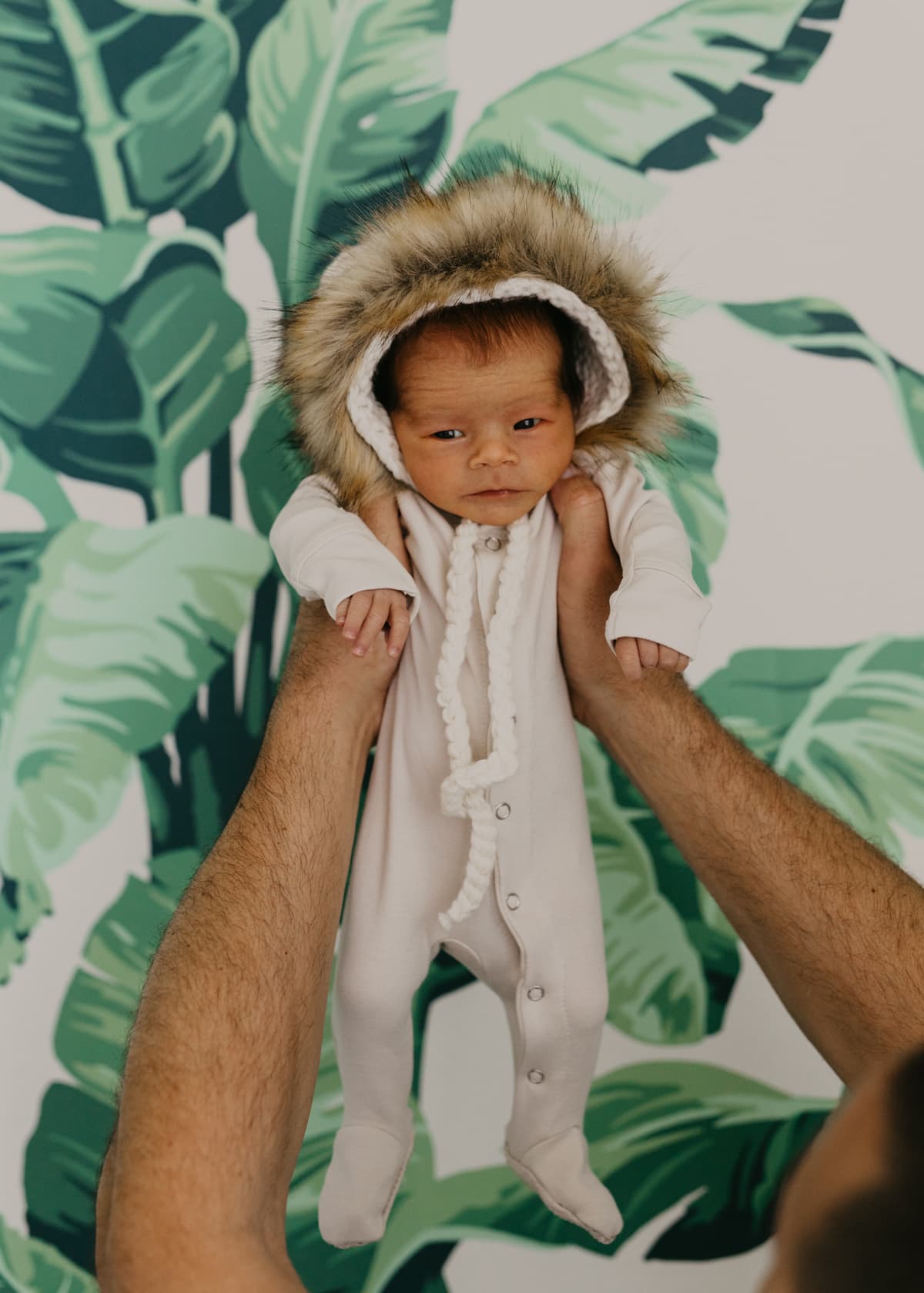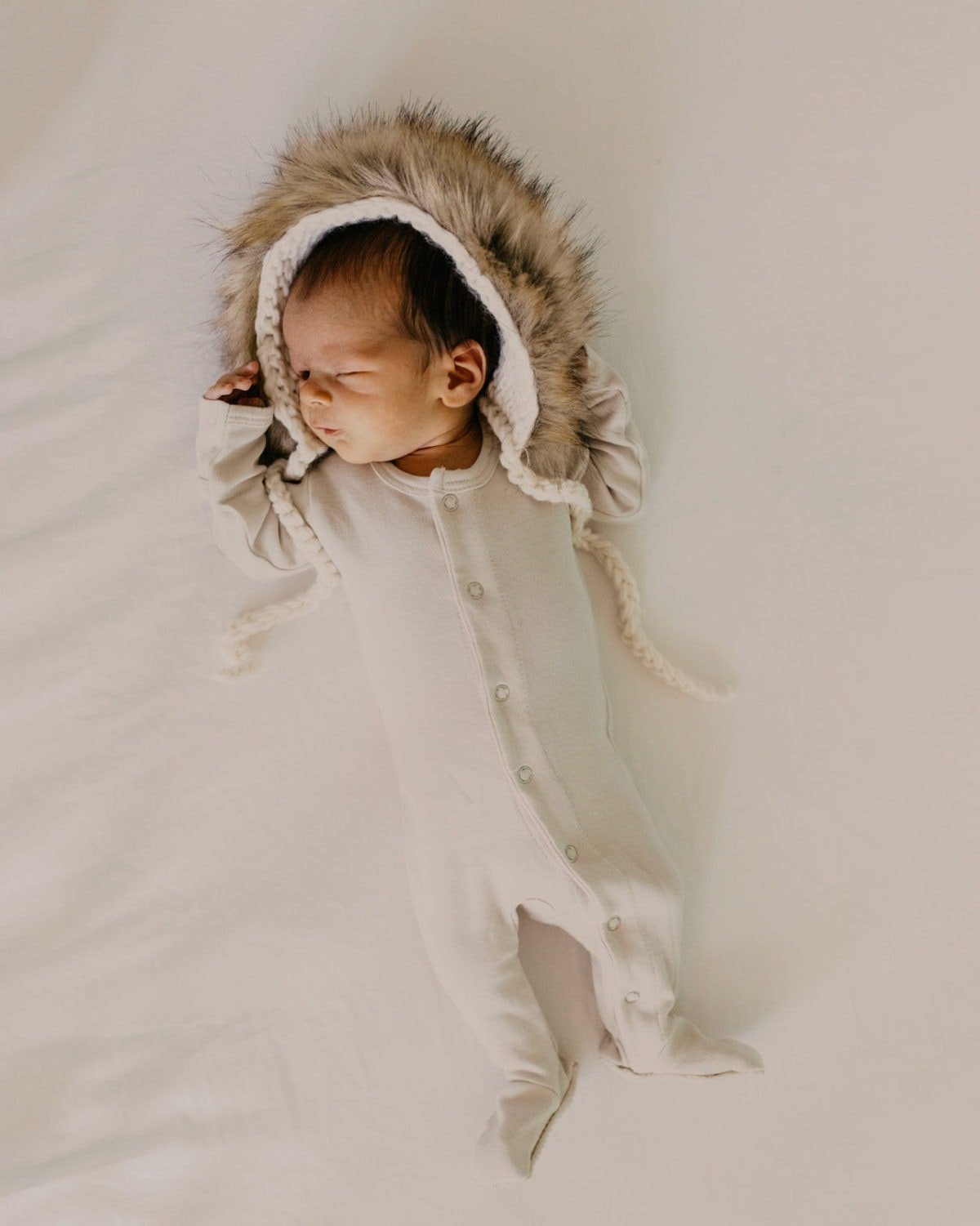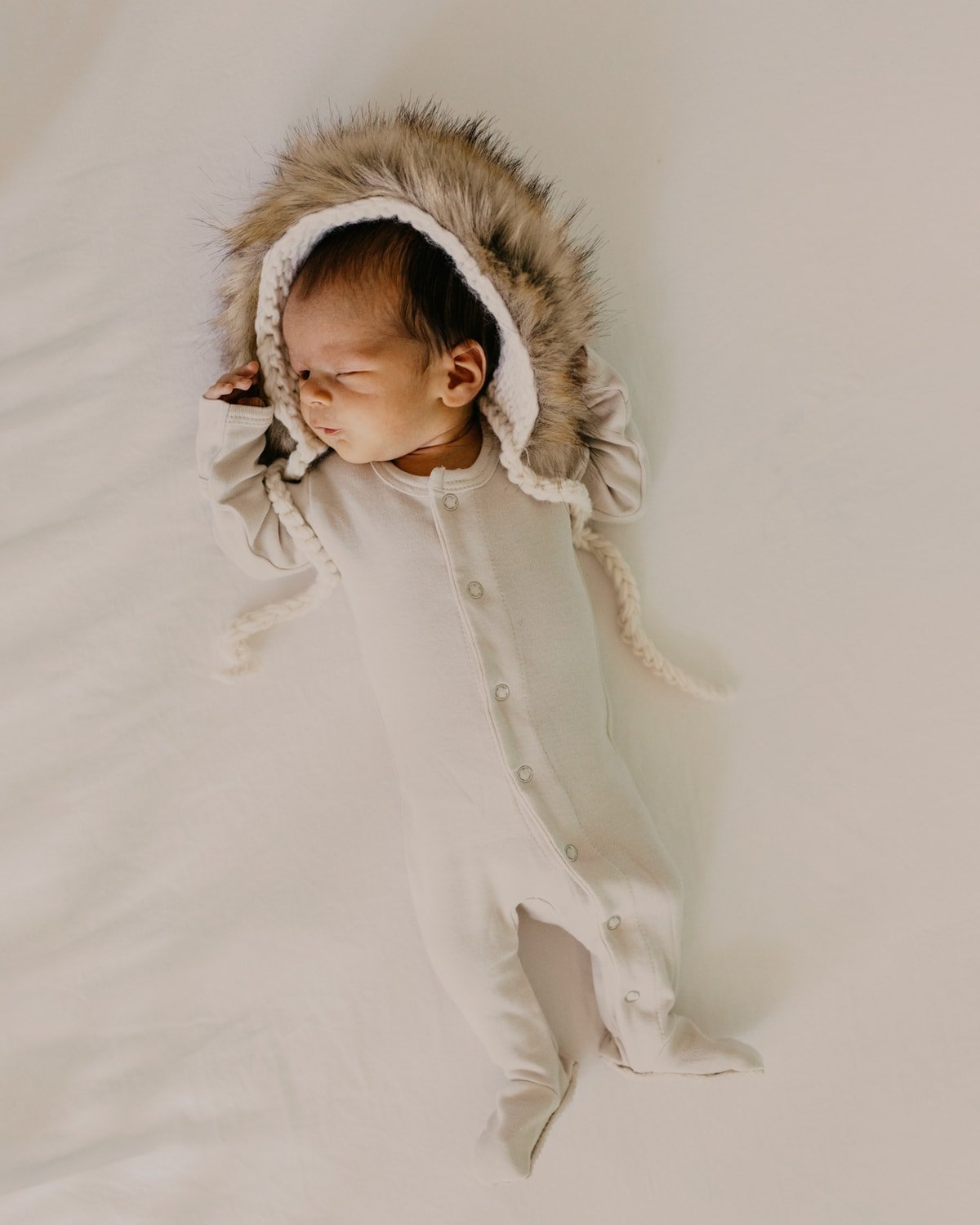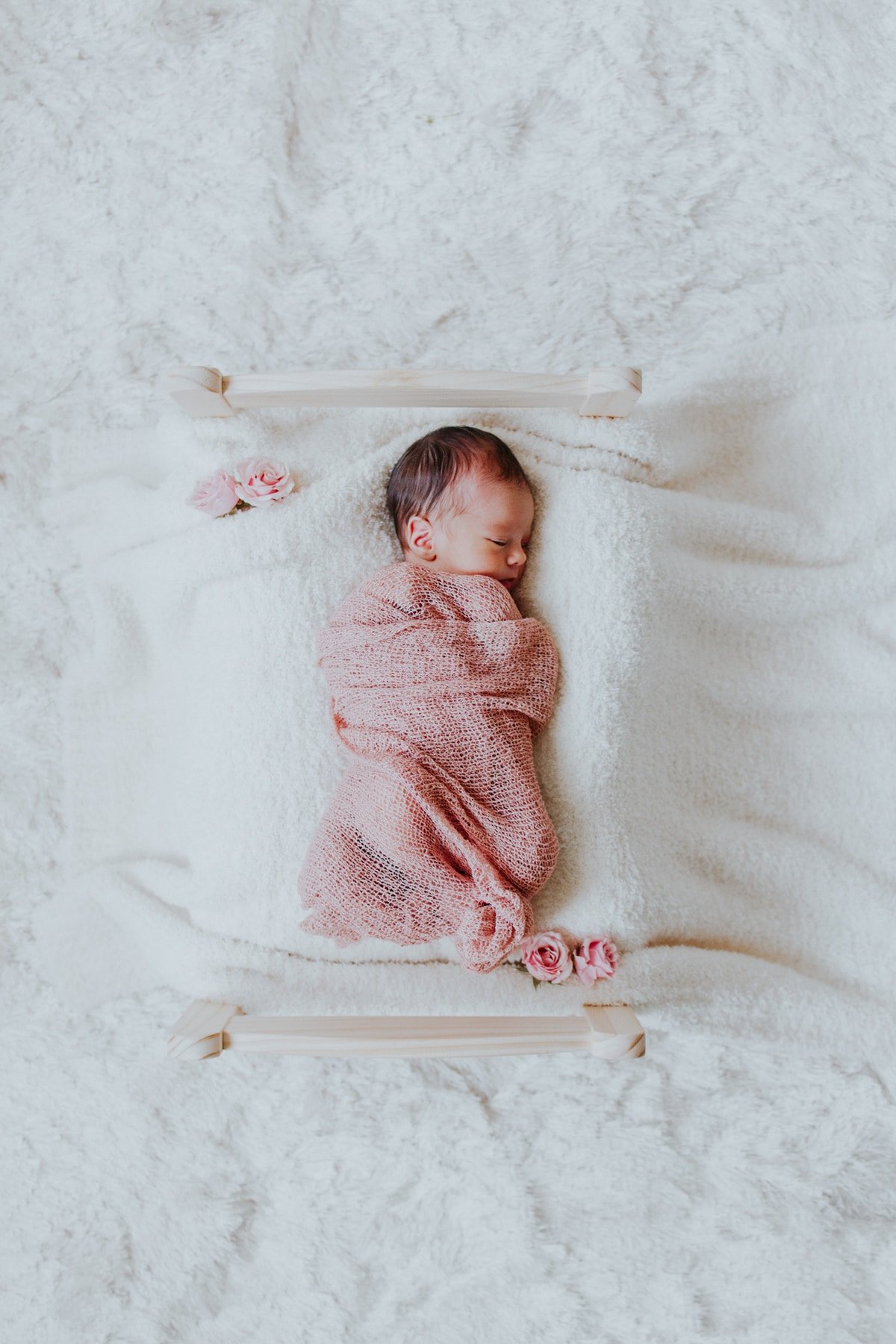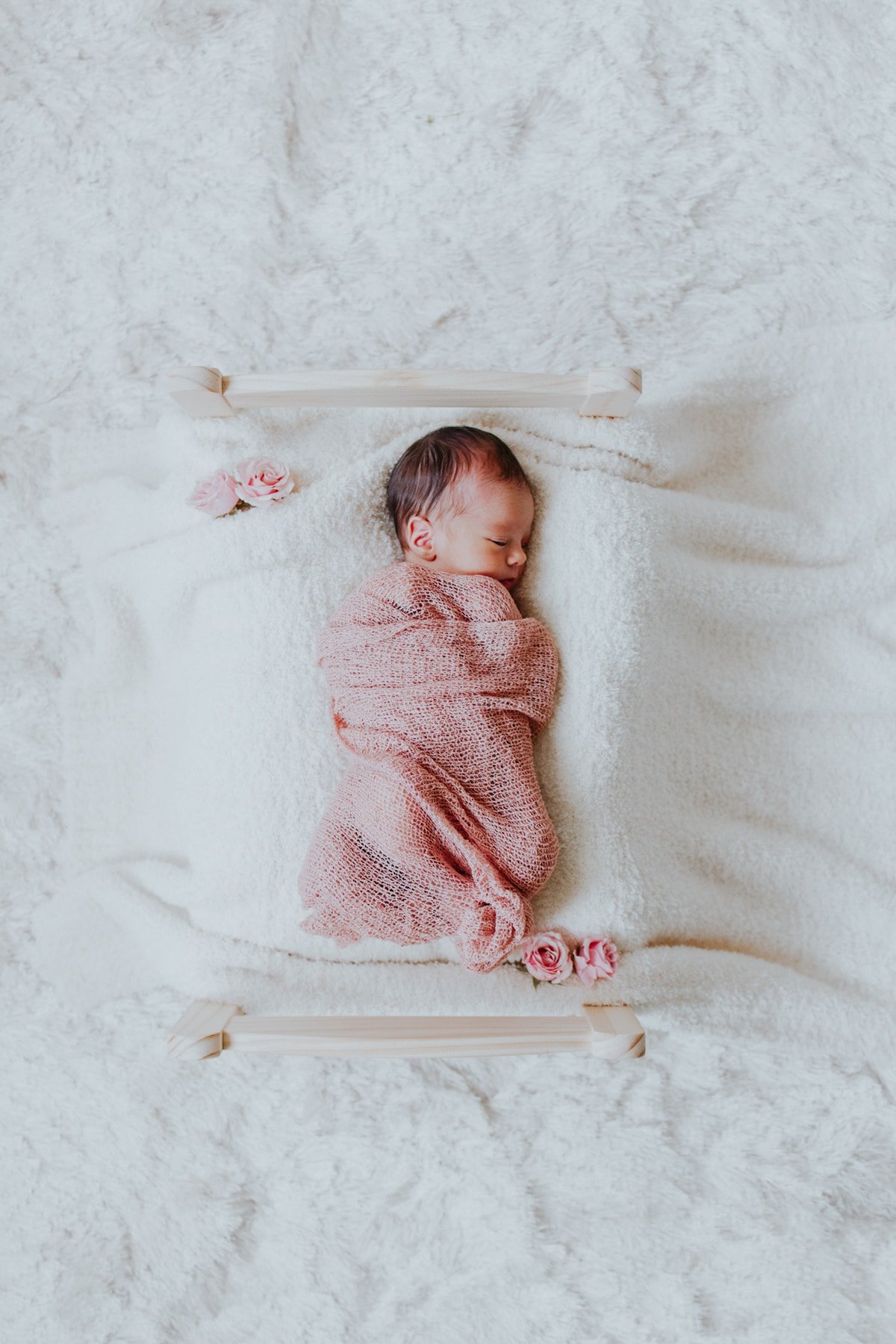 Tip #5: Research newborn photos
When I had Anabelle, I was delirious by day 10 when we had her newborn photoshoot. Don't worry, I was delirious with Lyla, Millie, Harry, and Bobby at day 5, too, but I had Pinned a bunch of newborn shoot ideas beforehand so that I wasn't trying to frantically research a day or two before their shoots (or the day of, in the case of Anabelle's shoot and then beg my husband to dig through our basement for possible newborn props). Not a great plan. Figure out what look you're going for before baby comes, get on Etsy or Amazon and buy a few props (I listed the ones we used below for all our past home shoots) and rest easy the day of the shoot because you're prepared. OR do it at a studio where they provide all the props!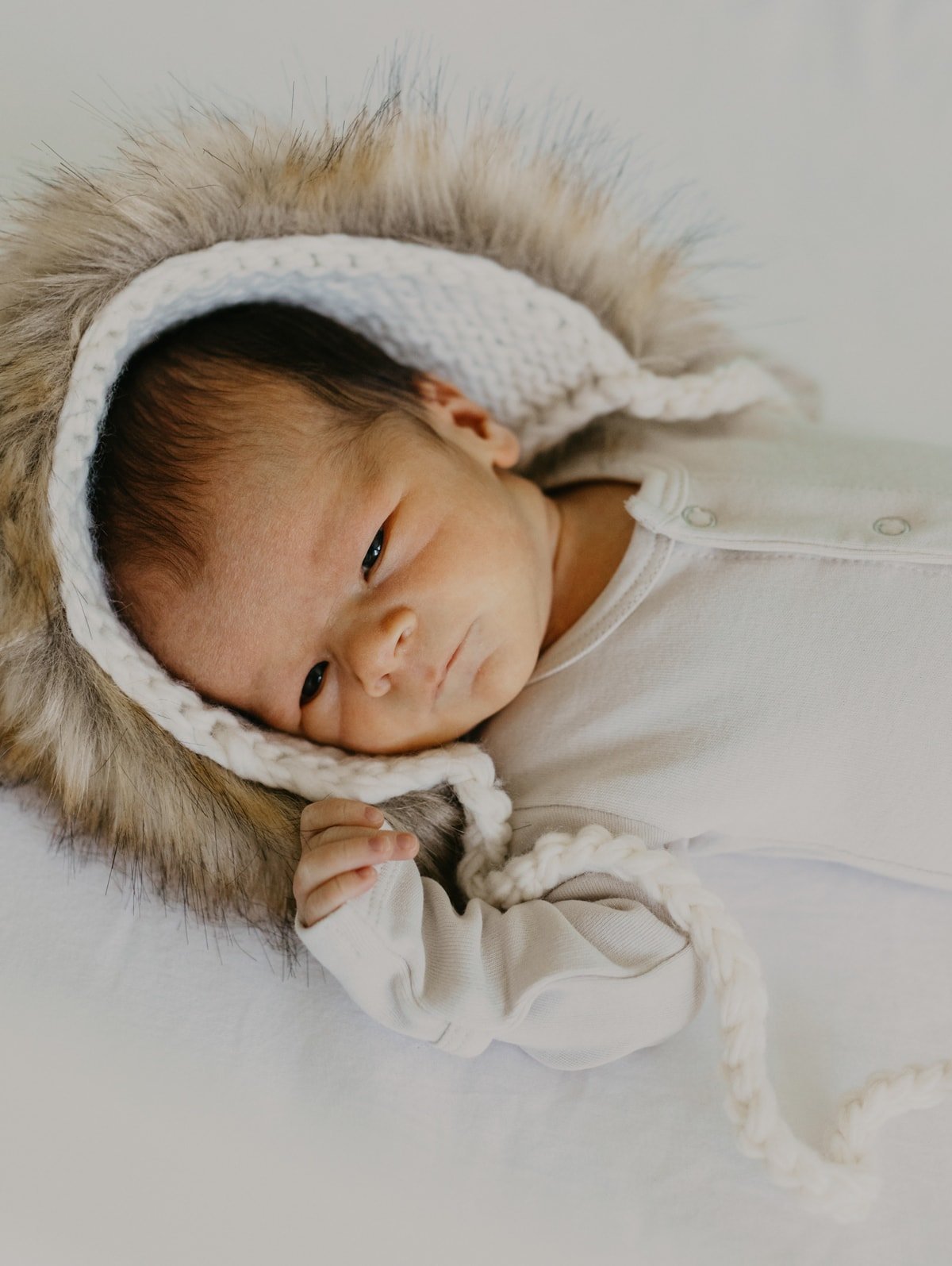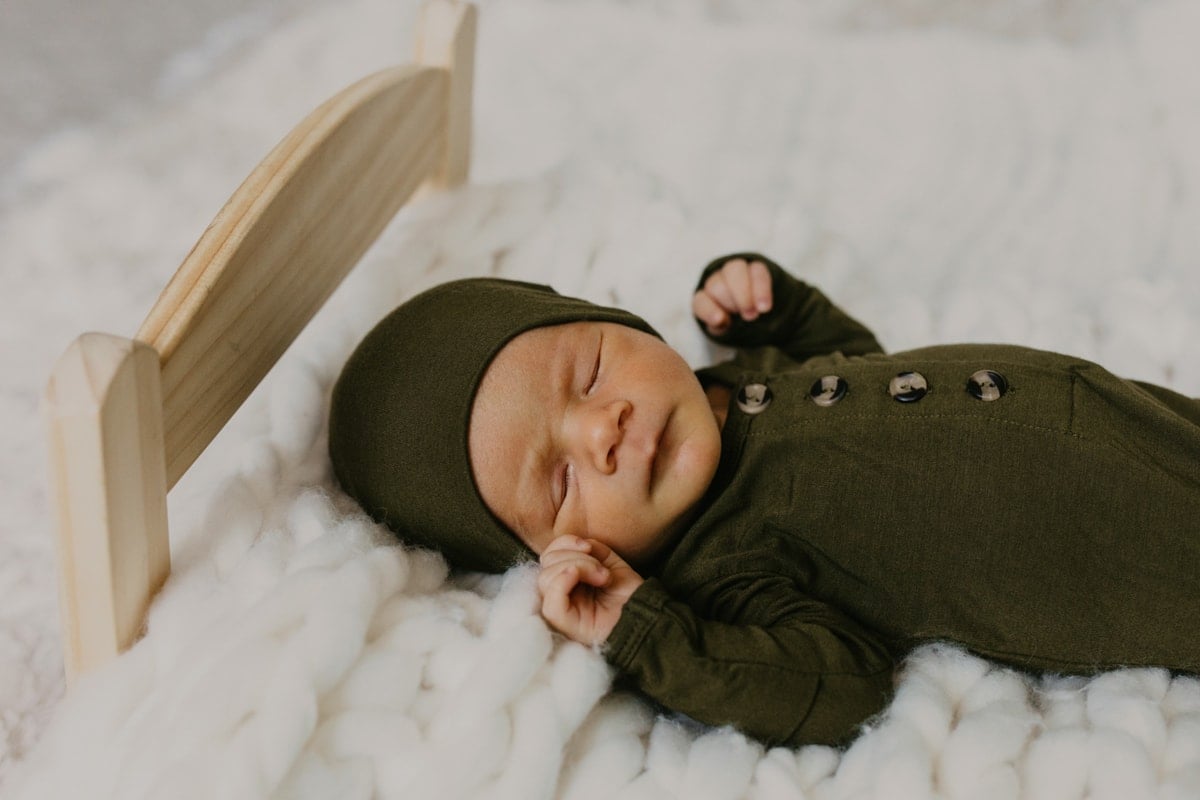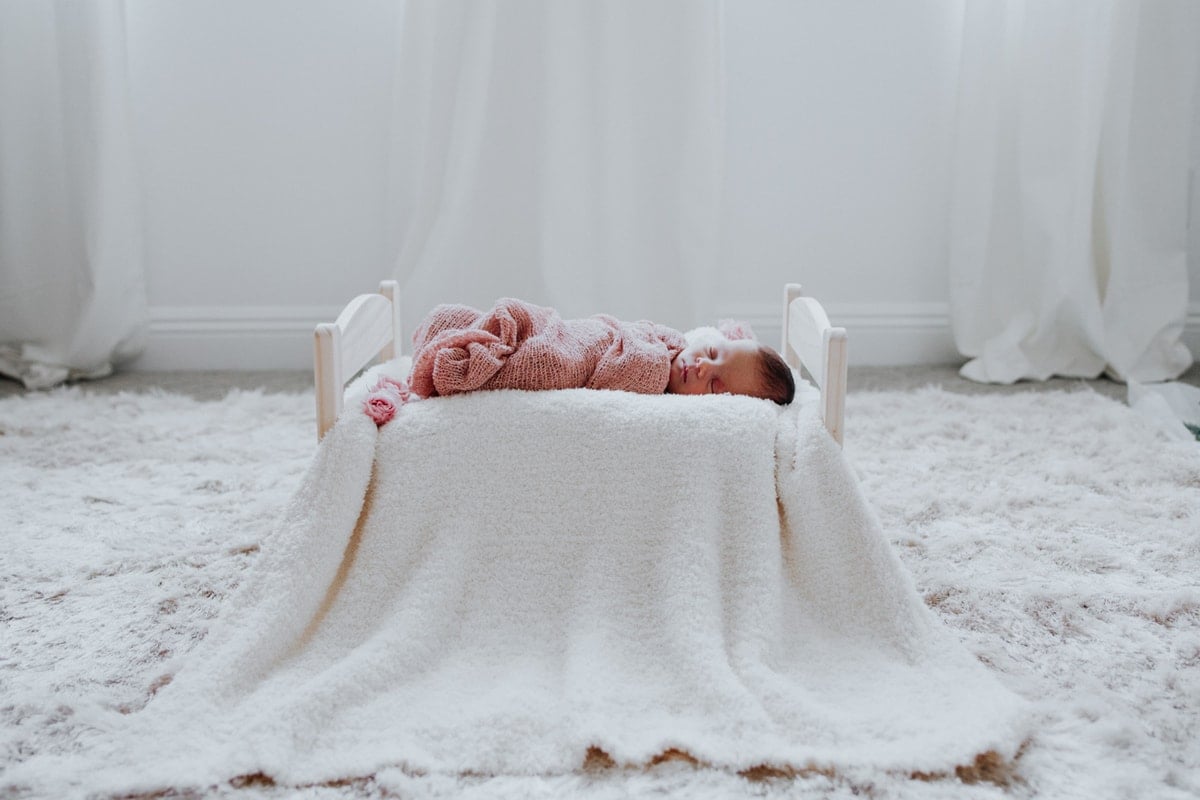 Tip #6: Pretty bedding
If you're taking photos at home, it's so nice to have beautiful bedding for a shoot that also creates a pretty, clean-canvas type of backdrop to lay baby on, not only for newborn photos but also for everyday photos you'll want to take as baby grows. We bought this bedding for Lyla's newborns and I'm still so obsessed with it that we used it again for Millie's newborns too. SO soft and comfy, literally my favorite bedding we've ever owned. We bought this brand new bedding for Harry's shoot and as a side note, it's a really nice treat when you're spending so much time in bed suddenly with recovery!
I really like white bedding for a newborn shoot, but anything that's a solid color I think is a really nice blank canvas.
2023 update: Harry's bedding is currently sold-out but we're loving this similar option!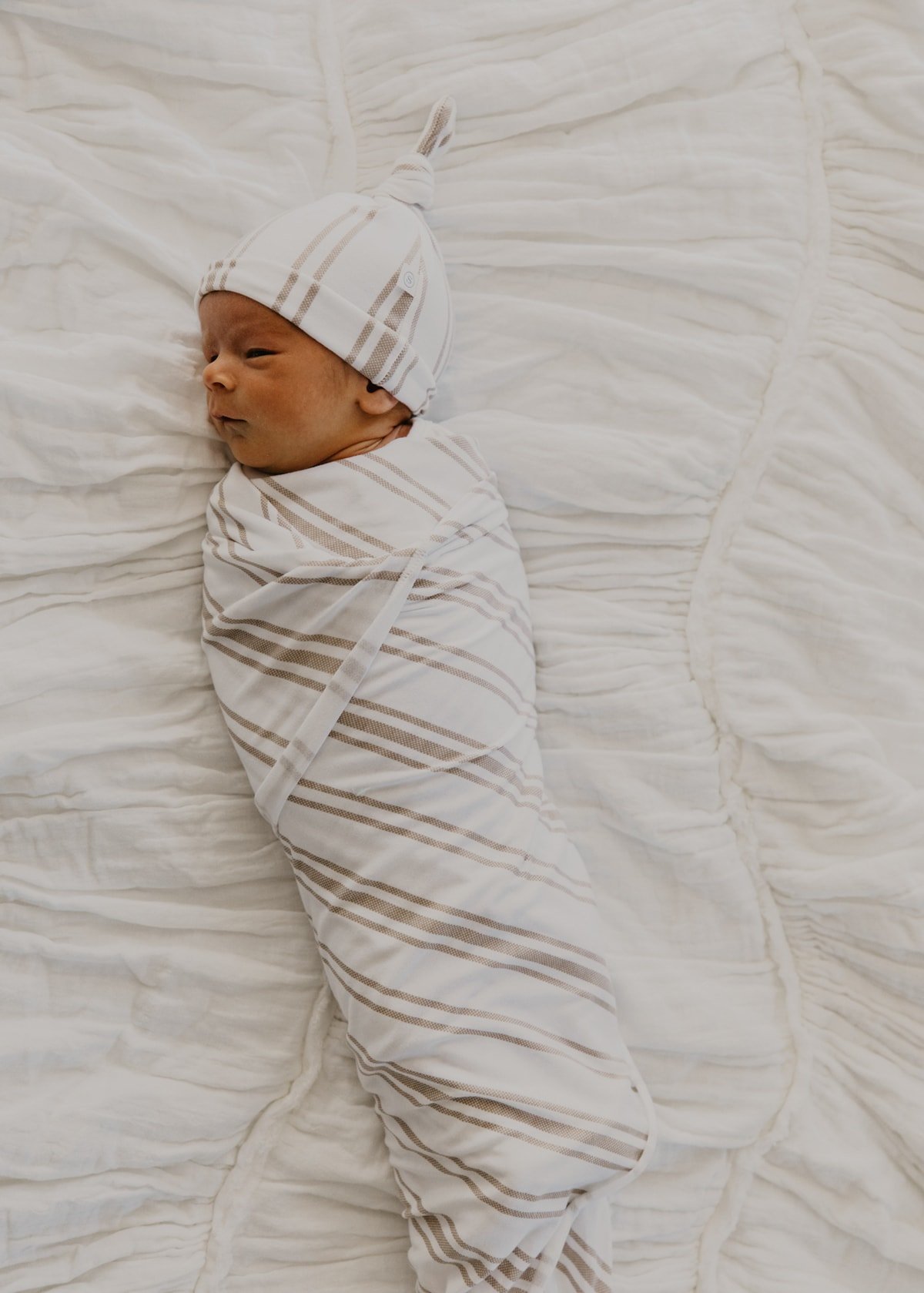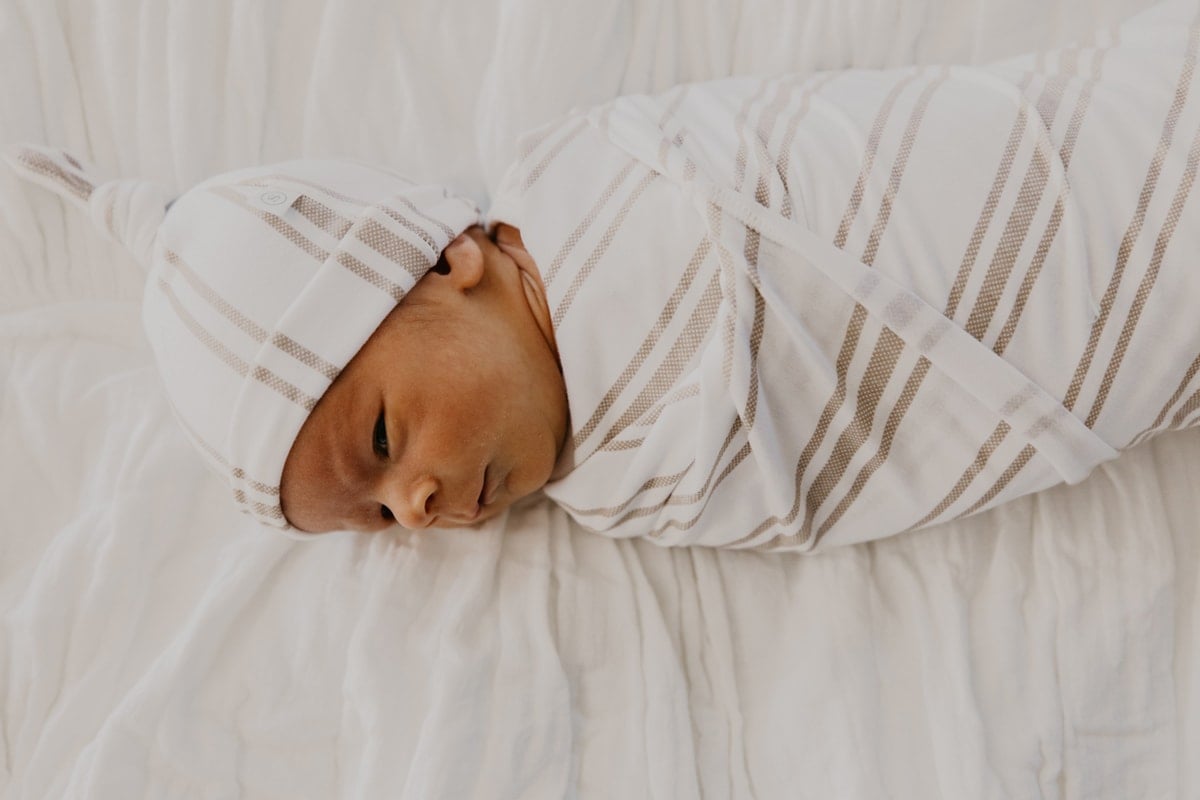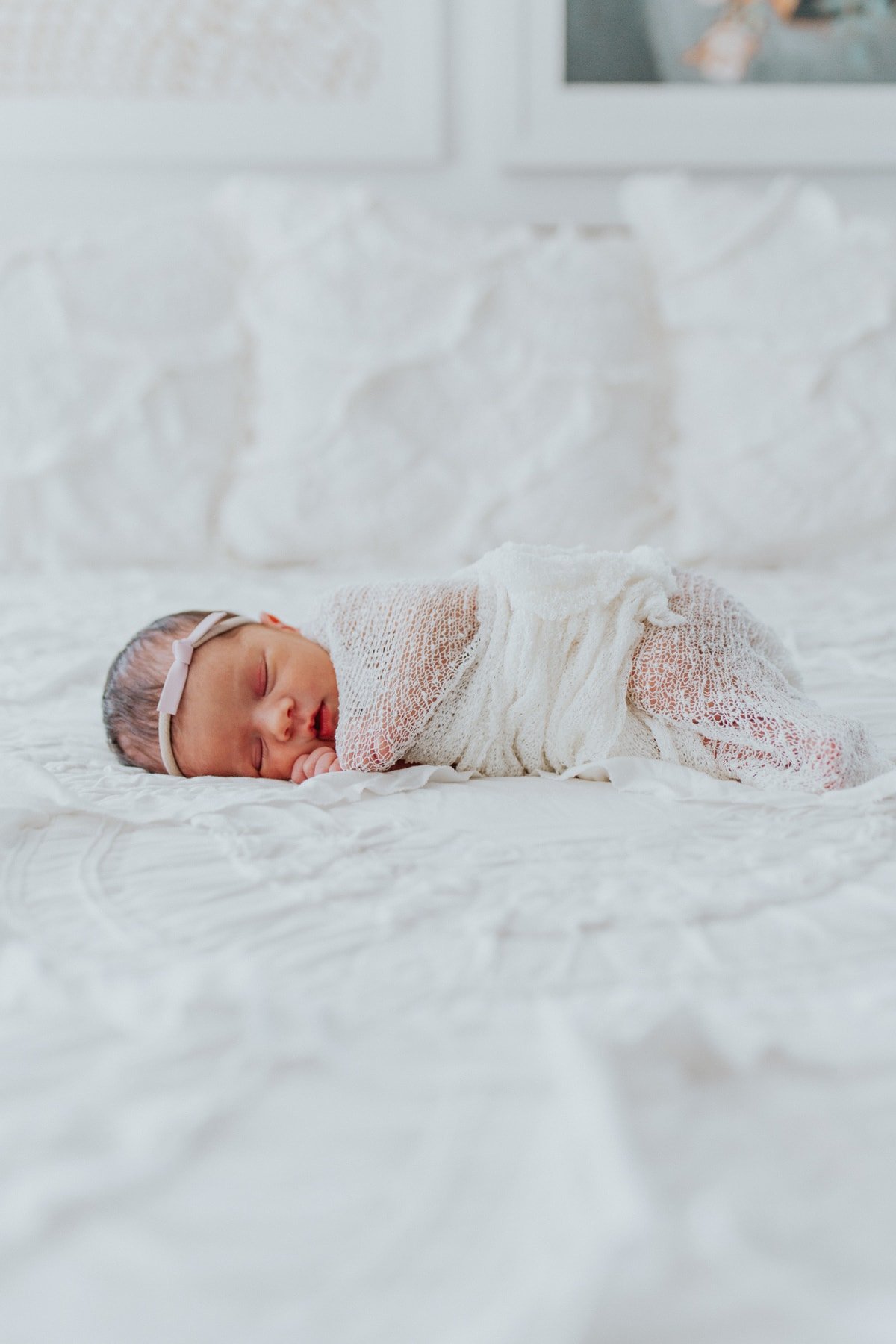 Tip #7: Give yourself an extra hour to get ready
Trust me when I say that there are just way too many things that can (and will) come up when you have a needy newborn, and even more so when you have more kids! Get ready with an hour to spare, so that if someone has a desperate emergency crying, screaming, tantrum-throwing need, you still have time to put some makeup on or curl your hair. You'll be so sad if you don't give yourself this time!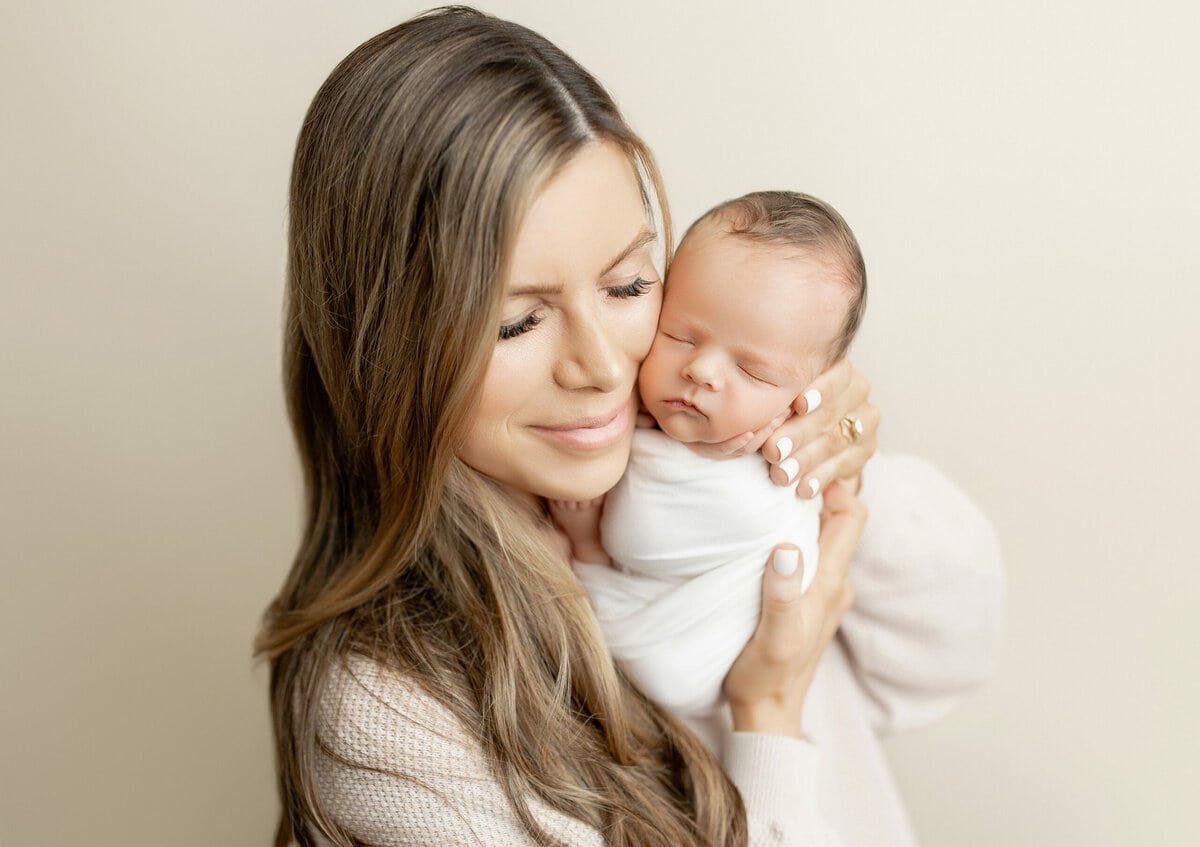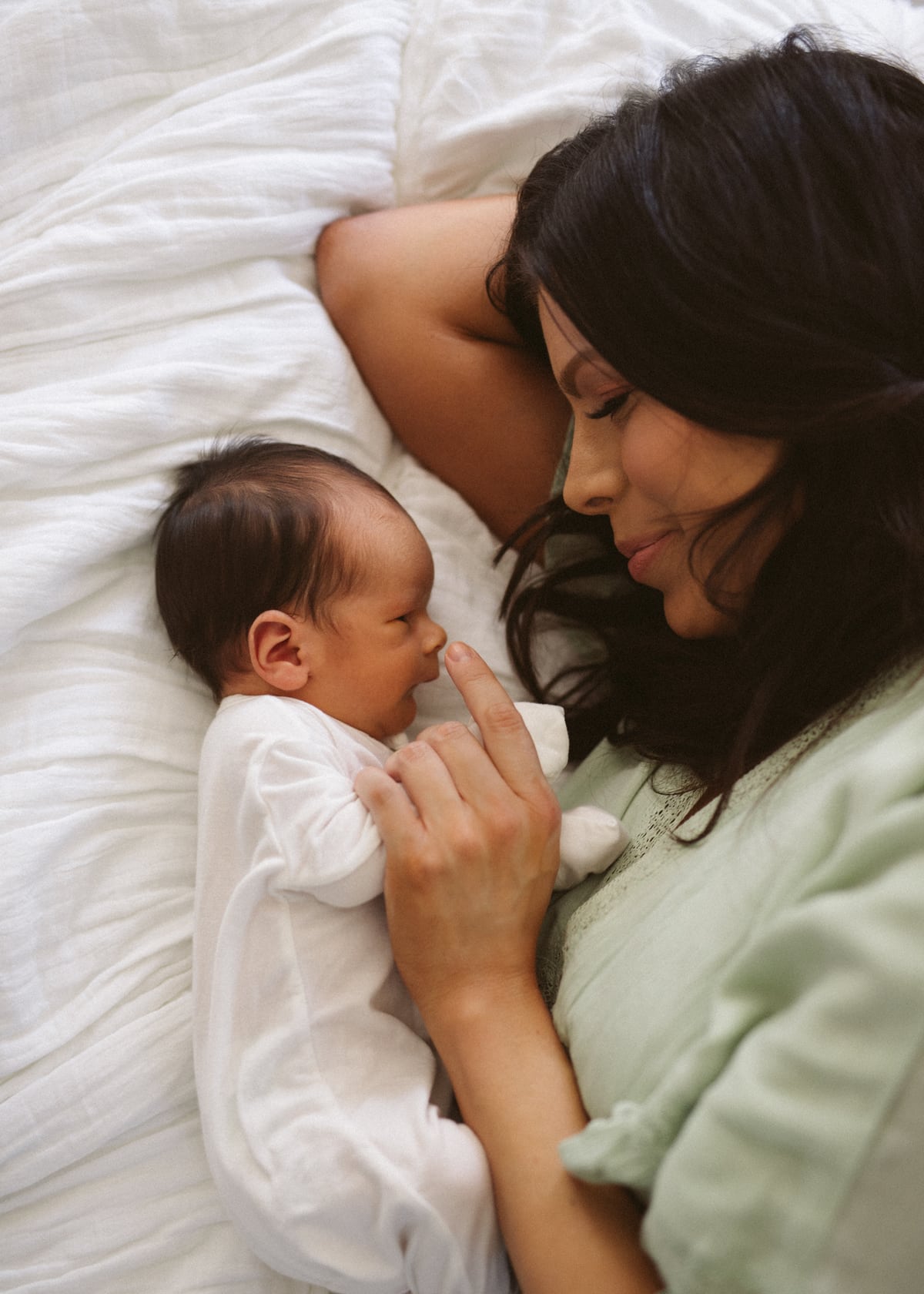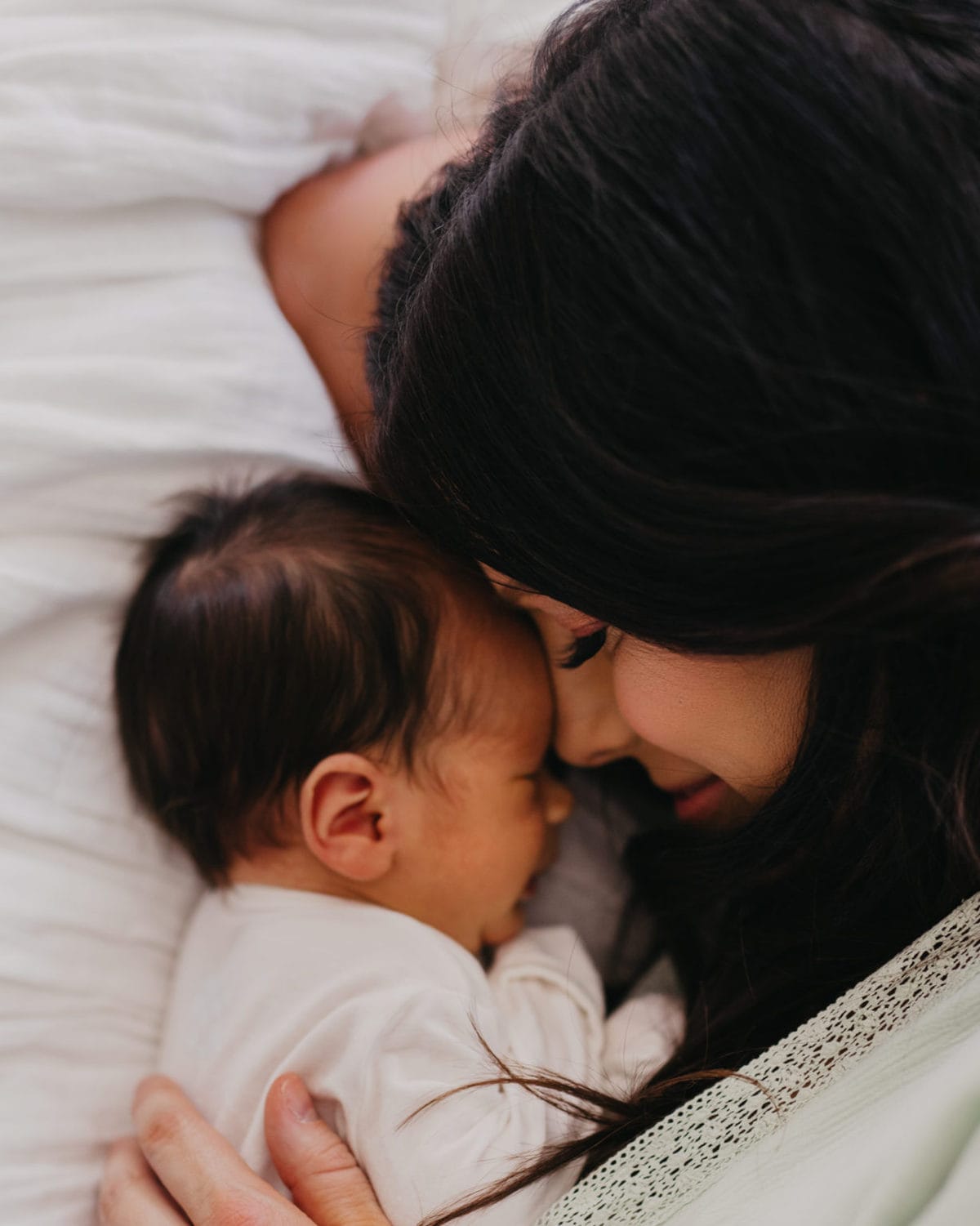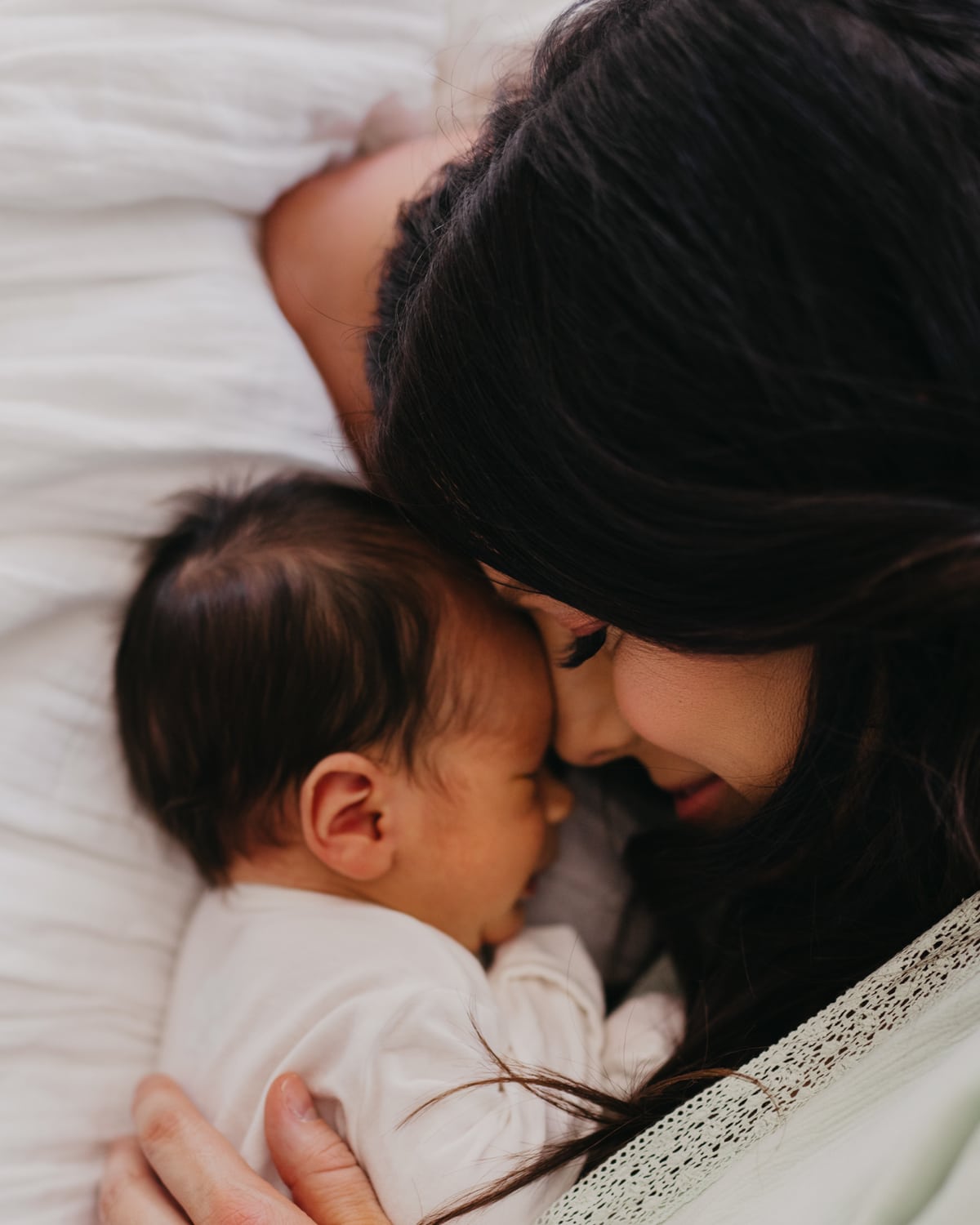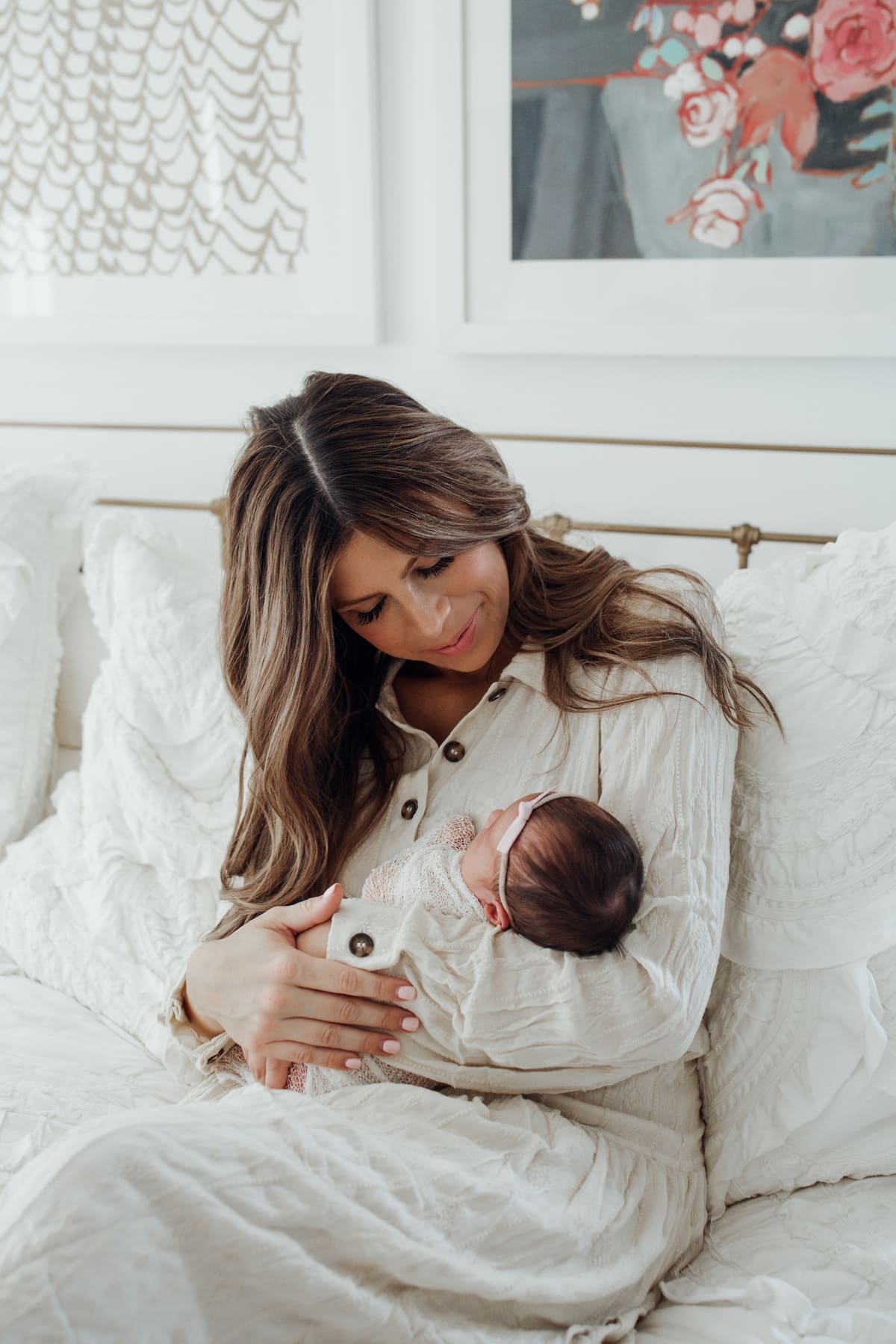 Tip #8: Cheat
Everyone (okay almost everyone) still looks 4-6 months pregnant a few days after they've given birth. Give yourself a little help with a wrap like the belly bandit. Side-note: I swear by this for moving your hips back into place while the relaxin is still in your system and they'll go back the way they were with a little help! Or use Spanx if you already have them. Normally I just wear one or the other, but I wore both my belly bandit and Spanx for Millie and Harry's newborn photos. They'll make you feel more pulled in and I actually feel more comfortable when I'm wearing one or the other for at least the first 4-6 weeks post baby.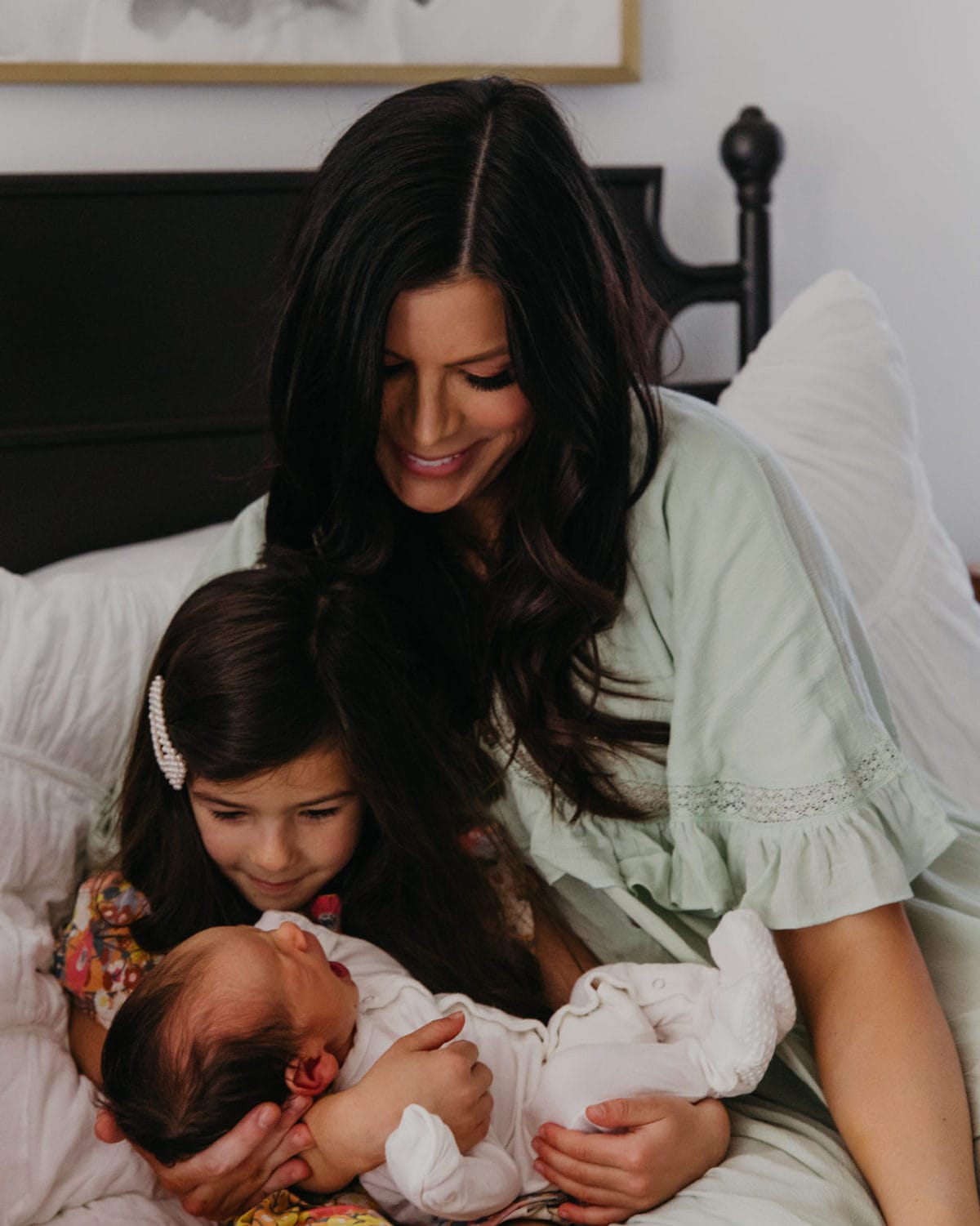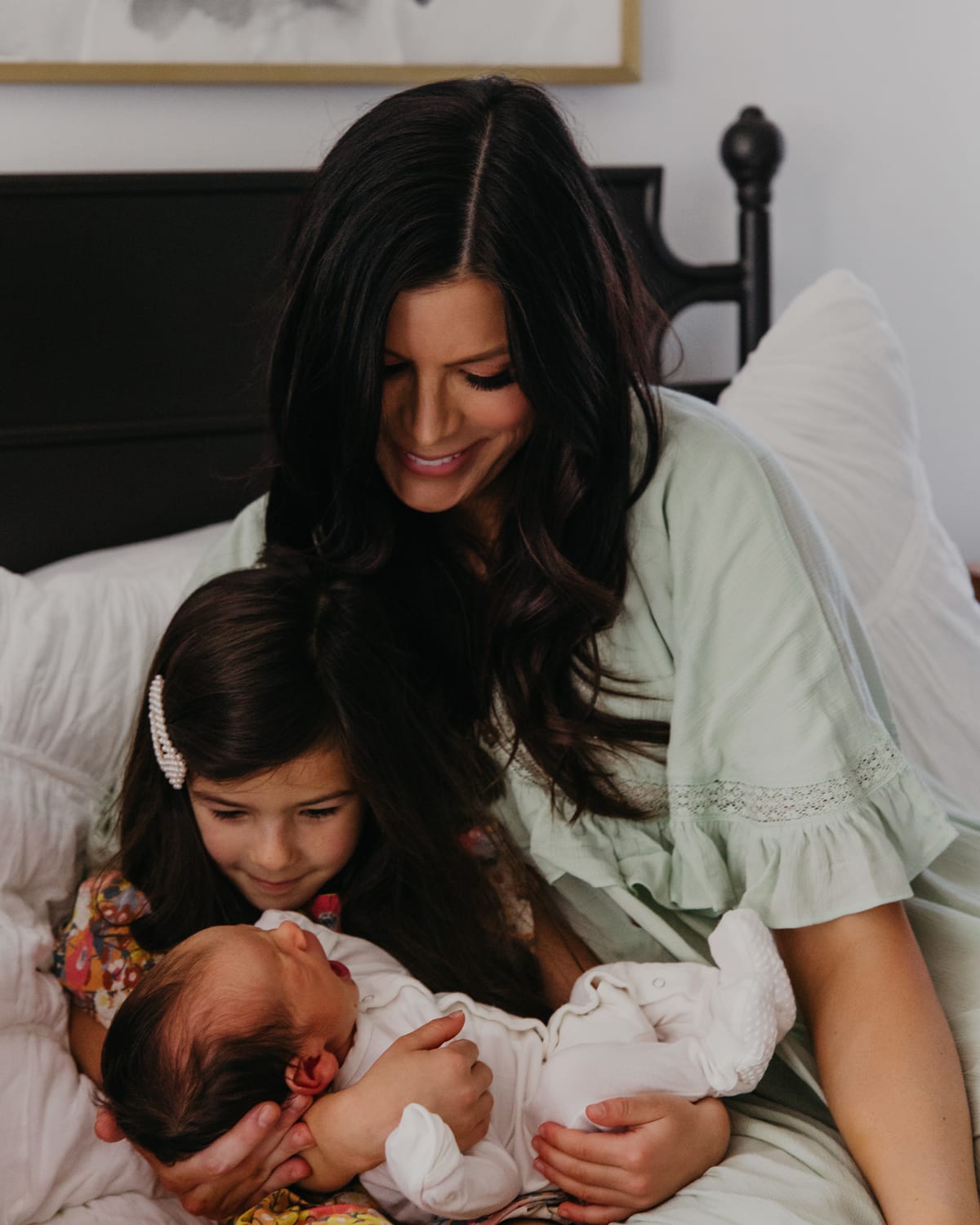 Also, help yourself out and put a little self tanner on so you don't look pale and ghostly! In my opinion, everyone looks better with a little bronzing, especially when you're sleep deprived and feel half dead, ha. You can read about my favorite self tanners for face here and best self tanners for body here.
Tip #9: Dress smart
For Anabelle's newborn photos I wore all black because that's what I'd seen around the internet (thanks Pinterest!) and I thought that would be the most flattering. Turns out it made me look even more pasty, half-dead and was not flattering in the least bit. Get a blousey top and wear it with some maternity skinny jeans (these will be most comfortable – don't even try wearing your pre-pregnancy jeans!) or, my preference with 4 out of the 5 newborn shoots we did, a pretty, flowy (not fitted!) dress. I wore an ivory midi dress that's sold-out now (similar option here) for Millie's, this dress with this slip for Harry's, and this dress for Bobby's.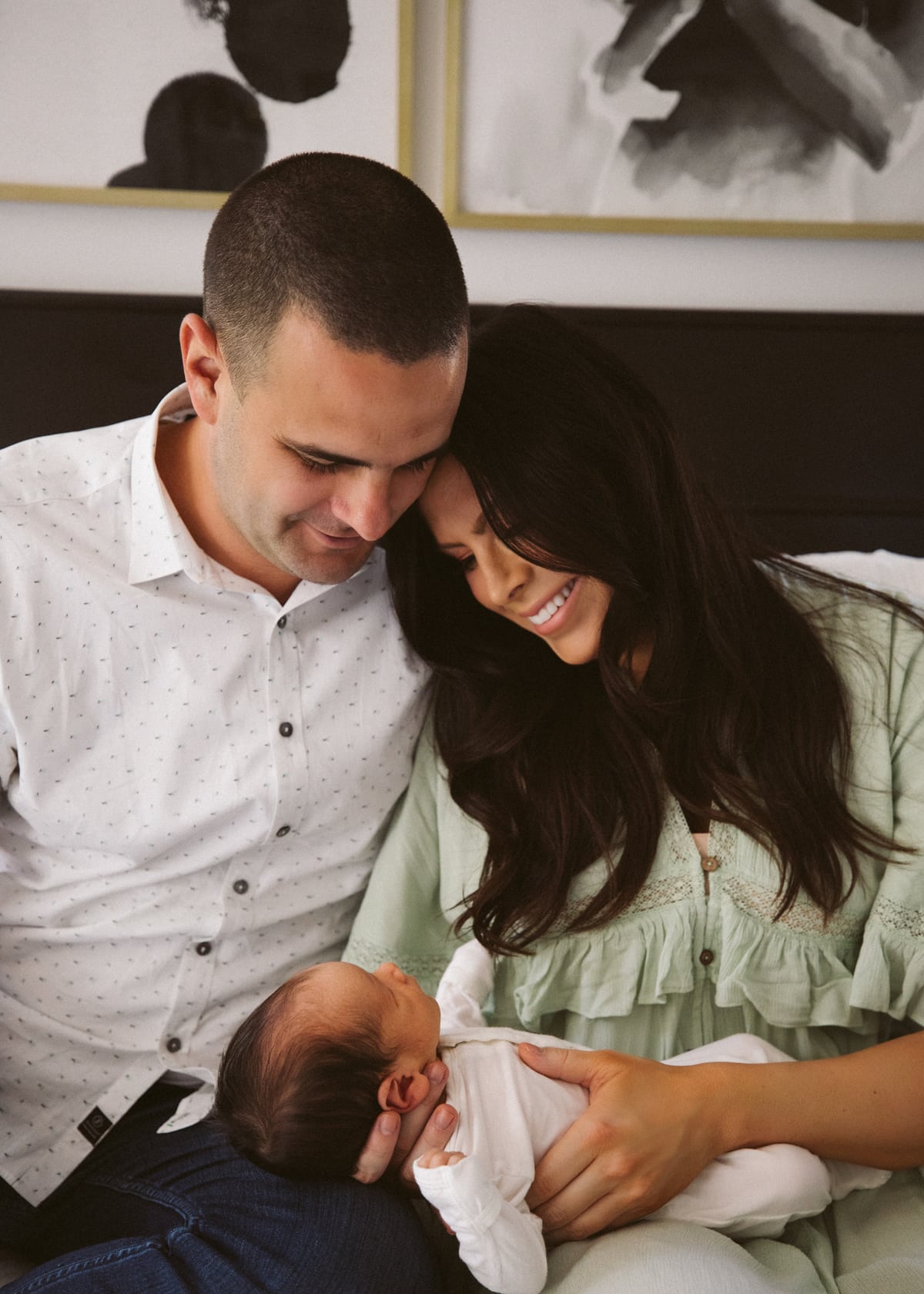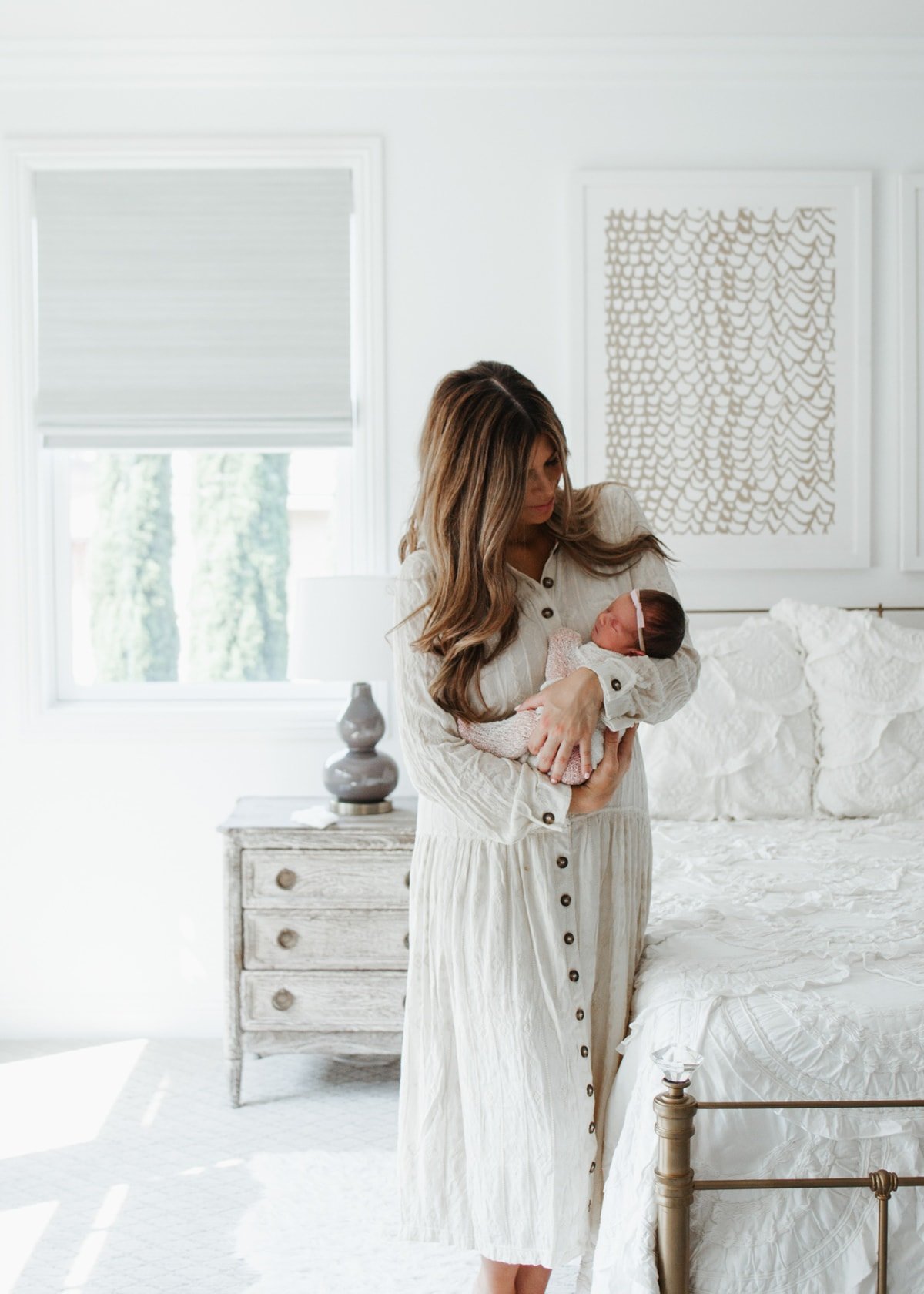 Tip #10: Coordinate outfits
I already basically mentioned this, but get your own clothes and everyone else's bought and ready before baby comes, so they're laid out, planned, and ready to go. Keep everything fresh and brand new in the back of your closet (or whatever it takes) so that they don't get worn and stained by dad and other kids while you're in the hospital.
For Millie's newborn shoot, I kept everyone in creams/whites/neutrals and I loved how they turned out and love that we kept Millie in a swaddle for her newborn photo outfit. You can also see how my girls and I dressed for some snaps in Millie's nursery reveal here.
For Harry's newborn photos, we added a little bit more color. My girls wore the same dress in 3 coordinating prints, and I wore this dress as I mentioned, and then Neil and Harry wore more neutral colors. I'll be honest, I didn't follow my own advice and kind of just slapped these outfits together at the last second. Not a huge deal! But you can definitely see that in Millie's photos our outfits coordinated a lot better and I wish I would've maybe worn a different color dress.
And in this photo below, you can see how the colors I used for Lyla's weren't all matchy-matchy (if you're against that) but the brown, denim and peach coordinated better than the hodge-podge at Harry's shoot.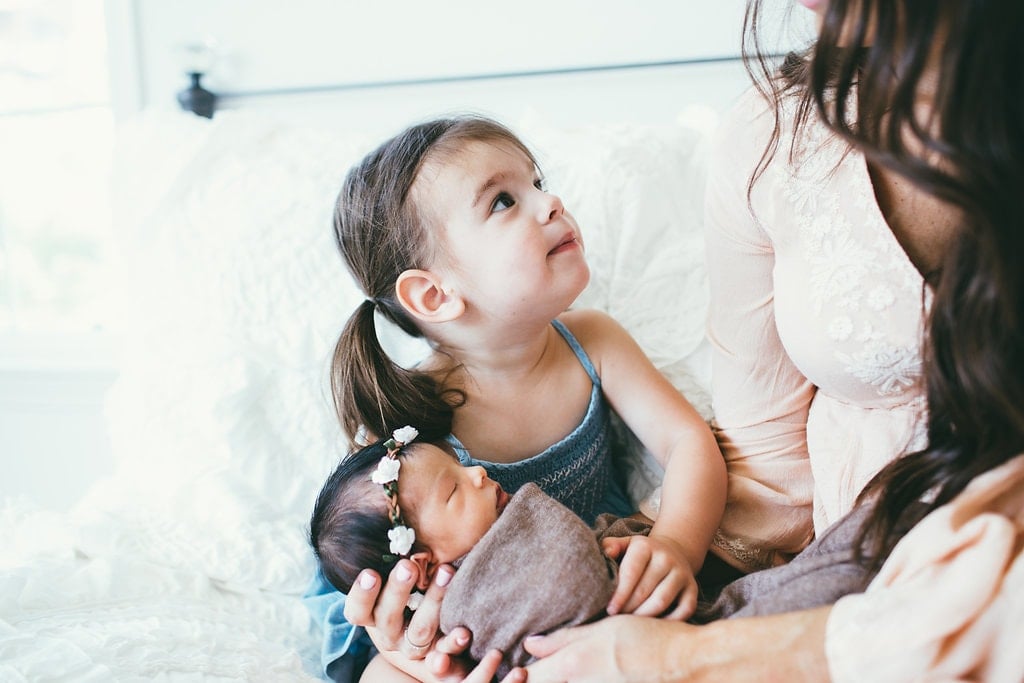 In the pics below you can see that my girls and Harry all coordinate much better than when I'm thrown in the mix with my mint next to their coral and orange hues. Maybe they're just cuter too haha.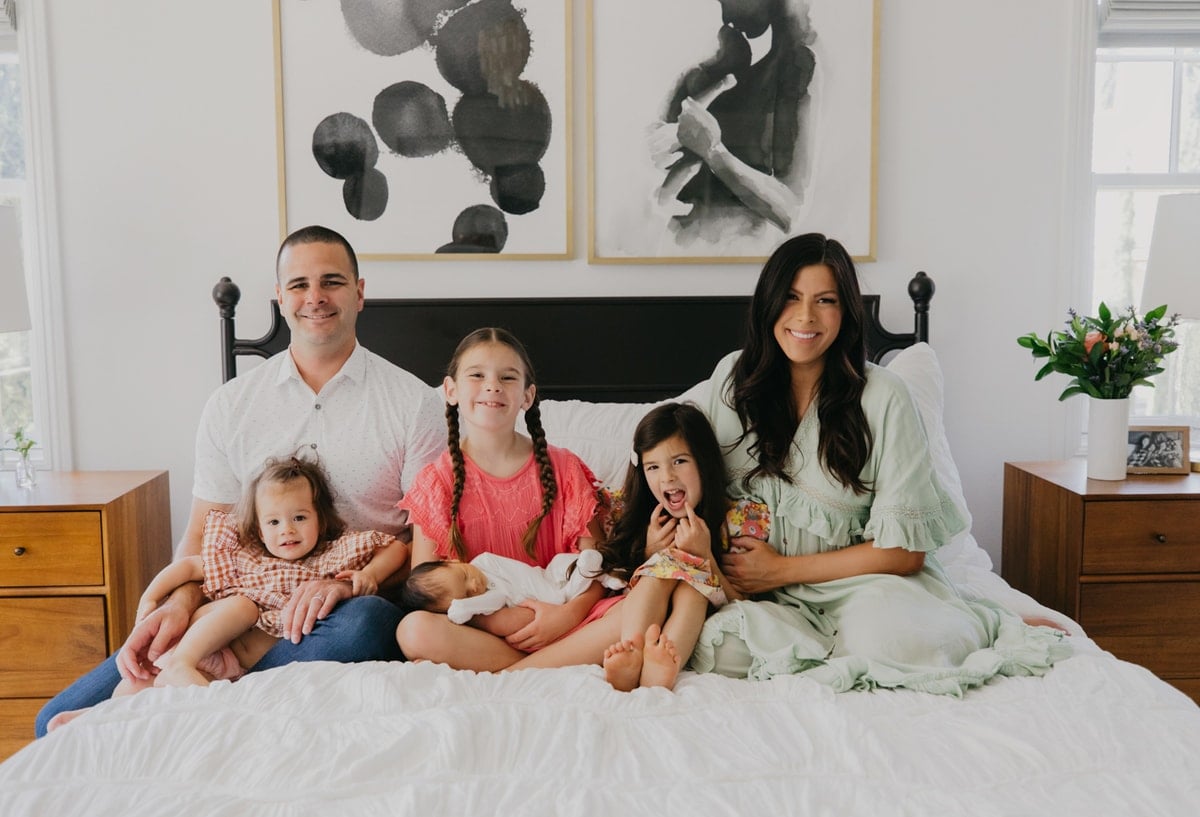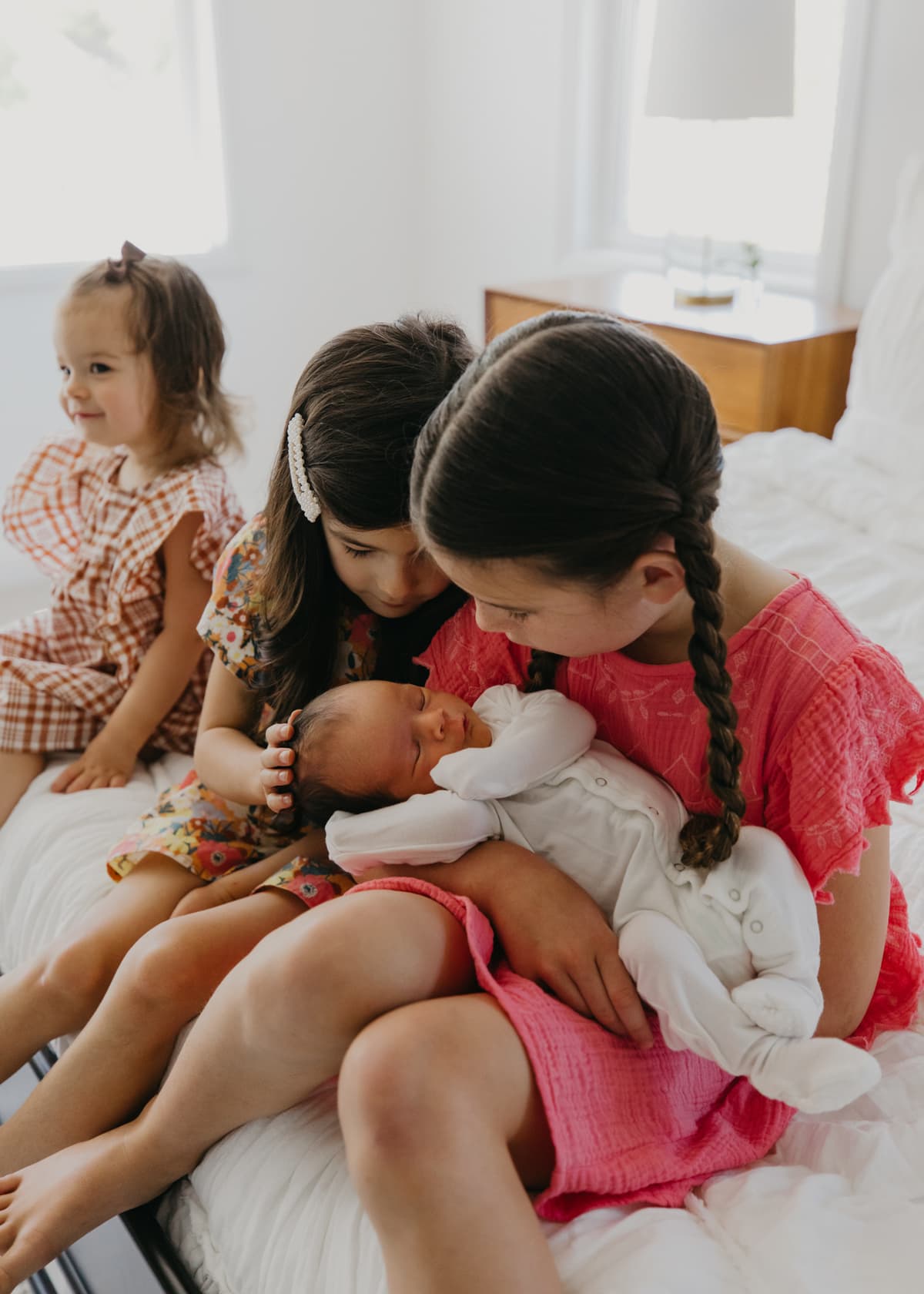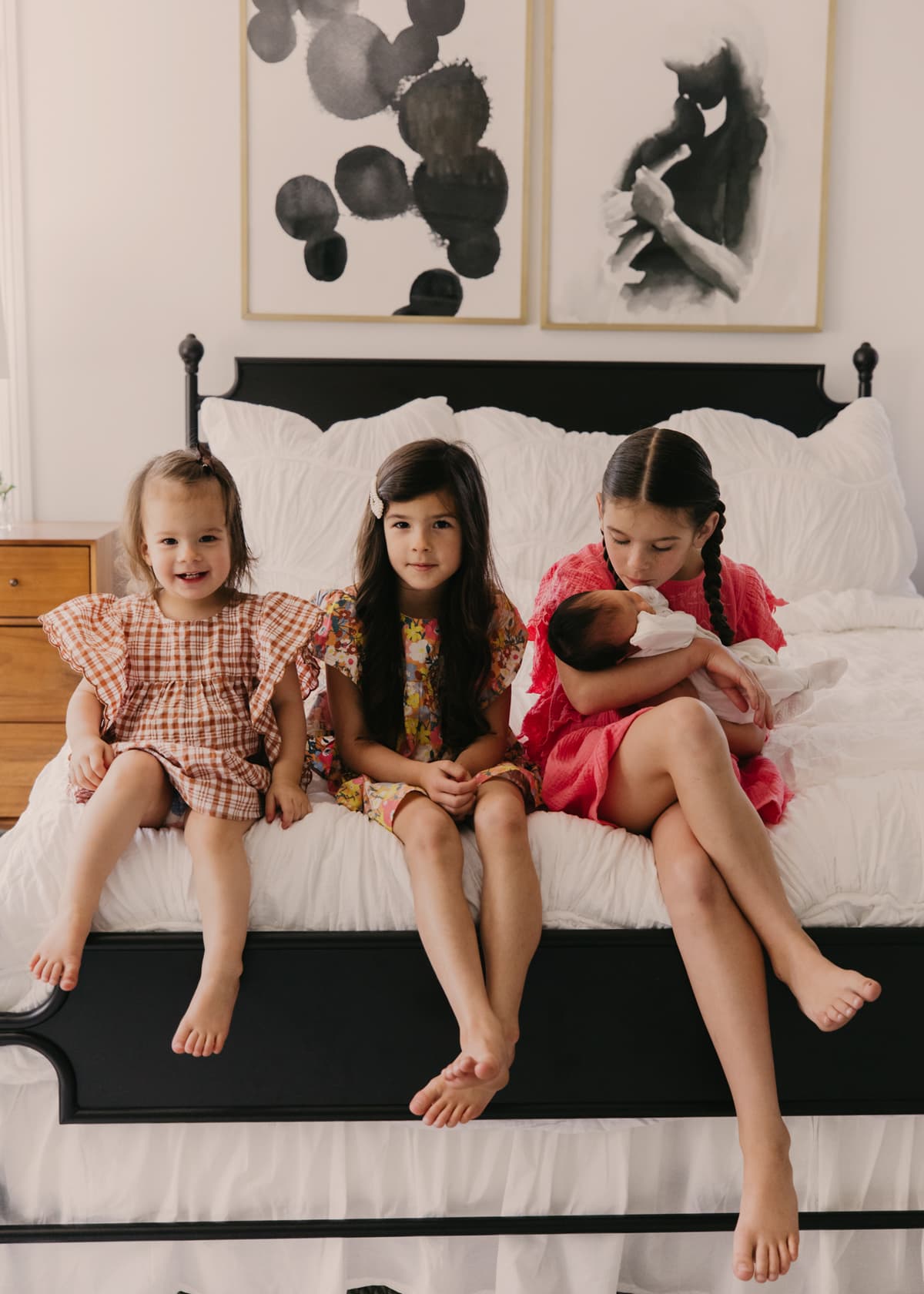 Tip #11: Snap in shifts
We took several photos with just the baby, and then baby and me, and we only brought the older kids in for the few photos we needed them in. It's way easier on little people when they only have to cooperate for a few minutes than stand around waiting for their turn! They have way fewer opportunities to get into trouble and frustrate Mom & Dad too.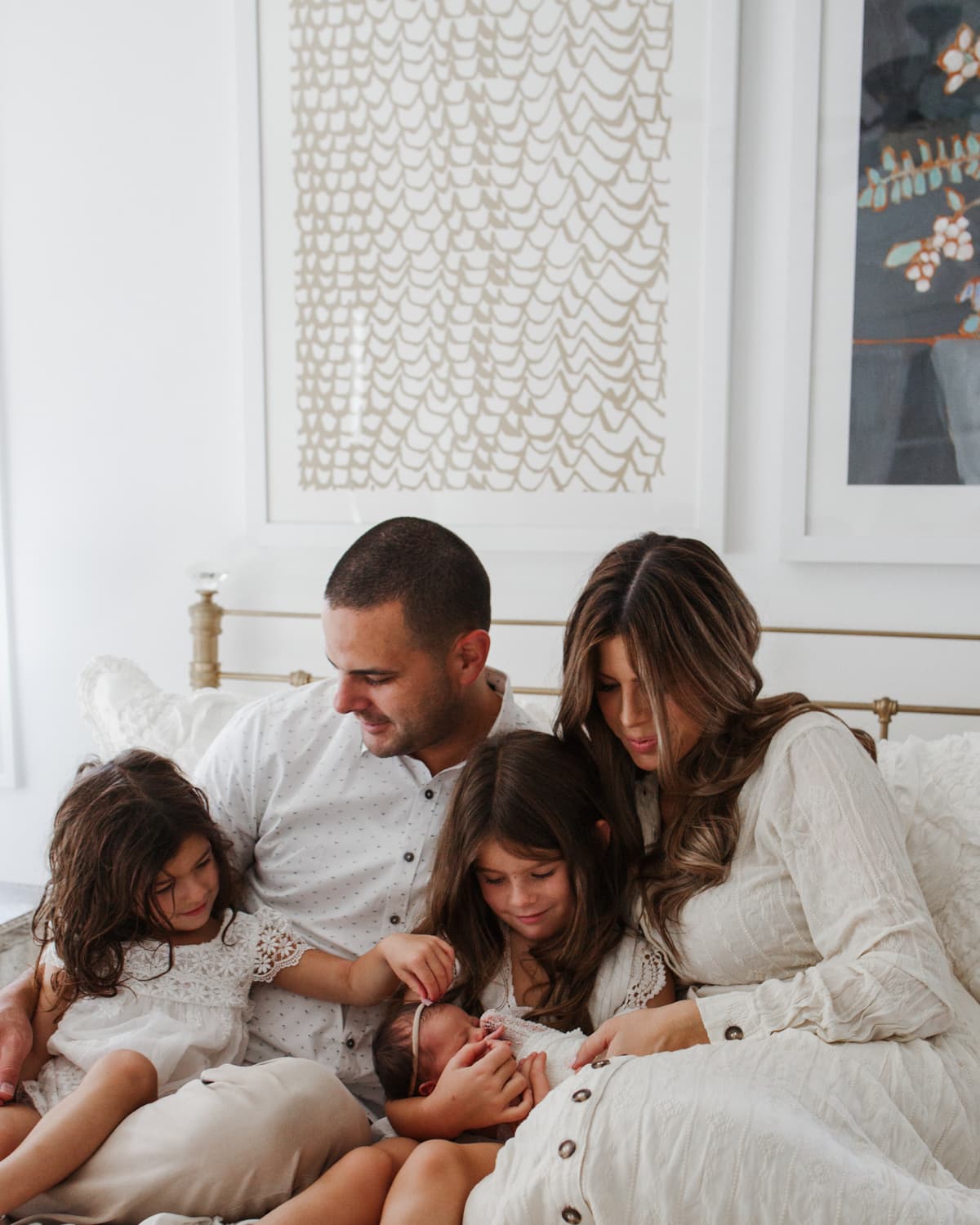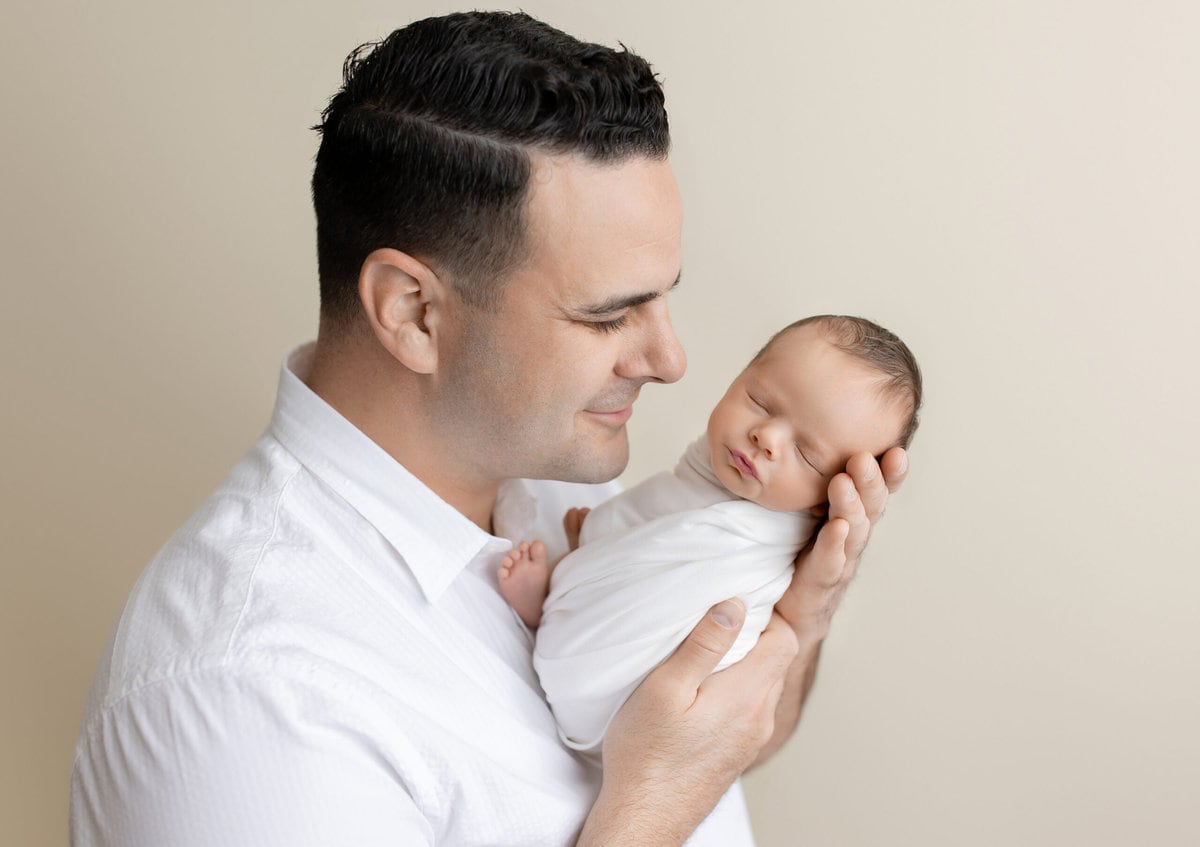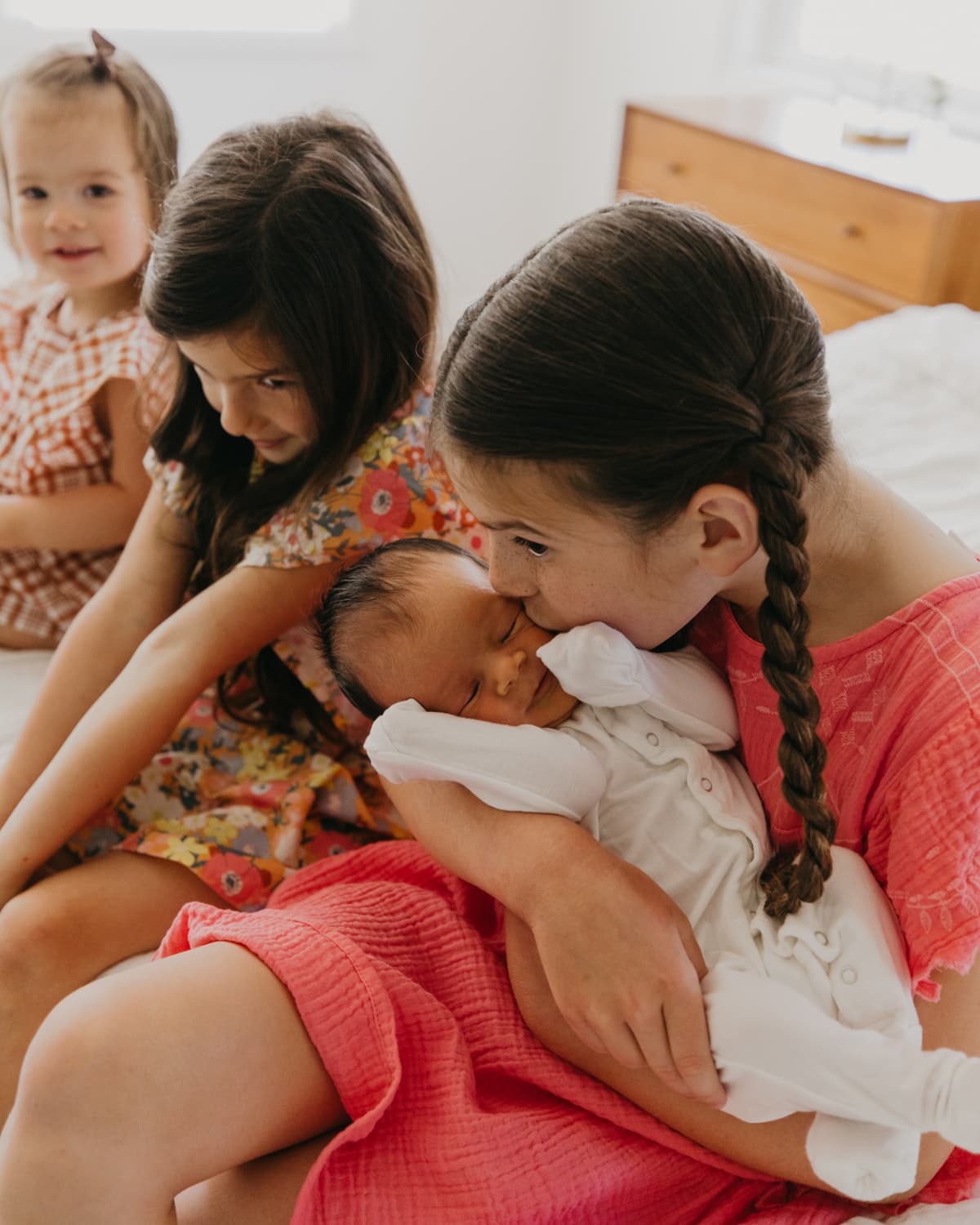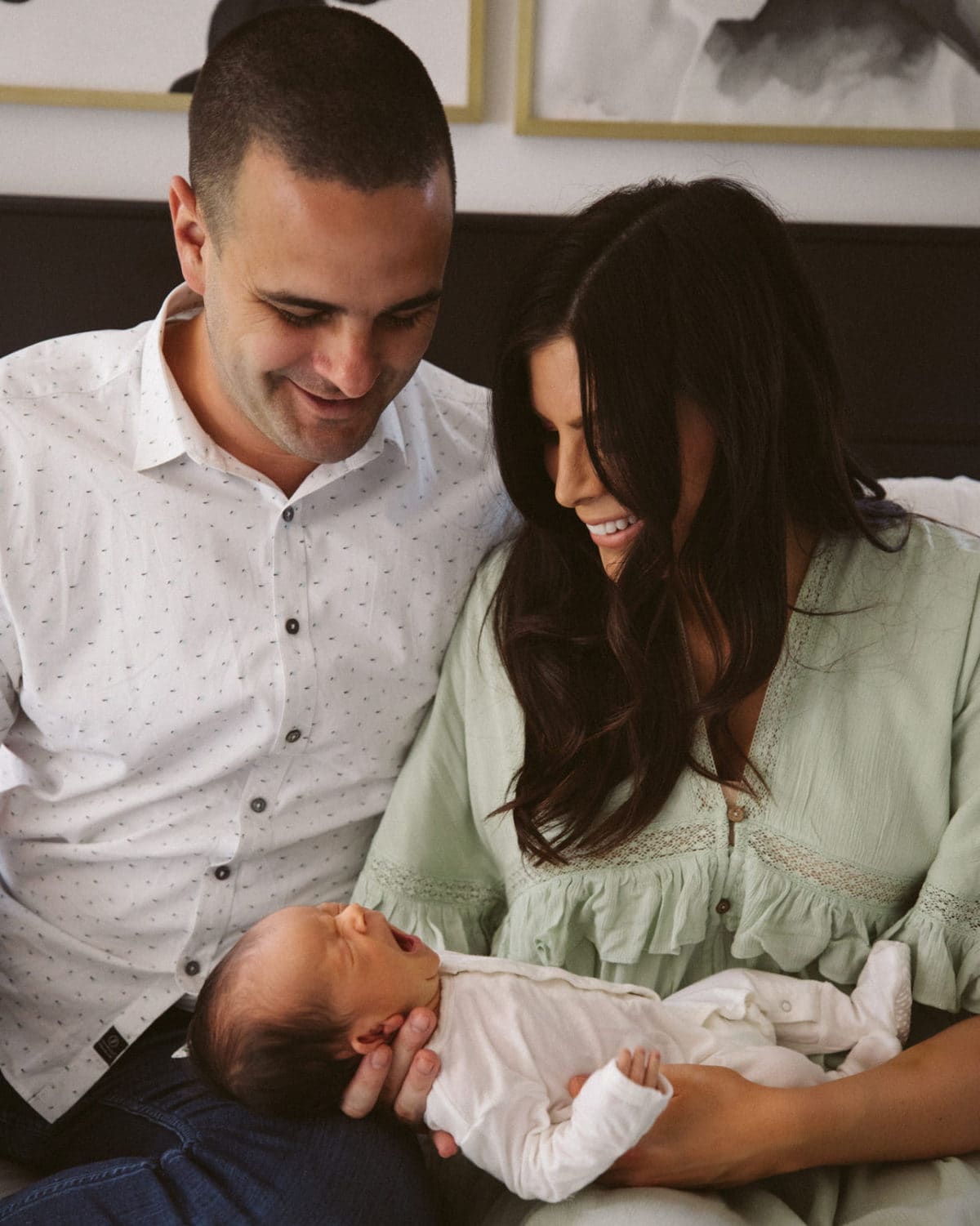 Tip #12: Bribery
I'm not above it, and neither is Neil. We totally bribe the girls with marshmallows to cooperate during most photo shoots, and it totally works. Marshmallows are great for bribing young kids during photoshoots because they're not messy! And our photographer with Bobby added that smarties are another great treat that isn't messy and they dissolve fast. You're welcome.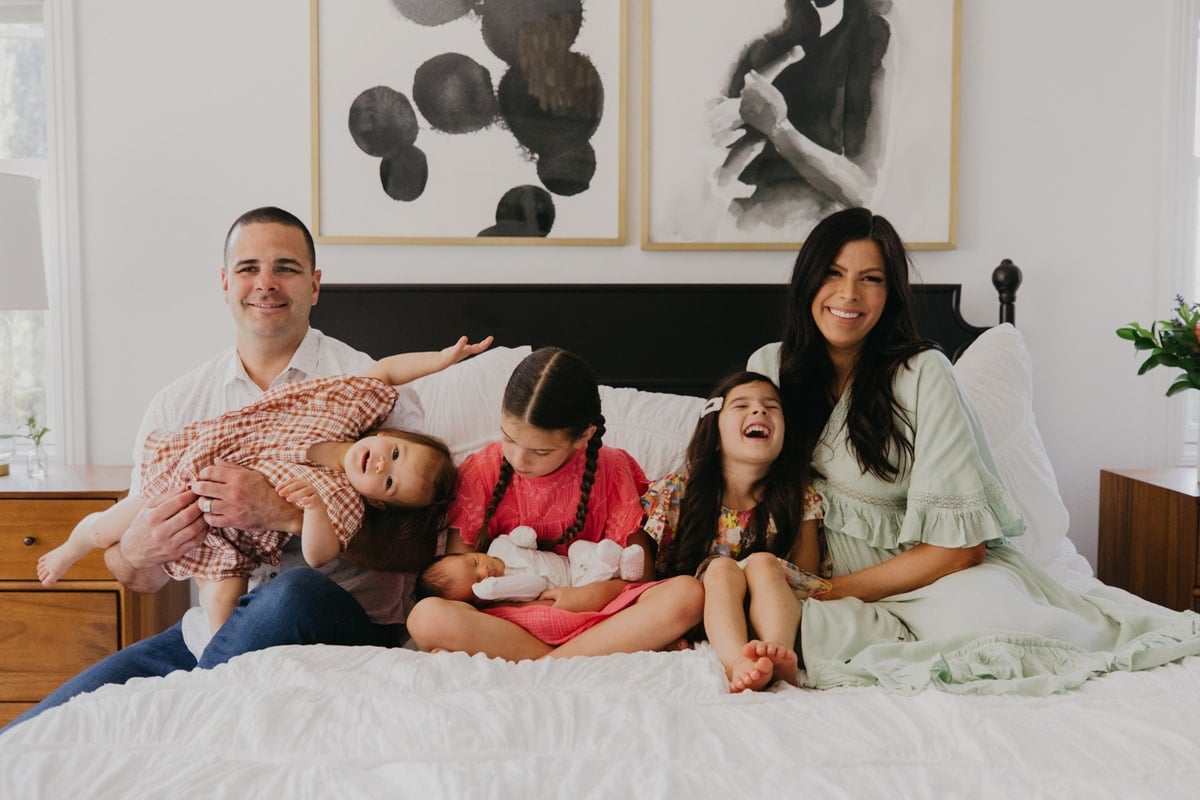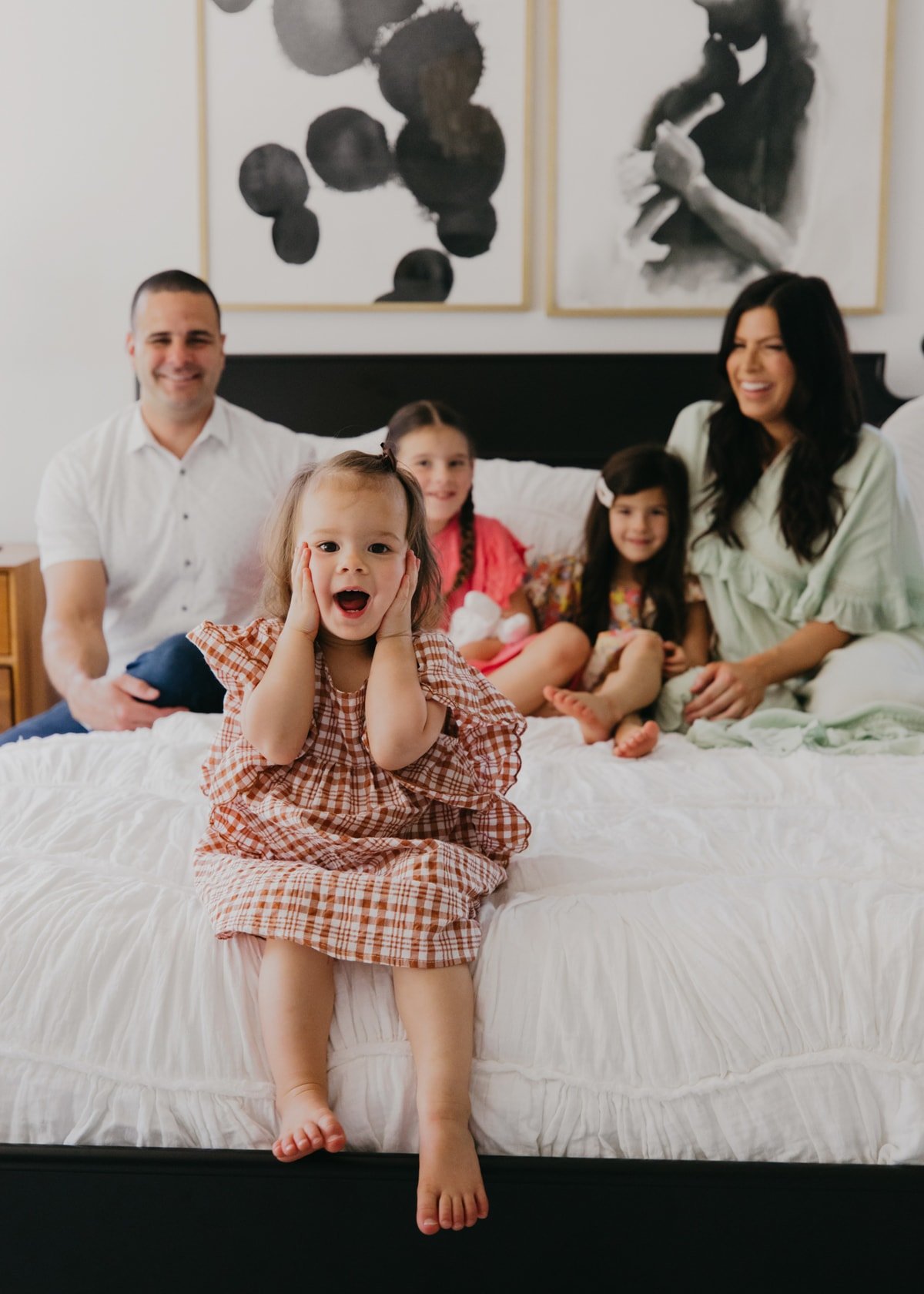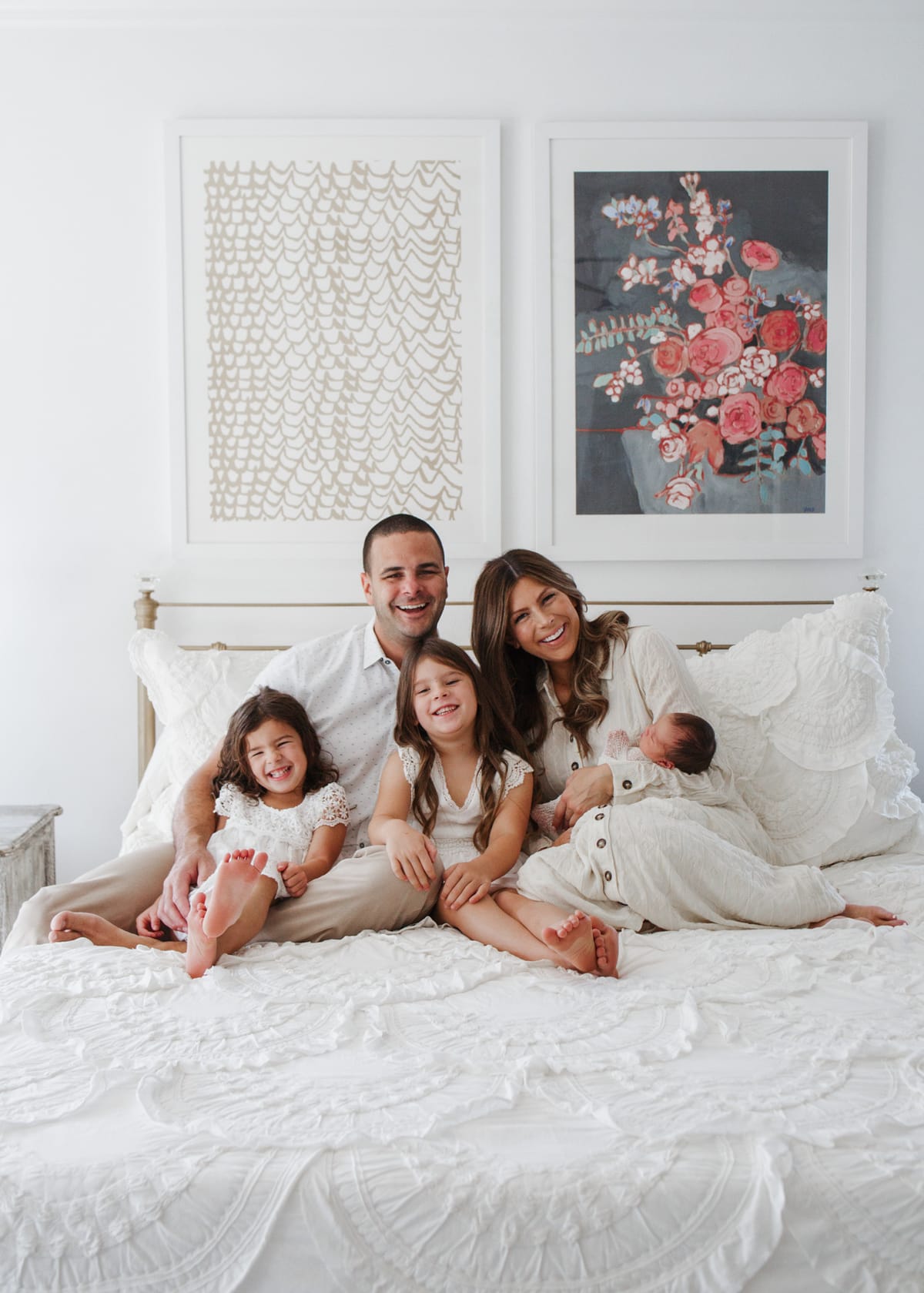 Good luck, Mama!
I hope these tips help you get some newborn photos that I KNOW you'll cherish forever. Not everything will go perfectly, most likely. But you'll be SO GLAD you took these because that magical time where your baby is teeny tiny and sleeps through everything goes by so very fast. Every time I look at my babies' newborn photos I'm transported right back to that magical time when they're fresh from heaven just a few days old.