I like to think of myself as a comfort connoisseur – being on bed rest much of my pregnancy has definitely raised the standard of what's truly comfortable, and Vuori's one of those brands! I've been a huge fan of Vuori for a long time, and I'm consistently happy with the way their pieces work before, during, and after my pregnancies. Their clothes feel ridiculously nice on and last year, in the ever-long pursuit of finding the best Christmas gifts that everyone will actually like, I gifted Vuori to all the adults in my family. And it was a total success.
Let's talk about what you can gift this year that everyone on your list will absolutely LOVE.
In a hurry? Shop my picks below:
What if ONLY the deals YOU wanted to see were in your inbox before anyone else?! If you want to be in the know and find out the hottest deals tailored just for you, you can join our subscription email here! It's simple, you tell us the deals you want to see and we'll make sure you see them first! 
My Vuori cozy gift experience
Last year was a very Vuori Christmas for the adults in my family.
When the Utes played in the Rose Bowl my whole family came to stay with us in California, and we were able to give them Vuori Christmas gifts (just a tiny bit late). I bought and saved all of their gifts for once they got here, and I knew it'd be worth the wait because everyone was going to be obsessed with their Vuori pieces!
What makes Vuori so great
When it comes to unmatched quality, Vuori gets it right! I love their seasonal styles and overall comfort. These are seriously long lasting investment purchases.
One of the best parts about their apparel? The versatility. Think about your closet… do you have a pair of sweatpants that are a little rough looking, but you love wearing when you just want to relax and are feeling like a homebody after a long day? What about a pair that's comfy enough for a long flight, but they give you a pulled together look? And I bet you have a few pairs for working out or spending time outdoors.
Vuori's amazing because their pieces do ALL of those things (and then some). I love being comfortable lounging at home (seriously, almost like wearing pajamas!), but I also love knowing I can wear these on a flight and look decent, or even to exercise. Investing in Vuori will get you through it all – they're a tried and true brand!
Cozy gifts that are a guaranteed slam dunk
Vuori Performance Joggers
I got my mom, sister, and sister-in-law all a pair of the Performance Joggers and I knew they were going to love them. A few family members drove to our house, others flew, but regardless of how you're doing your holiday travel, these pants are going to be a lifesaver! They're cute enough to look on trend and like you put yourself together, but comfortable enough to be sitting for hours. These are the most dreamy pants to add to your cozy gift list!
Shortly after gifting these to my mom, I was posting about them on my stories and sure enough my mom replied asking if these were the ones I gifted her (they were). She just wrote back, "Bury me in these." HA. I know she loves them because she's bought herself a few pairs since Christmas.
These joggers have a slim but relaxed fit with a slightly cropped leg, pockets, and a drawstring to adjust the waistline. They're made with THE softest premium stretch fabric – you don't know how great these are until you try them! These joggers come in a bunch of pretty neutral colors, but I'm loving the new Light pink heather Umber shade. 
The Performance Joggers really PERFORM too – you can do just about any workout in these! Right now on modified bed rest during my pregnancy, I'm very limited on my ability to move so I'm keeping it light with my pregnancy by doing yoga/stretching to loosen up my body, and I love doing that in ANY of my Vuori joggers.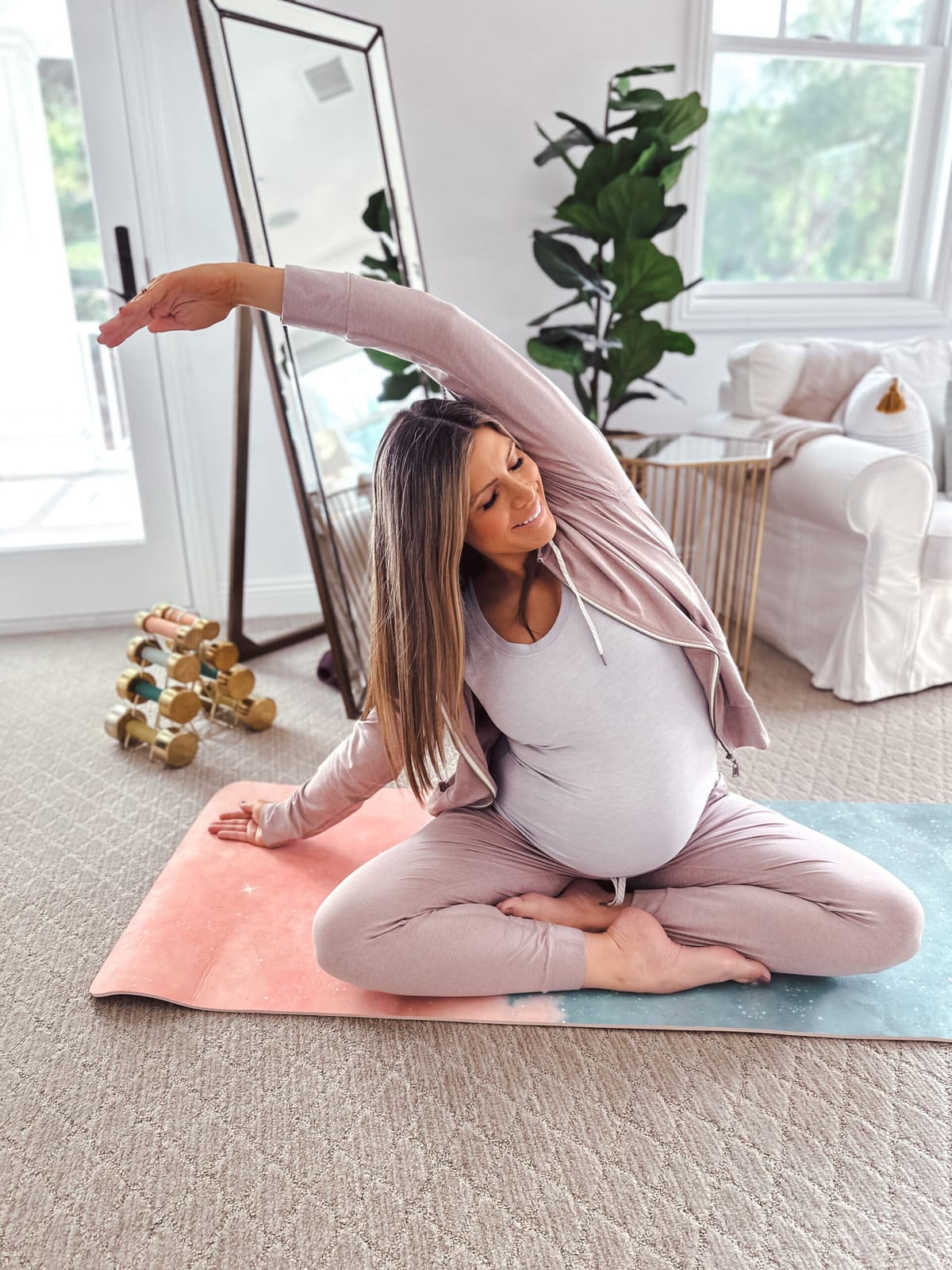 The unicorn pant of all pants
My vuori joggers – both the performance AND boyfriend fits – are the only pant I have ever worn in my life that seamlessly go from not pregnant, to super pregnant, to postpartum, all in one magical pant! The stretch is so forgiving that you really can wear them in any of those phases, still feel like a normal human wearing your favorite everyday pants, and not feel like you're spending money on something that will only work with a bump. I've converted so much to wearing these pants nearly every day of my pregnancy that sometimes I think, "my doctor probably thinks these are the only pants I own!" They just absolutely RULE in the game of versatility. So comfy. SO COZY. And even the pairs I've had for a couple of years now and washed and worn over and over and OVER still feel brand new. Zero pilling. All the softness. Truly, a unicorn pant.
Performance Hoodie
Obsessed with being in soft clothes? Grab the Halo Performance Hoodie 2.0 to wear as a cute matching set with the Performance Joggers! Vuori revamped this hoodie to give it even more flexibility and it's the perfect semi-crop length sweater to wear with your fave joggers or jeans.
Part of the secret sauce with this cozy gift is Vuori's DreamKnitTM fabric that melts into your skin, giving all the comfort. I think the DreamKnitTM material helped put Vuori on the map in a major way! It's also moisture-wicking which is great for workouts. Did I mention pockets? Yep, they checked that box, too!
This is definitely an essential item for me. I seriously end up wearing this and my Performance Joggers on the daily! Thankfully they fit my body during all changing phases pre and post pregnancy.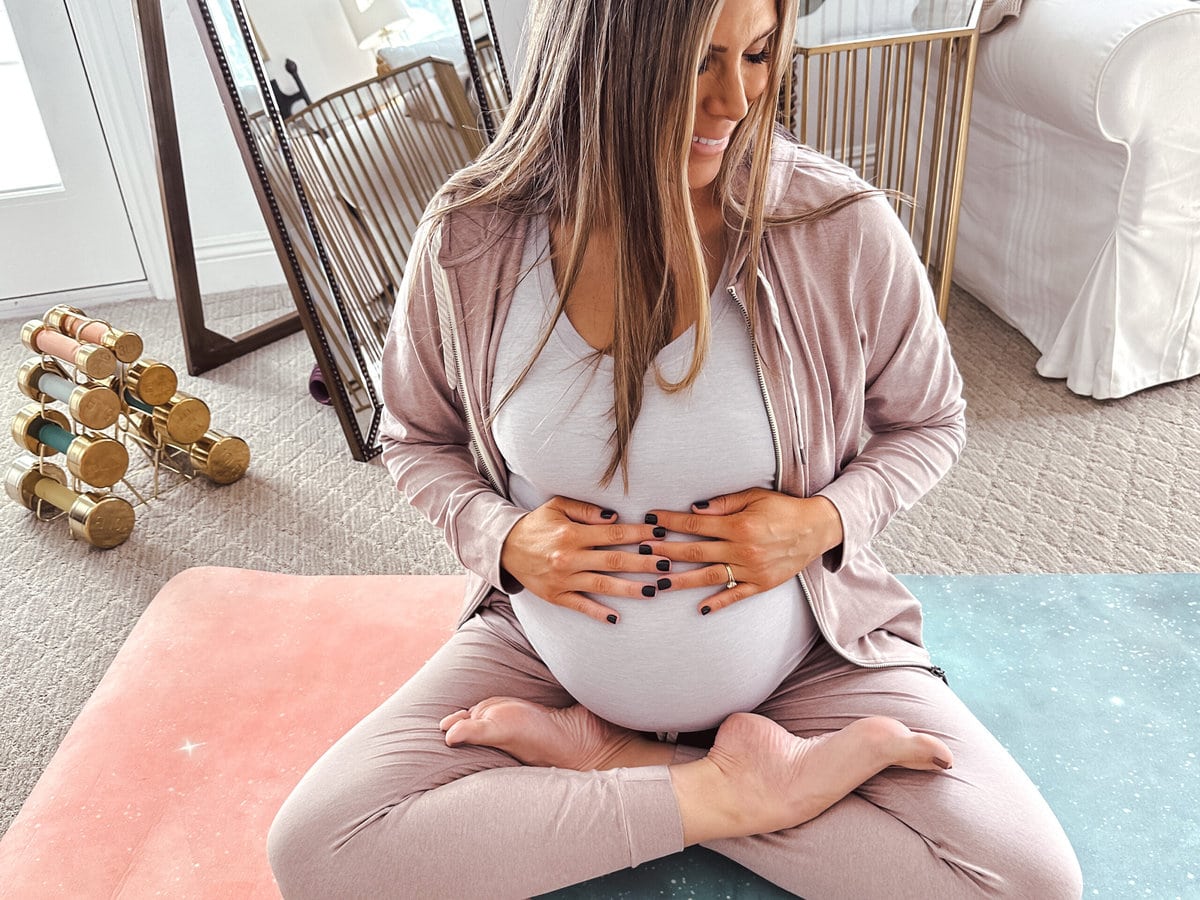 Boyfriend Joggers
The Boyfriend Jogger is IDEAL for movement. You can of course workout in either of the joggers I mentioned because whether it's heavy or light, indoor or outdoor, Vuori's joggers are going to compliment your every move.
The Boyfriend Joggers are also a multi-functional cozy gift. They're a fun option for a trendy moment and are so easy to dress up or down. You can even get away with styling heels with these joggers! They're really versatile and I love them with cute sneakers and a blazer for a flight, but you can also wear them with slippers at home and be super cozy, too.
Made with a jersey DreamKnitTM material, the Boyfriend Joggers also have pockets, are mid-rise, and have a looser fit than the performance version. They're so good your boyfriend might try to steal 'em!  
Cozy Sherpa Jacket
Keep the warm, super plush, fleece outerwear coming! I love the Cozy Sherpa Jacket put together with the Boyfriend Joggers as a set or jeans. This jacket is the BEST thing to have during travel in the winter because it'll keep you super toasty warm.
I'm obsessed with the look of this zip jacket and the color choices! The neck comes up nice and high to help block the cold wind and it even has hidden snaps to really keep in the warmth. If you're headed to a cold weather city for the holidays (or live in one year round!) I'd definitely recommend adding this staple to your wintertime wardrobe. It's also a great gift for anyone who lives in a colder climate!
Vuori's cozy gifts are great for any lifestyle
I know you'll fall in love with Vuori's cozy gift ideas and I hope you grab something for someone on your shopping list this year. The women I shopped Vuori for have extremely different lifestyles and ways they like to get active – from runners to walkers, yoga to Ironman athletes – but the items on this gift guide work for them all.