Some people are excited to put their winter coats back in the closet, or to kick their snow boots under the bed until next year – but I'm most excited to show off this lightweight bell sleeve blazer and brand new laser cut booties!! Transitioning from winter to spring is the perfect time to pull out a bell sleeve, because it's not too hot for a long sleeve and not too cold for a lightweight jacket. So excited today to share our favorite bell sleeve tops and jackets that are trending online right now!!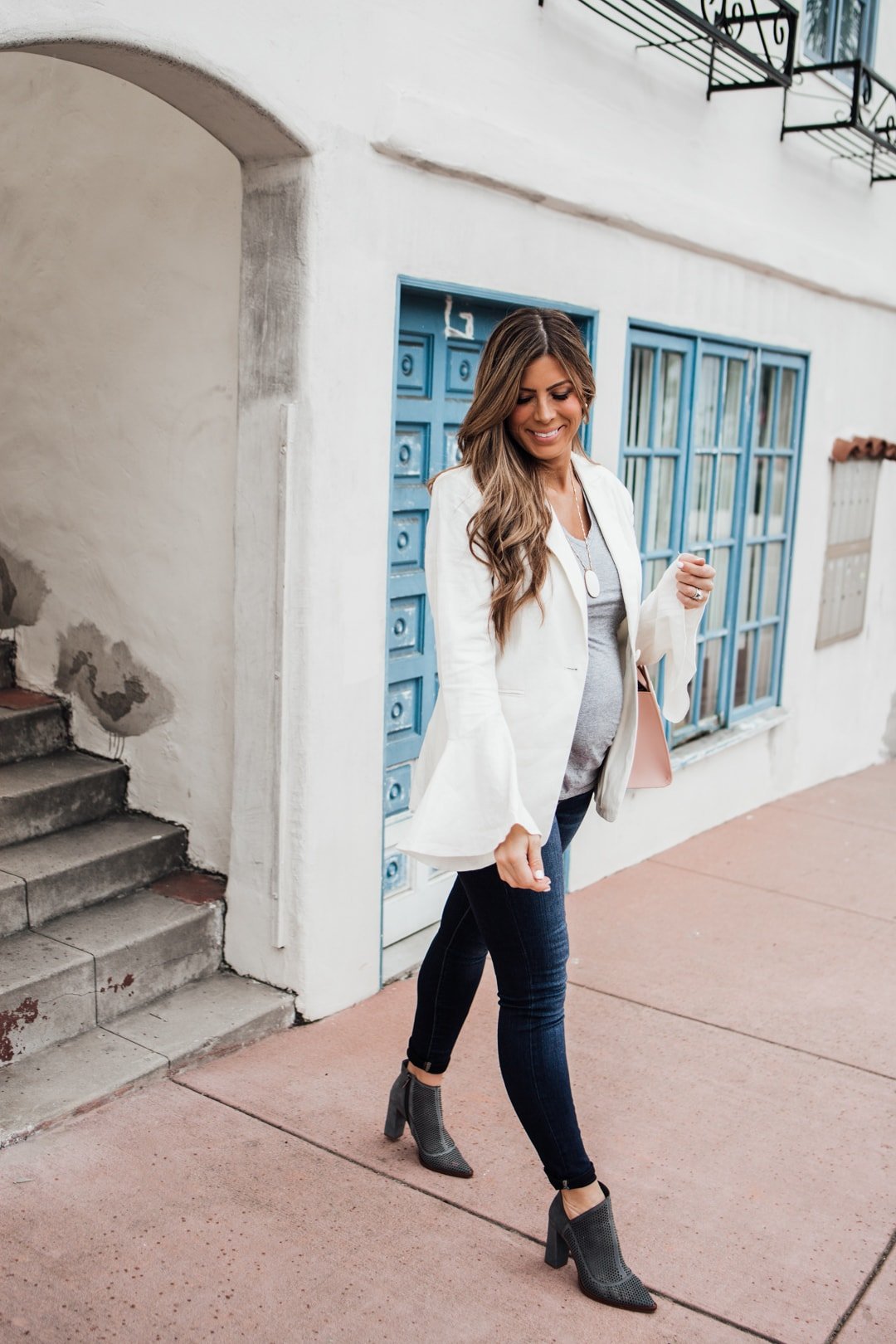 Bell Sleeve Blazer
I've rarely met a bell sleeve I didn't like but this bell sleeve blazer was REALLY love at first sight! It's flowy and super light and just really pretty. The perfect accent piece whether you're rocking a bump or not, and a great piece to layer over a casual tee to look put together but not too dressy! Or wear it over a nicer blouse for a more polished look. Either way you're gonna feel like a million bucks in this jacket I promise, BUT it won't cost you a million bucks!!
Right now this pretty bell sleeve blazer is 40-50% off at $64-86 (orig $128), depending on which color you choose (and it comes in 3 choices)!
V-Neck Maternity Tee
I wore one of my trusty v-neck maternity tees with this bell sleeve blazer, but it would be really cute too with one of our favorite graphic tees from this post last week!
Laser Cut Booties
Aaaaaaand can we just have a moment of silence for the amazingness of these laser cut booties?!?! I stared them down a couple of trips to the mall until I finally jumped on them and they're absolutely hands down my favorite child of my shoe closet at the moment. Guaranteed compliments everywhere you go! They run TTS and are very comfy to walk around in.
Kate Spade Bag
And this pretty little Kate Spade Spring bag that accompanied me to NYFW is finally feeling like it fits in with the warming temps! It's the perfect pinky nude to go with anything in your Spring wardrobe.
Flared White Blazer (on sale!)
Grey Maternity Top
Necklace (sold out) similar
Maternity Jeans
Laser cut bootie
Pink flower bag (on sale!)
Photos by Arielle Levy
Bell Sleeve Faves
Here's a roundup of all our very fave bell sleeves on the internet right now, starting at $35!