In case you haven't noticed yet on IG, we have just been in HEAVEN with baby Harry! Preparing for his arrival was so exciting, but having him here brings such a special spirit in our home. When it came time to decorate a room for him, there were only a few minor things that really needed changing to go from Millie's 'hers' nursery to the 'his' nursery we bequeathed to baby Harry!
Millie's nursery was feminine, but not in a crazy top-to-bottom everything bathed in blush and bashful way, so I knew changing out just a few accessories would do the trick! We kept SO much of her room the same, but the few things we changed totally altered the vibe and made it the perfect room for our baby boy. I can't wait to share these baby room ideas with you guys.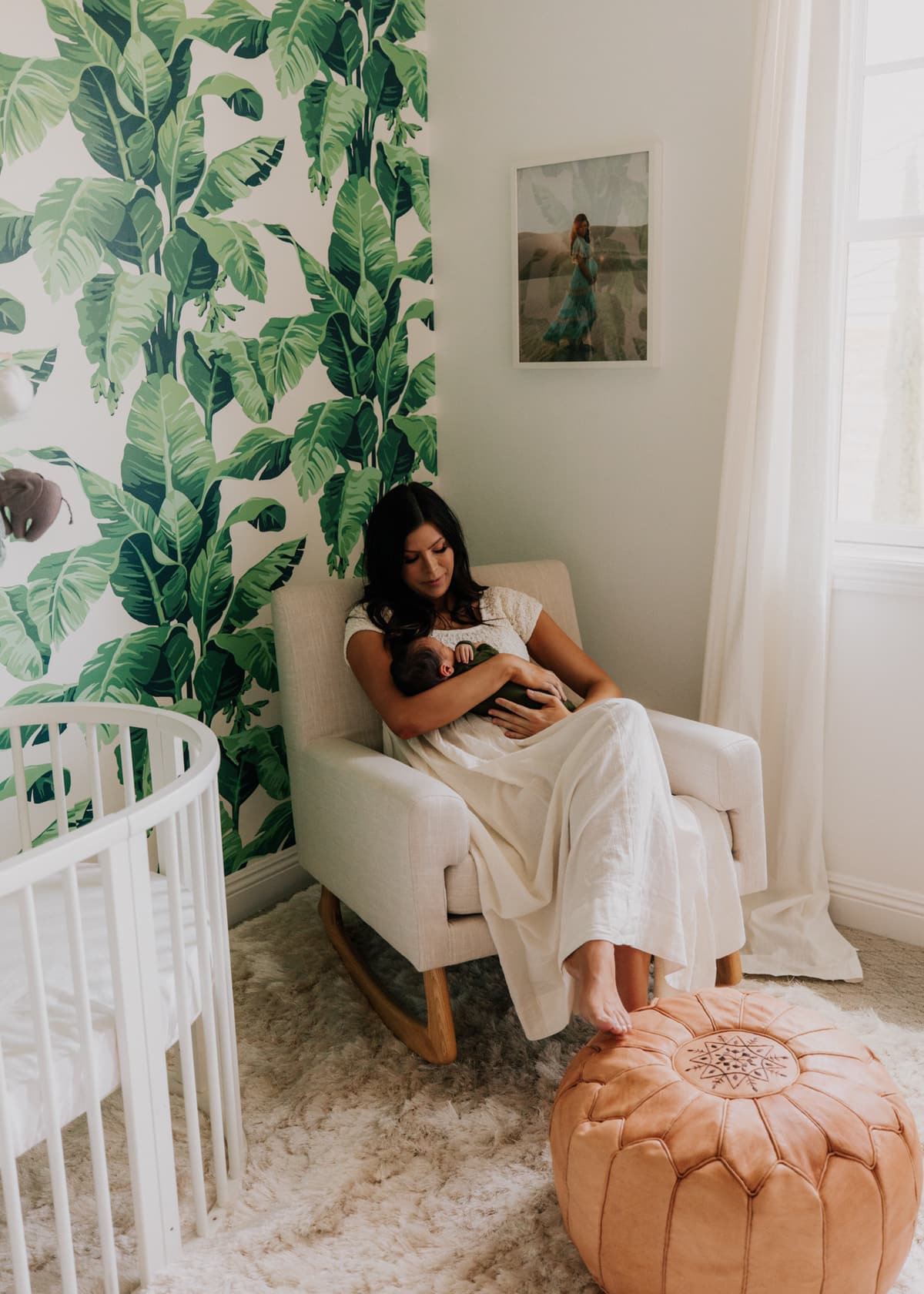 Neutral Lighting
Neil and I both LOVE this light fixture I found on Amazon! It ties in perfectly with the neutral color scheme, and I love the earthy vibe. I wanted to play off a jungle theme in the nursery since we already had the fun palm leaf wallpaper.
TIP: Working with what you've already got is KEY! Make a list of what you want to keep, and what you definitely need to change, and work from there.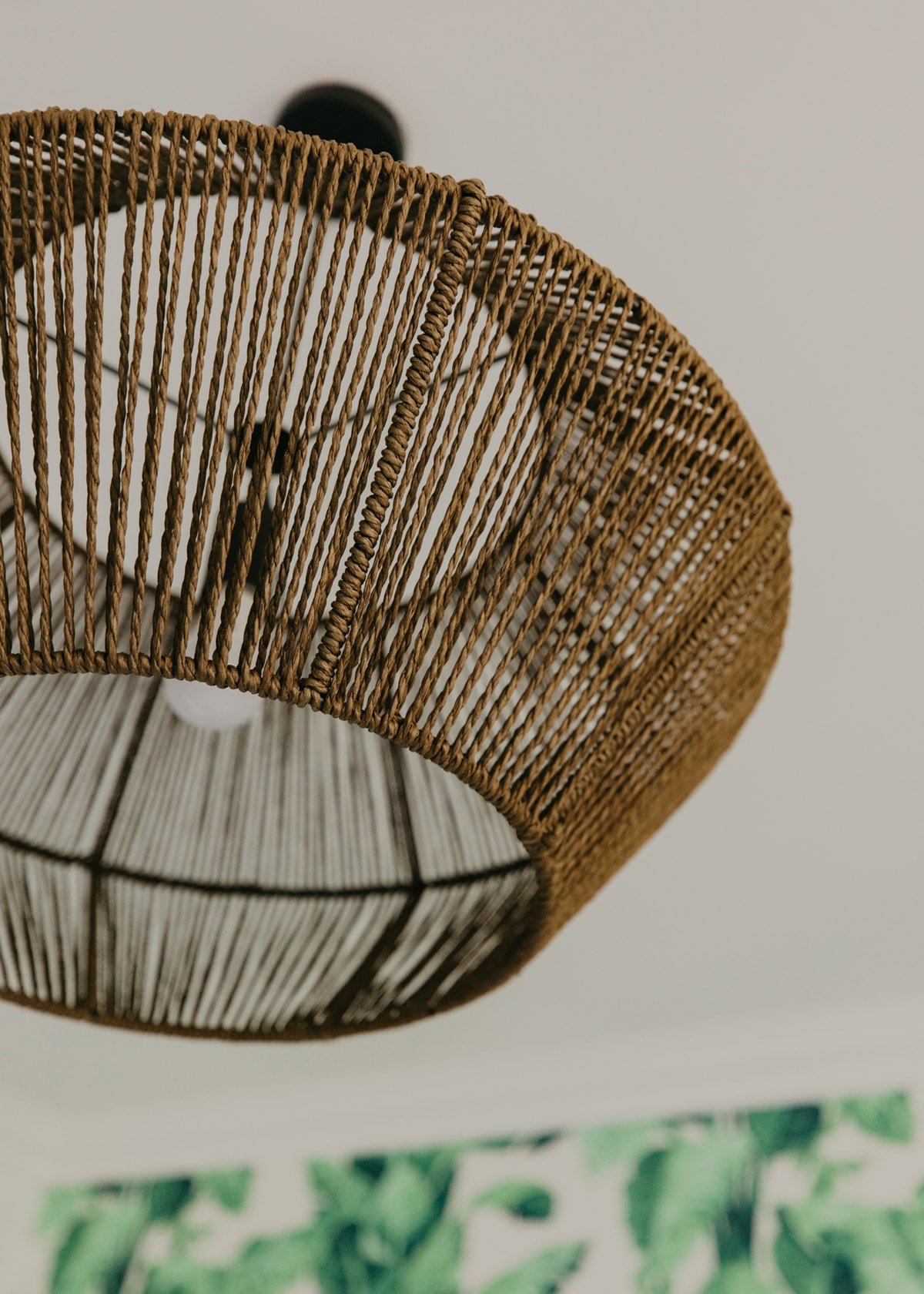 Accessories
Accessorizing a room is the best part! Because we had most of the core furniture already, I got to spend my time and money on fun finishing touches. This Etsy shop has the cutest nursery accessories! I got this handmade mobile there, and couldn't resist the felt raindrop garland. I love the colors! It's been so fun to decorate a room and use a different color scheme for accessories than I ever have before.
Personal touches
I think it's so fun to put one of my maternity photos in my babies nurseries. All it takes it a quick swap of a photo and it immediately adds that personal touch every nursery needs.
Art work
One thing that makes redecorating a room SO easy is keeping everything in the same place. In Millie's room, we had 6 smaller photos of animals above the dresser, but I replaced them with these bold pictures that I absolutely love for Harry's room. This "I am a Child of God" print gets me every time.
Linens
This darling sloth changing pad cover goes perfectly with the jungle theme! This was such an easy thing to switch up that just added to the color scheme.
Another easy baby room idea for switching out kids rooms is sticking with white crib sheets! They work for any gender and go easily into our all whites wash.
Oval crib
Millie still sleeps in her crib, so we traded that one out for this oval-shaped crib. Harry is actually our third baby to sleep in this crib! It's such high quality and I love that you can change up the size and even make it into a toddler bed when the time comes.
I love that this crib has served us so well over the years for our babies and toddlers in many stages. I think a super neutral crib is so smart if you're going to have more than one kid, because they work so well to hand down over and over.
Hanging wardrobe
We added this hanging wardrobe to balance out the pieces that sit on the statement wall, since this crib is quite a bit smaller than Millie's! I love that it is furniture that also acts as functional art for the room.
Leather pouf
Last but not least, we traded out the old pink pouf for a camel colored one, and I love how it completes the space and adds a little bit of masculinity. Plus a pouf or footrest of some sort REALLY is so helpful during those late-night (or really, anytime of day!) feedings.
What's old is new!
In addition to keeping the statement wallpaper, (SO grateful we did something gender neutral!!), we kept the curtains, the rug, the dresser and the rocking chair! I love getting basic furniture pieces that can last through more than one child.
Pendant Light with Bulb
Felt Mobile Elephant
Changing pad cover
Bamboo clothes Rack sold out, similar
Crib not available in white
6-Drawer Changing Table 20% off
Rainbow Artwork
"I Am a Child of God" Artwork
Palm Wallpaper
Rug
Rocking Chair
Curtain, Curtain Rod
Leather Pouf
Corrine's Dress
Harry's Knotted Gown
Fur Bonnet
Photos by Arielle Levy
If it works, keep it!
There's no need to reinvent the wheel when it comes to decorating a nursery or moving kids around to different rooms. If the set up works, keep it the same! Strategically switching out gender-specific accessories makes a huge impact on a small budget.
Redoing the nursery for Harry was pretty inexpensive, and I'm so happy to be able to reuse furniture pieces that were more of a spurge and that I STILL love!